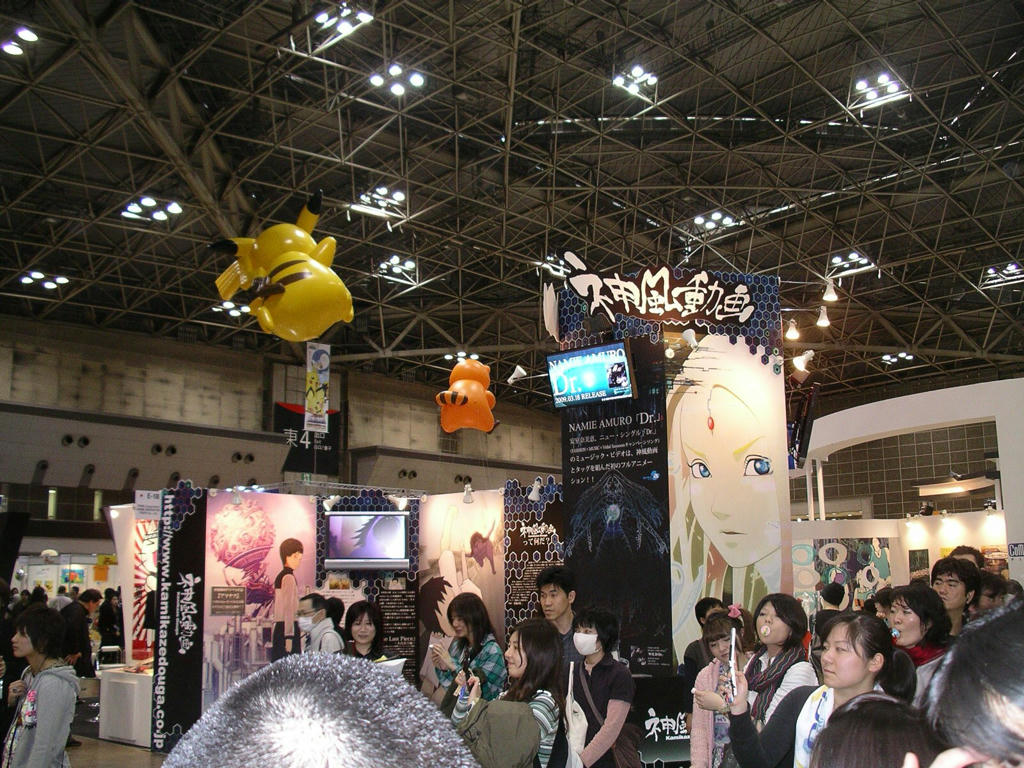 (The madness)
As mentioned in Part 1, the 2009
Tokyo International Anime Fair
(TAF) was held at the Big Sight in Tokyo, from March 18 to the 21st. As given by the
Japan Times (JT)
, TAF had 255 booths and expected to pull in 130,000 visitors. The first 2 days were only open to industry insiders and the press, the second two to the general public. Tickets were 1000 yen for adults, (I got mine for 800 yen in advance at the Tokyo Anime Center in Akihabara).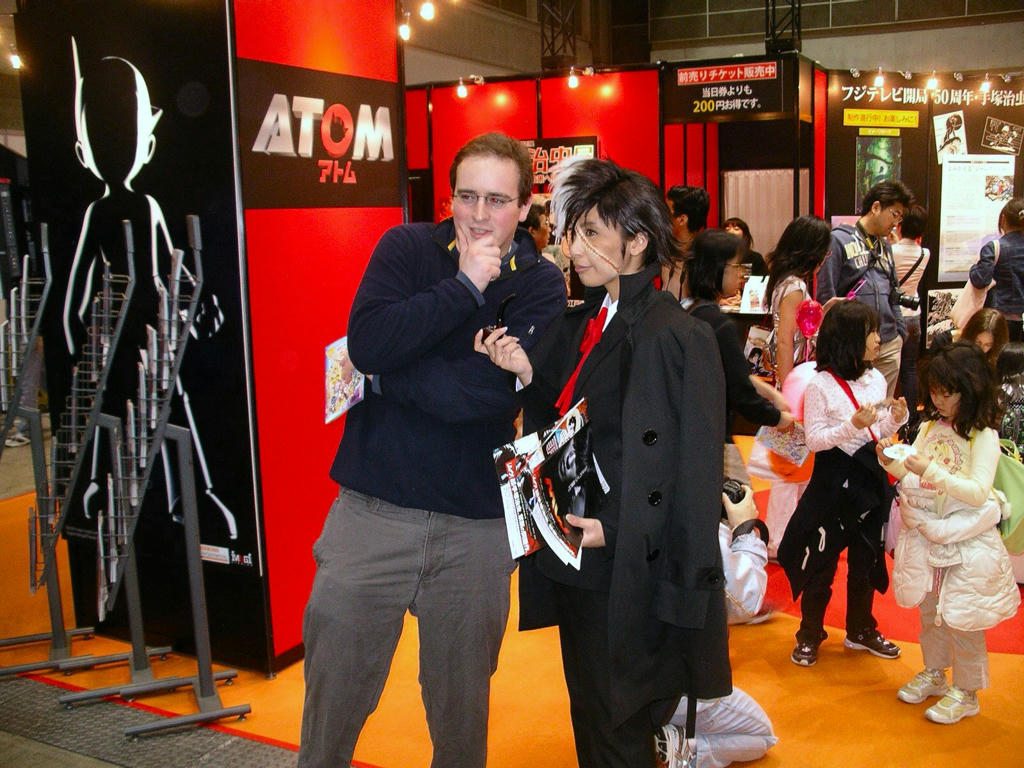 (Black Jack with a fan)
While the JT emphasized the presence of the
Tezuka 20th anniversary, Chinese anime and tourism
at TAF, they weren't particularly major themes that I could see when I visited on Friday for 5 hours. Yes, some of the booths had Tezuka stuff, but since
Black Jack
and
Tetsuwan Atomu
are major features as anime on their own, it would have been surprising if Tezuka-related things weren't present.
(
Lucky Star
shrine next to what seemed to be a tourism booth)
As for tourism - I guess that had to do with the
Lucky Star
shrine at one booth, and the fact that
Lucky Star
has been boosting the number of visitors to Washimiya City in Saitama. But again, it's not like there were travel agencies all over the place trying to sell tickets to people wanting to visit locations that their favorite shows are set in. On the other hand, China had a big, visible presence in the middle of one floor, although the anime produced by those studios and shown at the booth weren't attracting crowds of any size.
(Figures at one of the goods shops)
My thoughts? TAF is a great place to get swag, buy stuff, see free anime, and get trampled by massive crowds. The last point may not be as high on most people's list of things to do, though. The booth exhibitors included a number of Japan-based animation colleges trying to sign up students; foreign animation studios from Hungary, China, Taiwan, and the U.S., among others; anime DVD, goods, figures, cel and t-shirt shops; video game makers (largely softcore games); big anime studio names (Aniplex, Gainax, Bandai, Toho, Toei); small subcontract studios; and animation equipment producers (such as a maker of 3D printers).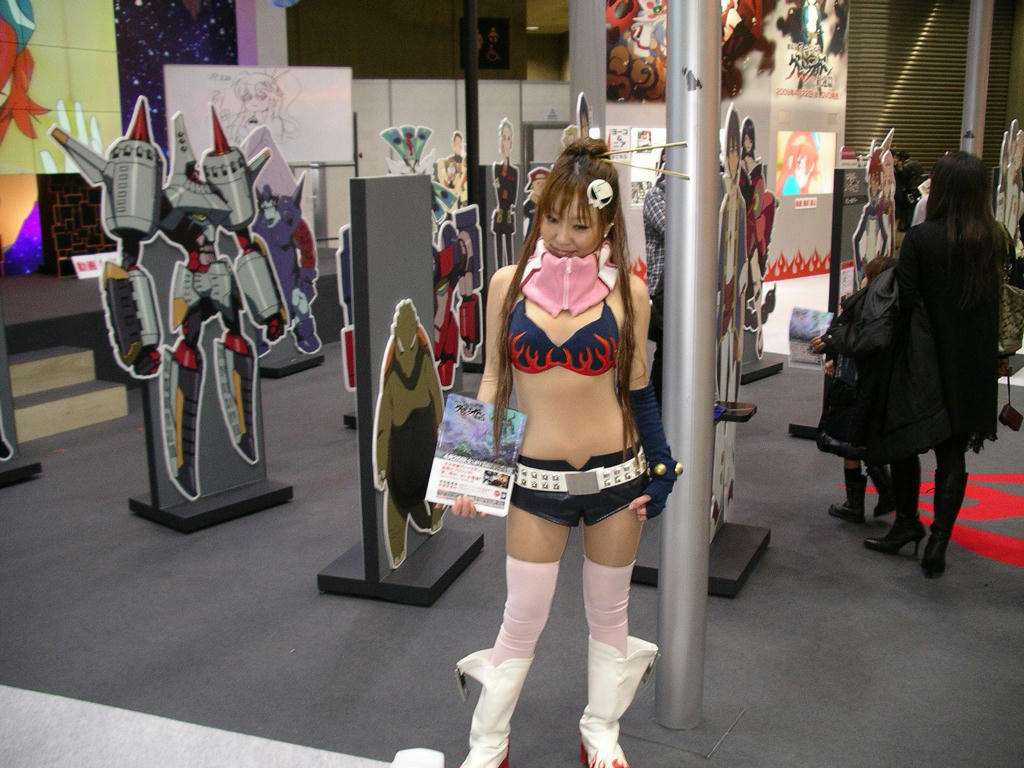 (Yoko Littner from
Gurren Lagaan
)
Several of the booths handed out demo DVDs or other items if you filled out a survey; others handed out tickets to exclusive stage events. A lot of the booths just handed out fliers, newsletters, balloons and catalogs. I picked up 5 packets of tissues; sampler DVDs from
Studio Anima
,
Nihon Kogakuin College
, a Taiwanese distributor, and
Studio Animal
; some free amateur manga; a small poster; some post cards; and a few plastic notebook sleeves. I also bought a small
Ghost in the Shell Tachikoma
for 500 yen(which is very cute, thank you for asking). (I threw away about half of what I rceived, which came to about 5 pounds of fliers and catalogs.)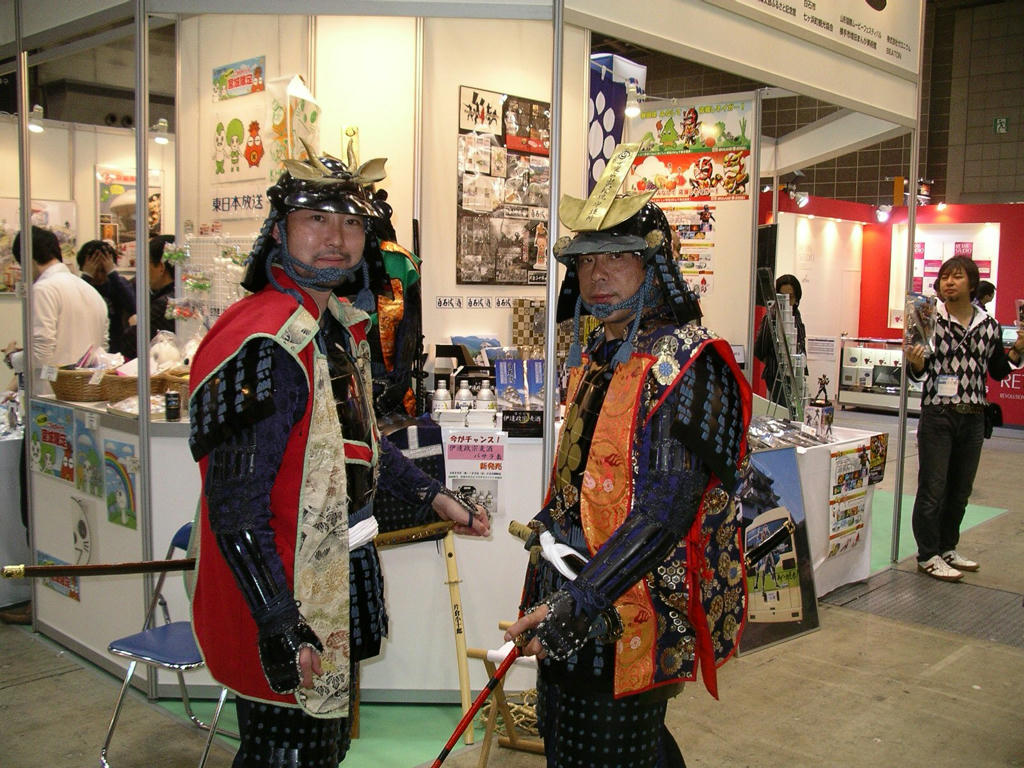 (Actors advertising for one booth)
There were 2 big stages, and 3-4 smaller stages scattered around the floor. Most of the stage events that featured voice actors or pop artists were surrounded by fans, and I didn't bother spending the couple hours per line to get tickets to them. In fact, the popular events were jammed. But, because the good people at
Studio Animal
gave me a ticket, I was able to see the "
Tokyo Tantei Hime Festa
", as well at the
Caramaru-kun
live show described in
TAF, Part 1
.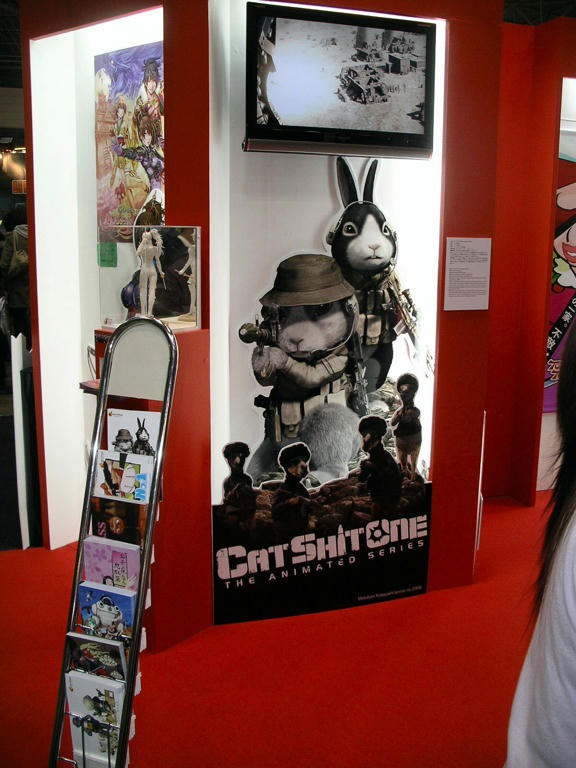 (
Cat Shit One
ad)
Other comments - I love the CG on the new
Cat Shit One
anime (mentioned by
Peter Evans
). There's a Chinese anime production for Imax that a Taiwanese distributor was advertising, set in a
Chinese art museum after-hours
(when the statues come to life), that looks gorgeous. And, the
Hungarian animation booth
had an interesting cartoon named "
The District
" that used scanned drawings to create a 3-D effect, with a story that features a group of inner-city kids that build a time machine to go back and bury a bunch of mammoths under where their apartments will be built in order to have their own oil field when they return to their own time. The people at this booth were very friendly and rightly proud of the work produced by their studios.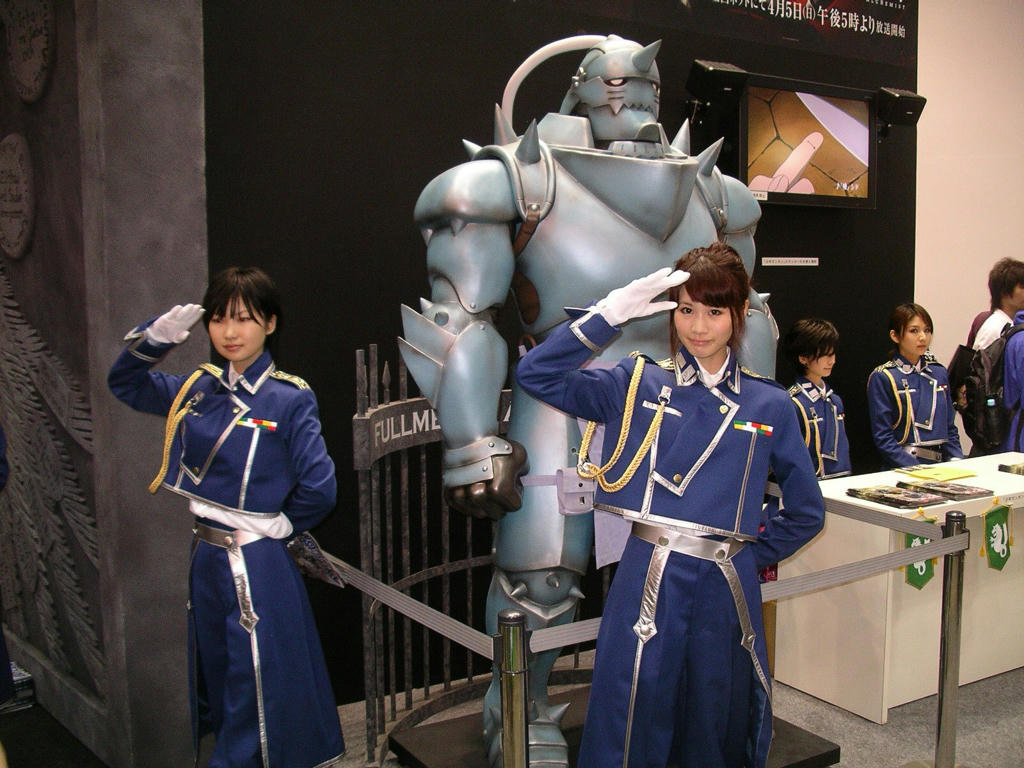 (
Full Metal Alchemist
booth)
TAF visitors included pretty much everyone - couples, singles, families, industry professionals, booth bunnies, small children, old-timers, and tourists from around the world. Metropolis and the Japan Times both mentioned the presence of cosplayers. Interestingly, the TAF website FAQ specifically stated "no cosplay". The only ones in costume on Friday were those working the booths. I didn't see any "unofficial cosplay zones" elsewhere around Big Sight, but since I didn't really try looking, I don't know if there were any or not.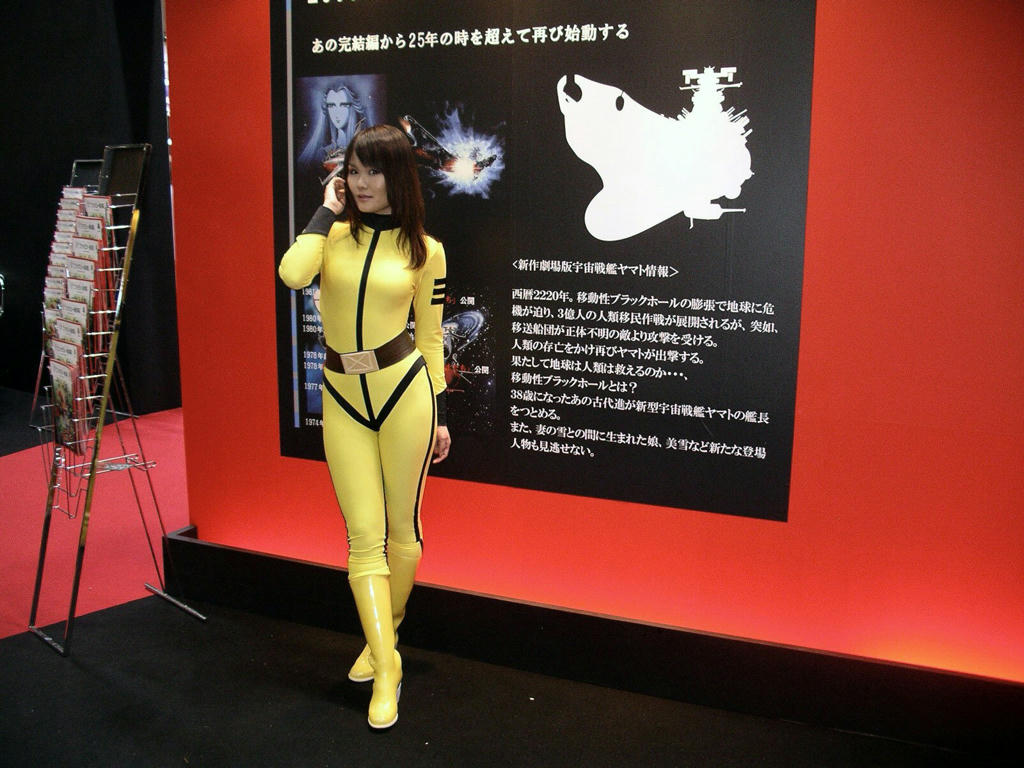 (
Yamato
)
I enjoyed myself. If you want to see all 70+ photos I took on Friday, visit my
Media Fire album
.