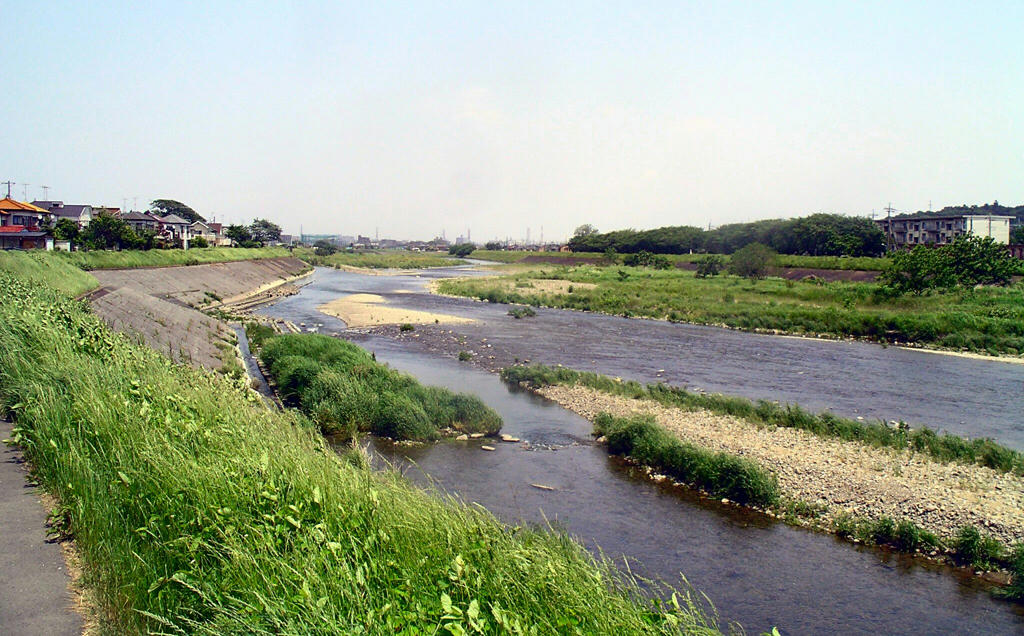 Tokyo is surrounded on the west by a series of big hills. As a result, there are a lot of rivers cutting across the landscape, the Tamagawa just being one of them. About 5-6 miles north of Noborito, just past
Fuchuu
and
Kyodo no Mori
, the Asagawa (Asa River) joins the Tamagawa from the west. Like the Tama, large stretches of the Asa are wide, dry riverbeds. A few small dams cause the river to widen up along the way. The Asa runs back to the
Takao
train station on the Chuu-ou line.
You can never really know what to expect when wandering around Japan, even if you have a good guide book and a map. I encountered one park that had a raised walkway that made it feel like I was wandering through a swamp. Except that the park was only a couple hundred yards square, and the walkway was made of concrete formed and painted to look like wooden logs.
A little farther on, I found a dog run and pony petting center. There was a small building nearby, but it was locked up, so I don't know who was taking care of Jack and Dandy. These ponies came from Australia and petting them is encouraged. The signs ask that you don't feed them hamburgers, though.
There was a small event center, and a coffee shop that roasts its own beans. I decided to stop in the shop to see if the place sold finished drinks, but they only had roasted beans available. I started talking to the owner, and he turned out to be really friendly, and also a mountain biking enthusiast. So I killed about an hour discussing good places to cycle, different kinds of coffee beans, and the differences between living in the U.S. and Japan. In the end, I bought a small coffee pot, filter, and 100 grams of beans. (3.5 ounces, at 575 yen. For a full pound, that's equivalent to $24. Japan is not a cheap place to live. But when I got home, I made up a cup, and it tasted really good with some milk and sugar added.)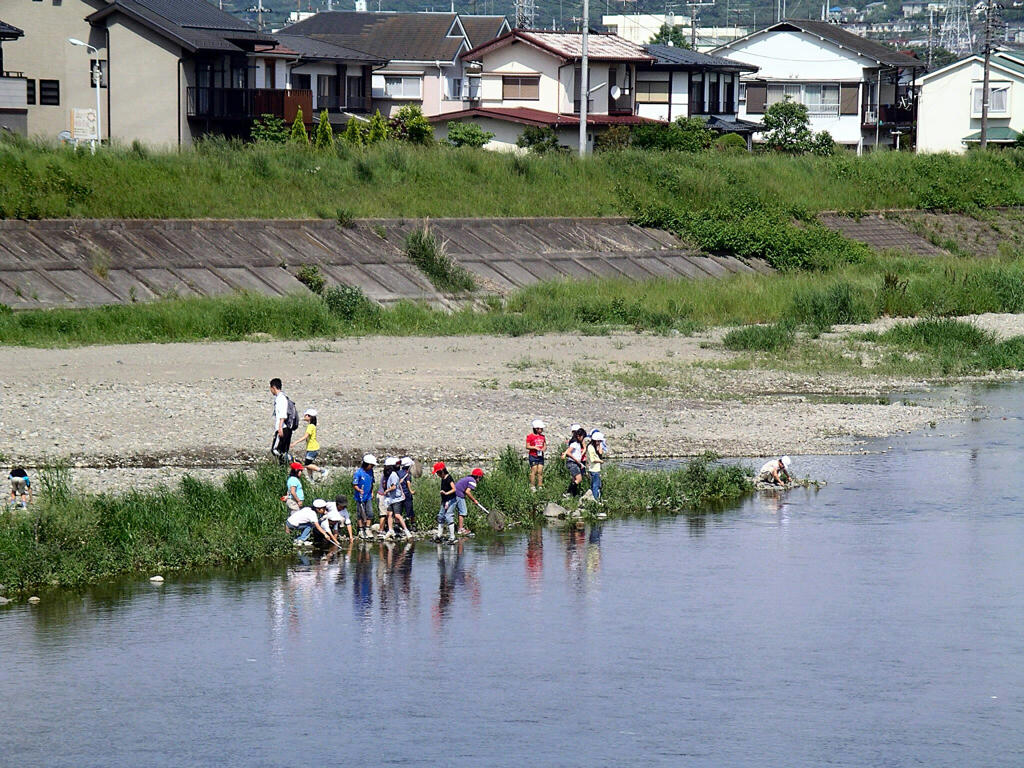 At one stretch, a group of small school children was out on a class field trip, looking at the grasses and trying to find fish.
And, elsewhere, I caught a glimpse of the Ferris wheel from the
Tama Tech amusement park
. According to the English website, Tama Tech opened in 1961 as a
motor sports center
. It's now the place for bringing the entire family, and also has its own onsen (hot spring spa). Closer to Hachioji is the
Hotel New Grand
. It's designed to look Victorian, and the English chapel was actually dismantled and moved to the hotel in 1996. The place conducts weddings, and hosts various events including a
Summer Jazz fest
.
Finally, we get to Takao station (although we have to switch rivers, and this is where things get confusing). The building itself is designed to resemble a Buddhist temple. There are gift shops all around, as well as parks and museums. And, as you approach from the hills, you get to see a building that I have yet to identify. Next time, I'll see if I can arrive with enough time to actually check it out.
(Looking towards the Takao train station from about 1 mile away.)