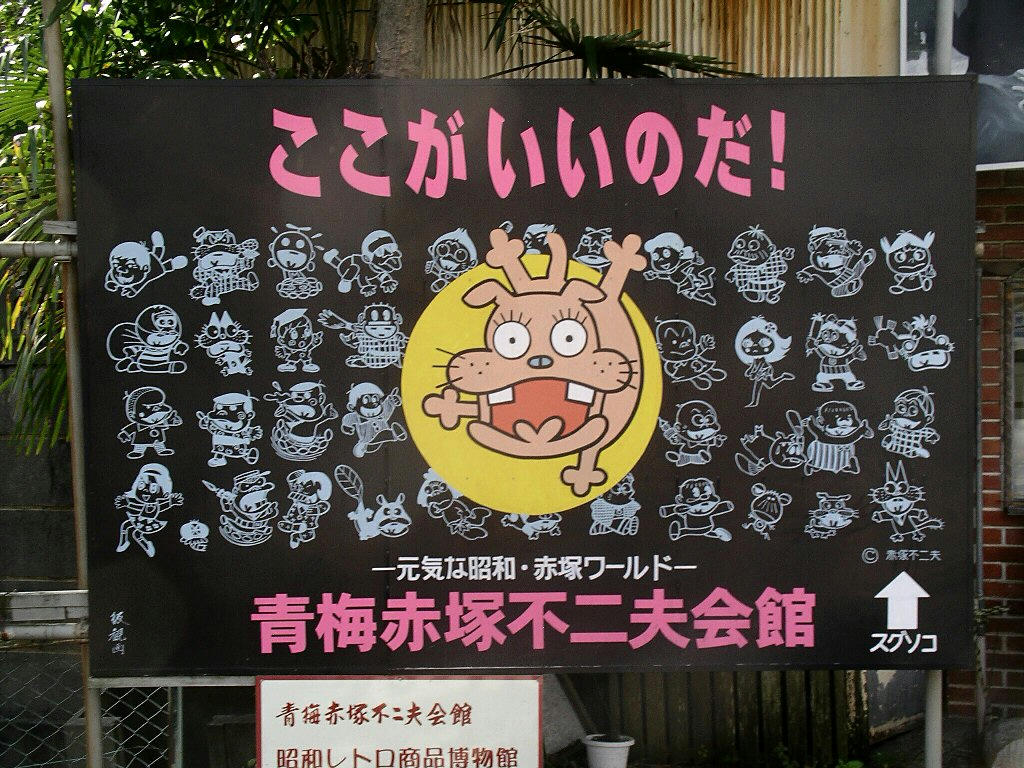 (The text at the top of the sign says "Here is good".)
The real reason for riding out to Oume was that I'd found an
article
on the net mentioning the
Fujio Akatsuka memorial Hall
in Oume. Fortunately, I'd been near Oume once before, when I rode out to the
Tamagawa Weir
, and I knew pretty much where I needed to go. (Actually, not exactly true. I've been here twice. The first time was when I transferred trains to get out to the
dam a few miles farther away from Tokyo
. At the time, I didn't realize that the painting of Mysterious Akko-chan visible from the train platform was an advertisement for Fujio's memorial hall.)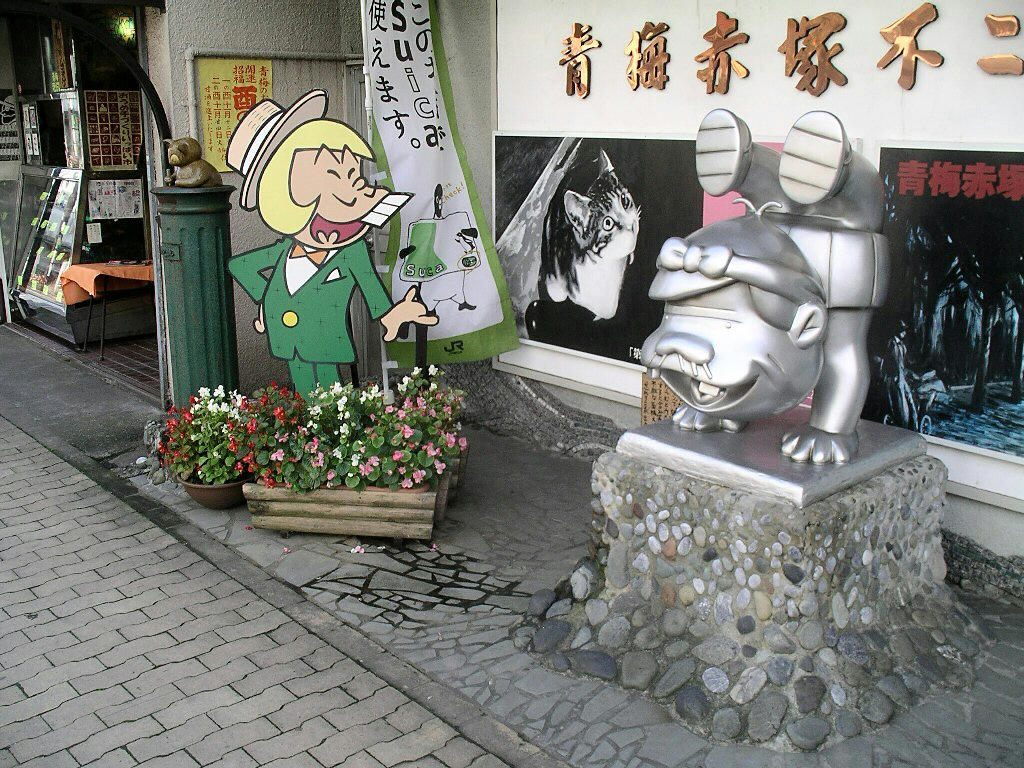 I've written about Fujio several times. Most recently for an
exhibit at a department store
in Ginza, as part of his anniversary (he'd died in 2008). I've also written up a translation of 2 of his Tensai Bakabon chapters that I'll put on
Nihon-go Hunter
after I've finished with Tezuka's "Don Dracula" and "The Three Invaders" (at this rate, probably in December). You can find Fujio's
production company page here
.
(His cat figures heavily in some of his works. One photo showed the process used to get it to lay out flat like this.)
The Hall is a couple of blocks south west of Oume station, just across the street from the big shrine. It's pretty
easy to find
, and there are directions from the station. Entry is 400 yen for adults ($4 USD) although you can also get tickets for the shrine and the retro film building next door at the same time for about 800 total. The two women running the ticket counter and gift shop didn't seem to speak English, but they understood my Japanese well enough, and they were very friendly.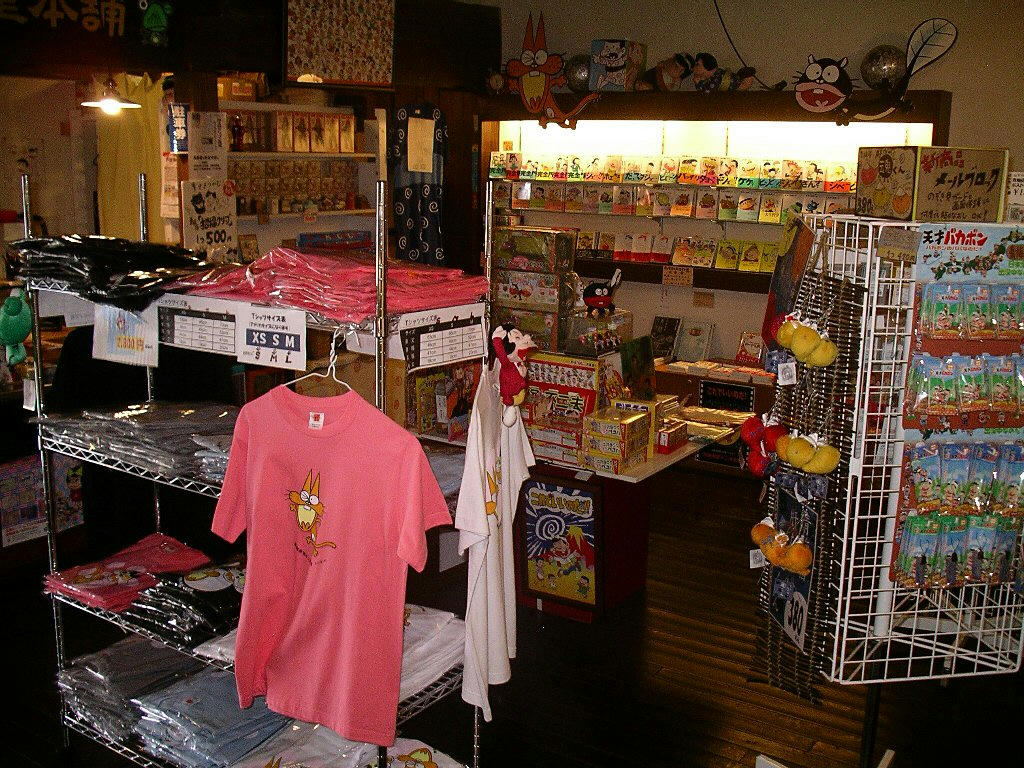 The front portion of the first floor is the gift shop, with manga, DVDs, t-shirts, toys and other paraphernalia for sale. There's also a flier rack next to the door with ads for a number of other museums (it held fliers for the Shonen Sunday/Magazine DNA exhibit at the Kawasaki museum which ended in September, so it may need cleaning out periodically).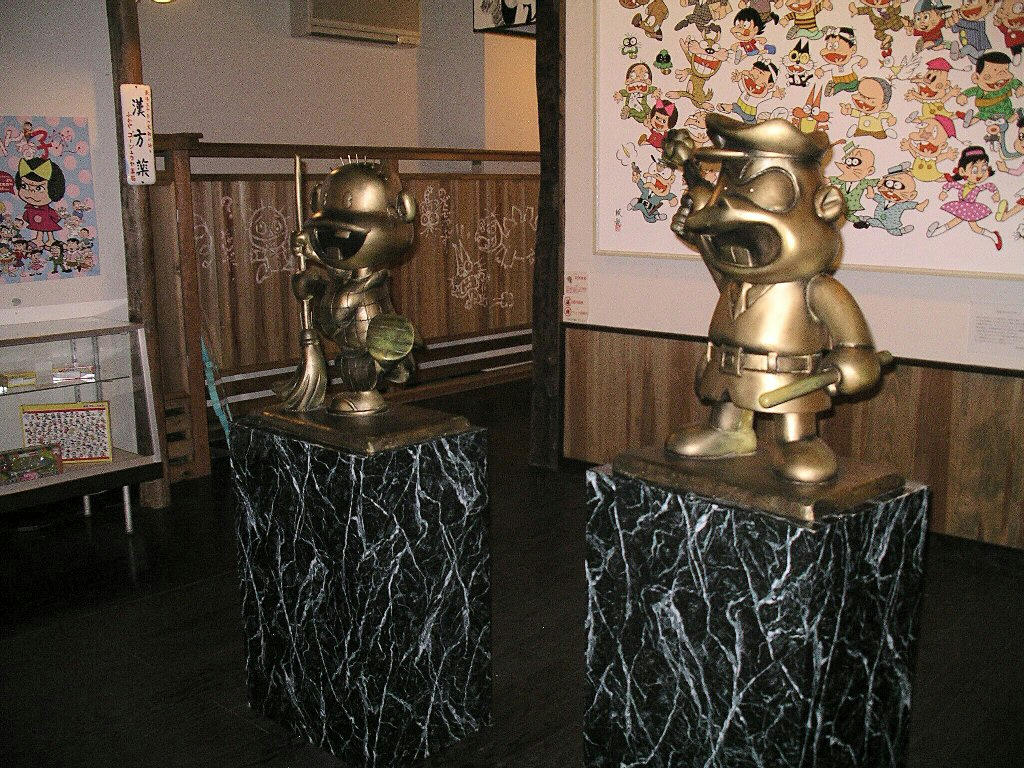 The other rooms of the house have examples of Fujio's artwork, statues of his more famous characters, copies of the weekly magazines that his work appeared in from the 1960's and 70's, and photos of him and his family. You're allowed to take photos on the first floor but not of the second.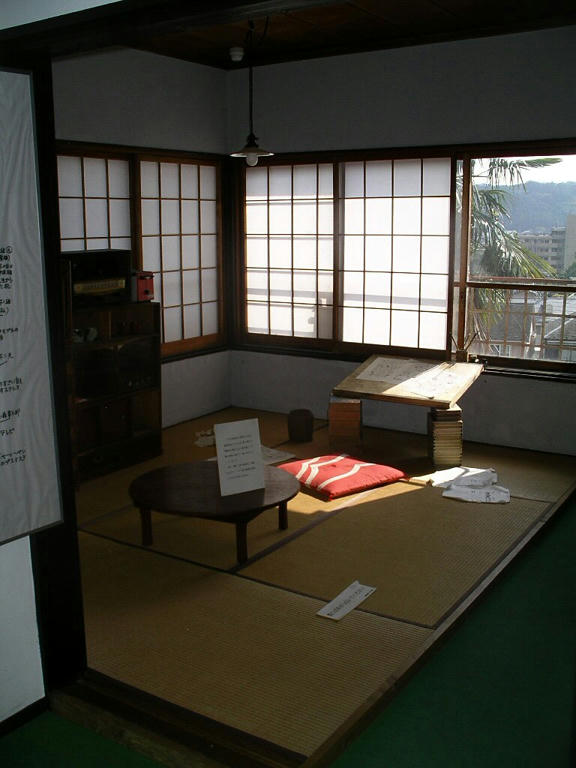 The second floor has a TV set up playing interviews of him and some of his more famous friends (including a few TV comics and musicians), plus computers running his "complete works" DVDs. The room at the far end of the house is set up to resemble his old work studio. There's more artwork and statues in addition to one room that's wall-to-wall shelves of his books.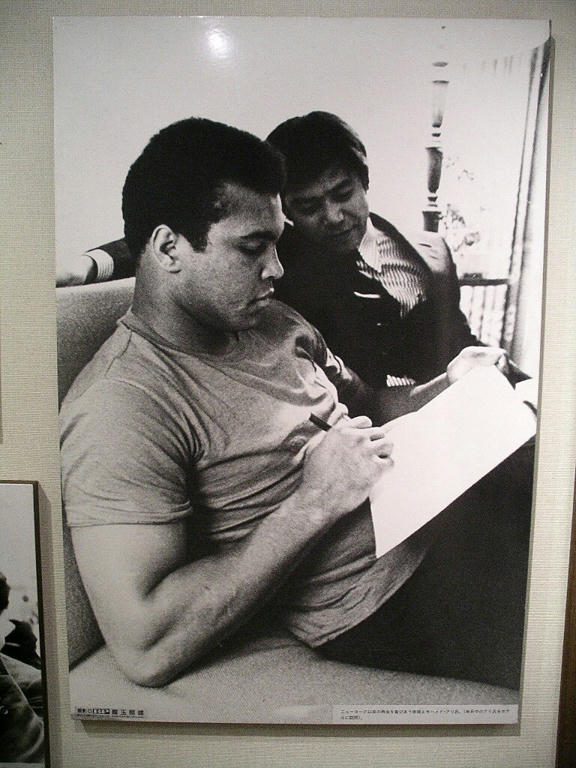 (One photo shows him getting Muhammad Ali's autograph.)
Overall, I enjoyed myself a lot. Fujio had an amazing sense of humor and he wasn't afraid of trying anything that just popped in his head. And you can tell that by looking through his gallery. However, it is kind of small. Even if you play with the DVDs and read some of the available manga, you'll probably be done in an hour. So, I'd highly recommend making this a day trip - get the tickets for the retro shop next door and for the shrine across the street. Visit all three sites and then spend some time wandering around the area looking at the movie posters lurking there.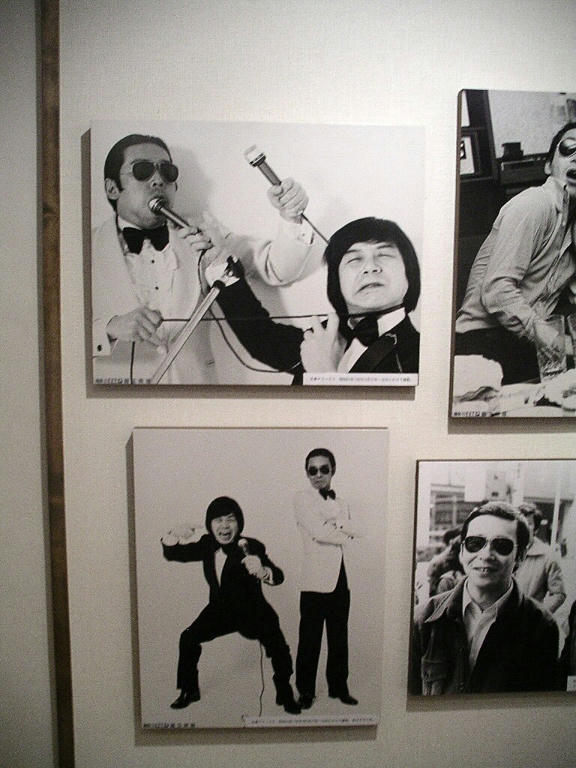 (Fujio and
Tomori
.)
The
complete photo album
can be found here.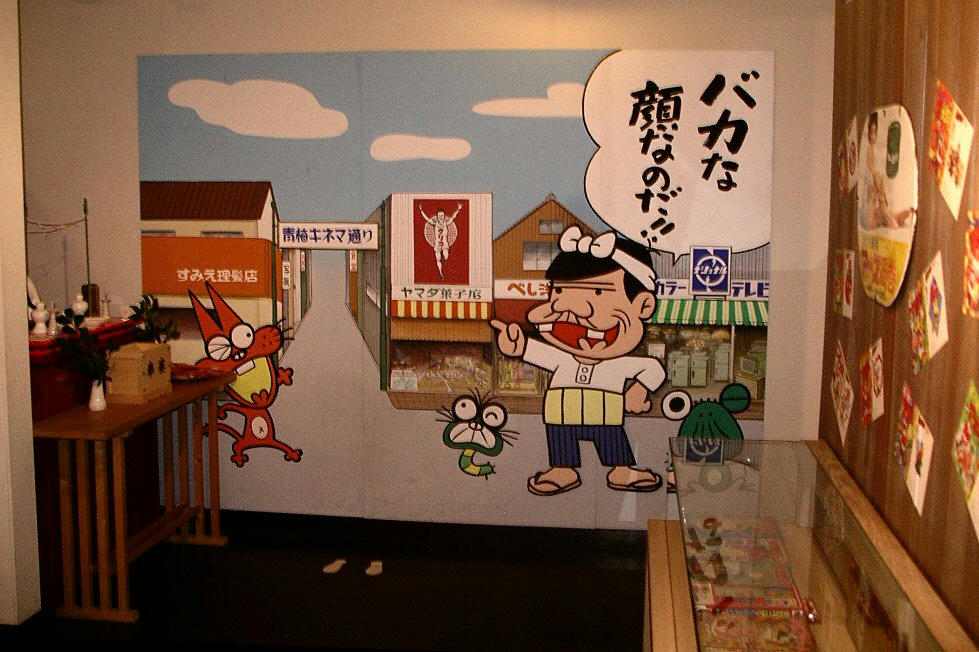 (You stand on the footprints on the floor before the picture and have someone else take your photo. The text says "What a dumb-looking face".)
The below three photos are of different angles of a panel box featuring Bakabon's father, the eel dog, Rerere, and a few of his other characters.