The other day, I was in the bookstore in Noborito train station when I noticed a new Gakken kit that was obviously familiar. There's a TV drama series on in Japan now called "
Trick
", which teams up a physicist and a stage magician to debunk fake spiritualists. Well, apparently the show's producers paired up with Gakken to repackage kit #22, the
static electricity generator
. It's the exact same kit as before, but with new labels from the show to stick on the case, a slimmed down mook, and a picture of the professor character on the box. Oddly, I can't find an image of the new box on either the Gakken site, or on Amazon.jp. One big difference, though, is that the "Trick" version is 1900 yen compared to 2500 yen for the regular kit. (I apologize for the photo. When the cell phone made the clicking sound a nearby shop clerk stood up really fast and I wasn't able to try to get a better image.) The slimmed down mook contains the same static electricity experiments as the original mook, plus some photos of the Trick actor in his professor character explaining the science behind the kit.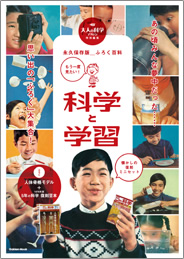 Also out now (as of April 17) is a new "nostalgia" kit. Called "kagaku to gakushuu" (science and learning), the 1,680 yen kit consists of a small assemble-it-yourself human skeleton model, and a thick 148-page mook of fifth grade science lessons circa 1976.
I'm still waiting for kit #27, the 8-bit microcontroller, to come out. The Otona no Kagaku site still says "due out in mid-May", while Amazon lists a May 12 release date. It's a good month behind schedule, so no way of knowing if it'll be delayed again for some reason.