On May 19, one of the local cultural groups had it's second kiri-e (cut paper pictures) class for the year. Previous venues have been at the
San-El building
, and the
Mirai-kan
(environmental museum). This time, it was at the
Kankou Kouryuu Center
, located in the main tourist information buildin just east of the Chuo train station along Napoli Douri. 300 yen ($3 USD) participation fee to cover the costs of materials. The instructor in all classes is a junior high rugby coach that likes doing kiri-e for relaxation.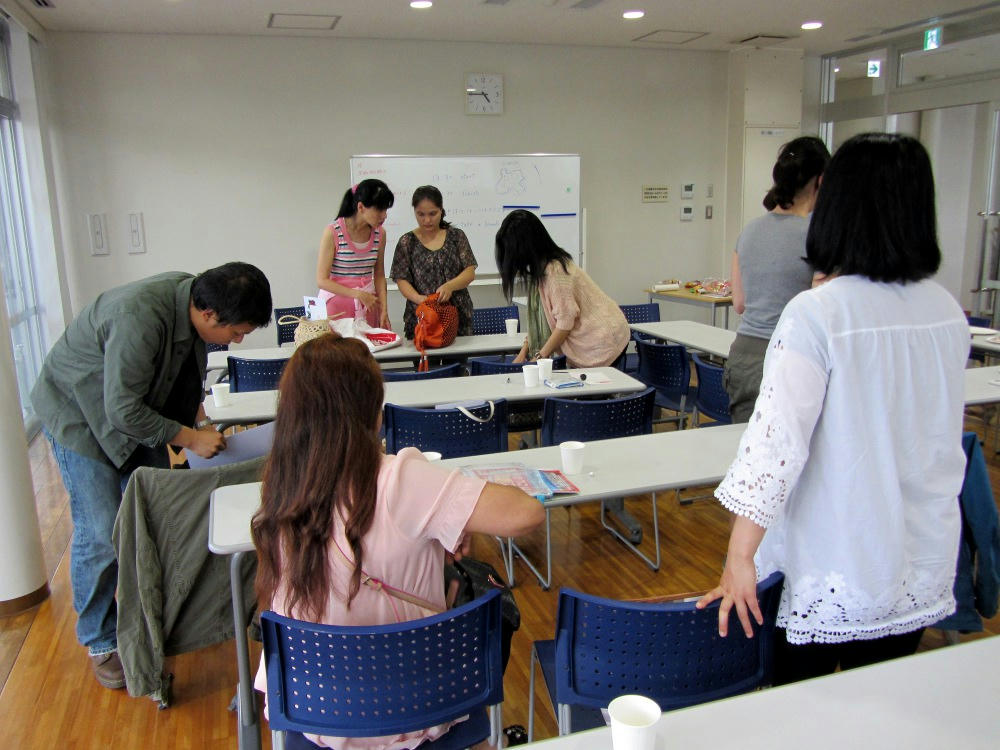 At the beginning of the class, I asked where the instructor gets his patterns from. Turns out that there are as many styles of kiri-e as there are practitioners. Our instructor goes to the library and copies pages of a specific artist that he likes. Later, I went to the Kinokuniya bookstore, and went through about 30 books to see if I could find the same artist. I couldn't, but there were some books that look really challenging (half were simple patterns for young children, and a quarter were of pop-up greeting cards).
In the last class, the organizer had said that this one was going to be targeted at beginner and intermediate students, with some patterns too difficult to finish in one sitting. But, the instructor had mostly the same patterns as in the previous classes. He did locate copies of one sheet that he said would be challenging, and gave it to me and one other student. This time, the class was made up of primarily foreigners, with some Filipino women I know, and some new people from Germany and Canada. I was kind of antisocial during the 3-hour class because I really did want to try to finish before time ran out. I got really close, but at 4:30 PM, every one got up to have their pictures taken with their works. When I did get the main image pasted to the backing sheet, all of the other kiri-e were packed up, so I couldn't take photos of them myself. All that's missing below are the paper strips representing falling rain.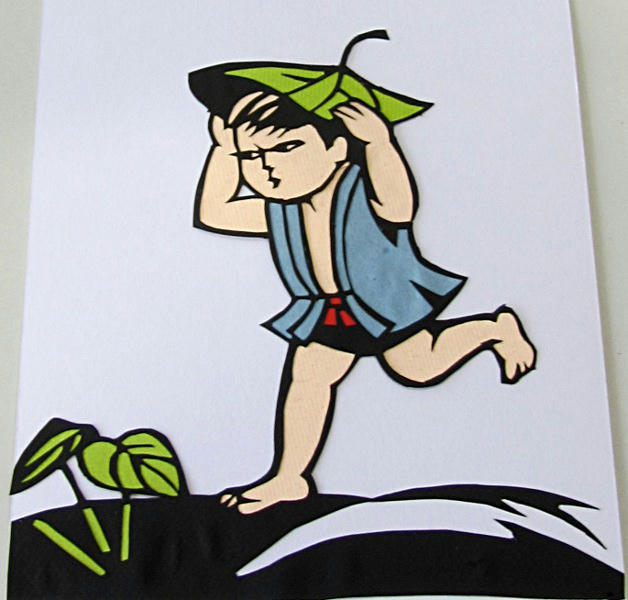 The paper is still damp from the glue, which is why it looks a little lumpy. I'd asked the instructor about where to get kiri-e supplies, since most stationery shops don't actually carry cotton-fiber colored paper. He mentioned
Shinpuku
; the main outlet store is only 2 blocks away from the tourist information center. I plan on adding the rain drops at home.
After the class ended, everyone sat around and discussed life in Kagoshima over snacks, coffee and cold tea. Definitely a good time overall. The next kiri-e class will be in July.