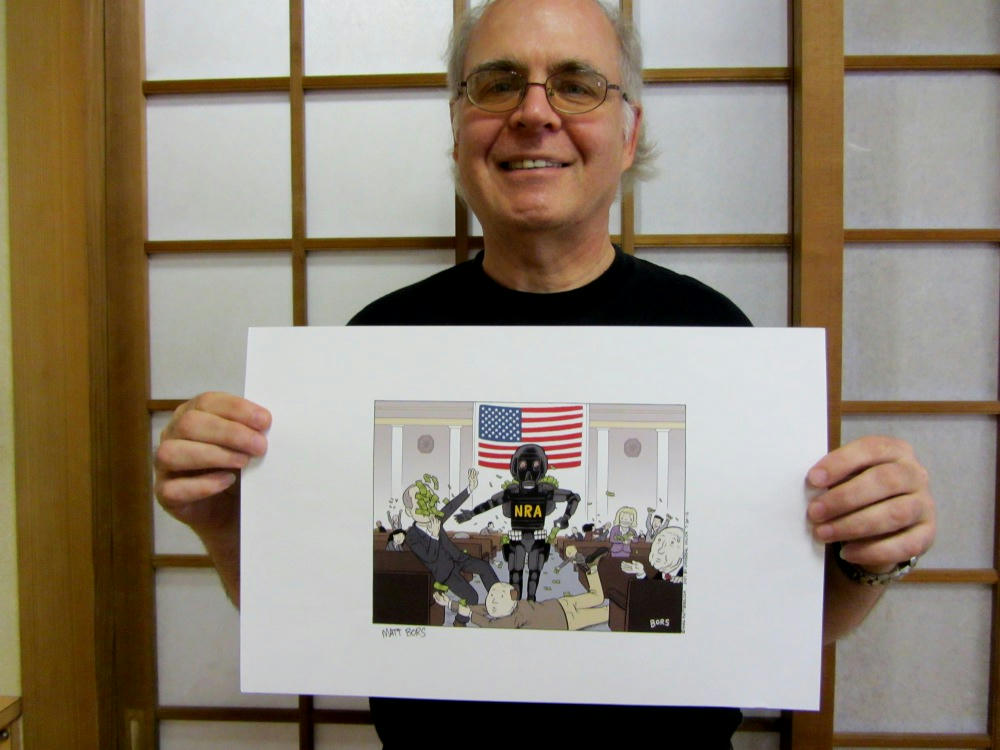 GoComics
occasionally has giveaway contests to advertise themselves, or promote specific artists. For the most part, to enter you just have to comment on a contest announcement in their blog, and watch for the announcement of the winners on the blog a few days later. Lately, they've had separate contests on their
Facebook page
. The prizes can be signed prints from "For Better or Worse", "Tank McNamara", "Stone Soup", etc., or puzzle books sold by their sister company
The Puzzle Society
. I generally try entering most of the contests, figuring that if the prize isn't something I want, I can still find someone I know that does want it. Previously, I'd won a
Skin Horse print
this way. This time, I got a signed print from editorial artist
Matt Bors
. The contest gave away a print from a liberal artist, and one from a conservative artist (
Henry Payne
). You had to pick which one you wanted when you entered. Since 2 people had already asked for the conservative print, I decided I'd be nice and ask for the liberal one. I wasn't really expecting to win. By the deadline, there were only 6 names entered, and two of the last three also asked for the Bors print. Obviously, I won the Matt Bors, but the original winner of the Payne print failed to submit his mailing address by the deadline 2 weeks later and the second guy got it by default.
It was a pretty poor showing - 6 entries total. Compare that to the 82 people that wanted the
Beginning Pearls
children's comic by Stephan Pastis, artist on
Pearls Before Swine
.