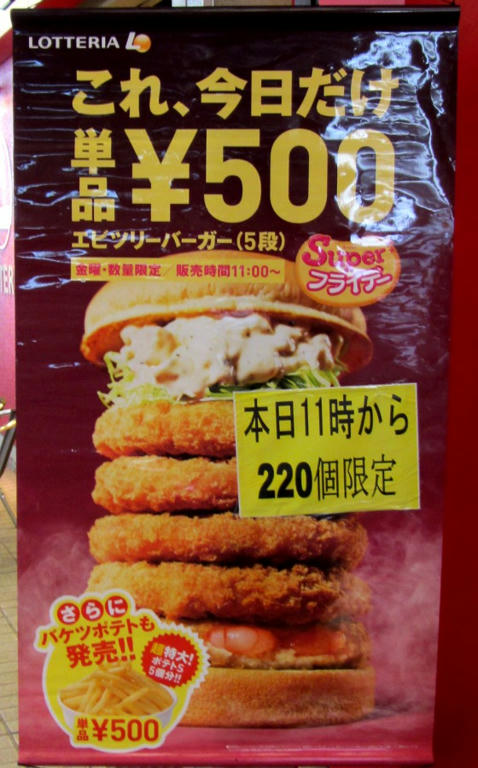 Back when I was first working in Hitachi in Japan, I was in the small town of Kudamatsu. There was almost nothing there, except for a grocery store near the company dorms, and The Mall about a 2 mile hike away. The Mall had one western-style fastfood place - KFC. It was a nice place to visit if you wanted to buy clothes or music, or to play video games, but there were maybe only 4 restaurants to choose from. The nearest big town was Tokuyama, 15 minutes away by train, but the trains didn't run that often. Generally, I'd only go to Tokuyama once or twice a month, during the weekends. But, when I did visit, I almost always made a point of eating at the Lotteria burger shop in the arcade near the station. It was kind of a way to relax, sitting down and eating hamburgers. The burgers were pretty good, but a bit expensive. When I moved back to Tokyo, I stopped eating at Lotteria kind of on principle (the closest location, in Noborito, was rather filthy). But, every so often I'd visit the anime shops in Nakano, and I'd sometimes have a burger at the Lotteria there out of nostalgia. The problem was, at this point, the recipes had changed and the prices had gone up. The burgers didn't taste as good anymore. And now, I'm in Kagoshima and there's a Lotteria in the Tenmonkan shopping complex along the route I take to and from my English school. The prices are much higher than I like and the burgers are too greasy. So the only time I eat there now is when a music event is happening in the open space in front of the Lotteria and I'm waiting for a specific act to start up.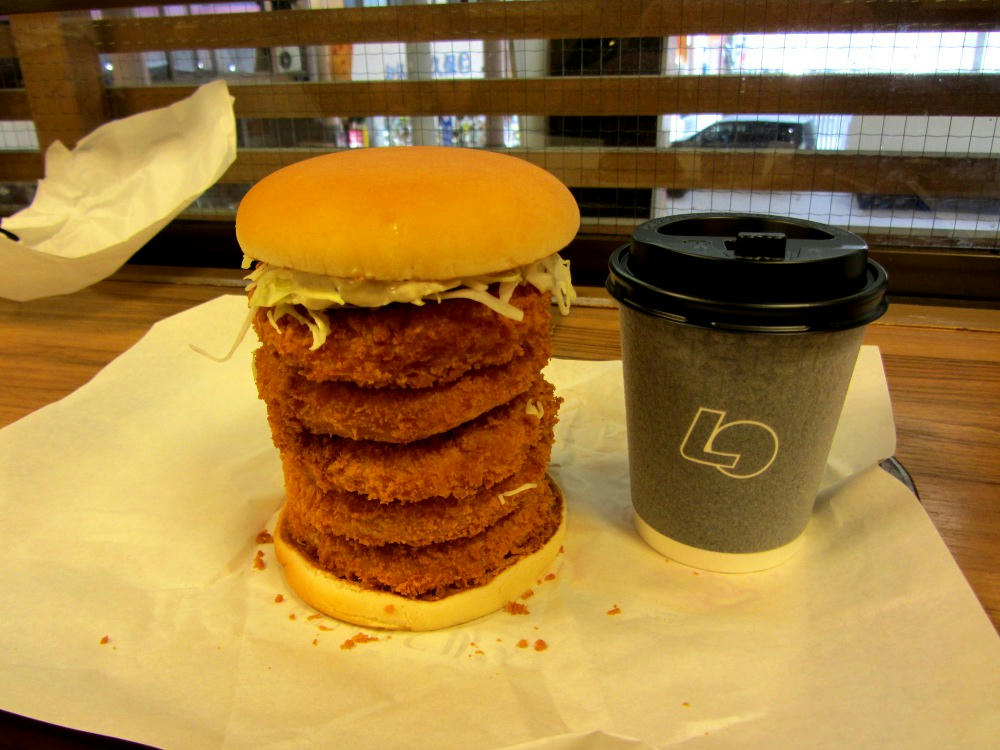 However... A few weeks ago I saw a delux multi-patty burger on the menu and I wanted to get it at some point when I was hungry to take a photo for the blog. But, when I went back, it was off the menu. Recently, Lotteria had posters up promoting two new tall stacks, which were to be available only 2 specific days each. I'd missed the first two days, and on the third day I wasn't hungry. One stack was a 5-patty hamburger, and the other was a 5-patty fried shrimp sandwich. The shrimp stack would go on sale on Friday, Oct. 5th (AKA: Fryday) only, and I made sure to stop by when I was done with all my classes. The poster above is announcing that this location only has materials for 220 orders, and they'd be sold-out after that. The clerk took my order and automatically assumed I'd take it home to share with 4 other people. Instead, I asked for it eat-in, and got a small hot coffee to go with it (500 yen for the sandwich, 200 yen for the small coffee, no refills. Total - $7 USD). Unlike the poster, the actual sandwich has a single thin layer of a mayonnaise-based tartar sauce with onions. Trying to squeeze the sandwich down so you can take bites out of it just causes the buns to tear. Ideally, you want to eat this one patty at a time, using a fork. But they didn't gave me a fork, so I ate it one patty at a time with my fingers, trying to make the bread last as long as possible. Because there's so little sauce, and it's only on the top patty, the entire sandwich becomes very dry very quickly.
The shrimp part of the patties was pretty good, but the overall experience was un-fun. Bottom line, the next time these become available, order one tall stack and then share it with your friends. Bring your own tartar sauce or catsup, and your own forks. In conclusion, I'm not planning on returning to Lotteria for a while.