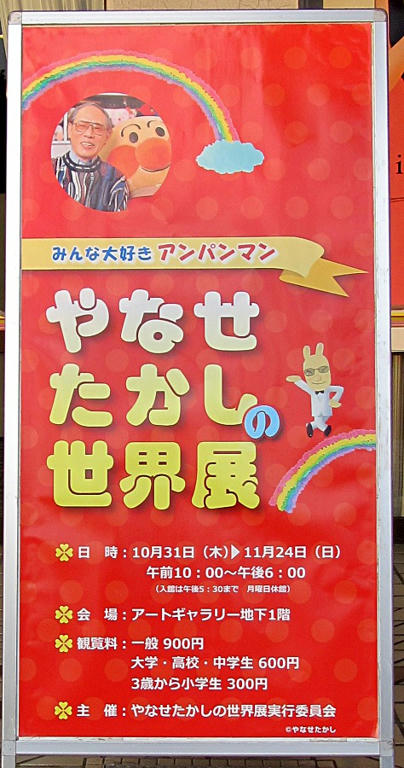 I could have named this "An hour in the day in the life of...", but I didn't.
Last week, one of my students mentioned that she was going to
Houzan Hall
, next to Central Park, to see the new exhibit on
Yanase Takashi
. Takashi, who died on Oct. 13, was a manga artist, illustrator, song writer and singer. He's most famous for having created the
Anpanman
series, which owns a Guinness World Record for having the most identifiable characters for a TV series - 1,768. She'd thought that it was free, but when we got to the hall, we discovered that there's a 900 yen ($9 USD) entry fee, so she decided she wasn't interested after all. I had a tight schedule, so I kept walking home.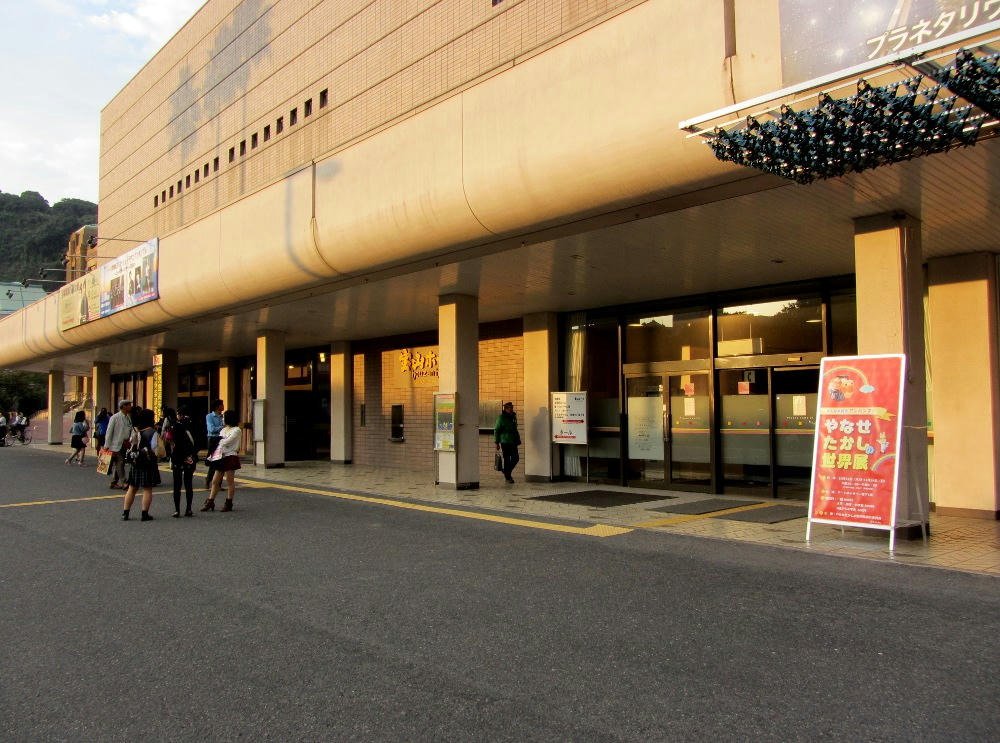 Most museums and art galleries in Japan are closed on Mondays, unless it's a national holiday. Sunday was "Culture Day", and Monday became a roll-over holiday by default, so I figured that if I had some free time, I'd swing by the Hall and drop the 900 yen to get inside. I finally managed to get out of the apartment at 4:15 PM, and reached Central Park 10 minutes later. The exhibit is in the basement of the building, and tickets are sold at the door. Naturally, photos aren't allowed, although there's no signs saying that.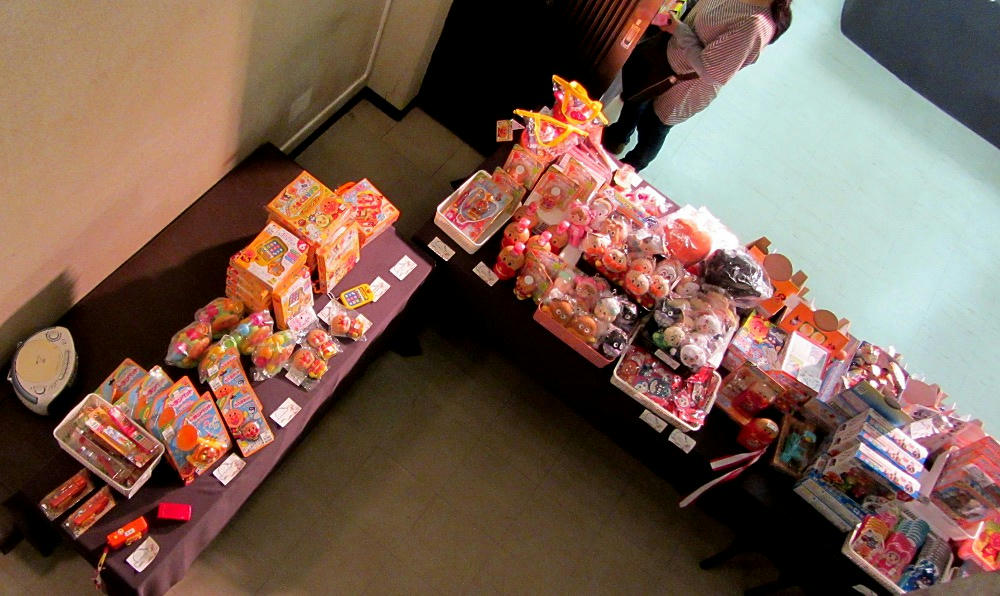 (Goods tables.)
It's actually a small exhibit, consisting of a timeline of Takashi's life, a welcome message he'd written some time ago, sample paintings of the
Anpanman
characters, original art from 2 of his children's books, some calligraphy he'd painted to cheer up victims of the Fukushima disaster, examples of some of his books, and stuffed plushies from
Chirin
and
Anpanman
. The 2 books are
Yasashi Lion (The Gentle Lion) and Chirin no Suzu (Chirin's Bell)
. In the
Gentle Lion
, a lion cub in a zoo is raised by a female dog that has just lost her litter. The 2 grow up, and are separated when the lion is forced to perform in a circus. One night, the lion remembers his mother, and escapes. They are reunited in a forest nearby, but the military is called in and they kill both animals. At night you can sometimes see a lion flying through the sky with an aged dog on his back.
Chirin's Bell
has been animated and is available on amazon as
Ringing Bell
.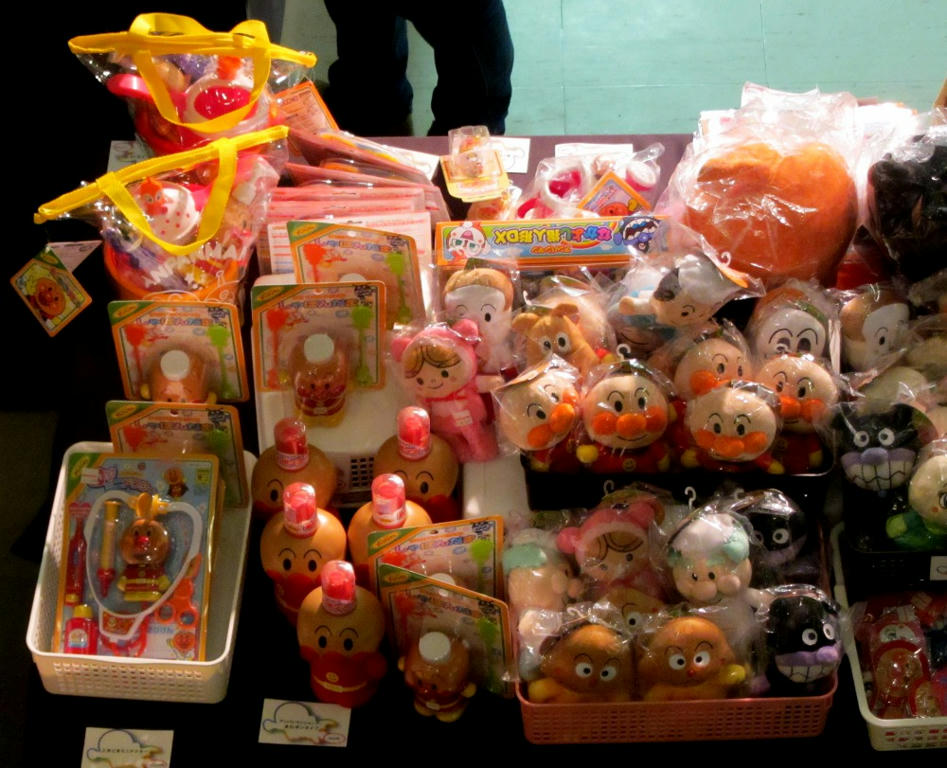 (Anpanman dolls, bottles of shampoo and stationery sets.)
The children's book and anime artwork are all pretty simplified, and geared to very young kids. But, looking at the larger illustrations of
Anpanman
, specifically the individual character posters, it's pretty obvious that Takashi was an accomplished painter. I just wish there were more pieces in the exhibit to justify the price.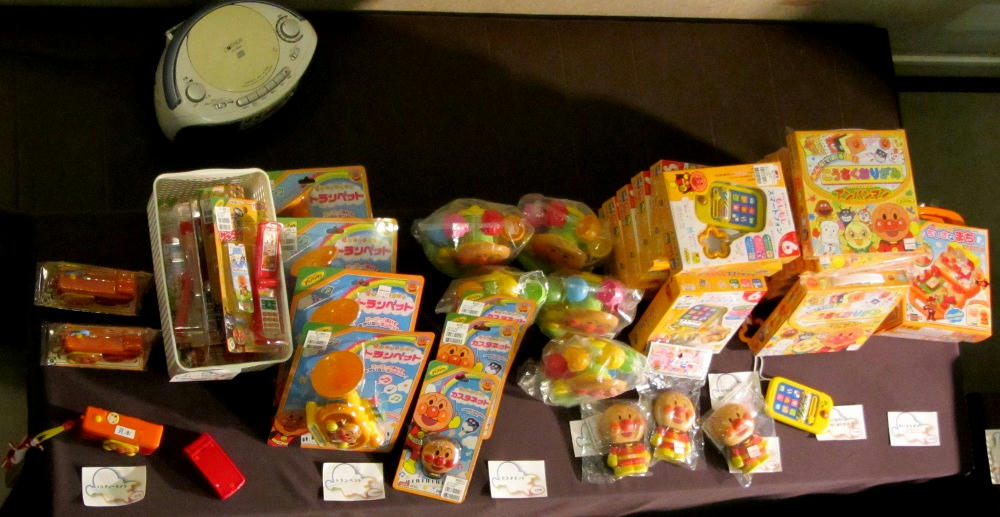 The main point to having the exhibit seems to be the goods shop, which takes up almost a quarter of the floor area. Lots of toys, dolls, clothing and music CDs. The ticket and sales table had four employees staffing it and one kept on pacing in front of the table at all times, so the only way I could take photos was by going halfway up the nearby spiral staircase and shooting down on the goods tables that were within view of me.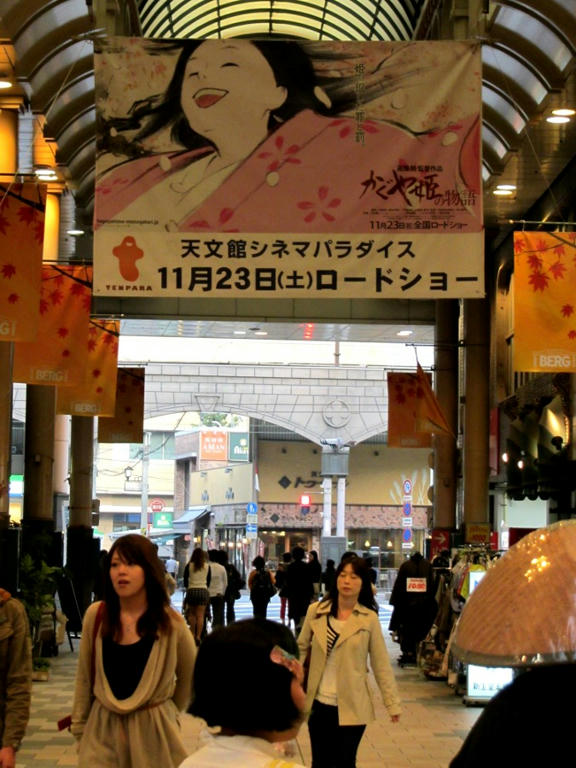 I left Houzan Hall after about 30 minutes and walked through Tenmonkan on my way to the Maruya Gardens department store, to get bread for the next day's breakfast from the bakery in the basement. Unfortunately, all the raisin bread (26 yen apiece) was sold out (which was unusual). Along the way, I saw the banner advertising
Kaguya-Hime no Monogatari
(Princess Kaguya's Story), the latest film out from Ghibli Studio. Notice the basket hat in the lower right corner of the above photo, for the Buddhist priest begging for change.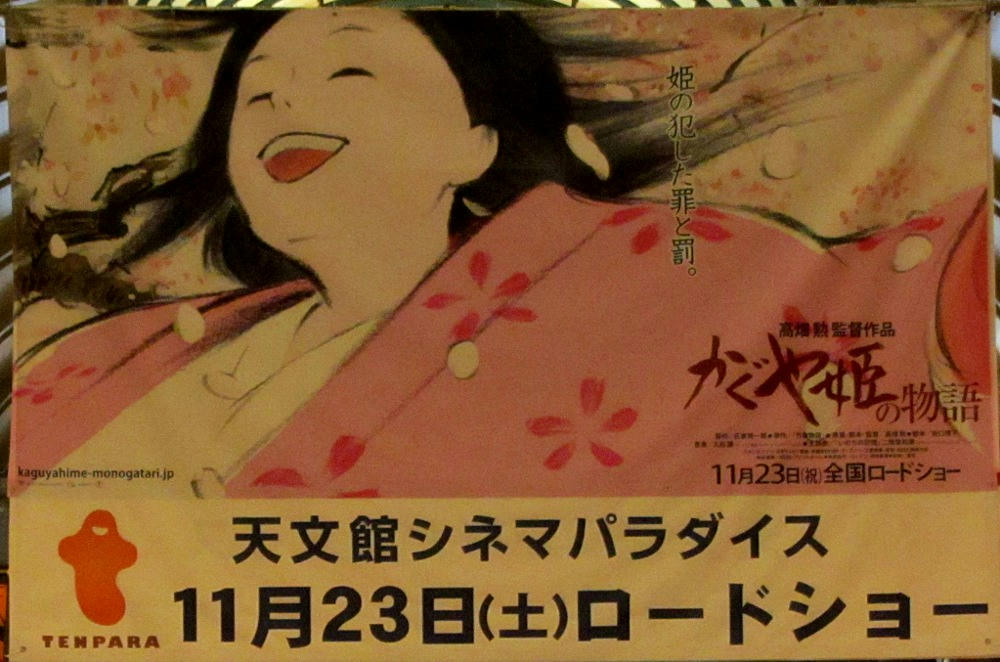 (The text at the bottom is advertising the Nov. 23rd road show at the Tenmonkan Cinema Paradise - AKA, Tenpara.)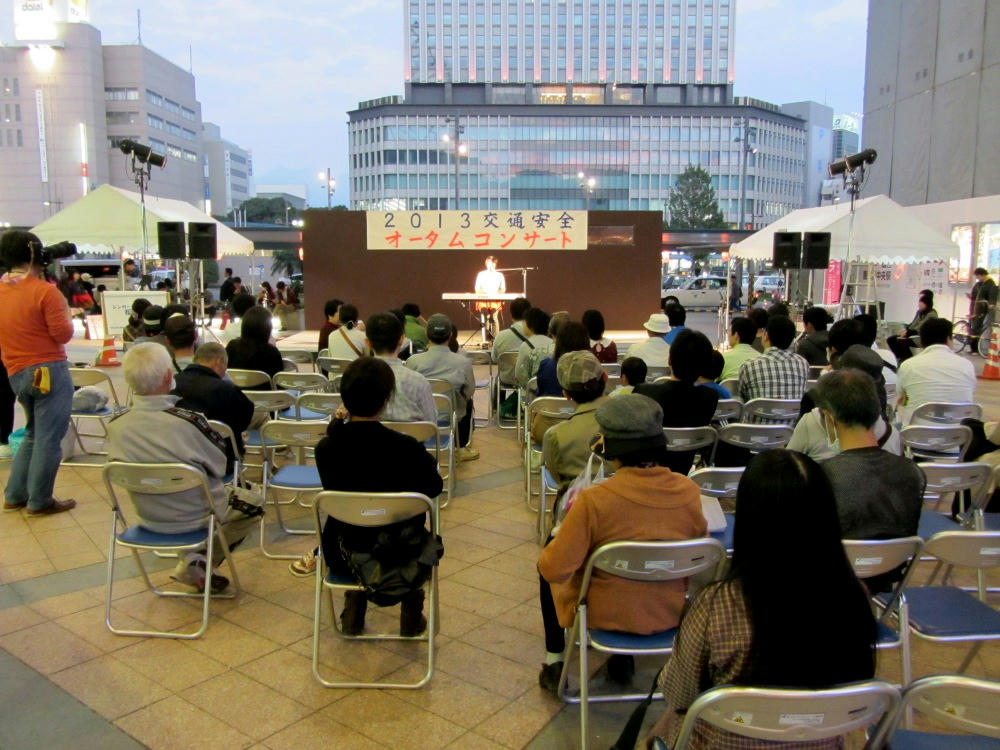 Since Maruya Gardens was out of breakfast bread, I walked up to the main train station, about 10 minutes away. I could hear music from a block off. Amupla was holding an Autumn Concert. I didn't catch the singer's name, but the way she introduced herself as "singer-songwriter" whomever sounded just like a breathless child-like woman that had been on a program on NHK radio a couple months ago. I guess she's a national recording act. A table to my left was selling her CDs.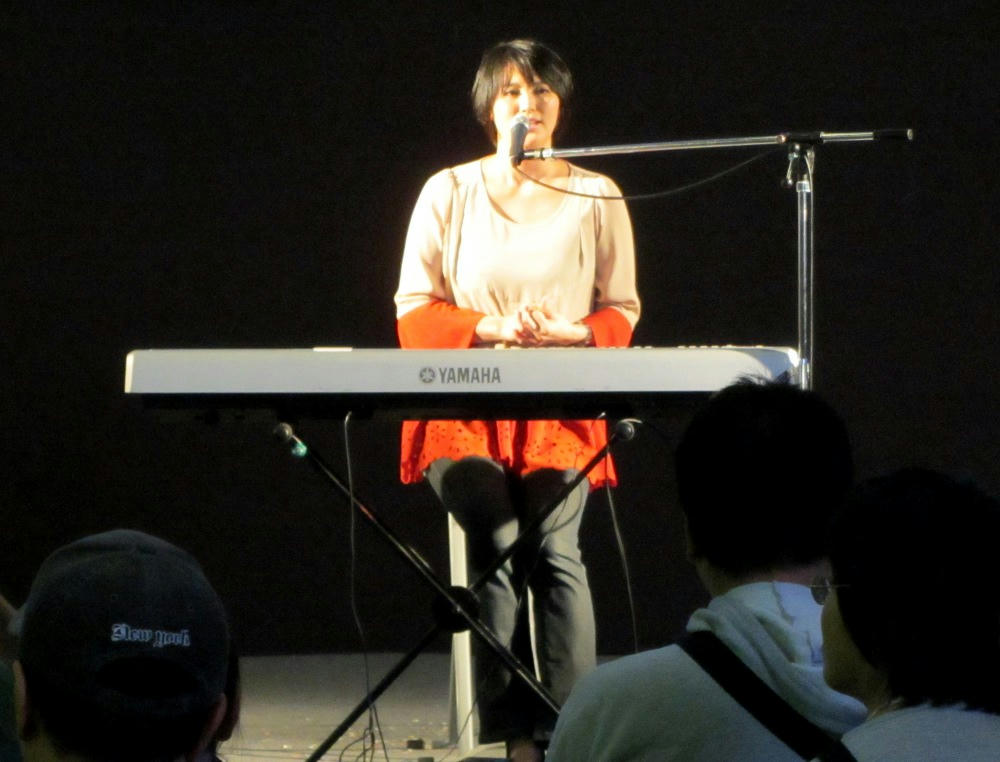 The Japanese consider a soft, child-like voice to be cute and sexy, and a few women actively cultivate that way of speaking. Personally, I find it boring after a while.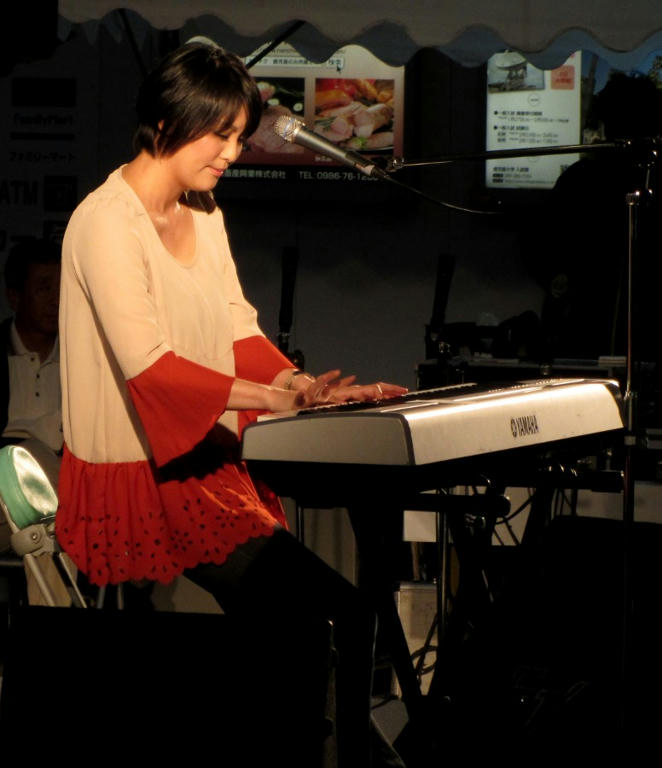 I went into Amupla, did some shopping, and left at about 5:30 PM. There's a Shiroyama grocery store that has the same prices as the one Shiroyama store closer to my apartment, but a more limited selection of things like milk and juice. Naturally, I did pick up breakfast bread, because I expected the other Shiroyama to be sold out, too. And I also got some milk and juice. I needed to get a 5-pack package of tissue paper, but surprisingly enough, the Amupla Shiroyama doesn't carry tissue or toilet paper, or paper towels. So I had to go to the other Shiroyama anyway, just to get tissue paper. I finally got home at 6 PM and spent the rest of the evening processing photos and writing up this blog entry. And now you know the rest of the story.