It's amazing, in a way, how much time has past since I last looked at the
Japan mint's
collector coins for the 47 Prefectures series. I wrote my
first post
on it almost a year ago (Dec. 22, 2012). While the series started in 2008, they're only releasing 4 to 6 coins per year. At the time, the main Kagoshima bank (on Tram Dori near Tenmonkan) only had Kanagawa, Miyazaki and Okinawa. Then, a few days ago, while I was riding the tram, I saw a Kagoshima bank ad for a "Kagoshima coin", or, at least that's what I thought it was for; I wasn't reading it all that closely. What I really noticed was the line "until Nov. 27". I figured that if there was a local Prefecture coin, that I really should get it as a memento. It was already Nov. 23rd at that point, so I tried to open up my schedule to get to the bank when I could, but I couldn't manage that until the 26th. In the bank, I tried explaining what I was looking for (the Kagoshima coin), but my Japanese wasn't good enough and the staff just looked at me funny. Last year, there had been a poster for the coin series near the door, but that had been taken down. However, one of the staff realized what I was trying to point at, and told me that I was actually asking about two different things. The Kagoshima thing was a limited edition painted coin that is only available online or over the phone, from the Japan mint. For the unpainted Prefecture 500 yen coins, the Kagoshima coin is scheduled for a Jan., 2014, release.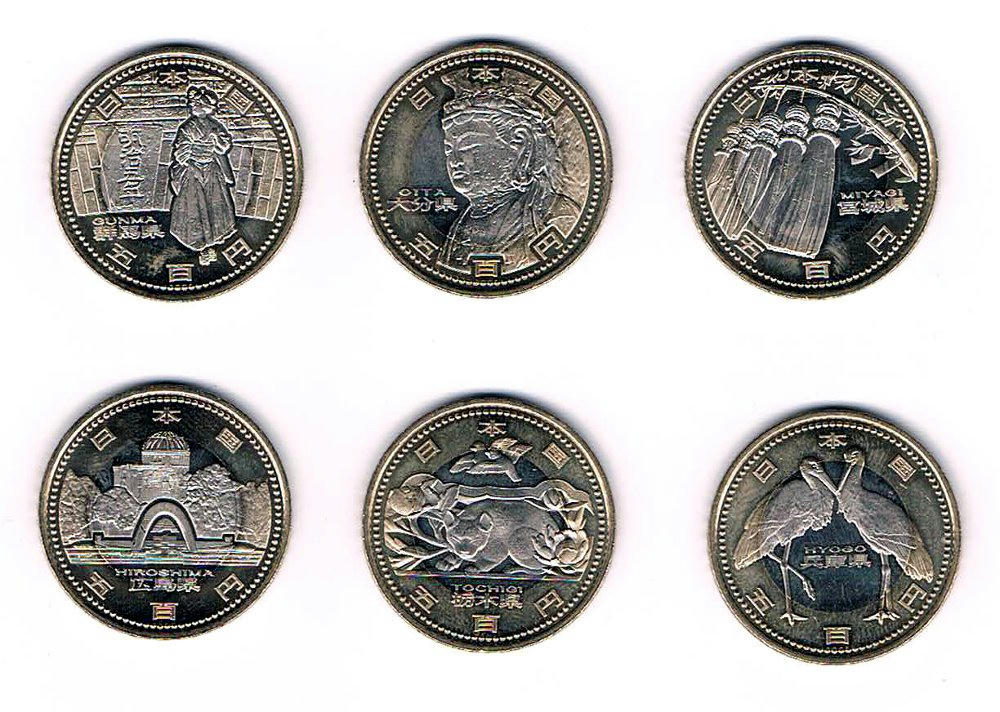 However, the bank did have 5 other coins that I didn't have, and they asked me if I wanted any of them. Since I like collecting unusual and limited edition coins, I said "yes". This time, the paperwork wasn't quite as onerous - just filling out a form with my name, phone number, and the amount I wanted to spend (2,500 yen). The 500 yen coins are roughly worth $5 USD and can be used at any store in Japan, but they're not accepted by vending machines, so it's not like I'd be losing money by buying them and not being able to use them later. As the clerk brought the coins out, he mentioned that he'd made a mistake - they actually had 6 different types, and would I want all of them again? I said "yes", and paid the additional 500 yen. What's funny is that the clerk made a mistake not typical in the Japanese service industry - he neglected to have me scratch out the "2,500 yen" on the form and write in "3,000" yen. In the end, I got Miyagi (2013), Gunma (2013), Hiroshima (2013), Tochigi (2012), Hyogo (2012) and Oita (2012). Again, these are bimetalic coins, but the scanner washed out the gold portion of the outer ring. The reverse is the same as the first set.
The mint's schedule has Okayama, Shizuoka, Yamanashi and Kagoshima all coming out in January. Ehime, Yamagata and Mie will come out after that, probably in July. There's another 6 coins that may be released in 2015, but the mint's website doesn't have designs available for them yet.