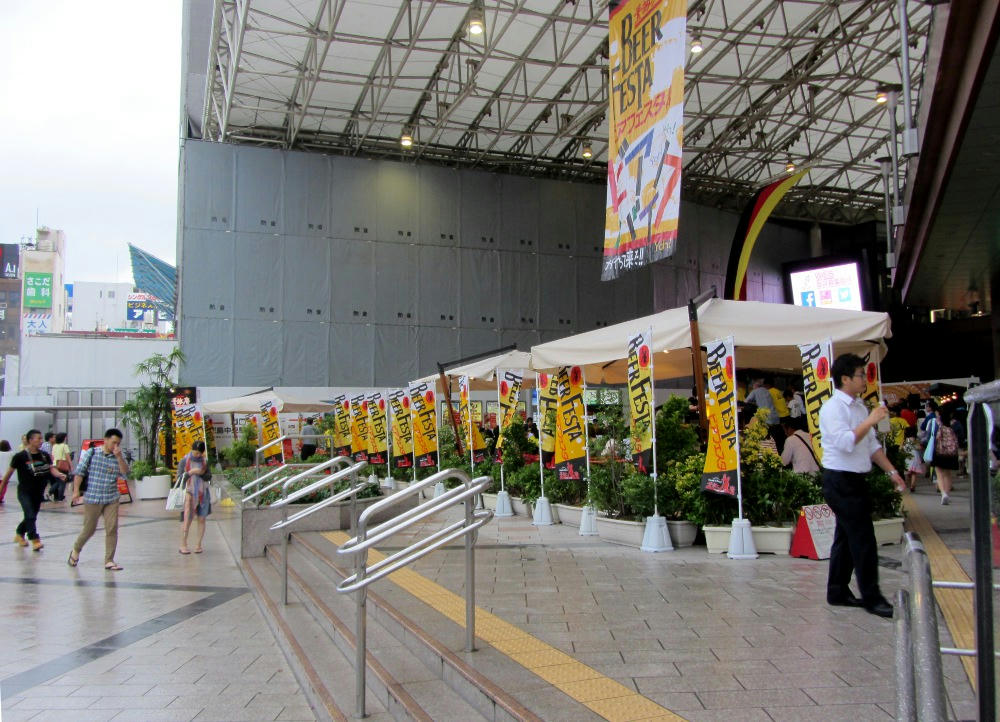 Amupla has been hosting events over the weekends for the last month. The most recent one was the Beer Festa, on the 21st and 22nd. I had to work part of Saturday, and it was raining fairly heavily both days. I knew that something was going on up there, but the rain didn't slack off until close to 5 PM. Fortunately, the festa ran until 8 PM, so I was able to catch some of it. The right side of the plaza had 4-5 booths selling Japanese beers, like Kirin, Asahi, and Sapporo, as well as the in-house beers from Shiroyama Hotel. It was pricey, at 500 yen ($5 USD) for a regular cup, or 700 yen for a large, but the Shiroyama stout did taste good (by 6 PM, 3 of the hotel's 4 beers were sold out). The left side of the plaza had steaks and sausages. The plates were sets at 1,200 yen or 1,400 yen for a fixed amount of steak and sausages, plus extra for sides. Since I was going to be eating dinner back at home at 7 PM, I couldn't justify buying a second dinner just to get the sausages, but they looked tempting. Maybe next year.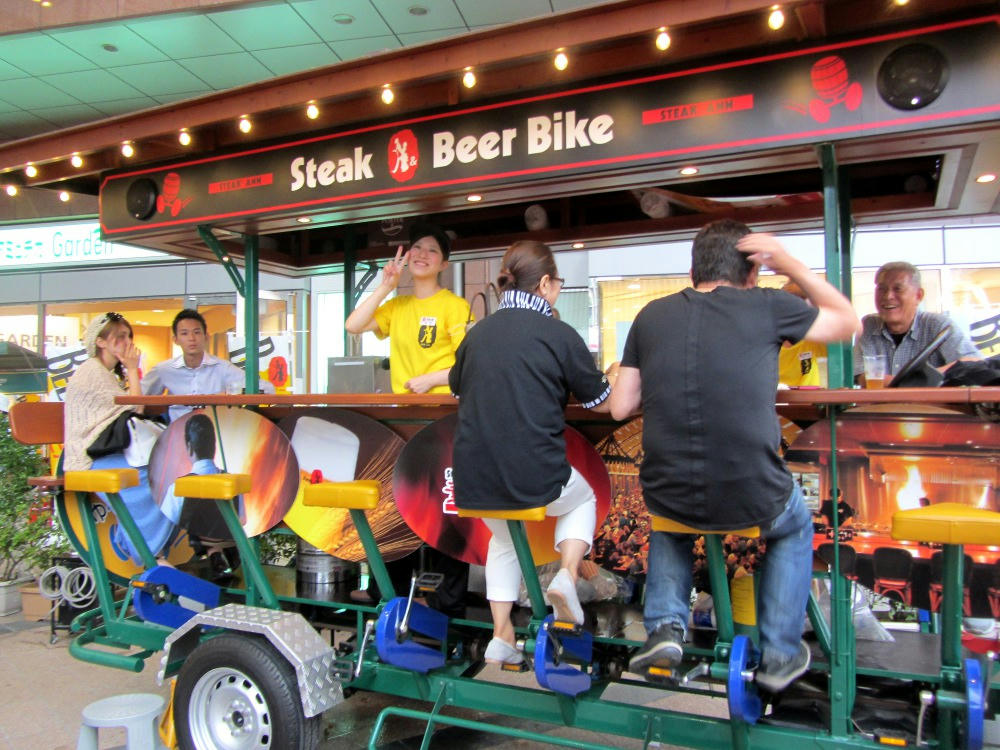 I have yet to see the steak and beer bike on the road, but I've seen posters for it. Supposedly, it goes up and down tram street, powered by the customers as they eat and drink.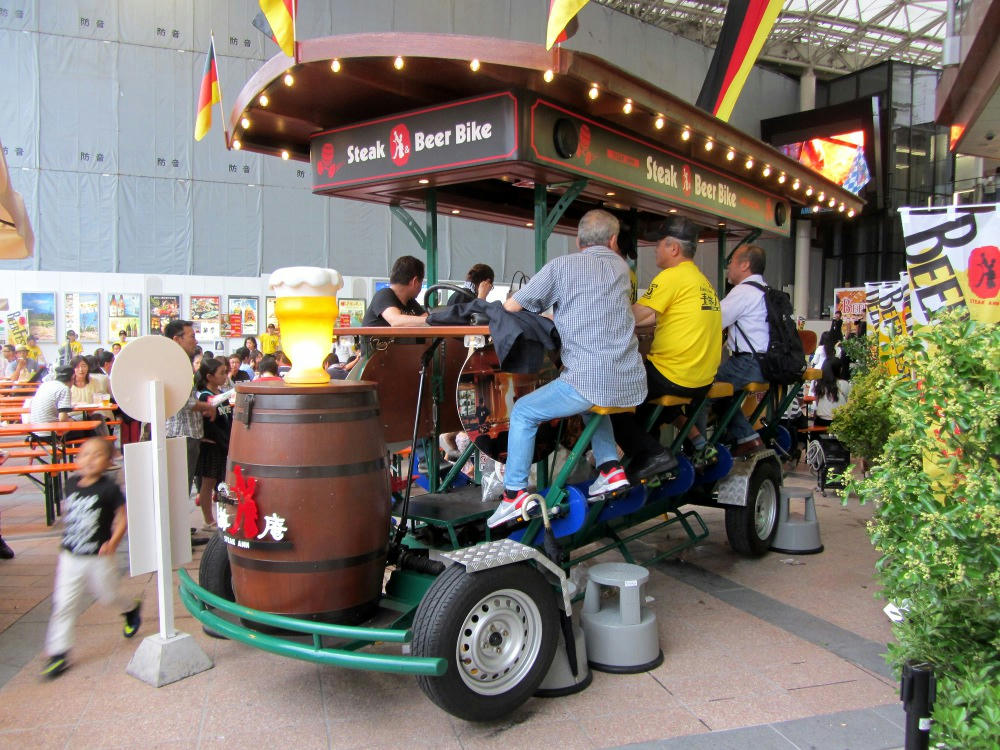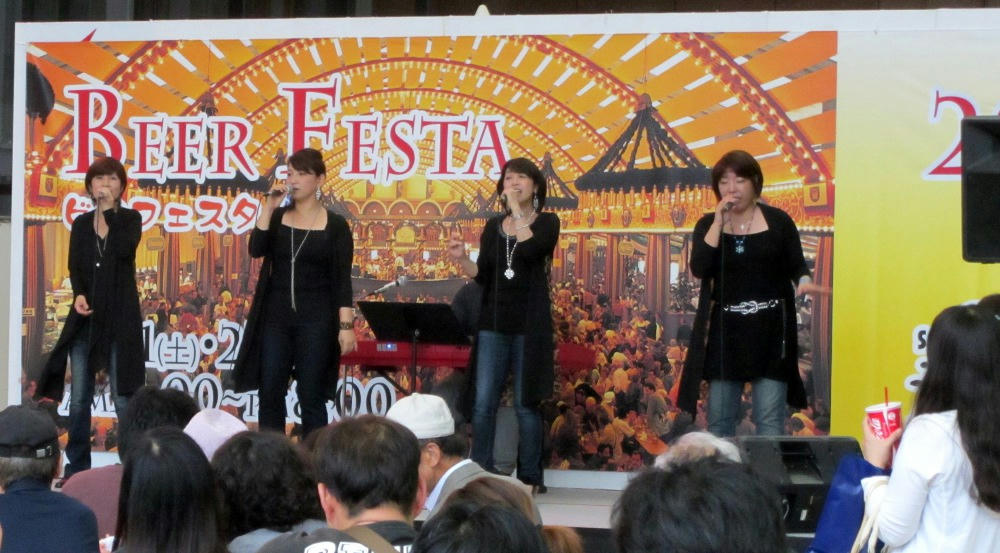 The announcement card indicated that music was on the hour, but there weren't any band names mentioned for any of the sets. These four women sang a few songs for half an hour, then left the stage to the MC, who spent most of his time either trying to get the audience to sing a German beer song, or interviewing the beer vendors for a few minutes. The next hour, these women came back out. They sang kind of gospel-pop songs that I didn't feel like recording, so after a while I just went back home for a real dinner.