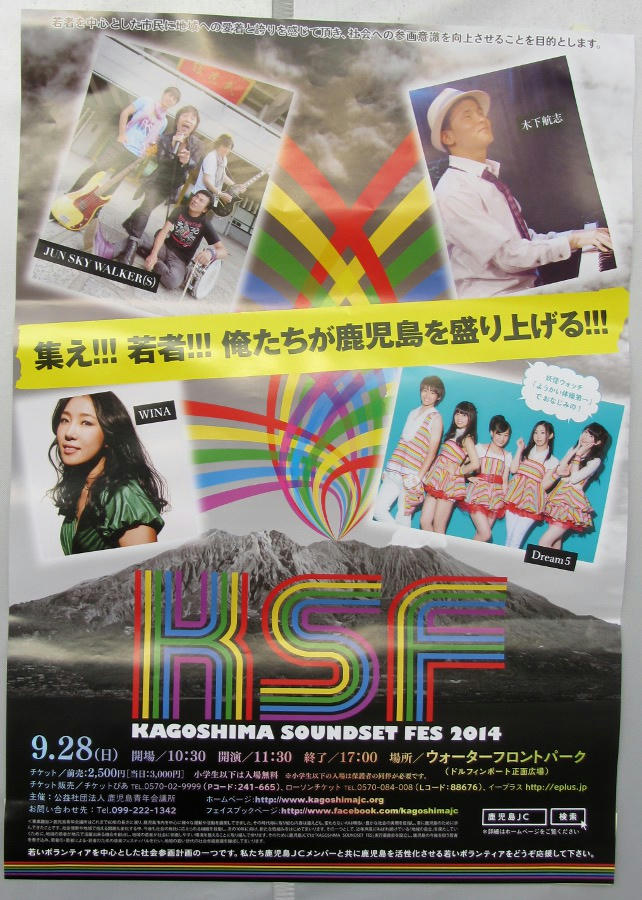 The Kagoshima Soundset Fes (Festival) was held on Sunday in the open area between the Dolphin Port shops and Kinko Bay. Surprisingly, the weather was very good that day, with no rain and the wind blowing the volcano ash south of us (the day before, the ash came straight at Kagoshima and coated everything gray). However, I wasn't able to get out the door until after 4 PM. I walked the mile to Dolphin Port and arrived just as the Jun Sky Walkers were starting their encore set. The other performers included Wina, Dream 5 and
Koushi Kishita
. Everything ended at 5 PM.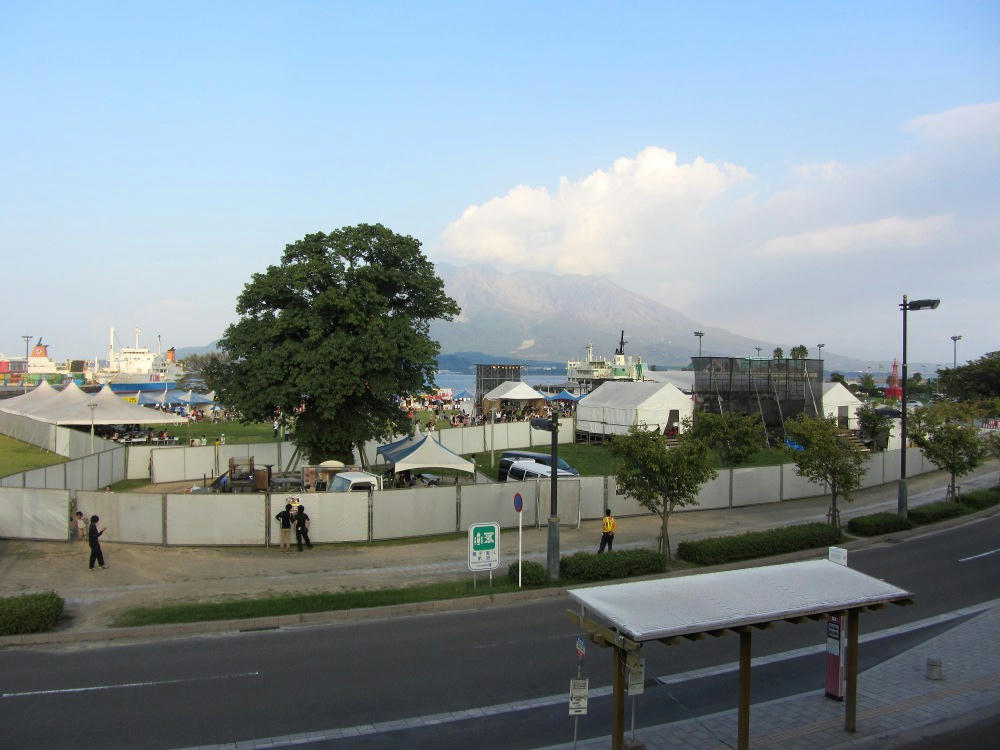 Turns out that it cost money to get in - 2,500 yen ($25 USD), and I wouldn't have paid for tickets anyway. But, the stage was facing away from Dolphin Port, so that bystanders on the second floor balcony couldn't get a free show. That meant that the scenery - having the volcano in the background, was wasted on the audience. The bands got a great view, though.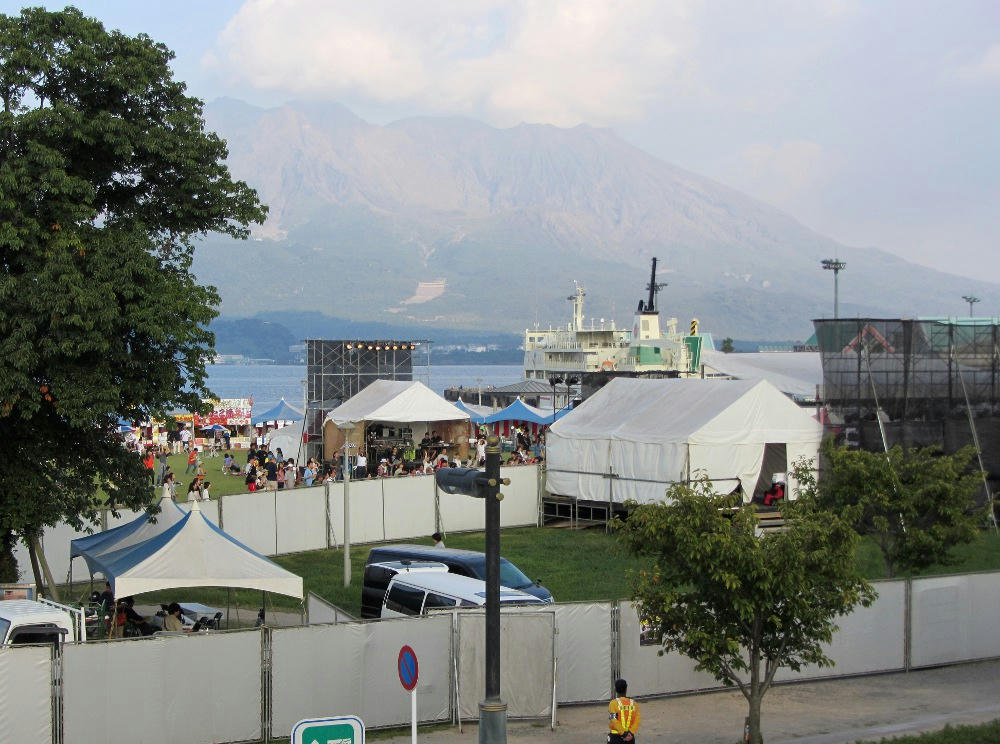 Looks like maybe 100, or 200 people max. Some booths around the outer wall for food, drinks and children's play activities.The stage is behind the black screen wall on the right.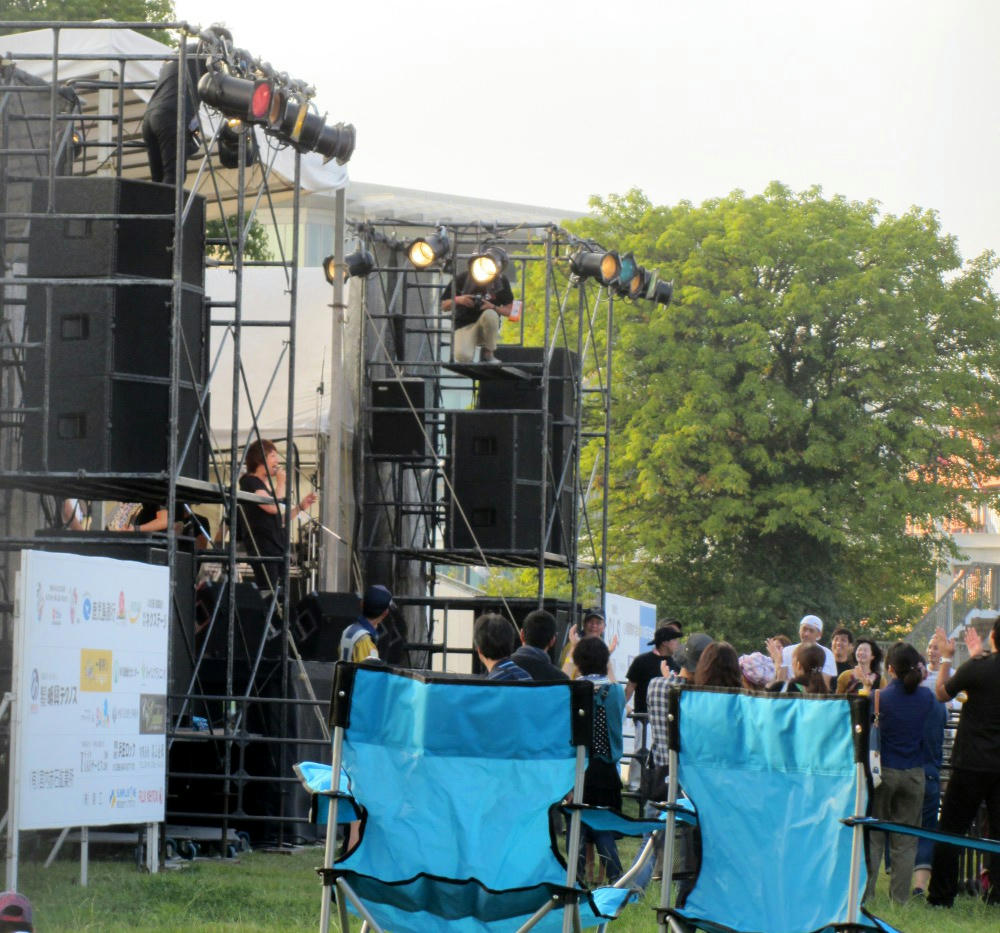 There was a blind spot in a corner of the white fence where neither the ticket people, nor the security guards could see me. And, there was a gap between the canvas panels in that blind spot large enough to take a photo through. This is what I could see of the stage. Since the music could be heard easily from the stores across the street, I just went back, got myself a coffee from Voila, and stood on the balcony to listen to the final encore songs. Jun Sky Walkers play rock pretty well, but they're not the greatest rockers I've heard. It was an ok concert, but I wouldn't have wanted to pay to get in. The audience watching was jumping up and down, so they did have a good time, anyway.
On a side note, there was a big anti-nuclear reactor protest rally the same day, at Tenmonkan park. It was big enough to be mentioned on the radio, and one of the newspapers put it at 7,500 people. It wrapped up around 3 PM. At 4:30 there were still squads of police roaming all over the city on the alert for civil disobedience. I wanted to take a photo of one of the two groups of 10 cops standing on the corners in Tenmonkan, but they were watching everyone really closely and I didn't want to risk having the camera confiscated. Generally, the only time we see police anywhere is when there's a traffic accident, or they're giving someone a ticket for having a passenger on the back of a bicycle.
At the main street at the end of Tenmonkan (just before Dolphin Port), I encountered the riot bus (wire reinforced windows) that the foot-mounted police arrived on. Not sure if the bus is a regular part of the Kagoshima fleet or if they had to drive it in from Kumamoto or Fukuoka several hundred miles away. The officer standing next to the bus wore full body armor. I think he was disappointed in having suited up and then not having an excuse to use the full gear on anyone. (The protest consisted solely of speeches, chanting of "No Nukes" and poorly-sung protest songs.)