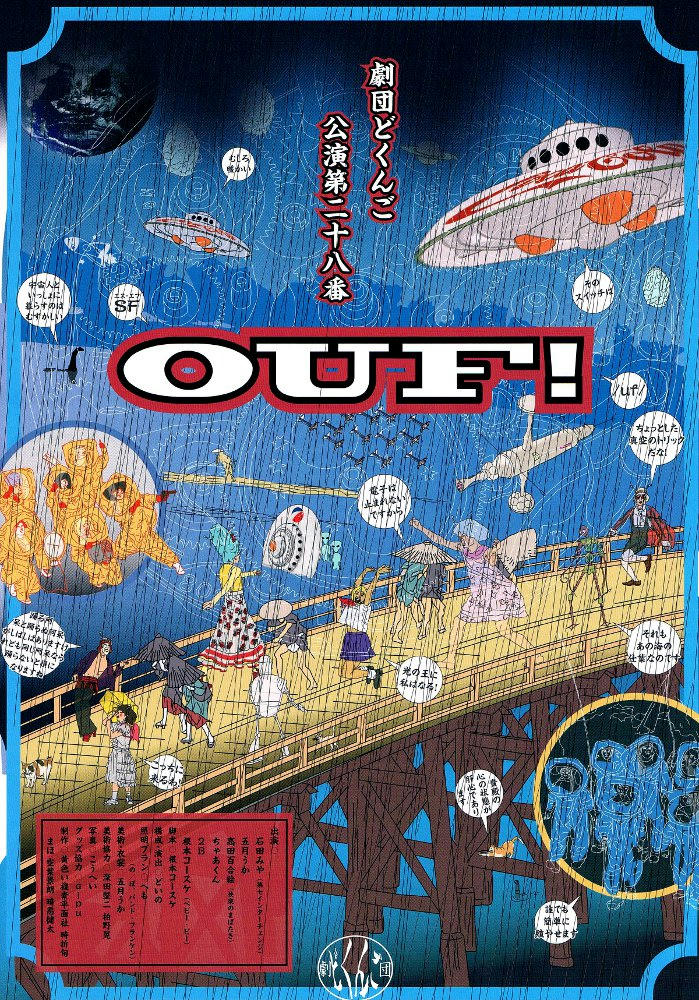 Last year at about this time, I'd been walking past along the Kotsuki river at 9 PM when I heard music coming from the park. Investigating, I found a large tent set up in the park, and bleacher seating for 30 people. I had no idea what was going on, or why. The next afternoon, when I came by to take pictures in the daylight, the tent, bleachers and everything were already gone.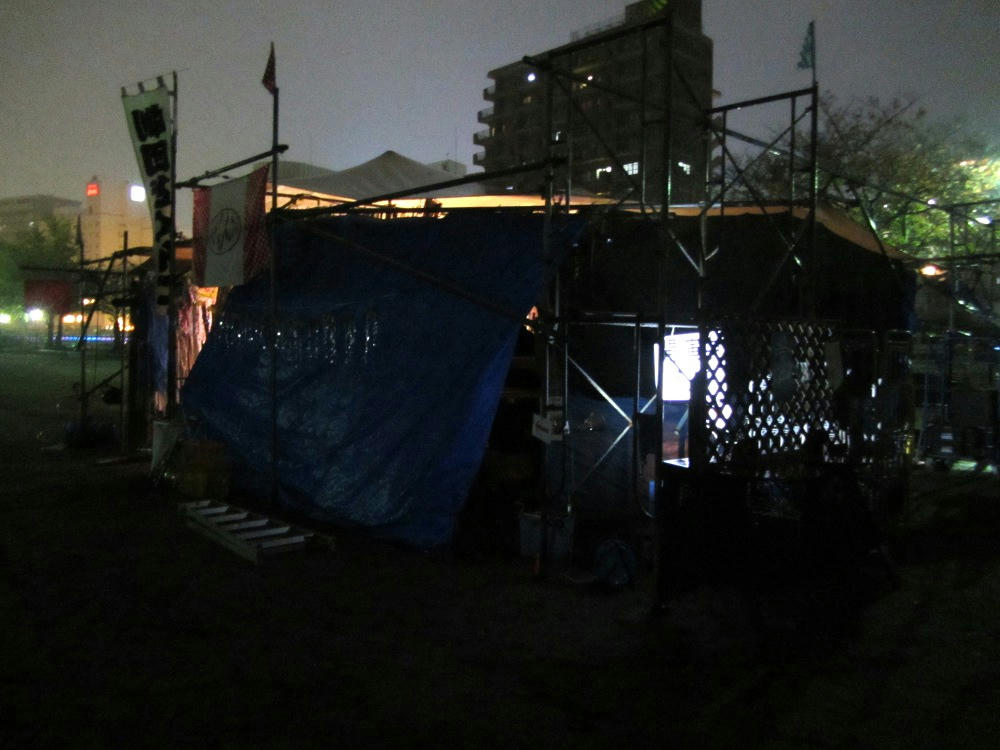 This year, I happened to see pretty much the same tent set up in the same place, but on Thursday afternoon. Inside, someone was loudly reading out their lines, which consisted of repeating the English vowels. A small wire rack next to the tent held fliers for the show. I'd seen these fliers in Tenmonkan over the last couple weeks, and recognized them right away.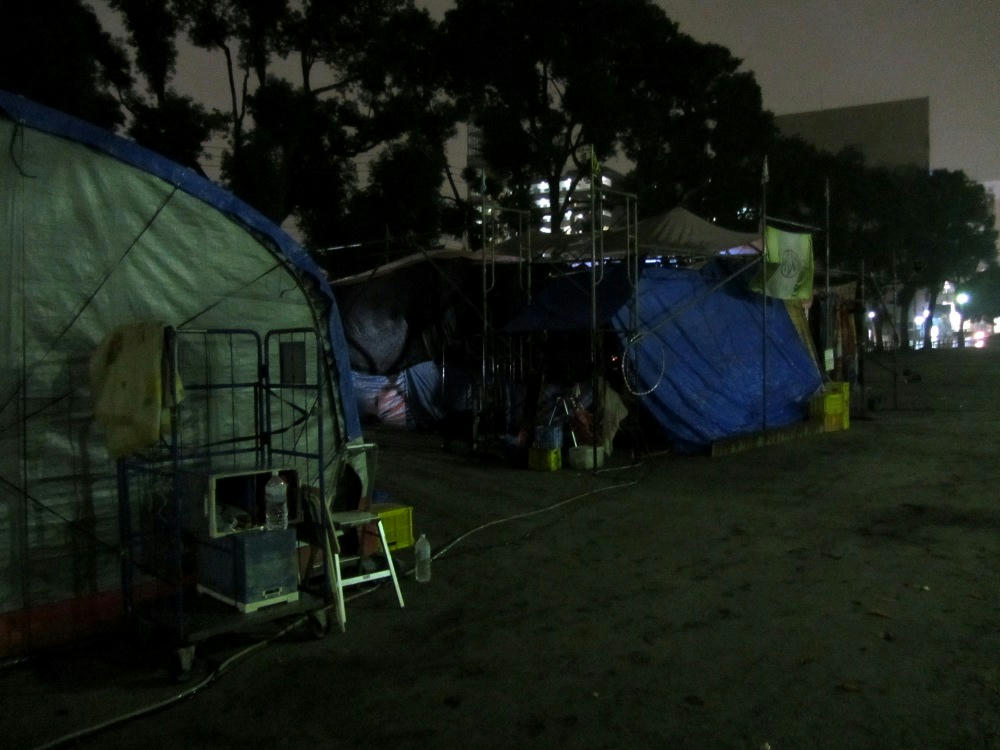 I stopped by the park Friday night, and the show was already running. It was raining, and the dim red and blue lights coming from the stage at one end of the tent gave it a very strong Ray Bradbury feel. Actors kept running off the sides of the stage and outside of the tent, then grabbing props or dashing to the other side of the tent, and going back in. For the most part, they ignored me as I stood there with my camera out.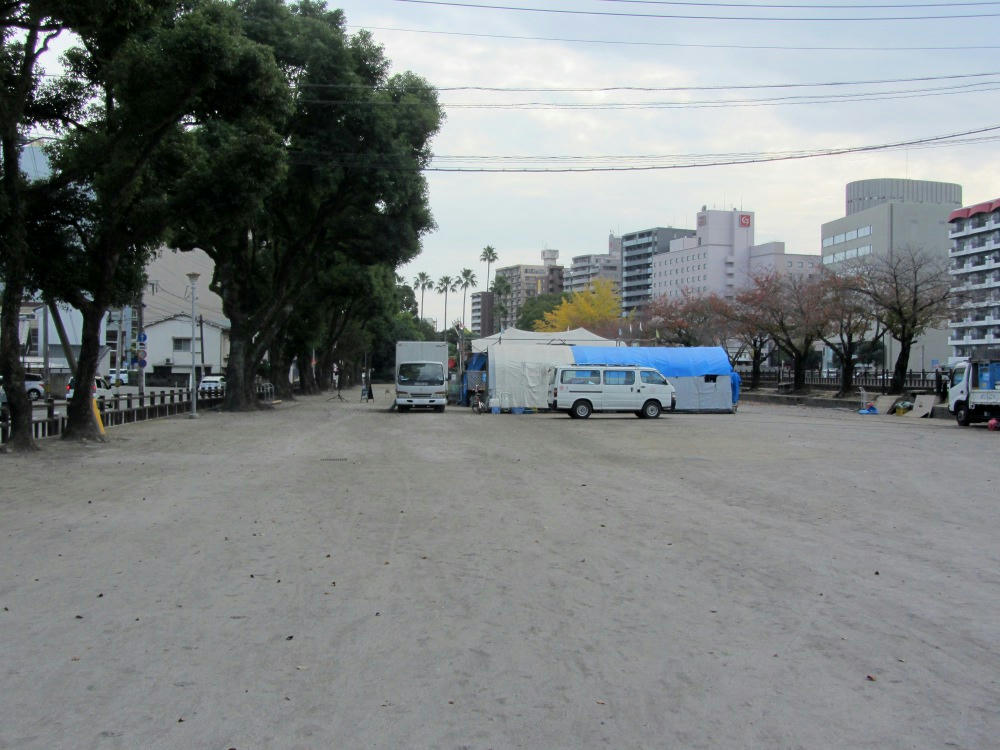 (Sunday afternoon. The main equipment truck and a personnel van. The closest tent acts as a barracks for the cast and crew.)
The group calls themselves
Dokungo
They're a "gekiga" (drama) troupe that engages in surrealistic comedy. This is their 14th "Naked Dog Tour". The story combines UFOs, Edo period characters, and electric guitars. The name on the flyer, "Ouf", is intentionally misspelled.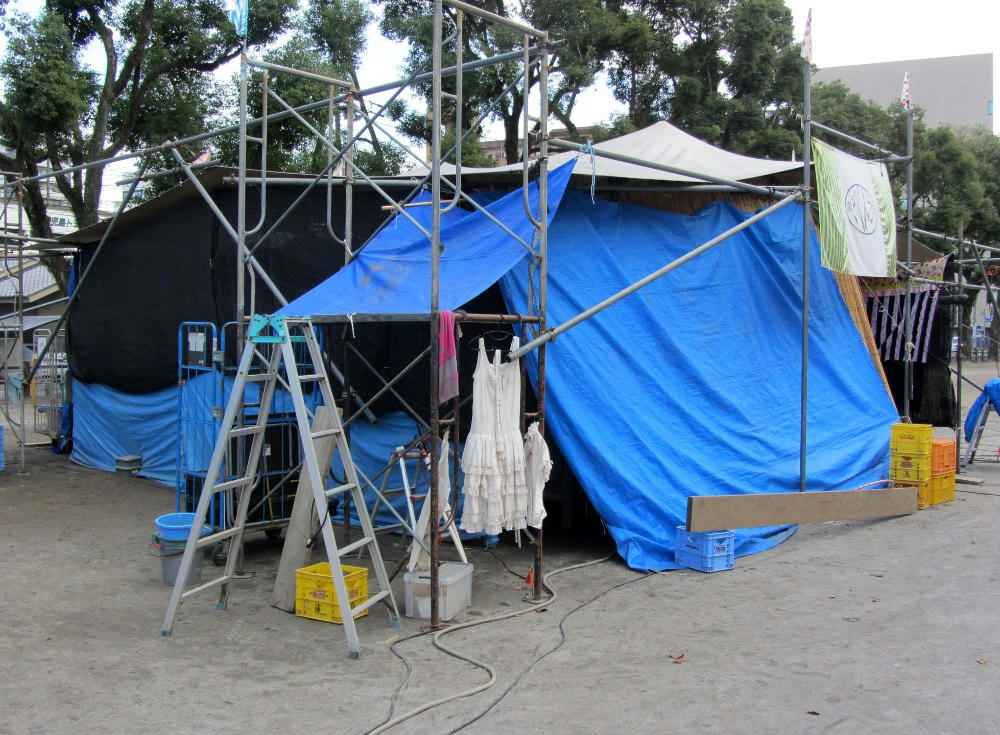 Kind of looks like a circus.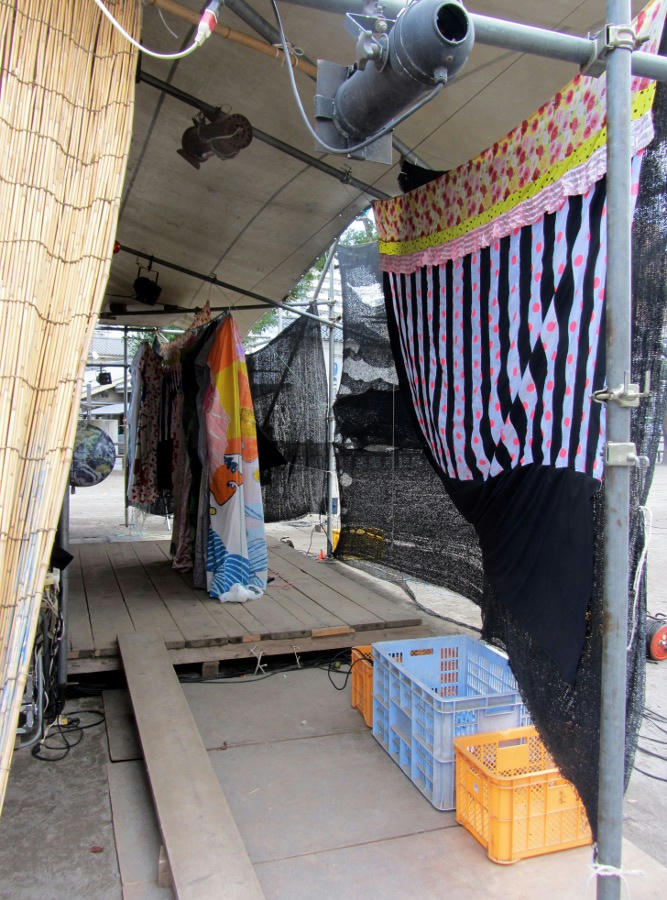 The stage area was uninhabited, but a sign in front did welcome people to come in and look around.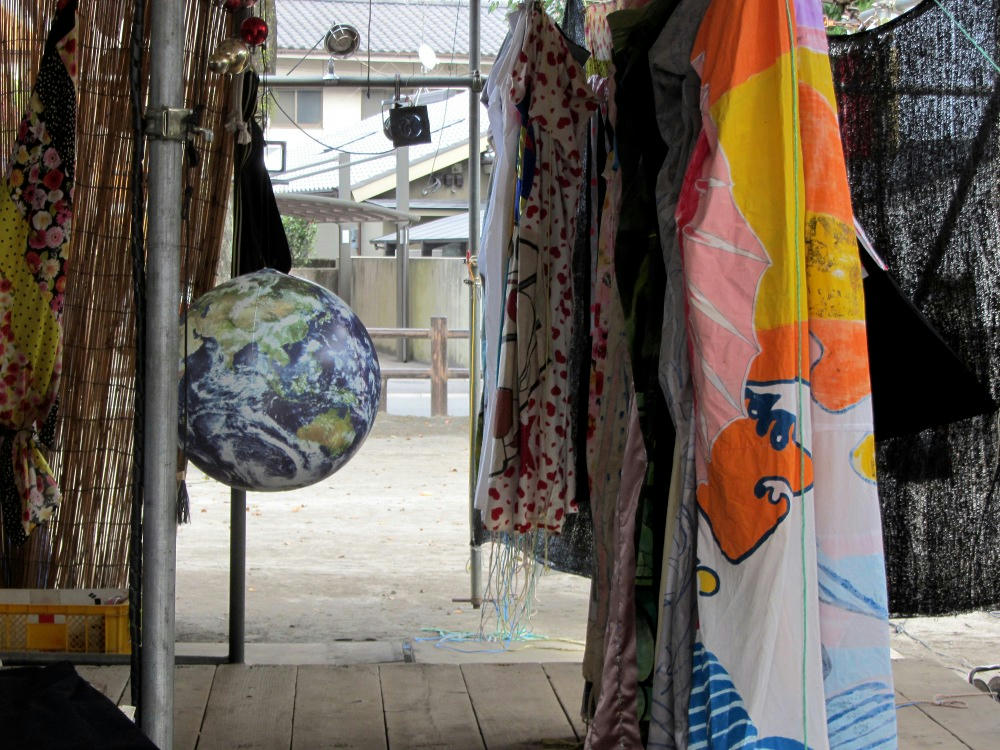 (Some of the props and costumes.)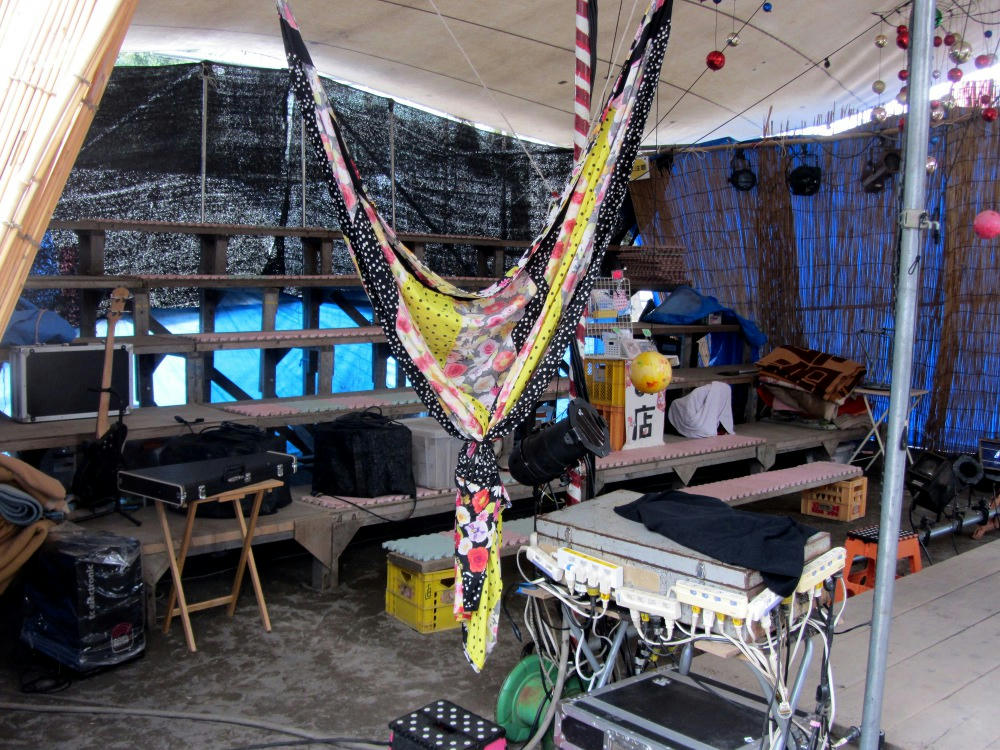 The bleacher seats can't hold that many people, but there is only one performance per evening. According to the schedule, they started in Izumi, in Kagoshima Prefecture, last April, toured around Japan for the last 7 months, and then held their final performances of this season back in Kagoshima from Friday the 21st to Sunday the 23rd. The shows started at 7 PM, and ran maybe 2 hours. I seriously considered attending the one on Sunday, but the tickets were 2,800 yen ($26 USD) at the door, 2,500 yen in advance, and that was more than I wanted to pay at the time. If things go the way I expect, they'll have Naked Dog Tour #15 next April, and I'll try watching that one.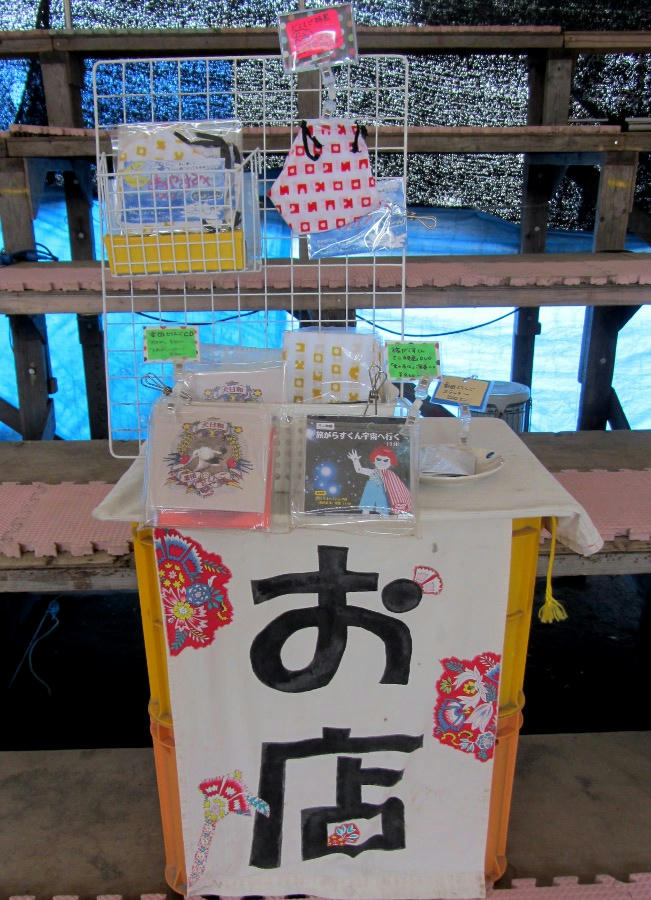 (Goods shop.)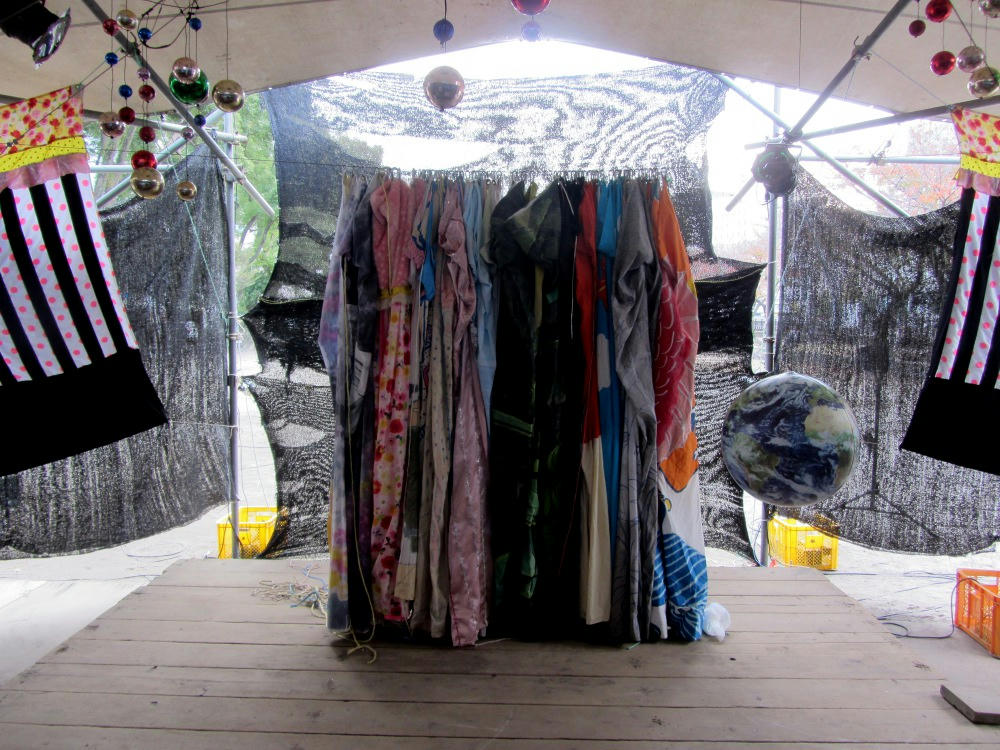 When not in use, the stage doubles as the wardrobe closet.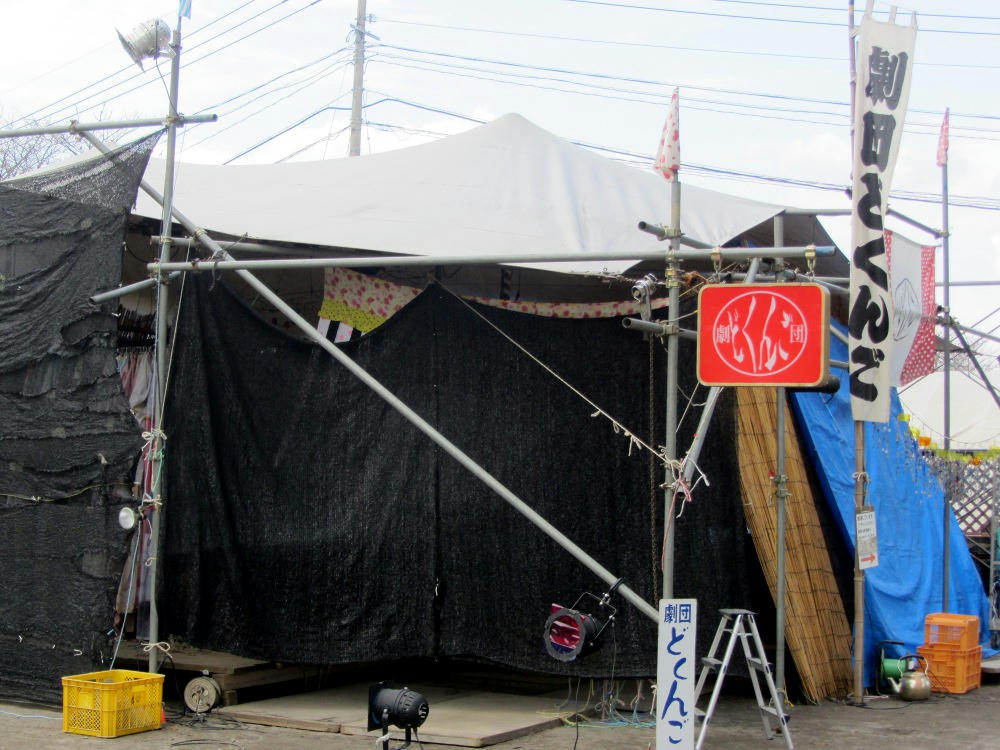 Dokungo was formed in Nagasaki in 1983. They started their national tent show tours in '89, and then relocated their base of operations to Kagoshima in 2009.