What the heck. Might as well put everything from the last week into the same post.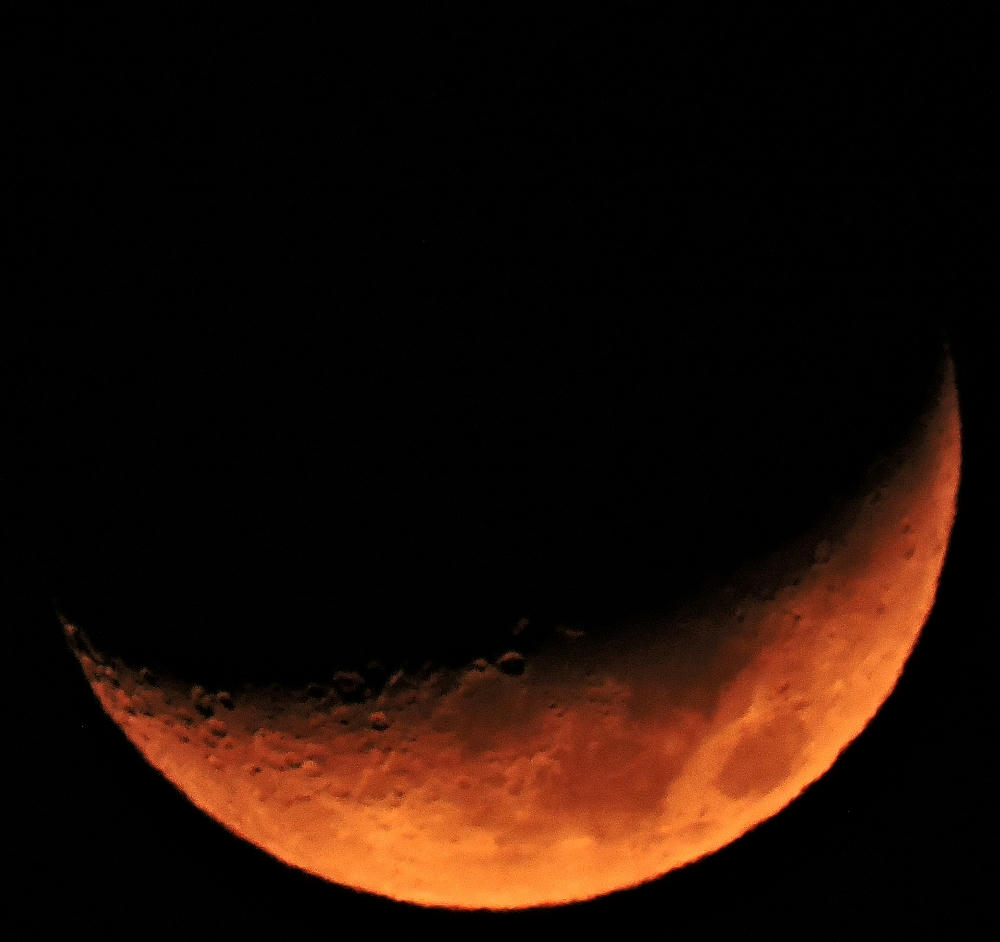 The weather has been extremely erratic lately. Cloudy one day, perfectly clear the next, and heavy downpour the day after. This has made planning for taking photos of the moon kind of pointless. One night, there was this great fingernail moon, but I didn't have the big camera with me. The next time the moon came back out, the 27th, it was about a quarter-full and not anywhere near as dramatic. On the other hand, it was more orangish than normal, and that got enhanced by the camera itself. Anyway, this was the only picture that came out clearly.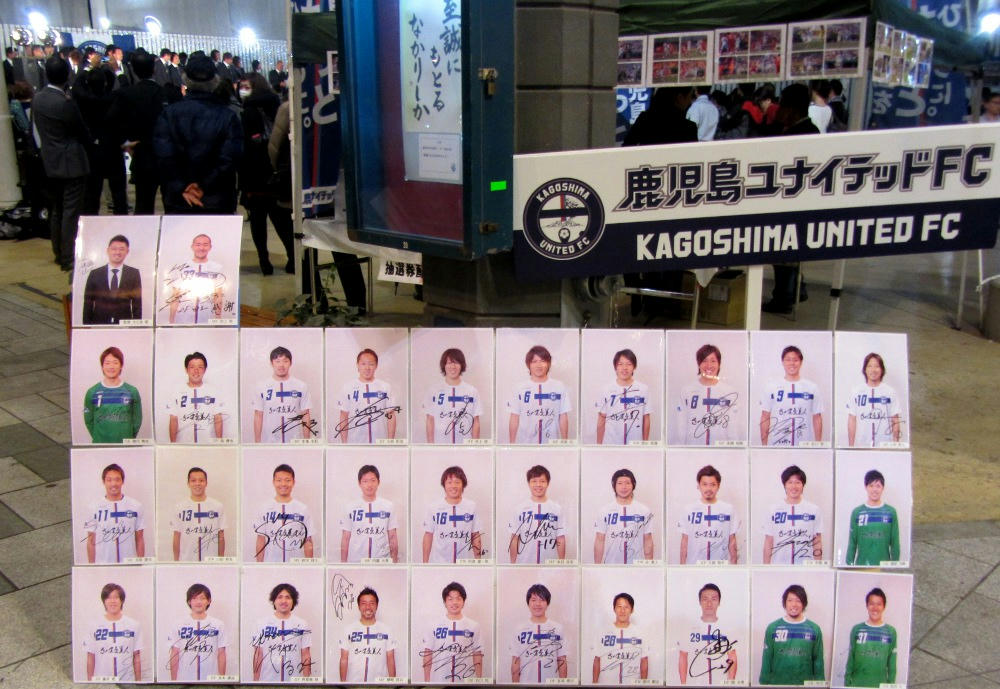 There's a notice board at the back of the open space in front of the Lotteria in Tenmonkan that's used to announce upcoming events. Quite often it's blank, but last week I made a point of looking at it as I was walking to the school, and it listed something for Kagoshima United FC, the local pro soccer team. I'm not particularly interested in soccer, although I do feel sorry for the players when they're in Tenmonkan handing out fliers to their next game and everyone ignores them. Anyway, I wasn't planning on visiting the event so I didn't bother trying to remember when it would be.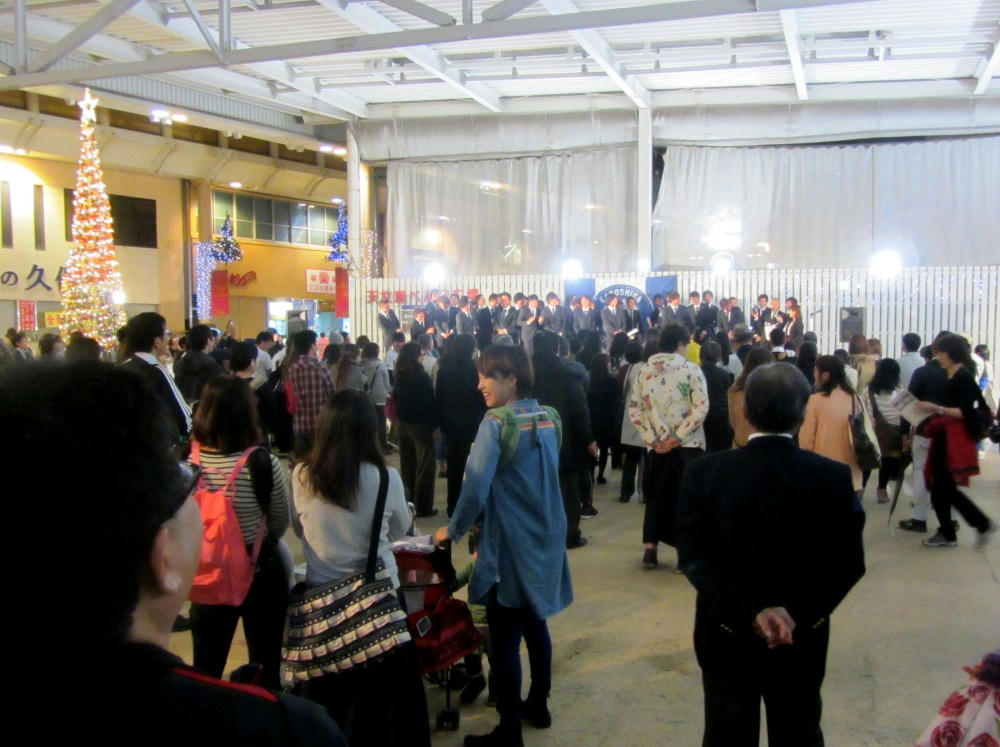 On Saturday, the 29th, I was returning home from my last lesson for the night, and arrived at the plaza at 7 PM, when the Kagoshima United event was in full swing. A few booths had been set up around the perimeter to sell food, drinks and KUFC goods. The team stood on the stage and their star player joked with the MC prior to handing out gift bags to audience members in a raffle.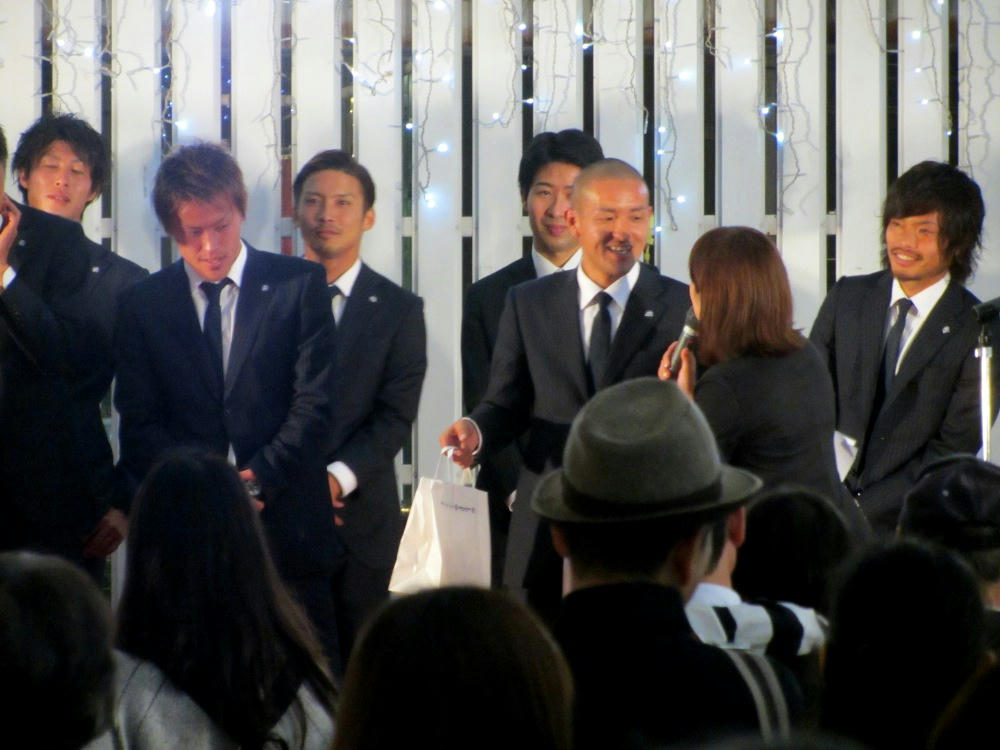 The star, the MC, and the background players.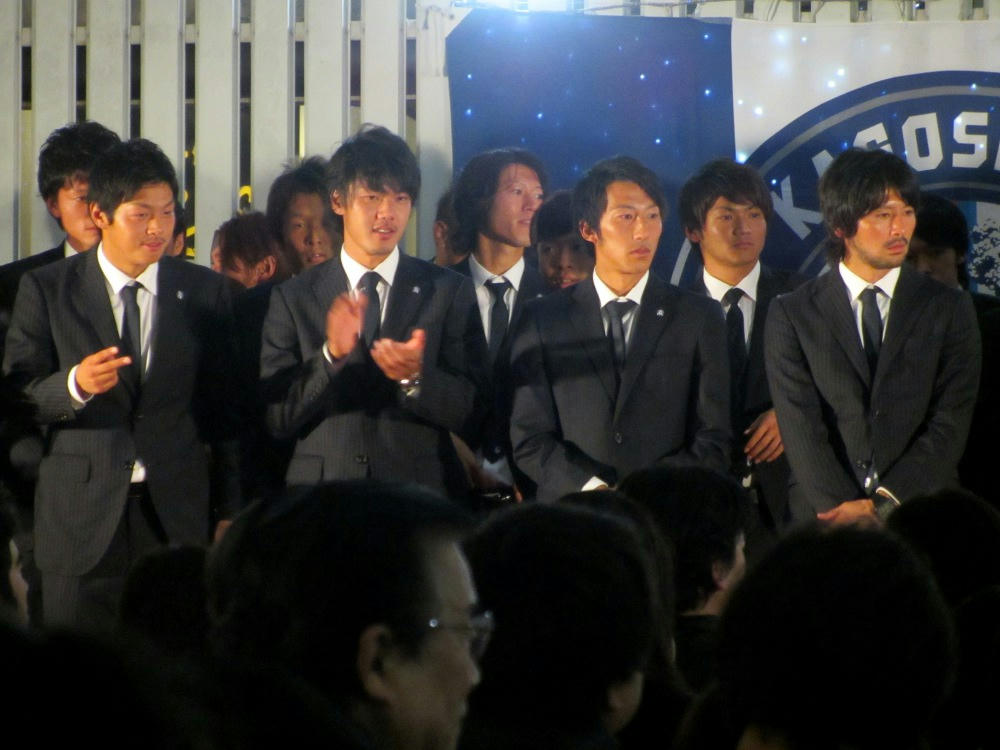 Some of the rest of the background. EVERYONE in Japan wears suits at night. But, at least the audience wasn't actively trying to avoid eye contact with the players this time.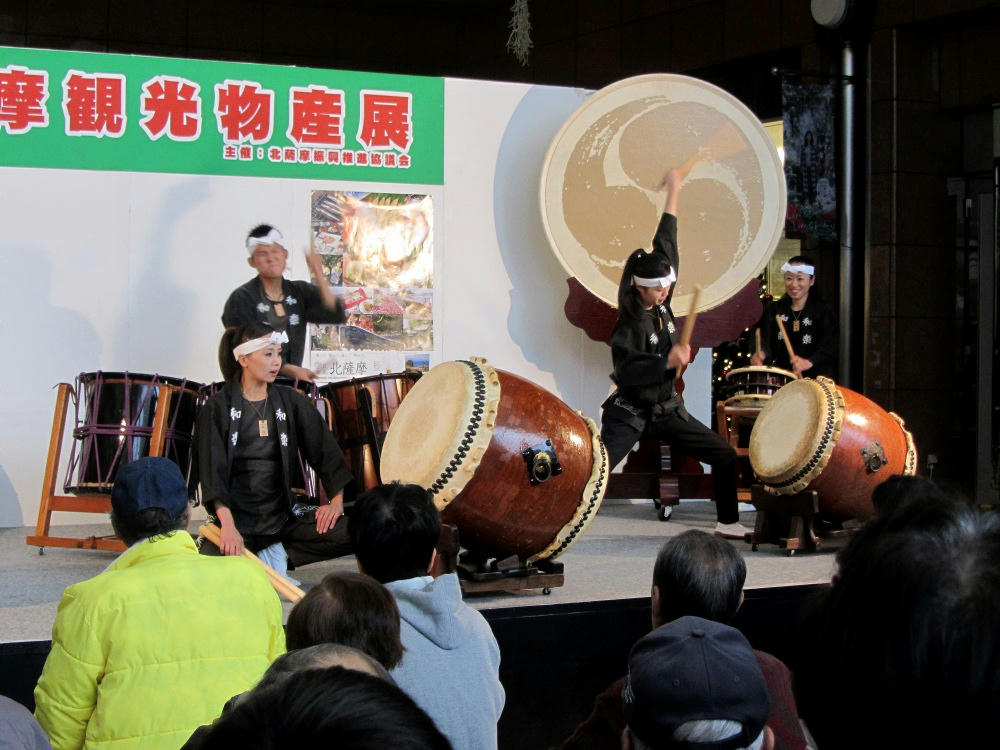 On Sunday, I ran up to Amupla for a few minutes. While there, I swung by the big plaza to see if anything was going on. This time, it was a market for food products from northern Satsuma (the area around my part of Kagoshima, up to Kirishima). They had a stage, and a local taiko group was just setting up when I arrived. I didn't catch their name, but I liked their energy.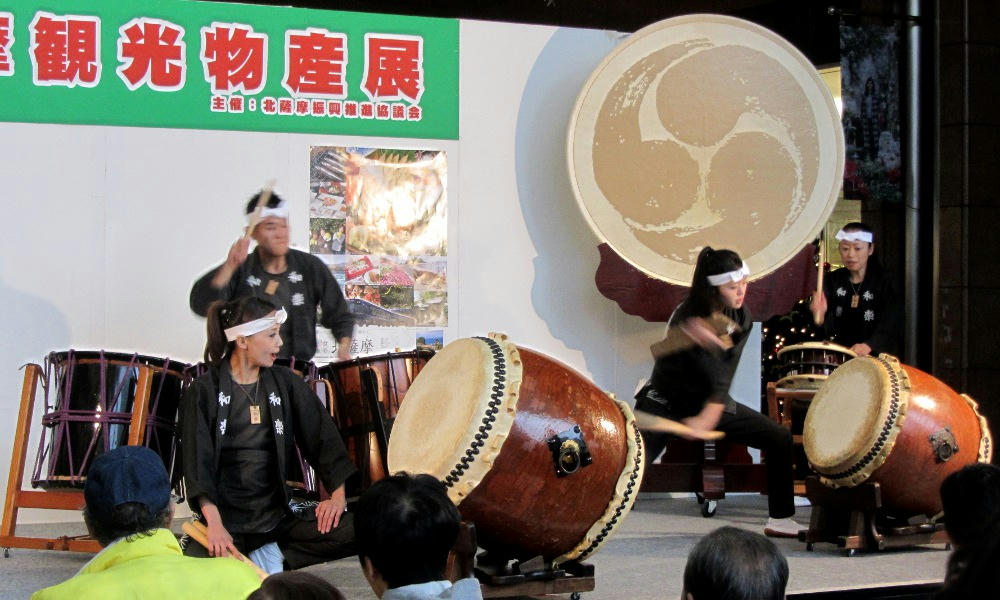 Normally, if I only have my little pocket camera with me, I'll try taking several photos of performers, and then only keep one or two of each of the best shots. If I take video, I'll reserve one photo for the title card for that. This time, I only had one shot from the balcony, and then 3 shots of the woman to the right hitting the big drum behind her. I decided to keep all three of these shots to illustrate my process, since otherwise this would be a very short description. If I had a wider variety of photos to include here, I might have discarded all three of these shots in favor of something more dynamic. On the other hand, I took fewer photos because I had the video to work with.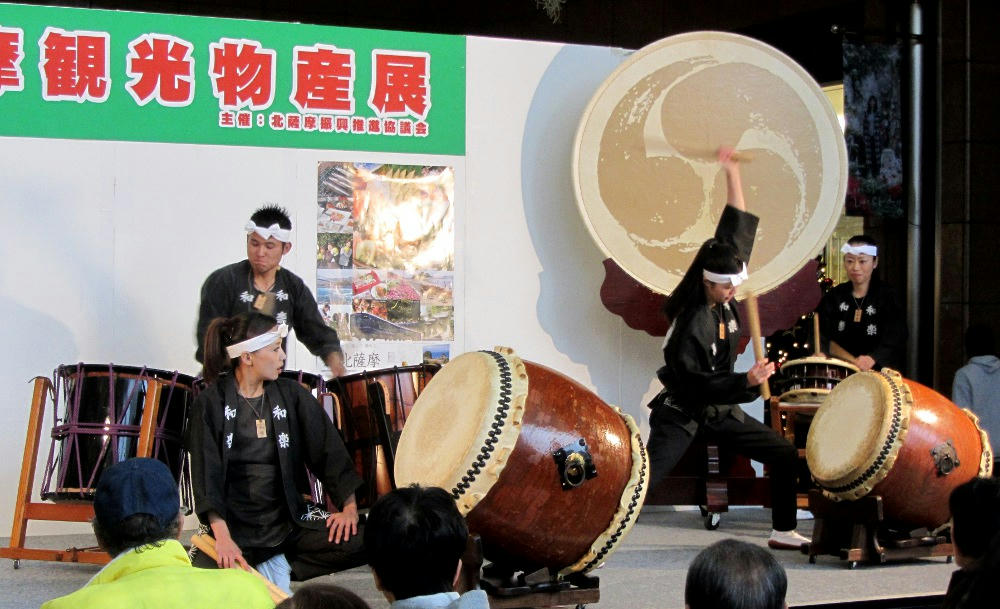 Check out the video. I like the way these guys do more than simply bang on the drums.
Direct youtube link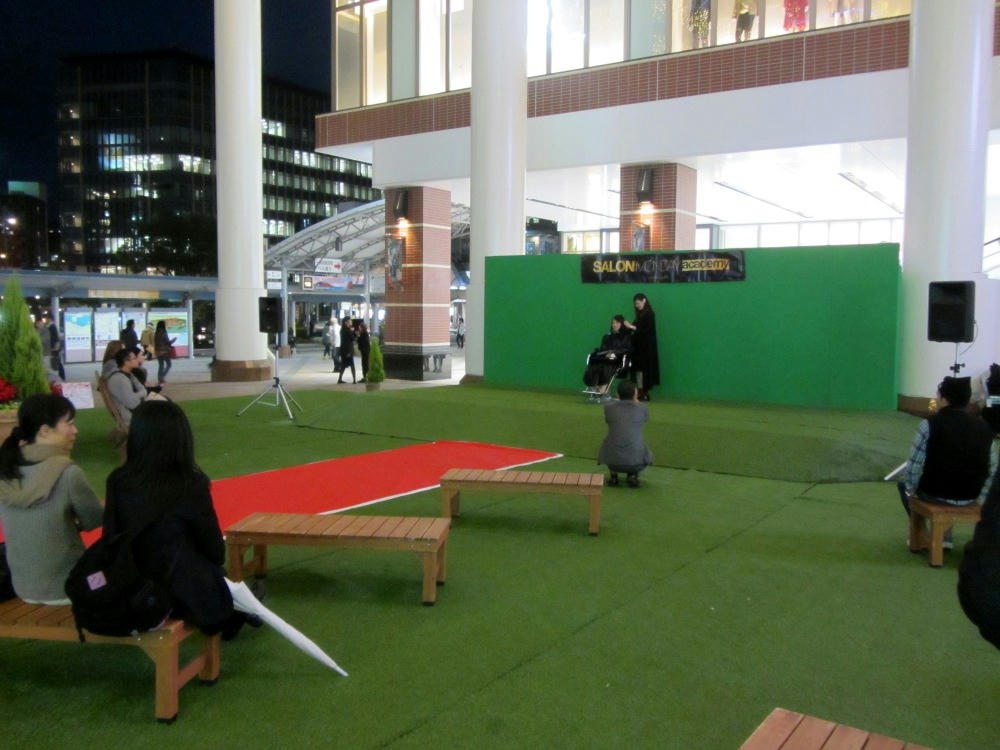 Monday evening, I was back up at Amupla for food shopping at the stores in the basement. While I was down there, I heard music, which sounded like it was coming from a live stage event in the ground-floor plaza. Turned out to just be piped-in muzak. But, I went up to check, and I discovered that Salon Ism, a beauty salon and hair stylist, was hosting its "Salon Monday". Not many people watching, but I expect that this had been running all day, and it may have been more crowded earlier. Regardless, I wasn't expecting to find an outdoor perm in progress.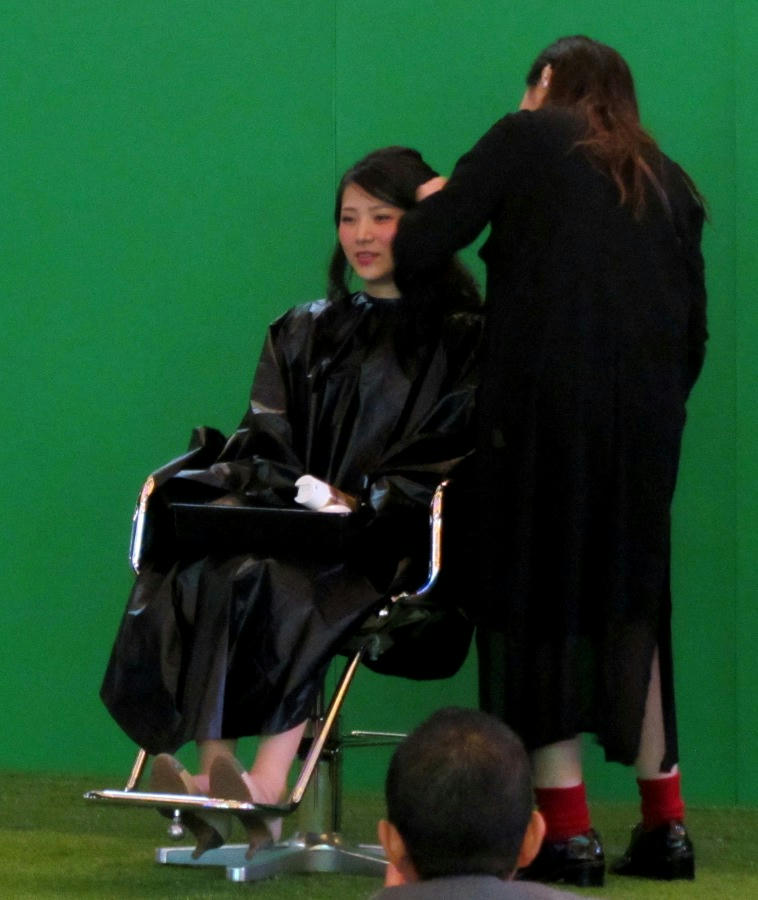 Hair dressing as a spectator sport.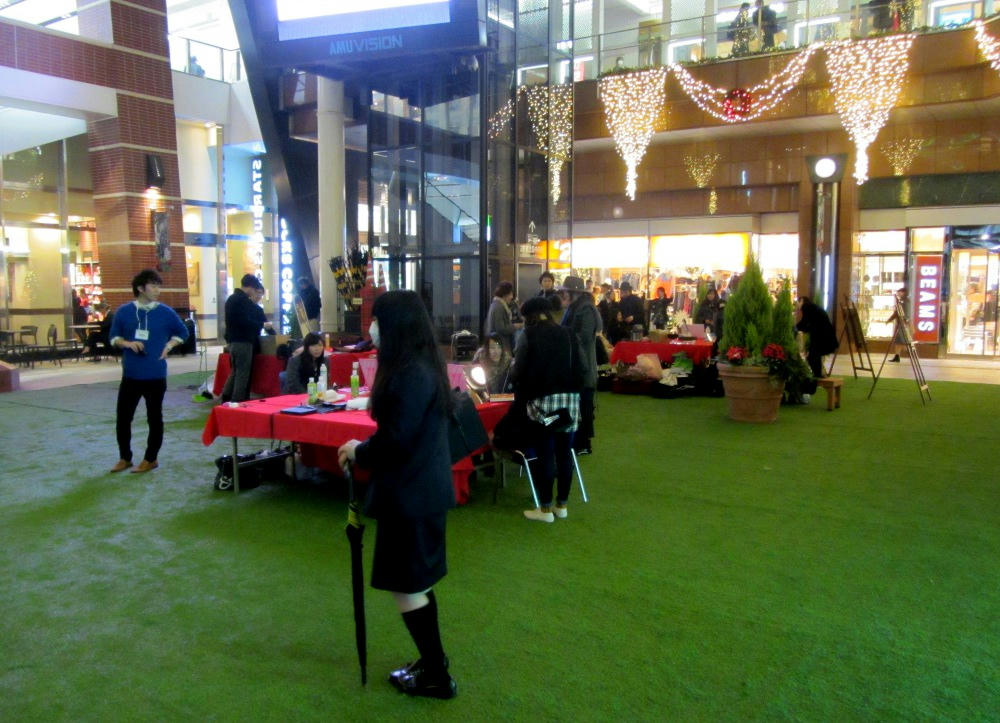 Also nearby were a couple tables with mirrors and make-up supplies, for those wanting to try new looks.