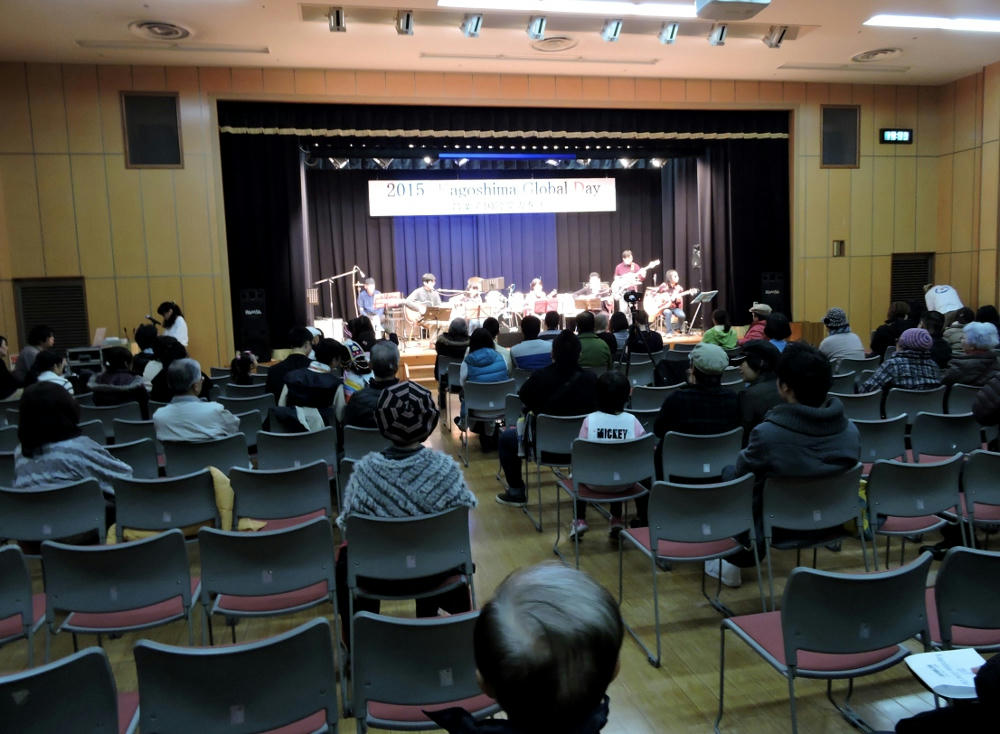 There's a local NPO called
Kagoshima Global With
. I met one of their members last year at an event aimed at international people wanting to learn more about the city. The guy wanted to friend me on Facebook, and I said "sure, why not". About 3-4 months ago I started getting announcements from them about Kagoshima Global Day, which was going to be a series of musical performances by various groups on Jan. 12th. As the date got closer, my work schedule firmed up and I realized I'd have a couple of hours free that afternoon. The event was to run from 2 to 5 PM on Coming of Age Day. This day is a national holiday to celebrate teenagers being recognized as adults on their 20th birthdays. More about this later. The Global Day event took place in a small auditorium on the 8th floor of the Daiei department store, across the street from the main train station.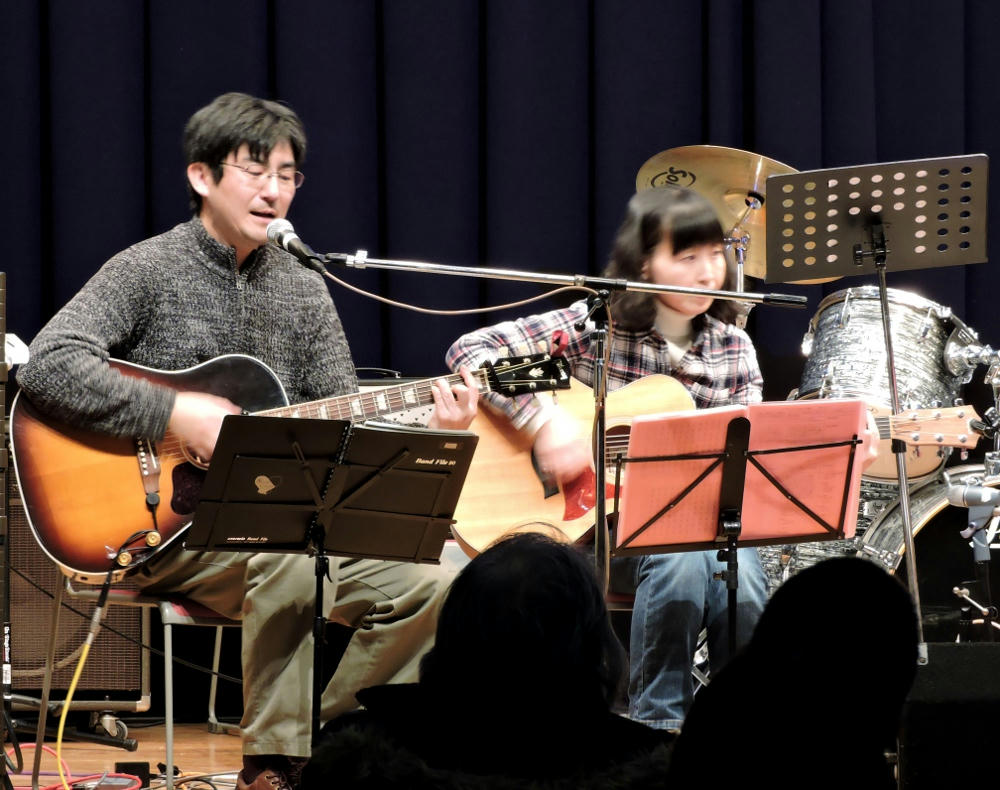 The event started late and the first group up, The Guitar Jam, ran 10 minutes long. If you look at the below photo, the guy at the right is a music teacher, and the rest of the band are his students. They were good, for amateurs, but there were a lot of mistakes in the music.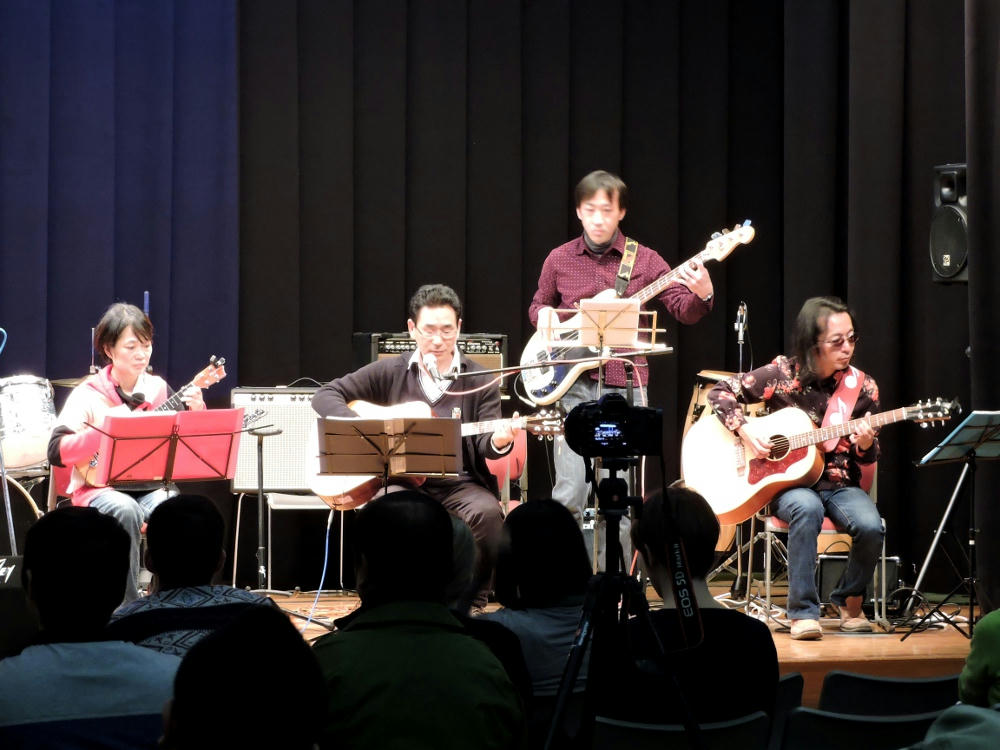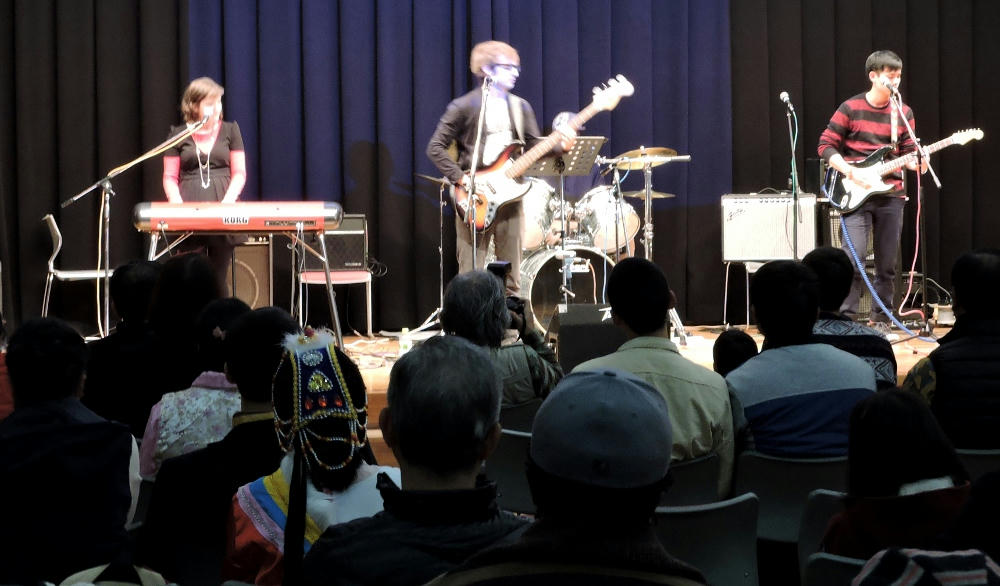 The second group, Ashfall, consisted of 4 English teachers located in Kanoya City, on the other side of Kyushu from the volcano. Guess why they picked this name? They billed themselves as an indie-style band, but the only one that seemed to have any real talent was the drummer, the only member that didn't sing. The guitarist to the right played a pretty good guitar riff, though.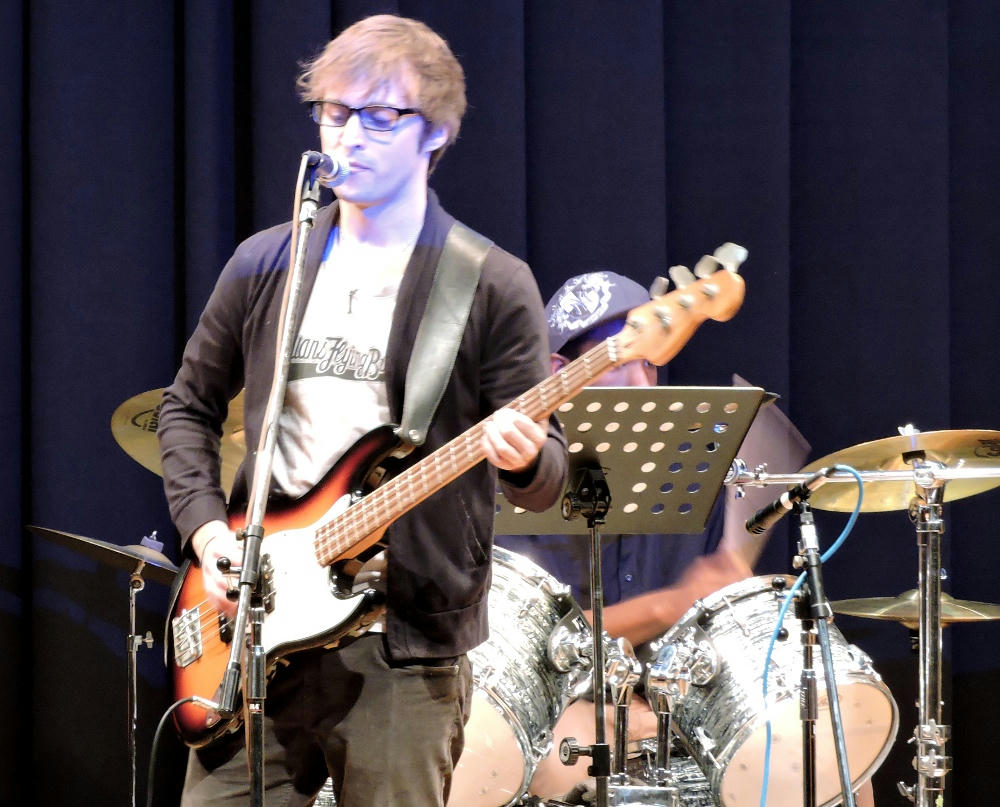 (The lead singer has the grunge look down pat.)
When Ashfall finished, the event was running 20-30 minutes late, and I had to decide if I was going to run to Terukuni Jinja for photos there prior to going to work at 5 PM (my first class of the evening was to start at 5:30). Ashfall was followed by an Indonesian group called BHINNEKA (video of one song below). They were the only ones I wanted to record, but the camera didn't like focusing when I changed zoom, and the room acoustics weren't good. I deleted the first video because the camera picked up people talking that I hadn't noticed when I was in the room. In the second video, there's unwanted feedback part-way through the song.
Direct Youtube link
The other bands scheduled included ichigo-ichie, a 70's style rock group that apparently has Filipino members;
duboi
, a Kagoshima band that formed 3 years ago; The Kyushu Nihongo School (made up of Chinese and Vietnamese members that study Japanese together at the International Center); U.NOW, another group of English teachers that formed in 2011; and
Zousan Band
.
I recognized about 5 people in the audience from other events (there were maybe 100 people when I left), and we talked for a while before the music started. I kind of would have liked to see the Nihongo School group, because I know Kennard, one of the members, from the International Center. I thought I recognized the name "Zousan Band", but it wasn't until I got home that night and did a Google search that I realized that the first hit to come up was for the video on youtube that I'd taken back in November at the event for raising awareness for the need for handicapped access to local businesses. Now, I wish that I could have stuck around until they got on stage, but that would have been after 5 PM, when I'd have needed to leave to go to work, anyway.
Now, at 3:30 PM, I figured that I'd be better off going to Terukuni Jinja. As mentioned above, the 12th was Coming of Age Day. This is when young women turning 20 dress up in expensive kimonos and get $500 hair styles, then walk around town or make shrine visits. I'd seen a few women in kimono in Tenmonkan on Saturday and Sunday, and I was hoping there'd be enough people visiting Terukuni to make for some colorful photos. The weather was perfect, and the sky was a clear blue, so that should have been a good warning to me, but, no. I walked the mile to the shrine, and all along the way, no kimonos. I get to the shrine, no kimonos anywhere; just a few last stragglers still making their Hatsumode (first shrine visit of the year) worshipers. I head into Tenmonkan and walk around there for a while, and still nothing. Finally, it was after 4 and I needed to get home to prepare to go to the school for work. Sigh. Well, maybe next year...