Anko Matsuri and Okashi Matsuri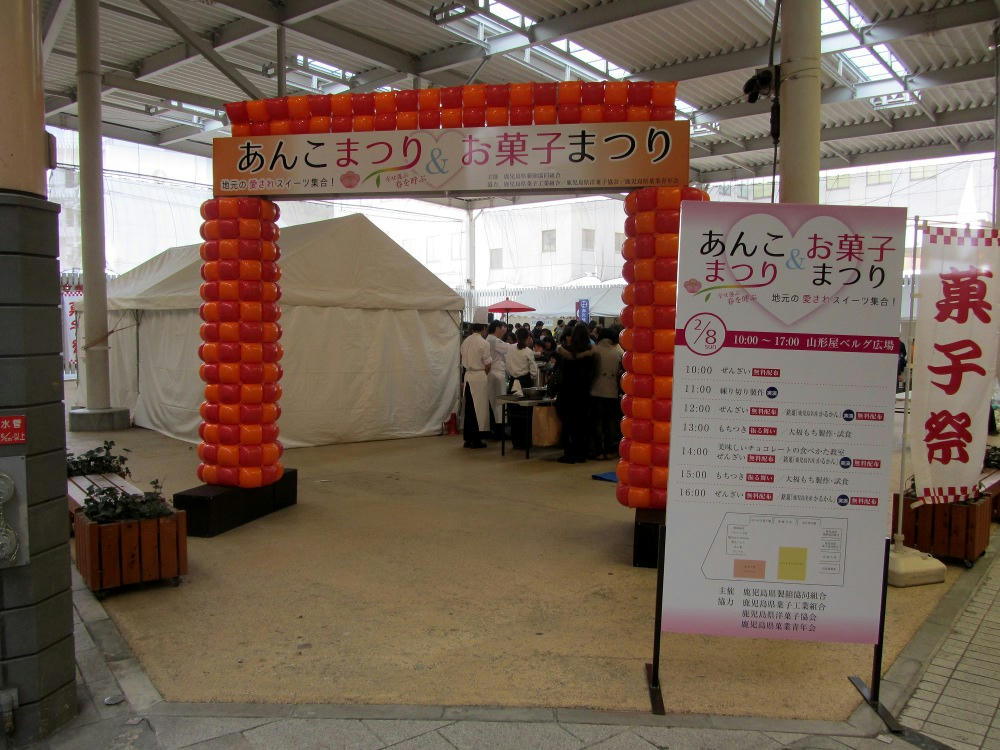 Sunday was another one of those days where several events took place within walking distance of the apartment. The first was the Anko Matsuri and Okashi Matsuri, held in the open space in front of Lotteria in Tenmonkan. Anko is a red bean paste, often used as a filling for certain kinds of snacks. "Okashi" is generally translated as "candy" or "sweets". In this case, the majority of the okashi were soft cookies and crackers. It was close to freezing, so there weren't a lot of people out, and the ones that were focused mainly on the tables that served free food.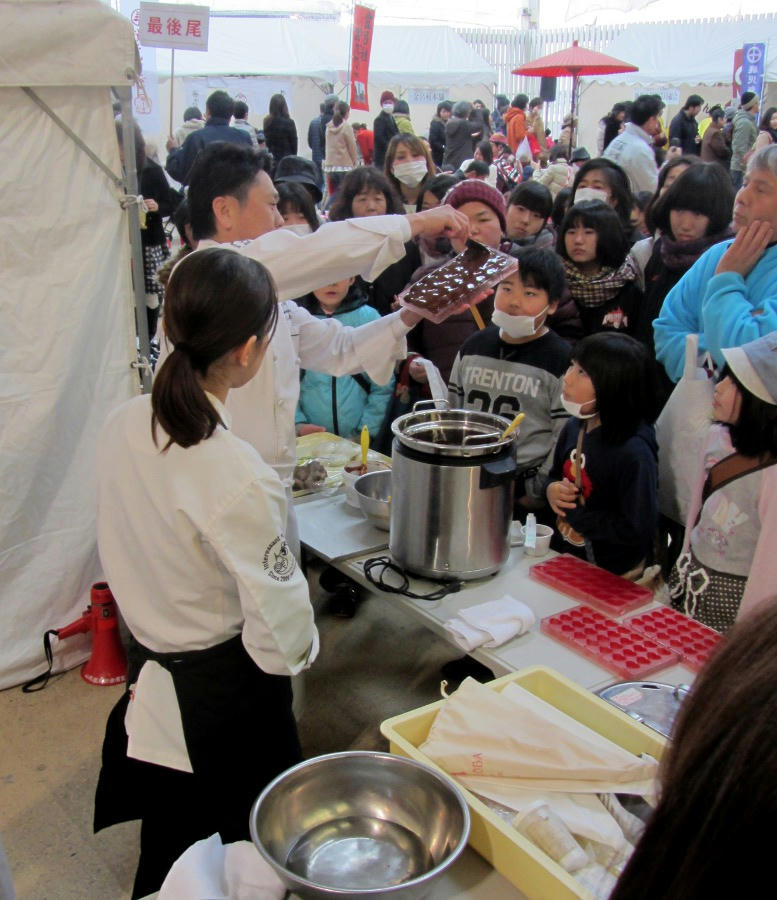 The most popular table held a demo for making chocolate-covered strawberries. I assume that the strawberries were handed out afterward, but with the number of people at the table I left with the expectation that everything would be gone before I could get one.
I wandered the tables, and found one selling
sakura mochi
for 200 yen for a package of 2. I bought 2 packages and the shop owner threw in a free sample packet of cookie crackers (which were good, too). As I was trying to put the bag in my backpack, a Japanese woman came up to me and dragged me to the table at the far right, where one group was giving away free bowls of
zenzai
(a hot, sweet soup made with red beans). This was extremely good, given the air temperature.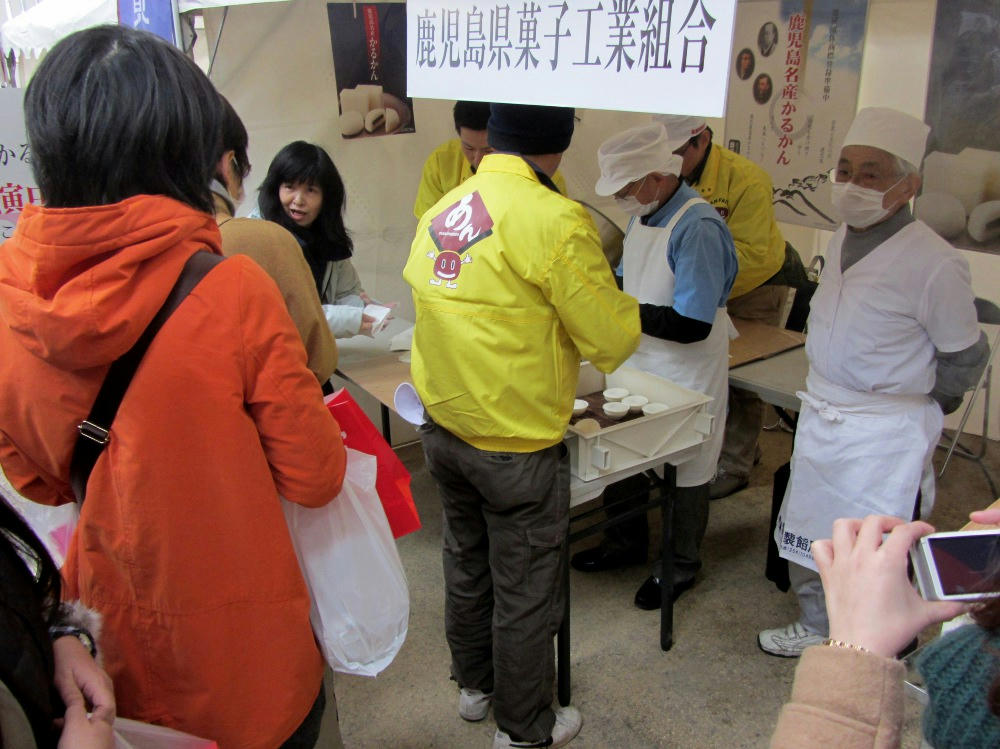 There was a large mallet and pestle near the entrance of the plaza, and I think it was used for pounding fresh mochi. The table next to the zenzai booth also had a long line, so I didn't try getting what they had there. I am confused, though, because it looks like the mochi is in a small plastic cup, and usually mochi is served as a small flat ball in a paper wrapper. Watching the staff make them, it looks like regular mochi, so I don't know why the ones on the table are in cups. Anyway, the sign says "Kagoshima Okashi Makers Union".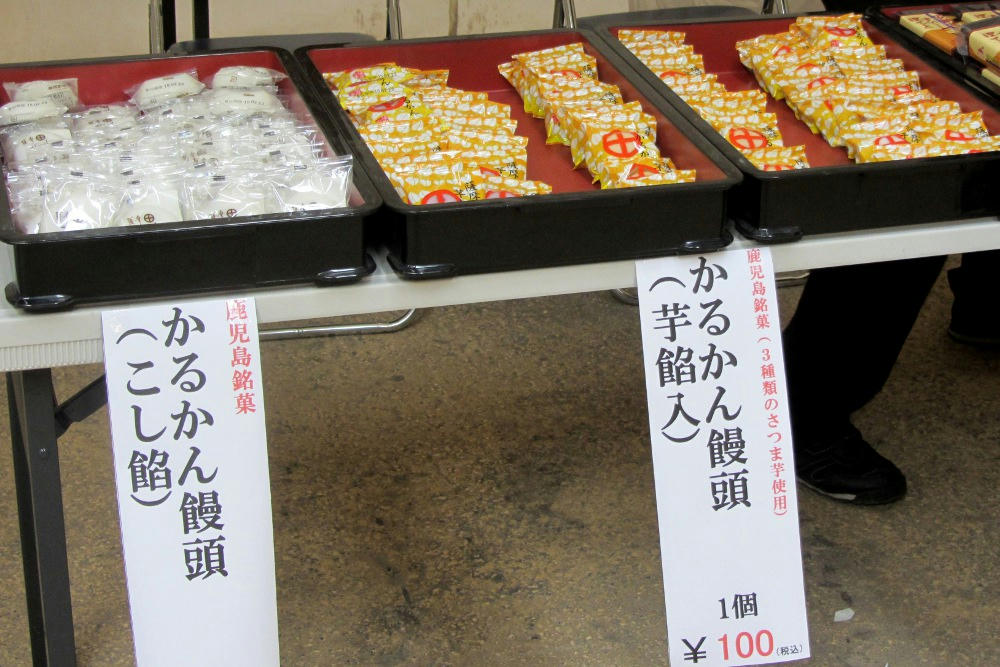 One table was selling
karukan
, a kind of spongy cake made by steaming rice flour, sugar and grated Japanese yam. Karukan originated in the Kagoshima region at least 150 years ago, and is still a popular souvenir gift with Japanese tourists.
Local Foods Fair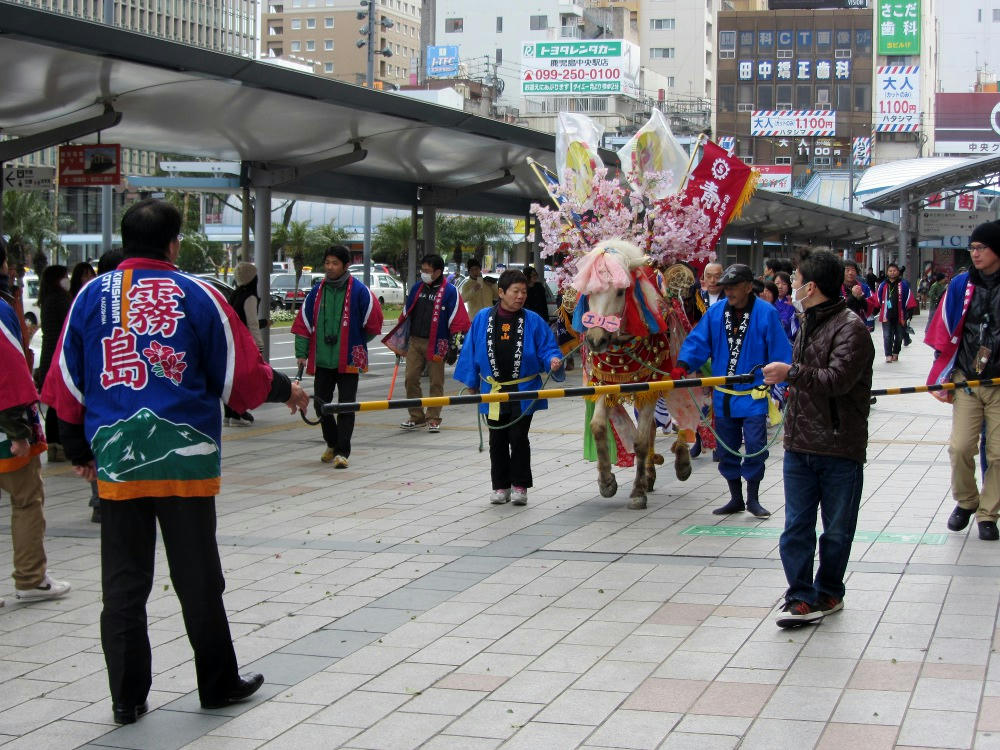 Meanwhile, there was another local food products fair up at the main train station. I arrived just after 2:30 PM, when the schedule said that there would be a "Kirishima dancing horse" performance. I did catch the tail end, when the horse and a small group of local women dancers paraded in front of the station. The name tag on the horse's nose reads "Elly". She didn't look like she was really happy, but she did prance bravely in front of the audience.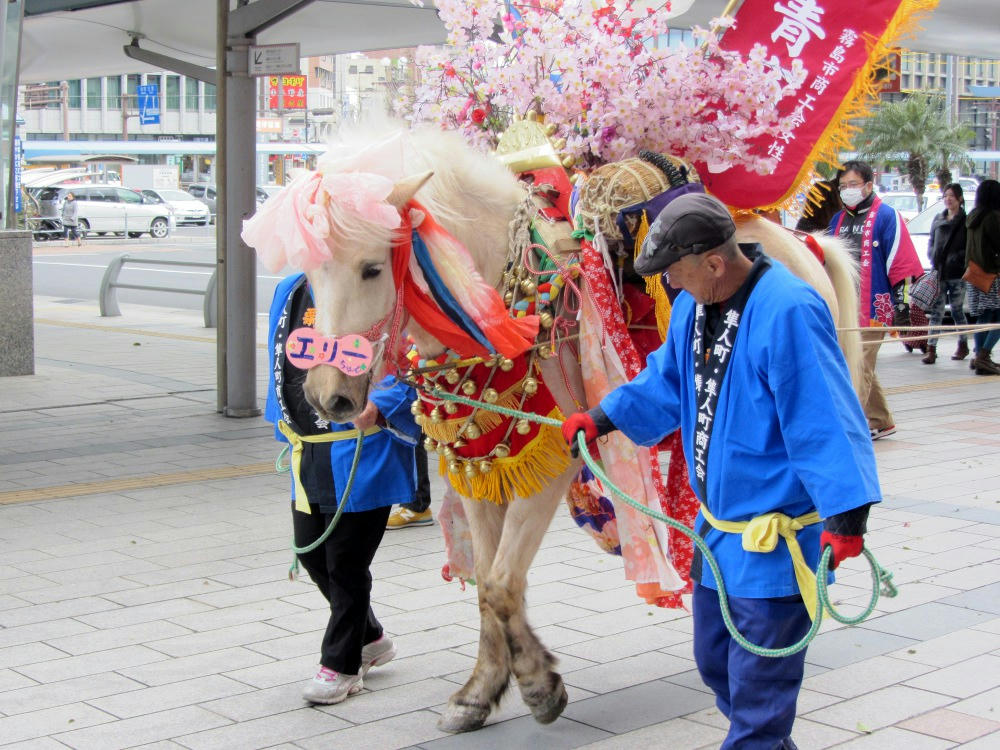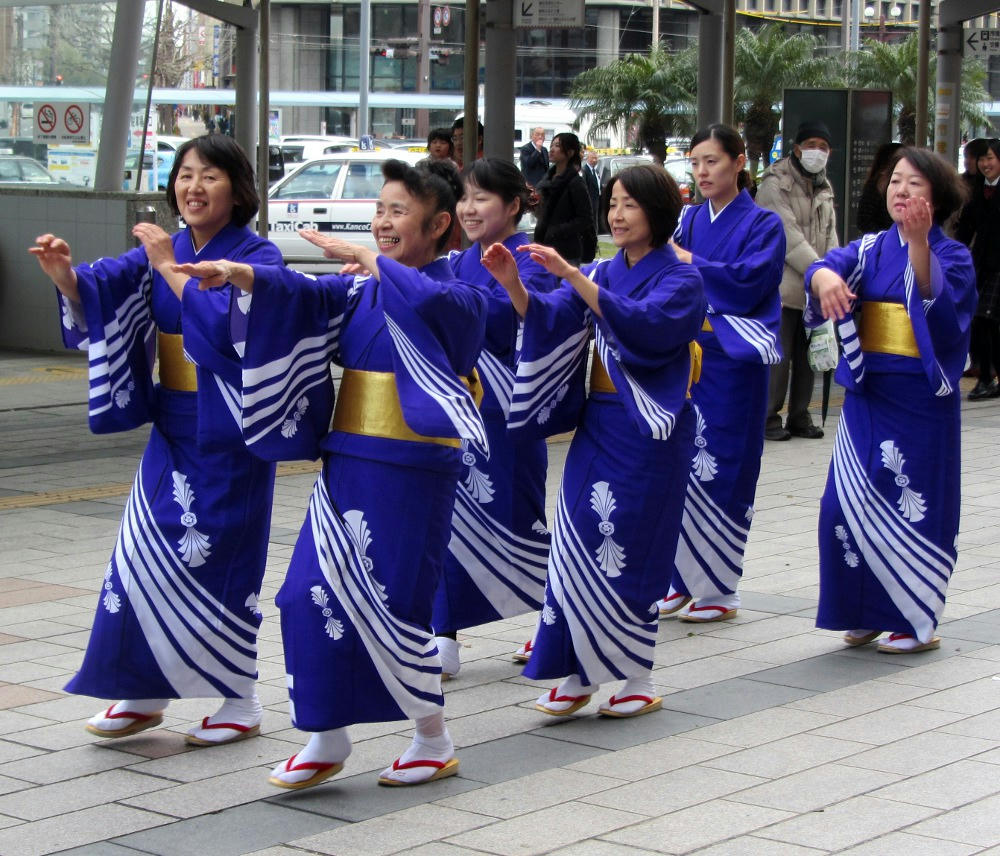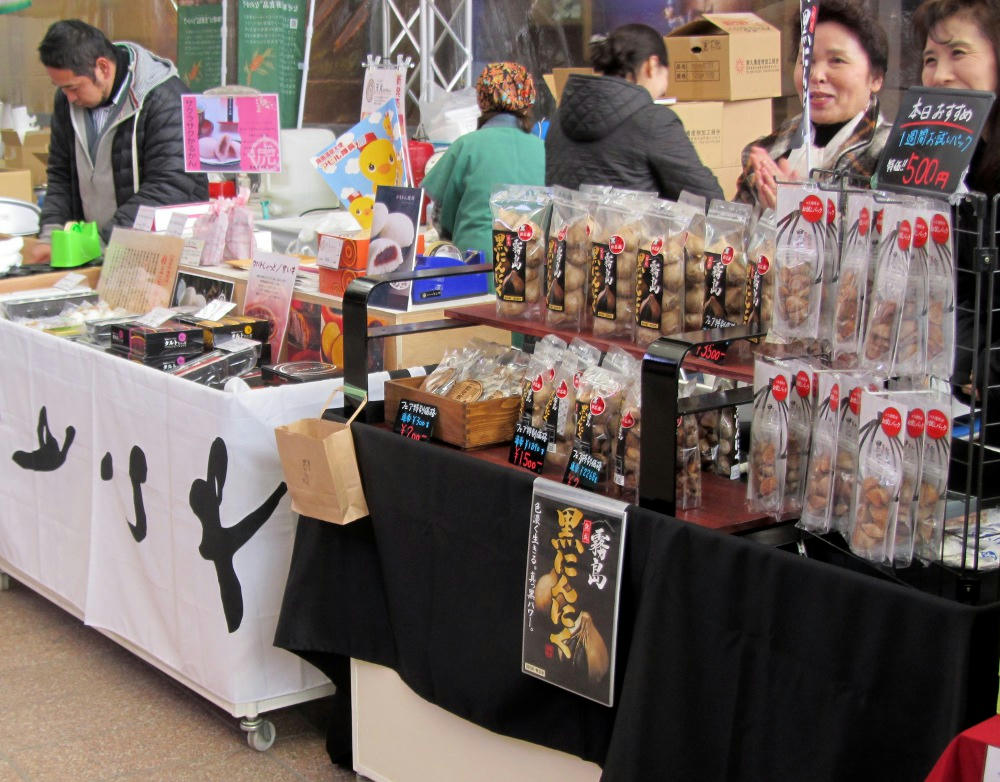 (Roasted garlic.)
Each table had produce or products from the cities surrounding Kagoshima City, including green leaf tea, shochu, sakura mochi and pickled daikon (Japanese radish). The stage events included the Kirishima horse dance, a female song group (The Sunshine Girls), and promos for some of the foods.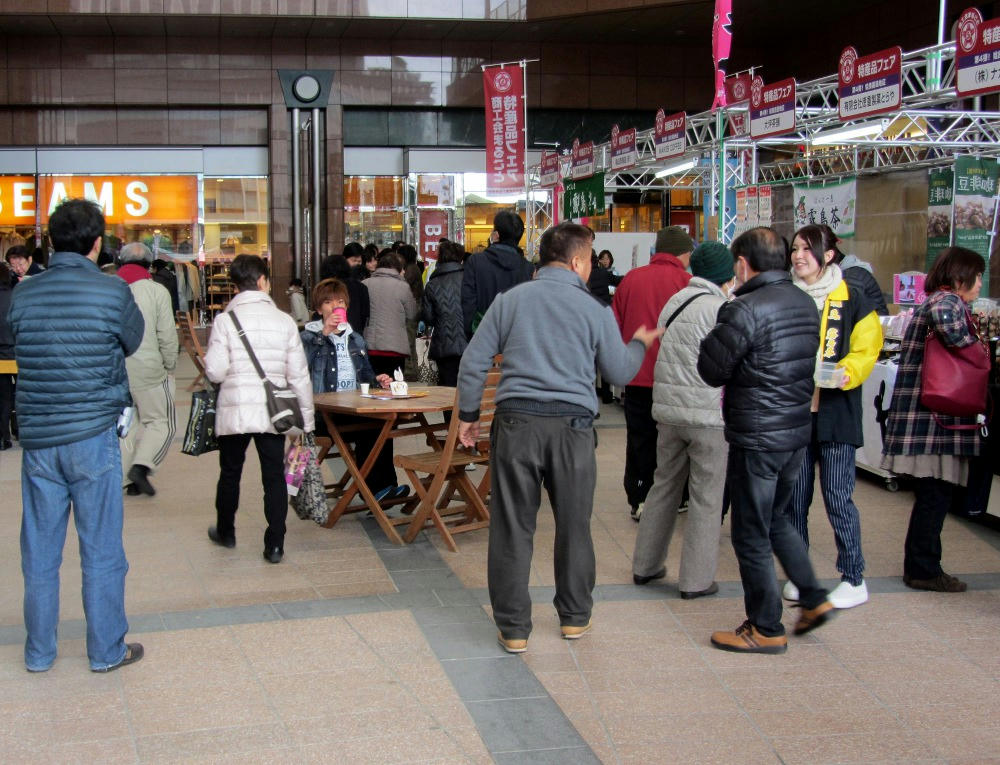 The crowd was light, maybe about 50 people, including shopkeepers and customers. There was one last performer scheduled to start at 3 PM. The event sheet just identified him as "Aira City - One Man Performer". I recorded only one song, partly because the other songs were all really short, and he wasn't doing a long set. If you watch the video, you may notice one man that kept dancing in front of the camera. He's a regular fixture in Kagoshima, and has been at nearly EVERY live music event I've ever attended since I got here.
Direct youtube link
Terukuni Jinja Market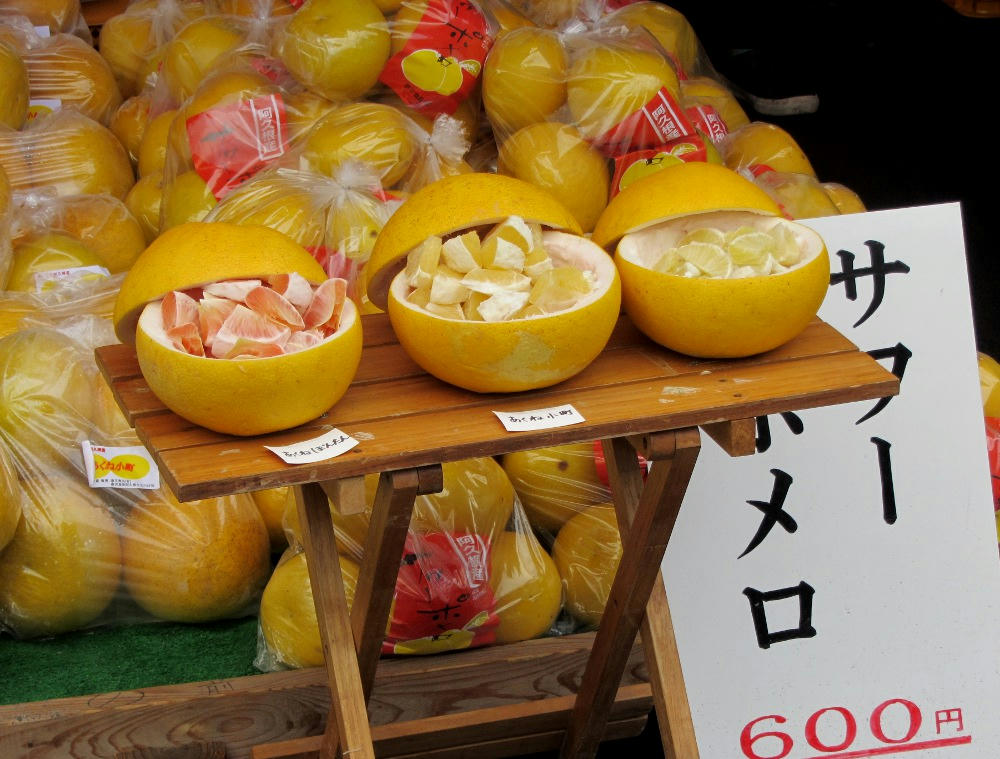 As I was recording the above performance, I suddenly remembered something. Back on Thursday, I'd seen some booth tents set up in the parking lot of the Terukuni Jinja (shrine, same place that had the
Setsubun celebration
on Feb. 3rd). I'd gone back on Friday and they were still up but empty. I didn't go back on Saturday. I didn't know of any festivals set for this weekend, so I wanted to find out what was going on. It would have been more convenient if I'd gone there on my way in to the Anko Matsuri, but I'd forgotten. After I remembered, I left the station and walked the 15 minutes to the shrine. Turns out it was kind of a flea market, with food stalls, jewelry, and fresh fruits and vegetables. $6 for one grapefruit, but it's a BIG grapefruit.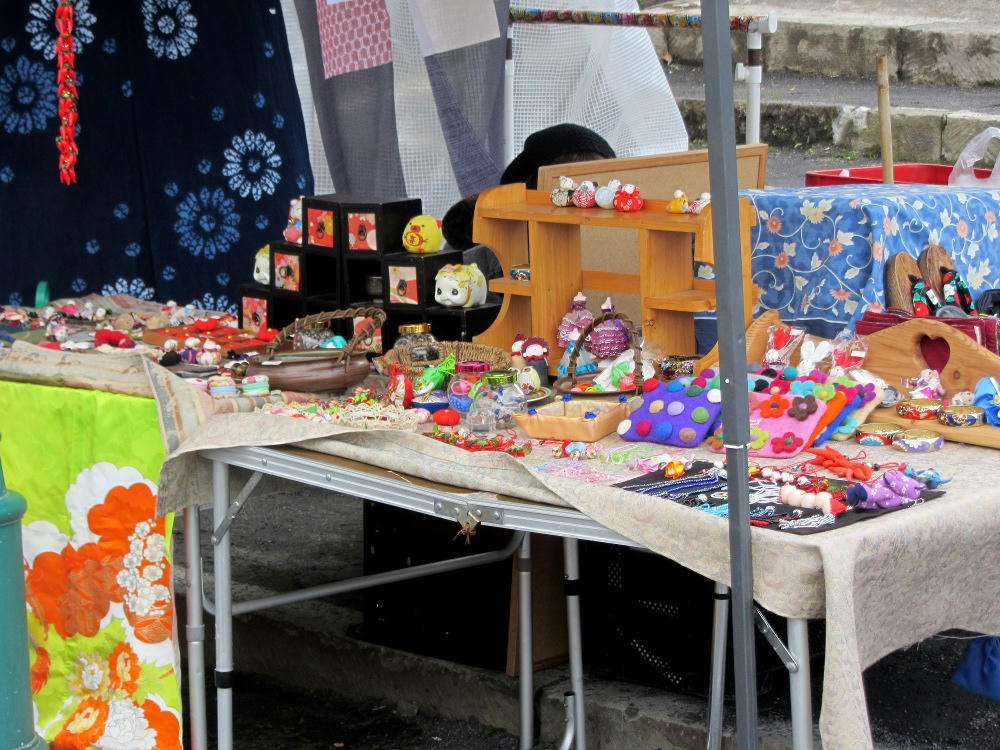 Jewelry and handicrafts. Again, not many customers, probably because of the cold, and a lack of advertising in advance.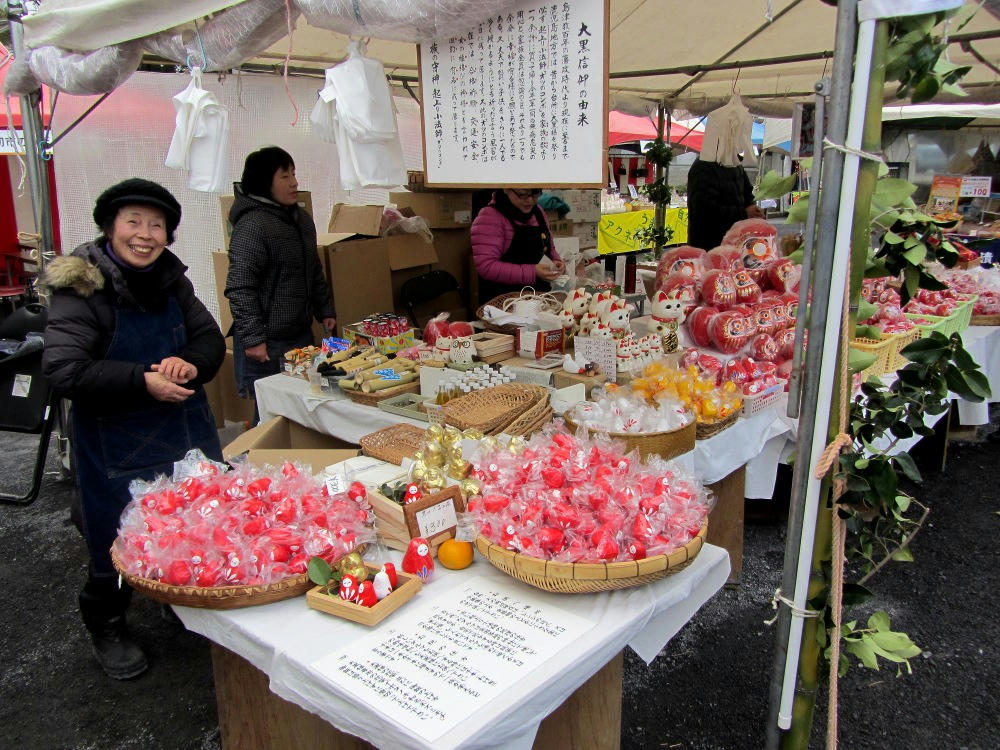 Small statues and figurines. LOTS of
daruma
. I didn't buy anything this time, but while editing the photos, I started thinking that I should have gotten one of the little red figures at the front table, since they're only 300 yen each and they are rather cute.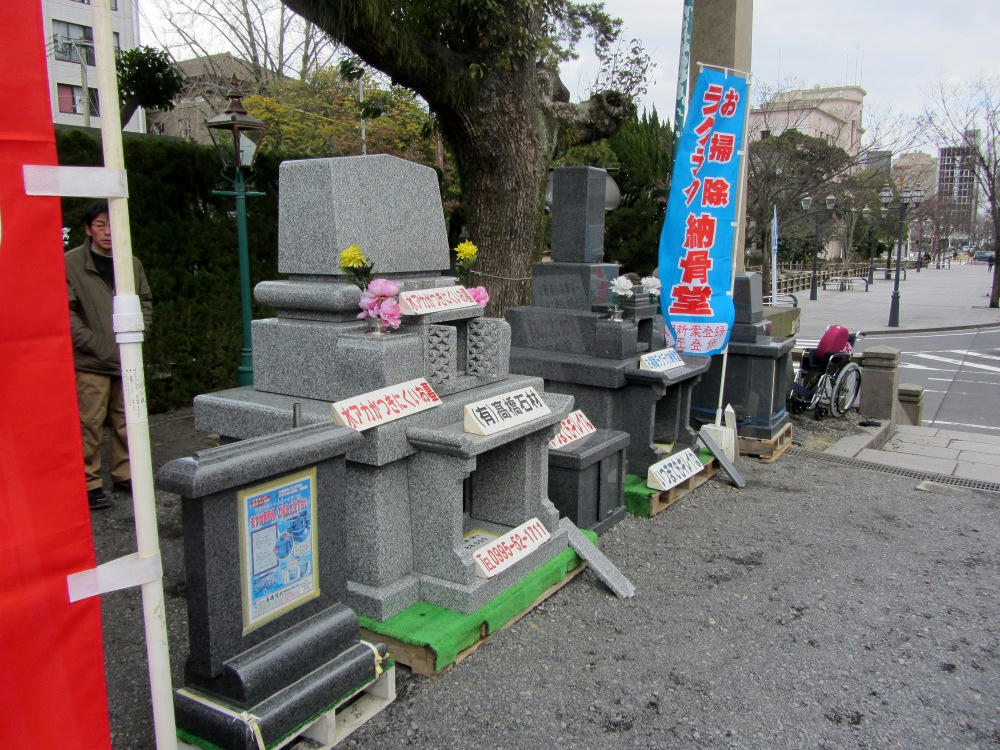 Oddly, one stall was selling grave stones. These units are hollow inside, and are placed in cemeteries to house cremation urns for entire families. I didn't get a photo of the prices, but I think they're on the high side, at either $6,500 or $65,000 for one unit (I don't know how many zeroes there were on the price tag). A second stall also specialized in funerary supplies, including incense holders and ancestor altars for the home.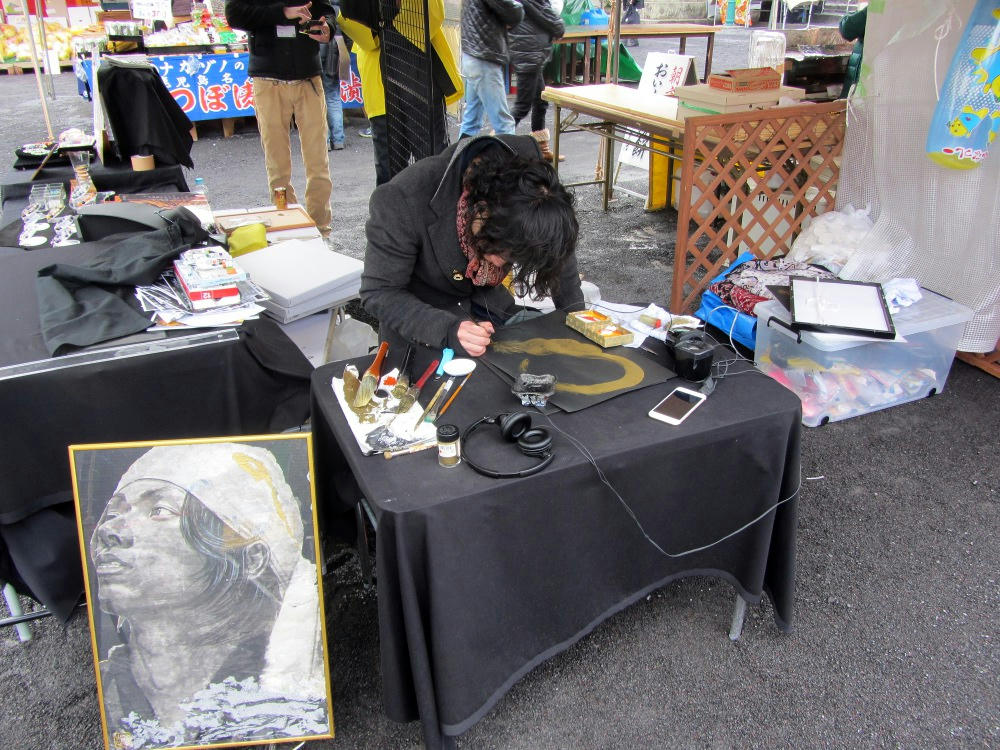 There was only one artist selling paintings this time. He looks to be doing a really good job, but he was too focused on his current painting to answer questions on how much his other pieces are.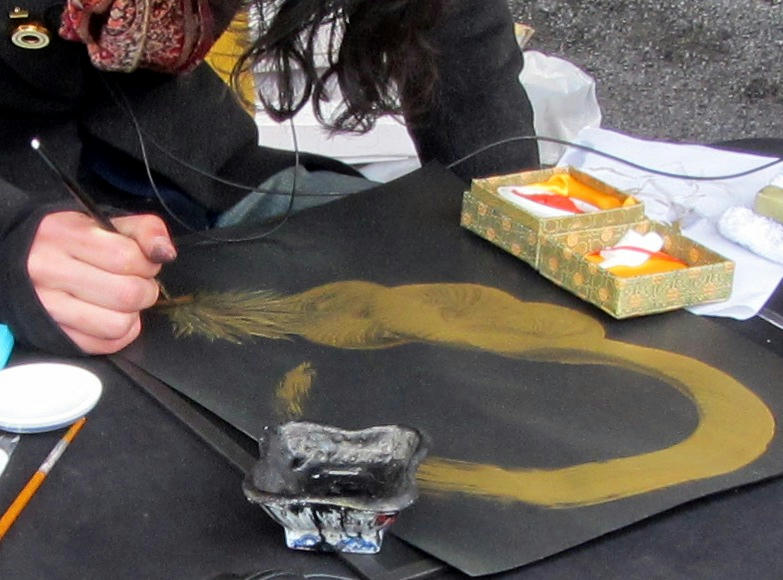 At this point it was close to 4:30 PM. Some of the booths were closing and packing things up, so I went back home to eat my sakura mochi.