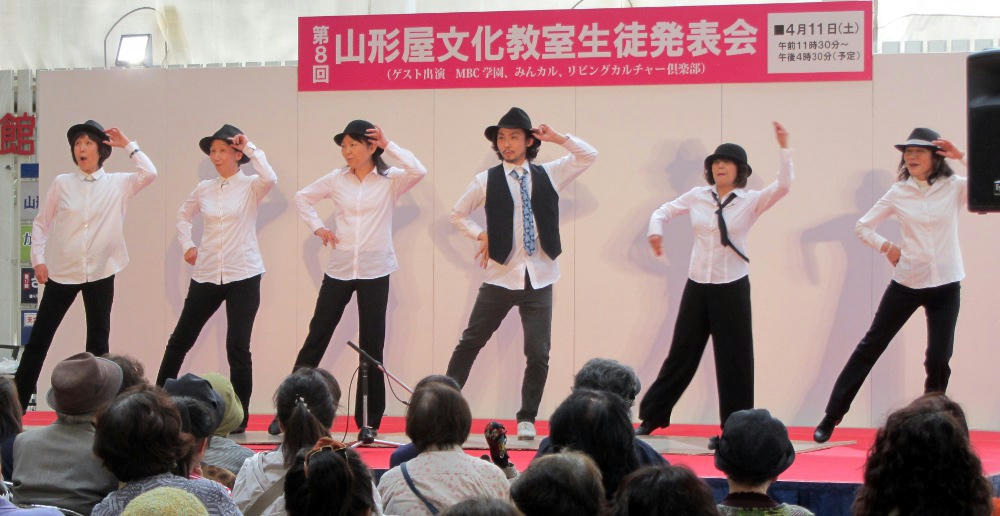 (Tap class doing a routine from "Chorus Line". The guy in the center is the teacher.)
Yamakataya is a department store in Kagoshima, and it offers "culture classes", which include hula dance for adults, language lessons, tap dance, etc. Every few months, the store puts on a show where the students (and often the teachers) can demonstrate their skills. They had one such demo on April 11th. That was a Saturday, when I had to work. I did have a little time in the middle of the afternoon between lessons, so I dropped by to see what they had to offer. Right after I arrived, one of the people near me decided to strike up a conversation, saying that she was the conductor for the group that was going up on stage soon. She teaches the Italian canzone class - Italian music with Japanese lyrics. She was very friendly and we talked for about 10-15 minutes, while the tap dance class was performing. The canzone group's first song was a bit too slow for me, but I decided to record the next two (the third one was "Mama", which was dedicated to the upcoming Mother's Day holiday). The schedule listed the songs "Bara no kotodzuke" (Message of the Rose) and "Manma". They were pretty good for students.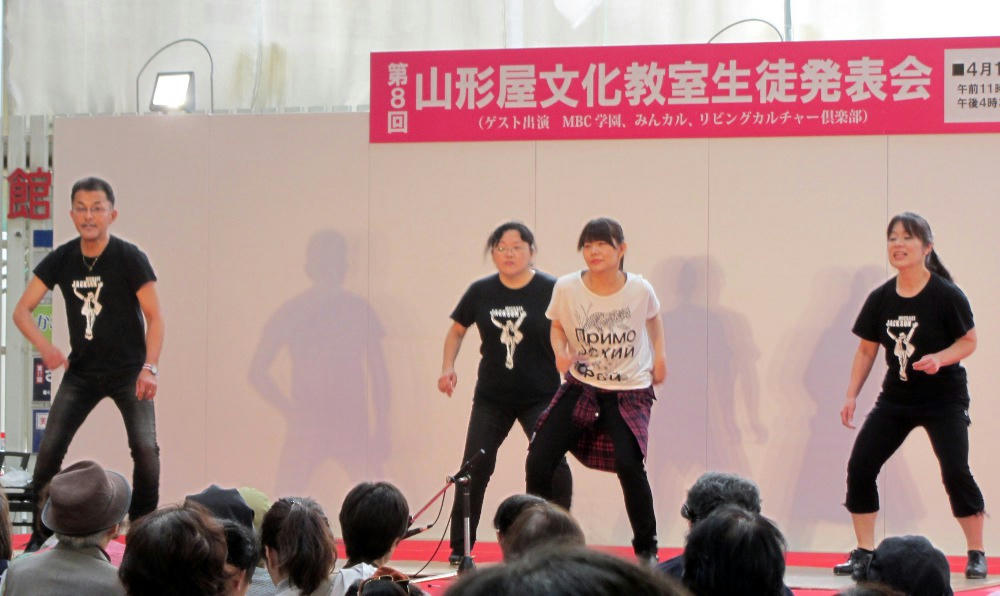 (Second tap group from the same class.)
The only downside to the performance was the sound system, which was hissy, had occasional pops, and some feedback. The engineer didn't seem to have much control over his gear, either that or much of an understanding of what he was supposed to be doing.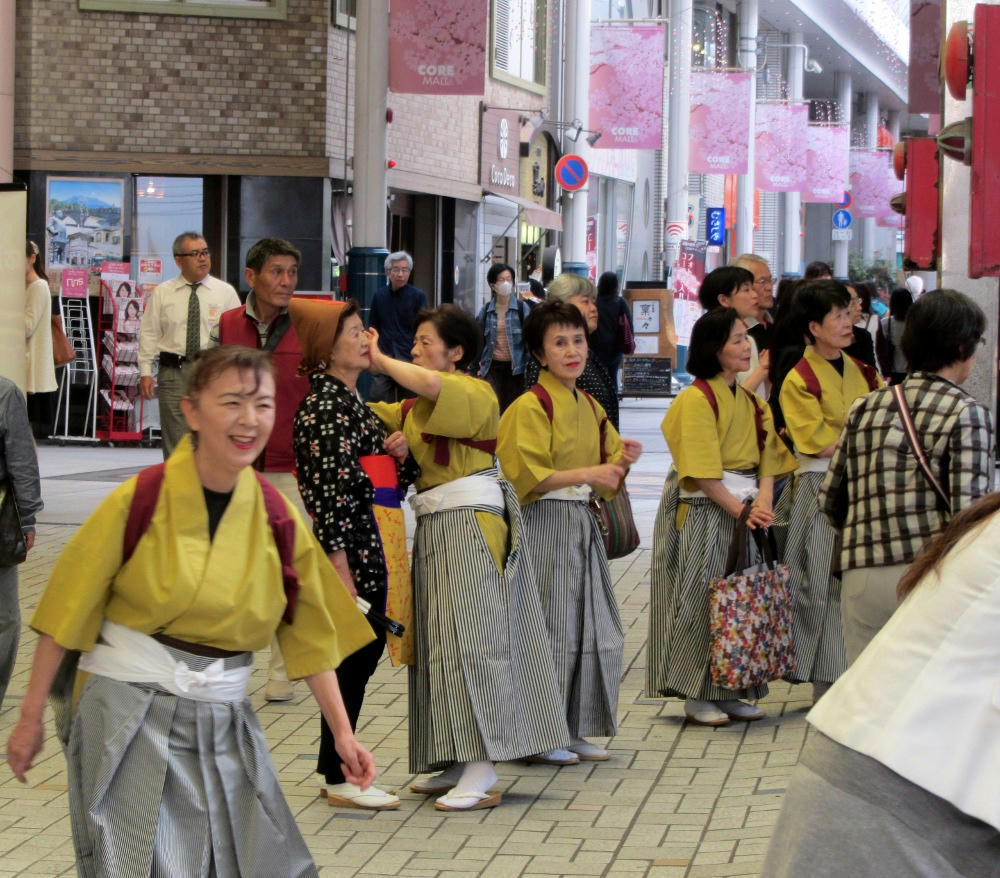 (There were several other groups dressed up and waiting for their turns.)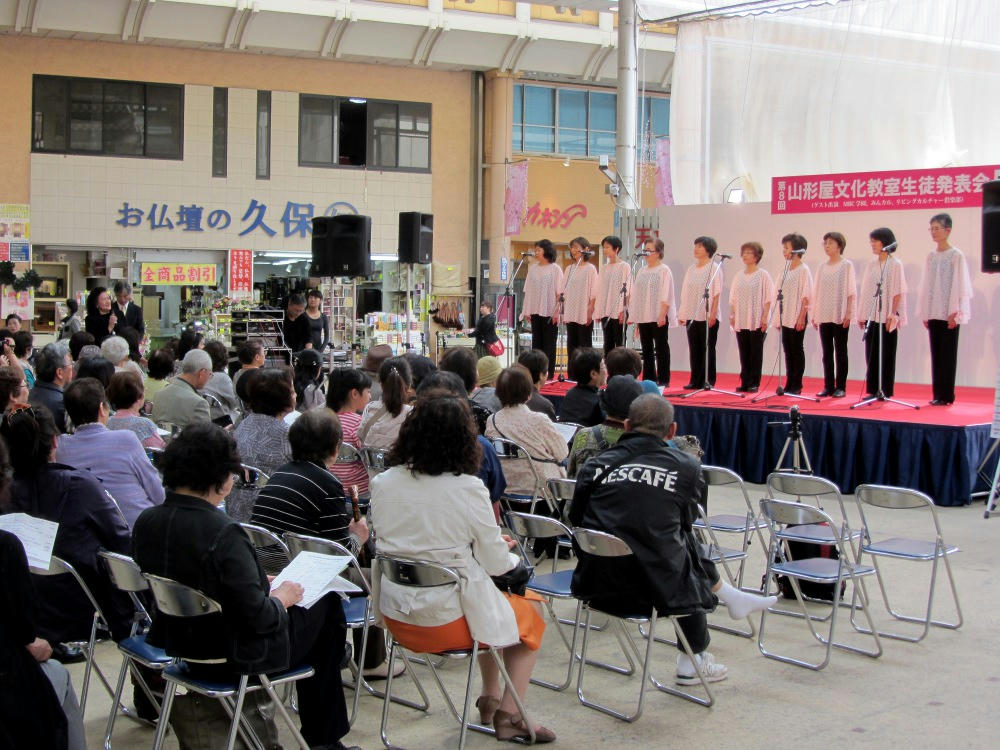 (The first canzone group, about to do a traditional choral song.)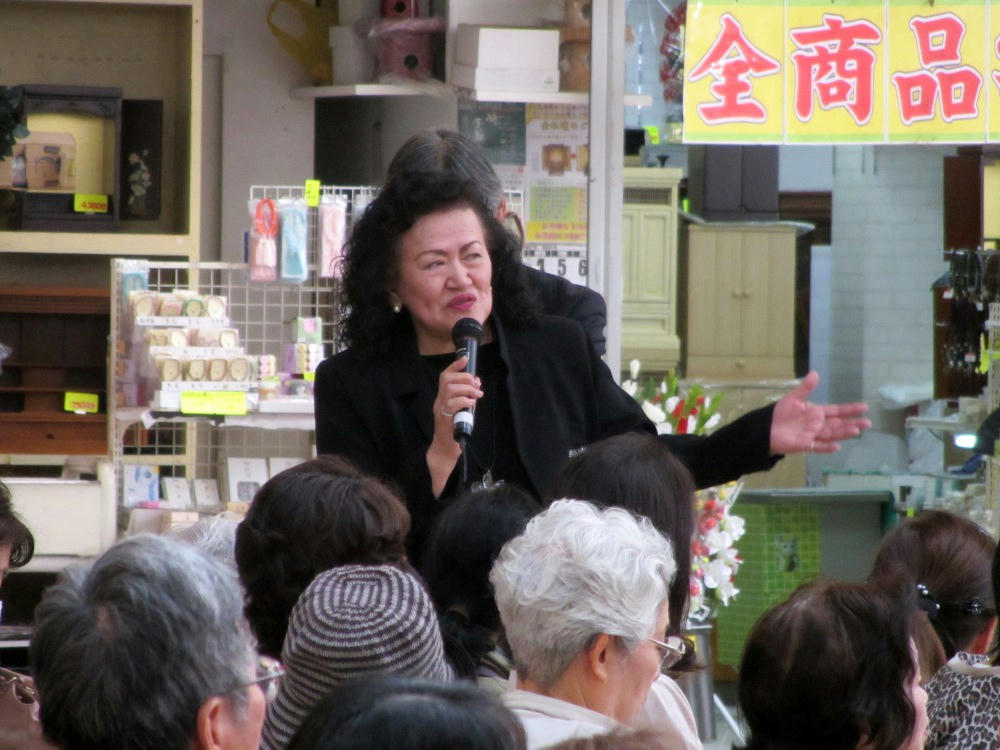 (The canzone teacher and conductor. I think her name is Mishima, but I couldn't find any information for her online.)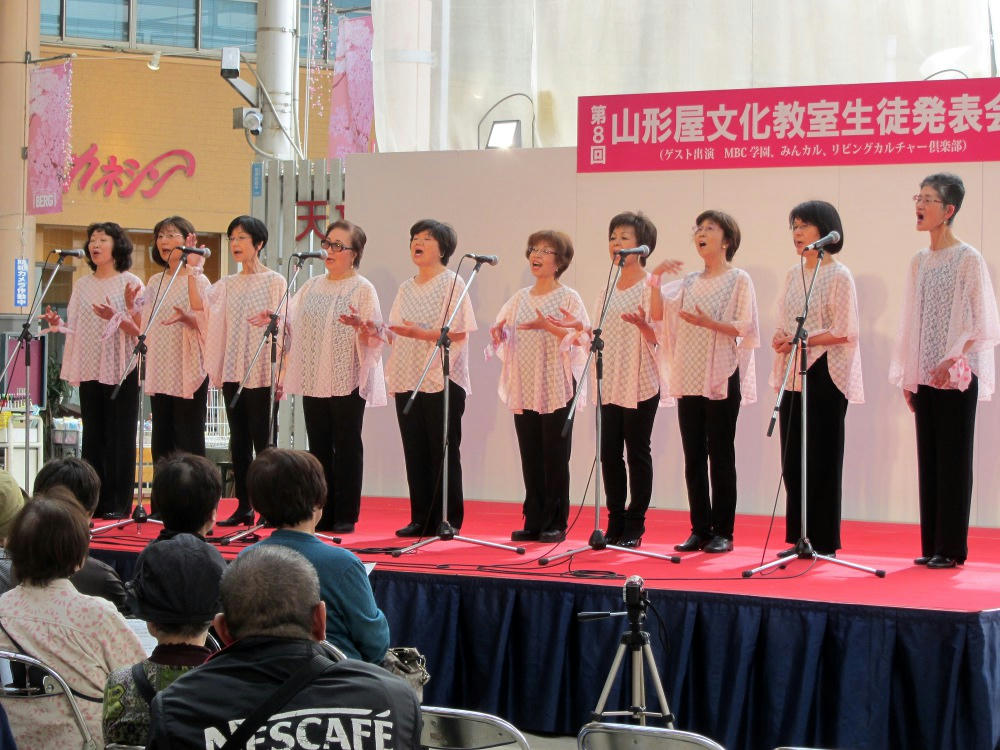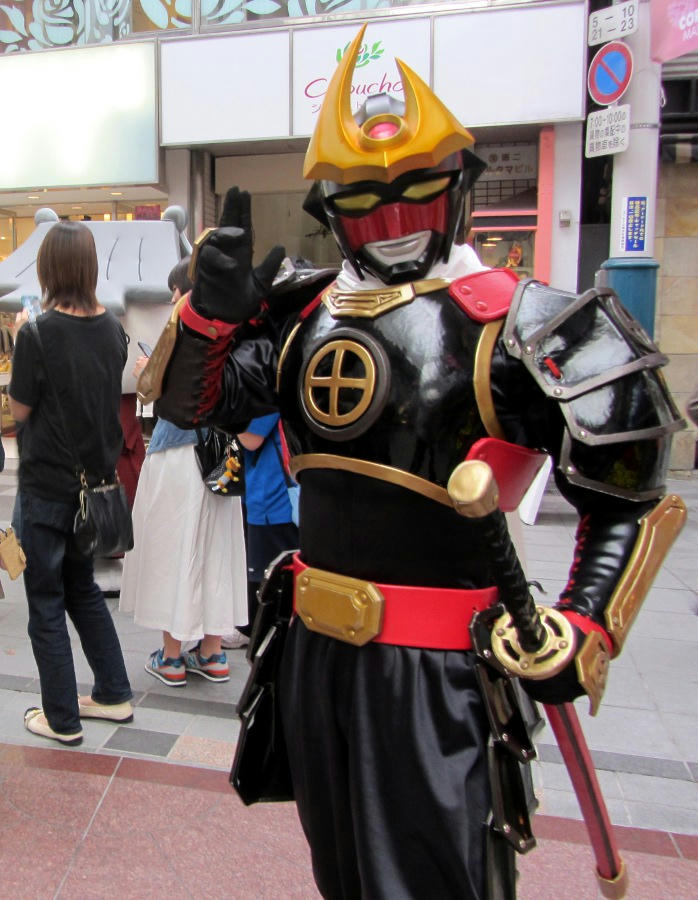 I had to do some shopping which needed to be taken back to the apartment before returning to the school for the remaining classes, so I left the culture class demo after about half an hour. As I was going through Tenmonkan I encountered some of the local foamhead mascots. I keep forgetting the name of the above character, but he represents Kagoshima. When I pulled out the camera to shoot the foamheads, he immediately went into a pose in front of me, so I felt compelled to get a shot of him as well, which turned out pretty well.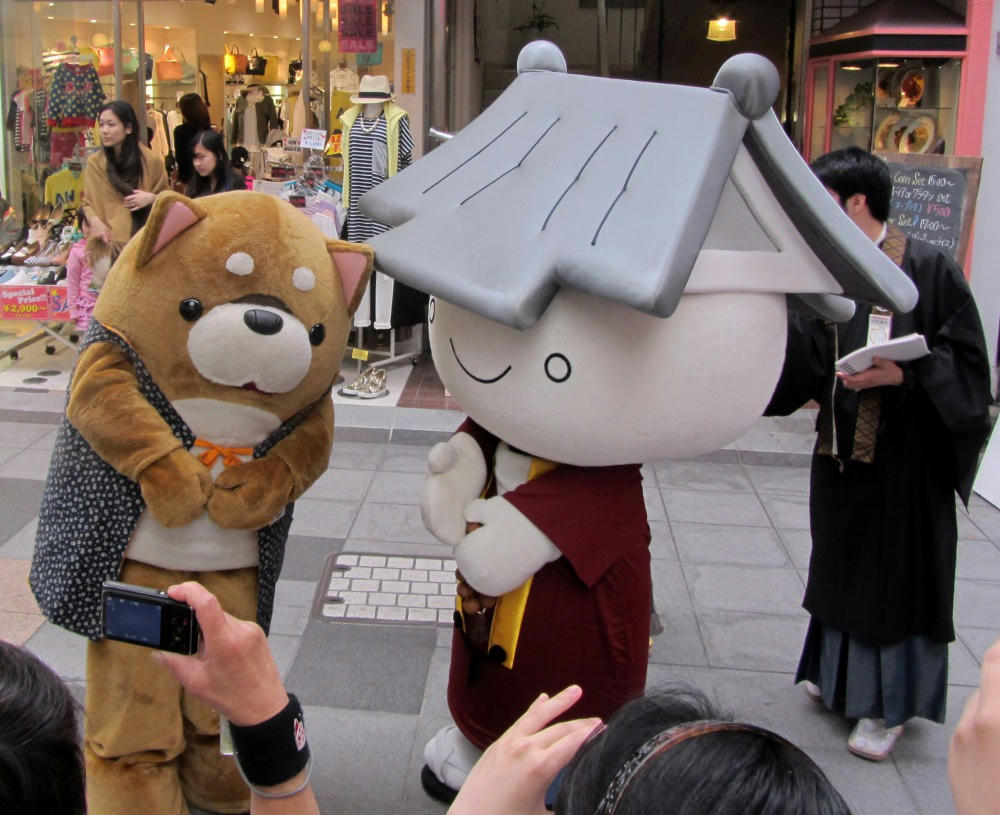 Kenken is on the left. I forget the name of the character on the right. He represents Honganji temple, and there is a Buddhist priest behind him handing out fliers advertising the temple.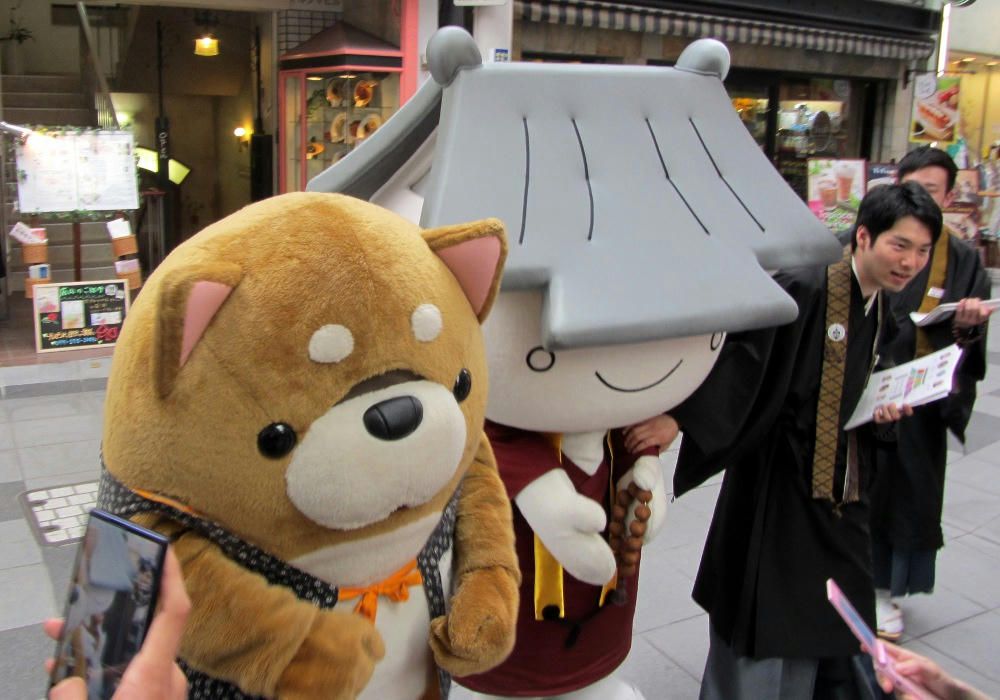 direct youtube link for the second canzone class' songs