Day 1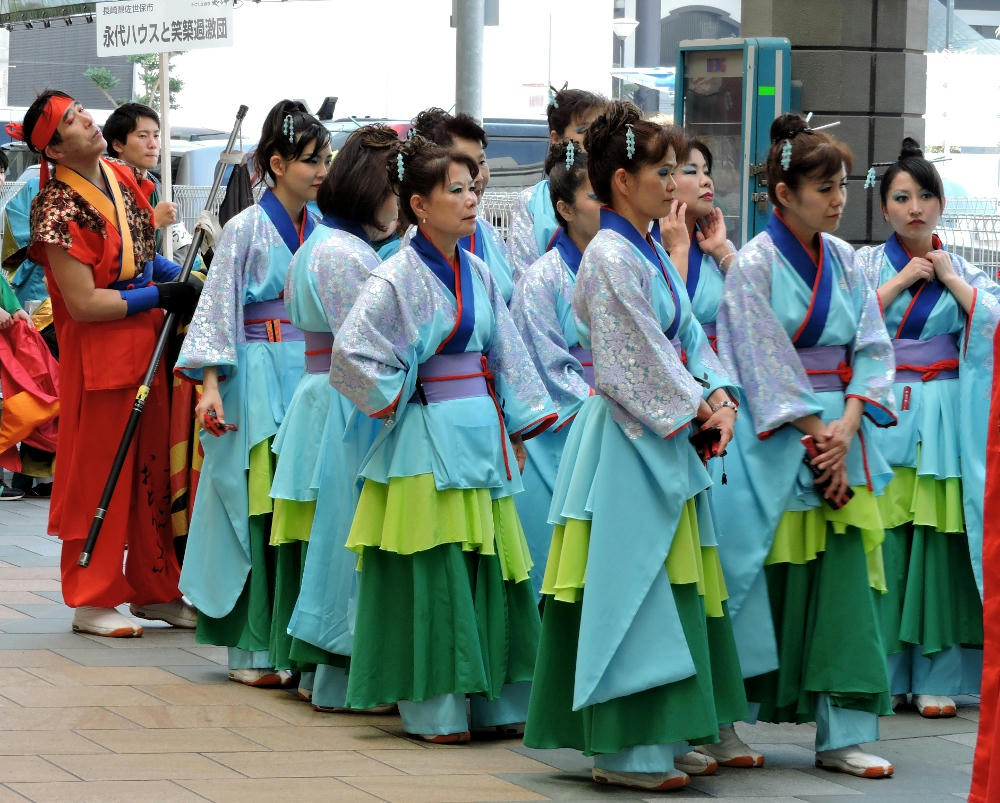 (Waiting to go on stage in front of Lotteria)
Dai Hanya is a major dance festival held in Kagoshima in the spring. This was the 9th annual event, which fell on April 25th and 26th. There are about 10 stages located around the city, but many of them were only used for 2-4 hours, and some for only one of the 2 days. There weren't many people at the stages in or near Tenmonkan on either day, and for Saturday the only group I caught at the first stage wasn't that good. So, I headed for the open space in front of the Lotteria. The groups there were really good, but they were backlit by the afternoon sun, and the camera recorded them too dark. I only taped the first team, but stuck around to watch 2 others.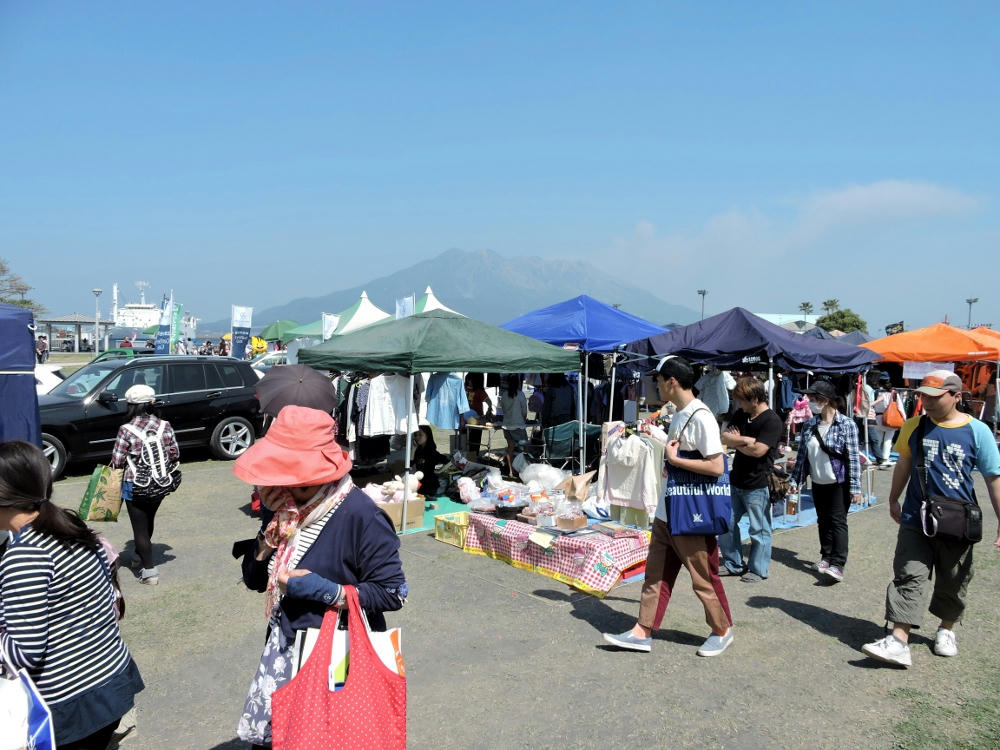 (Flea market at Dolphin Port, with the volcano in the background.)
There were 100 teams, with over 2,000 dancers total, mainly from all parts of Kyushu, but 1 or 2 teams were from other cities farther north. Each team performed on both days, and may have danced at least twice at different stages (I don't know about that for sure, though, because there was no schedule listing who would be where at what time).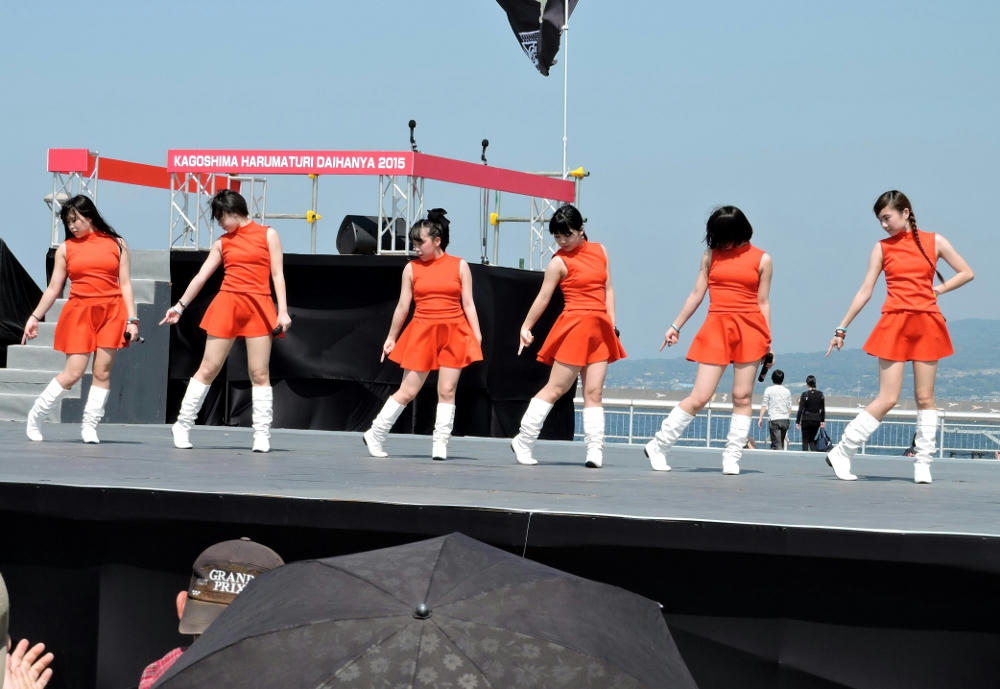 (One of the dance teams, in idol formation.)
I didn't have to work the first half of the afternoon that Saturday, so after checking the areas around Tenmonkan, which were almost deserted, or were shutting down for the day, I went down to Dolphin Port. That's where the main stage was, as well as a huge flea market event. I made a swing over to Tenmonkan Park, then up to Chuo train station before returning home to change shirts before heading in to work.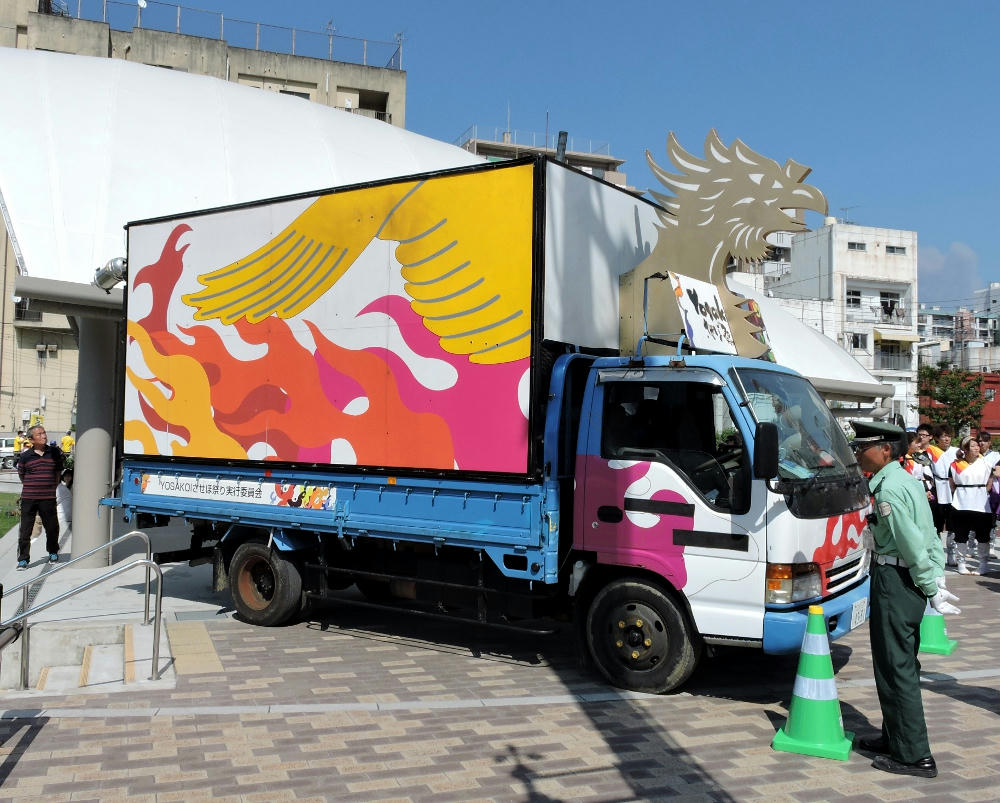 (Over at Tenmonkan Park, they were taking down the stage and loading up the Yasakoi truck.)
Direct youtube link - Day 1 sampler
Day 2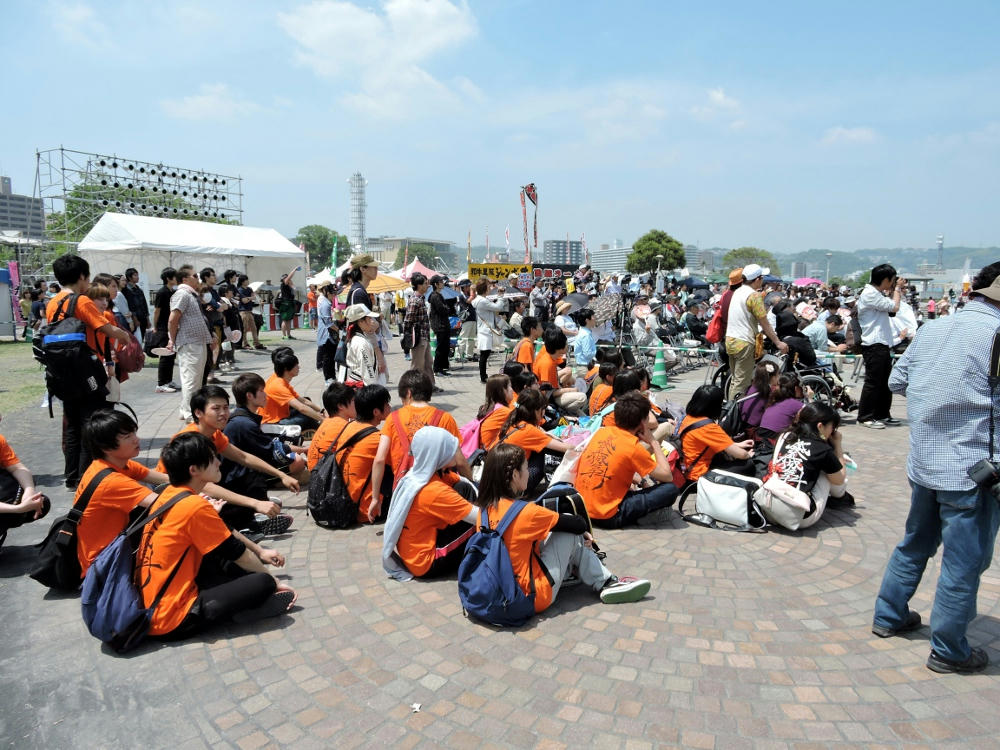 (Waiting and watching, at Dolphin Port.)
Sunday was better, but because some of the stages had overlapping times, I couldn't get to all of them. I completely missed the dances at parts of Tenmonkan and in front of the main train station just because they only lasted 2 hours and I had to prioritize my time. However, I caught some great teams at Dolphin Port again.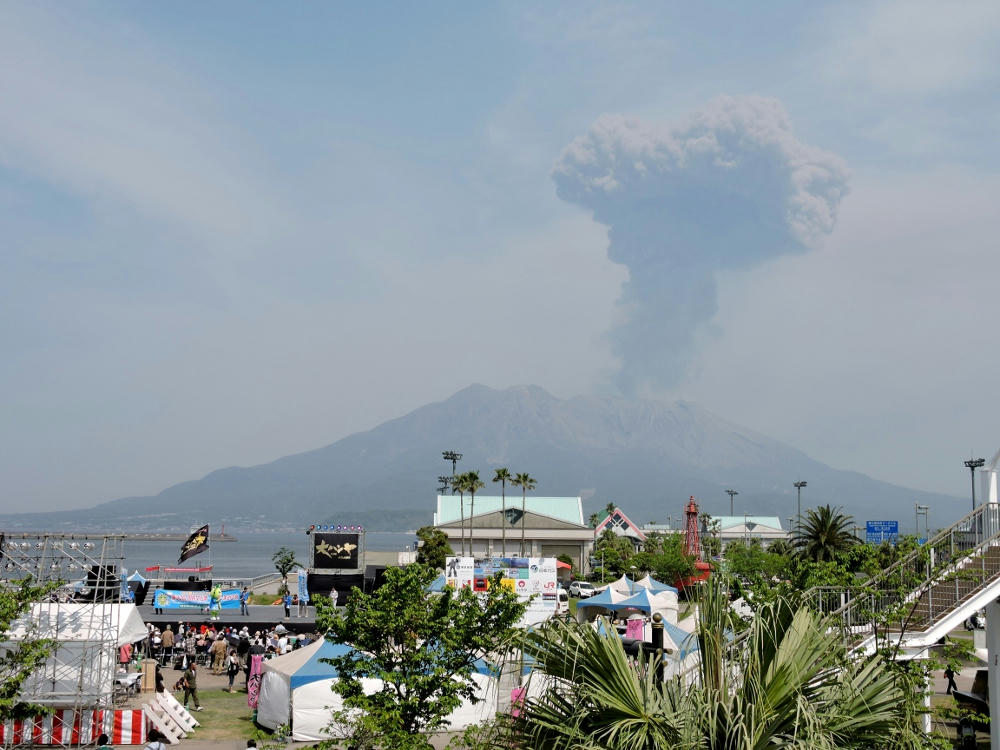 (Sakurajima has been spitting out ash a lot more often lately. Fortunately, the wind was blowing away from the city this time.)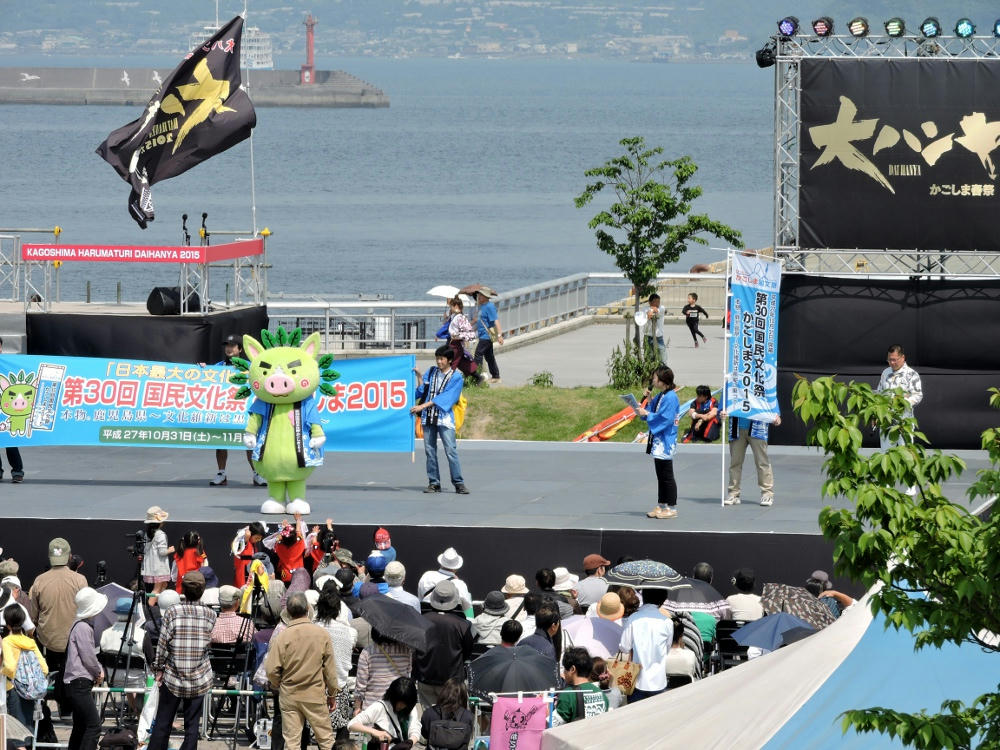 (One of the scheduled half-time events was the Guree-buu promotion of Kagoshima City. I didn't stick around for this.)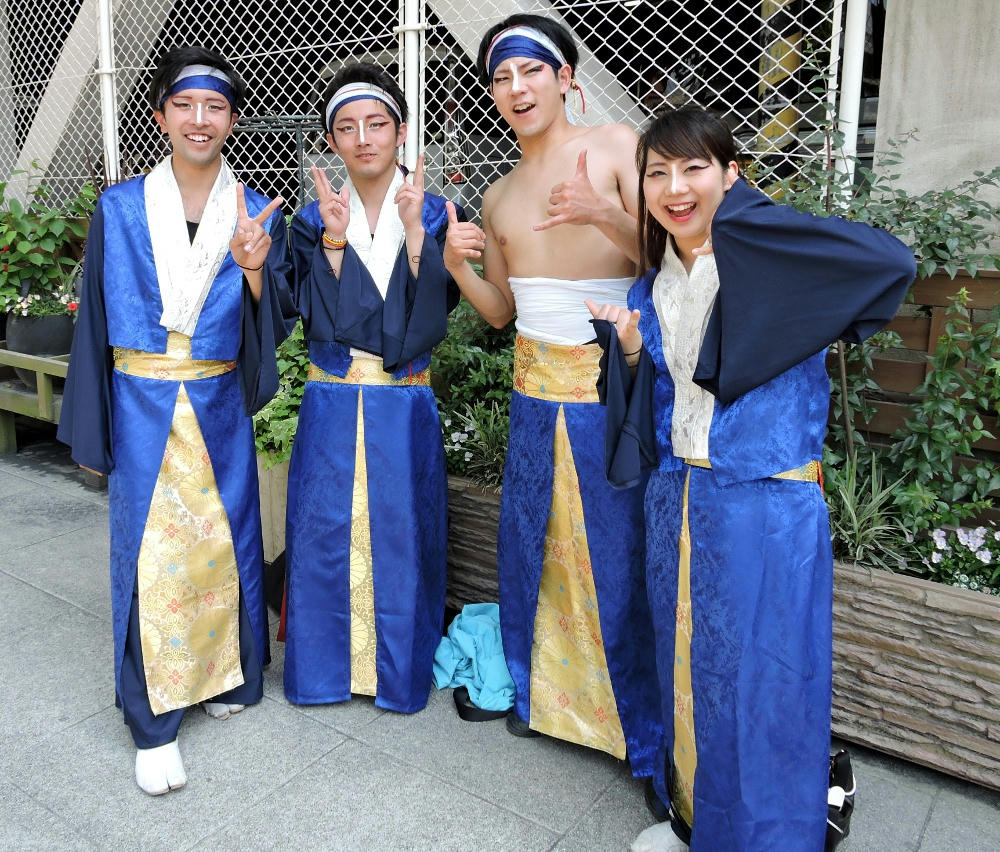 The sun was brutal, and I could feel myself getting burned, so after a while I headed back to Tenmonkan. There was a wave of other teams going the way I'd just left, and I asked one group if they'd pose for me. Happily, they said yes.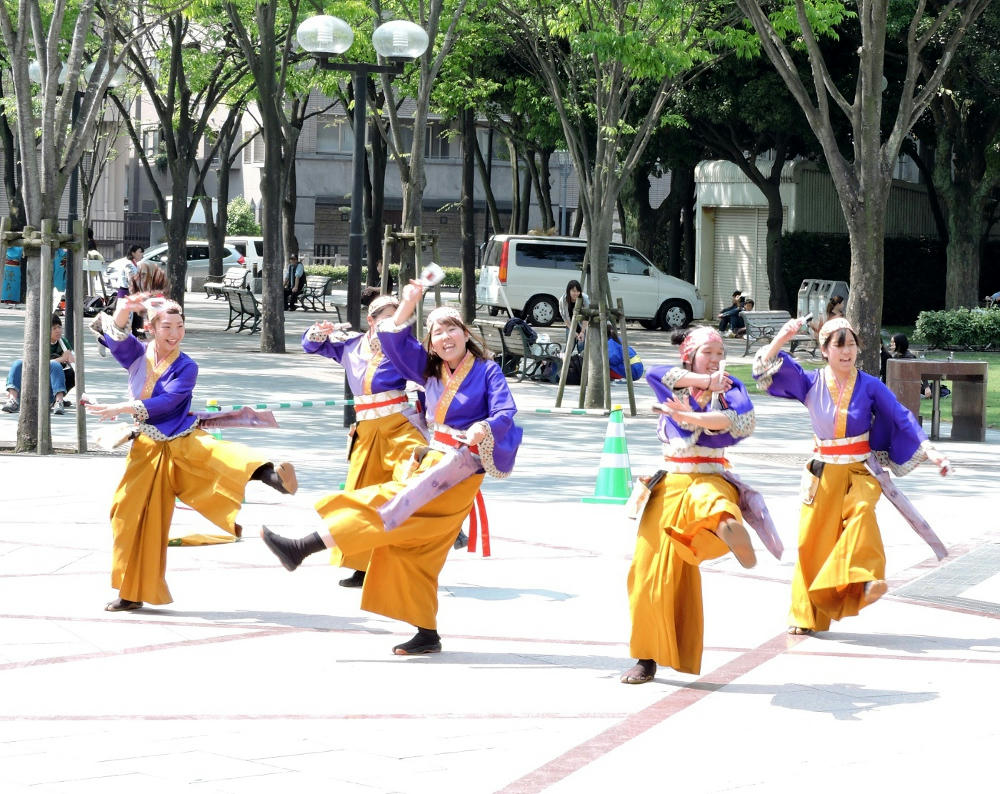 The next stop was Central Park, just a couple blocks west of Tenmonkan. I passed by the Lotteria, but again the lighting was bad so I didn't try shooting video this time. There were several good teams at the Park, so I recorded them until my memory cards filled up. After that, I went home to process the videos, which took the better part of both Sunday and Monday.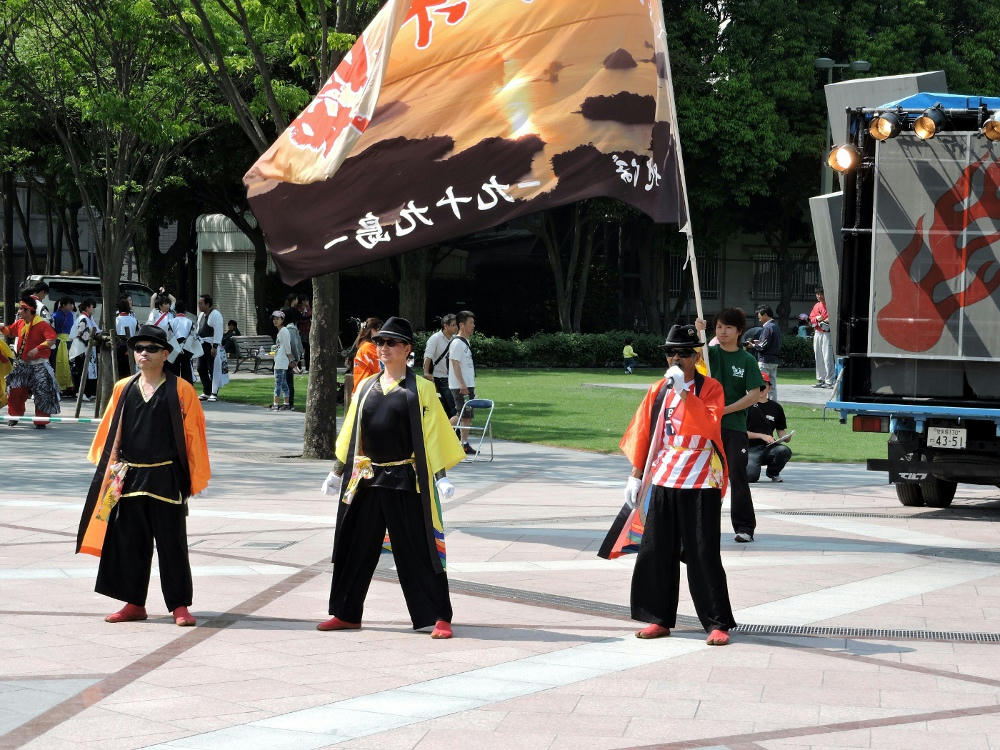 I had a great time on Sunday, but things just went by too quickly. I'm feeling a big letdown now as I'm writing this up. I really hope that I can do this again next year and enjoy it a bit more.
Direct youtube link - Day 2 sampler, Part 1
Direct youtube link - Day 2 sampler, Part 2
Direct youtube link - Day 2 sampler, Part 3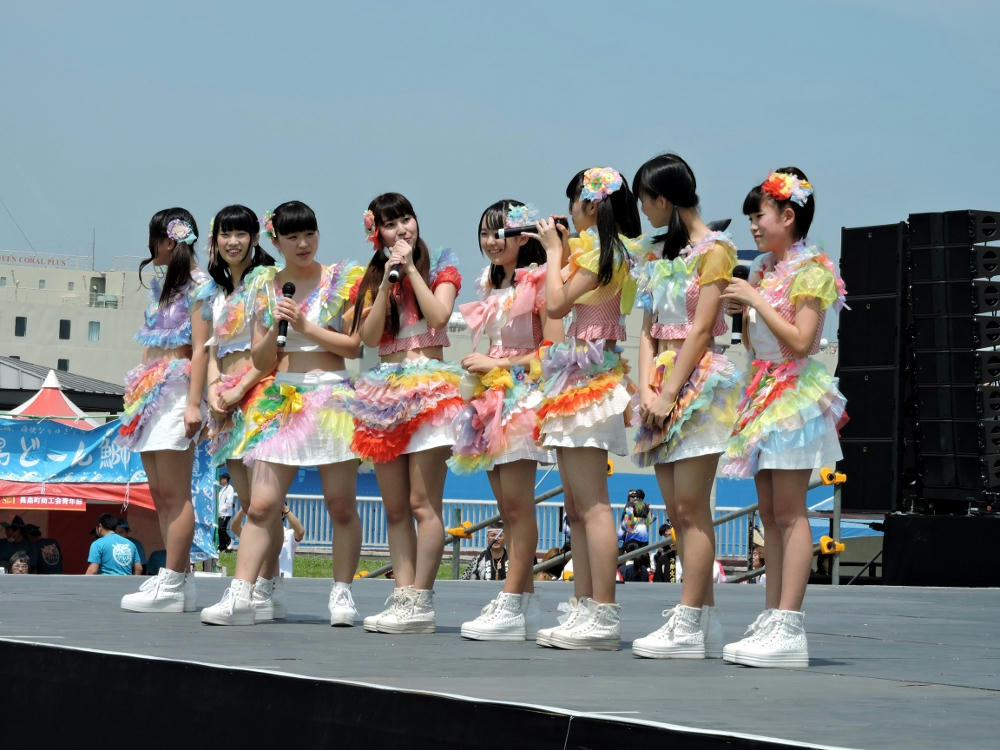 Sunday also had a special stage show by the local idol group Seven Colors. I decided to record all 4 dances/songs, which I then had to group into 2 videos because of youtube's 15-minute time restriction. One of the songs was a cover of something by Momoiro Clover, and 2 were original to Seven Colors. I don't remember about the 4th one, but that was another cover.
As I was getting ready to go to bed Monday night, I got an email saying that the video Seven Colors Part 1 was being blocked because it contained copyrighted material. I guess that King Records owns the rights to one of the songs that Seven Colors sang at the end of the video, and because of that the entire file was being muted. You'd be able to see the video but there'd be no sound at all. I ended up spending another hour editing the video and re-uploading it. It wouldn't have taken so long except that Microsoft's Movie Maker screwed up and forced me to recreate the thumbnail versions of all the raw files, even though Movie Maker still had them on disk. Sigh. Anyway, you'll be able to watch Part 1 when youtube finishes processing it again, assuming that there's not another block on it...
Direct youtube link - Day 2, Seven Colors, Part 1
Direct youtube link - Day 2, Seven Colors, Part 2