Day 1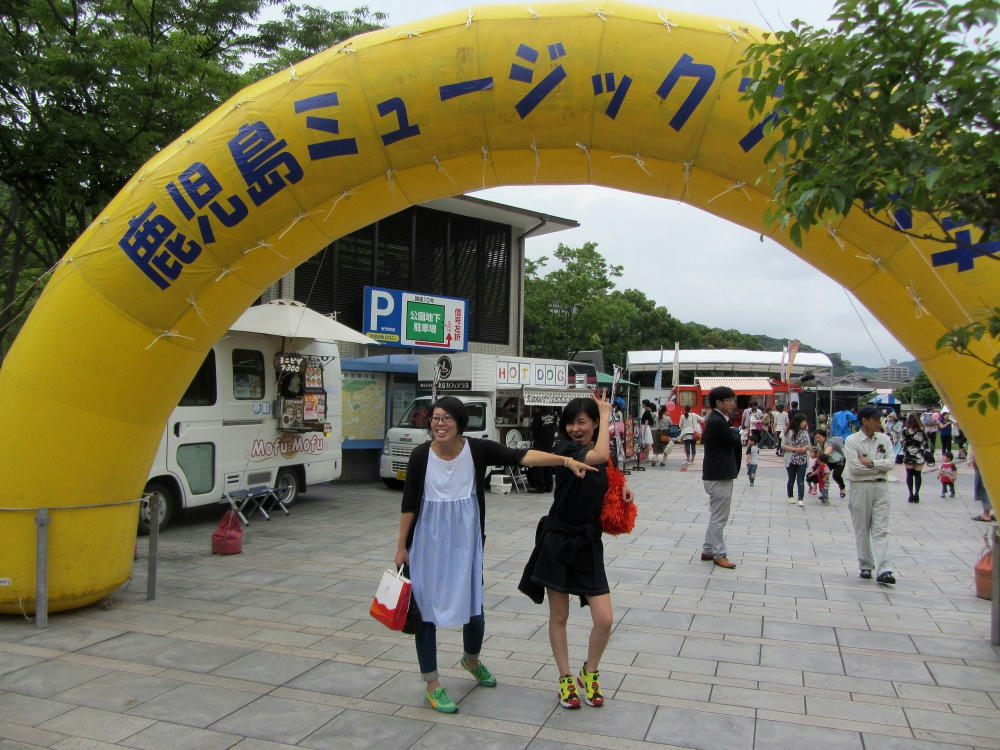 Kagoshima City had their big free music fest in Central Park on the weekend of May 16th and 17th this year (before, it had been
in the Fall
, in 2013). The weather started out poorly, with rain all Friday, Friday night and Saturday morning. I was thinking the event would be cancelled outright, but I wasn't able to get to Central Park until 4 PM, on my way to a 4:30 lesson. So, when I did pass by, and found the event was indeed going on, I was able to catch about 30 seconds of South Shaker, a pretty decent heavy metal band.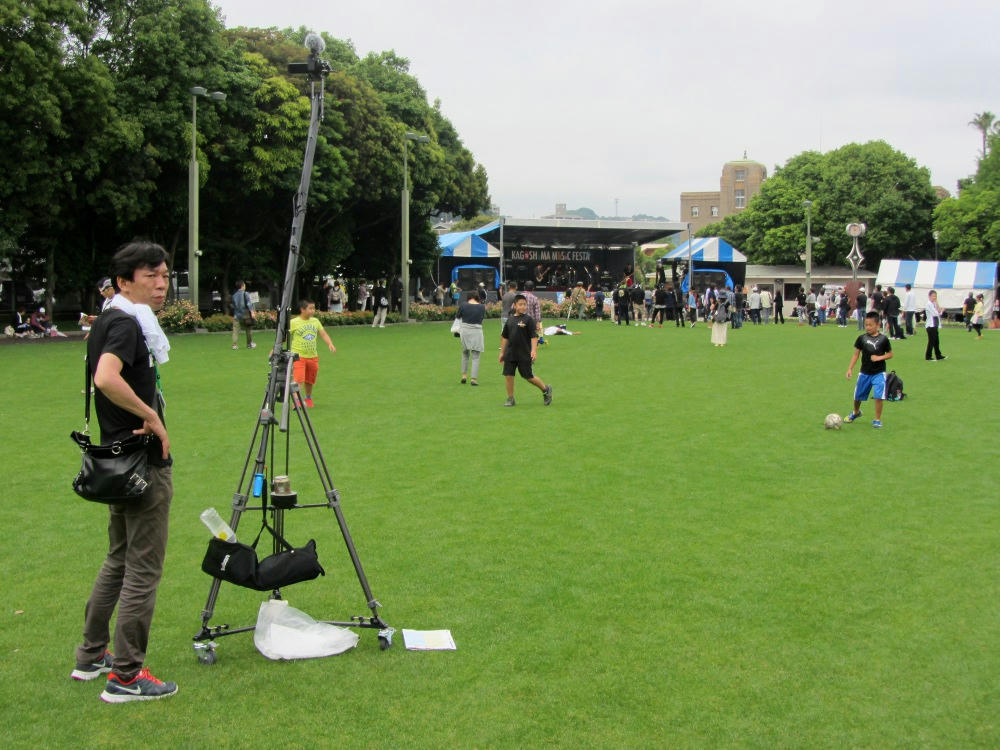 A few people came out to brave the rain.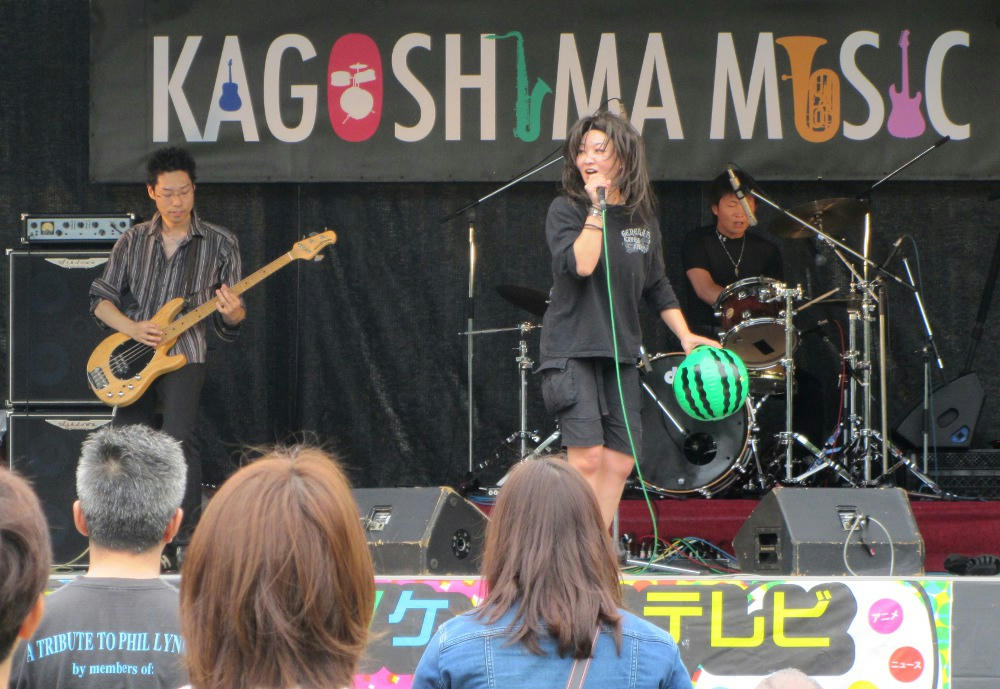 (South Shaker)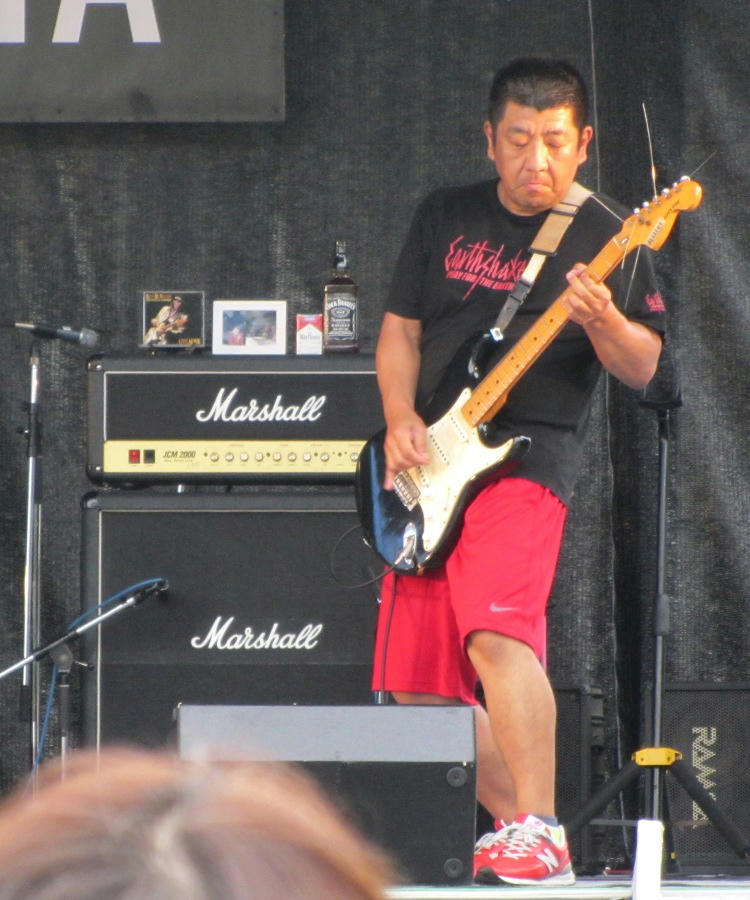 (And their lead guitarist. He was good.)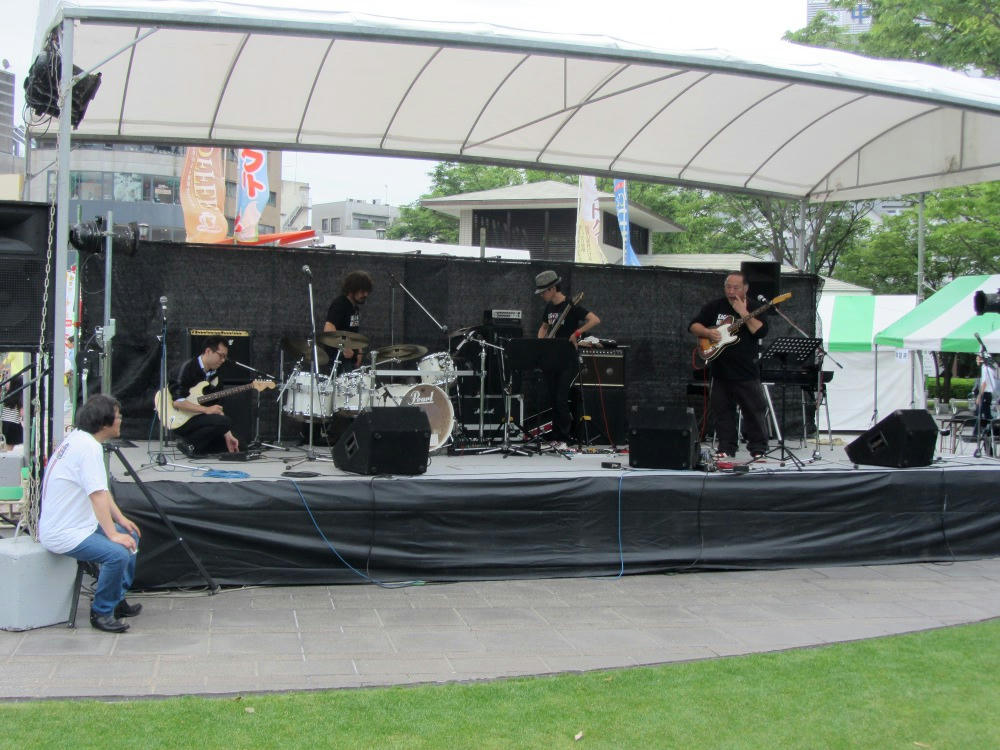 (Second stage being set up for the next band in the line-up.)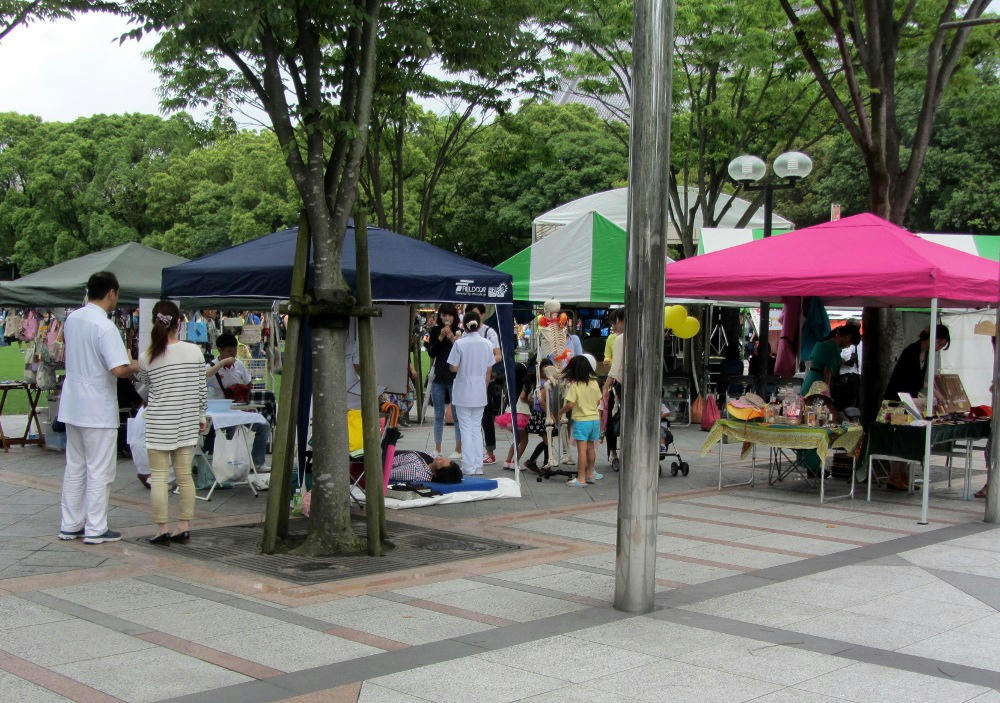 Part of the park had a flea market, and a couple booths for massage and chiropractic treatment, plus a line of stalls for festival food. At this point, the rain had pretty much stopped but there was still a little occasional drizzle.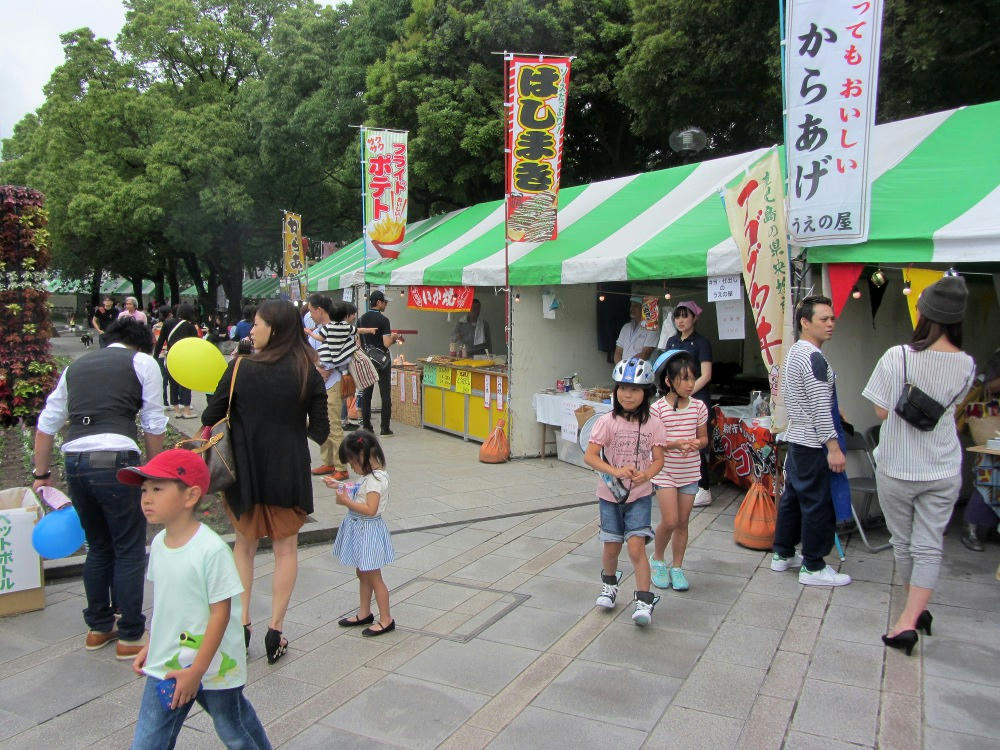 My lessons ended at 7 PM, and I was expected home for dinner right after that. So, I swung by the park on my way to the apartment, and caught a few minutes of 3Set, a local pop and folk rock group, which was ok.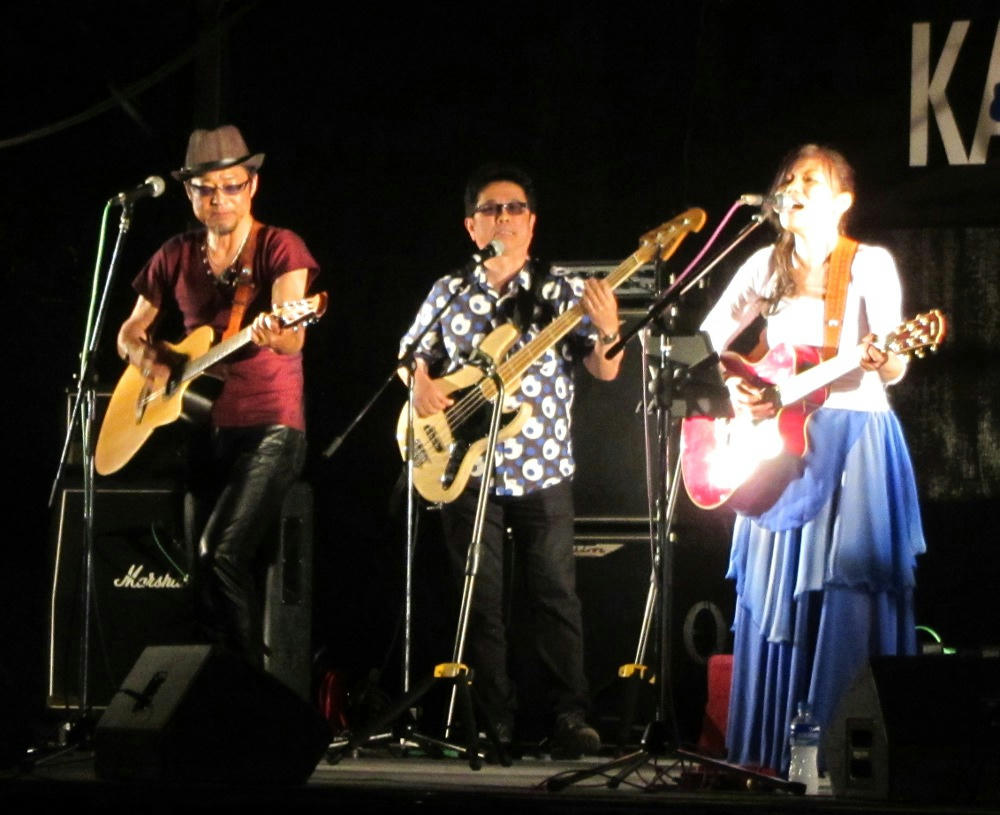 (3Set, pronounced "sunset".)
I finished dinner at 8:30, and the music for Saturday was scheduled to wrap up at 9. I went straight to the park, where Tissue, a Kiss cover band that has been playing for 20 years, was starting their set. I was able to record two of the songs, but the battery on the camera was running down and I held off on getting the encore song - "Rock n Roll all Night". They did a pretty good job, and the lead singer imitated Paul Stanley fairly closely. The bass player didn't quite have a handle on Gene Simmons' voice, though.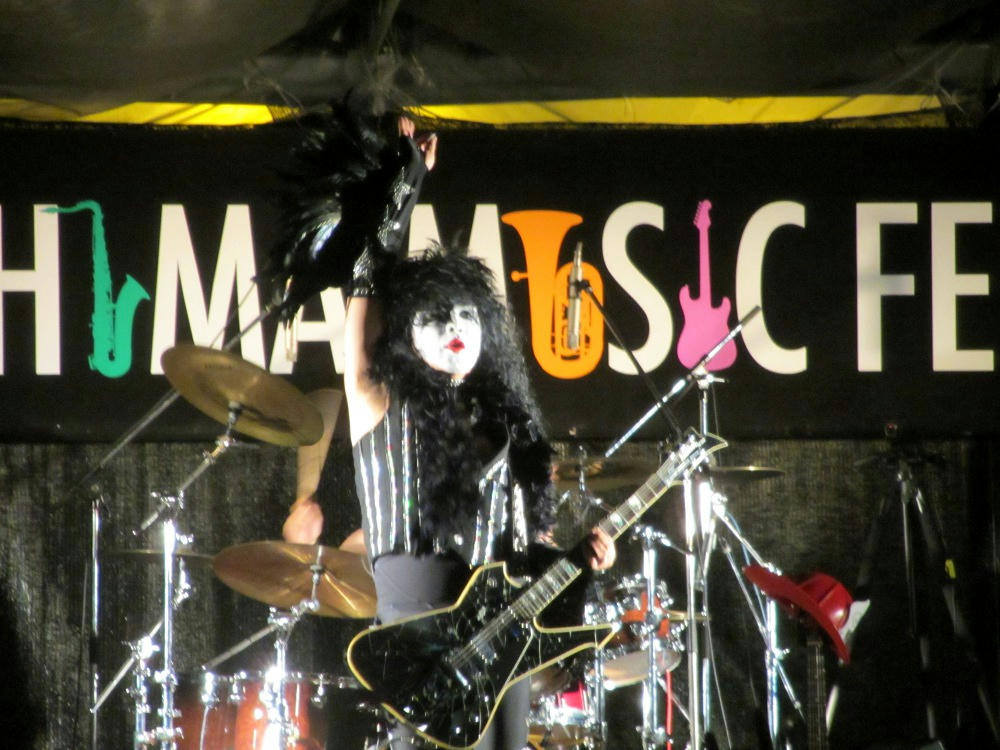 (Tissue)
Direct youtube link for Tissue
Day 2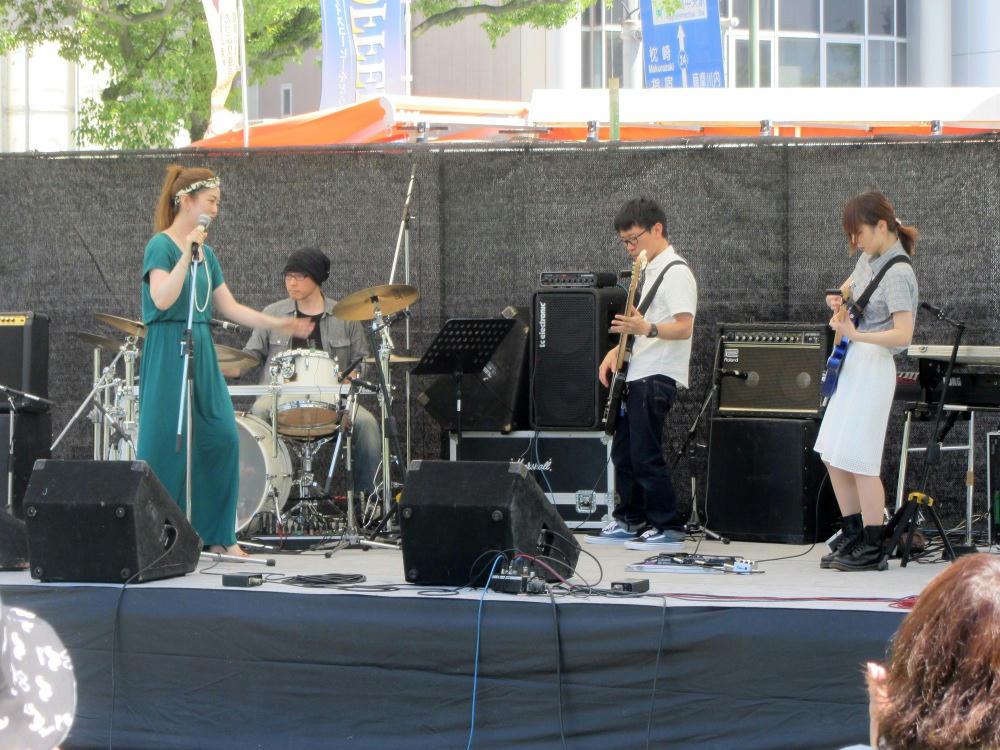 (Mausuman)
The weather was much improved on Sunday, with mostly clear skies, and the wind blowing the volcano ash away from the city. I dropped by Central Park at 2 PM, just as Mausuman was wrapping up their rock covers set. As a 4-piece band they were pretty good, even though one of them looked like a junior high student. Unfortunately, the drummer insisted on doing backup vocals, and there was no one operating the mixer board to kill his mike (he was horrible and way too loud).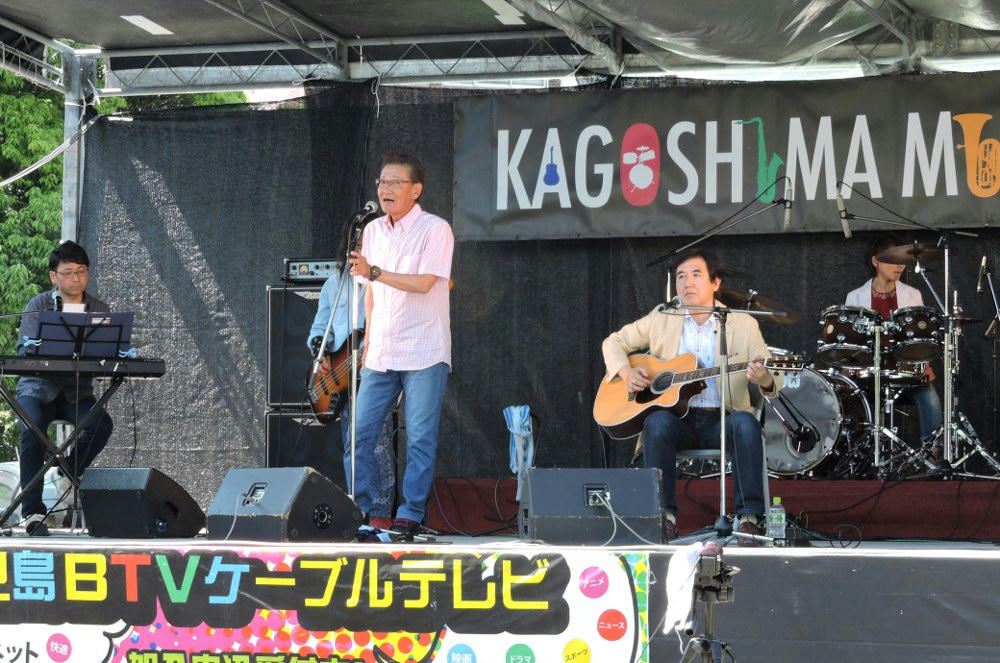 (UFO)
They were followed by UFO, which billed themselves as "a bunch of old guys playing modern covers". They were ok, but I've heard their opening song before, and it's a Japanese pop ballad that I don't really care for. So, I headed down to Dolphin Port, where I'd been told there was a Harley Davidson event going on for the weekend.
Harley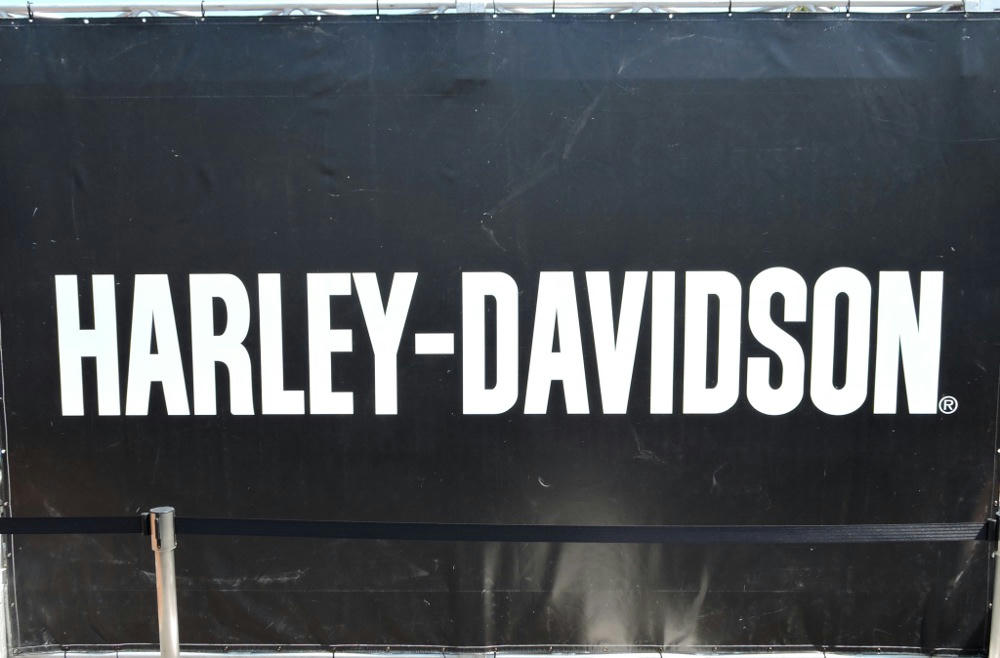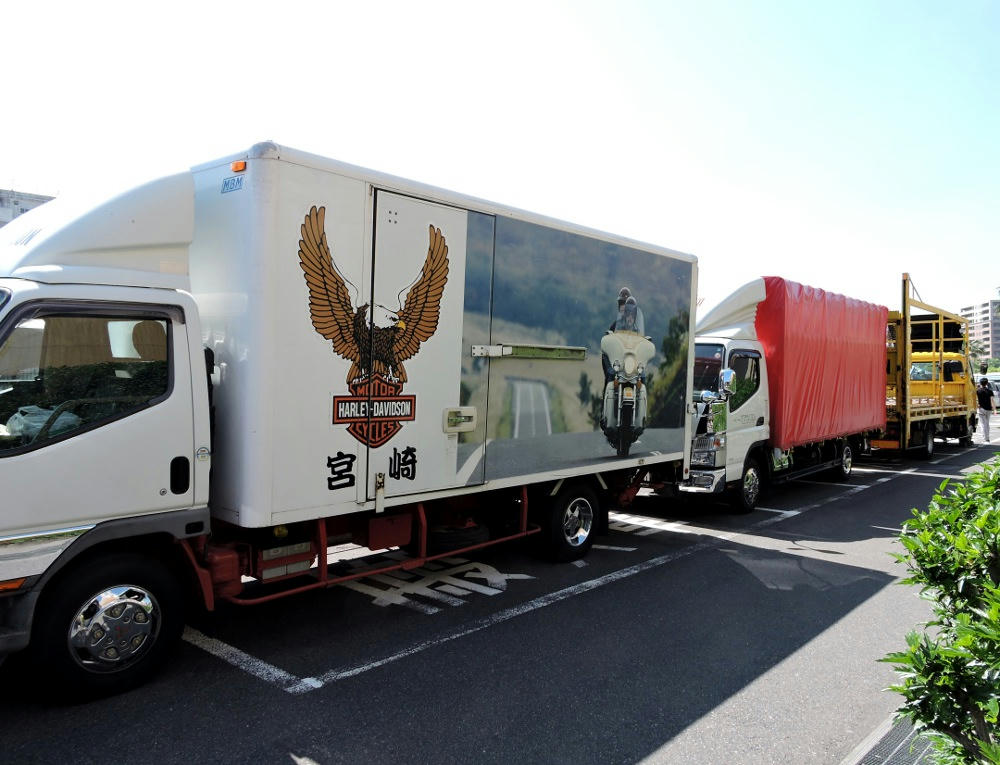 I consider the idea of a motorcycle company using trucks to haul their motorcycles around to be kind of funny. But, it turns out that it was a sales event to promote their new models, and they probably wanted the bikes to look pristine (that, and all the tents would have cut down on the aerodynamics of the bikes...)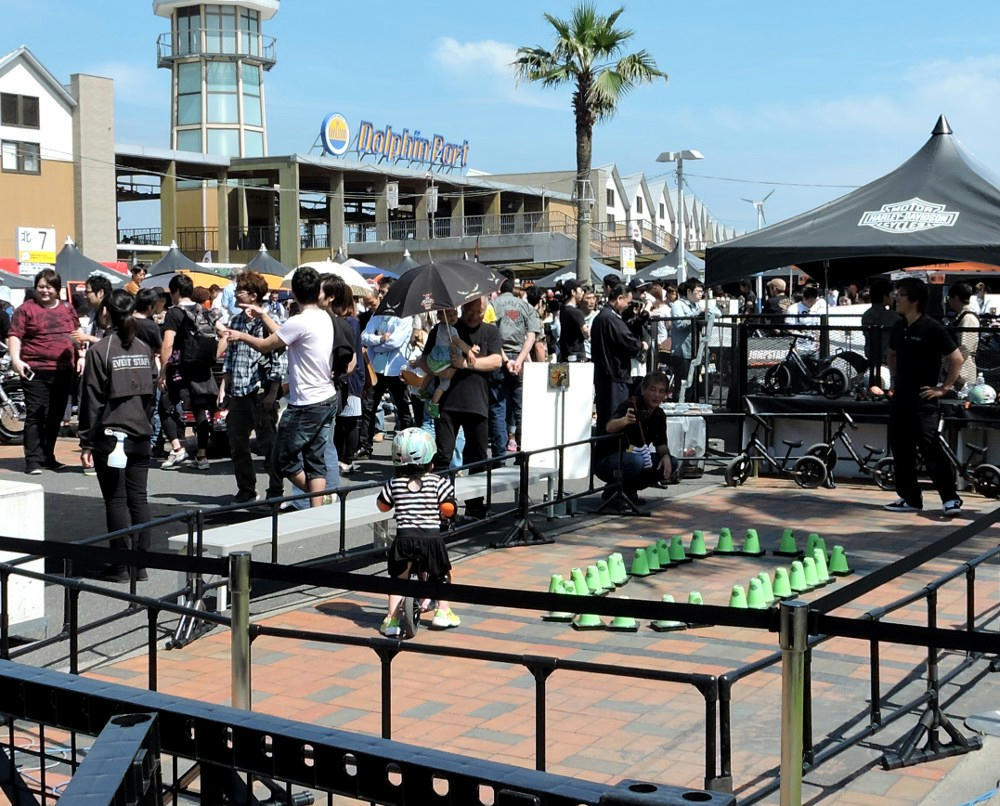 There was a small practice area for the kids.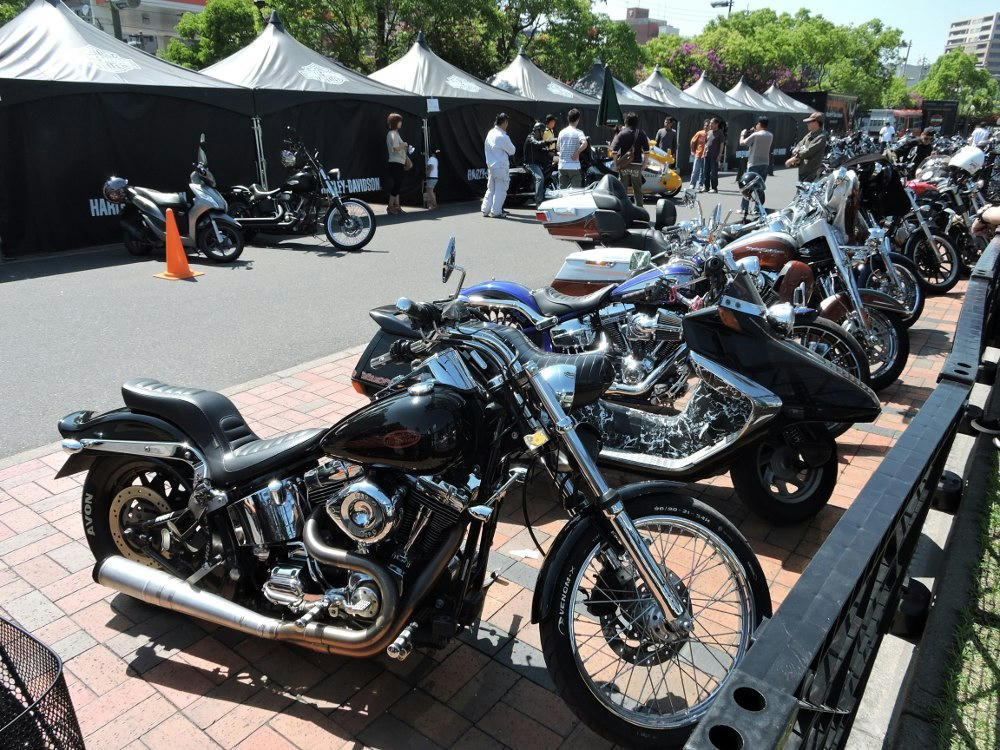 Lots of bikes.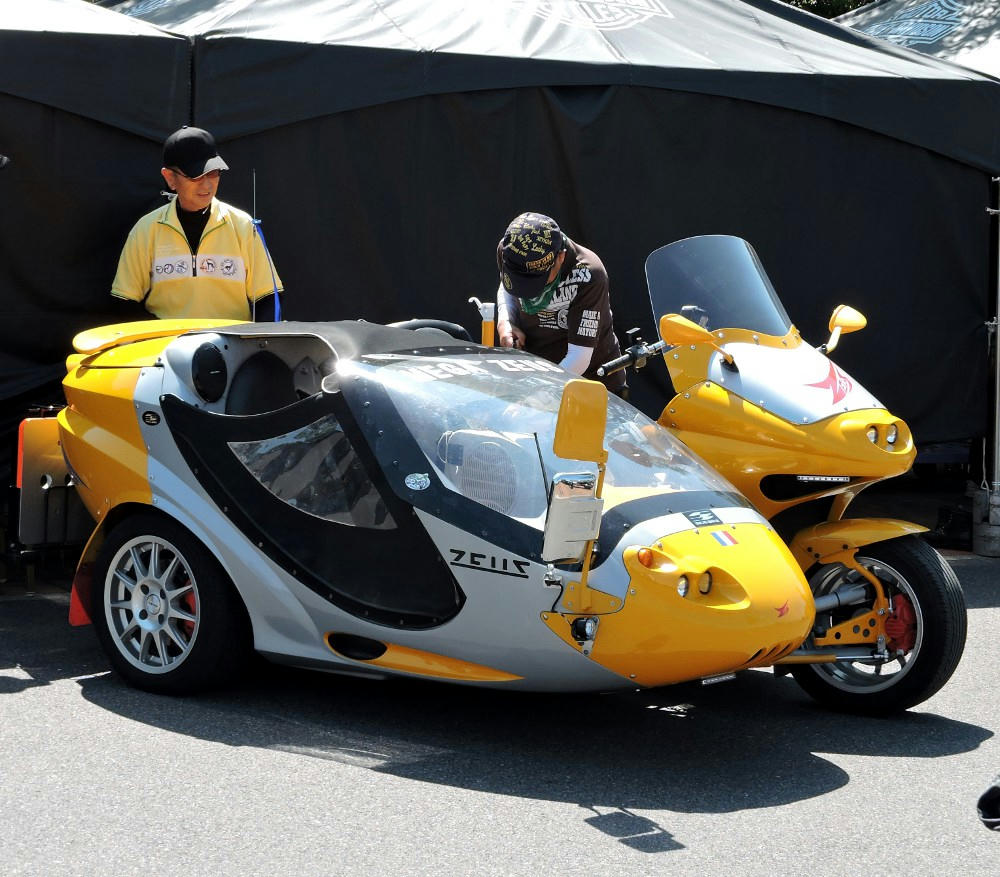 I saw this guy zipping off around the city a few minutes later.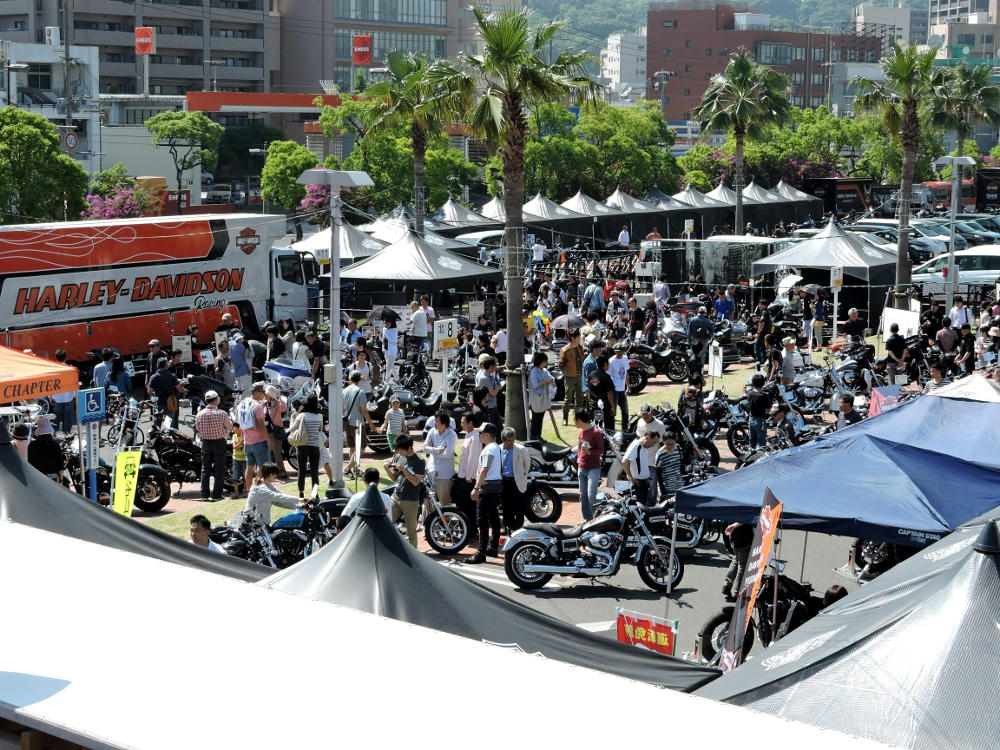 (More people here than at the live music concert...)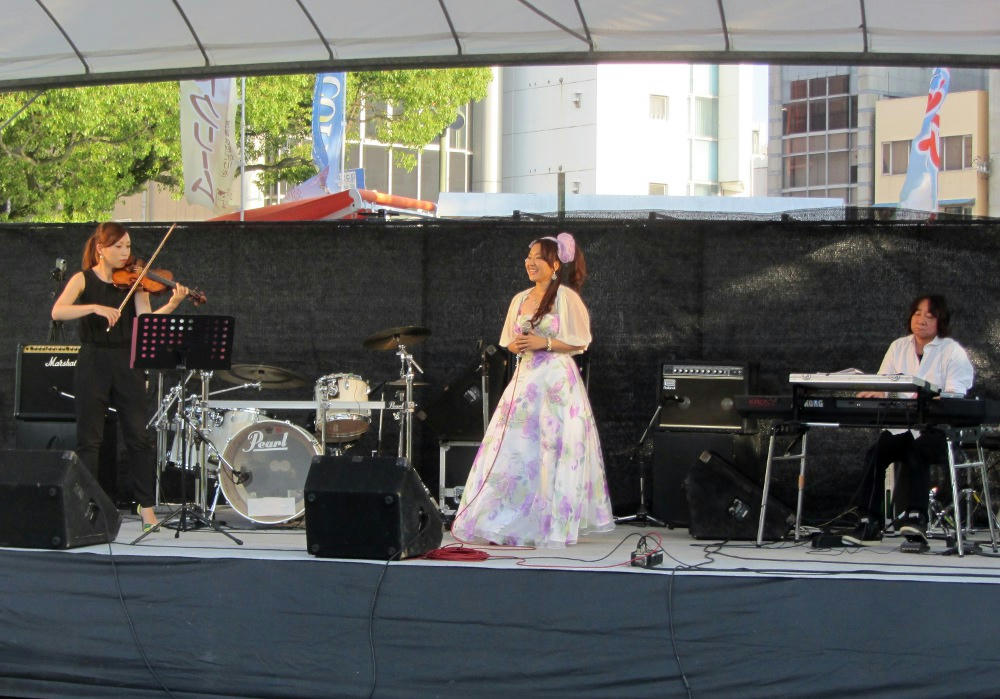 (Tsumuginchu)
When I came back to the park, Tsumuginchu, a female love-song trio, was getting started. Again, it's not my kind of music, so I went up to Amupla to do food shopping. There was nothing going on in the main plaza in front of the train station, and I returned home to drop off the groceries and check email.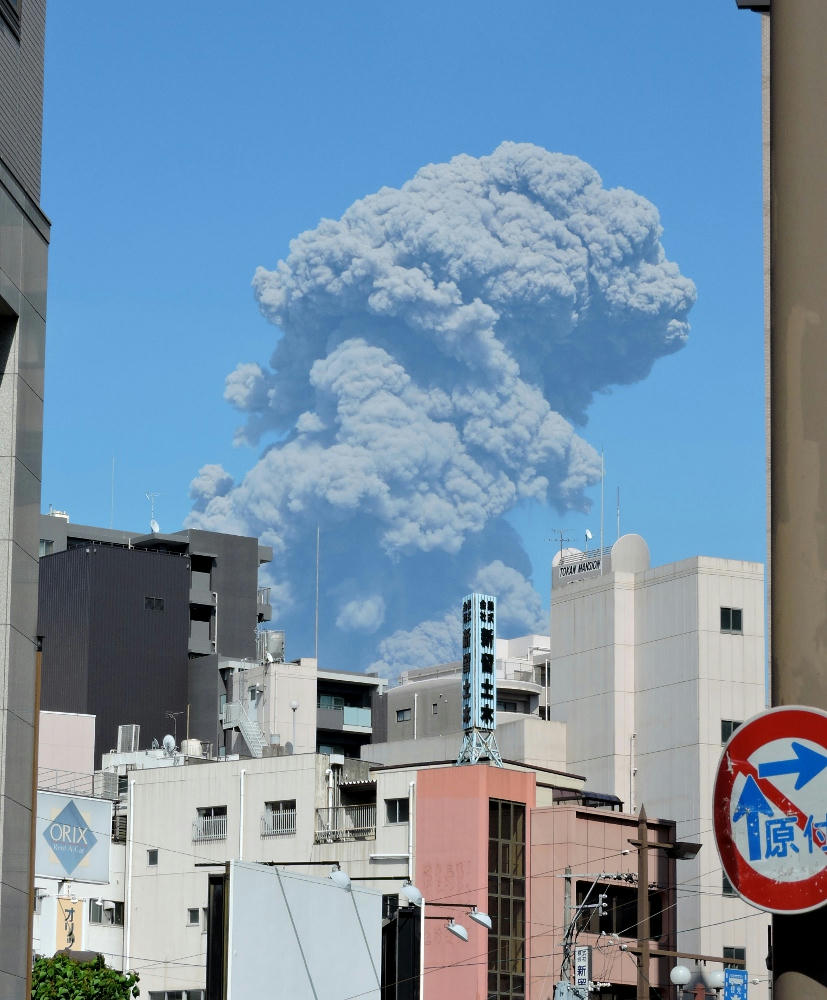 (Sakurajima was easy to find between the buildings. It was nice that the wind was blowing the right way this time.)
(Kafka)
I'd gotten a copy of the schedule back on Saturday, and I knew that there was one band I specifically wanted to watch, which would be at 6 PM. After finishing with email, I went back to the park again as Kafka was playing and recorded one of their songs.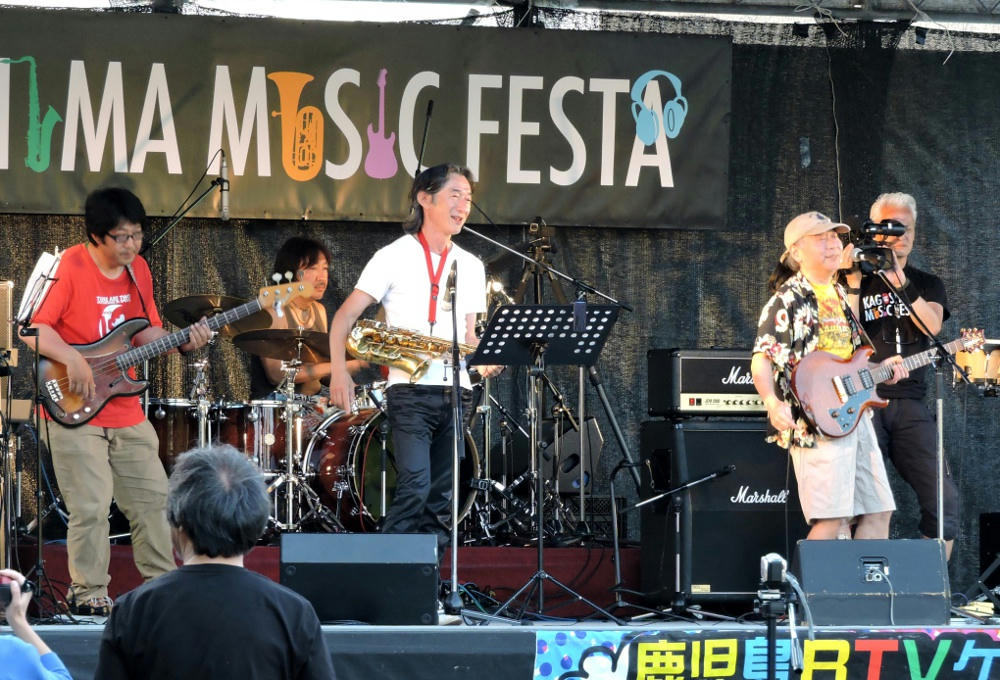 (Go Panix)
Go Panix was on the main stage, and I capped one of their songs, too. Up to this point, I was kind of leery of being too obvious in having the camera out, because KMF had had a strict "no cameras" policy last time. But so many other people were recording the music that I decided to go back to the apartment again to grab my tripod. Sitting and holding the big camera was making my arms so tired and the video so shaky, that the tripod was becoming a necessity.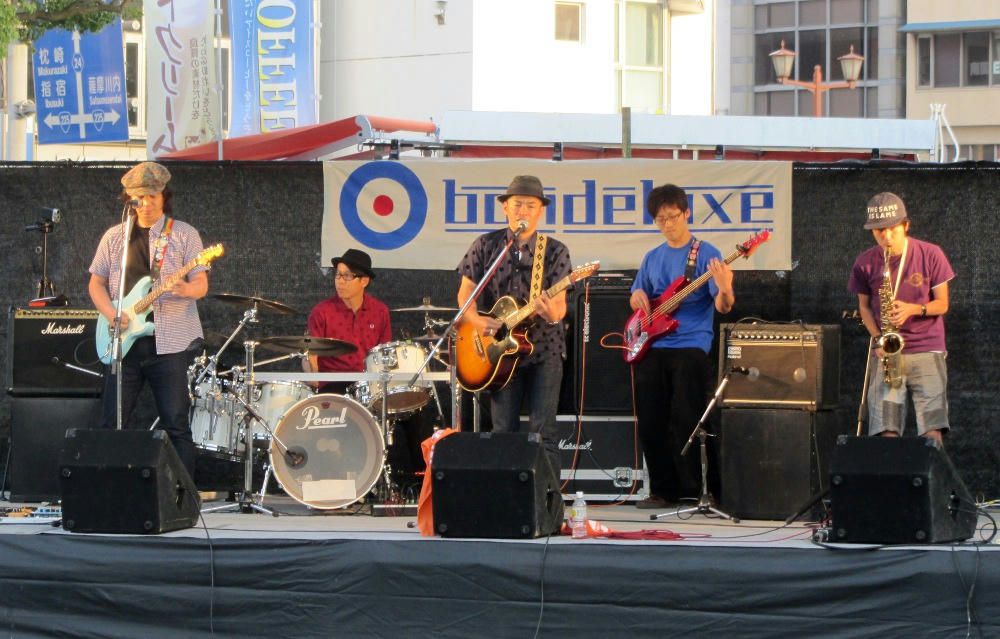 (Bon DX)
I reached the park at 6:05 PM just as Bon DX (Deluxe) was getting ready to start, so I rushed getting the big camera out and the tripod set up. Fortunately, they decided to do a sound check, and that bought me a few more minutes. But, although I worked at getting the mounting level, there's this feeling that everyone is playing on the side of a hill. I had seen Bon DX at a
live event in Tenmonkan
last Christmas, and I liked them a lot then. It was a short set, only 15 minutes long, with some talking in the middle to advertise their current concert schedule, and introduce one song off their latest album. It was a great set.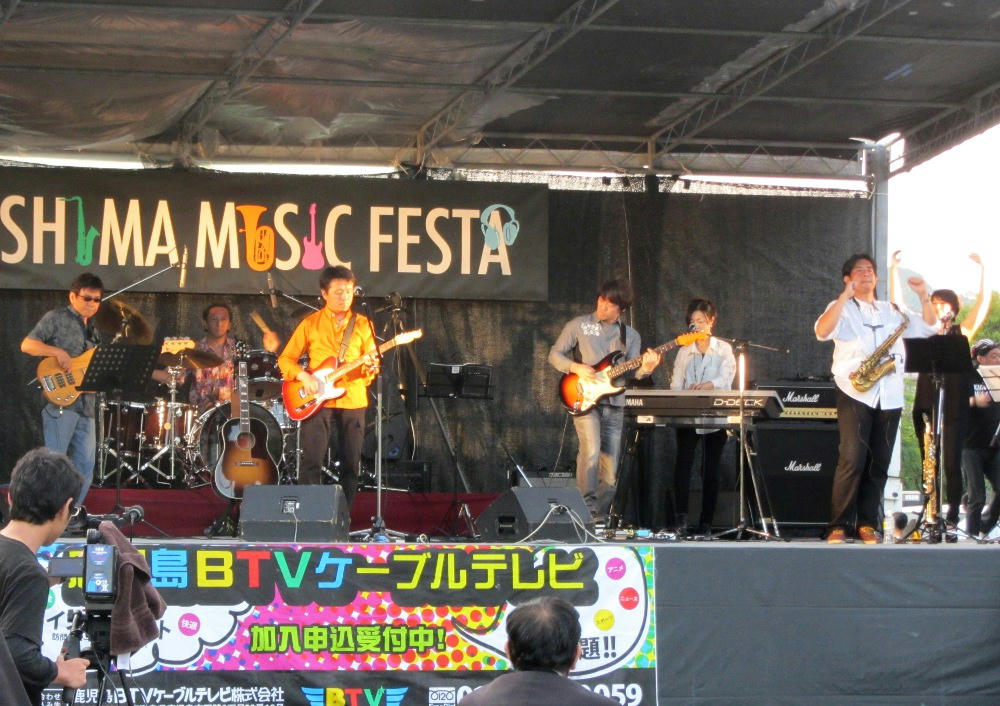 (KoshaBand)
The last group for the weekend was
KoshaBand
, a
Tatsuro Yamashita
cover band. I've never listened to Yamashita's music before; he's an actor and composer and is pretty famous in Japan. The music was good, but the horn player was something of a distraction. I really disliked having the "official cameraman" on stage for every single band ALL the time. He had a KMF staff badge, so maybe he was just doing what he was supposed to, but he spent too much time in front of the musicians, blocking the audience's view of the players. And, to me, he had a lousy sense of timing as to when to get close-ups of the instruments (rushing to zoom in on a lead guitar solo just as the solo was ending).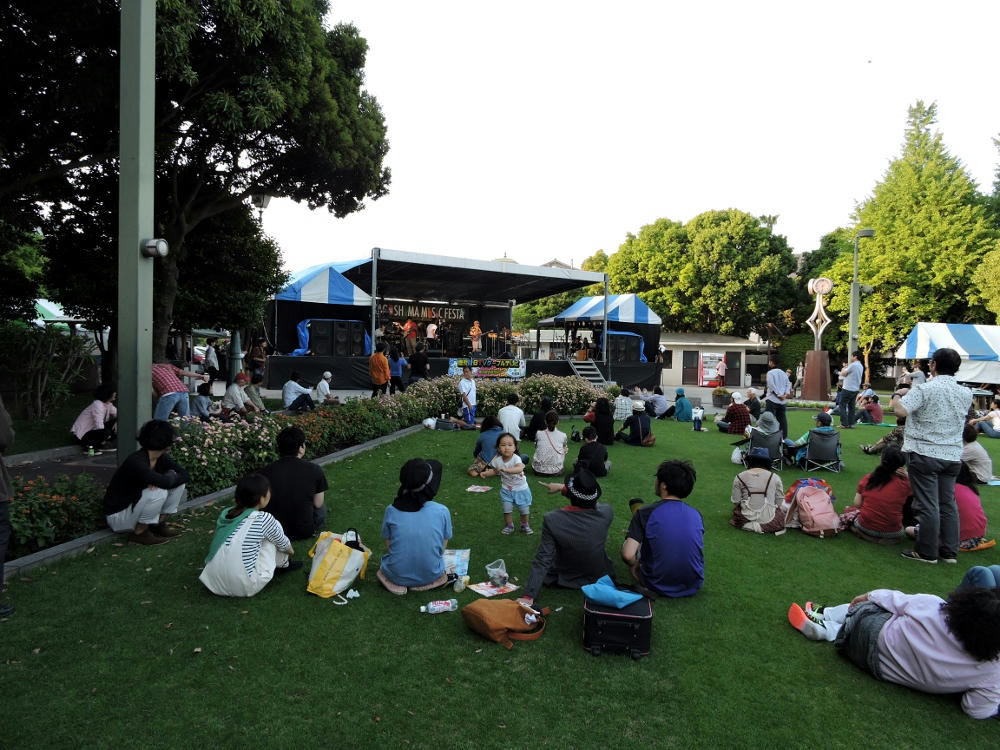 Not a lot of people, but they did have a good time. I liked Tissue, Go Panix and Bon DX, and would have been happy if they'd played much longer sets, with less from the other bands.
Direct youtube link for Kafka and Go Panix
Direct youtube link for Bon DX
Direct youtube link for Kosha Band, part 1
Direct youtube link for Kosha Band, part 2