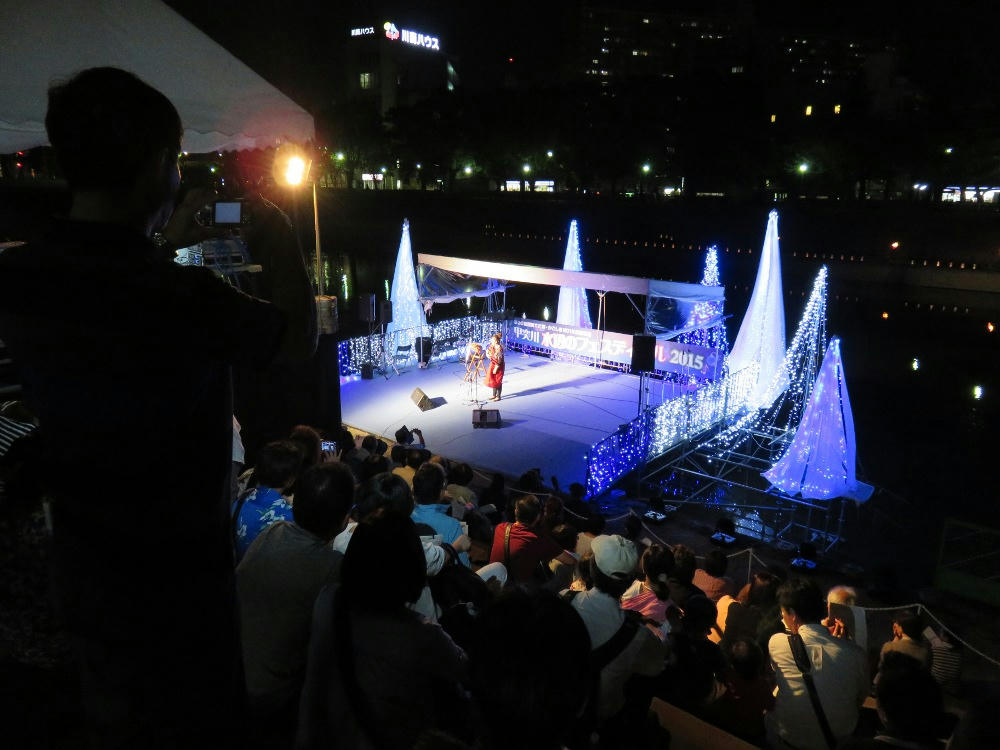 There were a couple festivals running the weekend of Sept. 4th that had overlapping sponsors. One was related to the 30th anniversary of the walkways being put along the Kotsuki river. This one was sponsored mainly by the MBC broadcasting company, and consisted of live music on a stage just outside the MBC building, from 7-9 PM, Friday, Saturday and Sunday. Friday night featured Nagai, Kokomoon Berry (pipe and drums), Recipe Elegy Saxophone Ensemble and Akari Note (solo guitarist). One interesting song Recipe played was the theme from the Sazae-san TV anime.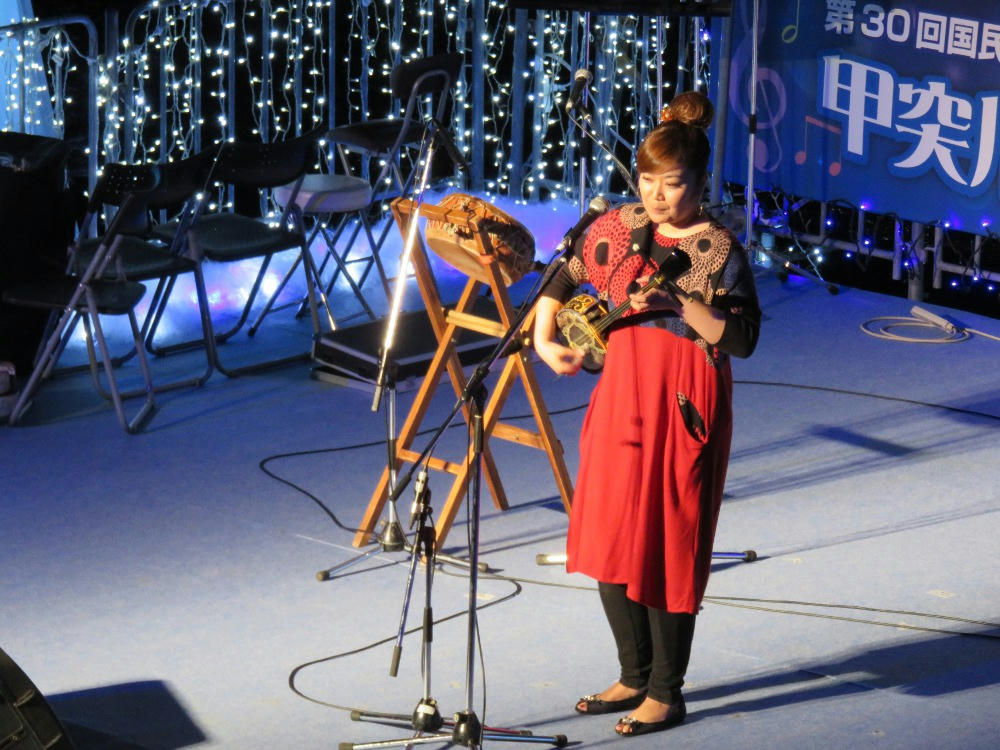 The first performer I caught was Nagai, who played Okinawa-style music on a shamisen.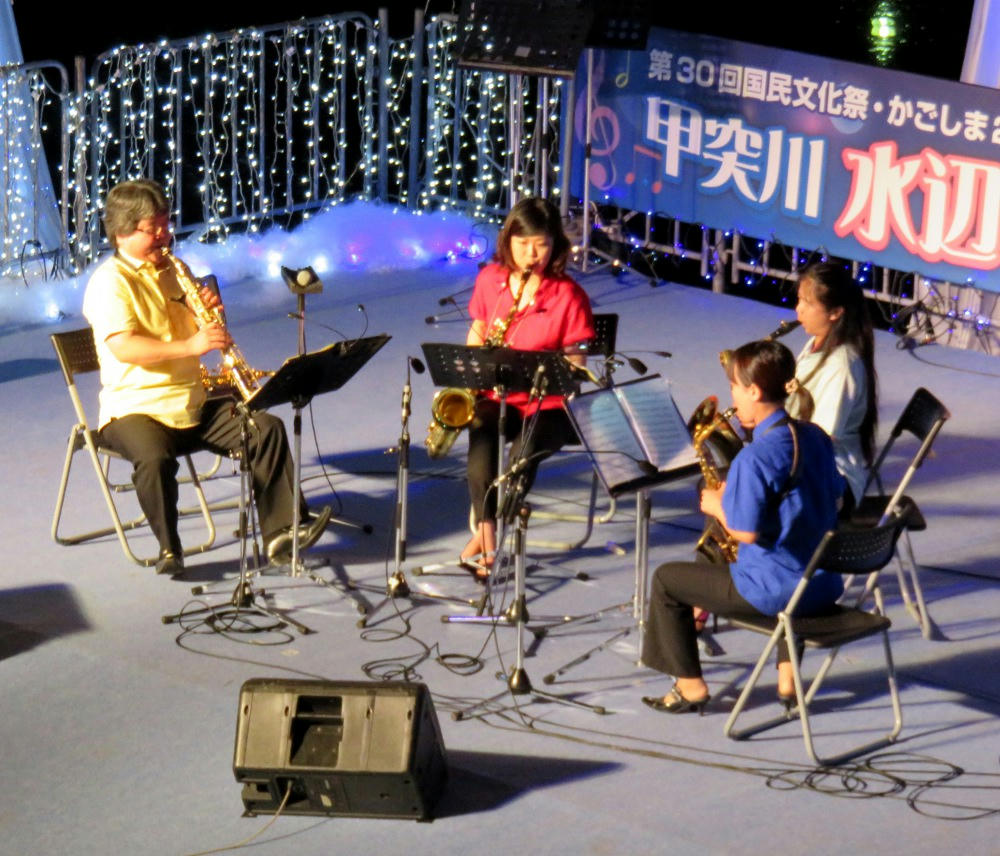 This was Recipe Elegy. They were good. At one point, the leader explained the differences between each type of sax and had the other players give a short solo so we could identify who was making what sound. The tenor sax player gave the first 30 seconds of the Lupin III theme.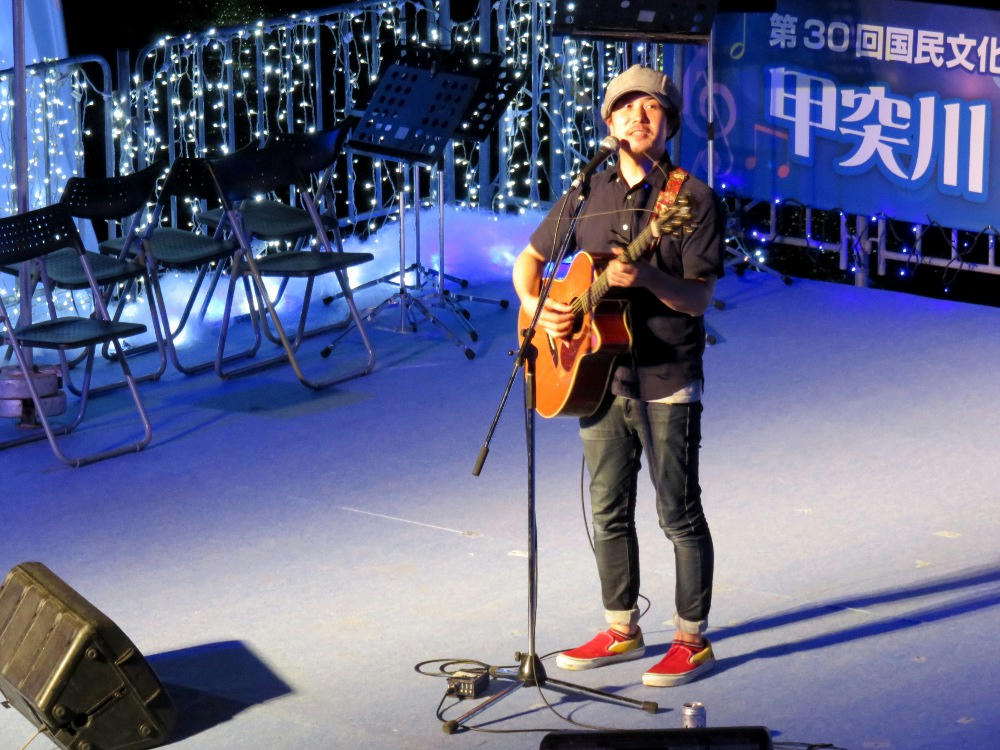 This is Akari Note. He mostly did folk songs, which I don't really care for. The audience liked him, but I left after the first song. It was close to 9 PM, anyway, and the show was scheduled to end then. Saturday, I had to work, but my last class was cancelled, so I was able to get out of the school at about 7:30 PM. I had the camera with me, and I was planning to either take the street car for the 15 minute ride, or make the 30-40 minute walk, but I was told it was going to rain soon. Since, I didn't want to get to MBC only to have everything get rained out, I just went back home for the night. The rain didn't hit until closer to 10 PM, but looking at the schedule, the really good music was only from 7 to 8 PM, and I'd have missed that in any case.
Sunday, I had to work again, plus dinner, so all I really was able to see this year is in the video below.
NOTE: I'm starting to see really heavy jitter showing up in some of the videos I uploaded to youtube this weekend. Please tell me if you see it, too.
Direct Youtube Link