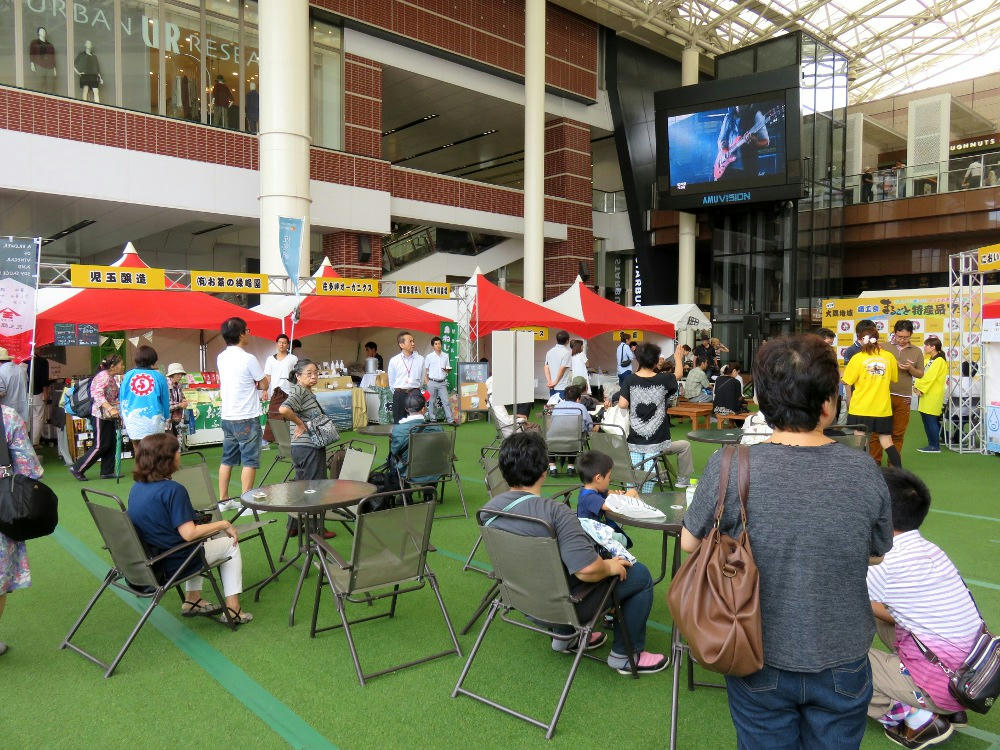 Marugoto translates as "all" or "whole", so technically, this was the "All Special Products Fair". And, to be honest, I used the wrong translation ("local" not "special") for the video credits and I was too lazy to go back and change the title card and credits info. I'll just wait to see if anyone complains about it.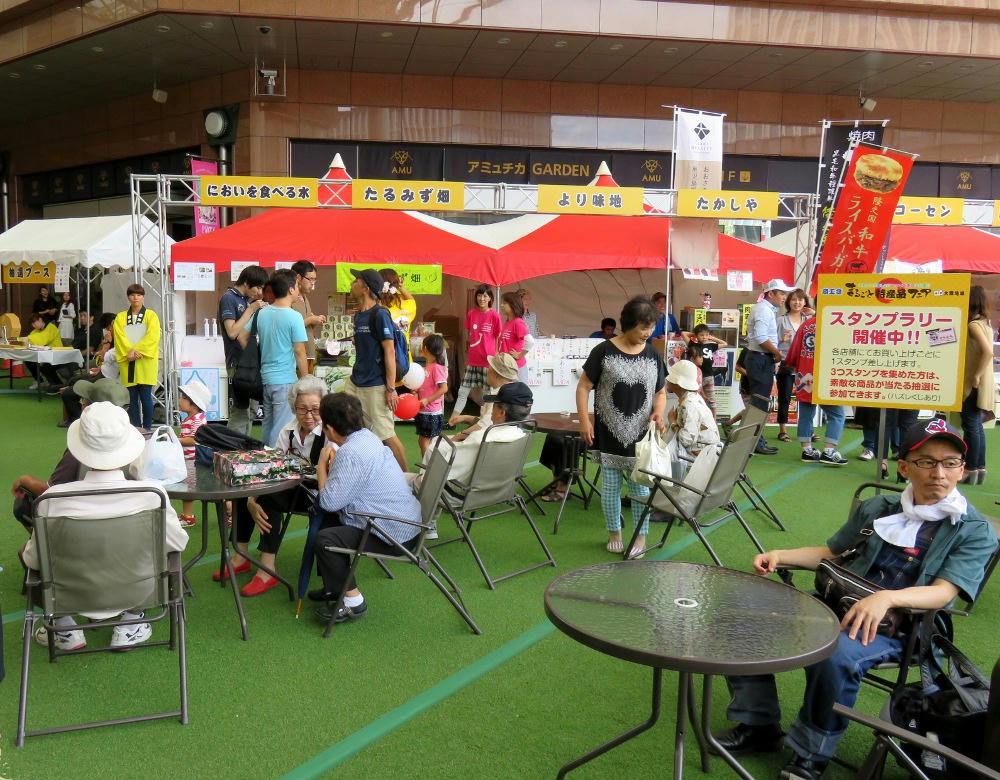 Anyway, Sunday had three events, two of which overlapped, making it hard to see everything for both. First was the Furusato Products Fair in Tenmonkan in front of Lotteria. I'd gotten to part of that during my break on Saturday, when I recorded the Katsuo Bushi shaving contest. The other was this one, the Marugoto Special Products Fair up at Amupla. What happened was that I went to Tenmonkan first to check on Furusato, at about 1:30 PM on Sunday. There was nothing on stage, but I did catch the foamhead mascot for
Kushima
being paraded around (he made a special appearance at Amupla an hour later). I checked the schedule, and the 2-woman idol group
Government Worker
was supposed to perform at 2 PM. Since everything else for Furusato consisted of just shops selling stuff, I decided to see if I could get up to Amupla, look around there, and then try to go back to Tenmonkan to record at least one song by
Government Worker
.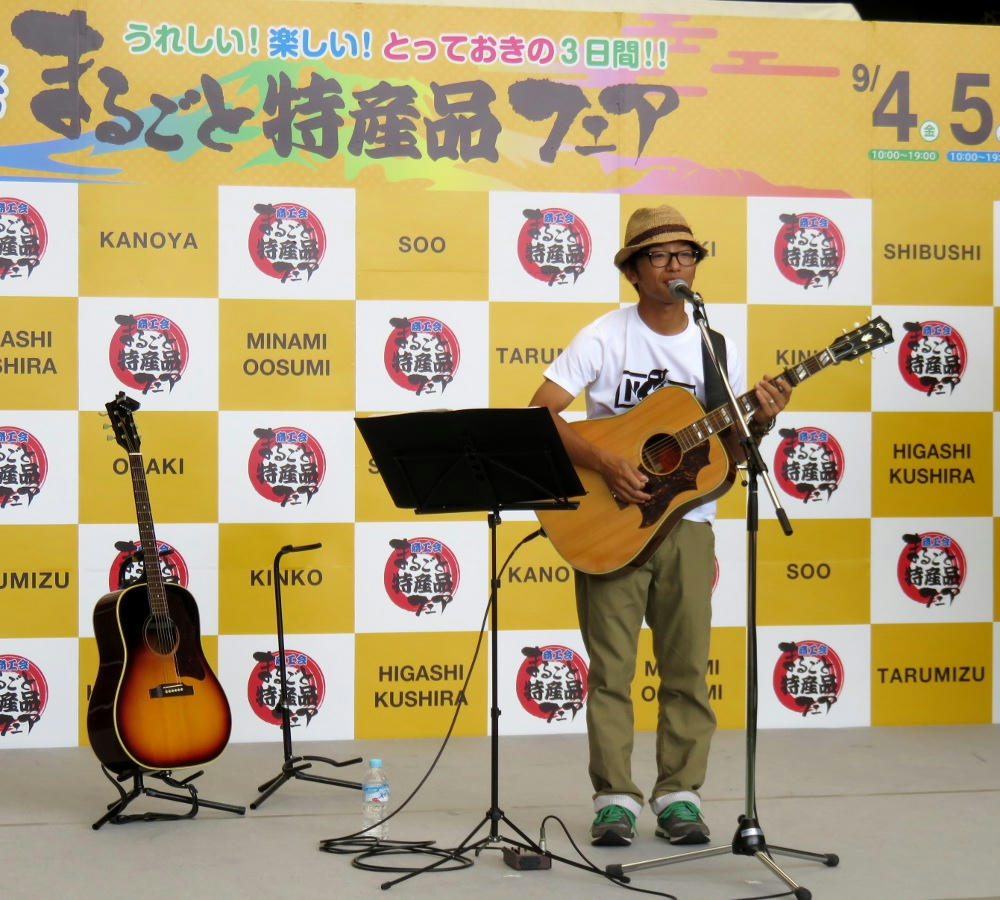 (Nan*Gu+)
It took me 15 minutes to make the walk, and I arrived at Amupla just before 2. I discovered that Marugoto was going on, and again it's a bunch of shops selling stuff like tea, black pork, and dried fish. They also had a stage set up, and the solo guitarist-singer
Nan*Gu+
was about to be introduced. I recorded one song by him. It's kind of a folk song, and isn't really something that I wanted to hang around for for the rest of the set. I went back to Tenmonkan, getting to the Lotteria at 2:23. Unfortunately, Government Worker was only supposed to play until 2:20, and they were long gone. They didn't even appear to have stuck around for signings, assuming that they did sing at all.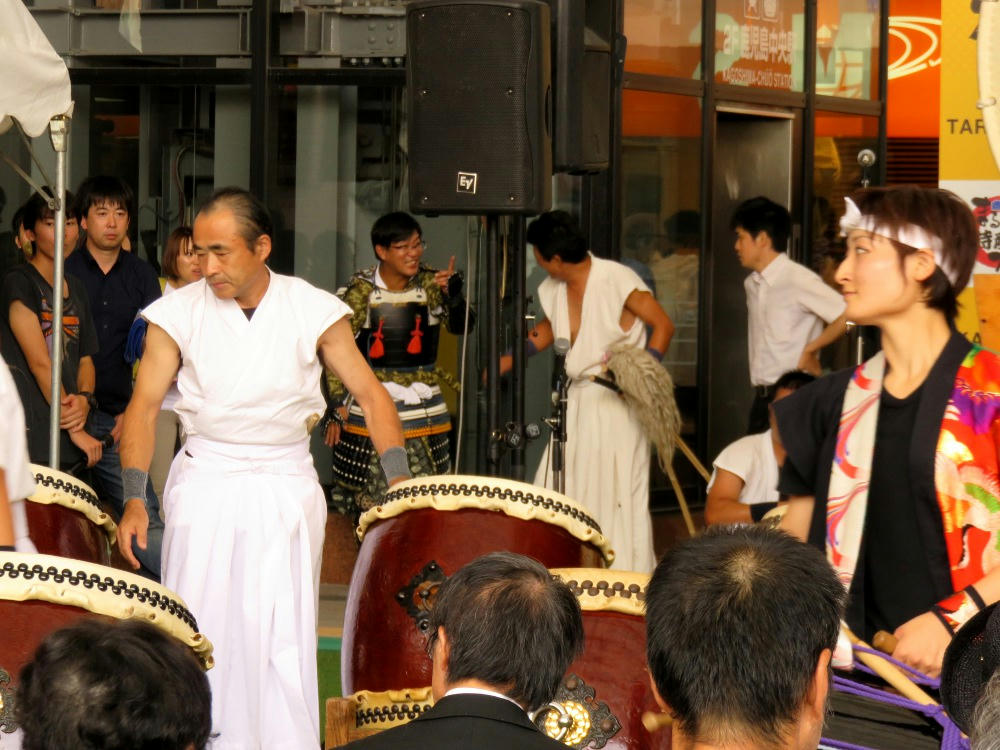 The next performance at Amupla was going to be at 3 PM, so I did some shopping, swung by the apartment to drop that off, and then went back to Amupla. This time, it was the
Kyojindensetsu Teko Group Oozumi Yagorou Daiko
, a taiko drum group. I like Taiko, and I stuck around to watch the full 30-minute set. I recorded 2 songs, for a total of 12 minutes, and just watched the other two, which were also really good. The fun part was that for the final song, the performers gave some of the audience members the smaller drums and sticks and let them join the group. All of the volunteer players did really well, including one guy that apparently had Down Syndrome. Some of the kids might have promising careers as taiko players if they practice for it.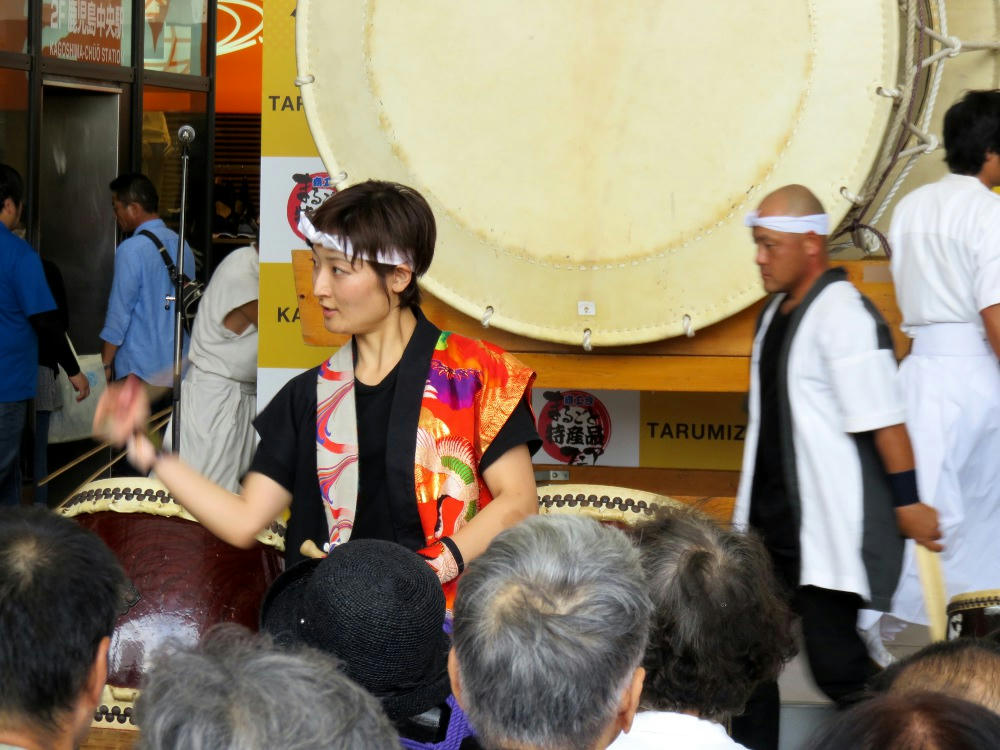 The taiko group is based in Oosumi, on the Kyushu peninsula on the other side of Kinko Bay. If I had a car, it'd be worth driving over there for the local matsuri that
Yagorou Daiko
performs at.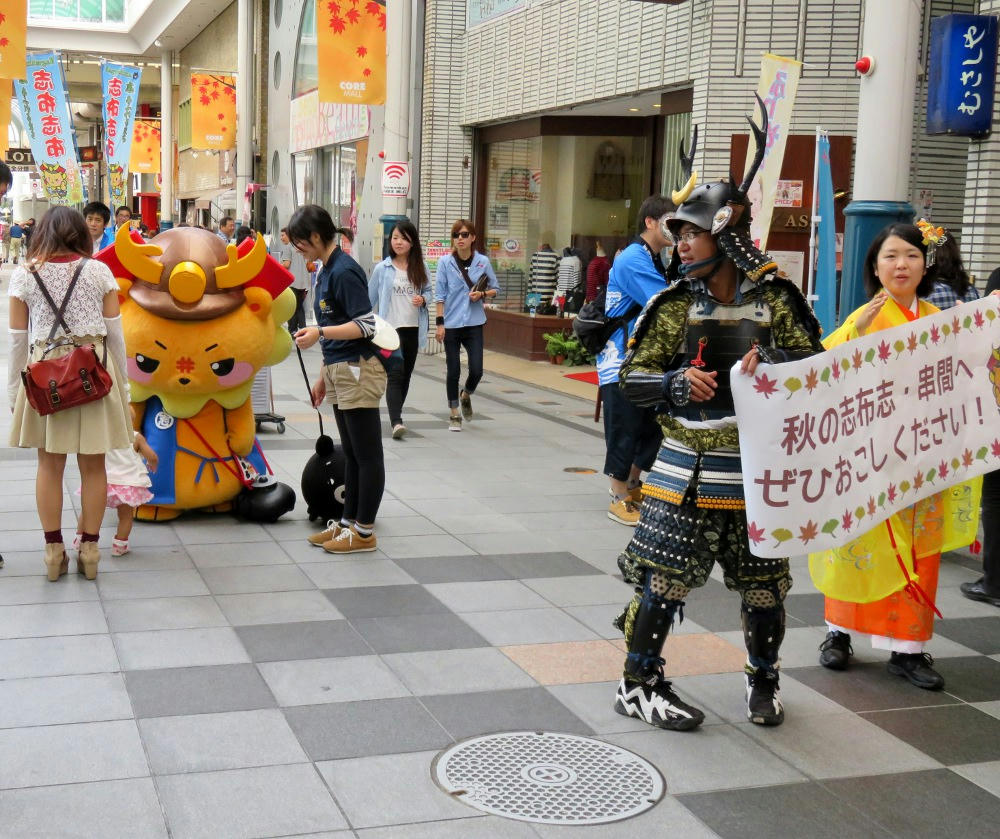 (The banner says: "Fall is a great time to come visit Kushima.)
The third event was the Kotsuki River Walk Fest, from 7 PM to 9 PM. Unfortunately, I had some translation clean-up work that I needed to finish for the deadline on Monday, and I decided to concentrate on that instead, and then I had dinner at 8 PM, which pretty much destroyed any chances of getting to the MBC building before the Jazz music ended. I really would have liked to watch some of that, but I was at least satisfied with having seen the taiko event.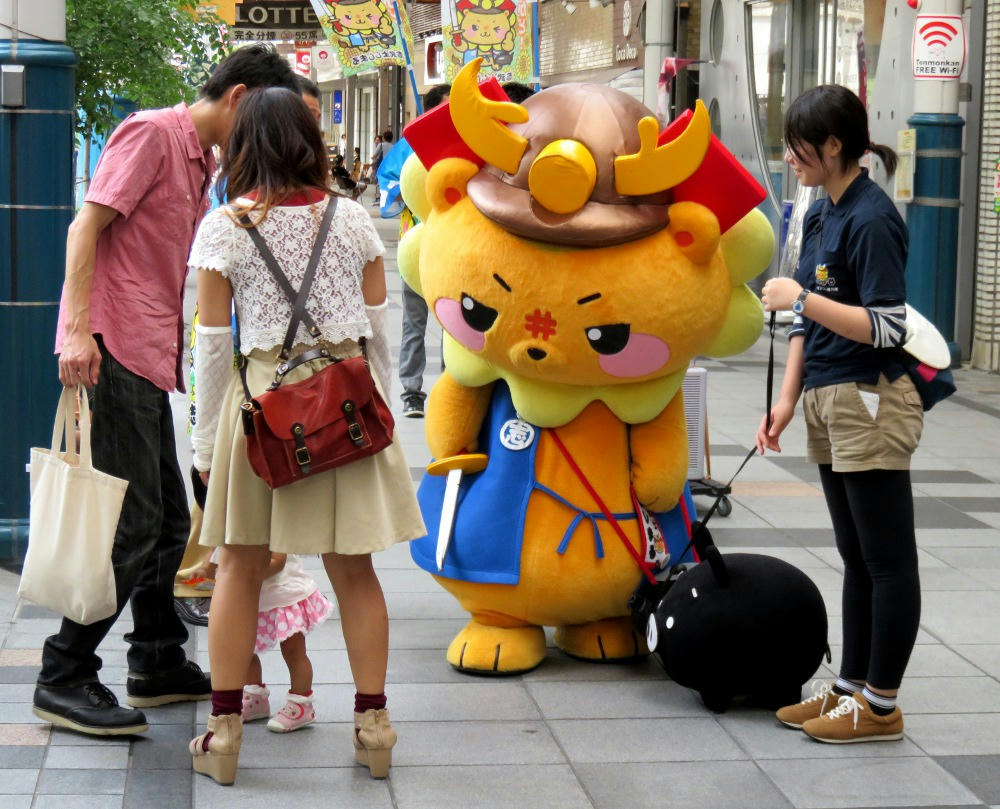 (Just a girl out walking her pig.)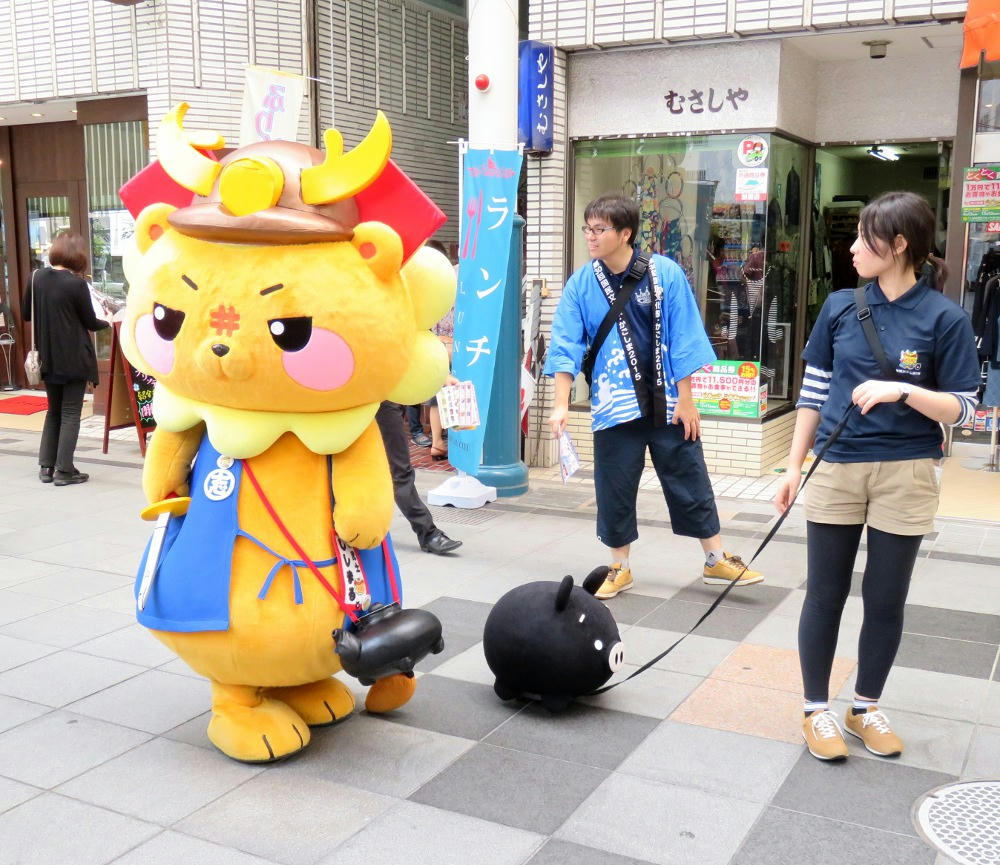 Direct video link, Nan*Gu+
Direct video link, Yagorou Daiko