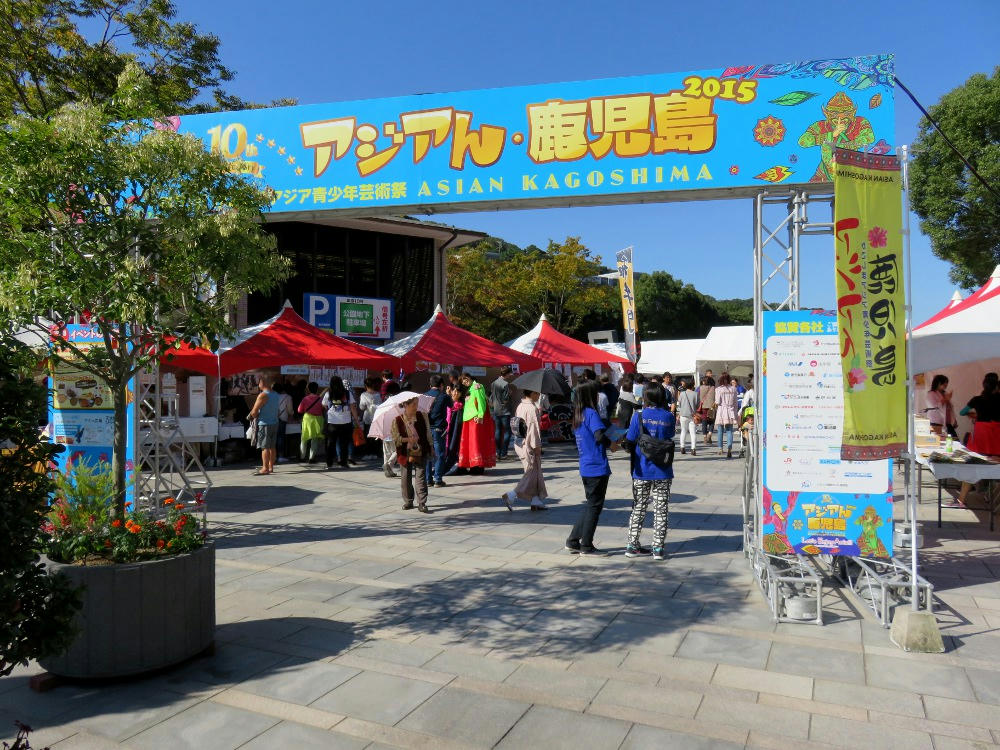 Asian Kagoshima is a friendship-building event that's been held annually in Kagoshima for 10 years. Previously, I was able to catch some really amazing dancing and music events that took place on a Saturday, but more recently my Saturdays have been packed and I've missed that part of the events. This year, the city put the stage and booths up in Central Park on Saturday, but the park was otherwise empty all day. I assume that whatever they were doing was in Houzan Hall, the culture and theater events building next door to the park. So, there was nothing I could take pictures of.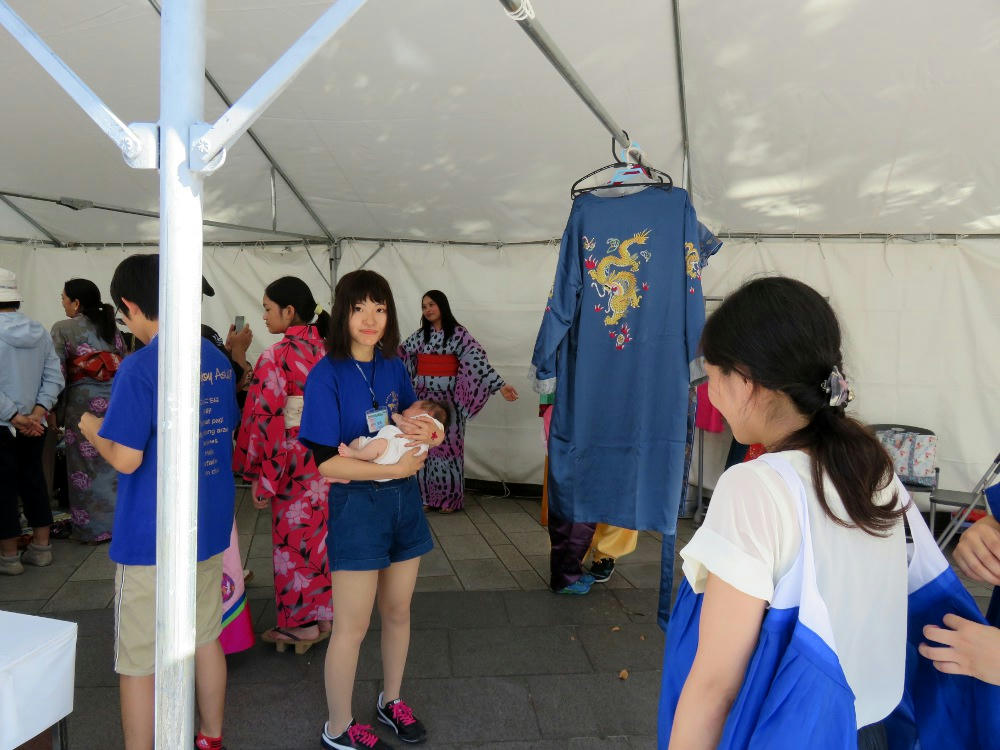 Sunday was much, much more active. They had the standard booths for travel agencies, toys and food. Here, people can put on various traditional Asian clothes and walk around to have their photos taken.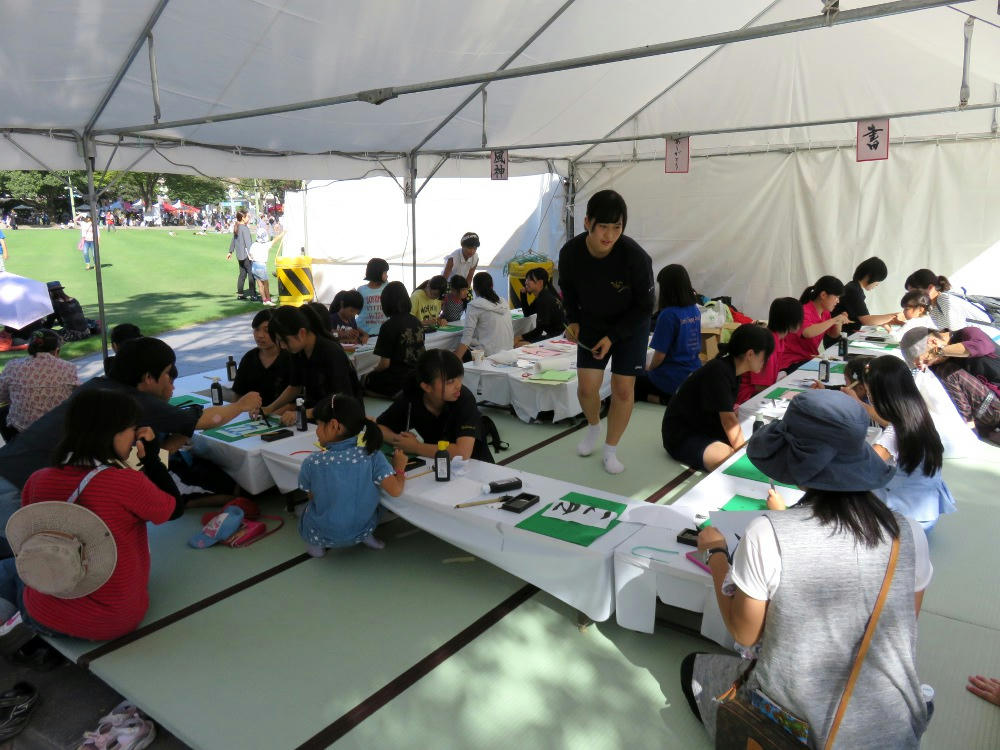 This booth had school kids teaching Japanese-style calligraphy.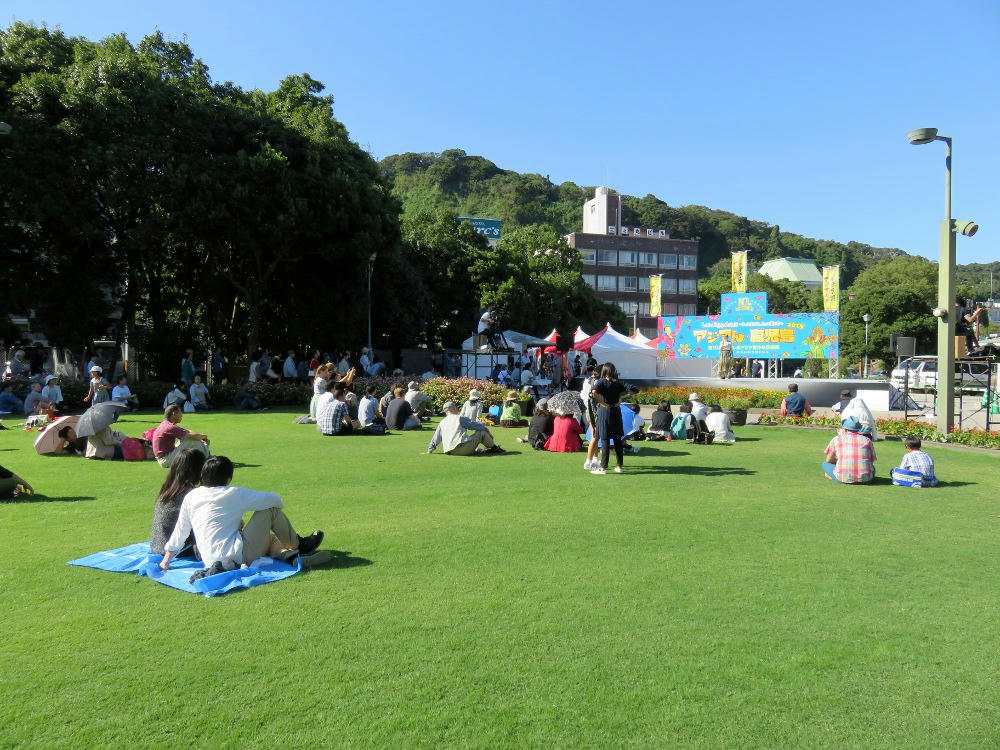 I arrived at 2:30 PM. There were maybe 100-150 people in the park, most at the food booths. When I was looking at the event schedule, I noticed that it was promoting a "curry fest", which turned out to be about 9 booths selling variations on Indian and Japanese curries. I discovered that most of the people in the park were standing in line for shaved ice, and curry rice. I got one lentil and beef curry for 600 yen that was pretty good. Later, I got a tapioca tea drink, and the lid on the cup leaked, so I got tea all over the big camera. Fortunately, the tea didn't reach anything it could damage.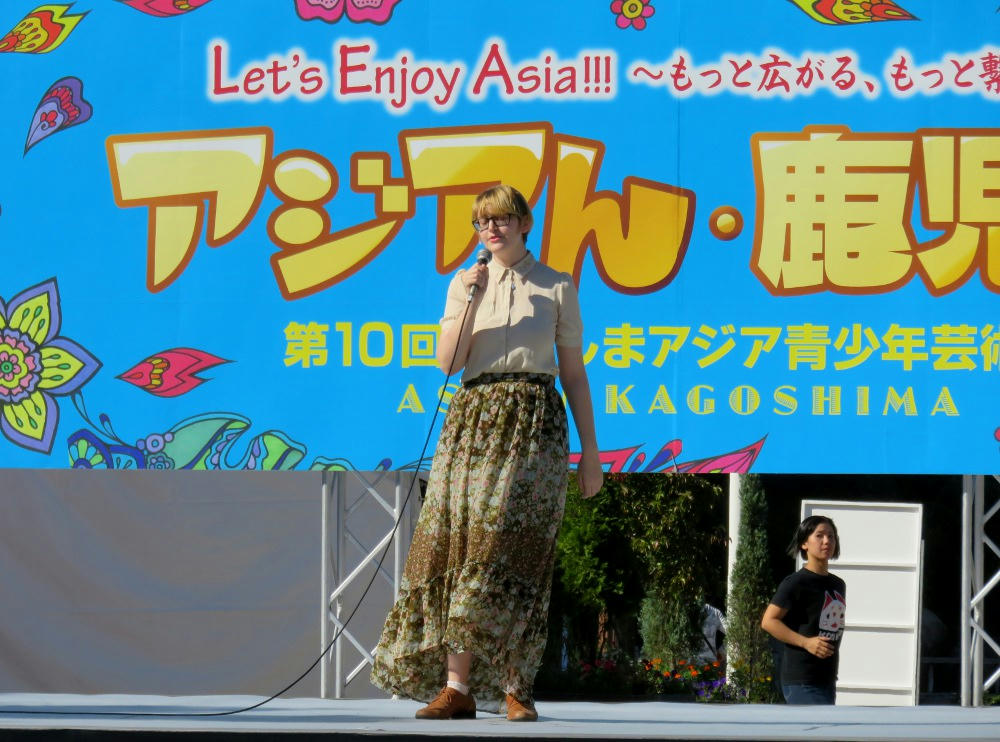 Most of the afternoon was dedicated to what I guess could best be described as a karaoke contest. Foreigners living in Kagoshima competed by singing Disney songs in English and Japanese. The woman here is from Canada. If I understand things correctly, she won her category, which included a 20,000 yen ($200 USD) gift certificate.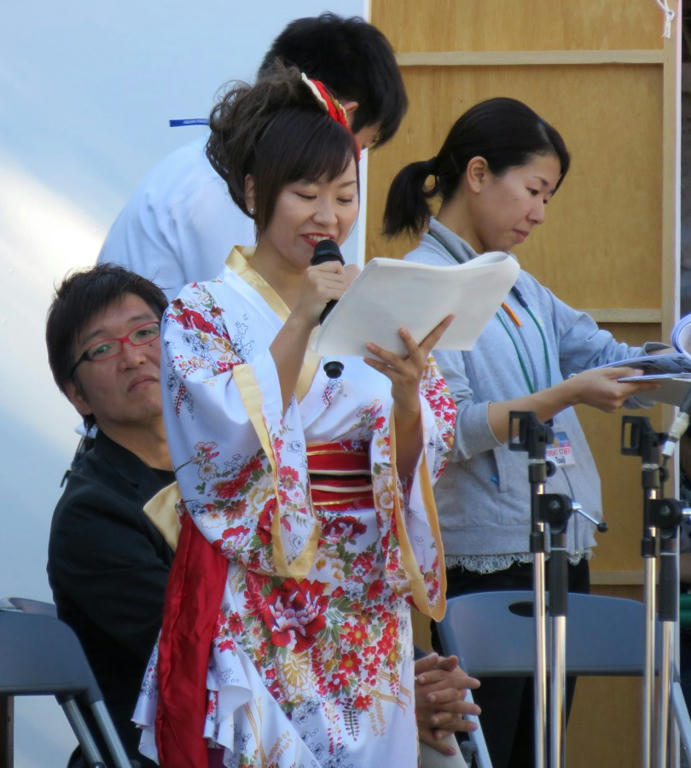 Two local radio/TV personalities acted as hosts/announcers for the show. The female announcer wore full kimono. The guy just had on a casual shirt and shorts.
The contest ran until somewhere between 3:30 and 4 PM. It's not my kind of music, so I headed to Tenmonkan. The schedule board had information on 2 satellite stages, one in front of the 7-11, and the other at Amuplaza. When I got to Tenmonkan, there were two foamhead mascots posing for photos, and 7-11 itself was running a lottery (which cost money) to promote their latest advertising campaign (I didn't bother finding out what it was because I didn't want to spend the money on it. The booby prize was a 50-cent packet of small tissues.) I asked someone standing nearby when the next Asian stage event was going to be, and he answered that it had ended already. So, I kept walking. On Friday I'd seen tables and booths going up at Kotsuki river, near the main train station, and I was hoping there was some other event running simultaneously. But when I arrived at the river, the booths were all closed up tight. (I learned later that the event starts tonight.) Still, I was getting disappointed - karaoke in Central Park, nothing in Tenmonkan, nothing at Kotsuki river... On Saturday, pickings had been slim, too, so my expectations for the weekend were dropping. But, since I was so close to Amuplaza, I continued in that direction for the satellite stage there. If nothing else, I'd be able to get free sample coffee at Kaldi.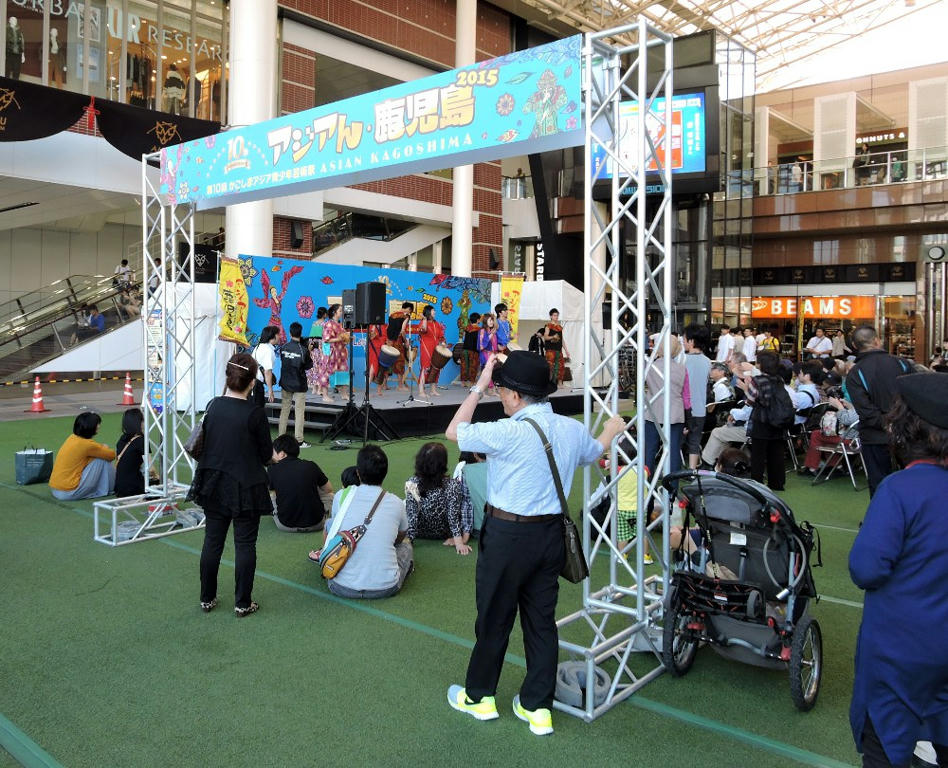 I was happy to learn that there were still two more performances on this stage. The first was by Kagoshima university students. I don't know what kind of drums these are, or what kind of music it is.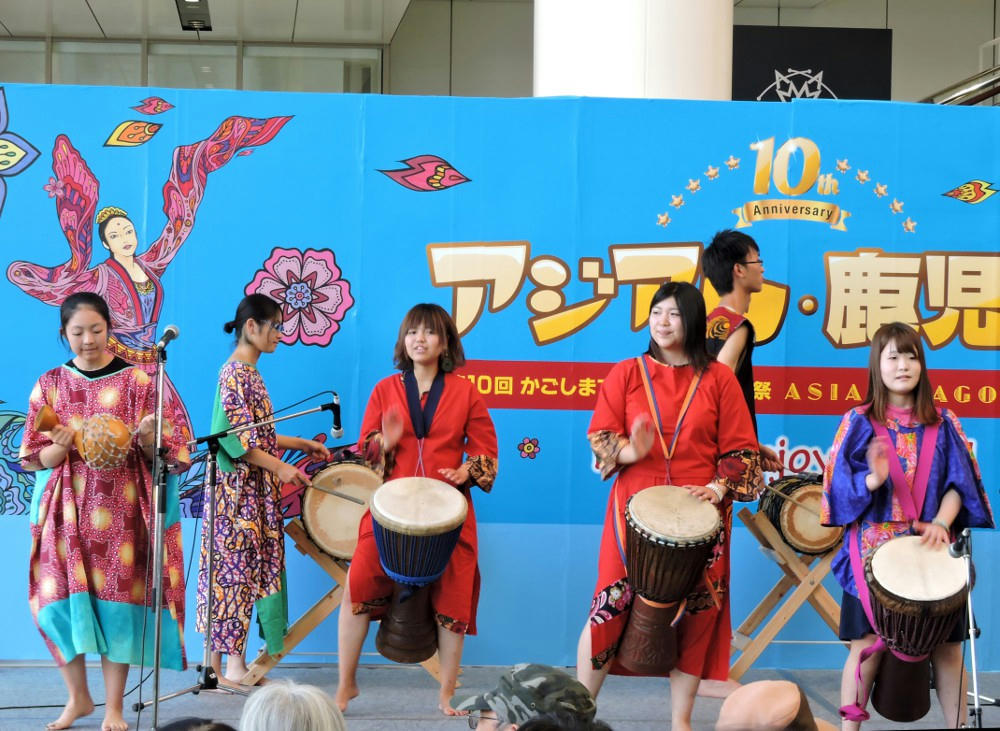 I shot a few minutes of video. Then the second group, from Taiwan, was announced.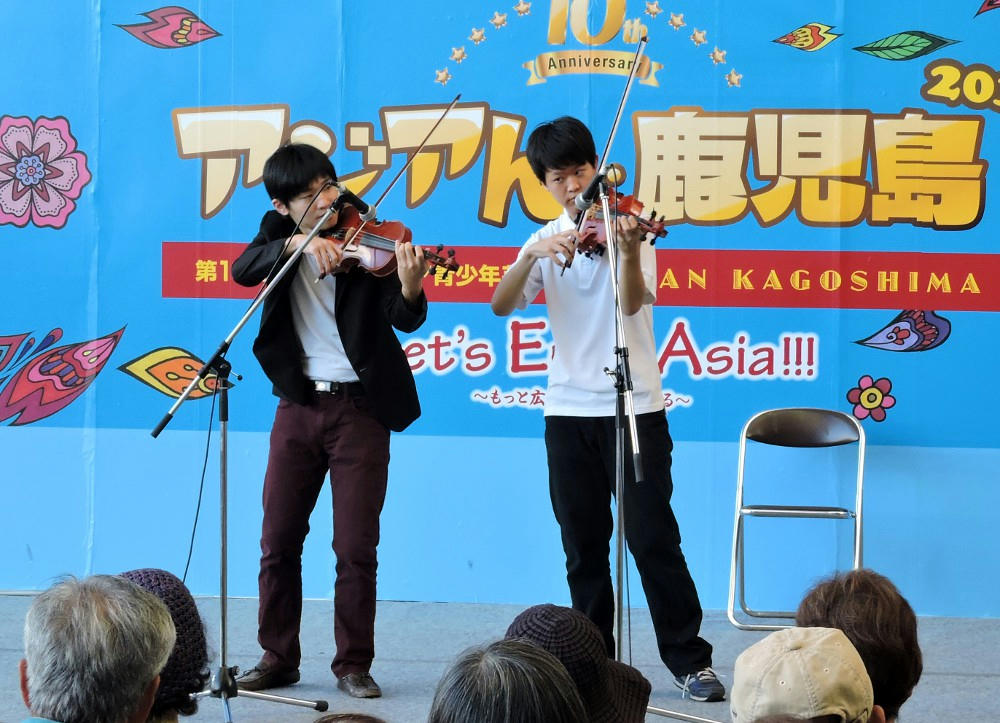 They started out with two students on violins, who were very good. They were to be followed by a marching brass band, so I took a little more video and went back to Central Park. I didn't really want to watch a marching band that's not marching.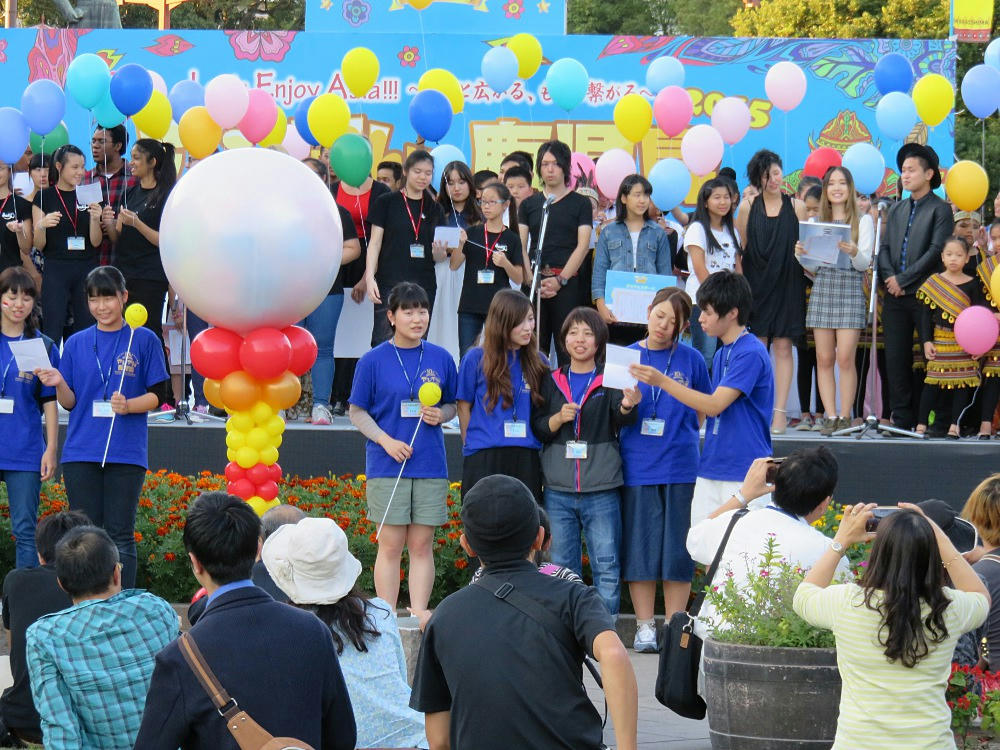 There was a lot more music and dancing in Central Park. Fortunately, I'd packed my tripod in my backpack, and I had both cameras with me (fully recharged batteries, too) so I pulled out the tripod, mounted the big camera and started recording. There were groups from Japan, China and Singapore. The Japanese choir was good, but still stiff compared to everyone else. The Chinese group included calligraphy, a belly dance ballet, a kung fu demonstration, and a string instrument performance. When that was over, the winners of the karaoke contest were announced, which took half an hour. Everything wrapped up with all of the performers and support staff getting on stage, with balloons, singing "It's a Small World" in Japanese.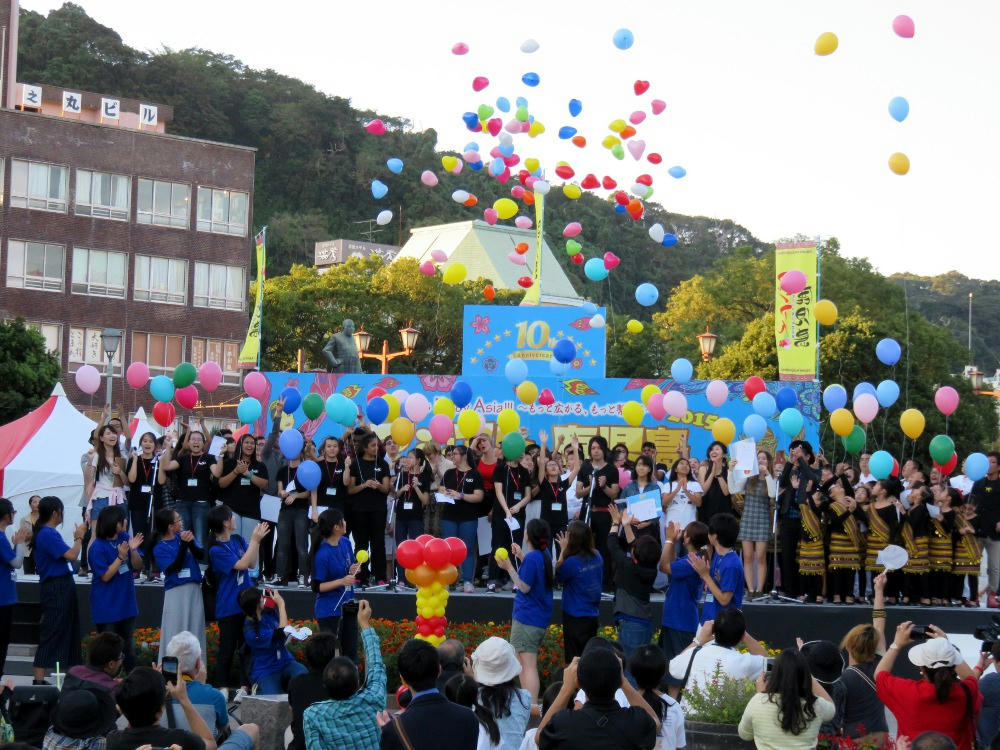 At the end, the balloons were released and everyone went home. It was a good ending to the weekend, and I really liked the kung fu demo. I'm hoping that next week's events are also good. In the meantime, I had more short-term contract translation clean-up work to do, which completely shot this week. Plus, I had to edit all the videos I made to put them on youtube for this blog entry.
If you're paying attention, you may notice that the parts are misnumbered, and there are two major "issues" with the third one. The first issue was a slip on my part. The other was a guy that decided to stand up in the middle of "It's a Small World", and block three different people that had their cameras out and were taking videos right behind him. From his reaction, it apparently NEVER occurred to him that he might have been in anyone else's way, even when we stared angrily at him as he walked past us.
Direct youtube link
Direct youtube link
Direct youtube link