Minna Minna Fest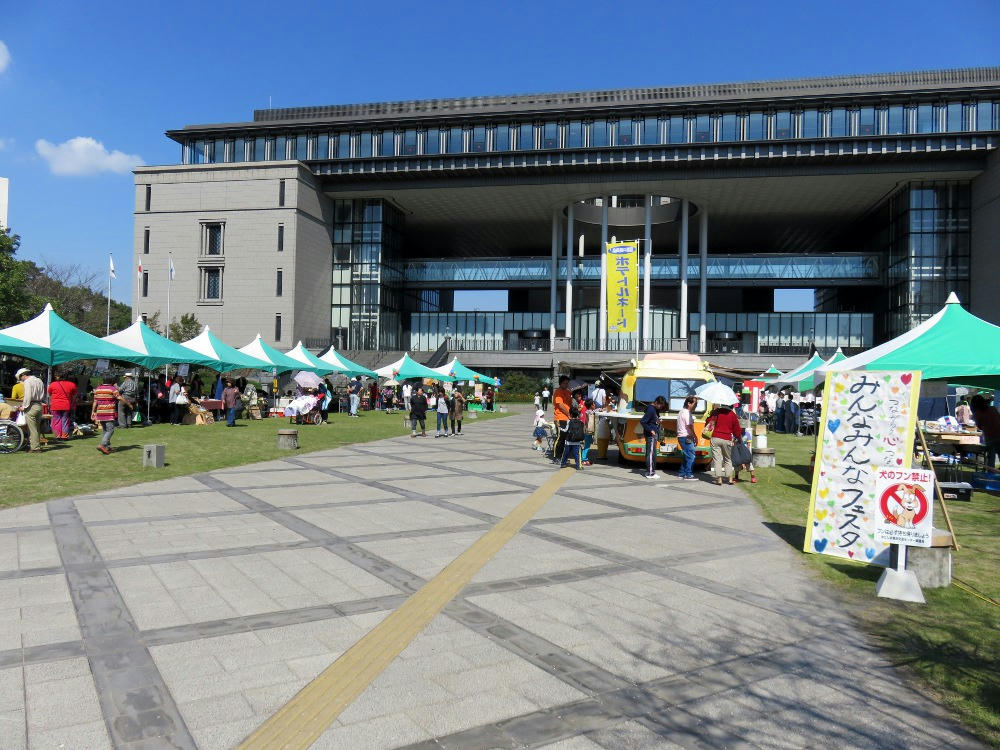 I had big expectations for last weekend. There are a lot of events taking place in Kagoshima this month, and many of them were supposed to be on the weekend of the 17th and 18th. The problem was, I didn't have event fliers, and I was guessing about what was going to be where. I knew that
Asian Kagoshima
would be in Central Park, but I thought that some of it would also be at the People's Volunteer Center, which is about a 5-10 minute walk from the school I teach at. I had a 2.5 hour break in the middle of Saturday, so I headed here, first.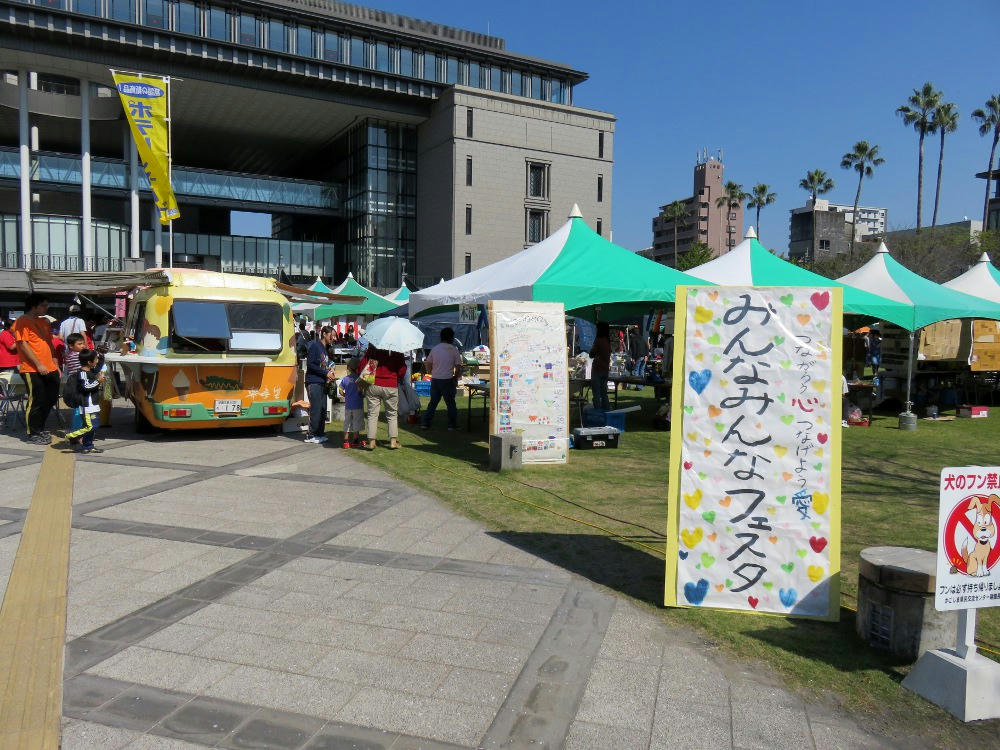 Turned out that they just had
Minna Minna Festa
(Everyone Everyone Fest), which was a combination flea market, and demonstration of things made for and by the mentally handicapped. There were some food stalls, and an event stage.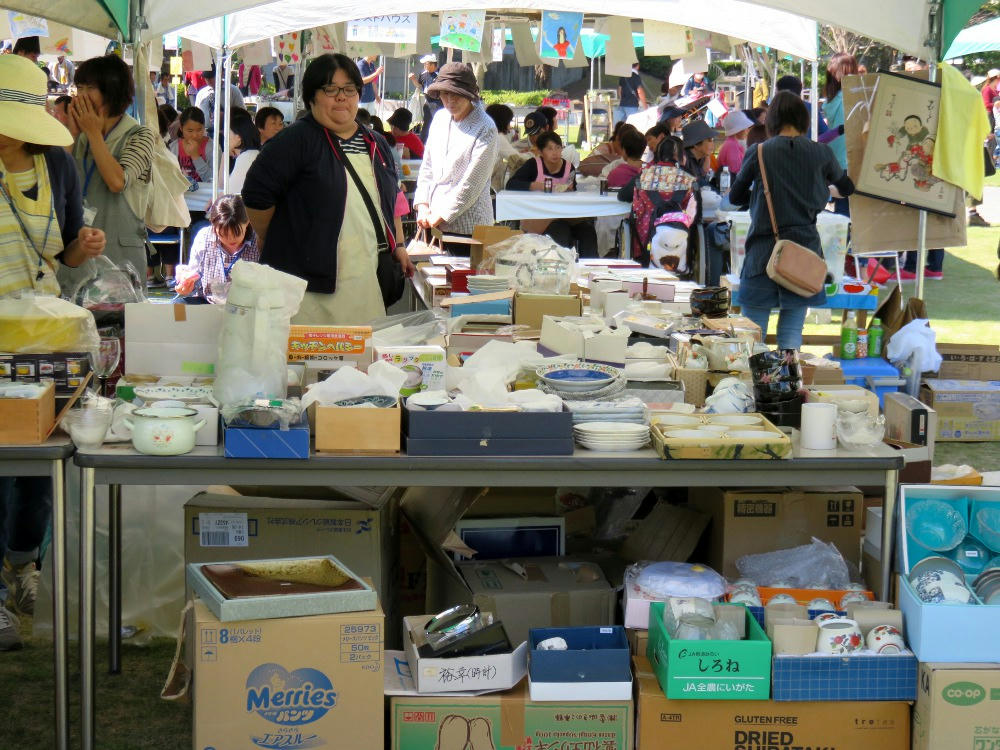 Nothing was happening on the stage, so I just walked around to see what was there, and if anything was taking place inside the main building (there wasn't). As I came back outside, a woman was announcing the next stage event coming up in 5 minutes. I couldn't find a schedule, and I didn't see a performer nearby, so I decided to save up my break time, and head back to Tenmonkan.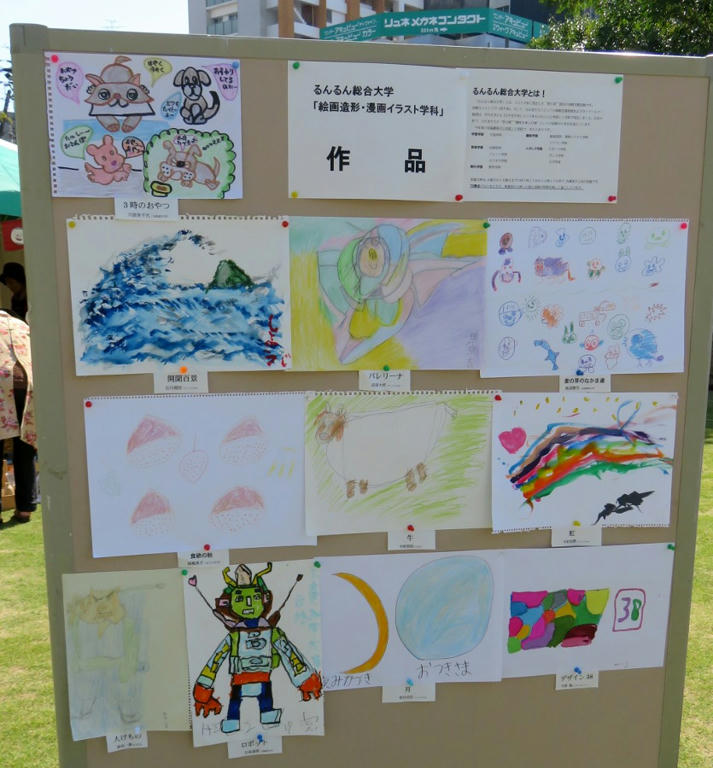 Some of the sample artwork on display.
Wine Festa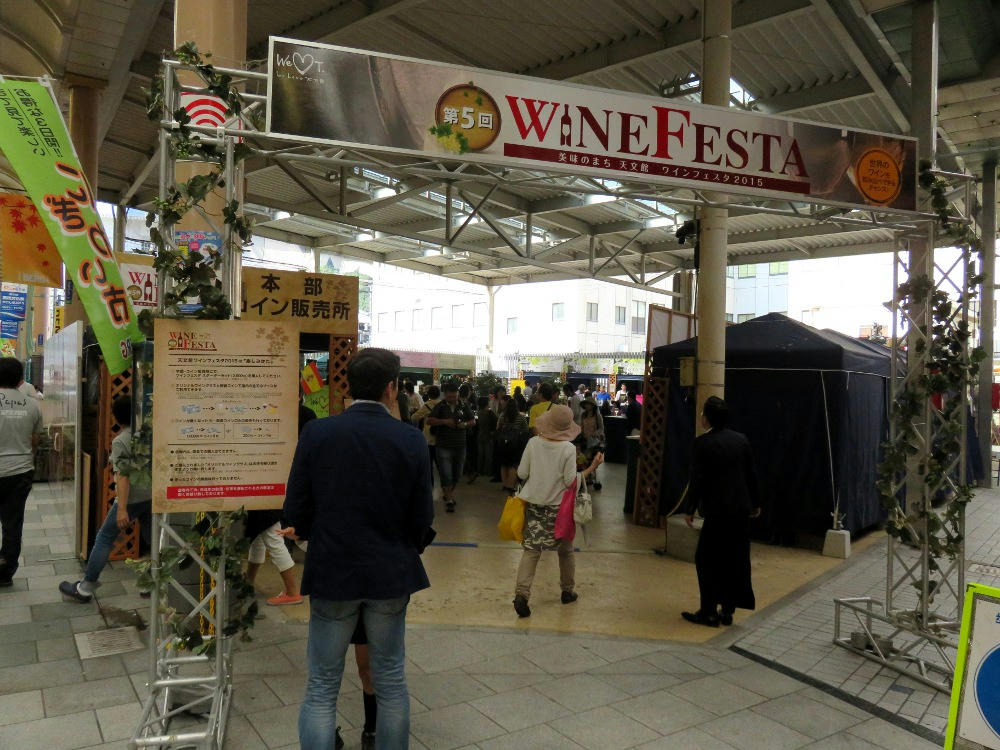 Tenmonkan hosted a wine festival, which I guess was in response to the beer festival at Amuplaza a few weeks earlier. There were cars on display from Renault, lots of wine, and some food booths.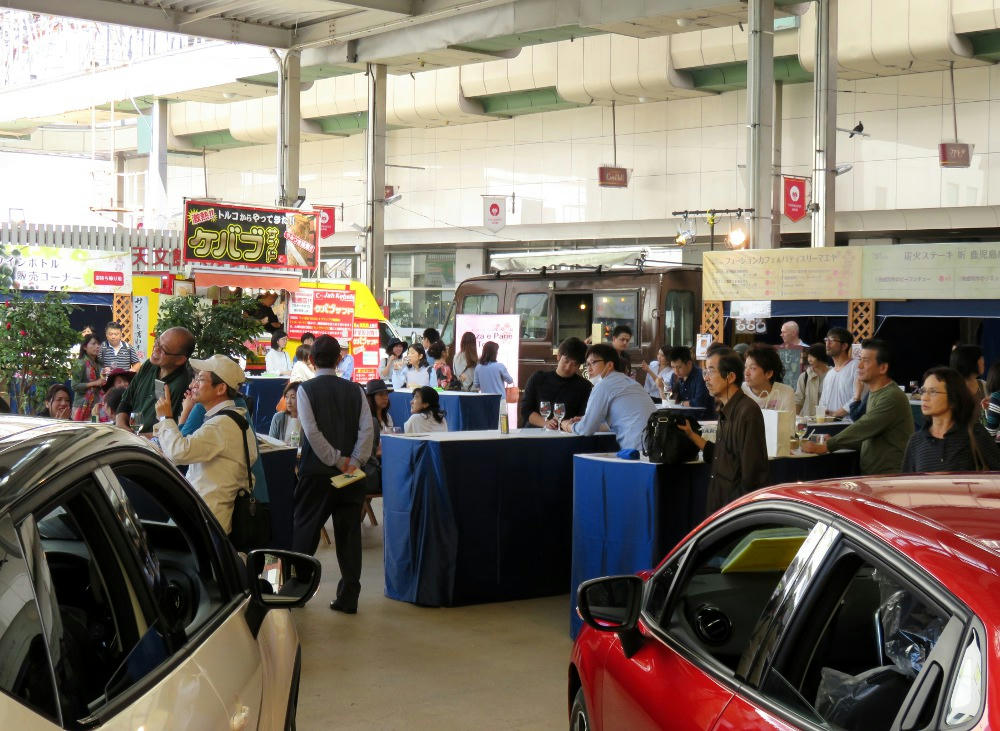 You had to buy metal tokens to pay for the wine, which I thought was a bit tacky. Since the prices were maybe 500 yen per glass, I figured that it was more than I wanted to spend, so I just swung by a couple times to see what I could take pictures of. Then again, on Saturday I was there on my break, and I couldn't justify drinking before my next lesson started. The event ended about when I got back at the end of the classes, but that's also when I wanted to go to the
Bouzu Meets Festa
, so I didn't feel like I was missing anything.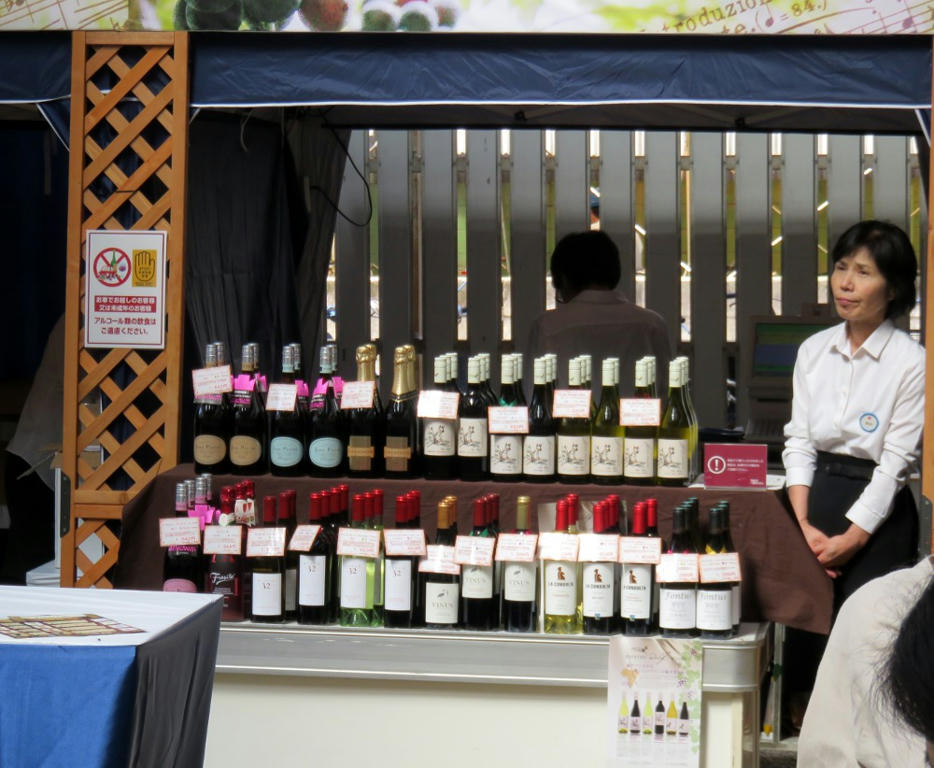 Some booths were more popular than others.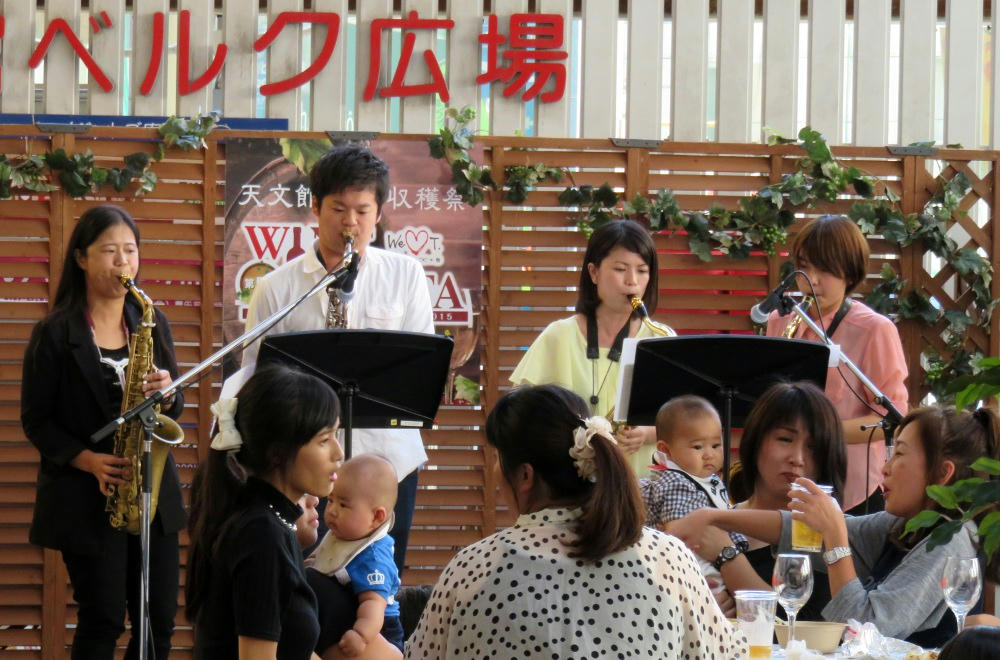 The thing I was most interested in was recording the live ambient music. But, there were too many people on Saturday to get a good view of the stage, and I expected to be told "no recording" if I was too obvious about it. On Sunday, the stage was empty when I arrived, and I wanted to spend more time at the
Asian Kagoshima
event in Central Park, anyway. So, not many pictures here, either.
Bouzu Meets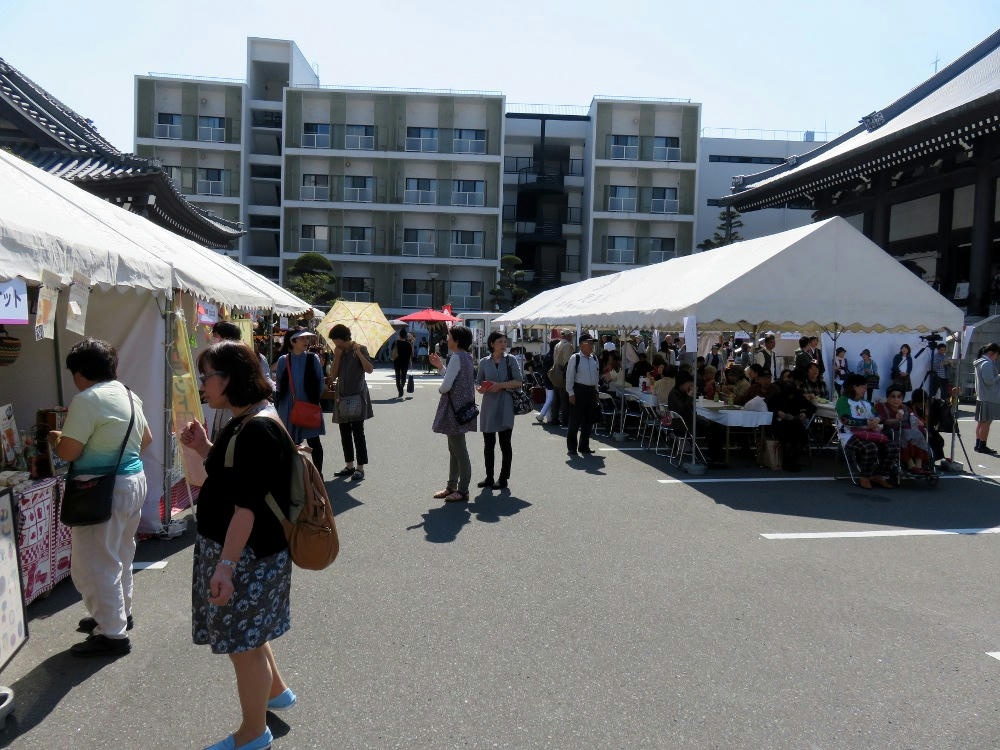 Honganji temple, one block west of the
Wine Fest
, had another of their "
bouzu meets
" fests. "Bouzu" is a Buddhist priest, so the idea is to mingle with the priests and chat if you want to. A couple of years ago, I went to one of these fests and I had a great time. More recently, there have been fewer interesting stage acts, and the priests have been less outgoing. The fest ran part of Friday night and all of Saturday. I had to work on Friday, but I did drop by both during my break and after I finished teaching on Saturday. The stage acts included jugglers, an amateur band, and some Buddhist music. There really wasn't anything to record, so I didn't.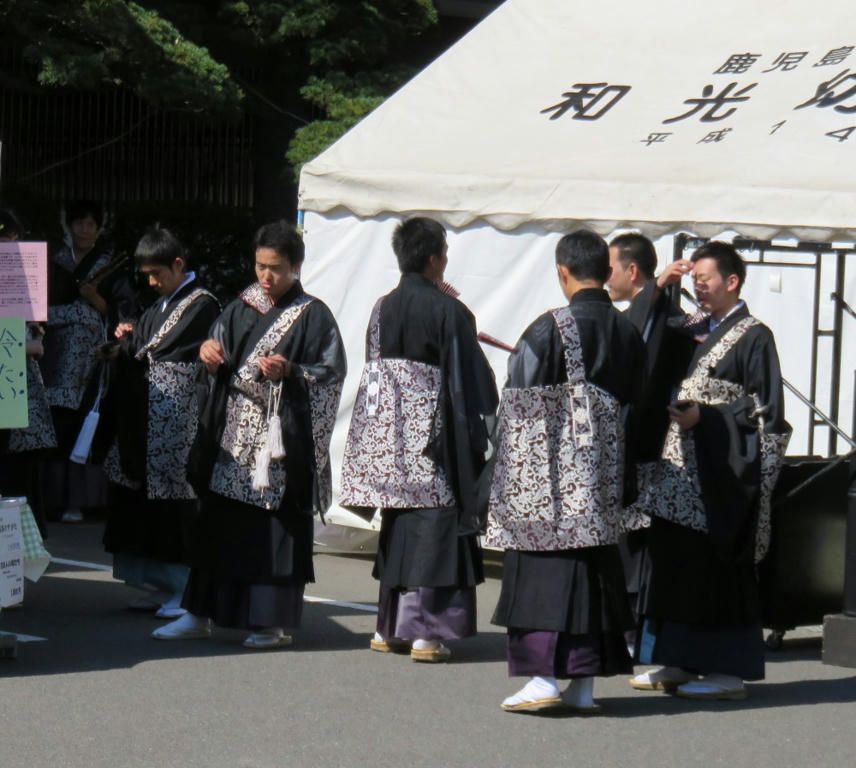 Some of the priests are getting ready to give a flute and pipe parade.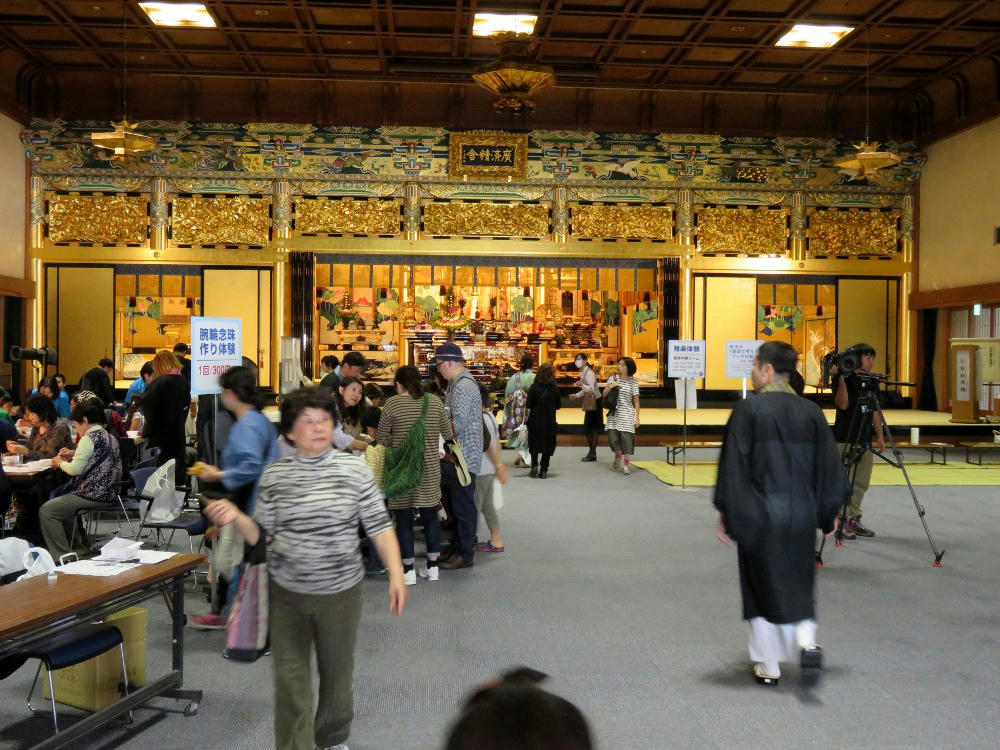 Inside the main temple there were a number of interactive activities for people to try, including bead work, calligraphy (left side) and learning about Buddhist scriptures in English (right side).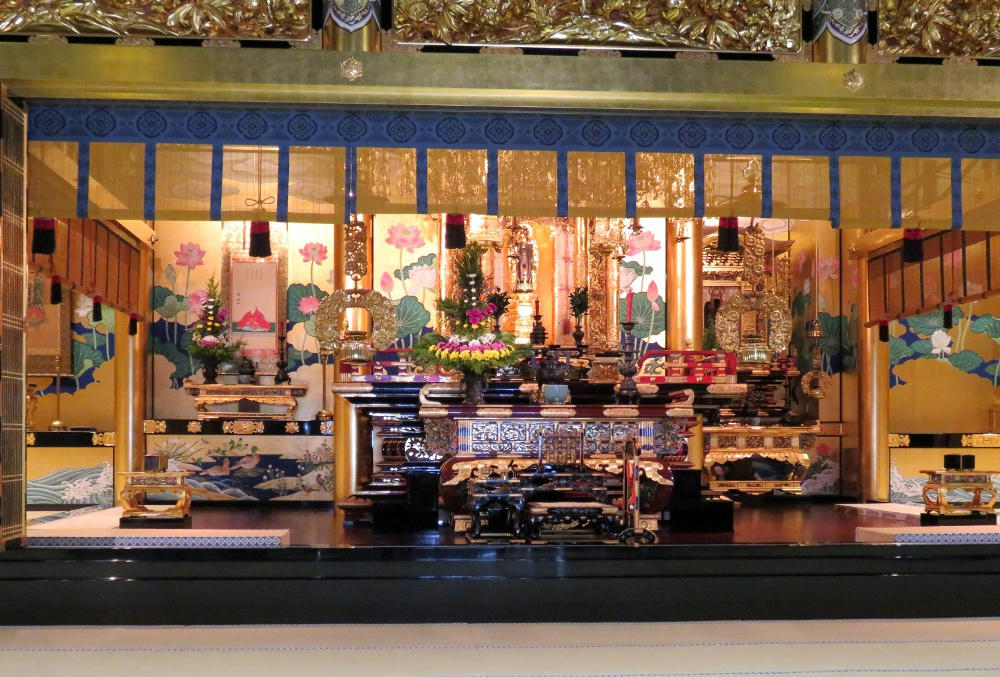 The main altar area.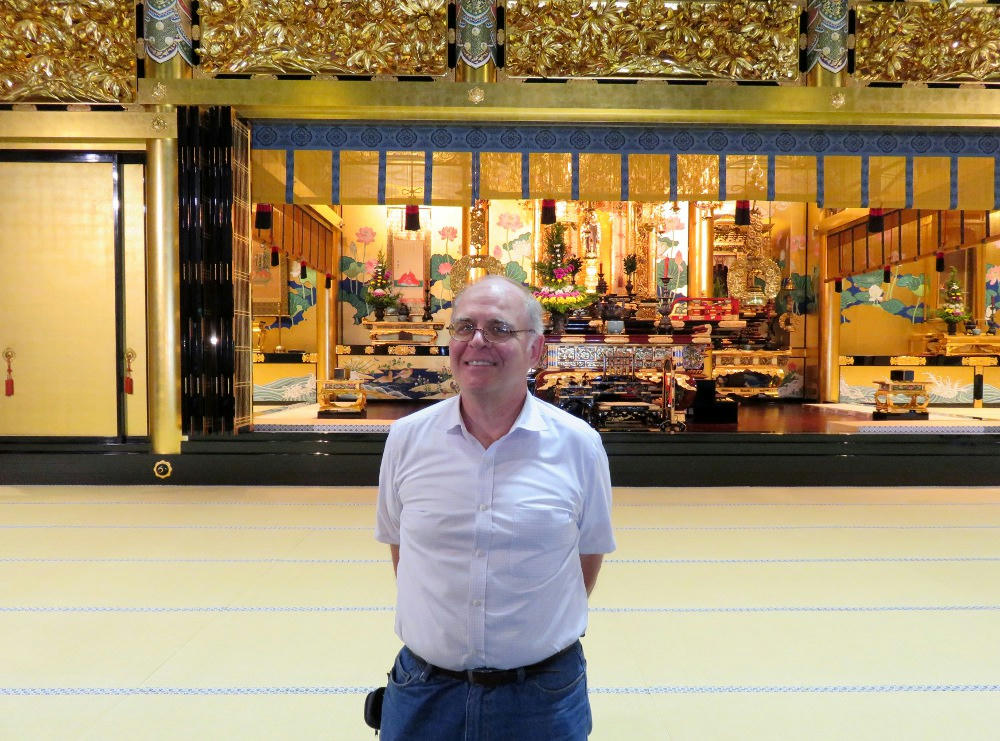 As I was taking pictures, one of the priests came up and asked if I wanted my photo taken, too. It's kind of hard to say "no" to a Buddhist priest, so I gave him the camera. We talked for a while, and then he mentioned that one of the other priests here had gone to the U.S. for a while to study, and he was the one that would be giving the lecture on the scriptures in English. My priest suggested that I come back at 5 PM for that, and I said I would try, if the lessons ended in time. Well, the lessons finished around 5:30, so I caught the last 20 minutes of the lecture. Which did mean that I missed the amateur rock back on the outside stage.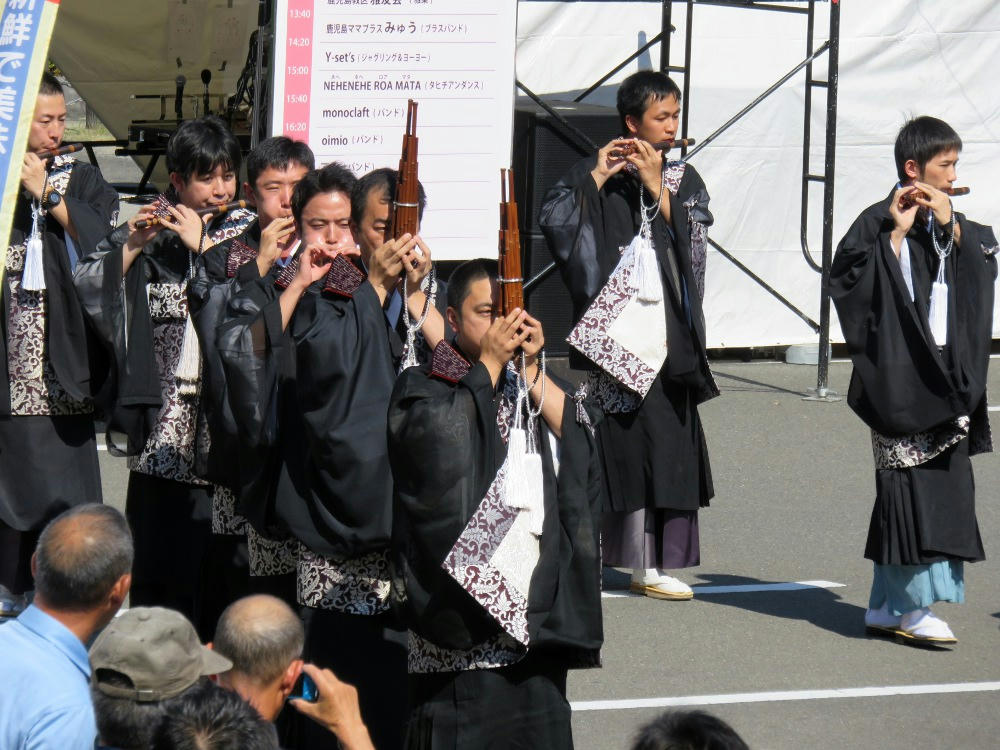 The pipe and flute march.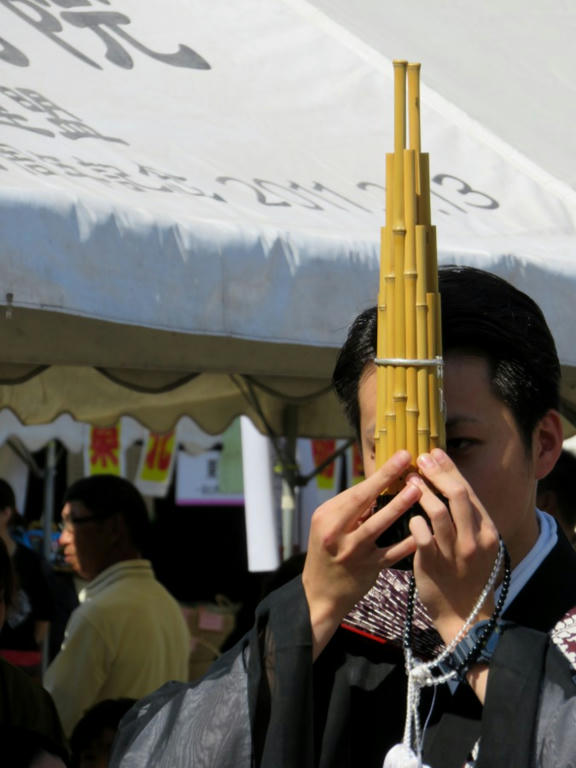 An attempt at a close-up of the pipe.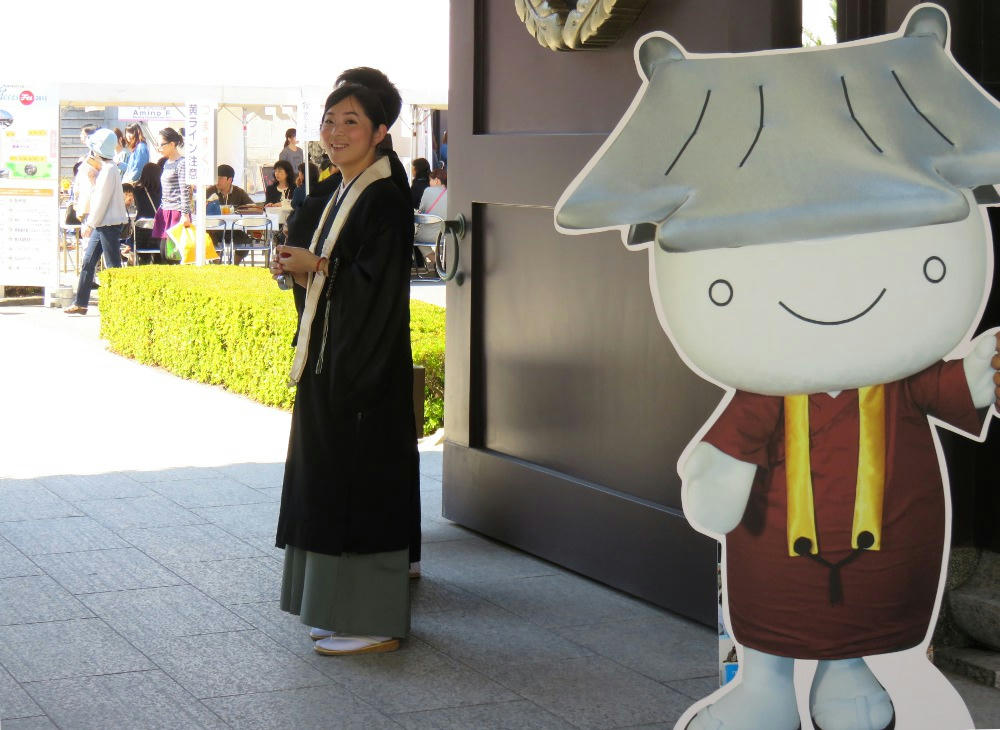 Greeters at the front door. There were more female priests than there had been before.
I did have a good time here, and there was good food. I got the Japanese version of a chicken soft taco for 400 yen. Pricey, but filling. Unfortunately, it was also extremely greasy, and I nearly got my work shirt stained a couple times before noticing the threat. This would have been bad, because I didn't have much time left before my afternoon break ended and I had to go back to the school...