I'm kind of getting desperate here. During the summer, I was close to running out of things to blog about several times, but now there are so many events taking place over the weekends that I have to combine them all into one post, and I'm still building up a backlog that's close to one month of material...
House and Home Fair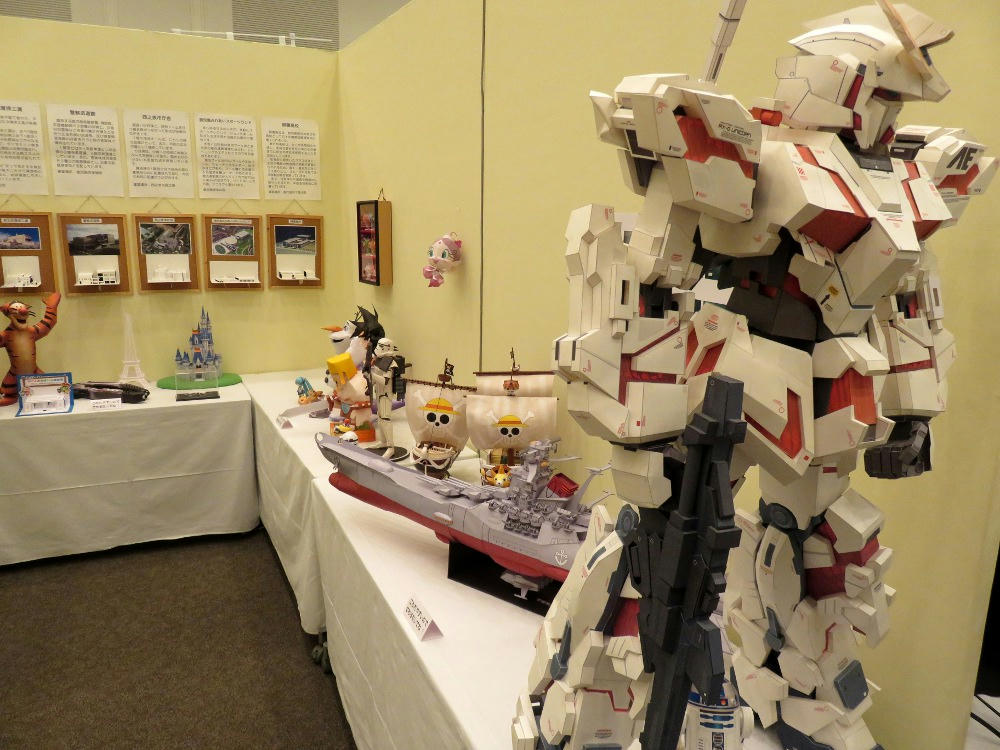 (Gundam, to the right.)
On Friday, I had a lesson at the English school at 2 PM, and I got out at 3. It was a little earlier than normal, so I decided to drop by the International Volunteer building to see if they had anything going on this weekend, too. The answer was "yes". They were just setting up booths and example building structures for a Home and Energy Saving fest. The buildings on the front lawn wouldn't be ready until Saturday, but inside the event center, in the halls on the second floor, they already had tables set up for energy companies (solar and wind power), architecture firms, and construction companies.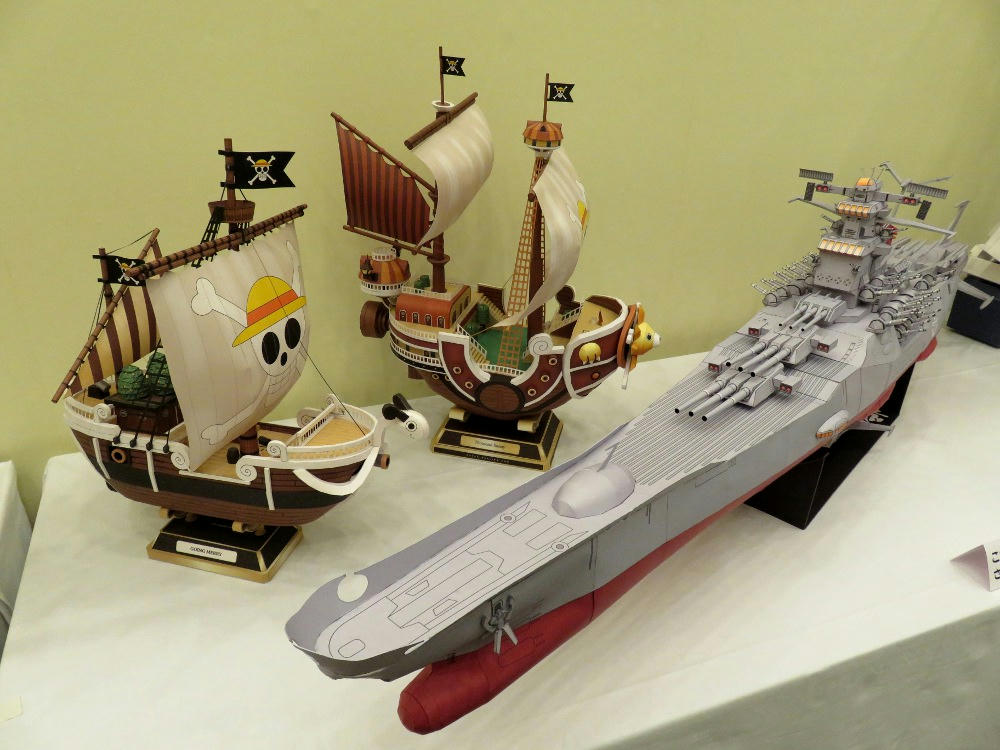 This booth was part of the display by a local Kagoshima architect, and consisted of a number of really good papercrafts. The designs all came from the
Yamaha site
, the architect just printed them out and built them. Having made the Himeji Castle papercraft myself, I think I have a good idea of just how much work went into all of these projects here...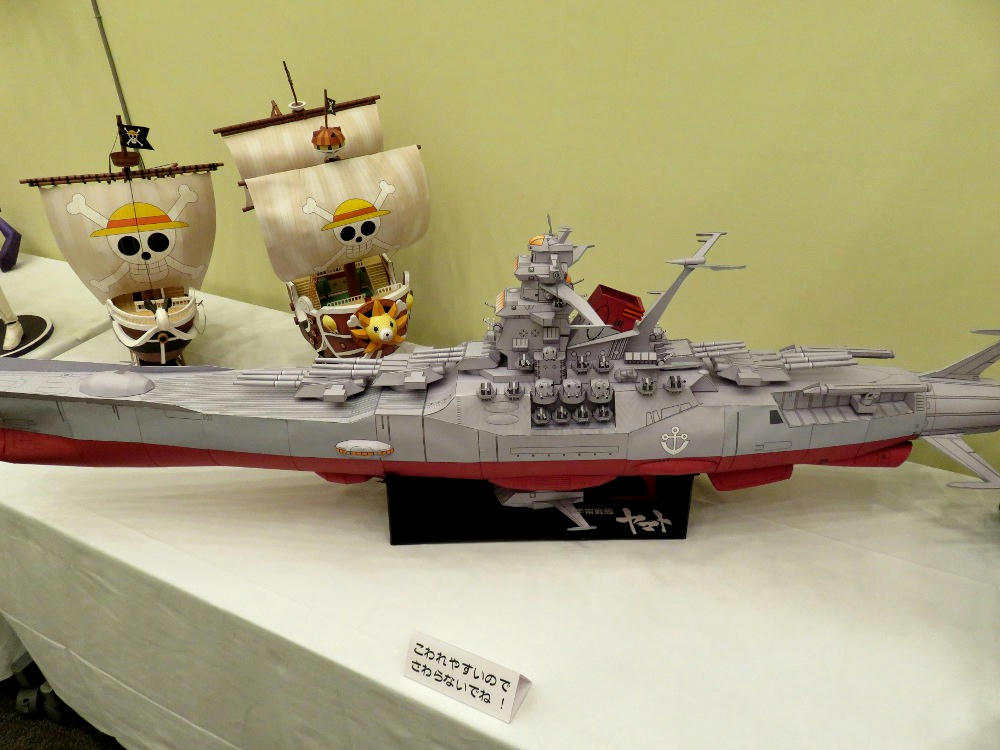 (The One Piece ships, plus Space Battleship Yamato.)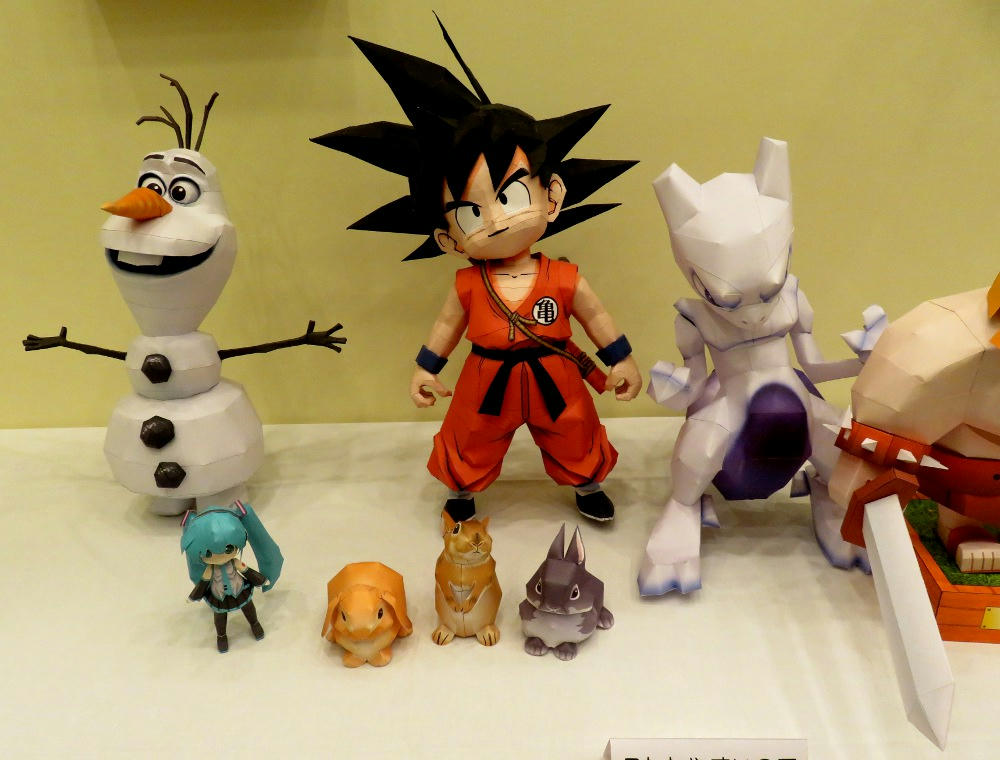 (Goku, Frozen, Pokemon, Miku Hatsune, and random animals.)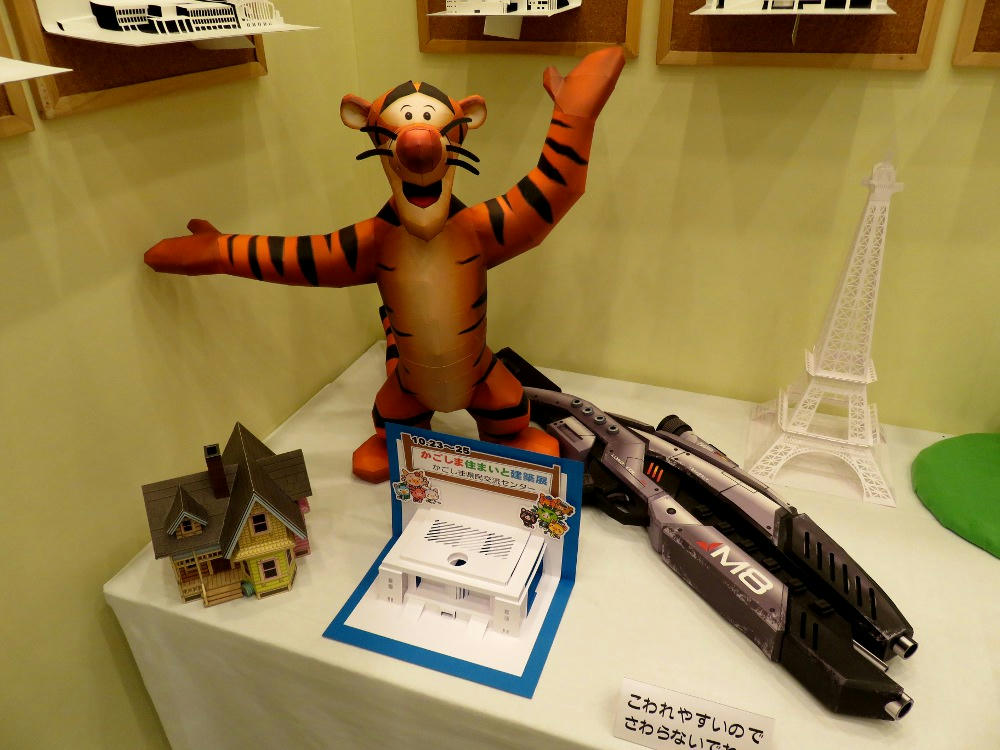 (Tigger and a really nice blaster.)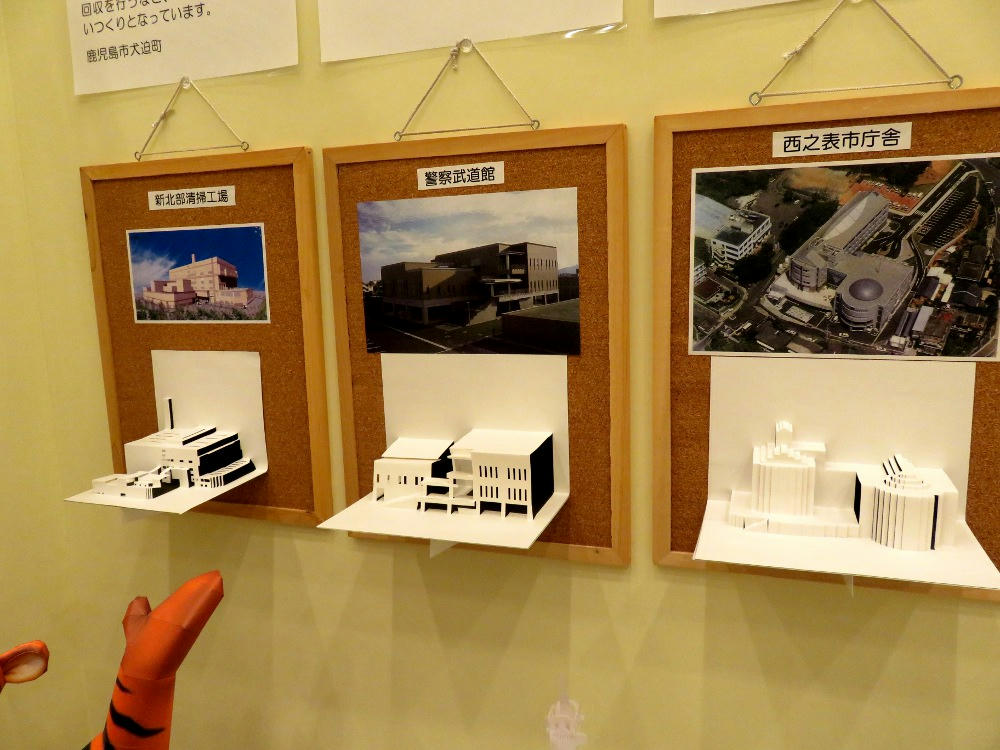 These building card cutouts were probably based on the architect's own designs. He uses something similar for his business cards.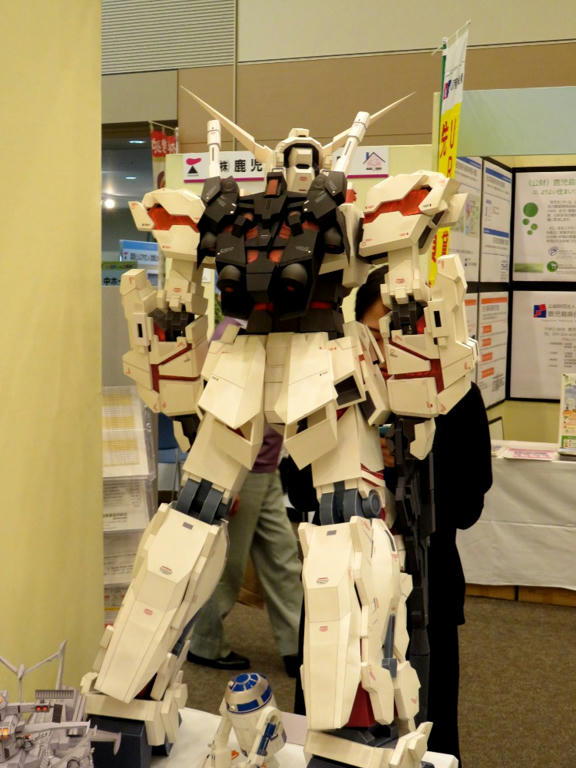 Gundam, from the back.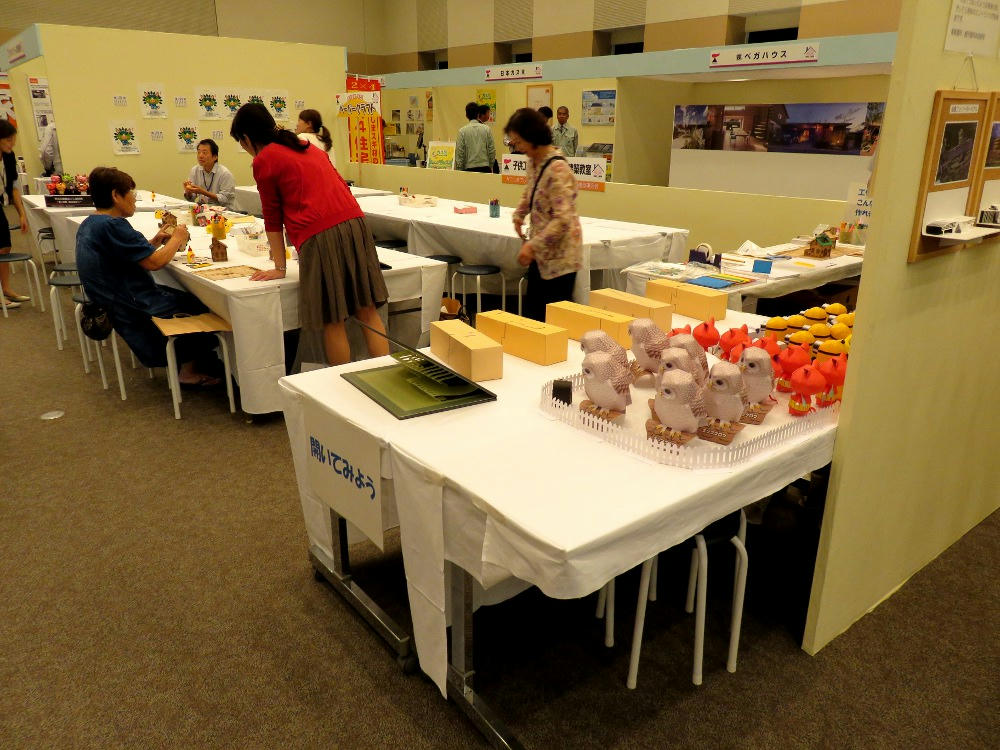 Next door, the same guy had a workspace for people that wanted to make things themselves. I asked if he'd let me make something, and his assistant pulled out two sheets of laser-cut wood, asking if I wanted to make the piggy bank house or the pencil holder house. I chose the pencil holder because I don't have anything to put into a piggy bank. I was told that I had 30 minutes, which I thought meant that they'd be closing up at 3:30 or 4 PM. So, I sat down and started punching pieces out of the wood. Initially they said that I wouldn't need glue to hold the pieces together (which was true for the walls and roof) but I did have to glue on the window and door frames. The edges where the laser burned the wood were very ashy, and that covered my hands and stained one side of the wooden pieces. I ended up flipping the pieces to be "wrong-side out" because that side wasn't getting stained. Fortunately, they had lots of wet wipes, which I needed constantly. I think it actually took an hour to finish everything, and that was with the architect sanding down the locking pegs for me because he'd discovered that he'd designed the matching holes to be a little too small. The finished pencil holder is about 6" cubed.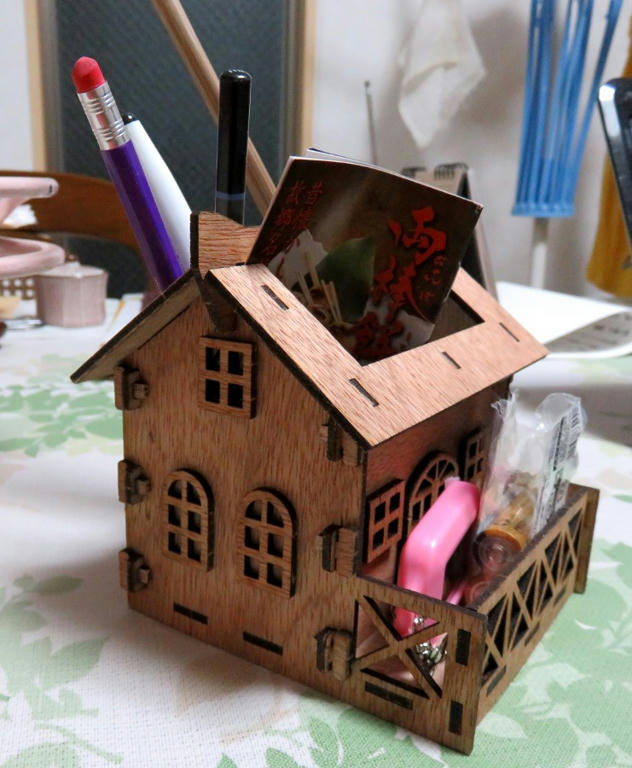 Very nice for something that was free.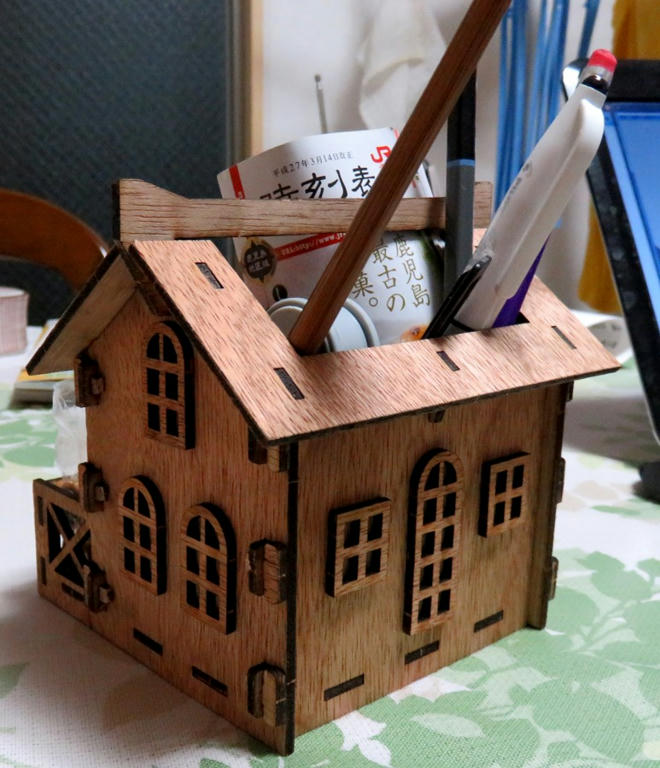 He also let me have papercraft sheets for the local advertising mascots, Gree-bu and Sakura. Sakura is pre-cut, Gree-bu isn't. Other freebies being handed out at the tables included pens, calendars and a solar-charged LED keyholder pocket light.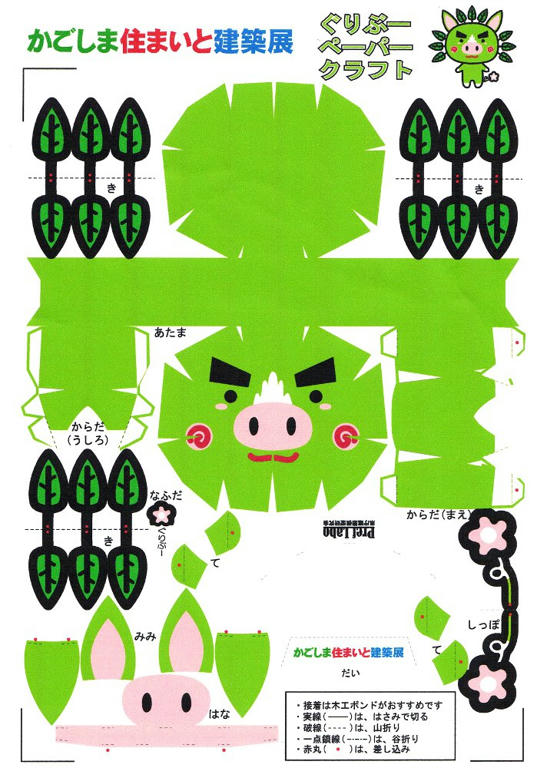 (Greebu papercraft sheet)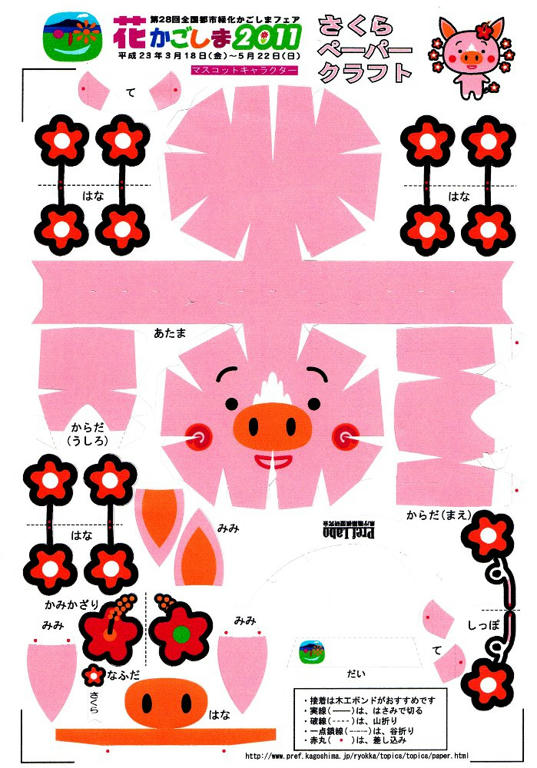 (Sakura papercraft sheet)
Kanoya Rose Garden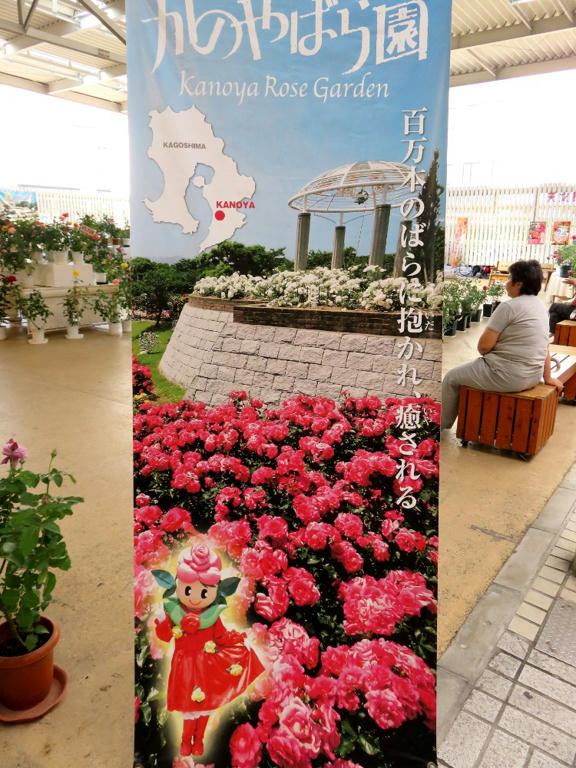 There was a lot of activity in the open space in front of Lotteria in Tenmonkan. On Friday, it was a health screening and health-awareness event sponsored by one of the hospitals. There was nothing I wanted to take photos of, so I ignored it. On Saturday, they had roses on display to advertise the Kanoya Rose Garden, located on the far side of the Osumi peninsula, the other side of the volcano. I got here just before noon on Saturday, and things were still being set up. The main reason for taking the photos was to show the Kanoya Garden mascot, on the banner above. I've seen her at events in Kagoshima before, but I hadn't know what it was that she represented until now.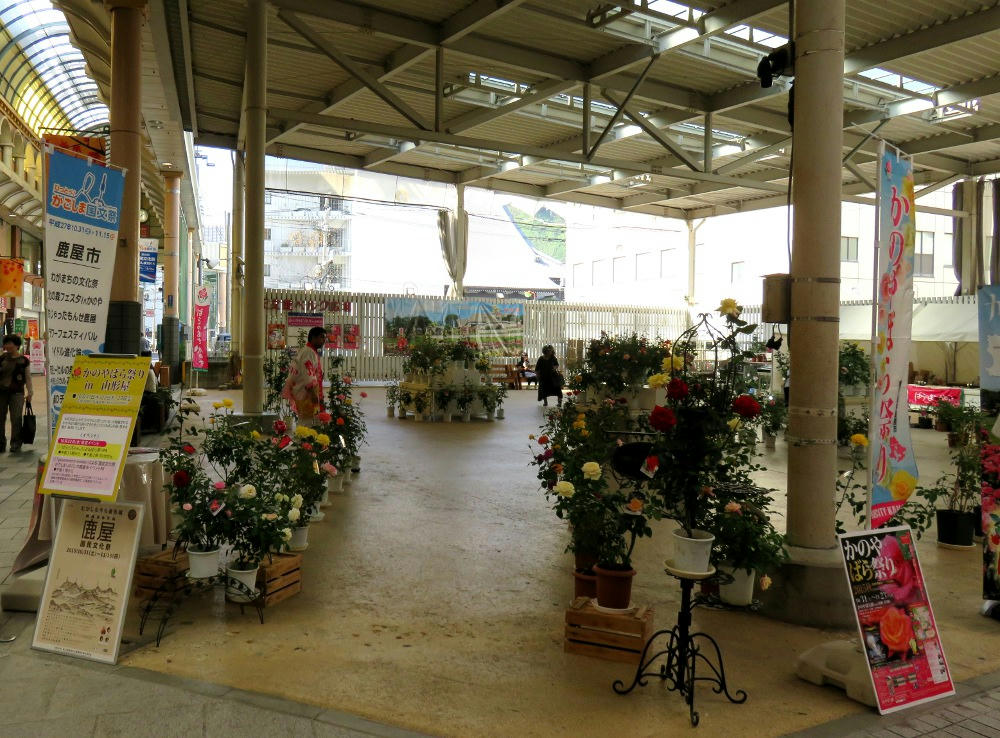 Tenmonkan Halloween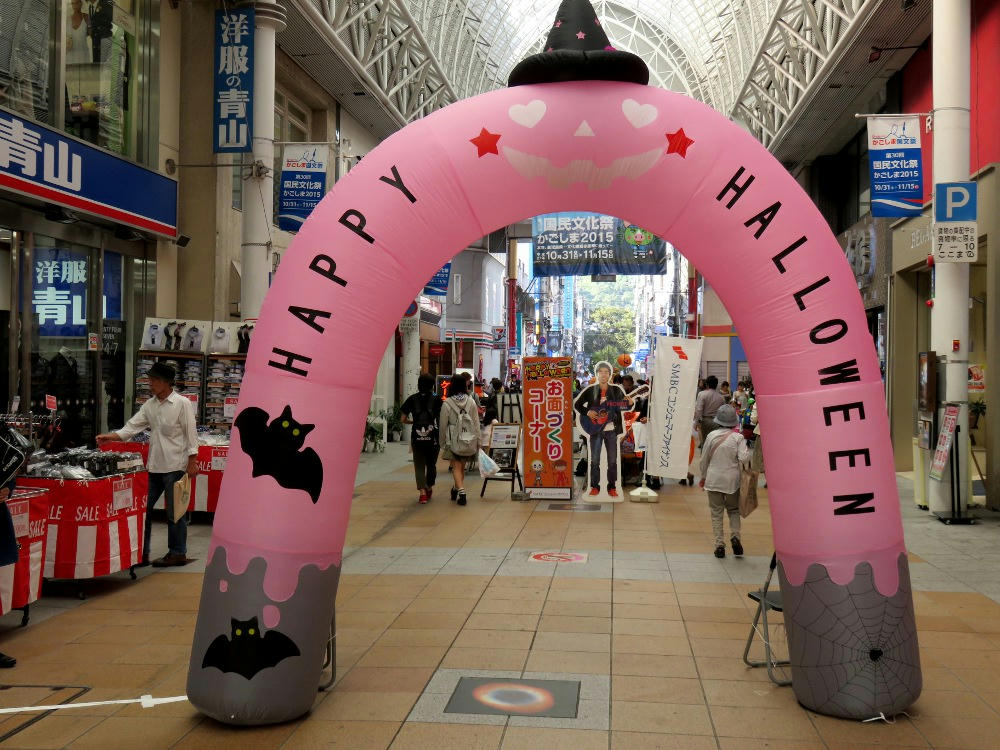 On Saturday, the 25th, Tenmonkan had its children's Halloween event.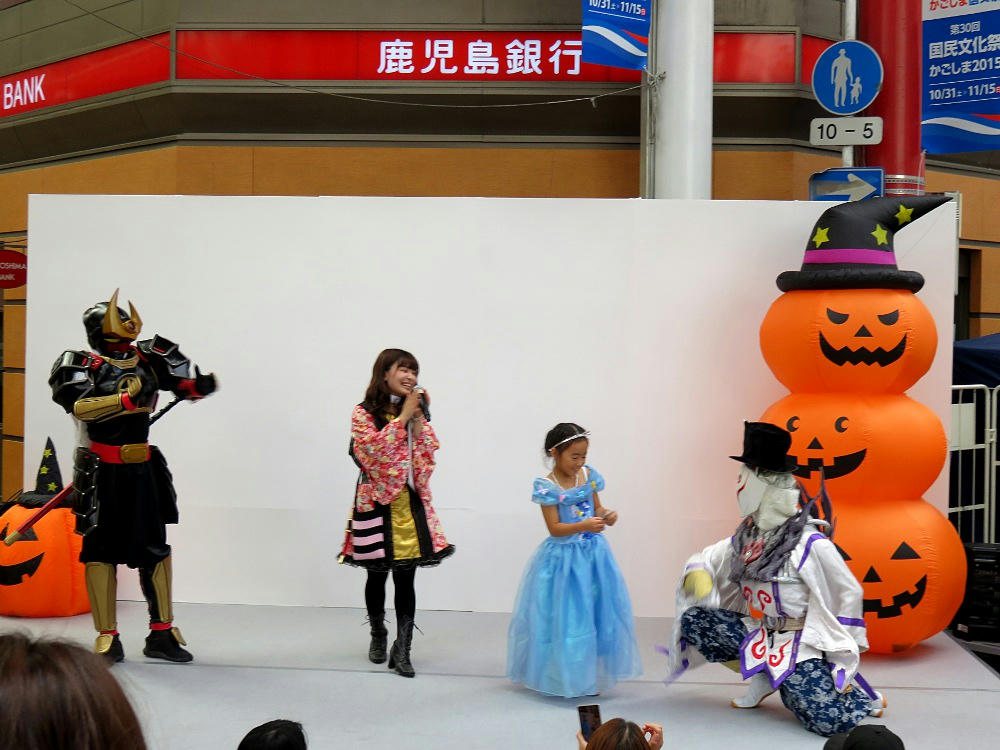 There was a stage show, prizes for the kids, and appearances by the local advertising mascots. Unfortunately, I had to work during the stage shows, and there wasn't much going on during my breaks.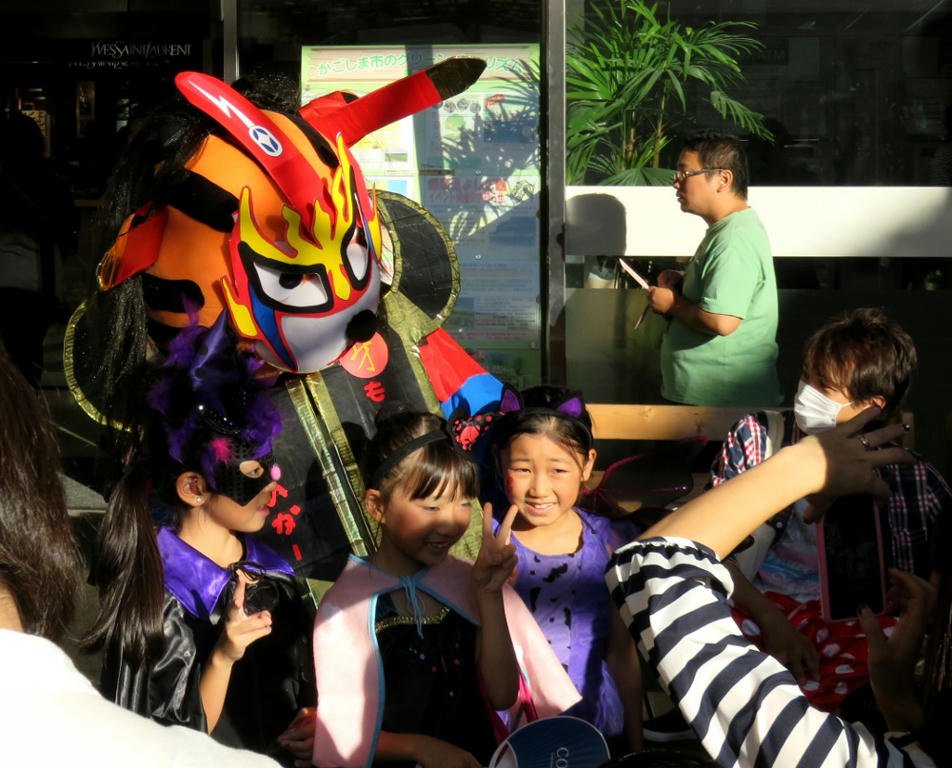 They did have a "Tenmonkan Halloween parade" around 3:30, though, consisting of the kids being led past various shops where salespeople handed out little candies. There was a pause in front of the Yamakataya department store for photos. I was on my way back to the school, so I don't know if the parade actually continued into the store.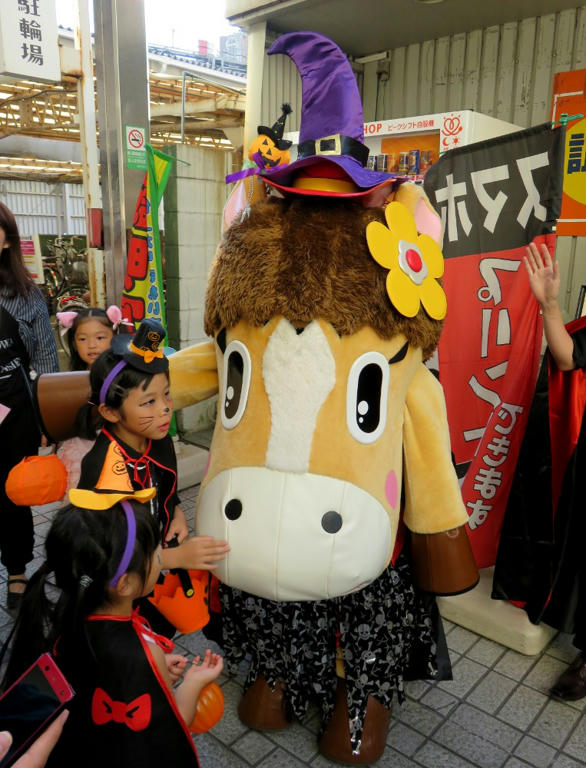 Fursato 2015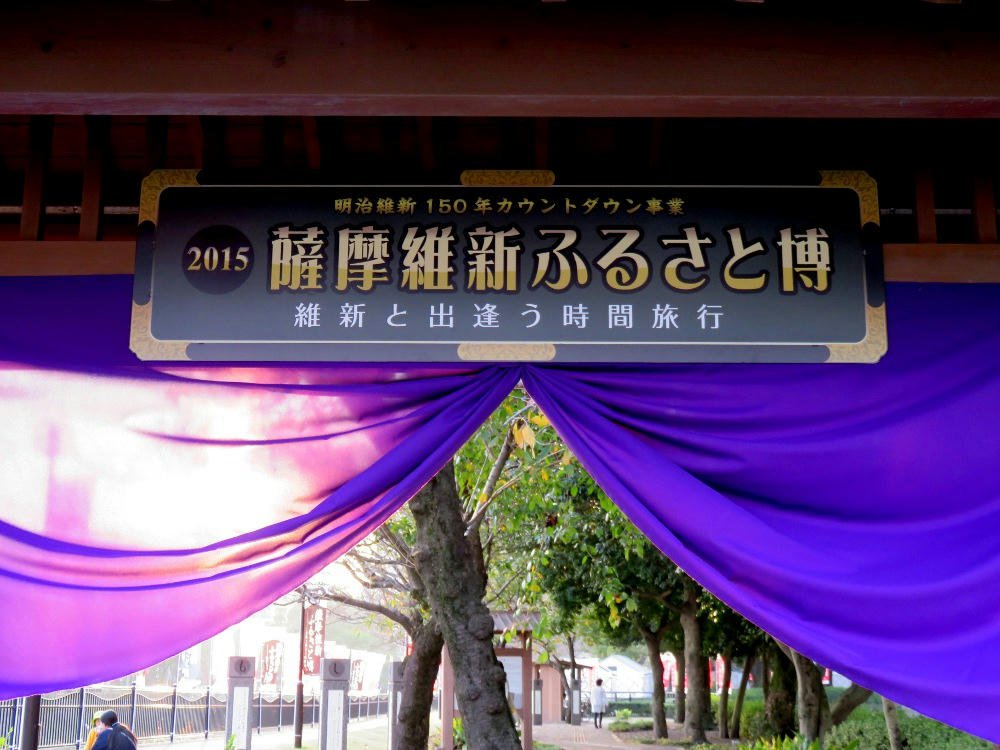 (Entrance to the park with the event banner)
Up at the Kotsuki river, the city of Kagoshima, supported by the local restaurants near the train station, had another of their Furusato (hometown) festivals. This one started Friday afternoon, and is going to continue until Nov. 15th. They had this last year, too, and it looks like it's pretty much the same thing this time. I made my way from the Home and Energy Saving fair at the International Volunteer Center and got here about 4-4:30 PM. Some of the booths were still open, selling food and shochu, but none of the event stages were ready. I had a little food and drink, then wandered around to take photos.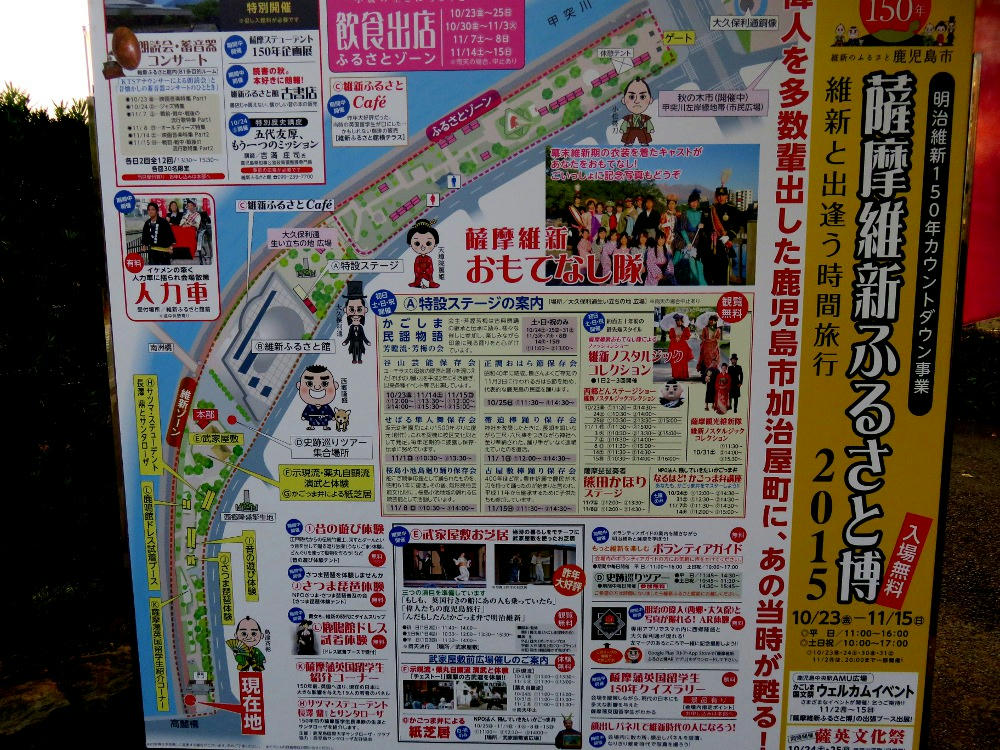 (Event map, showing the park along the river.)
I didn't have time to get up here on Saturday during my break, and on Sunday I stayed in the apartment to write up manga reviews until 3:30 PM. When I did get to the river at 4 PM on Sunday, all the stage events were over and the Satsuma-England friendship event, which was only for this weekend, had completely finished and the tents were being torn down. It wasn't a complete loss, though, because the actors in Meiji era (1860's) costume were still strolling around and pausing for photos.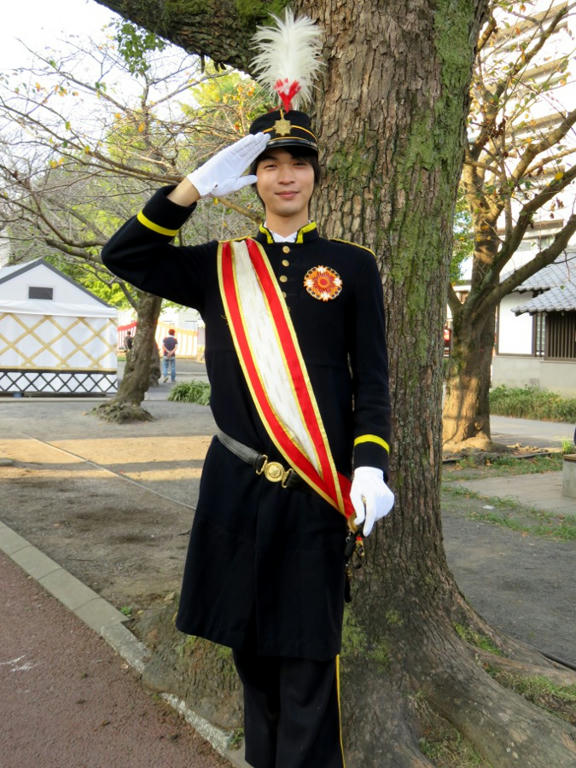 The real activity is going to be on the weekends, so maybe I can catch some more of it next Sunday (I'm going to be extra busy teaching lessons at the school next Saturday, so that's going to be a wash). I'm not interested in spending money on overpriced food, but I do want to see some of the stage events, if possible. Anyway, part of the event is continuing during the week, including one stage play at 11:30 AM and 2 PM weekdays. I'm hoping to record that this week, if possible.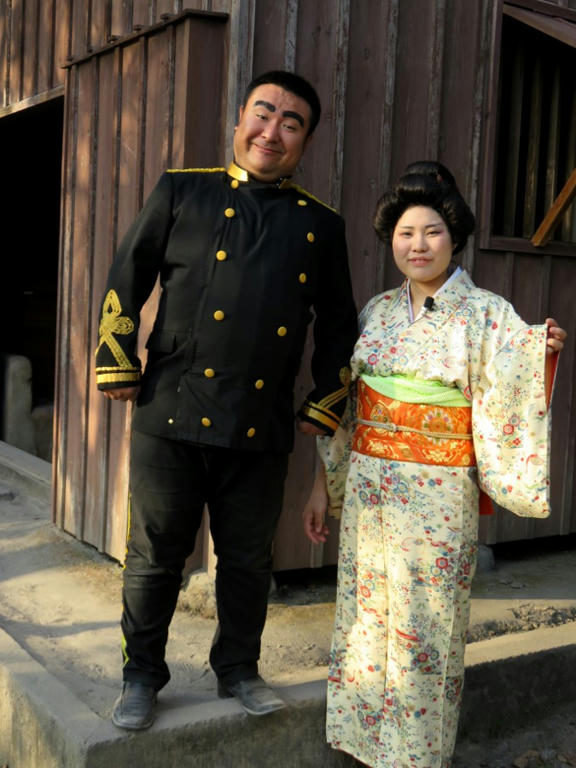 (Saigo and Atsu-hime)
There's a little 3-person stage show, with local legends Saigo Takamori, Atsu-hime, and one other guy whose name I forget and isn't pictured here. It's a comic, semi-historical bit that I saw last year. I think the actors may be doing the same bit this year, too.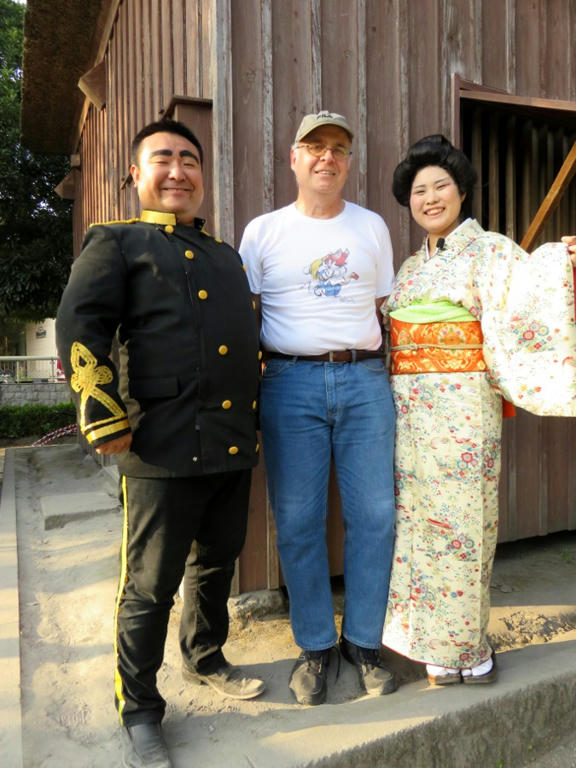 People keep insisting on taking my camera to get me into the shot. I don't know of a graceful way to avoid this... I was slouching down a bit, because I didn't want to tower over the actors too much (in real life, Saigo was a very big man).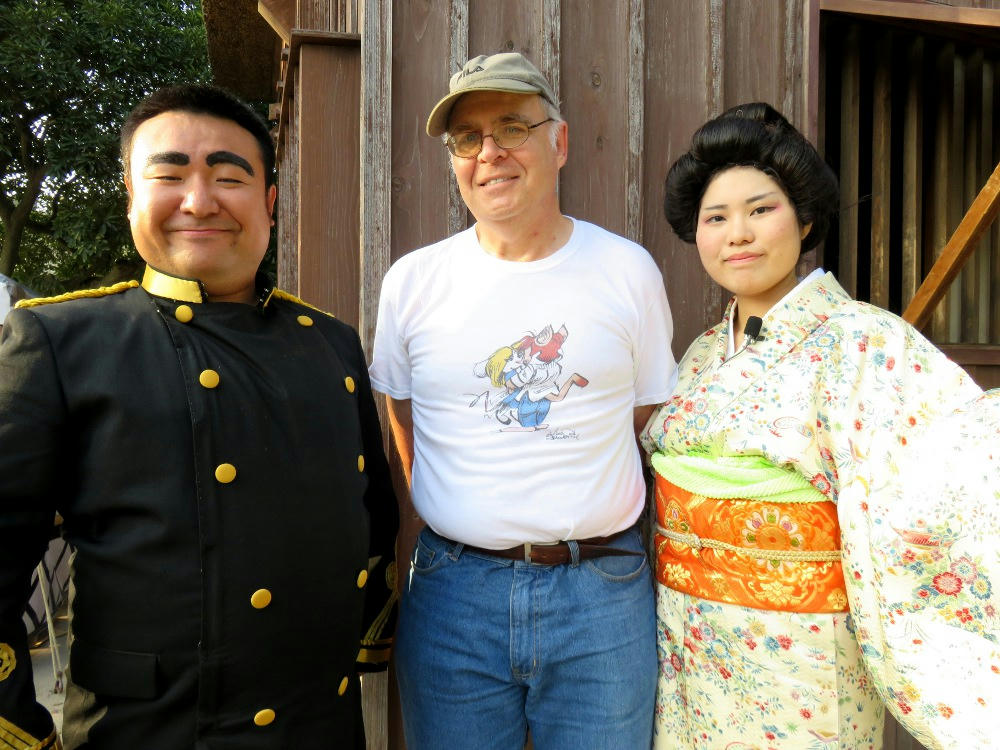 As Mama's Fair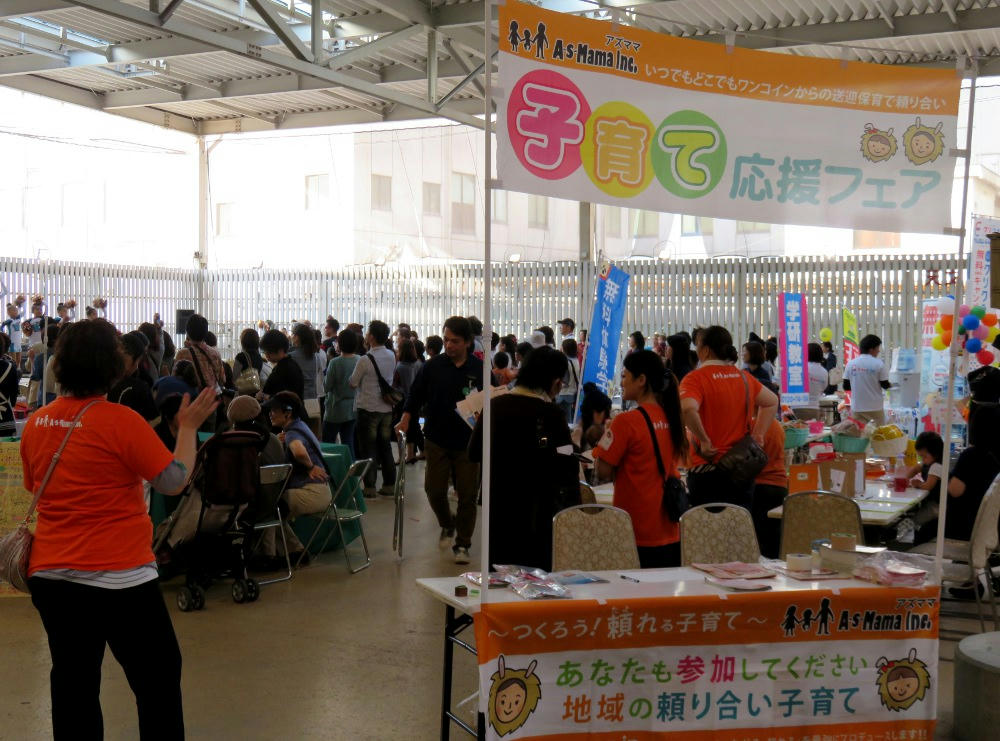 Back at the Lotteria space on Sunday (I said they were busy - three days, three different events) they had something put on by
AS Mama, Inc.
I think part of the services they offer is babysitter referral. There were at least 100 visitors when I got here at 3:30.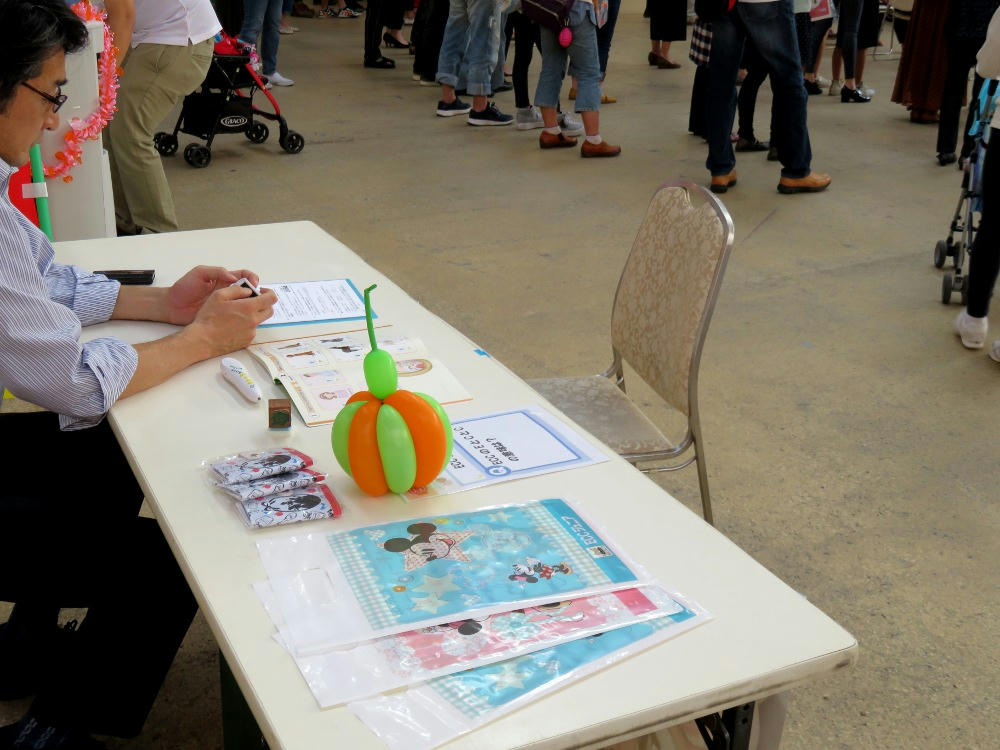 One of the tables was run by ECC, which is an event-based English school (they have English events for Halloween, etc.) The guy here had a lot of free time, since all the parents wanted to watch their kids performing on stage.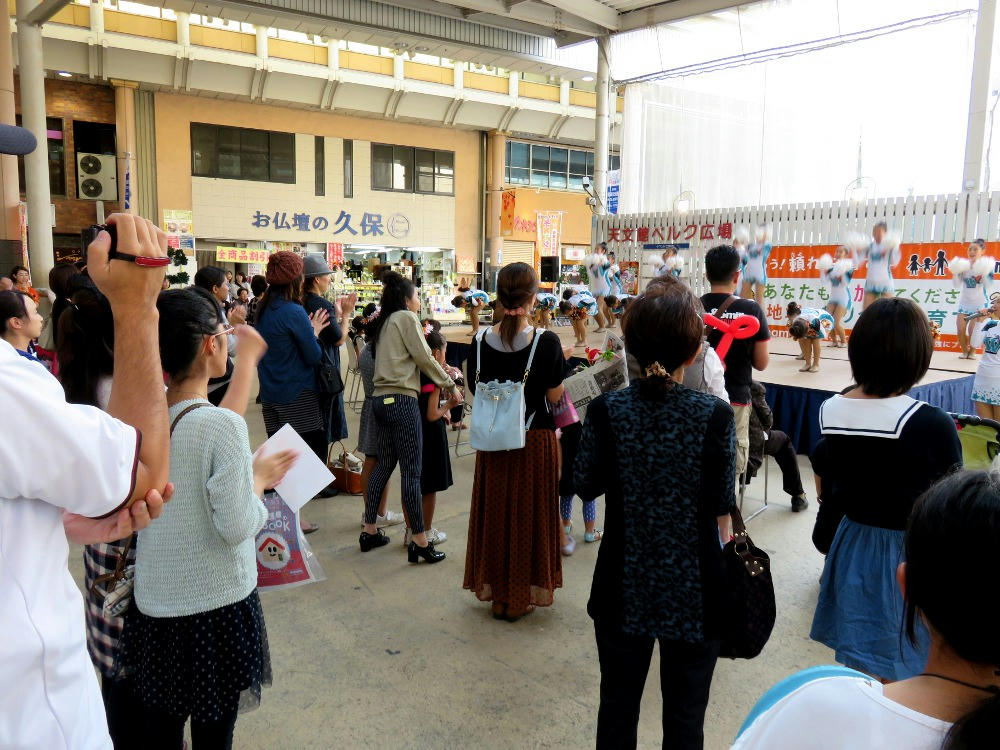 There were a couple groups of young kids dressed up as cheerleaders and dancing to "
Mickey
". The parents were all very proud of their kids.
Zubaiyoka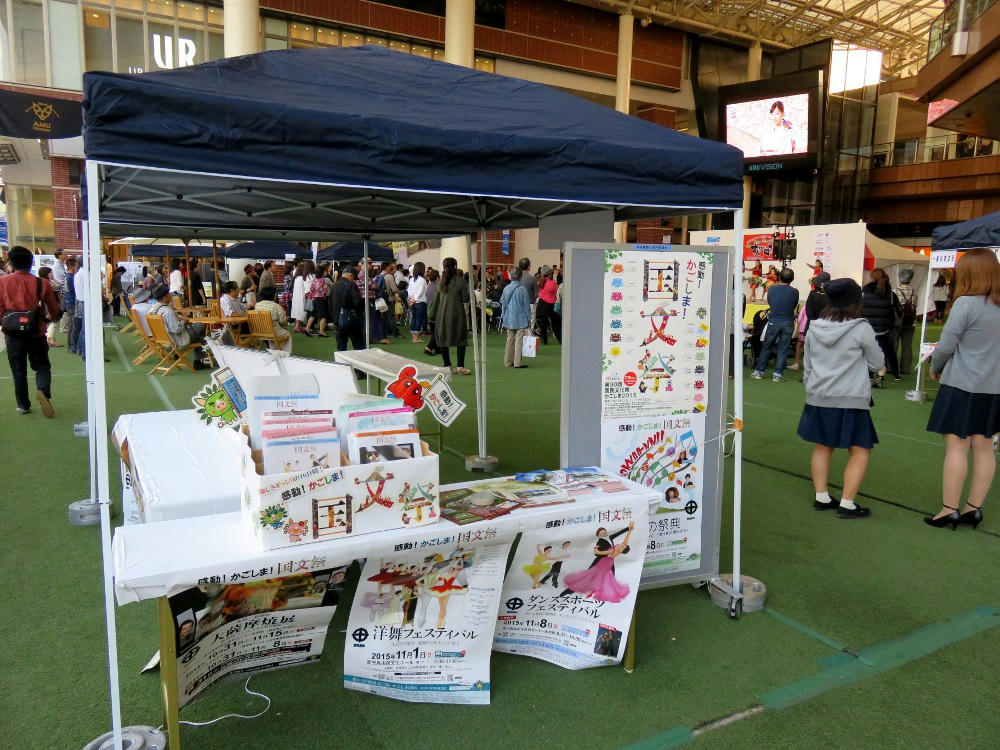 Because the Furusato event at the river was winding down, I continued up to Amuplaza, where they had the Zubaiyoka fest. I assume this word is part of the local Kagoshima dialect, but I don't know what it means. The poster at the back of the stage says that the local shops are trying really hard to survive, so maybe this is just a merchant fair. They had some food booths, the stage, several aquariums with tropical fish, and the above booth here. There's a different event running from Oct. 31st to about Nov. 15th, called the Kokubunsai, which translates roughly as "National Cultural Activities". The booth has fliers for Noh theater, ballet, opera, ballroom dance, and karuto (a Japanese card grabbing contest). Some of these cultural events are too far away for me to get to, others cost money, and others are on days when I have to work. The karuto event is next Saturday and Sunday, along the streetcar line, and it's free. If possible, I'd like to see that next Sunday.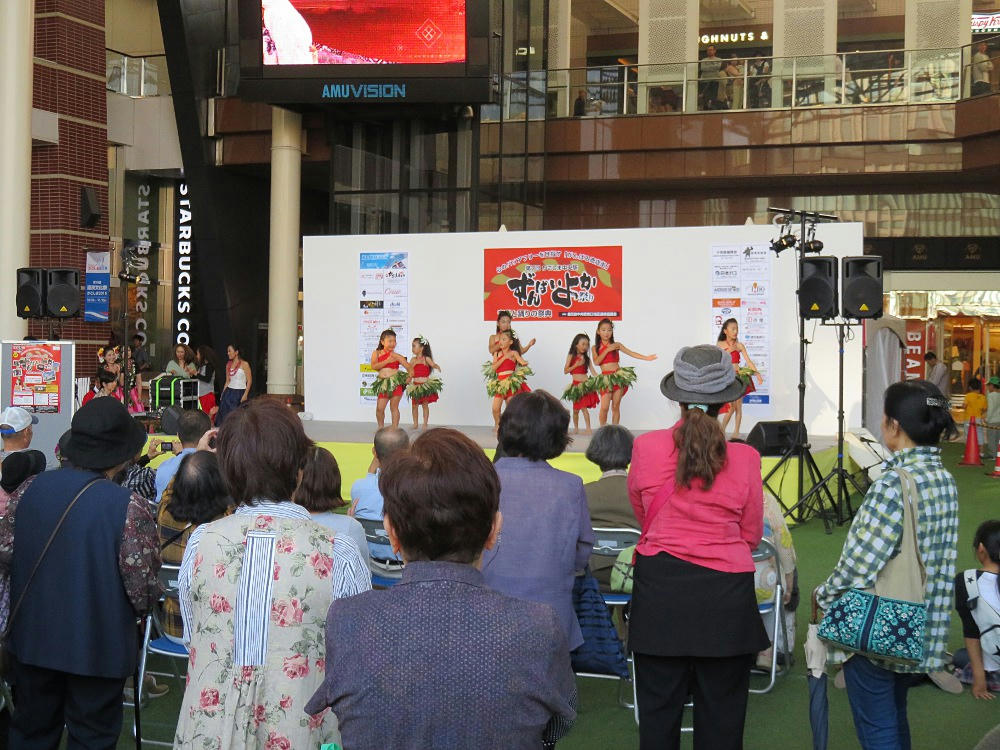 The first few events were children's hula dancing.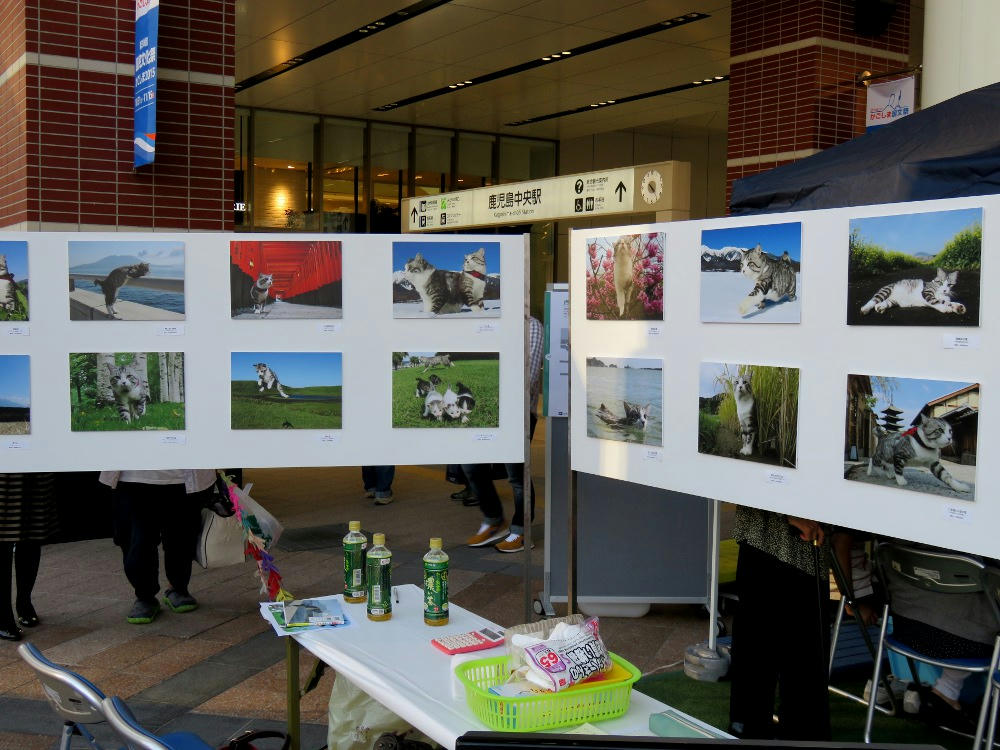 One of the tables had photos of cats, and books of the photos available for sale. My understanding is that the cats like to travel and pose for photos at different locations around Kagoshima.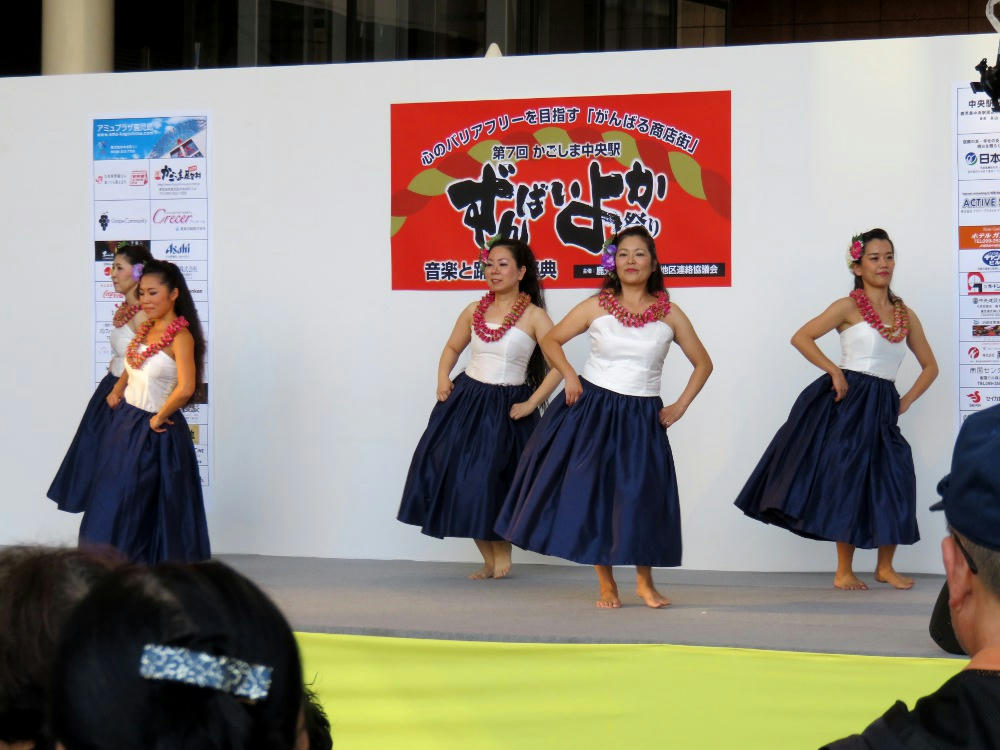 More hula. I went downstairs for free sample coffee at Kaldi and wandered around in the department store for a while. I returned to the plaza, where the Shiranami company had free samples of shochu, which is always good. Then, some local radio people that I've seen before tried to entertain the crowd until the next stage act came up at 5:30 PM. The two guys aren't that good, but they never let on that the lack of a crowd bothered them. I spent the time watching music videos on the jumbo screen behind them. The one video that caught my attention was
Crazy Party Night
by Kyary Pamyu Pamyu. Not great, but still weird..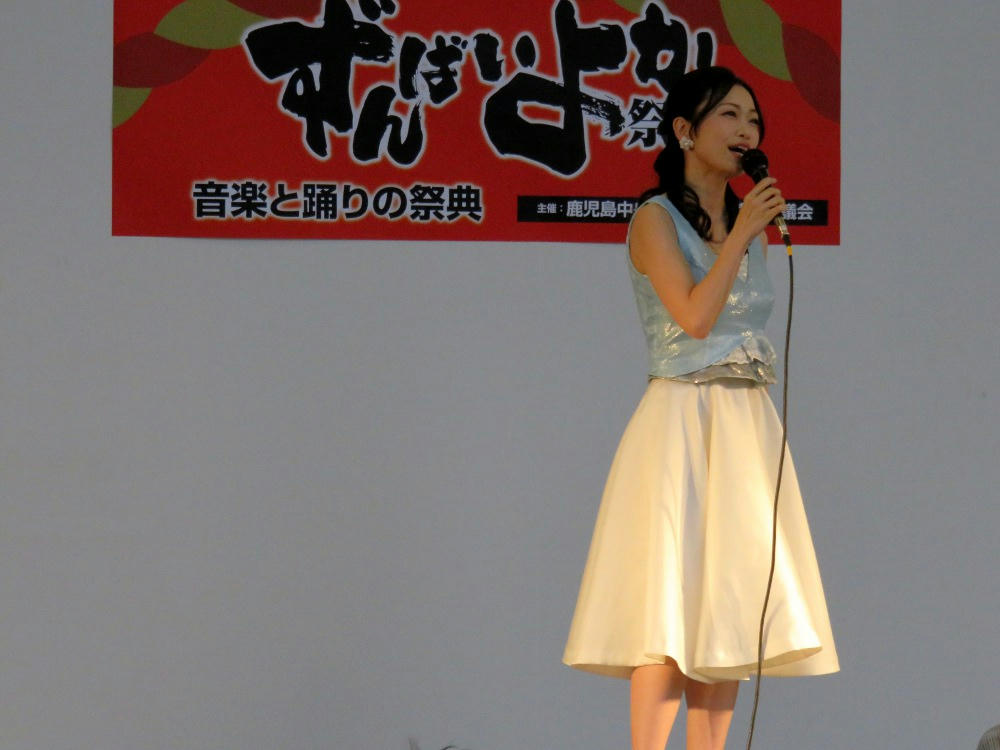 The 5:30 act was
Ai Nishida
,a local Kagoshima singer. She's sponsored by Tower Records, so I didn't bother trying to record her (youtube would just block the video as being copyrighted material). She just did some karaoke songs, so I took a couple photos and headed back home.