Wednesday
Time to group various smaller impressions of the Christmas Market into one post. I wanted to try getting some photos for the blog on Wednesday, so I went to Amu Plaza around 6 PM, just after Ichika finished her set but before the Harada Beauty School started their fashion show. I entered the department store to kill some time, and when I came out, the fashion show had already wrapped up. There were a few people standing around in strange outfits, but nothing I wanted to take pictures of. It had been threatening to rain all day, and was just beginning to drizzle, and since I hadn't brought an umbrella, I headed home. I had other things I needed to do in the apartment, so I didn't have the option of staying out late this time, anyway.
Thursday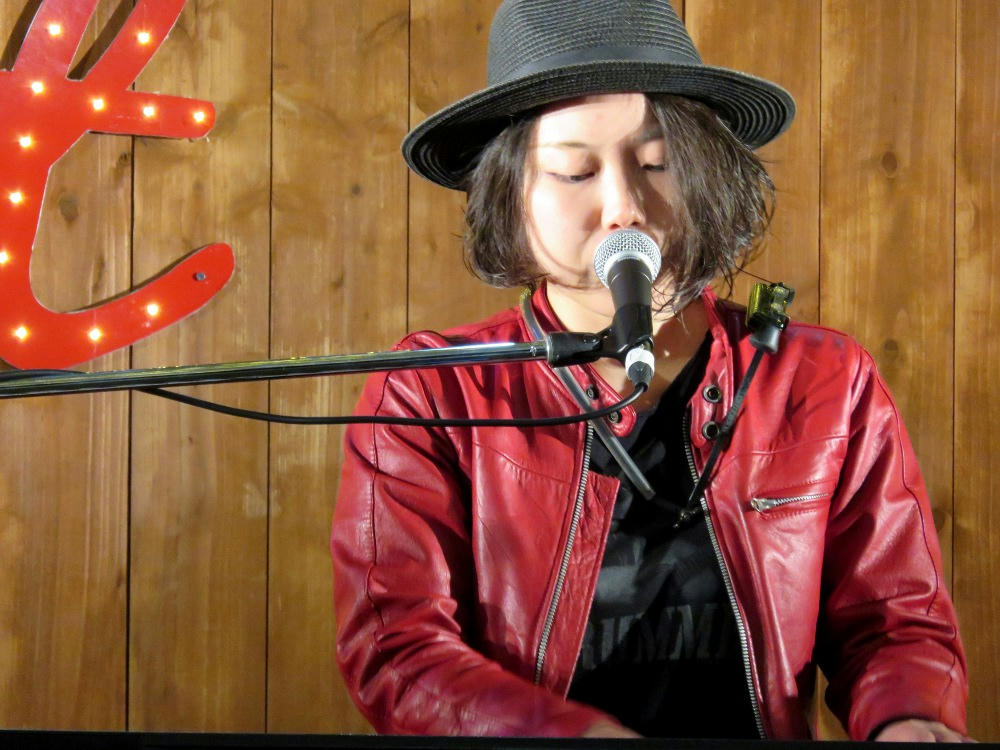 Having access to the online schedule, I now have an idea what to expect each day. If there's a name I don't know, I can copy-paste it into google and possibly find some youtube videos for them. This doesn't always work, though. A case in point is
Ichika
. I was getting a lot of hits for the wrong channel on youtube, so I wanted to head up to Amu Plaza before dinner on Thursday and try catching her show at 7 PM. I got there early, and spent too much time inside the store trying to figure out a metal 3D puzzle I'd bought along the way. When I finally finished that, it was after 7. I returned to the plaza, and Ichika was on stage, announcing her next song, "1-2-3". The problem was that there were only 3 or 4 people at the tables watching her, and she was obviously struggling to not look frustrated during the set.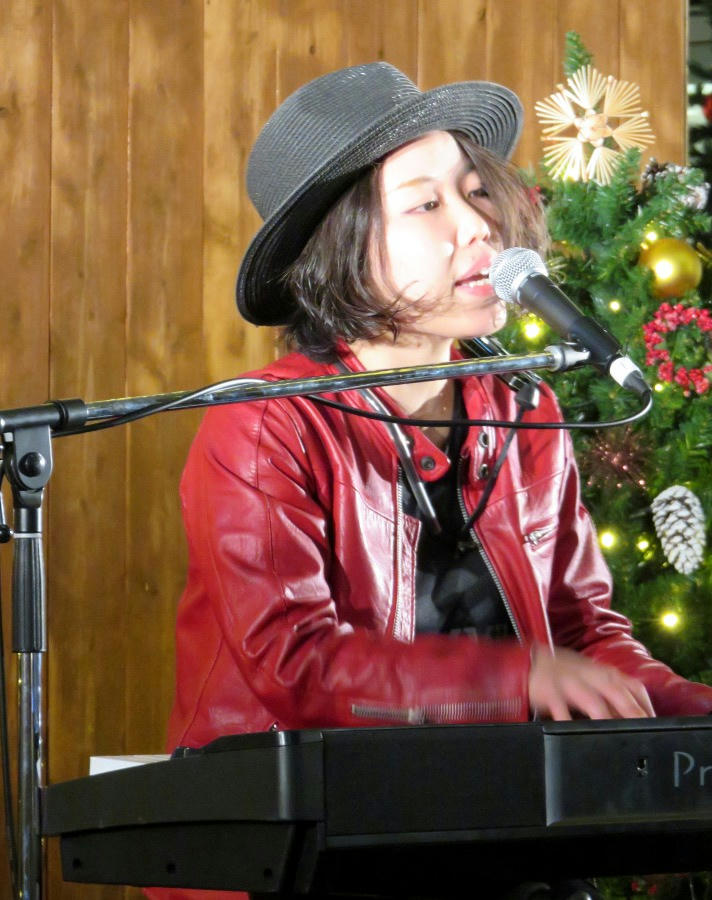 Looks like her debut album came out from Tower Records last April, and Tower is trying to push the CD while not really working that hard at promoting her. Her website mainly lists a few appearances at Caparvo Hall in Kagoshima, and there's no mention of the three sets at Amu Plaza this week. She does light J-pop and folk music, and she sang pretty well while I was there. But, because the Tower guys were watching me like hawks, and her songs are copyrighted, there was no point in trying to video her for this blog. I hope her live shows at Caparvo attract larger audiences.
Friday
I'm writing this part at 12:30 PM on Friday. As of this instant, I don't have any particular interest in the groups listed on the Amu Plaza Market schedule. But, I am kind of playing a game with myself, and I'm going to describe the results here. Basically, I'm trying to see how much information I can pull up just given the names on the
schedule
(made easier by the fact that I can copy-paste them from that page).
5 PM: Redy Luck
Billed as a "sports dance team", this group of 4 women and one young girl are essentially cheer leaders.
6 PM: Harada School Sound Class
Hard to tell with this one. Harada is a big career training school in Kagoshima, and in a way it's like a brick-and-mortar version of the University of Phoenix. They've got a multi-media training program focused on movies and TV, but there's nothing from their website that is specifically aimed at music.
7 PM: Yama-Ken
Again, hard to tell. There are a couple of hits on Yama-Ken playing at Caparvo Hall in Kagoshima, but there's no artist profile or promo photos. One location was billed as a blues bar, so maybe it's a guy that plays folk-blues.
8 PM: Dears
Nothing coming up specifically for a performance group in Kagoshima. I'd assume that this is an idol group ala Southern Cross and Seven Colors. If so, it's a group of girls that dance and sing to someone else's music, making it problematic to upload videos of them to youtube.
9 PM: yamabuki cinema
Funny. This is the one group that actually links to the almost impossible to find artists page on the Amu Plaza website. The description is "music made by a 5-person band consisting of problematic personalities." Not really useful...
(From the artists page, I now know that Harada School Sound Studio is only listed as "Sound Class" (with an ad for the school's music composition program); Yama-Ken is described as a one-man guitarist; Dears is a "beautiful band currently focusing on an acoustic Disney sound)"; and Redy Luck is the cheer leading group for the Kagoshima Renova pro basketball team.)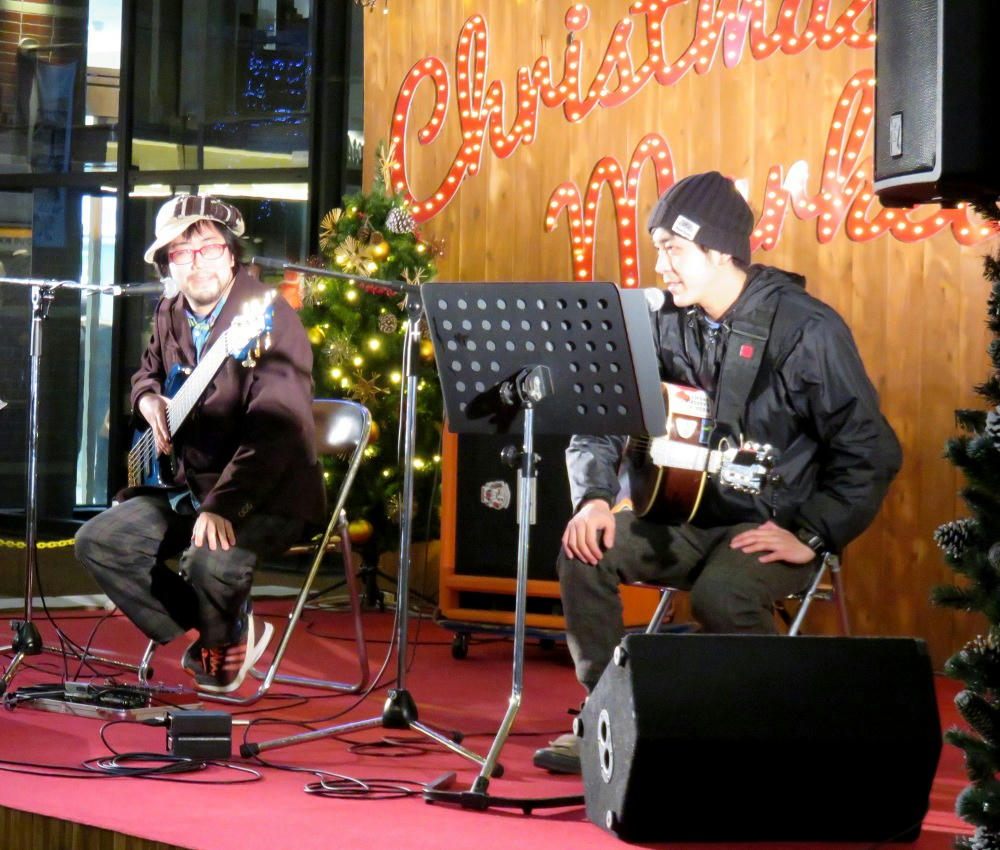 I had to work Friday until 7 PM, and I needed to go home for dinner. I didn't get back out until 8:30, by which time Dears had been long off the stage. I hung around until 9 to see what yamabuki cinema sounded like. This time, it was just Yuuki Yamashita on vocals and guitar, and Taka Okuyasa on bass. They started with a falsetto voice version of The Carpenter's "Close to You", and then went into another pop song. Again, copyrighted music that would be rejected by youtube. I tried getting a few photos for the blog (difficult because of the harsh lighting) and then returned home for the night.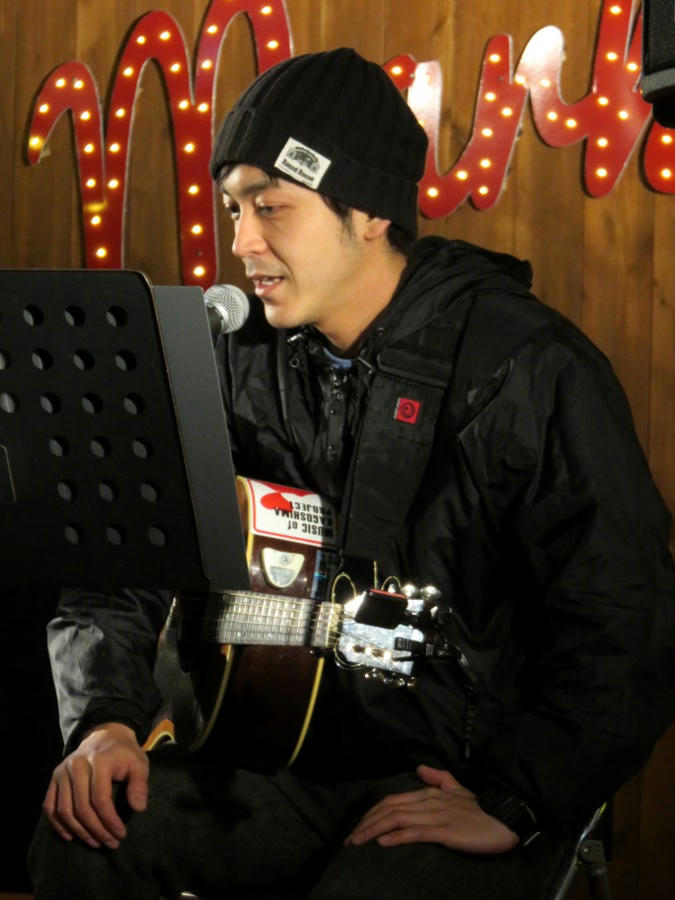 (Yuuki Yamashita)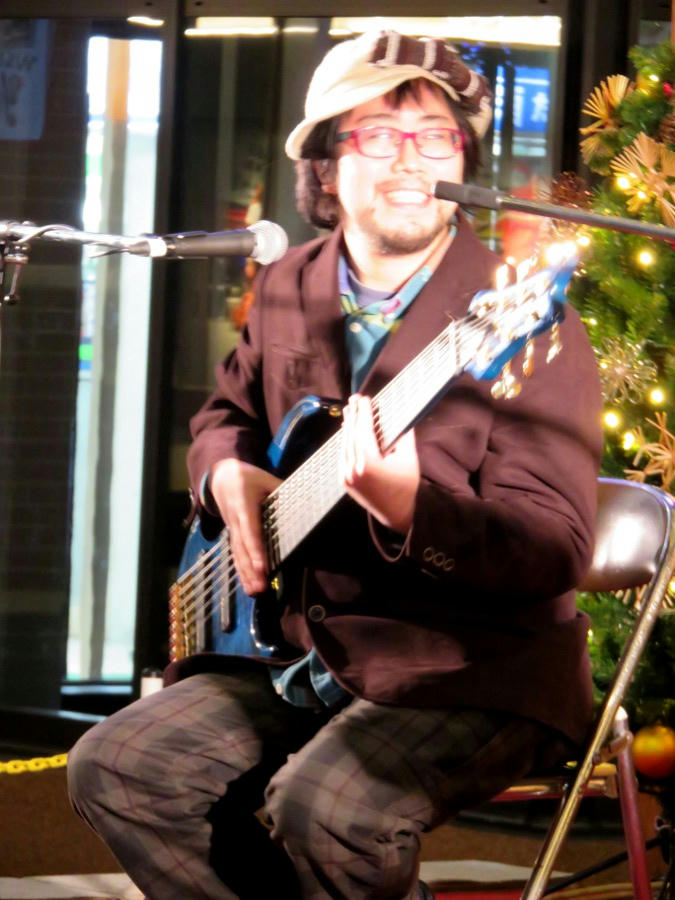 (Taka Okuyasa)
Saturday
I had to work all day and couldn't get to Amu Plaza at all. However...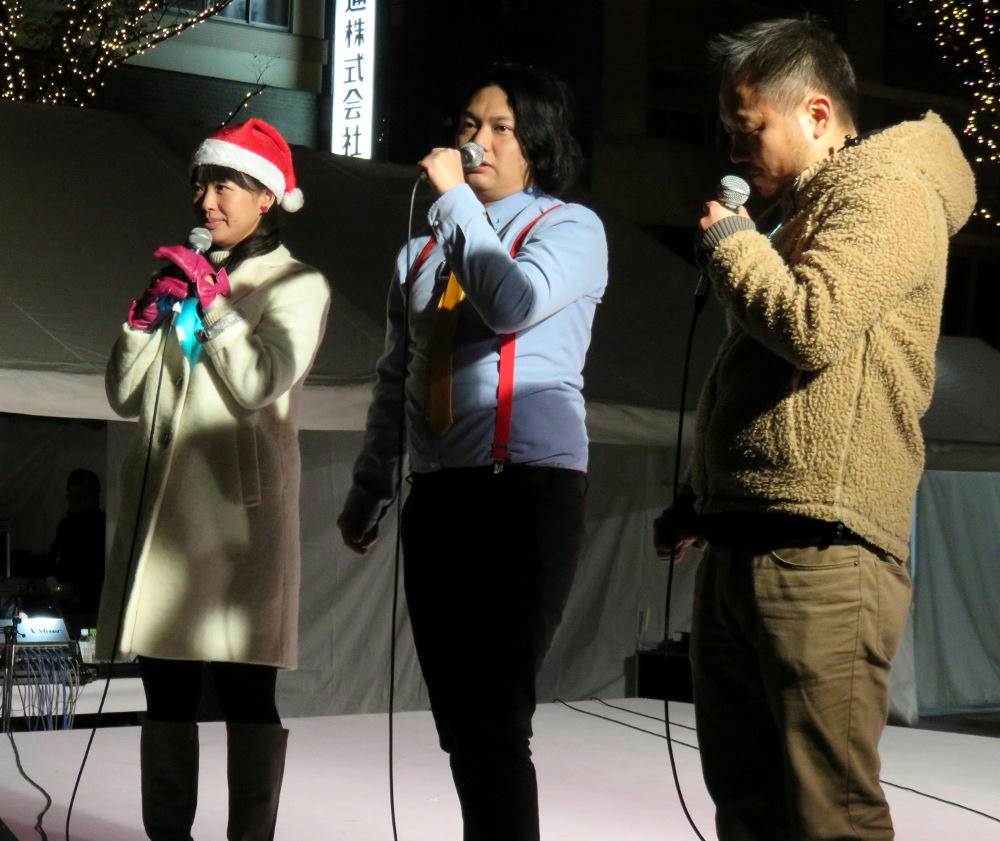 In the middle of the afternoon on Saturday, at about 5 PM, there was this really loud sound that starting coming through the windows at the front of the school. I asked the owner what was going on, and he went outside to check. He returned a few minutes later to say that
Mu FM radio
was running a street dance party at the boulevard in front of City Hall, and that he couldn't find out what time it would end. It was infuriating to know that I wouldn't be getting out of the school until 8:30, and every so often the noise would quiet down and I'd wonder if they'd shut down already. Finally, the last lesson ended and I headed outside.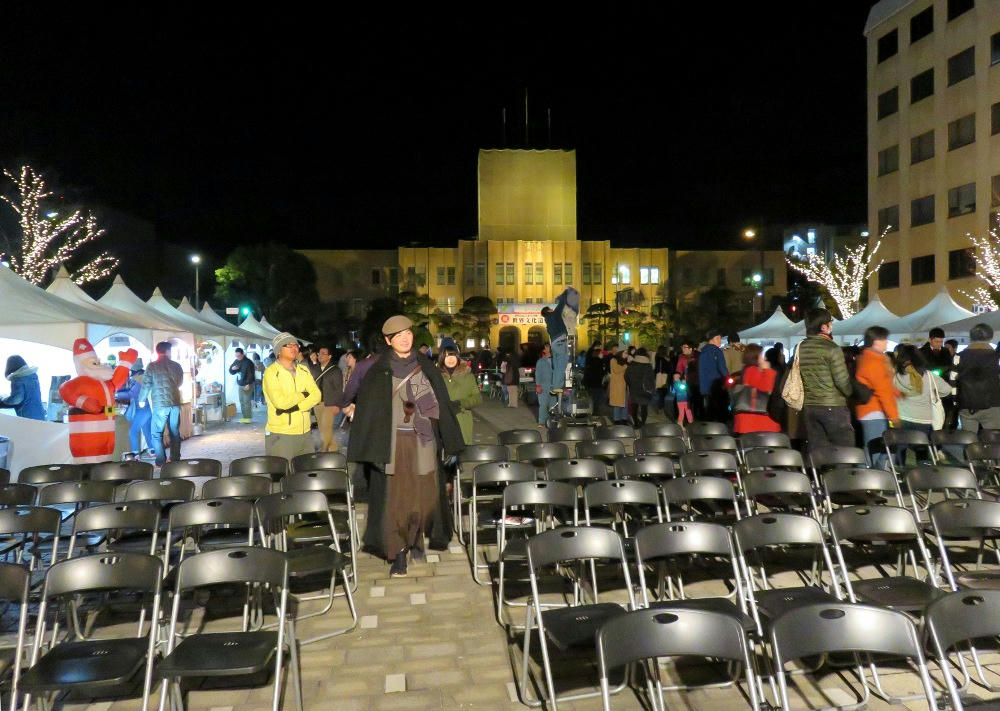 (Apparently, the guy standing in the middle of the aisle is Mu FM's cameraman.)
I could still hear sounds coming from a block away, and as I got closer I discovered that yes, the event was just wrapping up. Some of the tents (food, alcohol, advertising for a car dealership, craft goods) were already being dismantled, and the MC and two of the local comedians were thanking everyone for coming. My main reason for dropping by was to check whether the people I know at Mu FM were there, and they were. The MC was Yuki Arima, the woman that interviewed me in November, and the two comedians had been at the Halloween event; I'd danced with one of them on stage at the end of the night. I'd also sent all three of them messages on Facebook. After everything finished, the three of them headed to the support tent, then Yuki came out to talk to the fans waiting for her.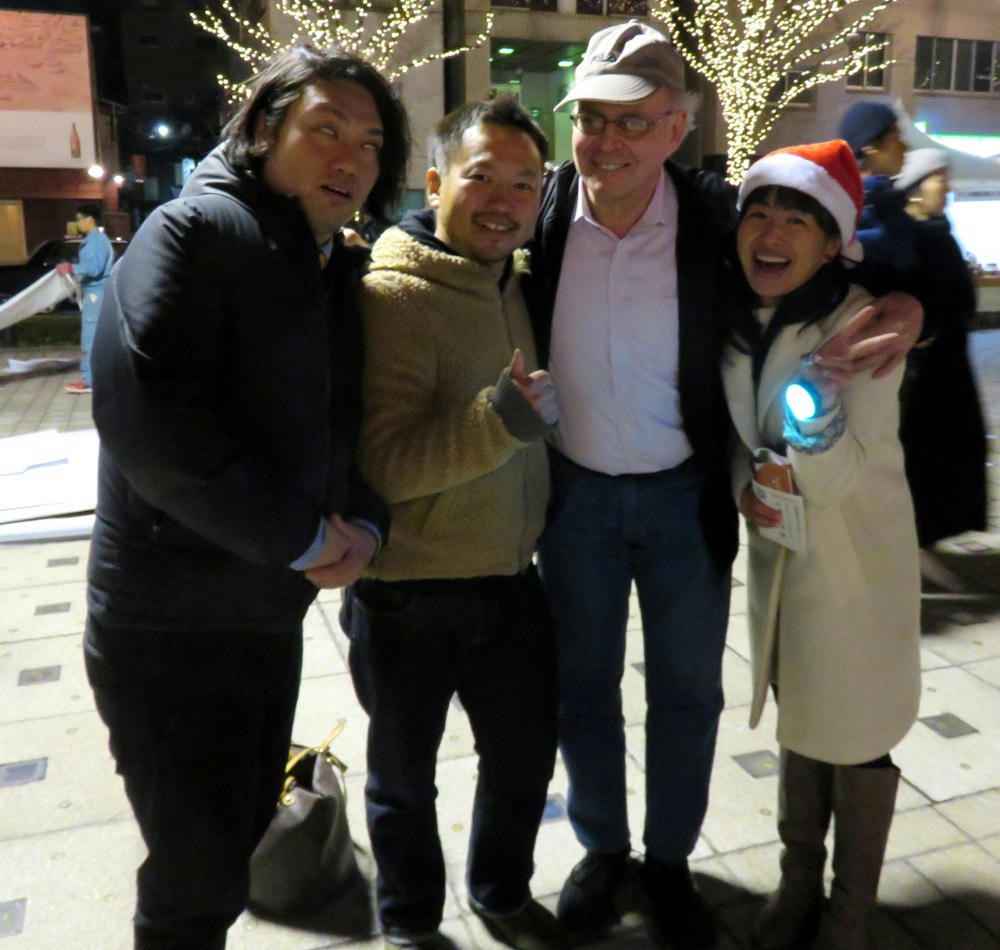 Meanwhile, the majority of the attendees stood in line to get autographs from three members of one of the bands that had performed earlier (I think it was
Berry Goodman
.) After the fans left, Yuki recognized me and we talked a bit before she had to return to work. The event flier lists the two comics as
Party
, so that's what I'll call them until I can get their real names. Party was coming out of the support tent and they appeared to remember me from the Halloween dance. I figured now was a good a time as any to get a group photo, so Party waved Yuki over and one of the station people took our pictures. After that, I went home for dinner.