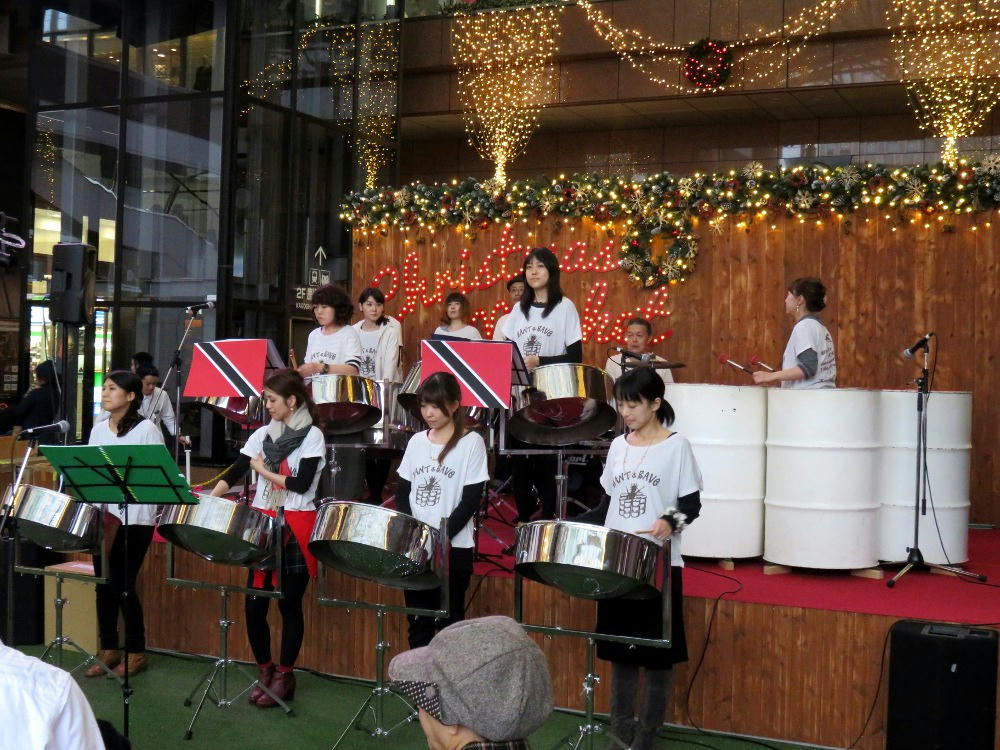 I didn't have to work on the 23rd, but on the other hand there wasn't anything I wanted to see at the Christmas Market until 4 PM. The first show was Rant and Rave, a steel drum orchestra. I'd seen them before, back in
June, 2014
. They're good, but the big camera had trouble adjusting to the sound levels, and I think it cut the base out after the first second or so of the recording. I don't think that's happened before, and I really hope this isn't going to be an on-going problem.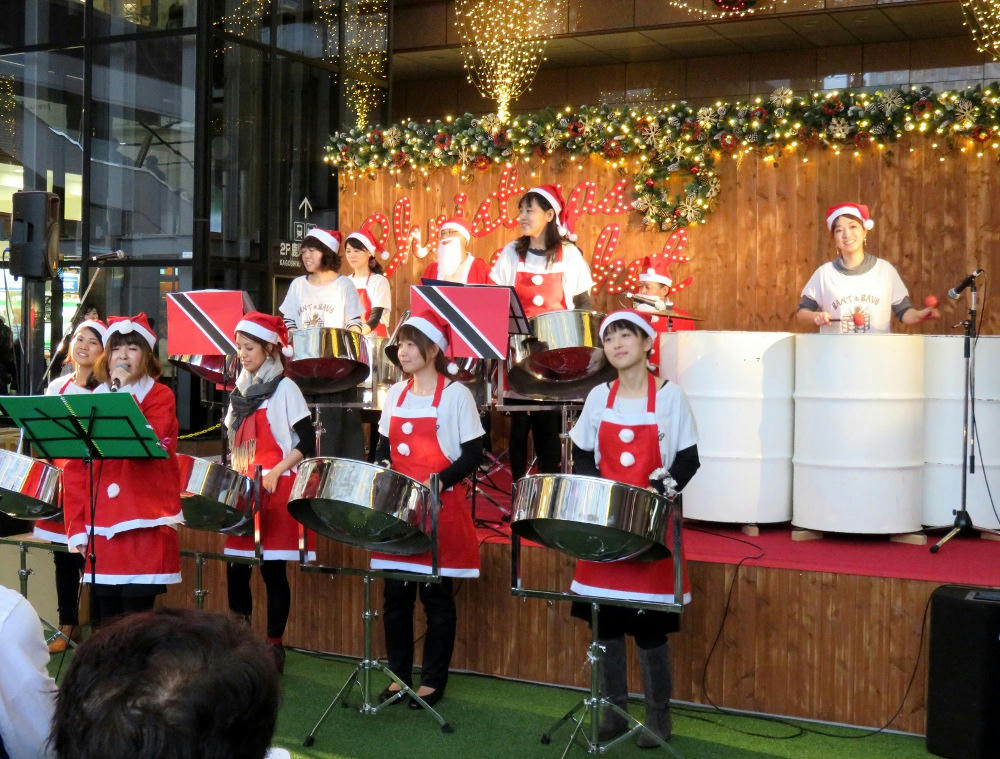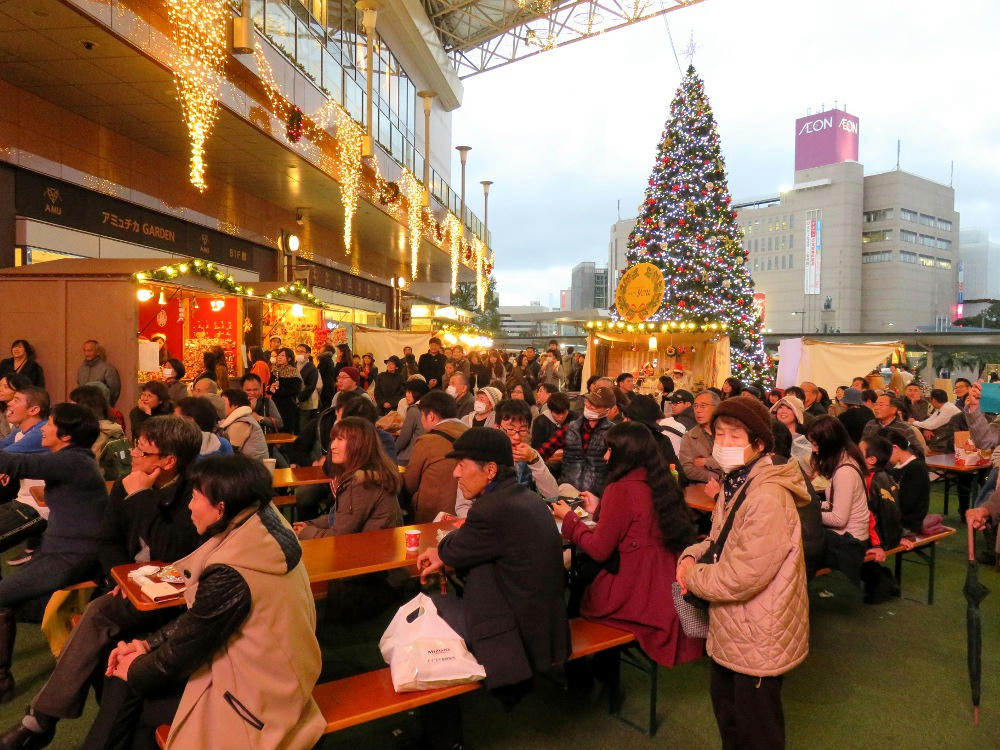 (It was a good crowd, for a Wednesday, and the fact that it had been raining all day.)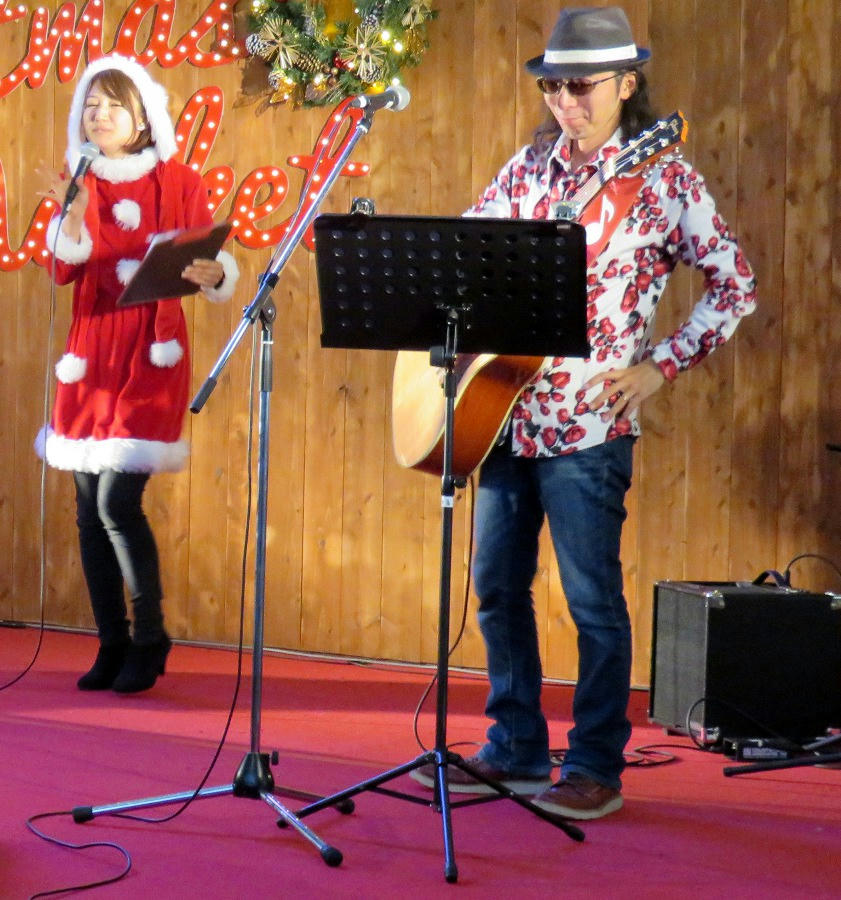 (The MC was from MBC, and the guitarist is backing Jimmy.)
At 5 PM, we got
Jimmy Irieda
and Triangle. Jimmy is a local personality on MBC Radio, and supposedly does doo-wop. He has a decent falsetto vocal style, but he seems to focus more on the visual element of his act than on the audio side. He had a lot of fans at the show, though, so he is popular. I just hung around to get a few photos, then I went home for dinner.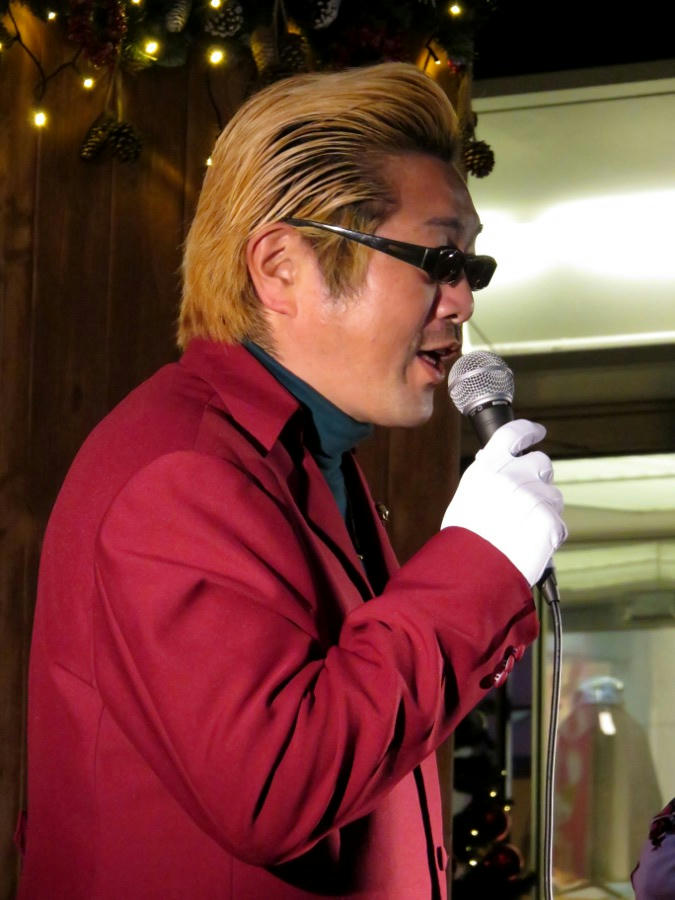 (Jimmy)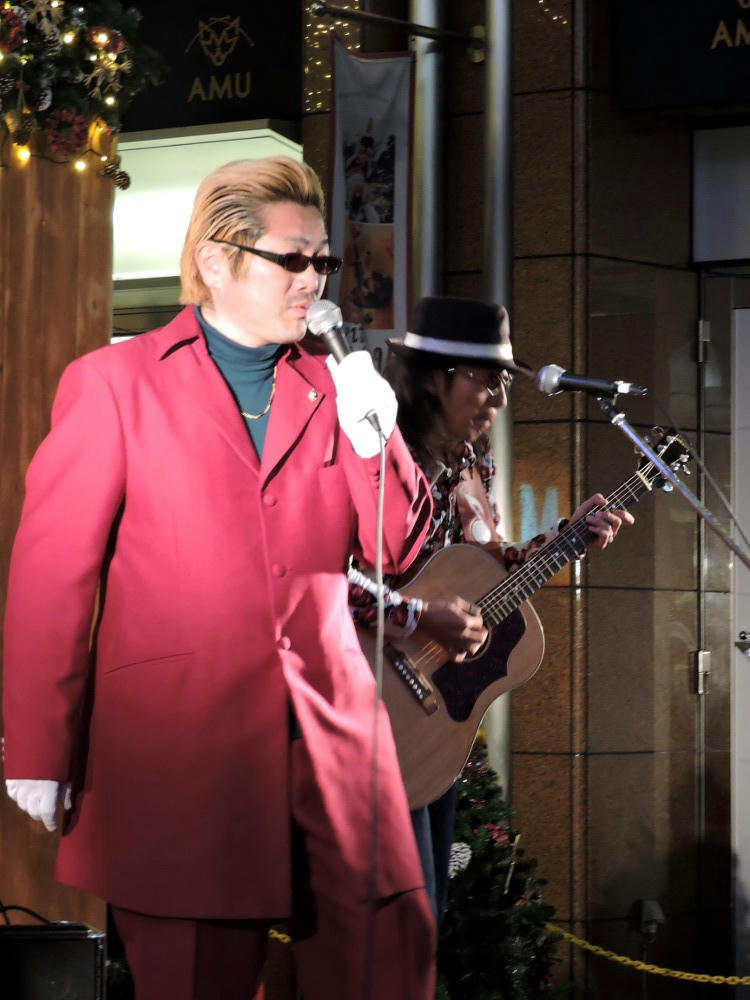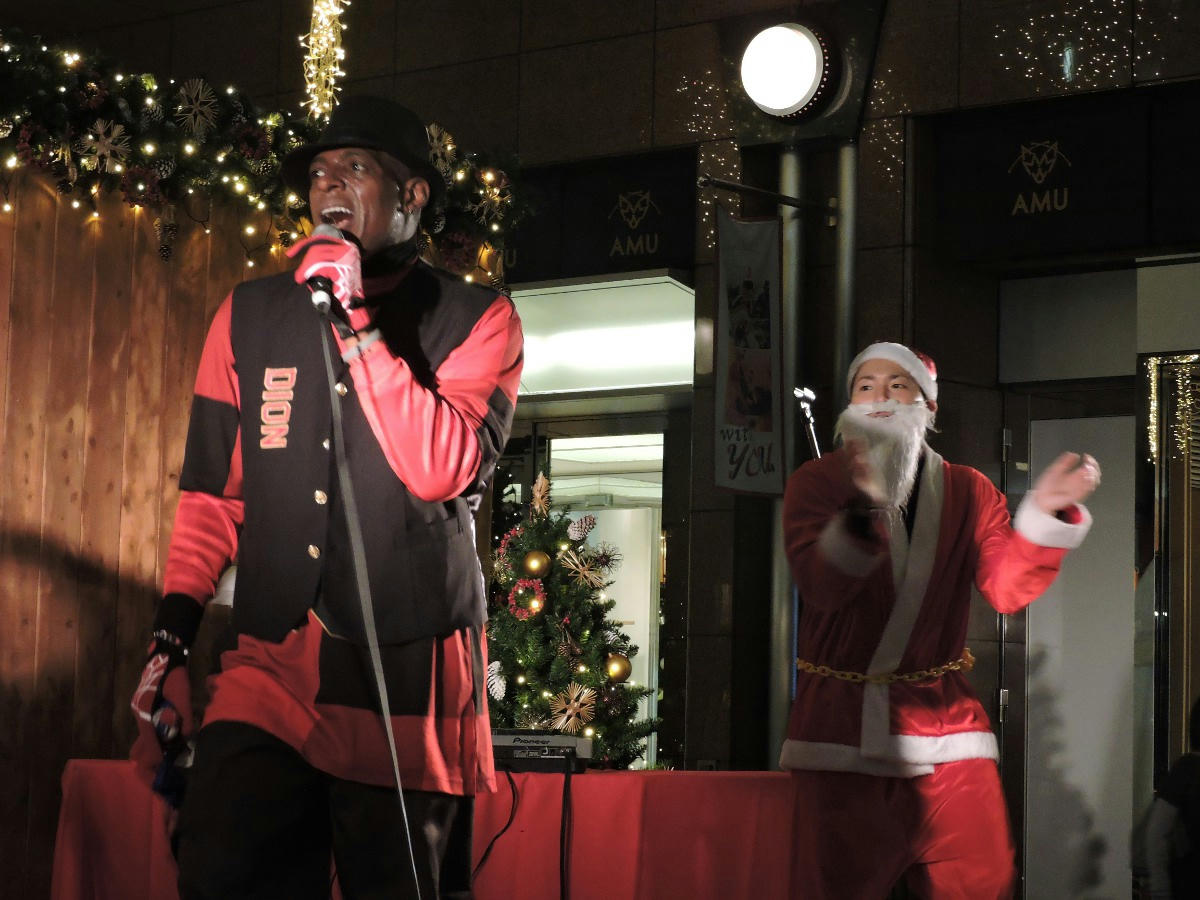 I came back at 8 PM, when Dion was getting ready for his second set. Christopher Dion is from the U.S., and apparently worked at Cisco Systems up until a round of layoffs 2 years ago. He then moved to Nagoya, where he's been working as a producer and singer. His set was all covers (Happy, YMCA, Uptown Funk), but he rocked the crowd and I stuck around for the full thirty minutes. After the show was over, I talked with him for a few minutes, then he had to go back to his hotel. Anyway, I liked Dion's set the best out of what I saw during the day. He's got energy, personality and he can dance.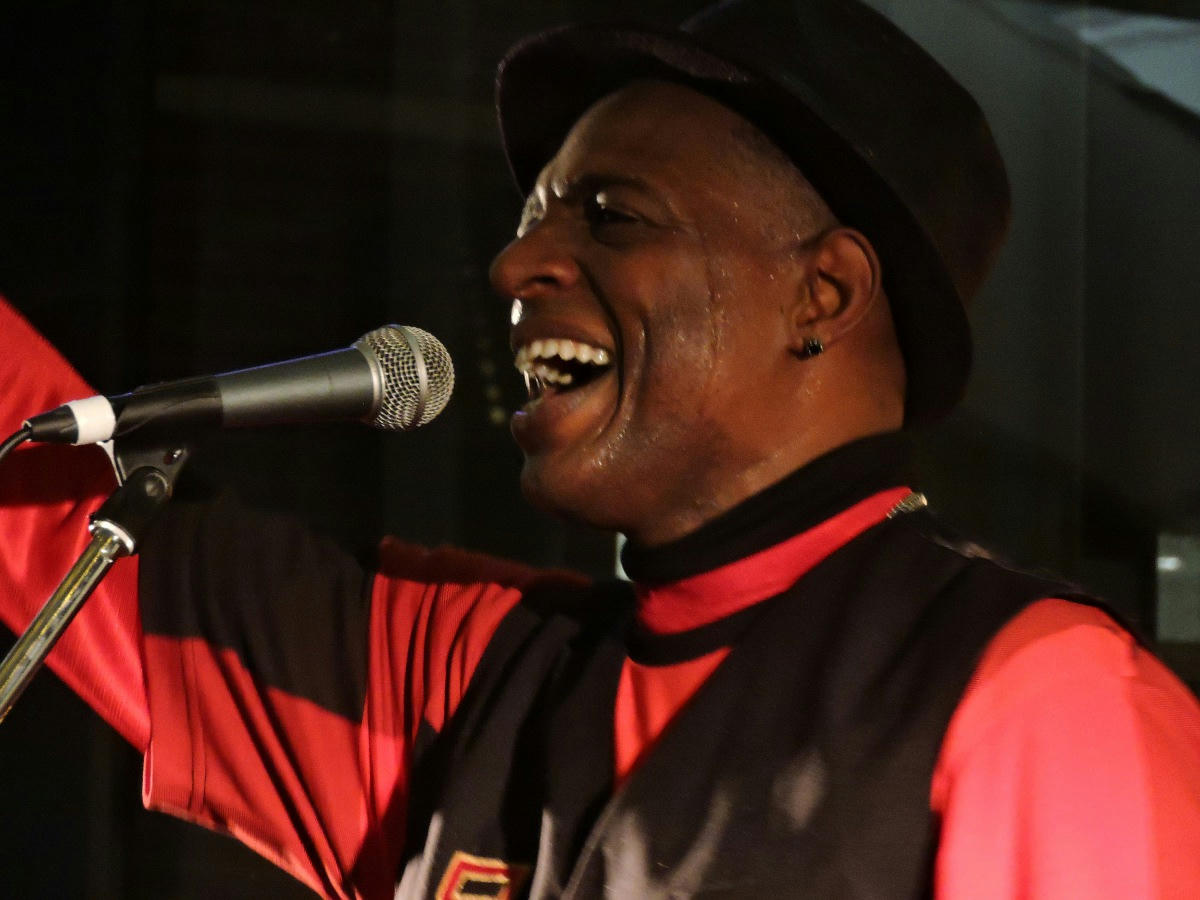 Dec. 24th and 25th
I went up to Amu Plaza a little early to catch Bon DX's 3 Pm and 4 PM sets. Because Bon always performs the same 5-6 songs every time, I decided that I wasn't going to make duplicated youtube videos, or take that many photos. Instead, I just set the big camera up to make a static video to put on a DVD-ROM to give to Bon later as a souvenir of the show, and then sat back to enjoy the music. Dion arrived just before 4 PM because I'd recommended the band to him, and we talked a bit. After the second set was over, I returned home. I'd wanted to come back for Dion's 8 PM set that night, but the family had our Christmas Eve dinner at that time, and I missed both the 7 and 8 PM shows. Oh well. Maybe I'll see him again the next time he comes back to Kagoshima. I have to work part of this afternoon, and then I'm going out to see the seasonal illuminations, so I'll miss everything for today, too. And then the Christmas Market will finish and that will be the end of the event for this year.
Direct youtube video