The lights had been set up on the trees along the boulevard in front of City Hall a couple weeks ago, but on Saturday the local merchants had their Illumination Bazaar to celebrate it. I'd just gotten out of the school for the night at 8:15 PM and was getting ready to go to Tenmonkan when I heard music coming from the opposite direction. Thinking that there might be an event at the boulevard, I decided to swing by and if there wasn't I'd just turn around again. The boulevard is only a short block away and I quickly saw the edge of a tent as I crossed the street. Unfortunately, the bazaar was only scheduled to run from 4 PM to 8:30, which was pretty much my class schedule for the day, and things were wrapping up as I arrived.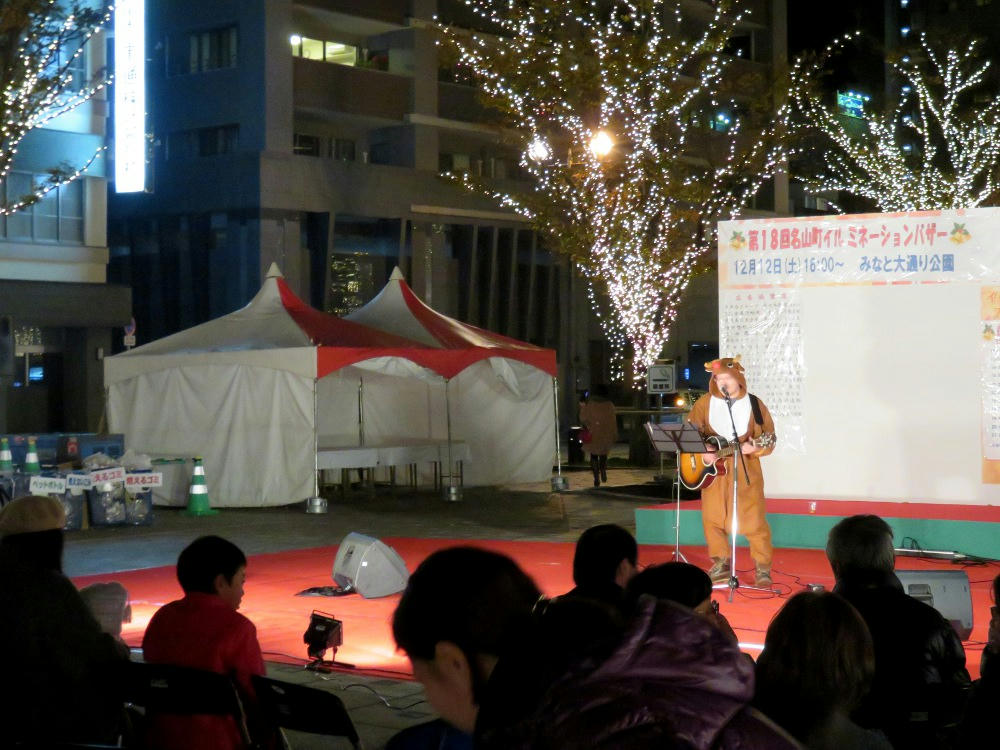 It was also just for the one day, which was a shame because I'd have happily come back on Sunday to get something to eat during the day. As it was, I knew that dinner was waiting for me in the apartment, and I didn't want to spend $4 just for a piece of chicken on a skewer at this point. So I settled for a cup of shochu and hot water for 200 yen ($1.80 USD). The guy at the booth took one look at me, smiled blearily and filled the 12-ounce cup all the way up to the brim. It was pretty good shochu, and I wasn't about to complain about the serving size (the same sized cup of beer, not to the brim, would have been 500 yen).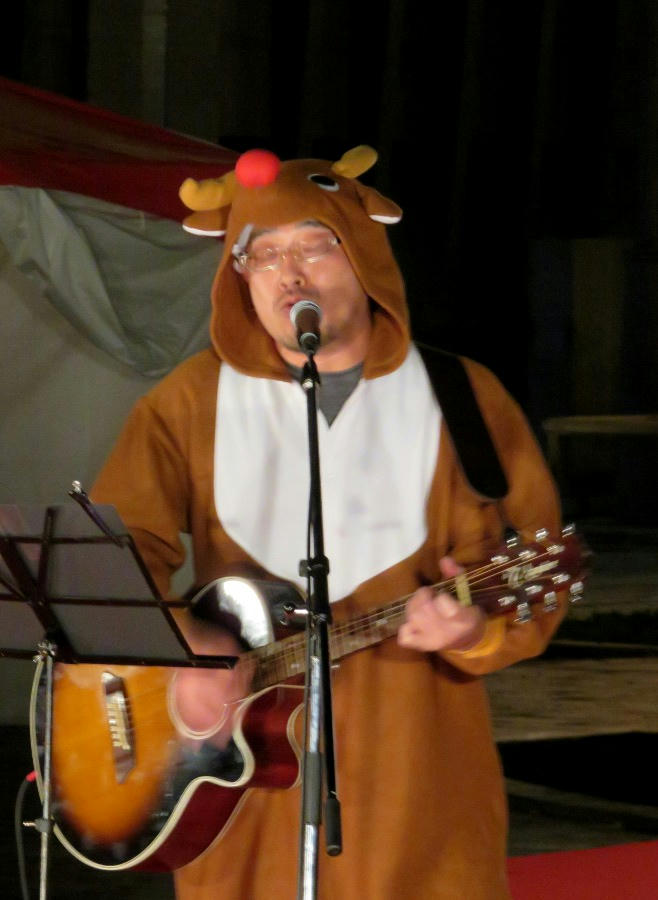 I didn't recognize the singer or the song. He was belting out something and the crowd was cheering him on, so they liked him, anyway. But, he was moving around too much and the camera kept blurring him. This is the best shot I could manage without using the flash.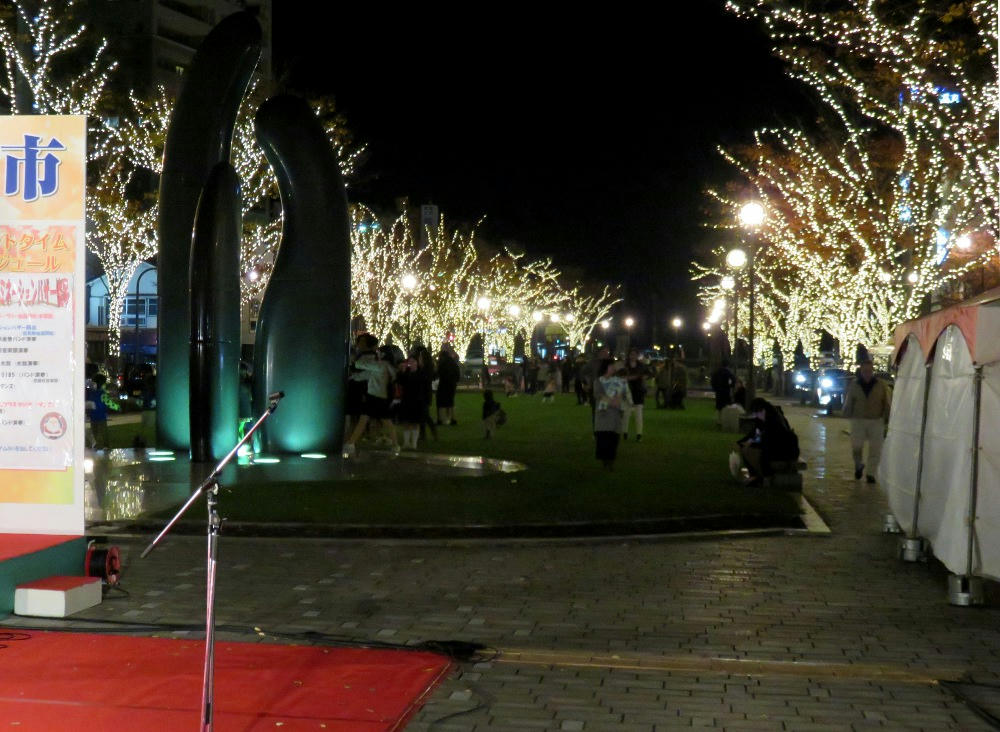 Quite a few people were looking at the illuminations and taking selfies.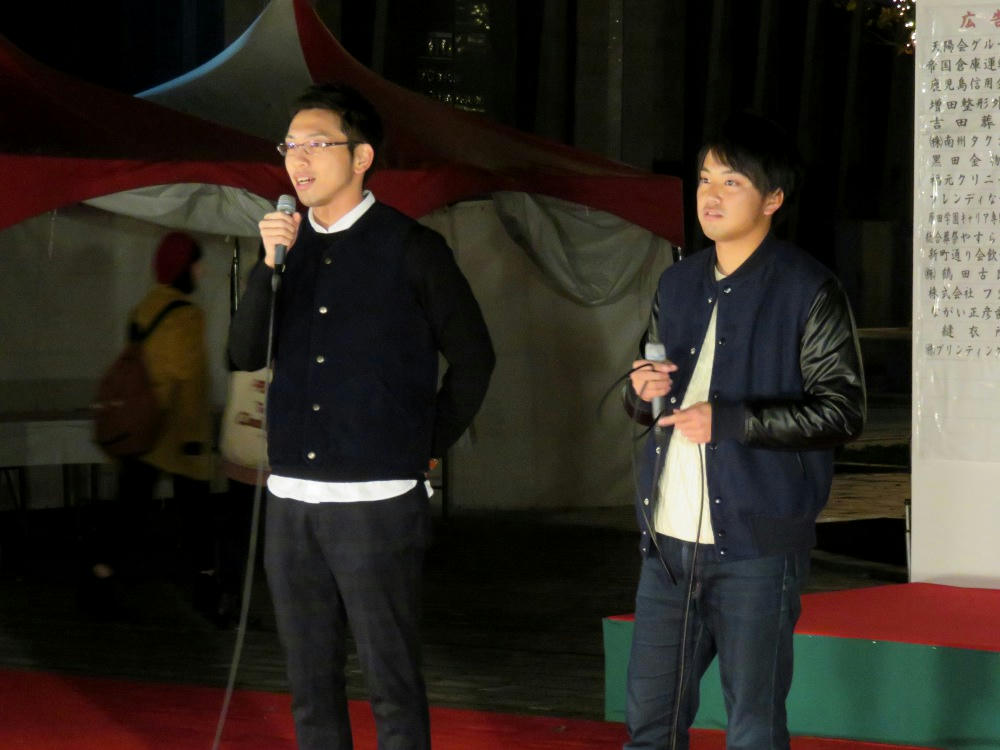 When the reindeer singer left the stage, some old guy took the mike to MC the show. He started out saying that this was originally supposed to be the end of the stage show, but there were two guys from NHK (the Japanese version of PBS) that wanted to sing, too. The audience applauded loudly, the sound guy put on a CD, and these two did a karaoke routine to the music. Again, I didn't recognize the song. It was some kind of J-pop. I finished my shochu and left to go back to the apartment. It was pretty decent shochu.