Friday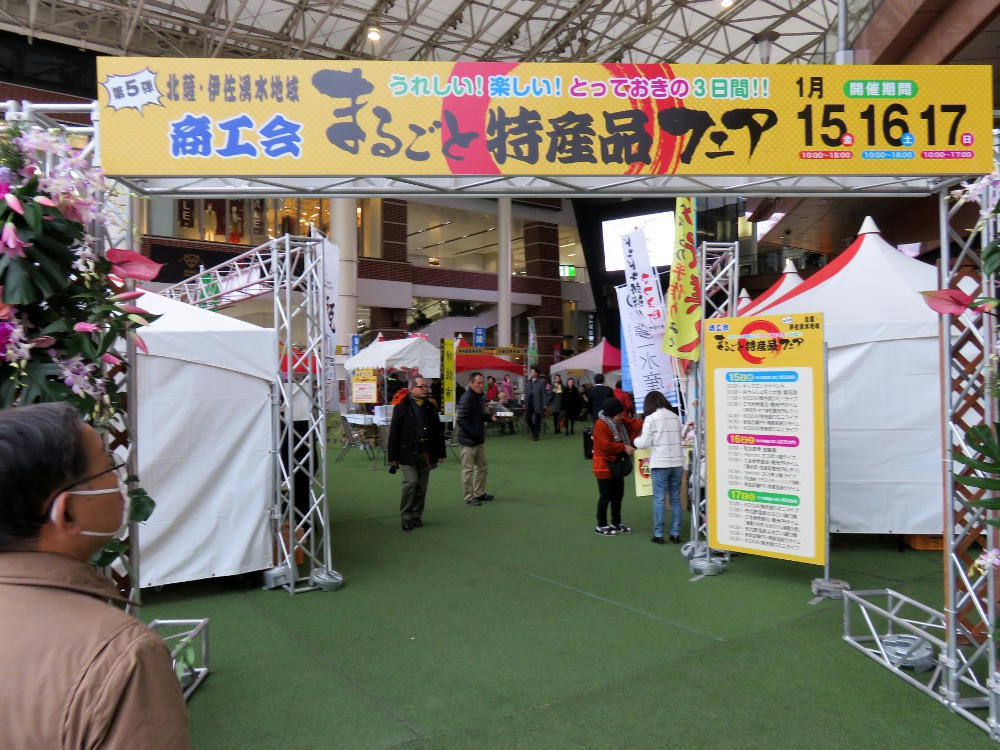 Second weekend of the Kagoshima-local produce and products fair. Again, shochu, tea and foods. This time, though, mini oranges, and carved wood toys for children from Satsuma-Sendai. I had to work until 4 PM on Friday, but I'd had to take the city tram at 1 PM to get to the school, and I noticed the ad for the fair on the train, and it had the hours for the event. Since the first day was scheduled to go until 6 PM, I hiked up to the main train station after my last lesson, and got in at 4:30. That's when the MC, Kodai again, was set to play 3 songs. Because I've recorded him before, I just sat in the audience and listened to the music this time. Afterward, I talked to him for a few minutes and asked to have our photos taken together.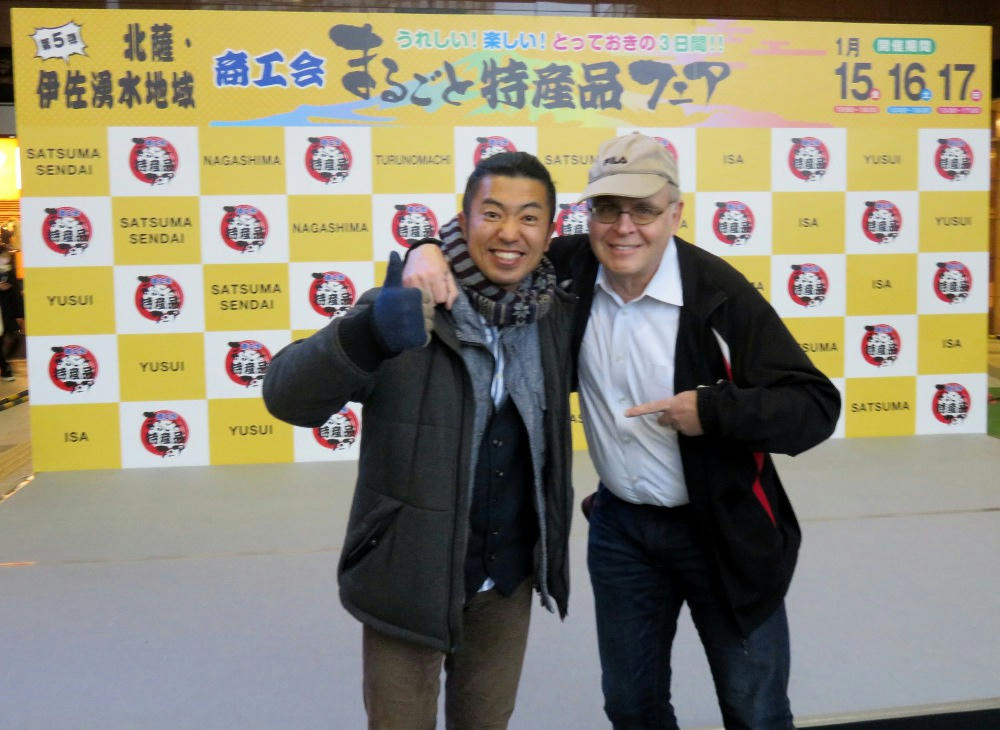 I have to work all Saturday, but that's ok. The female MC from last week, Hikari Yamaguchi, is MCing again, and neither of the two live acts,
Reirinn and Satsumakko
or
Hiraishi Company
look all that interesting to me. Sunday is more promising, with Kodai performing at 10:30 and 4:30, and a yosakoi group (
Ichihino Onsen Yosakoi Dance Company
) at 11:30 and 2:30. Everything depends on if I can wake up before noon, and whether I have to go shopping that day.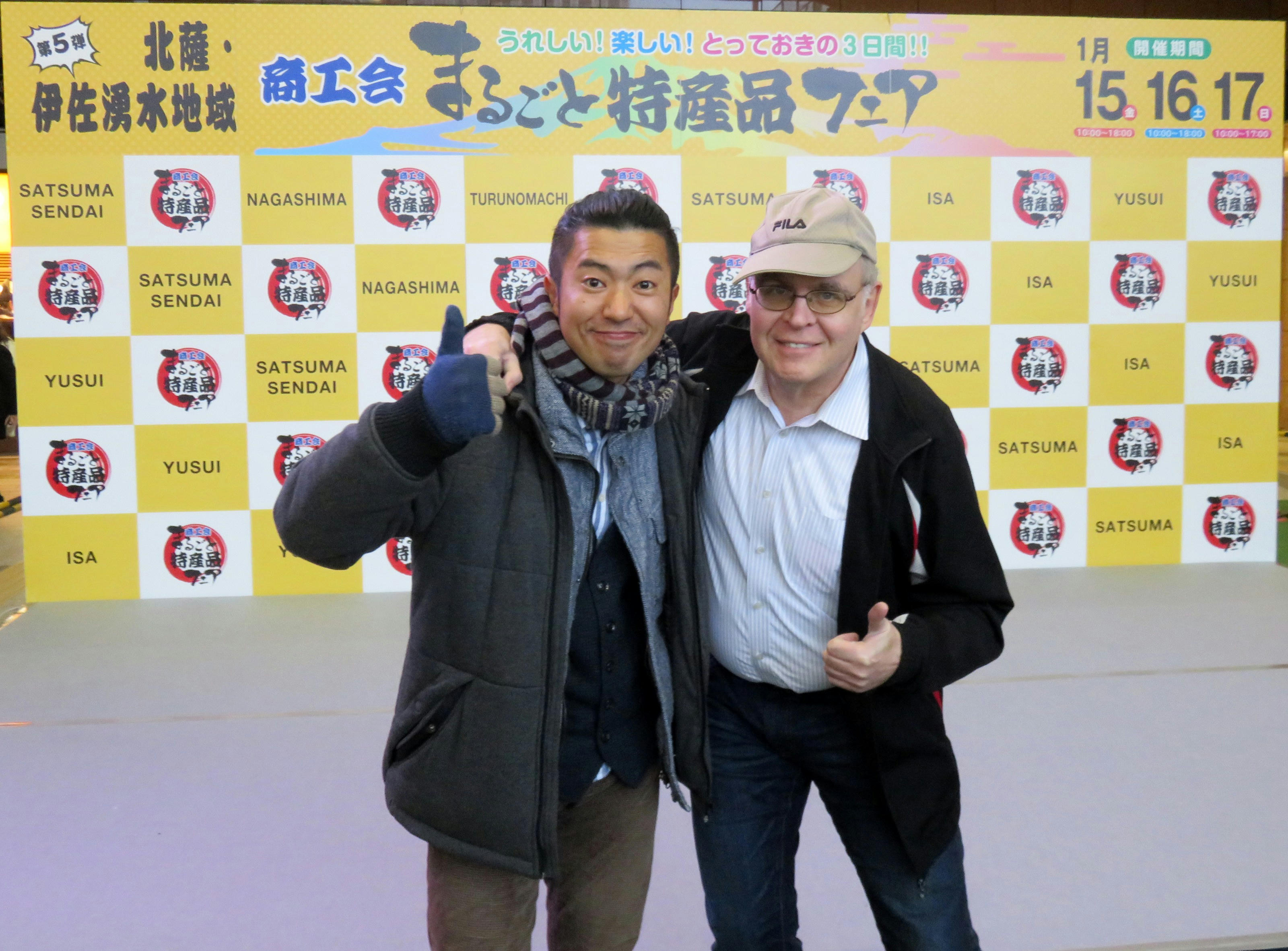 Saturday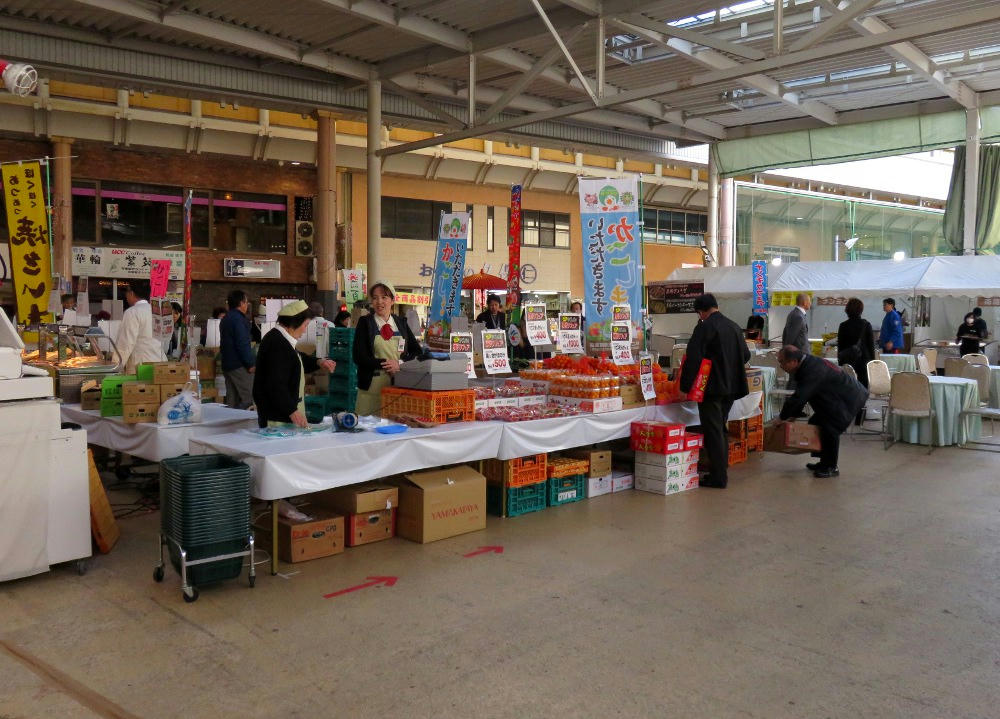 There was a kind of farmer's market in the open space in front of the Lotteria in Tenmonkan. I had to go by on my way in to work, and I took the opportunity to get a couple photos of the Kagoshima foamhead mascots.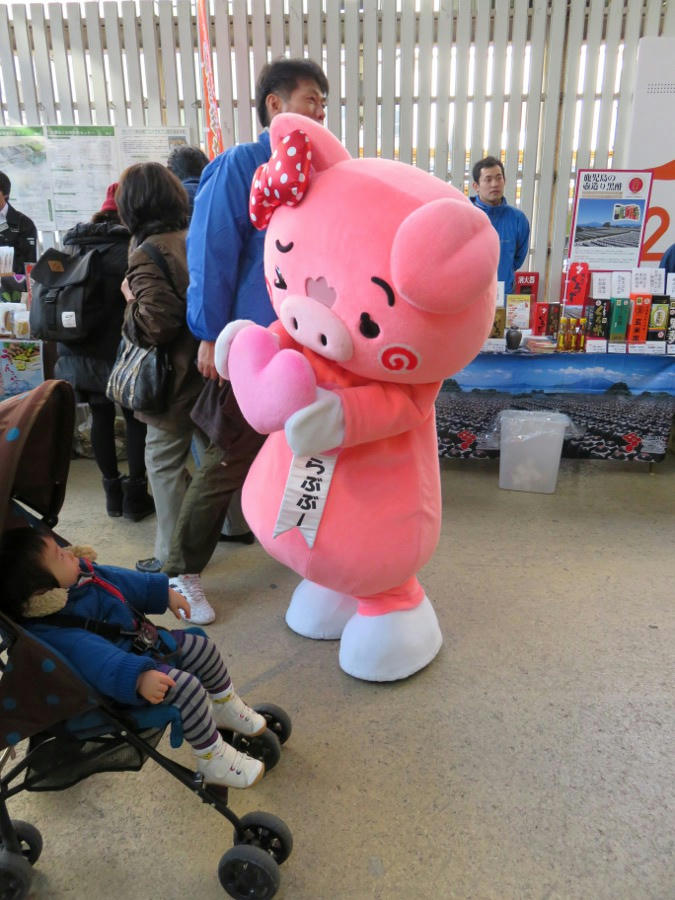 (Sakura-buu)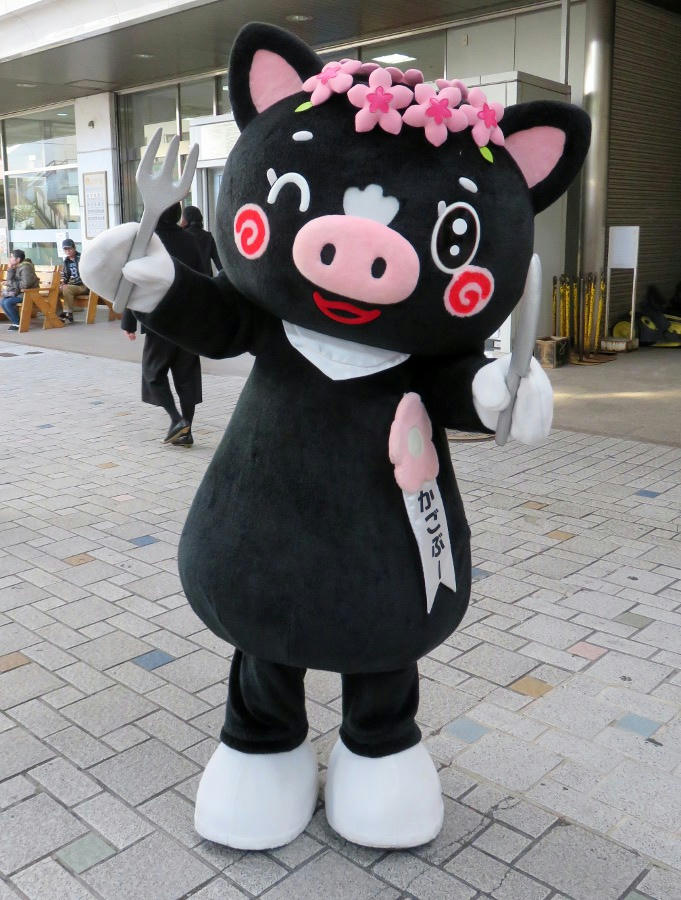 (Kago-buu)
Sunday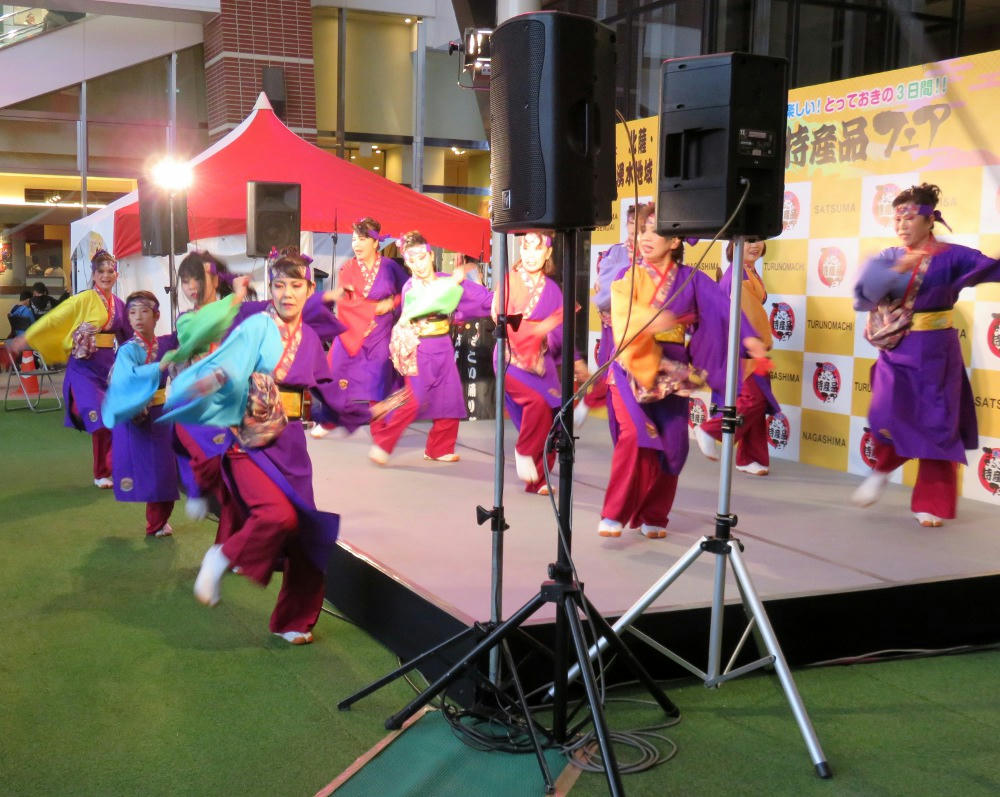 I woke up at 11:30 AM, and had every intention of getting out of the apartment in time to at least catch some of the activities at Amu Plaza for the early part of the day. But, due to things outside of my control, and a desire to spend at least some time working on one of my other blogs, I didn't actually leave until 2:30. When I reached Amu Plaza at 2:40, the Ichihino Onsen Yosakoi Dance Company was just finishing one of their dances and preparing to get off the stage. If they were following the schedule, that would have meant only a 10-minute set. But, the leader wanted an excuse to do an encore, so the sound tech cued up the next song and the group did one more dance, which I succeeded in recording. But, for some reason the auto balance for sound on the little camera kept cutting in and out. I don't know if this was because I was sitting closer to the stage than normal, or if the speakers were playing louder. Either way, I don't like it. Sigh.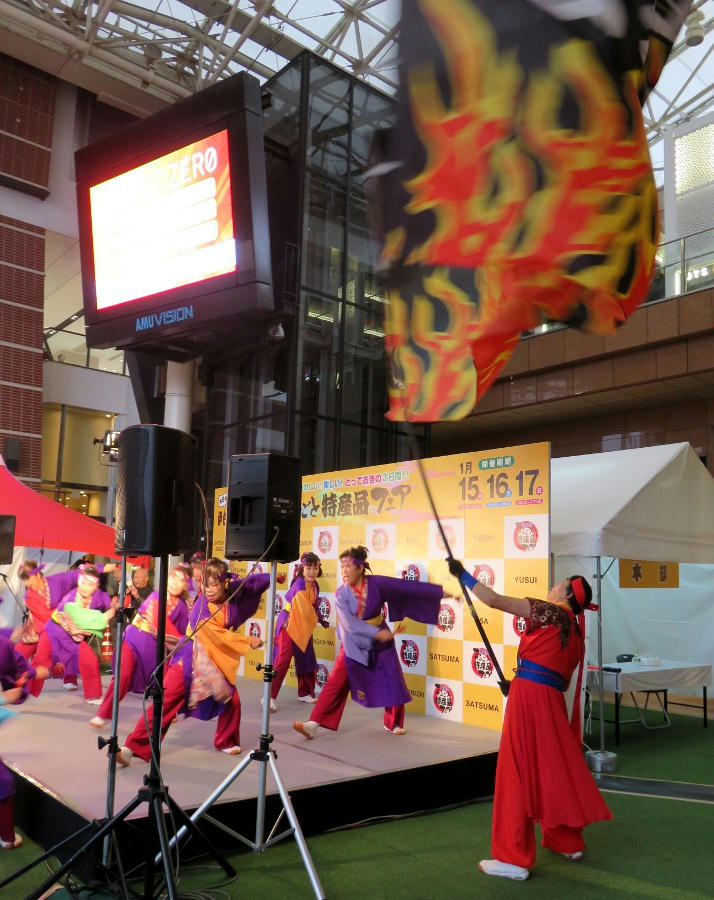 I'd written about yosakoi before. The word "yosakoi" refers to a style of dance that originated in Kochi prefecture, and is typified by energetic music, chanting and flag waving intended to cheer people up.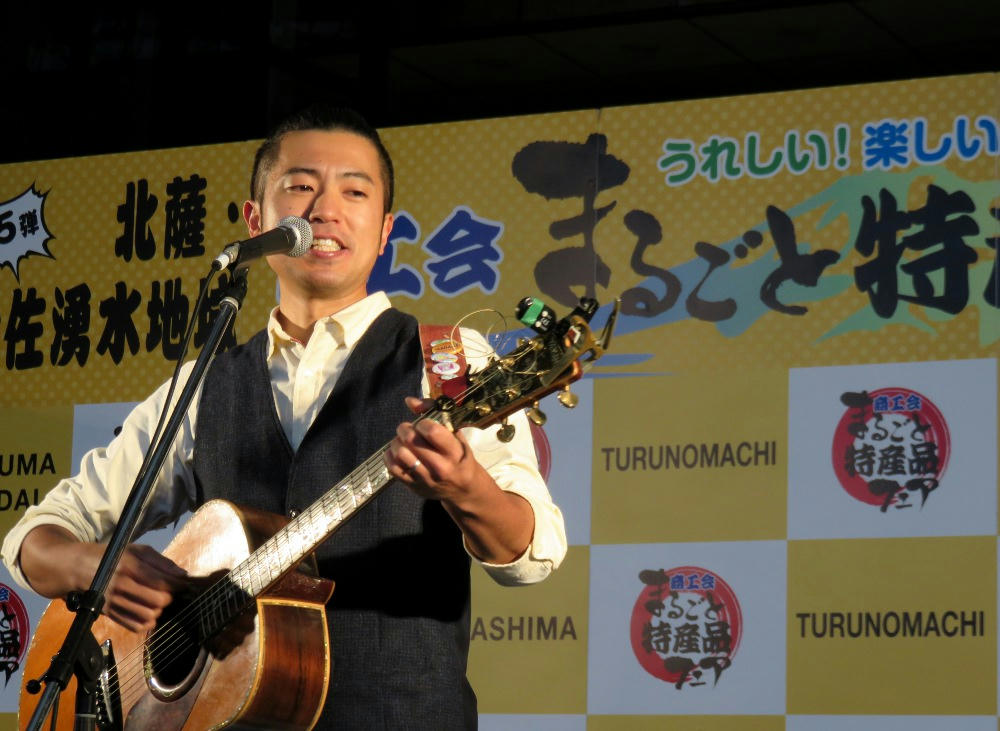 Almost immediately afterward, Kodai had his last set. Seems that the organizers had decided to move things around, dropping a couple of the PR events, and having Kodai finish the last of the music with the 3 PM show. I only wanted to get the songs that I hadn't recorded before, so I video'd the first and third songs. Again, I was in the front row, and again the sound balance got goofy when the music became louder. I think the video part came out ok, though. Afterward, we talked a little, then I did some food shopping, and stopped at Tully's shop in Tenmonkan for coffee and a sandwich before going home. No other events scheduled right away. There will be one more Marugoto fair at Amu Plaza next weekend, starting with a "Challenge Market" during Friday afternoon, and the Marugoto on Saturday and Sunday. I'll have to see how my schedule works out for that.
Direct link for the Yosakoi video
Direct link for the Kodai video