Saturday and Sunday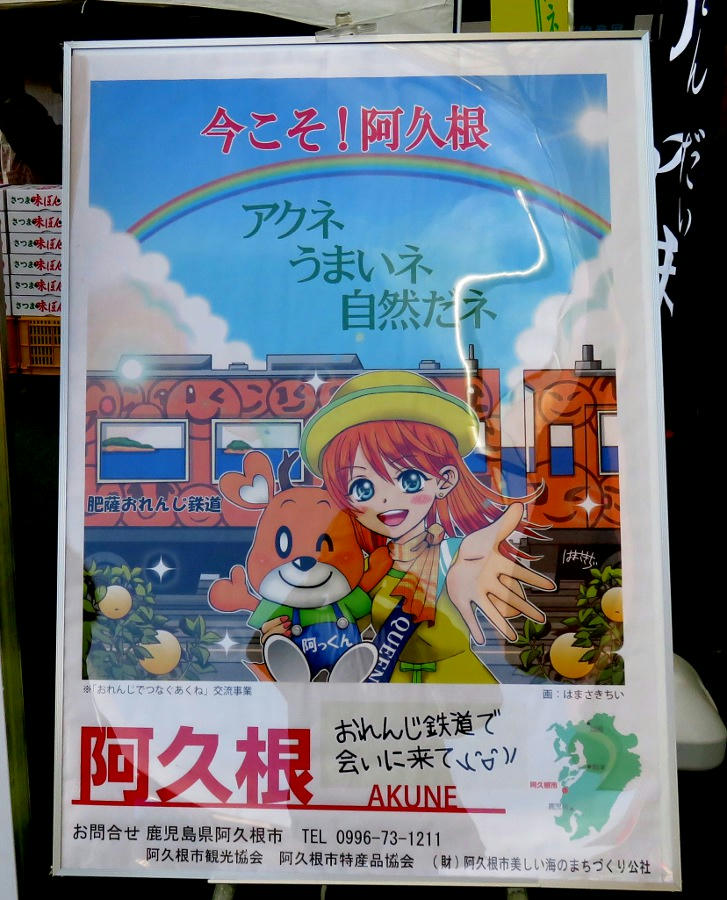 ("Aku-ne. Delicious-ne, Beautiful scenery-ne". An ad for the city of Akune.)
I mentioned last week that there weren't that many more events coming up in the near future, but that there would be another local products fair, or something, at Amu Plaza from the 22nd to the 24th. Friday's event just consisted of some booths selling food stuffs, and I pretty much ignored that. My schedule for Saturday initially was for classes from 4:30 to 8:30 PM, which would have been good for me because I'd have a couple hours mid-day to check out the event. Unfortunately, two of the students asked to move things around and suddenly it was 1-3 PM, 4:30-5:30 and 7:30-8:30. This destroyed any chances of seeing anything during the day, because it takes almost 30 minutes to get from the school to the main train station. On the other hand, the grocery store near the apartment has a 10% discount on milk on Saturdays, and I prefer to go there before work to buy milk for the week, bring it back home and then heading out for the school. I ended up waking up at 10:30 AM, giving me a few extra minutes during the milk run to run up to Amu Plaza to find out what the live performances schedule was.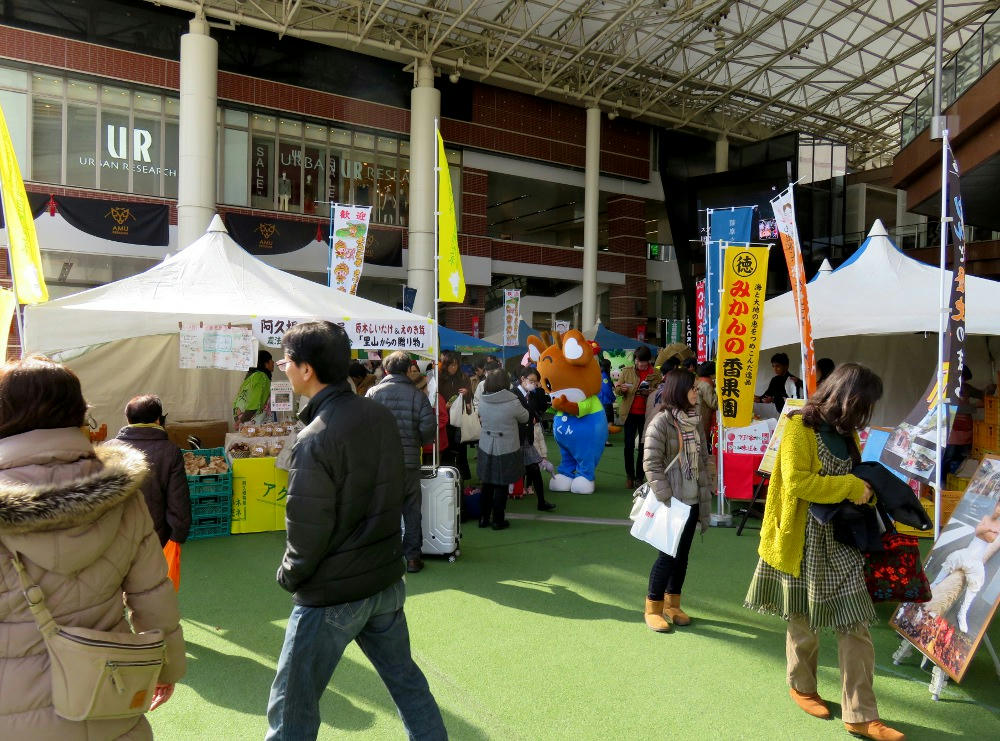 It was a nice day, with temps in the 50's. The event itself had a slightly different billing than before. The last two weekends were "All-Kagoshima Products Fairs", while this one is "Northern Satsuma Products and Tourism Exhibit". So, there were a few foamhead mascots promoting towns in the area this time.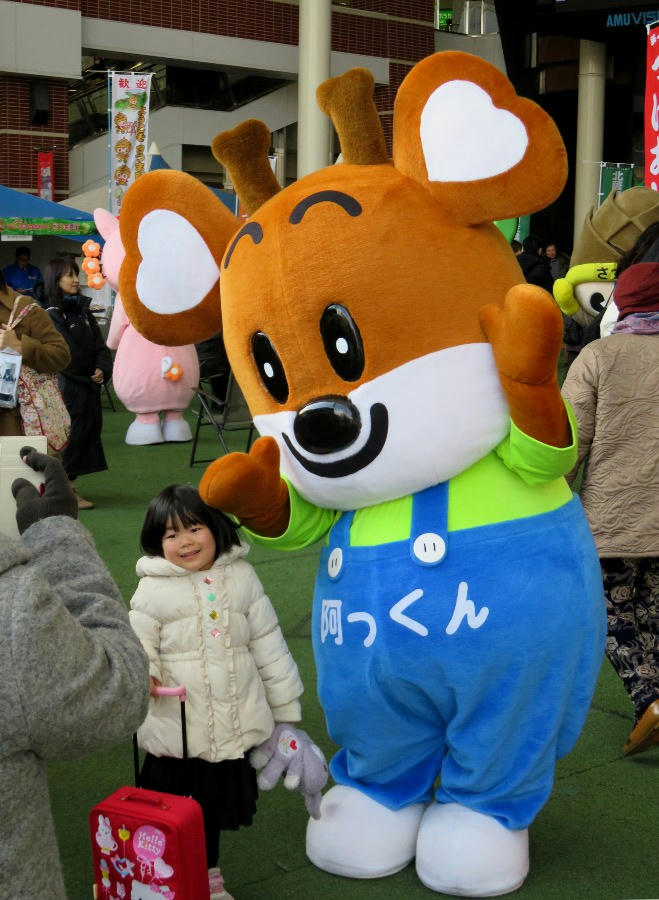 (Ak-kun, the Akune mascot.)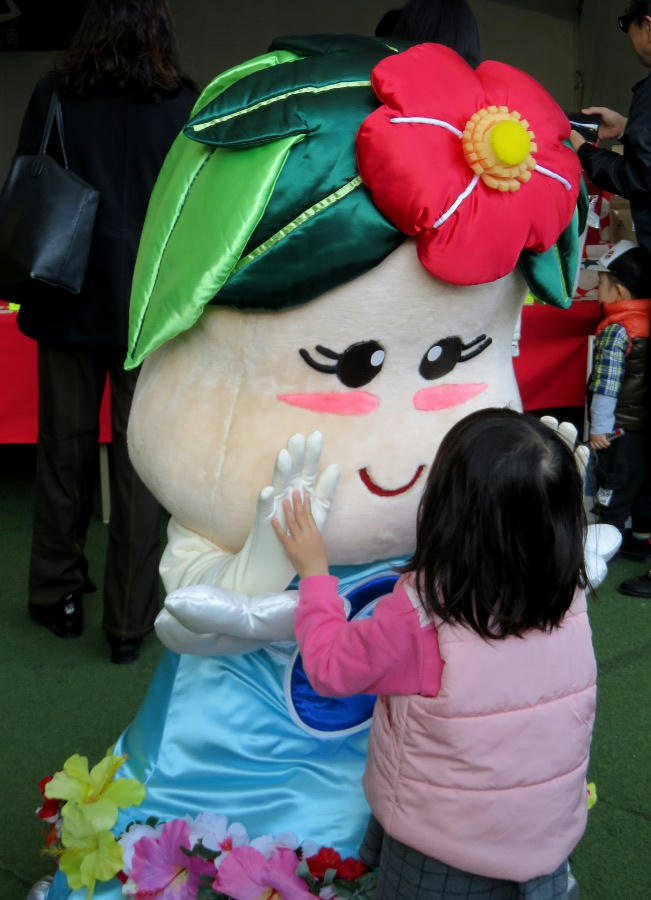 (The mascot for the Kanoya city rose gardens.)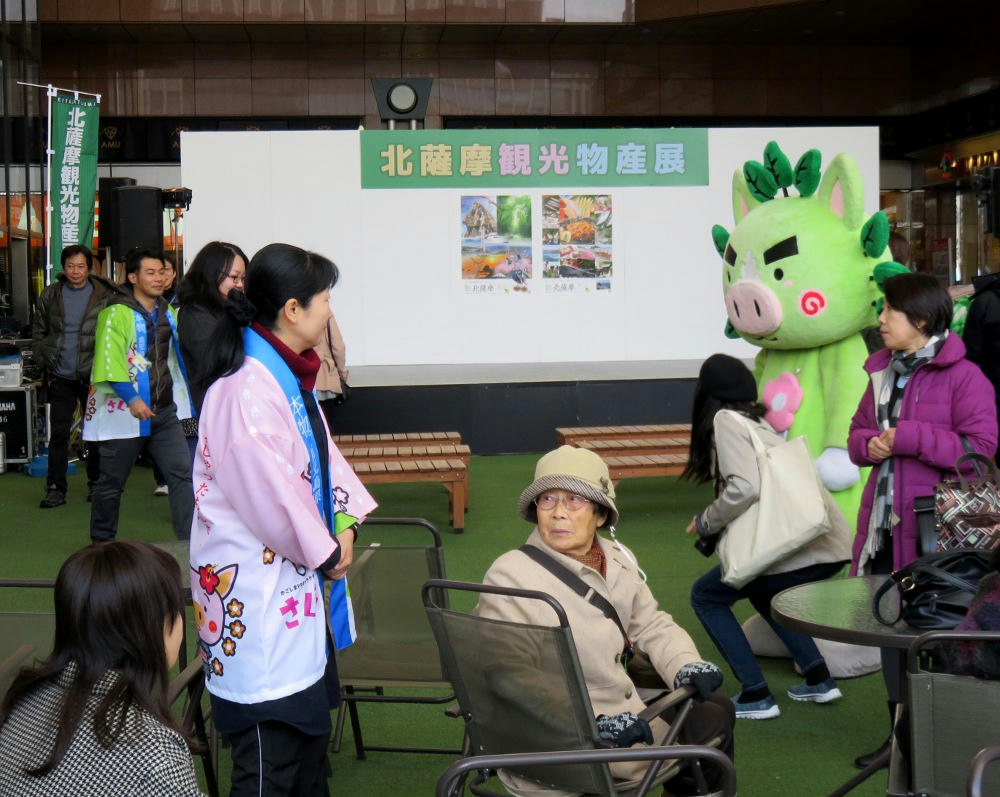 (Guree-bu, plus the events stage.)
What was disappointing was that the exhibit started at 10:30 AM with a taiko drum group, which I missed, and was then followed by mostly simple advertising for the shops and tour agencies there. The only thing other than the taiko group I'd have any interest in at all was a masked hero stage play featuring a character called "Shou Senshi Velter" (Rice Pot Fighter Velter). Velter apparently started representing Kagoshima in 2007, but the last mention of him on the net was in 2014. This is probably a mascot combat stage fight, and it might be fun to record and put on youtube. It was scheduled for 2:30 on Saturday, in the middle of one of my classes, and at 3 PM on Sunday, when I'd be free to come watch it. Unfortunately, and as you should already know from the last two blog entries, Kagoshima was hit by a major snowstorm that shut the city down and caused the Northern Satsuma Exhibit to be cancelled for Sunday. Sigh. So, I spent part of Sunday afternoon looking at winter coats in the Daiei department store (everything was too small for me), wandering Tenmonkan looking at snow lumps and trying to find places that were open, and then drinking coffee at a Tully's shop for an hour. The rest of the day, I stayed home and worked at keeping warm (the apartments here have no insulation).
Snow Day 3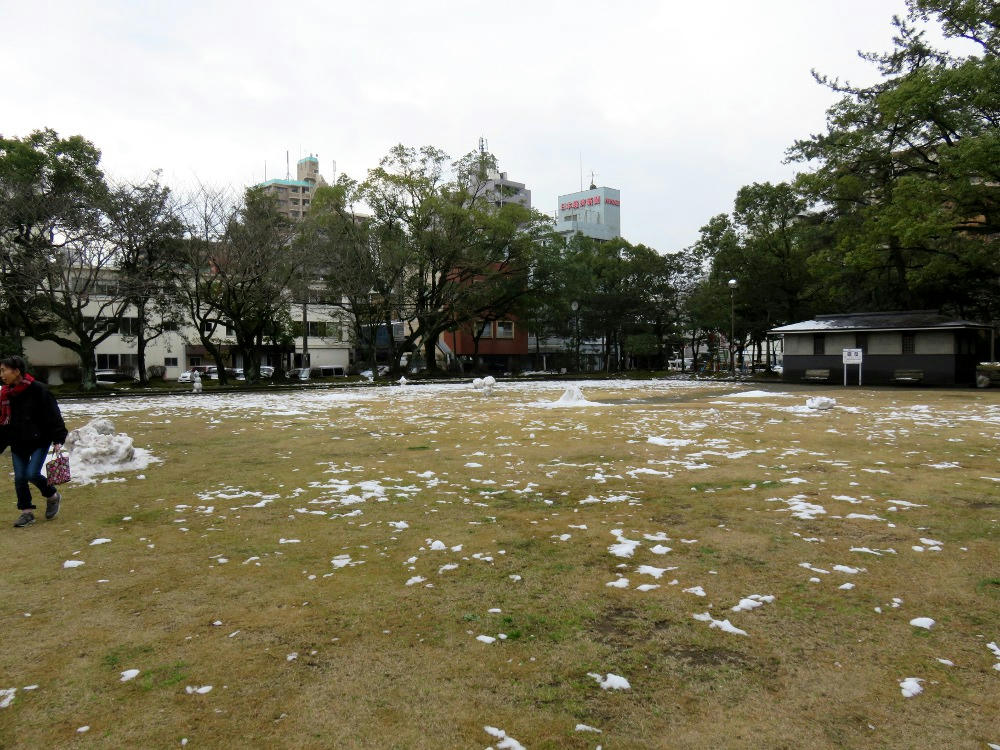 Ok, time to wrap this up. Tuesday, there was still some snow remaining on the ground and on rooftops, but the city was more or less back to normal. The above photo is of Hirata Park, which is a few blocks from the apartment. As you can see, most of the snow had been used for making snow lumps.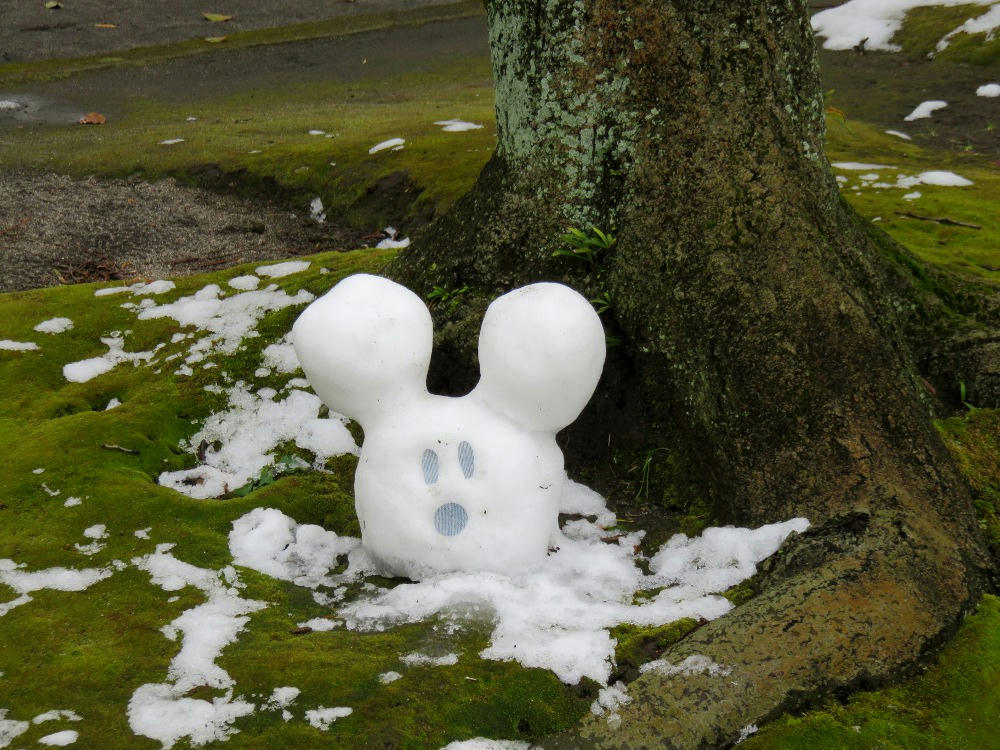 Example lump one.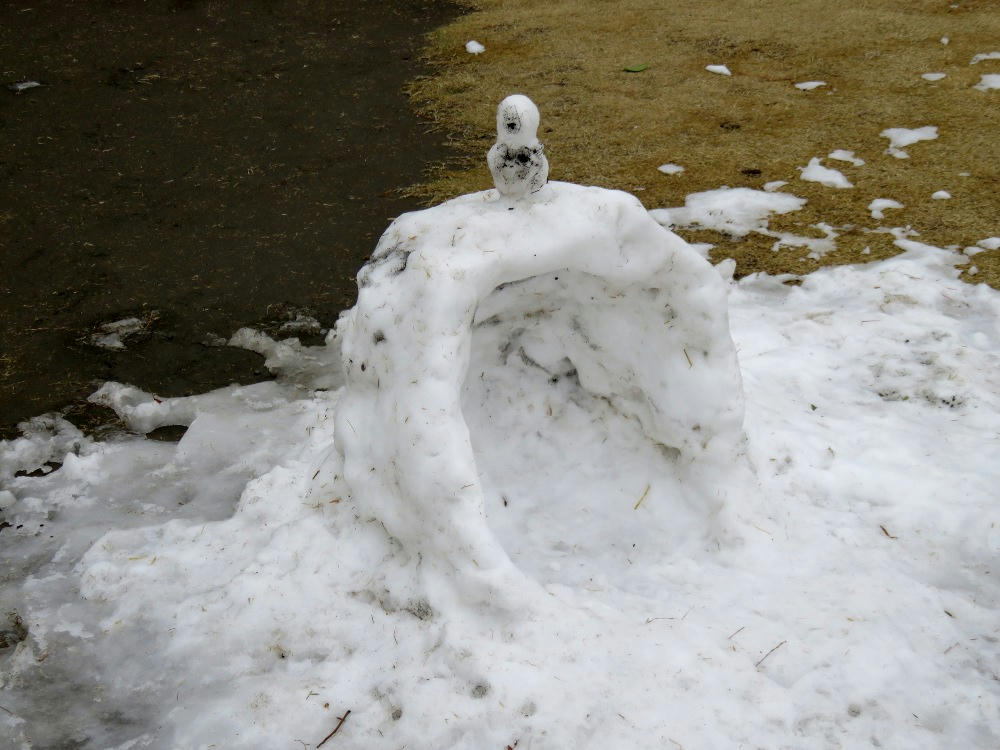 Snow lump two has spawned snow lump three. It's the Attack of the Snow Goons!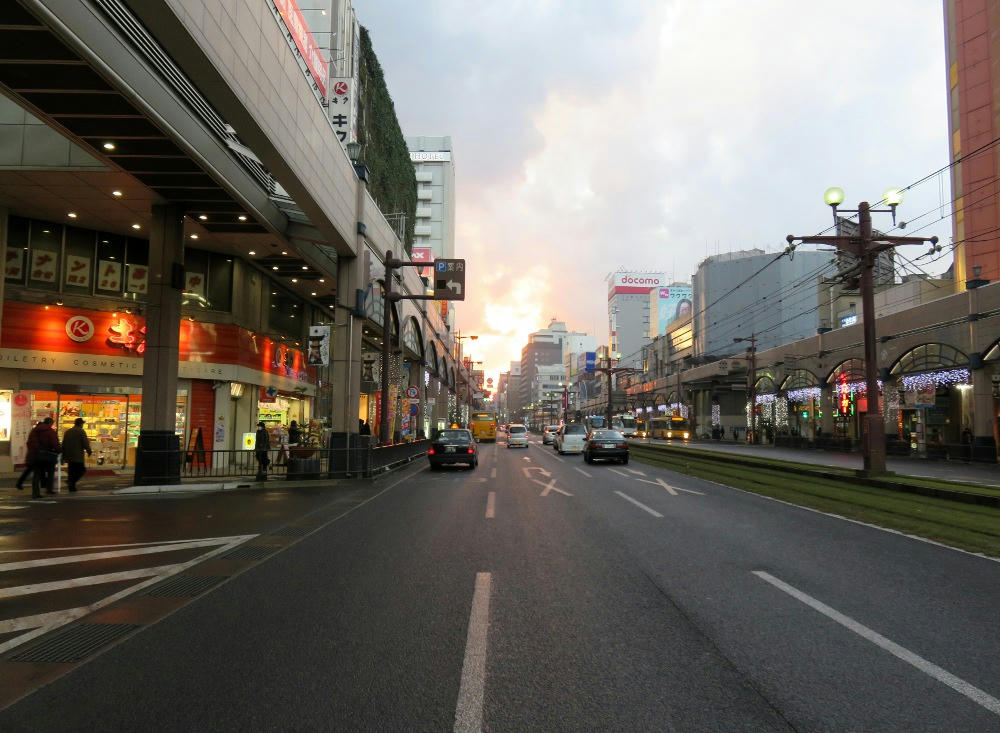 I had to go in to work at the school at 5:30 PM on Tuesday, but the student called to cancel just as I walked in the door, so I headed over to Maruya Gardens to do some reading in the Junkudo bookstore. Along the way, the sunset caught my eye. No one else around me paid any attention to it. Fortunately, there was a break in traffic so I could go out to the middle of the street for a couple photos.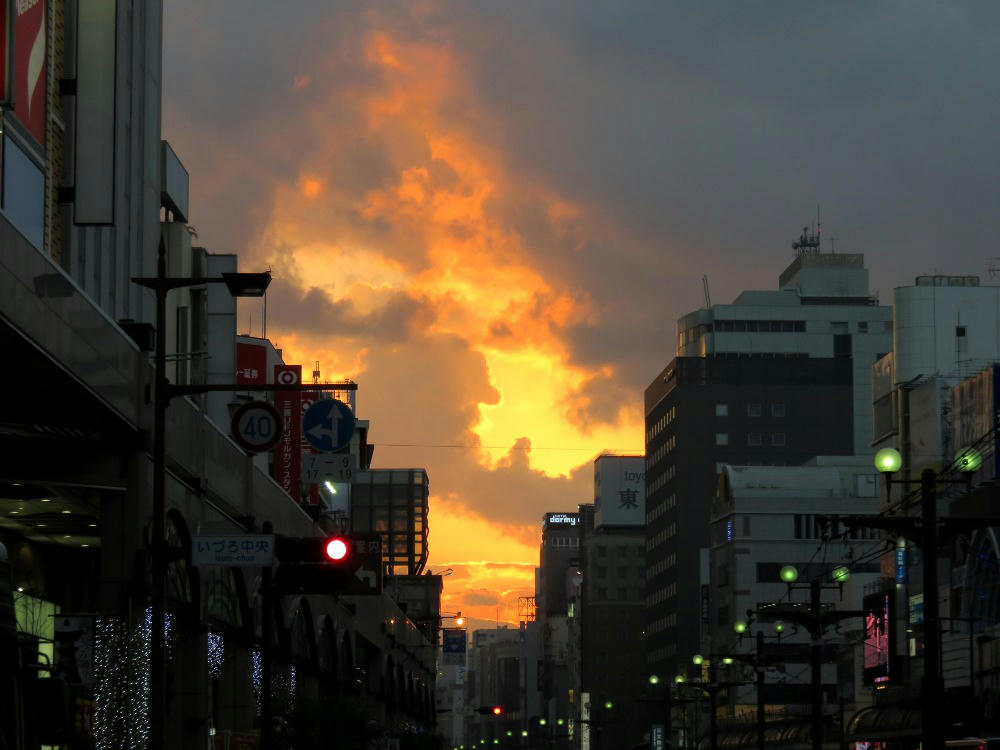 This is pretty much what it looked like. And, that's all about snow. Until the next blizzard.