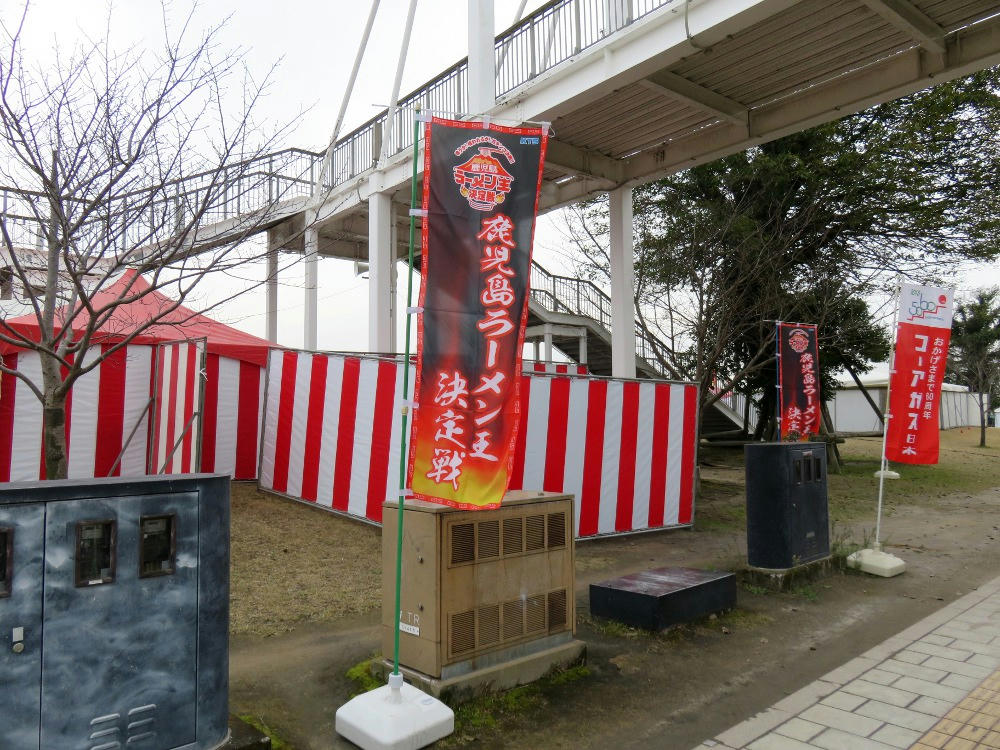 I'd seen posters for Ramen Oh (Ramen King) last year, but I'd ended up having to miss it at that time. I knew that if it was going to be an annual event that the posters would be going up again in January, so I've been keeping an eye out for them. I did see a few posters over the last couple months, but they're a lot more subdued this time, and are kind of in out-of-the-way locations. It's a competition between ramen shops around Kagoshima, and a few other cities on the eastern side of Kyushu, to see which one has the best ramen. It's running from the 19th to the 21st, this weekend (until 8:30 PM Friday and Saturday, 5 PM on Sunday).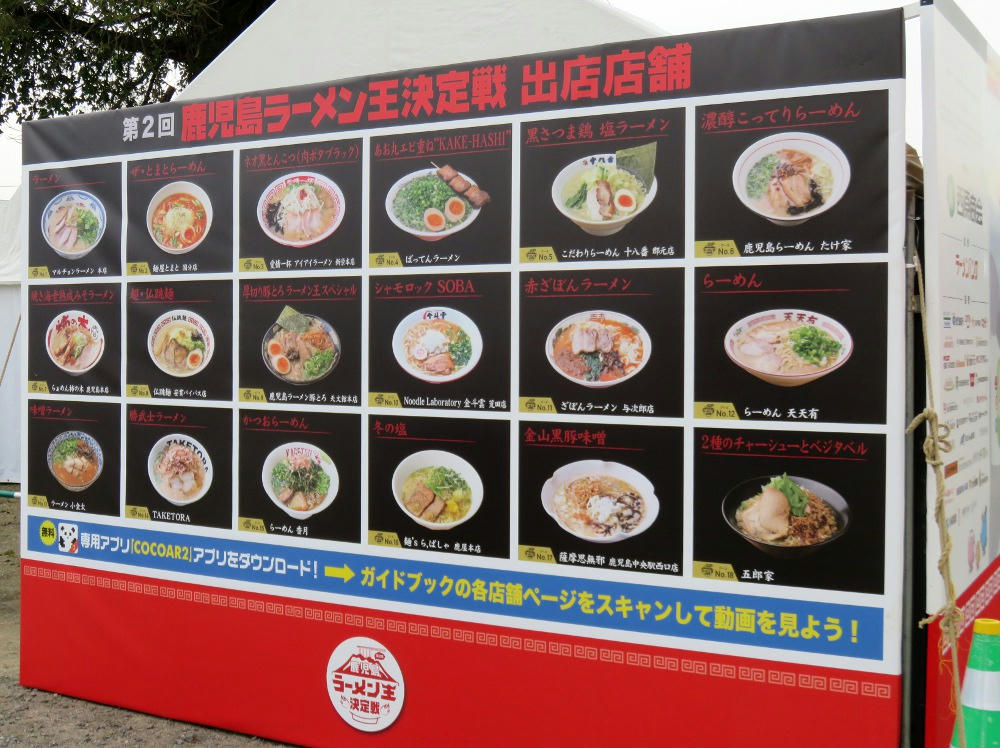 18 shops, one recipe each. Styles range from the simple, with just a broth, a piece of seaweed, and the noodles, to a miso base, or more complex versions featuring Kagoshima pork and hard-boiled eggs. You buy tickets for 700 yen apiece ($6.50 USD), which gives you one large bowl for one ticket. You take the ticket to the booth of your choice, and exchange it for the bowl of ramen and a coin token. When you're done eating you take the token to the "coin booth" and deposit it in the box that represents that shop. At the end of the weekend the organizers count all the coins to determine the winner. It's kind of a strange system, in that one bowl is pretty much a meal in itself, and few people are willing or able to sample multiple shops at 700 yen a pop, to discover something new that they like best. It's more a matter of either picking who has the best photo, the best sales people, or the shop that you've eaten at before.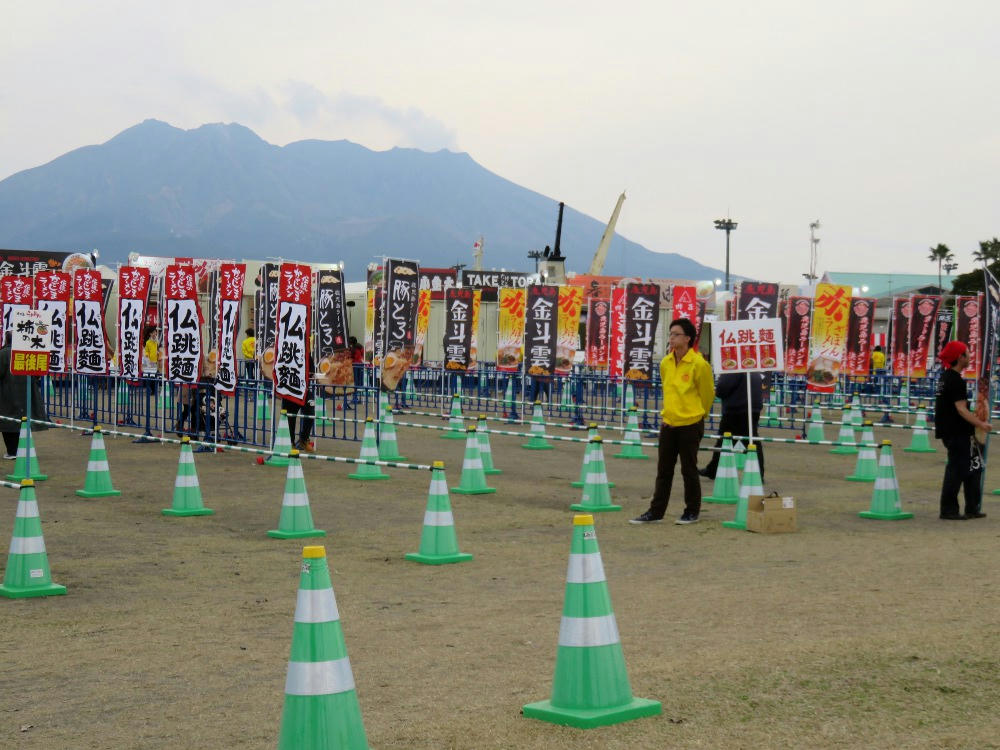 I had to go to the school near City Hall on Friday, which is only a few blocks away from Dolphin Port. So, when the last lesson ended at 4 PM, I headed over to see what was going on. It was still pretty early, so the Port was sparsely populated, but there were at least 75 people there to eat.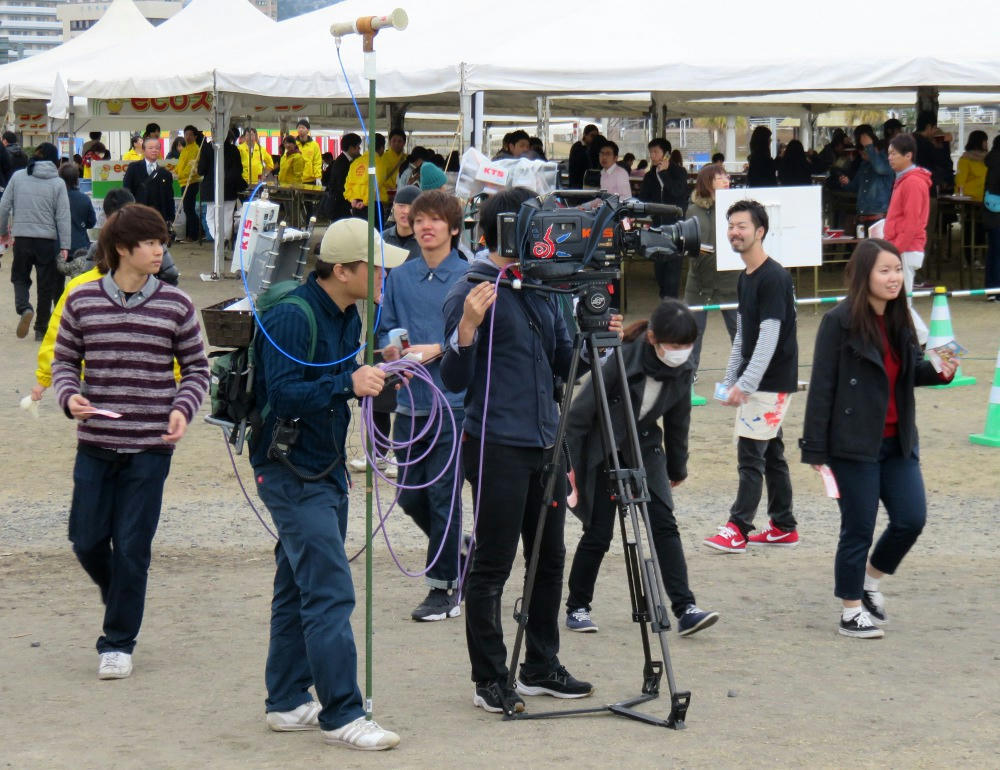 And three separate TV news crews there to cover everything.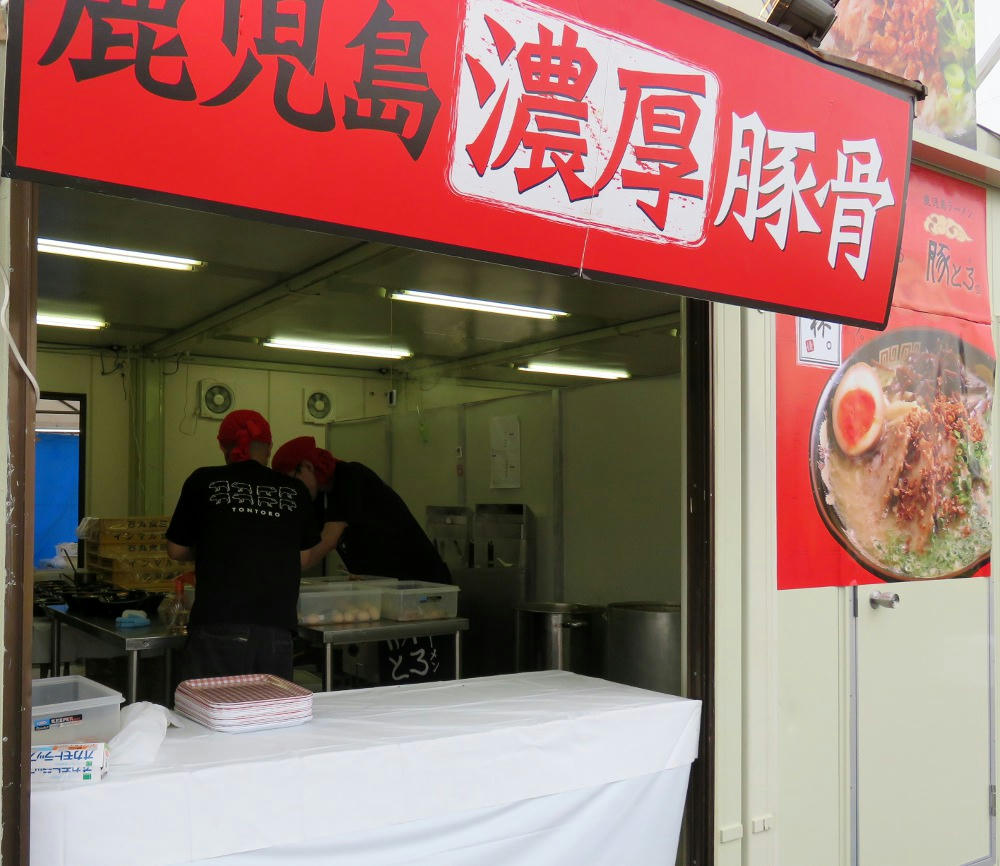 The shops were set up in what looked like customized shipping containers. I picked Ton Toro (Pork Shop) based solely on the photo, which looked like it might be spicy. It wasn't. Instead, it was just a pork broth, with the noodles, egg, a piece of dried seaweed, and a large hunk of fatty pork. With a bit of black pepper (supplied at the dining tables) it was pretty good. Other shops in the supporting section included Family Mart (with bottles of tea and rice balls), a place selling gelato, advertisers for sponsors like an apartment finder service, and a shochu shop. I got a 6 ounce glass of shochu with hot water for 200 yen to chase the ramen with. 15 minutes later, as I was walking home, I started feeling incredibly relaxed, happy and inexplicably satisfied. So I'm guessing that the combination of ramen and shochu turned out to be a good thing.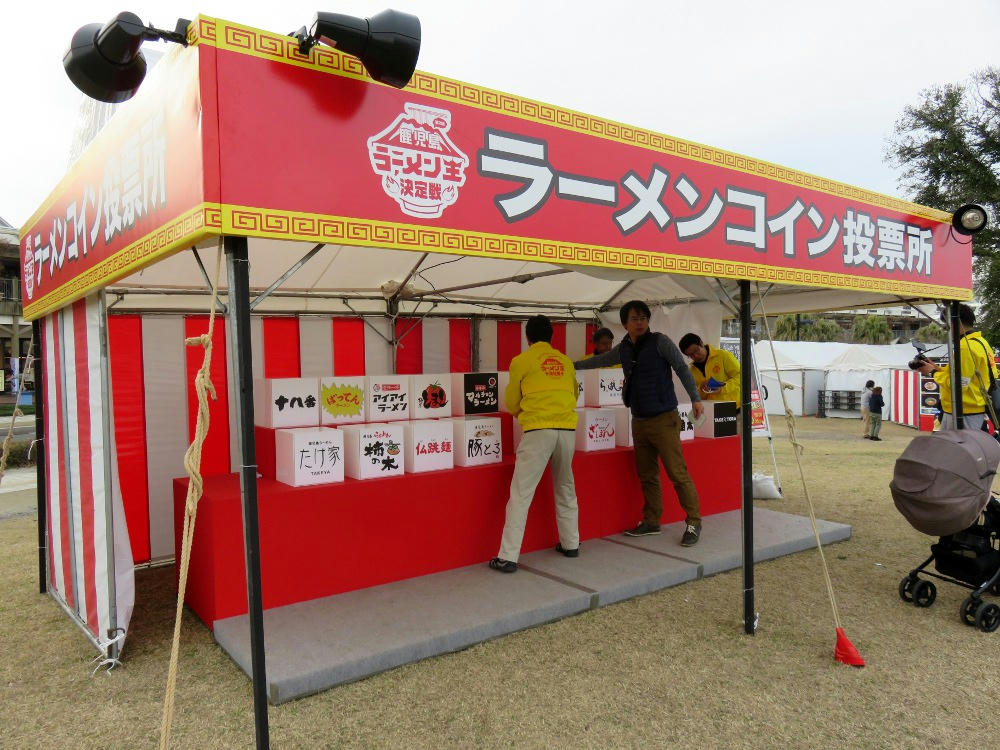 (The table for putting the coin tokens into the boxes for voting for best ramen.)
I had to work all day Saturday, and I'm not sure what my plans will be for Sunday. I'd like to go back and try a different shop, but first I'm going to go the opposite direction to the main train station to check if there's a live event going on there (I think there is, but I don't know the details). It's possible that I won't be able to visit the station and Dolphin Port within the same day. Then again, I'm hesitant to spend another $9 for a big lunch and drink if I'm not that hungry.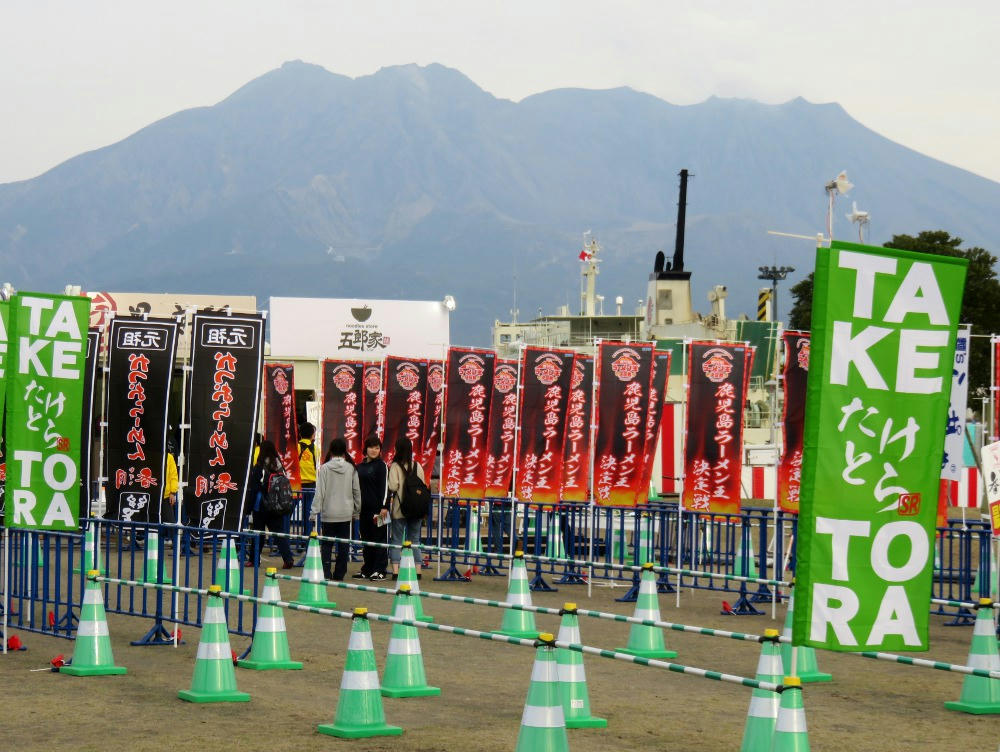 There is a live stage at Ramen Oh, but there's nothing in particular I want to see. I've already seen Southern Cross, Little Cherries and the manzai team Pineapple, and the other acts are either idol dancers (1Believe FNC) or J-pop.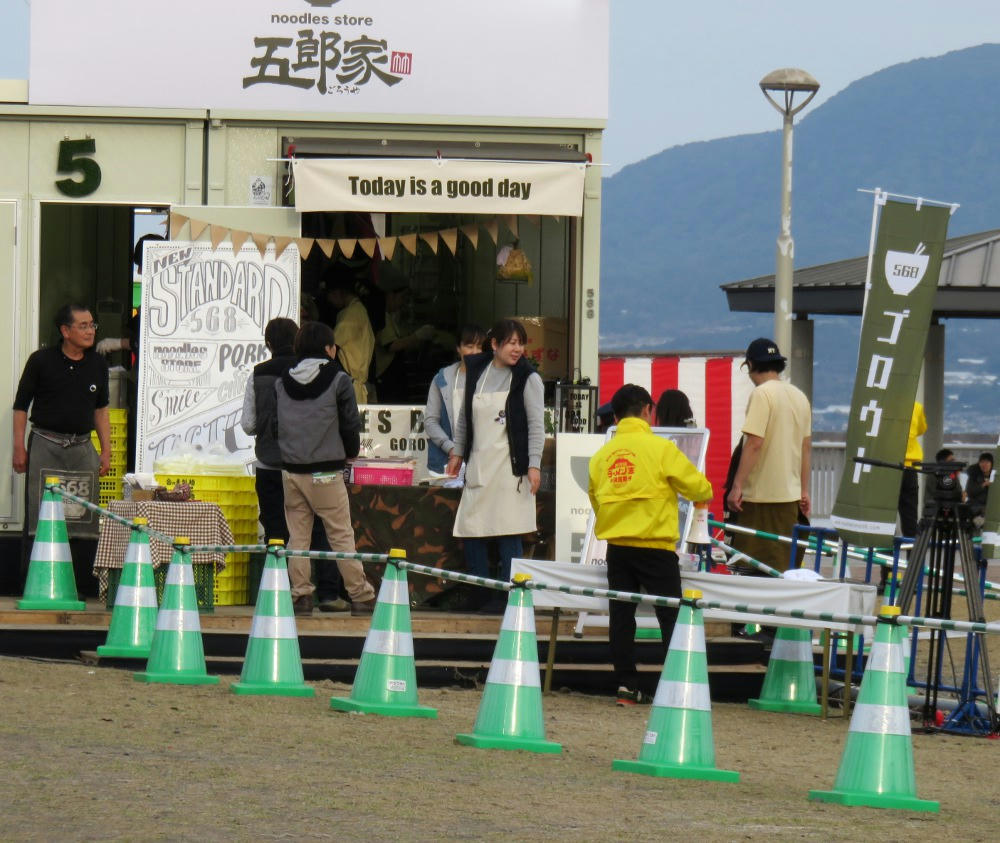 When I was in the school on Saturday, the owner had the TV turned on, and he called my attention to the local news station that had two female announcers walking around Dolphin Port and sampling the various ramen bowls. So, there's a good chance that the Port is going to be very crowded on Sunday with locals wanting to try the food themselves.