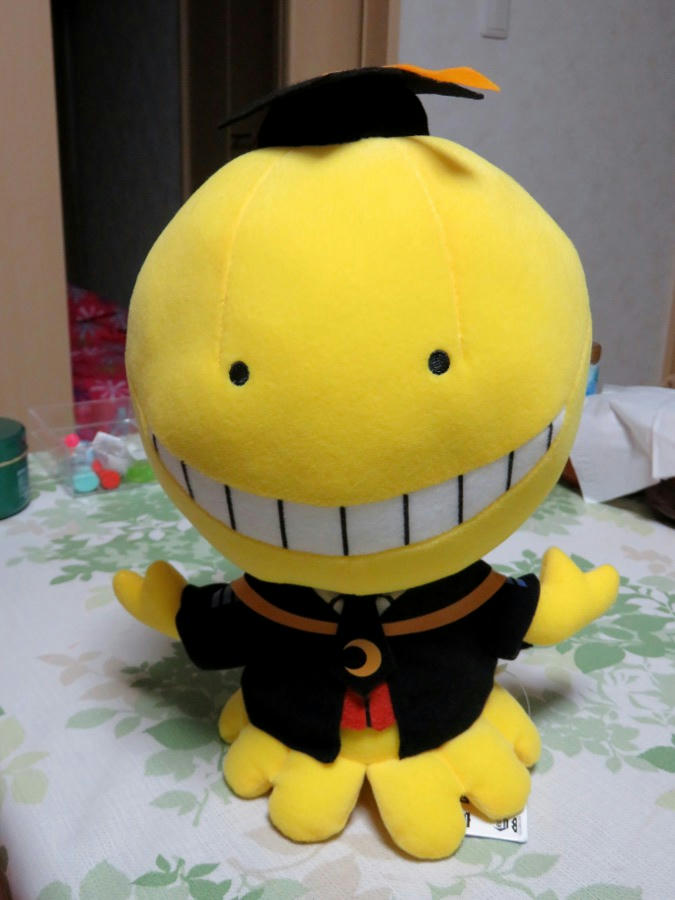 Ansatsu Kyoshitsu
(Assassination Classroom) ran in
Weekly Shonen Jump
magazine from 2012 to 2016. It features a yellow octopus-like space alien that destroys 70% of the moon and threatens to do the same thing to Earth in 1 year if humans don't find a way to stop him. The Japanese government offers a $100 million bounty on the alien, and one high school develops an assassination course specifically for training students to kill him. Taught by the alien himself. The students nickname him Koro Sensei (a play on korose "kill"). The second live action movie is playing in theaters now.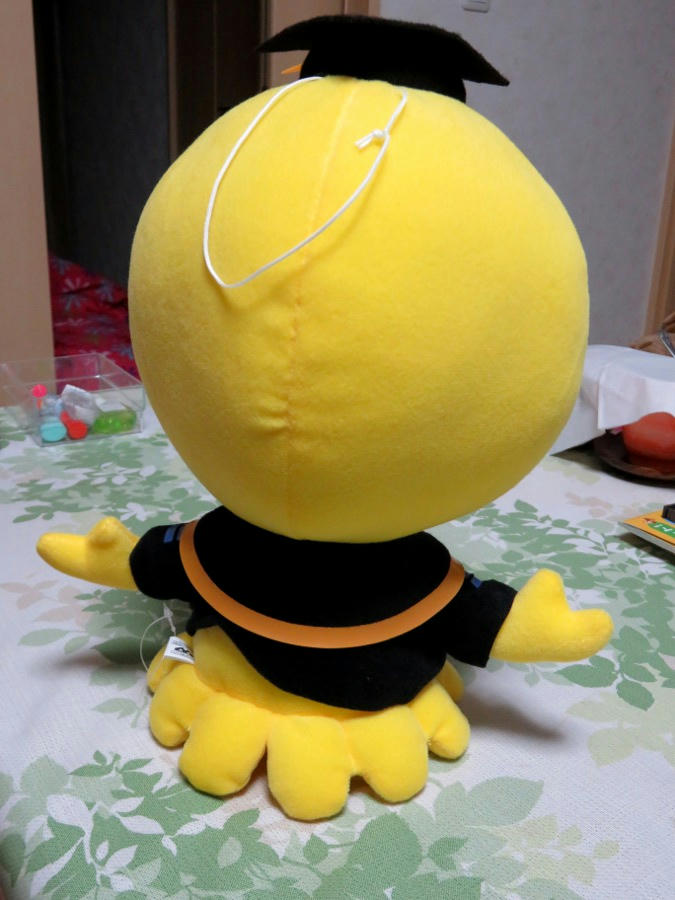 I was in Amu Plaza a few days ago, and this Koro Sensei plushie was in the UFO Catchers. It was propped in the machine in such a way that I thought I might have a chance at it. The machines are 1 play for 100 yen, or 6 for 500 yen. I broke a 1,000 note into two 500 yen coins, and took a shot at it. The plushie moved around enough that at the end of the first 6 tries it was almost ready to fall into the bin, so I threw in the second coin, and got Koro on the 9th try. Fortunately, the shop clerk was willing to move my remaining credits to another machine so I could try to get something else, but I failed on that one. In effect, I spent 1,000 yen on Koro, or about $8.20 USD.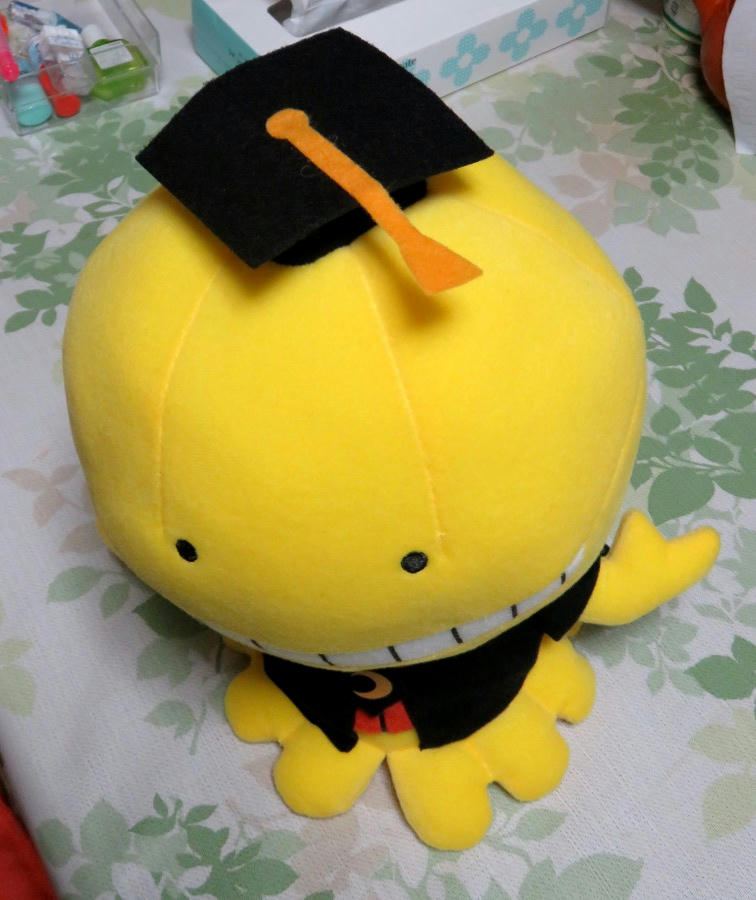 He's about 16 inches tall, squeezable, and very well-made. If I bought him at a store outright, it'd be at least $25.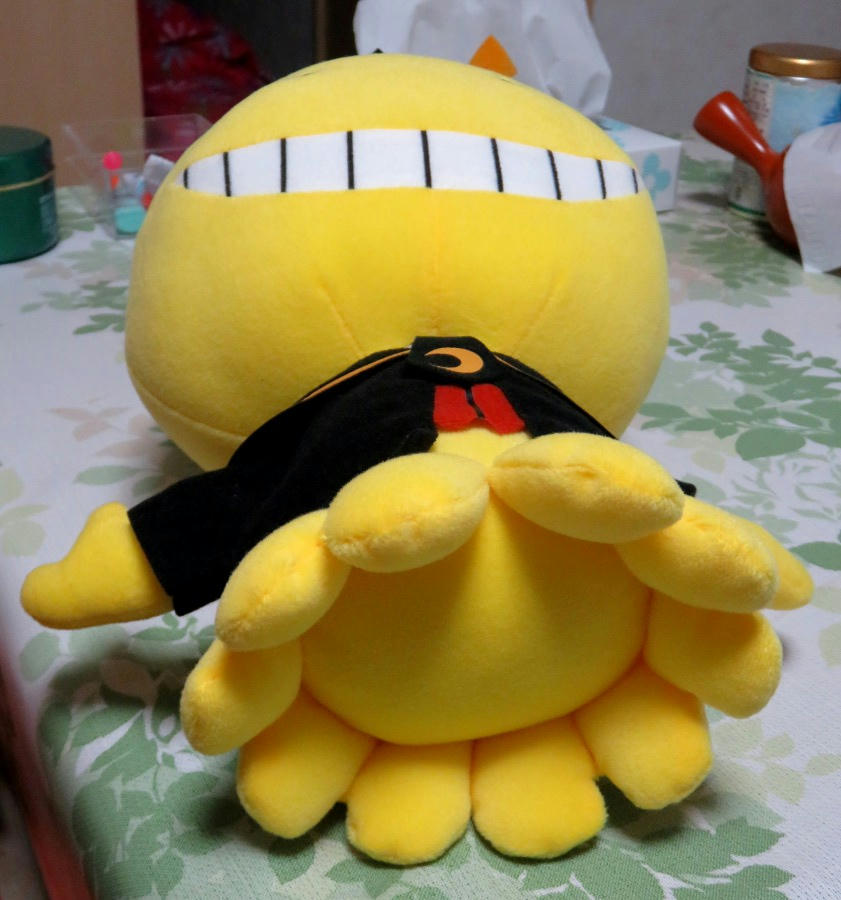 I think I got a good deal here. Now I have to figure out what to do with him. I keep aiming him at the moon, but that's not having any kind of an effect so far...