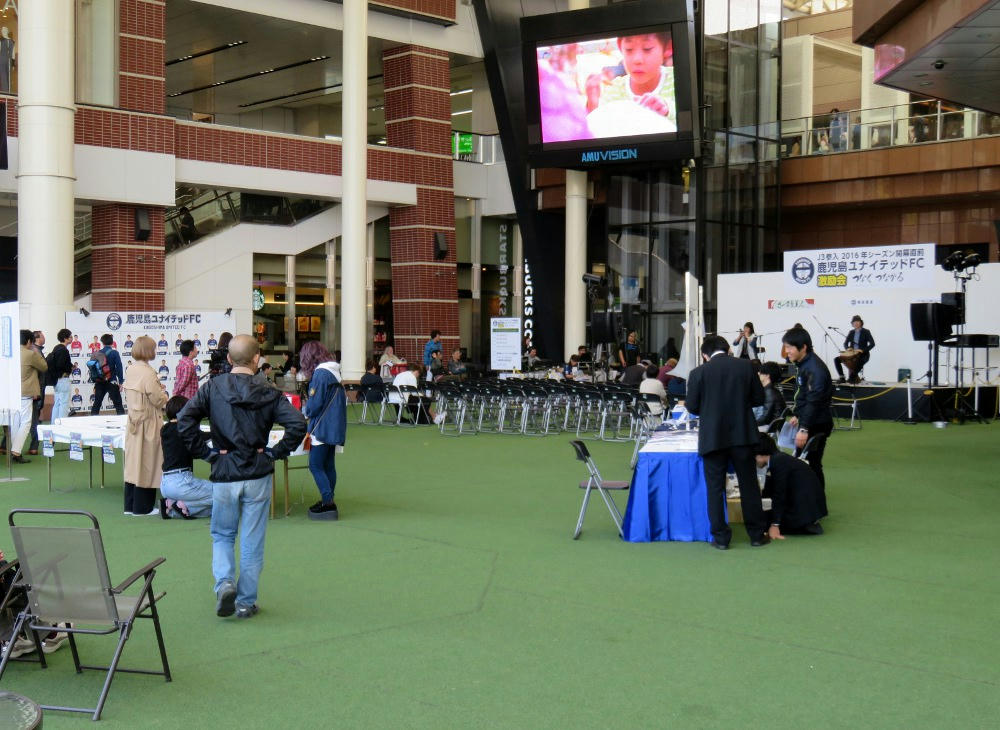 I was feeling a bit down on Monday in part because the marathon came and went so fast and I wasn't in a condition to enjoy it, partly because I still had allergy problems, and kind of due to the lousy weather on Sunday. Monday morning started out looking nice, and I wanted to outside to be in the sun, and do some food shopping. First, the idea was to go to Amu Plaza to get free sample coffee from Kaldi, and then check out the capsule ball dispensers on the sixth floor to see if they had anything I walked to buy. After that, I'd get food for the week. As I neared the main plaza, I could hear music. Then, when I got past the main department store wall I discovered that they were hosting an event that day to show support for the Kagoshima United FC pro soccer team. This happens occasionally and generally consists of the same things - selling t-shirts, attempts at getting people to join the fan club, and tables for writing messages on flags to be waved during the games.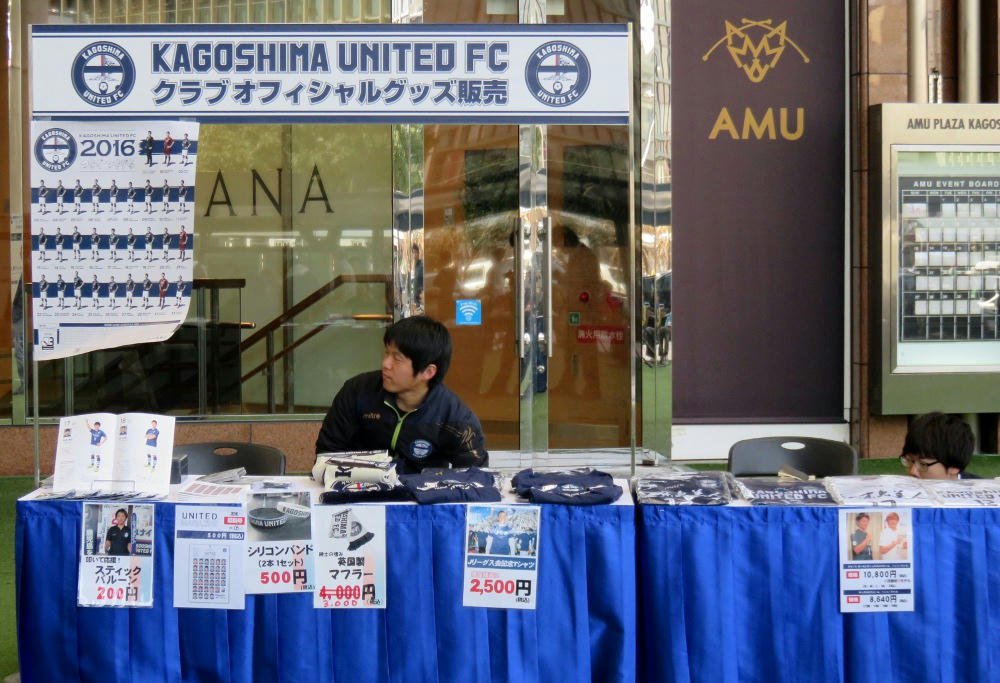 I took a couple photos for the blog, and one of the organizers came up to talk me into writing something on the flag. I decided on a joke, writing "GO!al!", combining "Go" with "Goal." Then, I went to look at the schedule, but it just had "Guest artist" at 2 PM, 3 PM and 4 PM. So, I don't know who the trio playing below are. However, I looked at the sound recording staff and one of them reminded me of someone I saw at the finish line standing with the 2 Myu FM radio announcers during the marathon.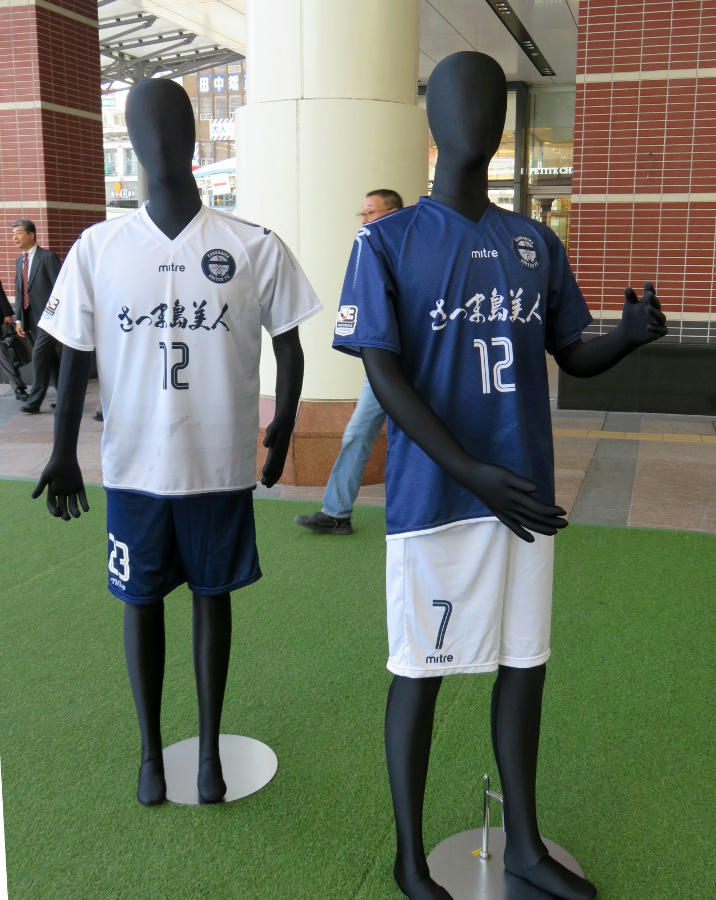 This made me wonder if there was anyone else from Myu FM here now that I might recognize. I started edging toward the green room tent, and saw Nonki, the bass player for Bon DX, at the same time he saw me. We talked for a few seconds and he mentioned that they were going to go on stage at 3 PM. That gave me just under an hour to run back home, get the DVD Rom I'd burned of the final live set for the Christmas shows, do my food shopping along the way, and get back before Bon would start.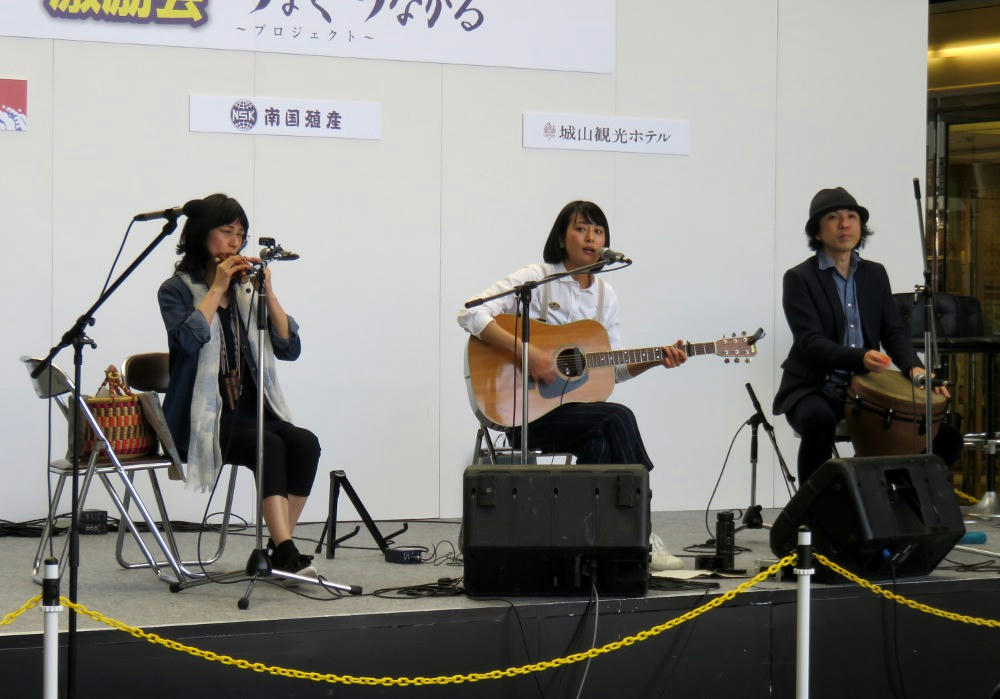 And that's what I did. Fortunately, it was a nice day, even t-shirt weather, and the walk was pleasant. However, when I reached the plaza again, Bon's lead singer (referred to as "Bon") ended up seeing someone in the audience he knew and he wanted to talk to them more than with me. Instead, I just hung back and leaned up against the store to wait.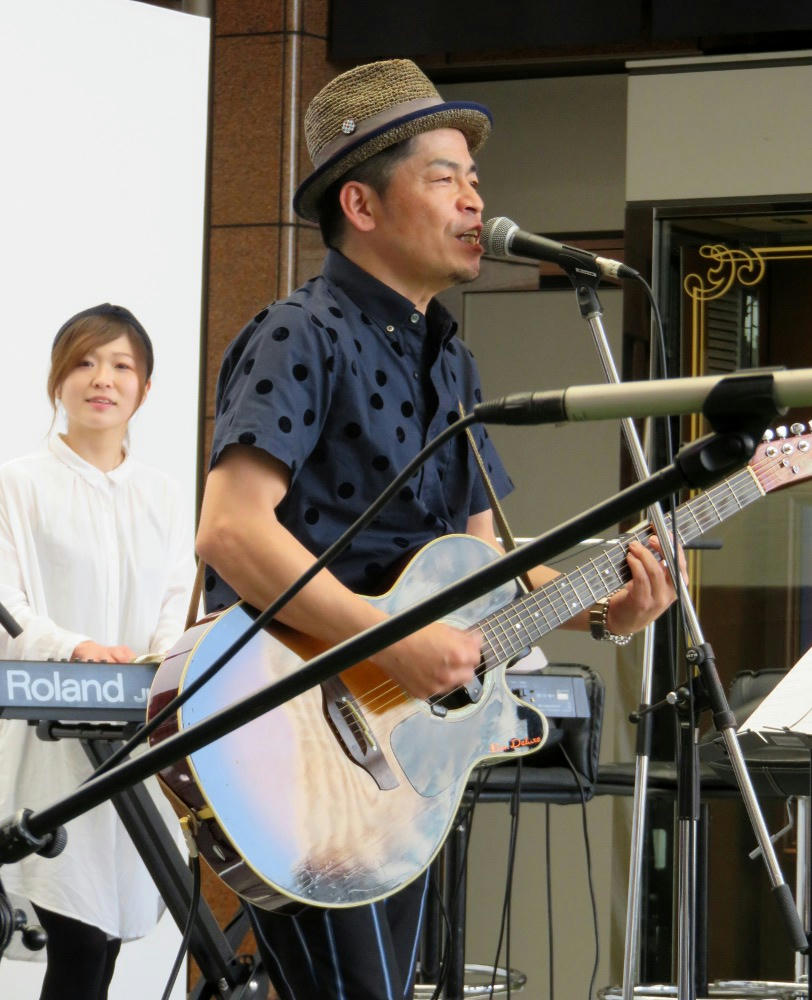 The band started out doing all the songs they normally do. I had the little pocket camera with me, and I'd really debated over whether it would be worth it to bring the big one along too, but I decided against that. I like listening to these songs, but this was also an opportunity to keep practicing taking pictures with whatever I had to hand. So I just kept positioning myself around the stage (while keeping out of the way of the audience and the other camera people) and ended up taking 260 photos total for the day (I only kept 25 of them). Then, at the end of the set, Bon announced they were going to do "Motto" ("More"), which is kind of the United team's theme song right now, so I switched over to record it for Facebook and Youtube.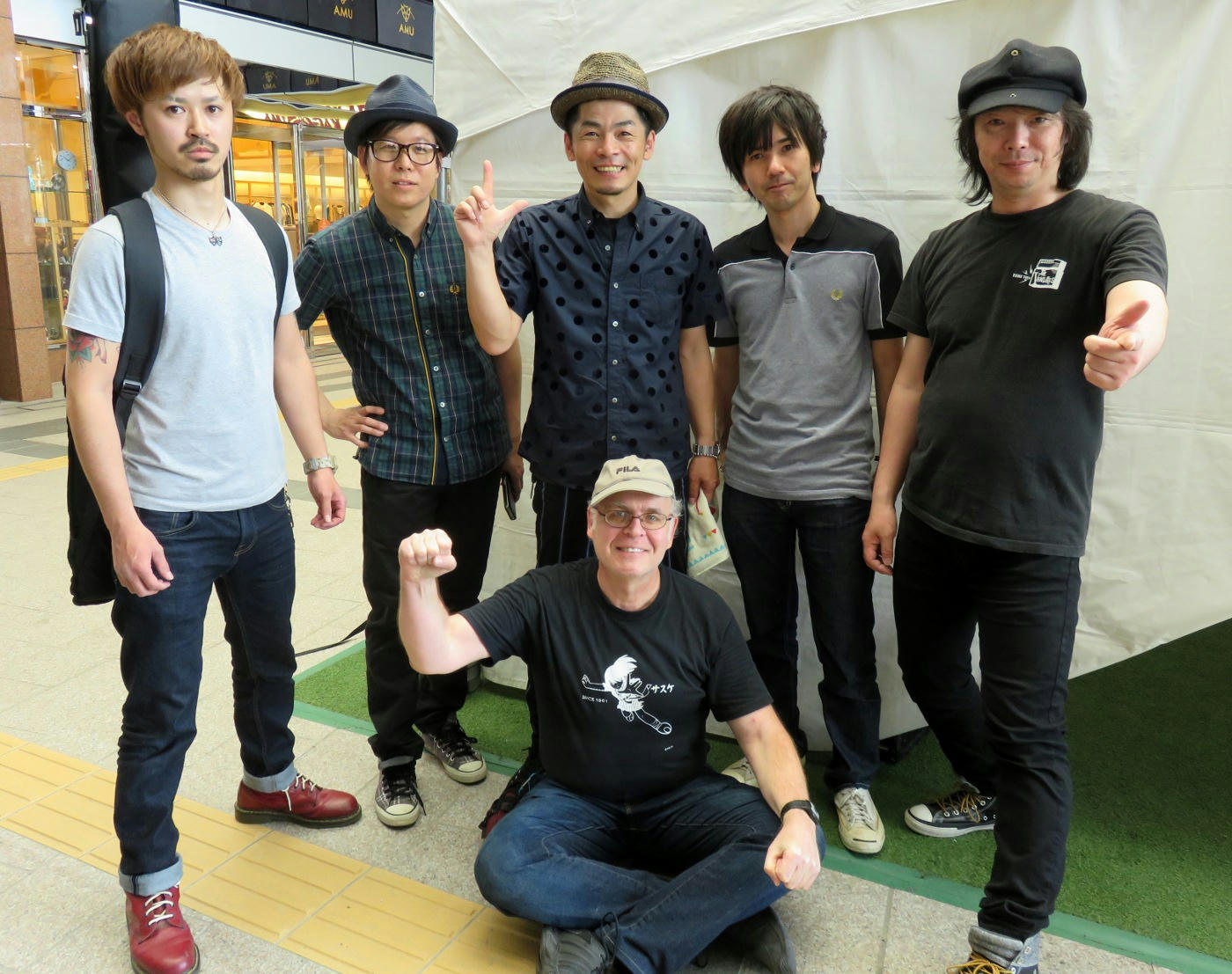 The set ended and the band tore down their equipment and kind of ignored me. Obviously, they're busy, and I don't know what they've got lined up next, so I keep biding my time. Then, a pair of fans approached the tent and said they wanted to buy the band's latest CD. Bon came out for that and to sign the liner notes for them. I took that as my cue to swoop in, say "hi" and hand over the DVD Rom, and suddenly everyone is coming up to me, shaking my hand and thanking me for posting the previous photos and videos. The drummer took a photo of me and Bon on his cell phone, and then I asked if I could get pictures of the full band. Unfortunately, the keyboard player had already taken off, but everyone else said, "sure." They told me to get in the middle in front, and I figured that sitting down was easier than kneeling, so that's what we got.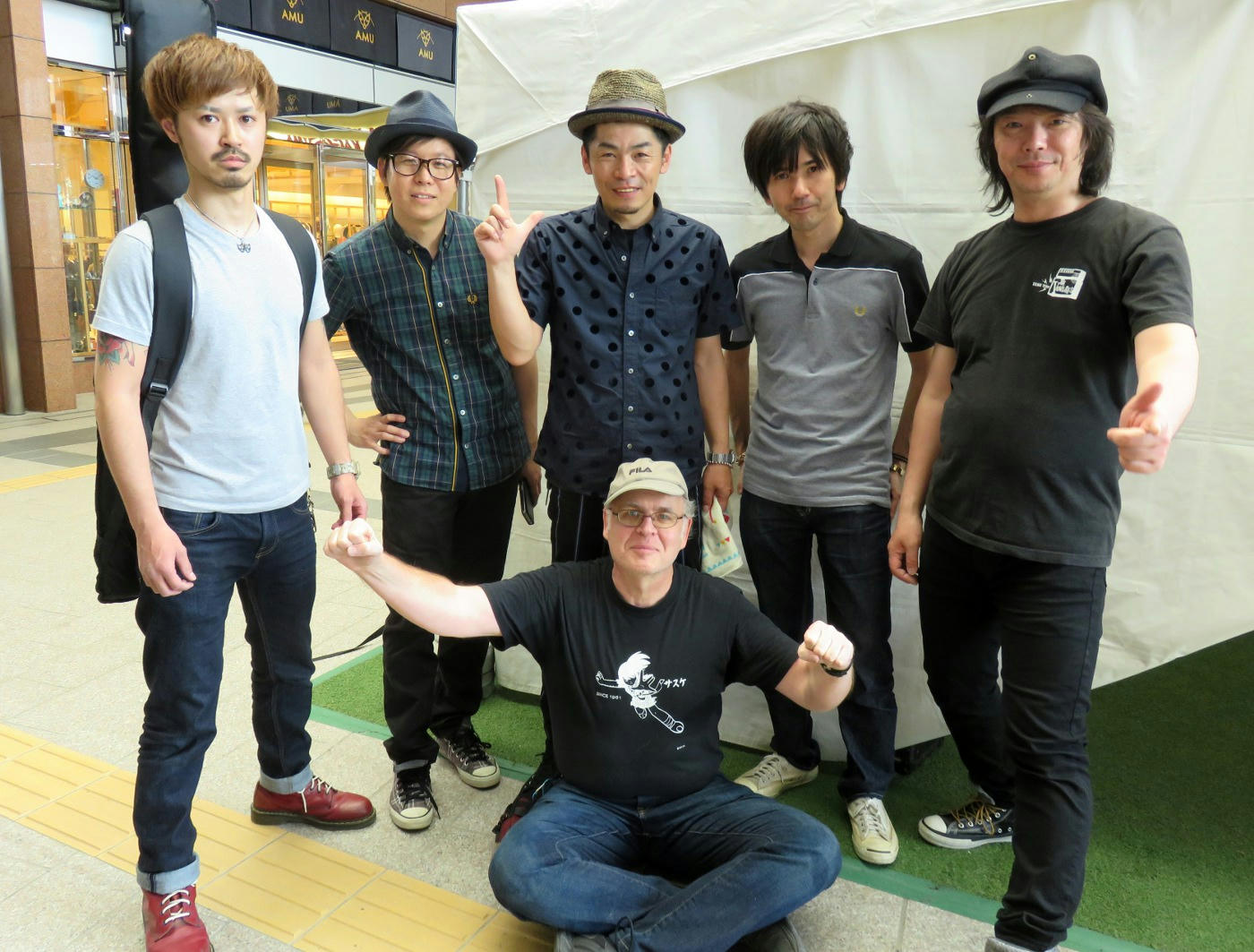 After that, the event organizer came back and asked if I wanted to get into the fan video. The idea was to write something on a small white board, and stand in front of the camera for a few seconds. I had no idea what I should be doing, so I wrote "Ka GO!al!" again (this time combining "Kago" from Kagoshima with "Go" and "Goal"). When the camera started I just yelled "Go Kagoshima" really long until they told me to stop. Then I went into Amu Plaza to get sample coffee and look at capsule ball dispensers.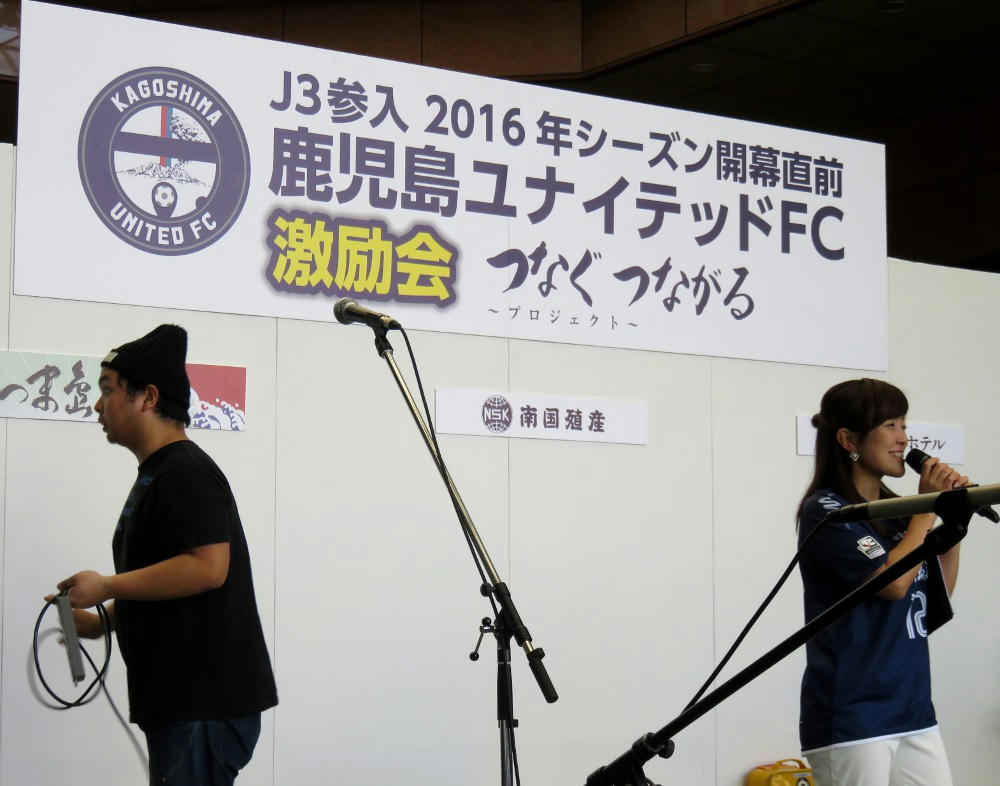 The real problem with the dispensers, again, is that if you wait too long they swap out the less popular toys or figures and replace them with other stuff you don't want. I'd just talked myself into buying the little examples of Japan's most famous castles, and the dispenser was gone. There was nothing else on the 6th floor that appealed to me, either. But, there's another set of banks of dispensers on the first floor of Bic Camera, on the other side of the train station, so I ran there to see what was in those machines. I found two sets of figures that had disappeared from Amu Plaza 6th floor a few months ago, and I took this chance to buy one each from both of those (200 yen apiece). No castle figures, though. Then I returned to the plaza to catch a few minutes of the next set.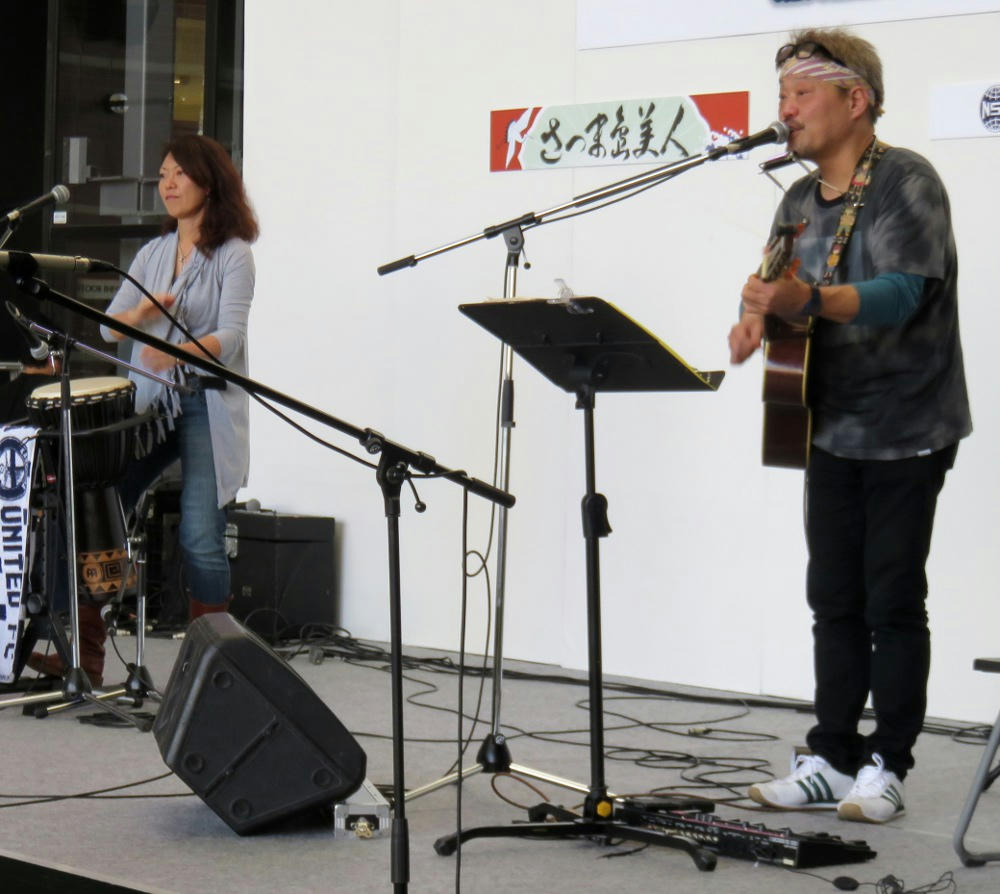 The last "guest artist" was Wicky Toshi. I've seen him before, but I haven't listened to him much so far. He's a friend of Bon's, and actually is the owner of the Wicky's House bar and restaurant in Tenmonkan. Bon, Nonki, and several other musicians I've met play at Wicky's regularly. He's a big fan of
Southern All Stars
, and plays covers of their hit songs. Which is a problem because I fully expect either Facebook or Youtube to flag the video as "copyrighted material." Anyway, I recorded one song, then returned home to spend the rest of the day sorting through photos, making the videos, and uploading everything to FB and youtube.
The day ended better than it started, which was nice. I still have allergies, though...
Direct youtube link