I wrote about
Edogawa Rampo
many years ago. Born Taro Hirai (1894-1965), he started writing mysteries with his debut in 1923 under the pseudonym "Edogawa Rampo," which is the Japanese pronunciation of Edgar Allen Poe. Rampo became one of the first, as well as one of the most successful writers specializing in Japanese-style home-grown mysteries (as opposed to simply translating English stories into Japanese.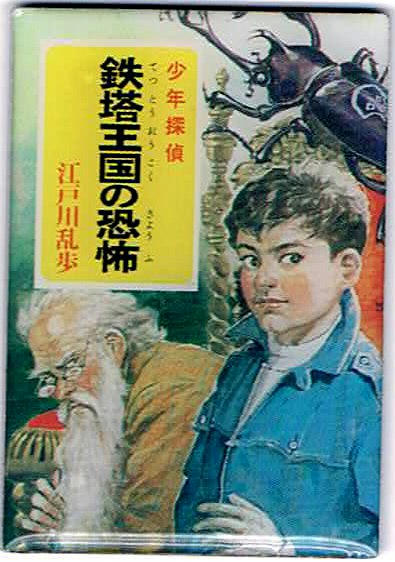 In 1936, Rampo wrote "The Fiend with Twenty Faces," featuring his main detective - Kogoro Akechi (this name gets reused in the
Meitantei Shonen Konan
manga) leading a group of school boys. This novel laid the foundation for the
Shonen Tantei-dan
(Boy Detectives Club) series that ran 26 volumes up to 1962. I mention all this because I discovered a capsule ball dispenser with refrigerator magnets printed with the original cover art from some of the Boy Detectives Club books. 2"x1", 200 yen apiece. Series of 7 magnets (one "secret" magnet). The one I got is "Tettou Ookoku no Kyoufu" (Terror of the Iron Tower Kingdom).