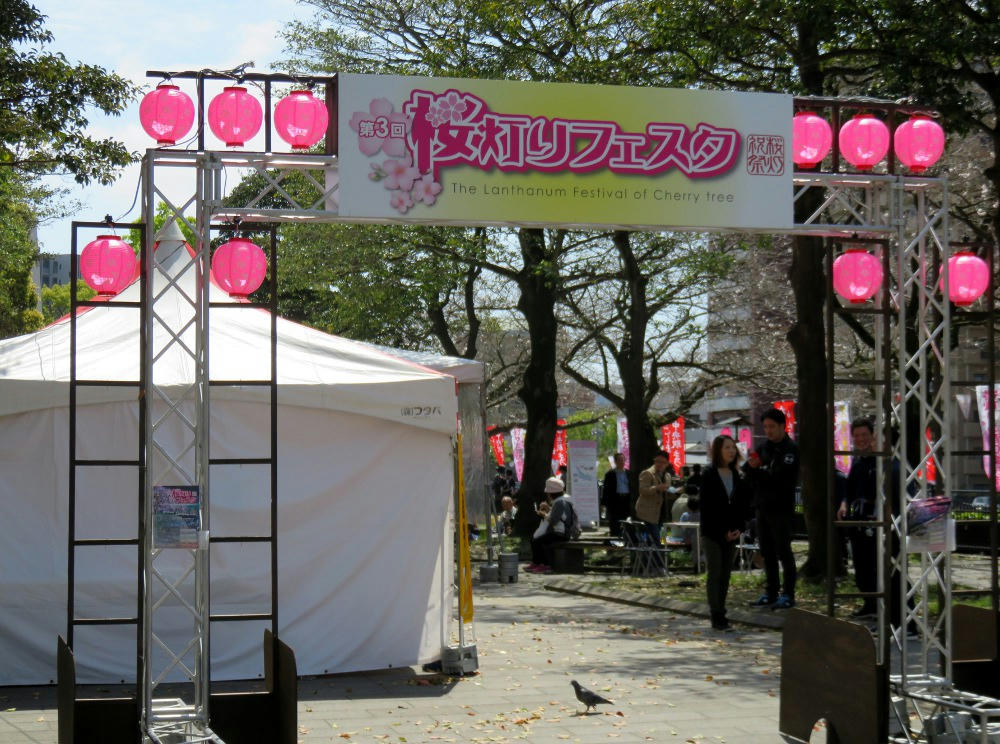 The sign subtitle reads "The Lanthanum Festival of Cherry tree."
Kagoshima held their third annual cherry blossom viewing event up at Katsuki river over the weekend from April 1st to the 3rd. It consisted of food booths, live jazz music on a stage built over the water, and lanterns for night dining under the trees. Unfortunately, while apparently the rest of the country is enjoying peak blossoms right now, Kagoshima's trees aren't quite starting to open yet. So, you could go through the motions of eating and drinking on a blanket next to a tree, but there wasn't much to look at.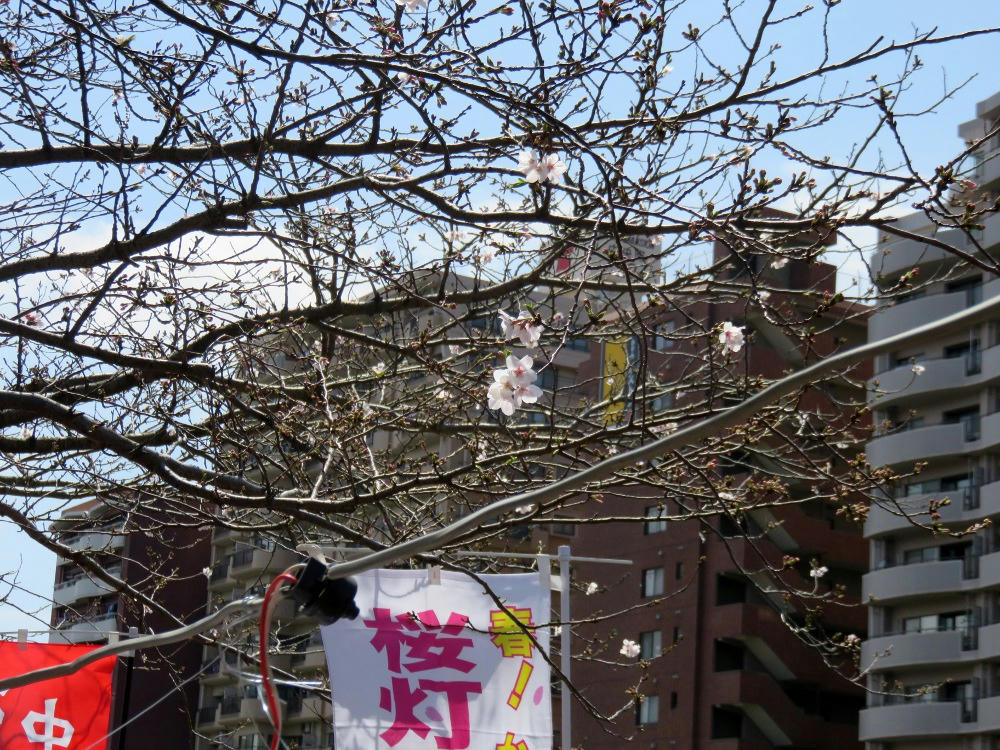 As I said, there's not many blossoms yet.
I had to work all of Friday. The event started at 5 PM or so and was scheduled to run until 9 PM, with 2 live sets by some featured headliner jazz artist. I didn't have the option of going to the park that night before things ended, so I just went home when I got out of the school, and tried to go to bed early.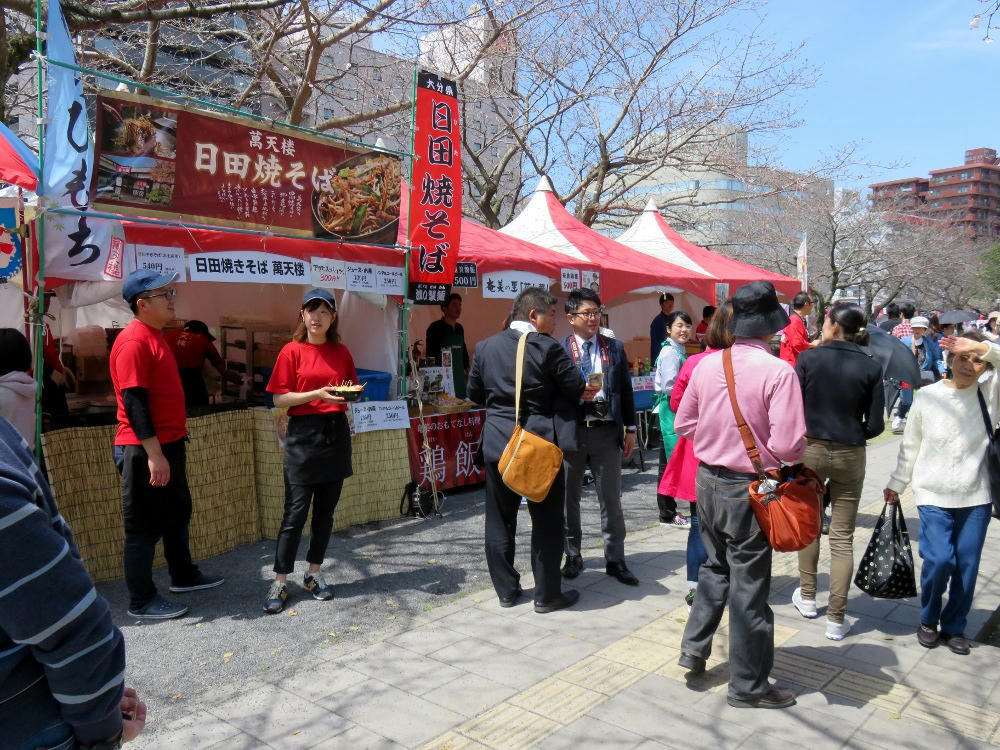 In part, the reason for going to bed early was so that I could wake up at 10 AM Saturday morning, and hit the park while stopping at the grocery store to get milk and stuff for the coming week, before then heading off to the school to teach from 1 PM that afternoon. The booths were set up and ready for business when I arrived, but the music wasn't scheduled to begin until 1:30 PM.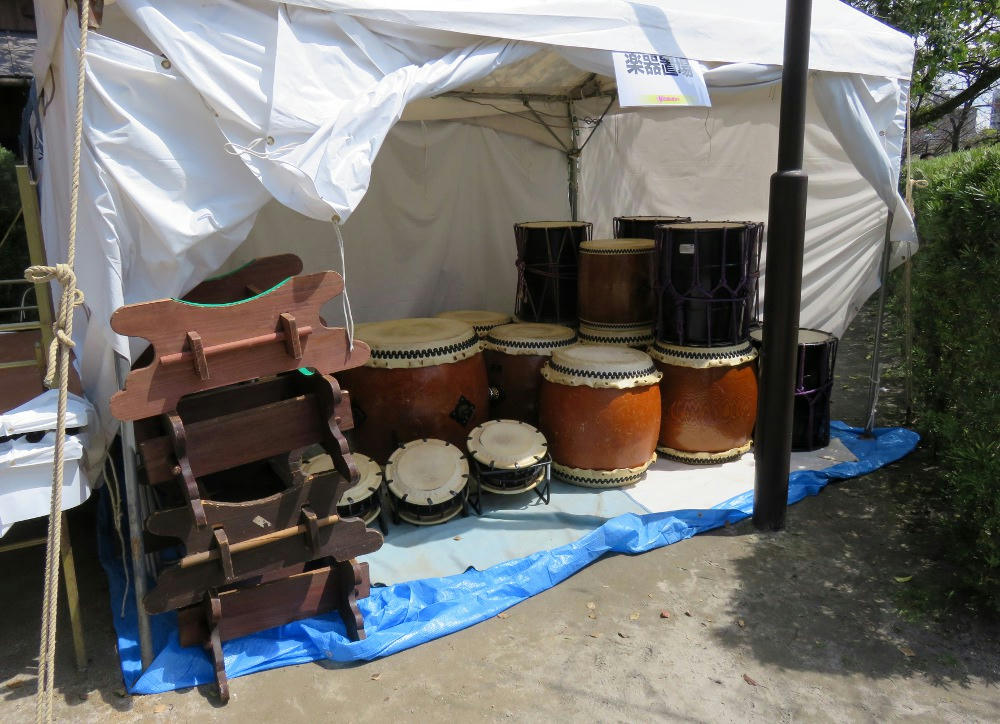 I guess there was going to be a taiko drum group some time during the day. The drums were next to the recreation of an Edo-period house near the Meiji Restoration Museum.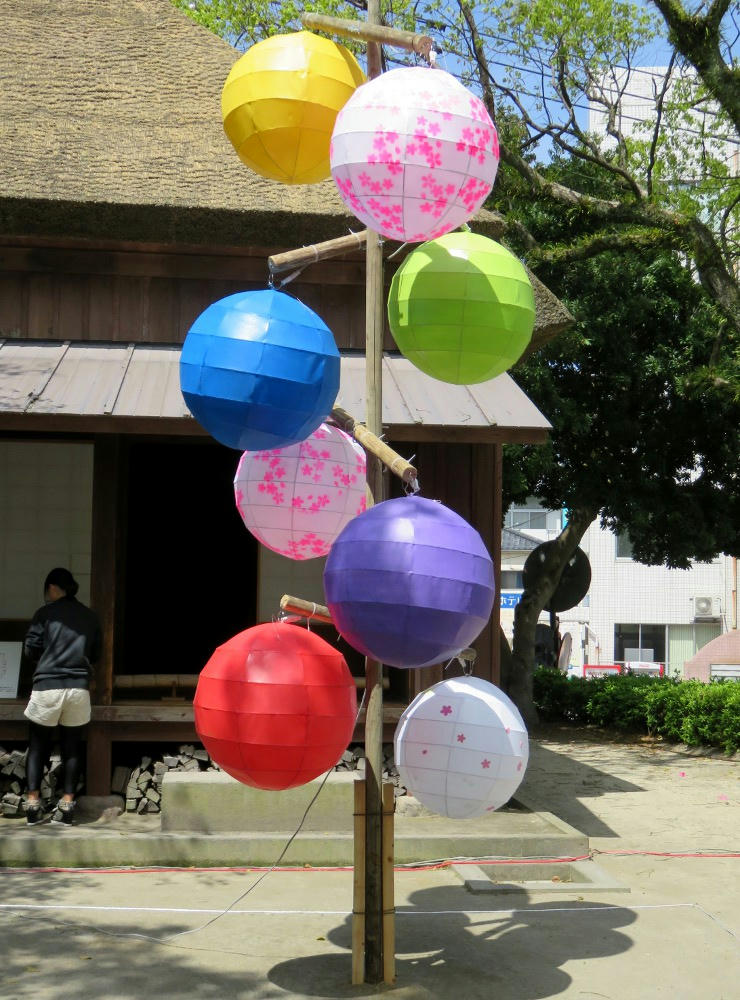 There was also an art contest, in front of the same building, that the spectators could vote on.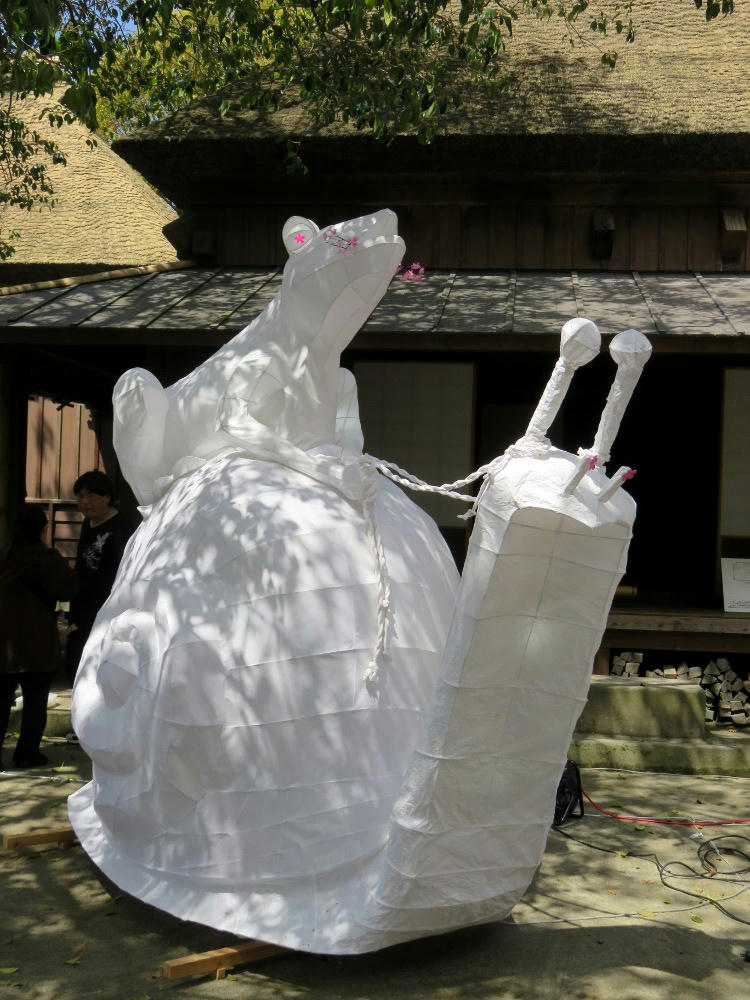 One of the other entries was a frog riding a snail.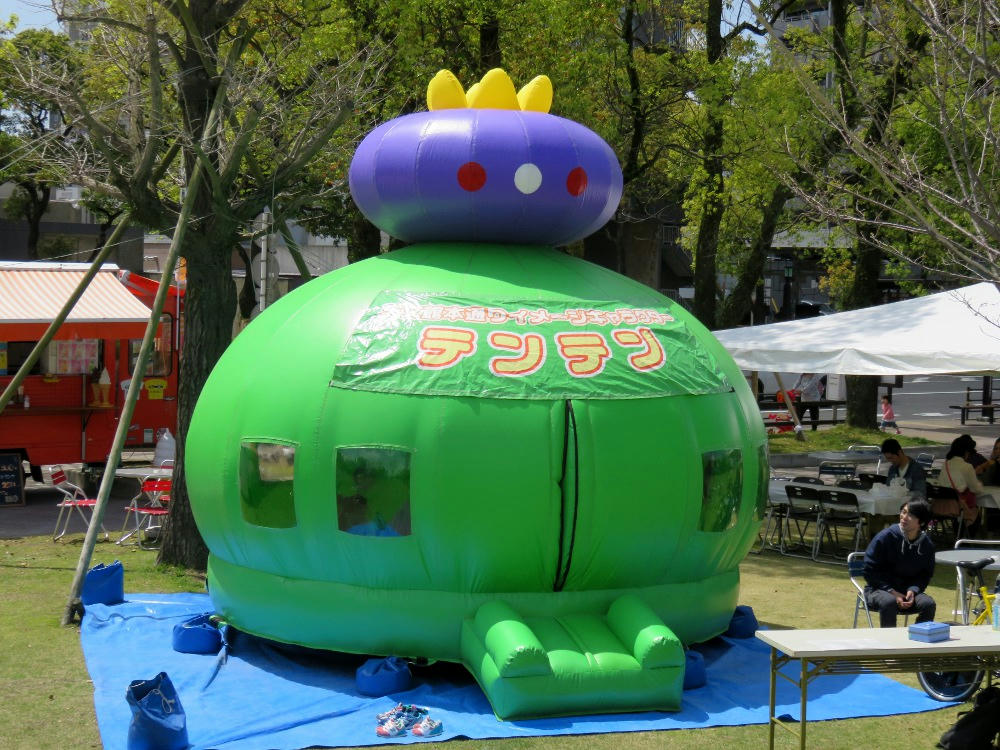 They also had the Tenmonkan space alien mascot, Tenten, jump room set up on the other side of the river, for children.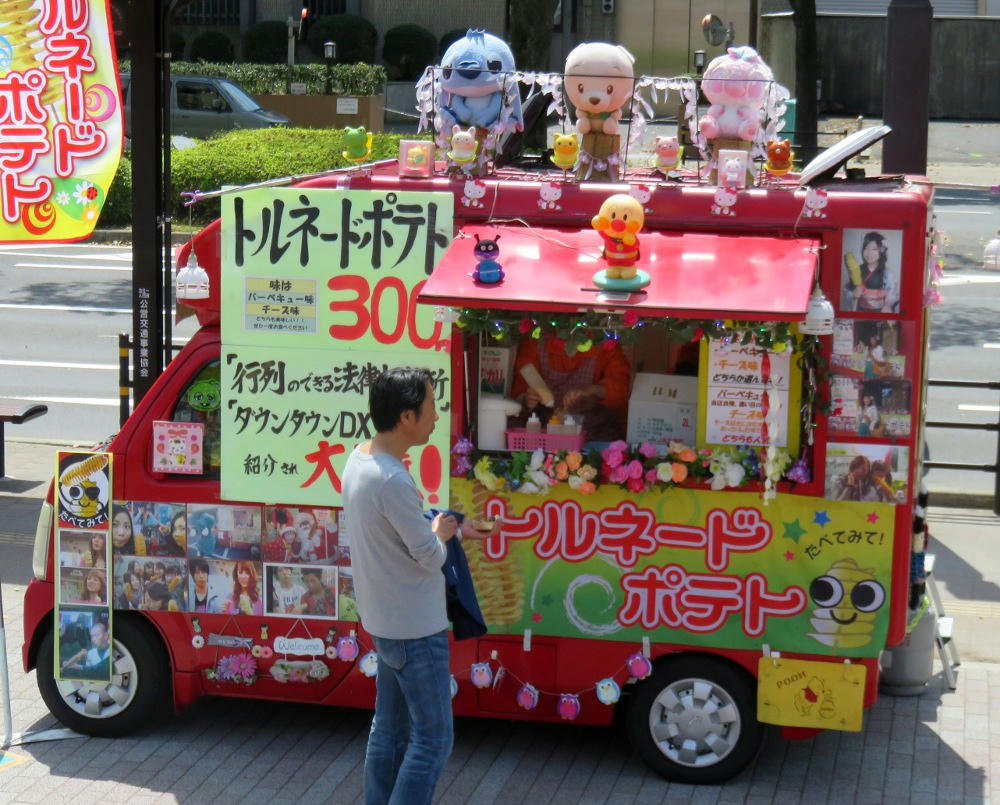 Along with a food truck serving "tornado fried potatoes" (AKA: curly fries)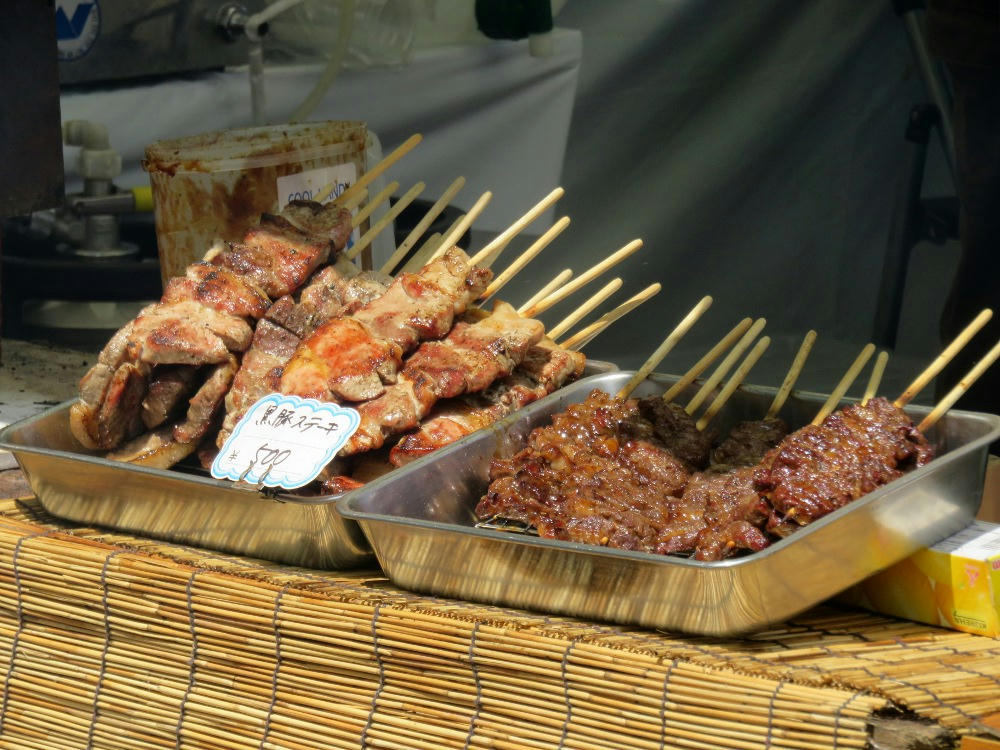 "Fried meat, 500 yen ($5 USD) for one stick." There's a reason why I didn't buy anything to eat this time.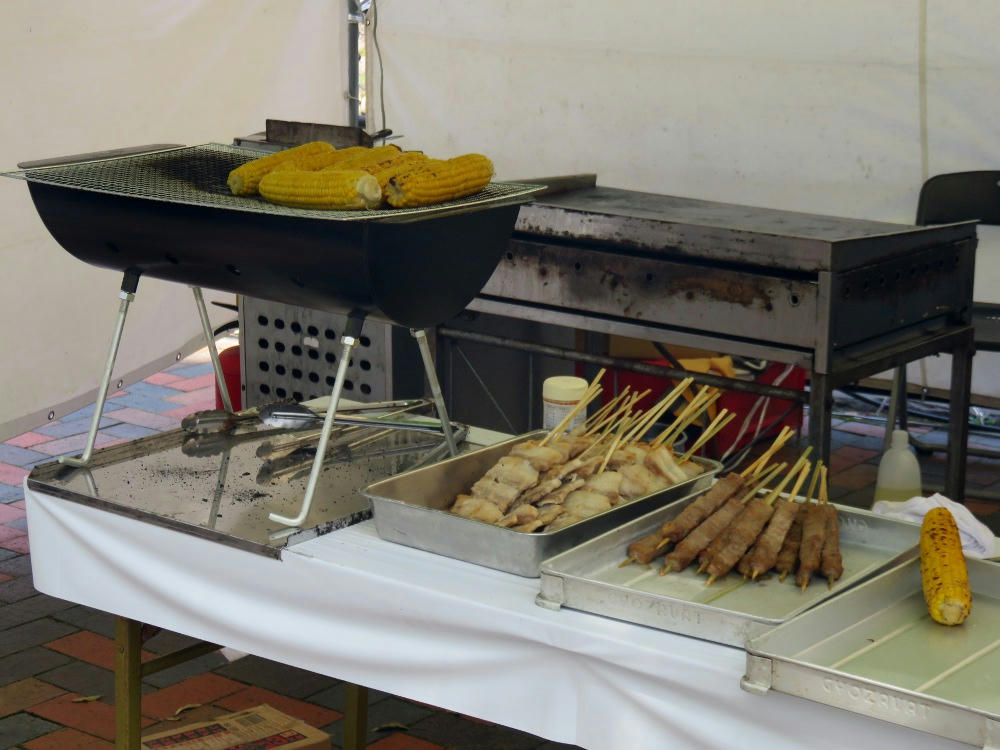 The corn looked good, though.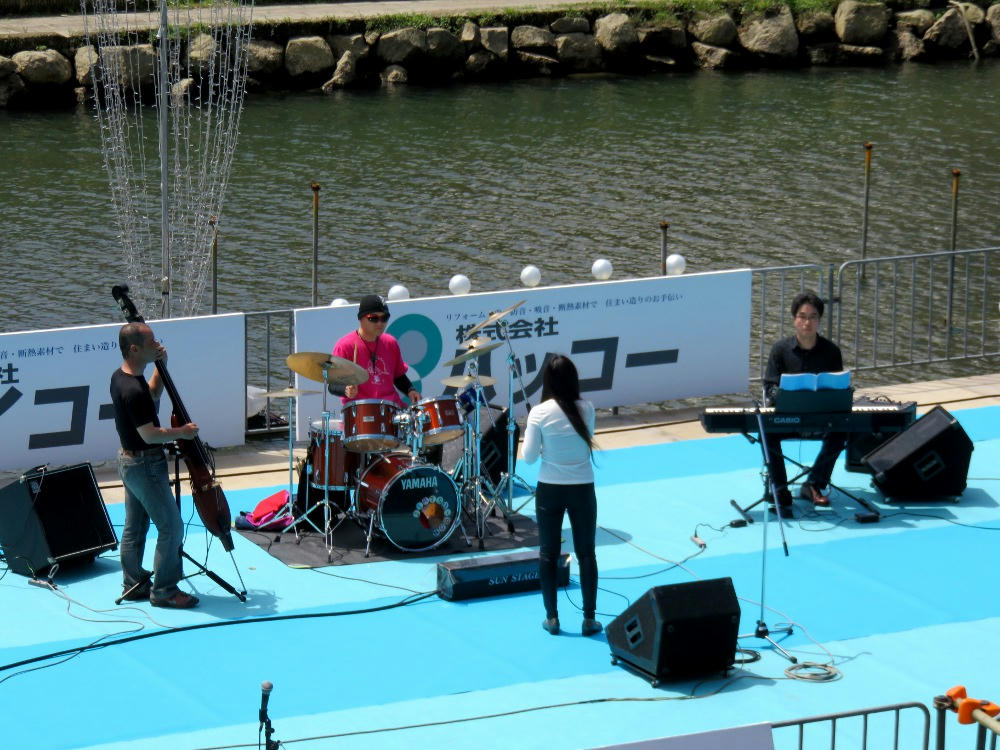 I didn't catch the name of the first act for Saturday. They were only warming up and didn't finish any given song they started. Most of the music was soft American pop with a Japanese accent. Besides, I had to leave before the show started. The problem was that I had classes scheduled from 1 PM to 8 PM, and the Hanami event would end at 9 again, but the final music act would only go to 7:30. Not much reason for rushing from City Hall all the way to the river just for that after classes finished.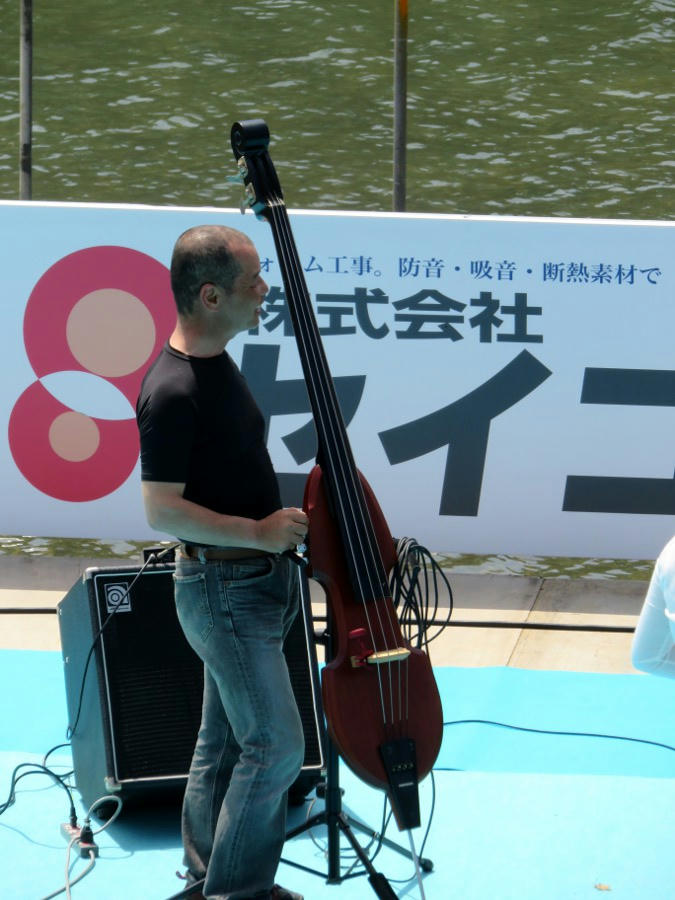 I like the electronic stand-up bass, though. I should mention that some time during the day, the volcano had a minor eruption, coating the entire city in a thin blanket of ash. The air was still thick with it the following day, so I assume that the live music got interrupted for a while.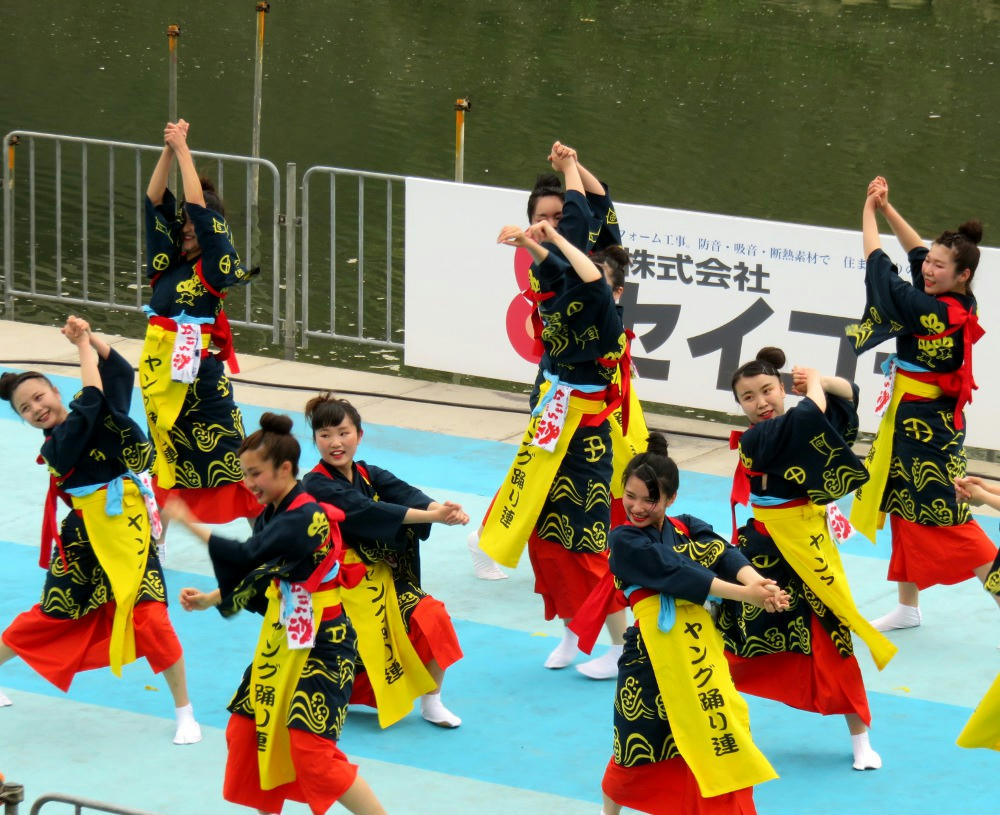 Sunday was my day off, but there were so many personal things I had to take care of, I only had enough time to return to the river for a few minutes while doing food shopping around 1:30 PM. Pictured here is the Yang Dance Team. They performed a couple modernized variations on traditional songs and dances, which was interesting. But, there were so many spectators crowded against the railings at street level that I couldn't get to a good position for recording them. After this I went to Amu Plaza, but there was nothing interesting going on there.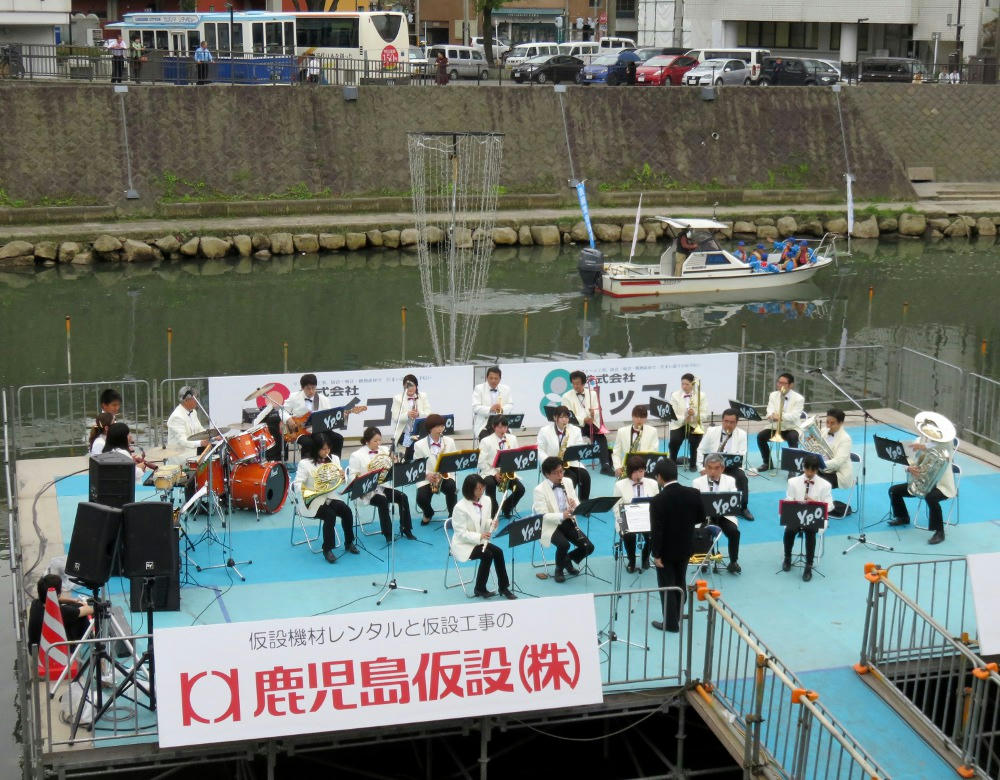 I came back to the park in time to catch part of the Yoshida Pops Orchestra. I've seen them before, and they can be good, but this time they were just playing some sleep-inducing slow jazz.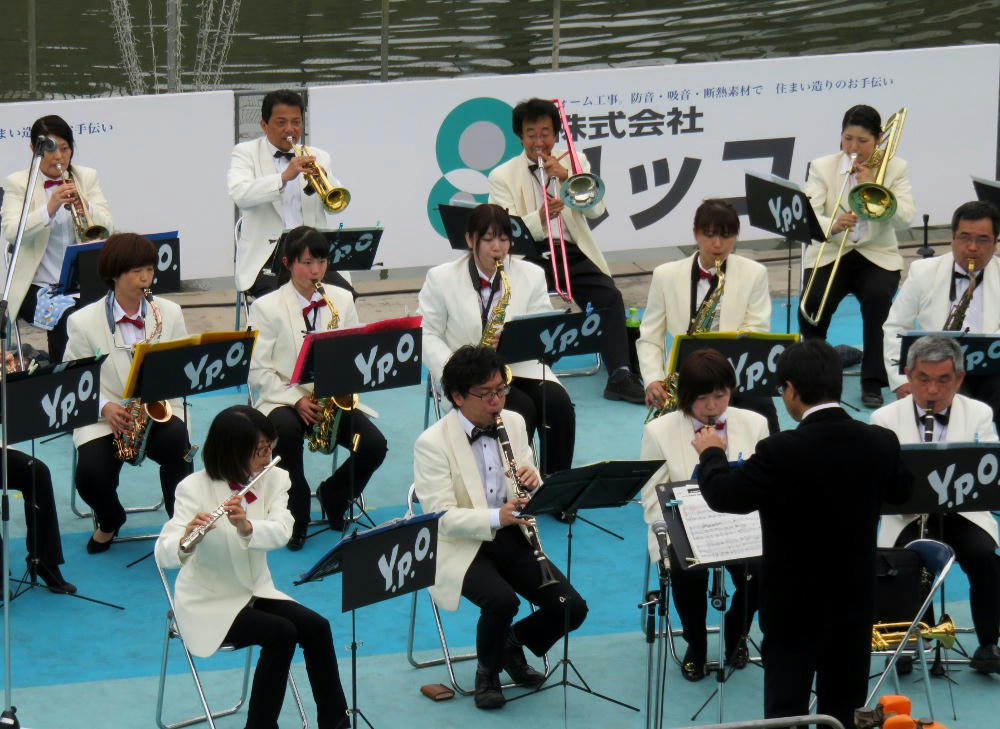 I had to go back home at 2:30 PM. After that, it rained, hard, for a couple hours. The rain ended around 5 PM, when the event was scheduled to finish, so I didn't bother going outside again. Overall, not a really exciting weekend, largely because of my current workload...