Walk-Inn Studio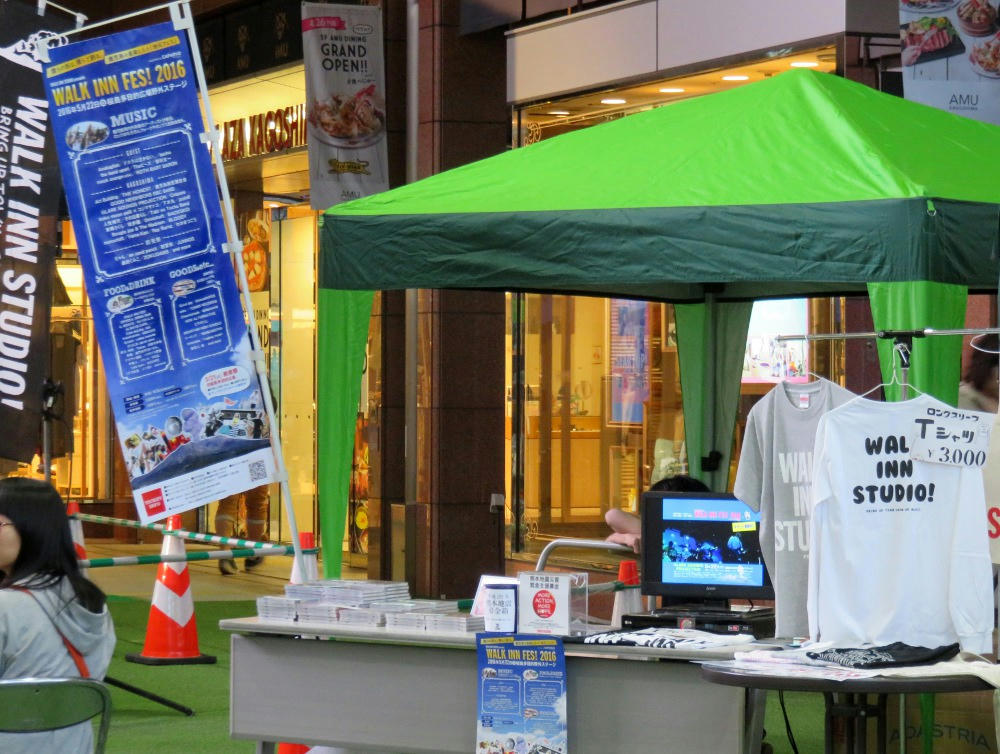 I mentioned in the entry for the events last weekend that there were several new events scheduled for this weekend. Well, when it rains, it pours. Literally as well as figuratively. We had rain for the first half of the week, all the way up to Thursday night. It would alternate between a light drizzle and a good solid downpour. Since at least two of the events were music related and were to be outdoors, I expected them to both be canceled. And this depressed me a lot, because, at a minimum I really wanted to see the big annual dance festival, Daihanya.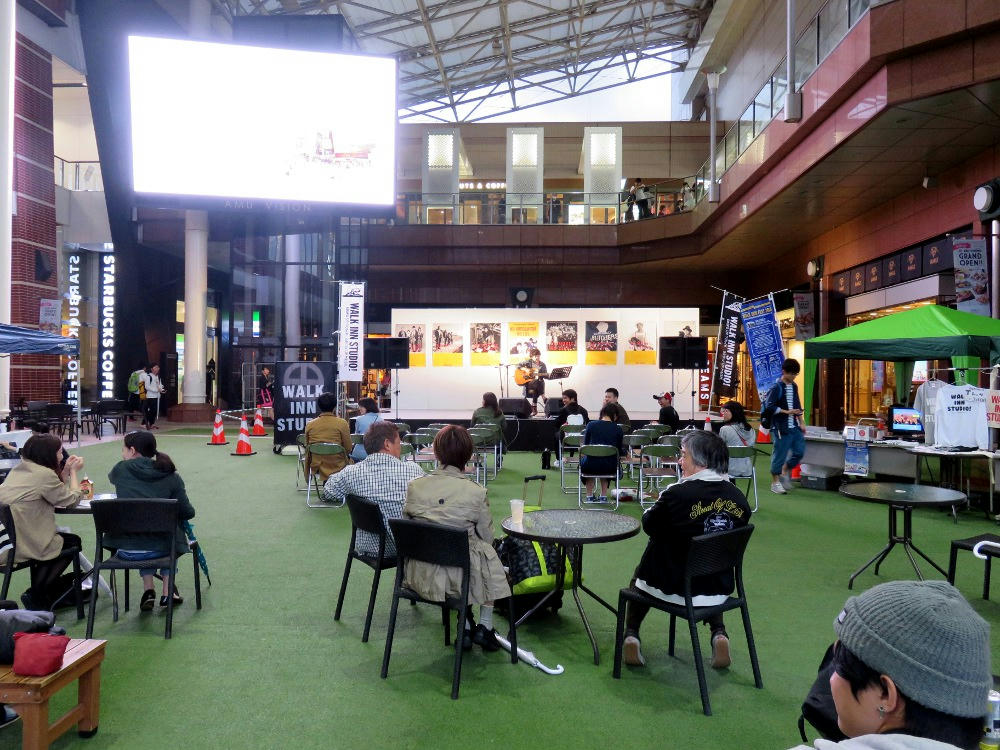 In any event, I needed to go up to Amu Plaza to do some shopping Thursday evening, and I went during a break in the rain. When I got there, I discovered that some business named "
Walk Inn Studio
" was hosting a small music event in the plaza, in part to advertise the "Walk Inn Fest" scheduled for later in May. They had tables set up for selling food, t-shirts and CDs. The studio is located a few blocks from the main train station, and is one of two places I know about that rents recording and practice space by the hour (approx. $4). I guess the idea this evening was to give their amateur clients a chance to show off in front of an audience.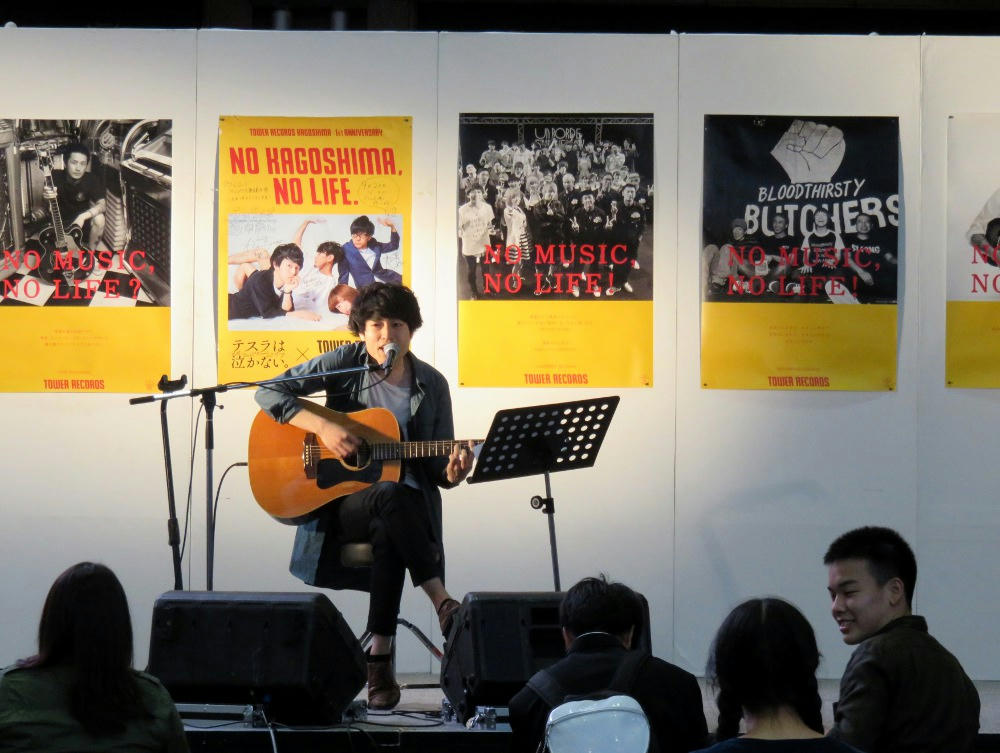 I didn't have a lot of free time, so I just took a few photos, finished my shopping and returned home. That night, it rained hard again.
KYT TV Day 1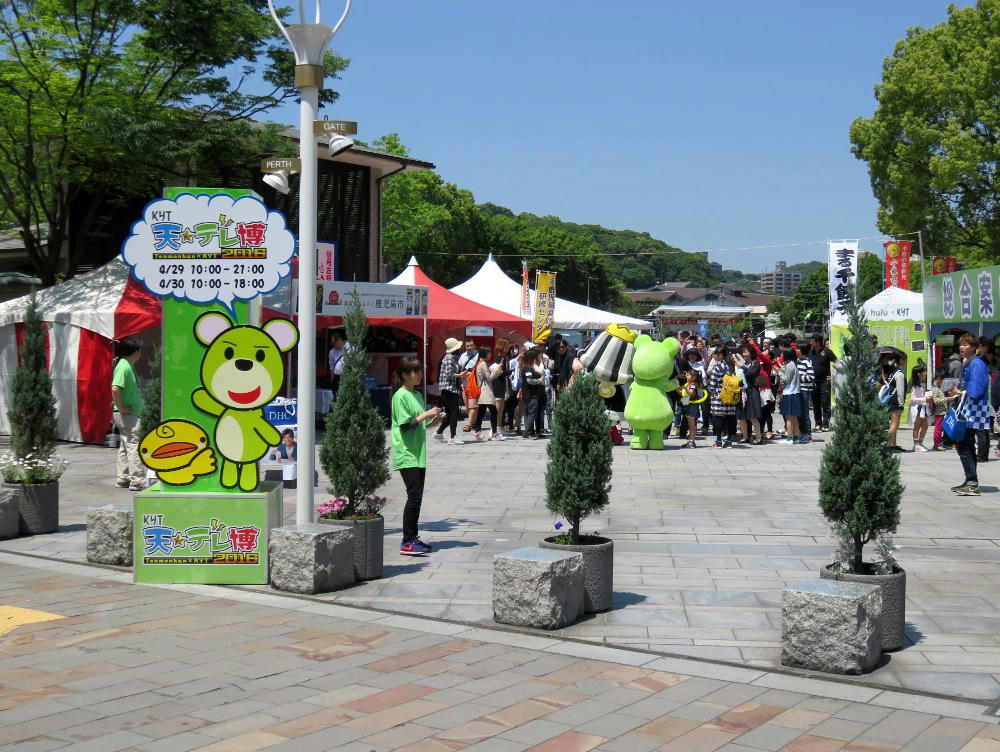 Friday, the weather was perfect, which pleasantly surprised me. However, I had to work pretty much all day, limiting my options for watching anything in the afternoon. Now, on top of everything else, we're in the middle of one of Japan's week-long national holiday periods, AKA: Golden Week. This is an almost unbroken string of one-day holidays one right after another (the exception being Monday, which isn't a holiday of any kind) going from April 29th to May 5. So, the local Kagoshima KYT TV station had their big promotion advertising their Spring season lineup of shows. The events took place in two locations - Central Park, and the space in front of Lotteria in Tenmonkan.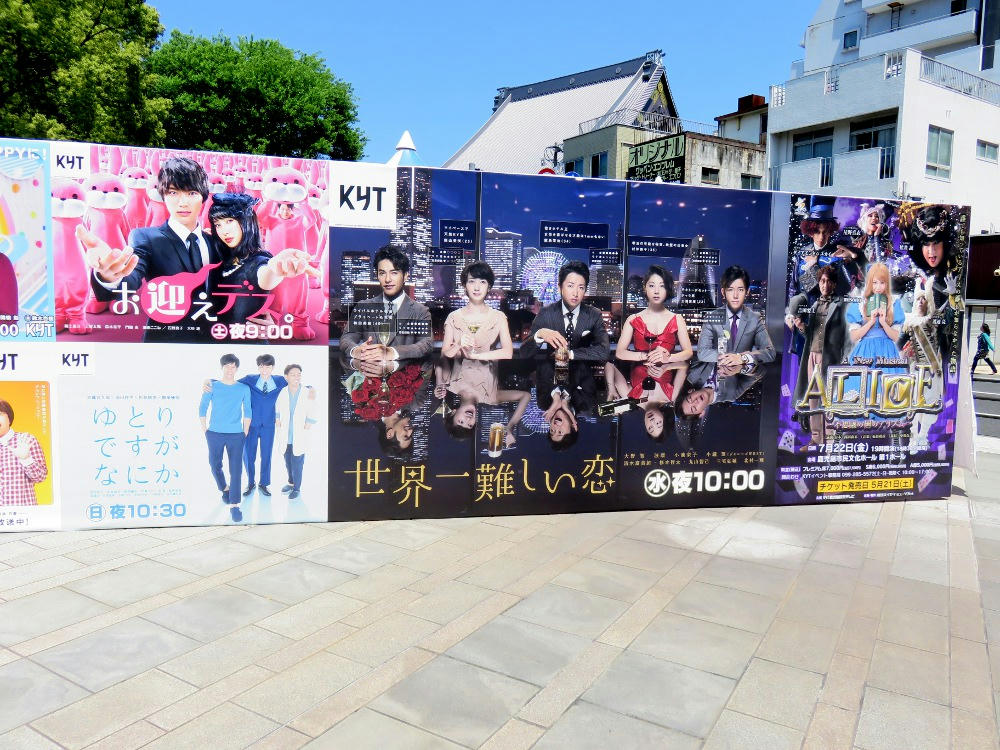 Some of the posters for the new shows. Nothing here I care about.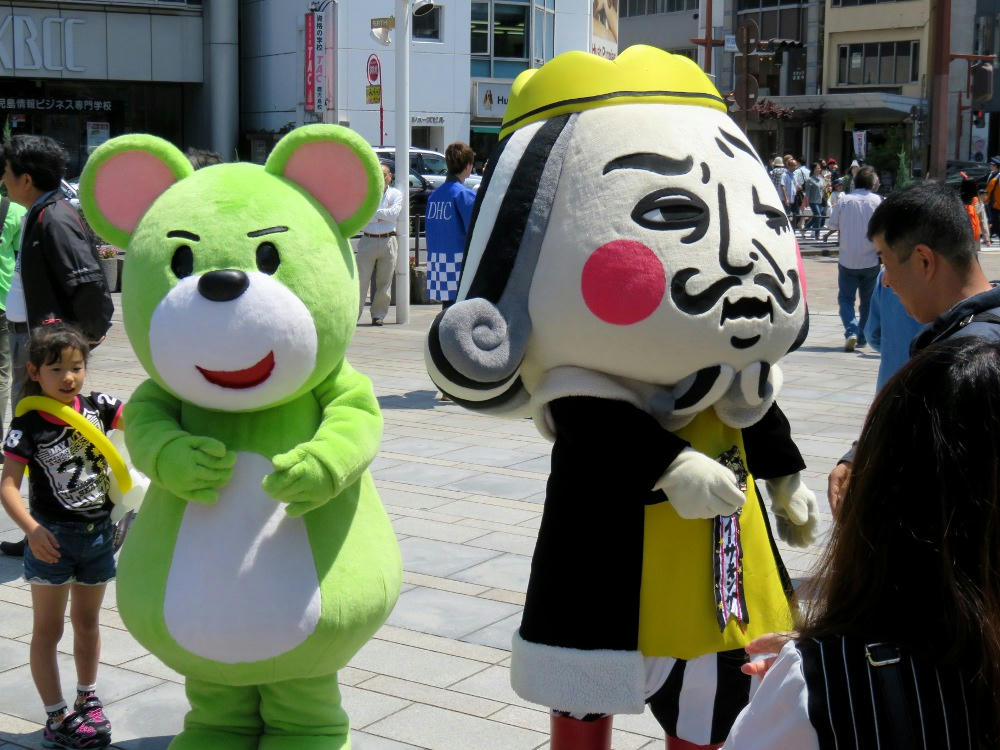 They had appearances by Issa-King and the KYT bear mascot. Issa-King is a tie-in to some kind of restaurant or food product, I guess.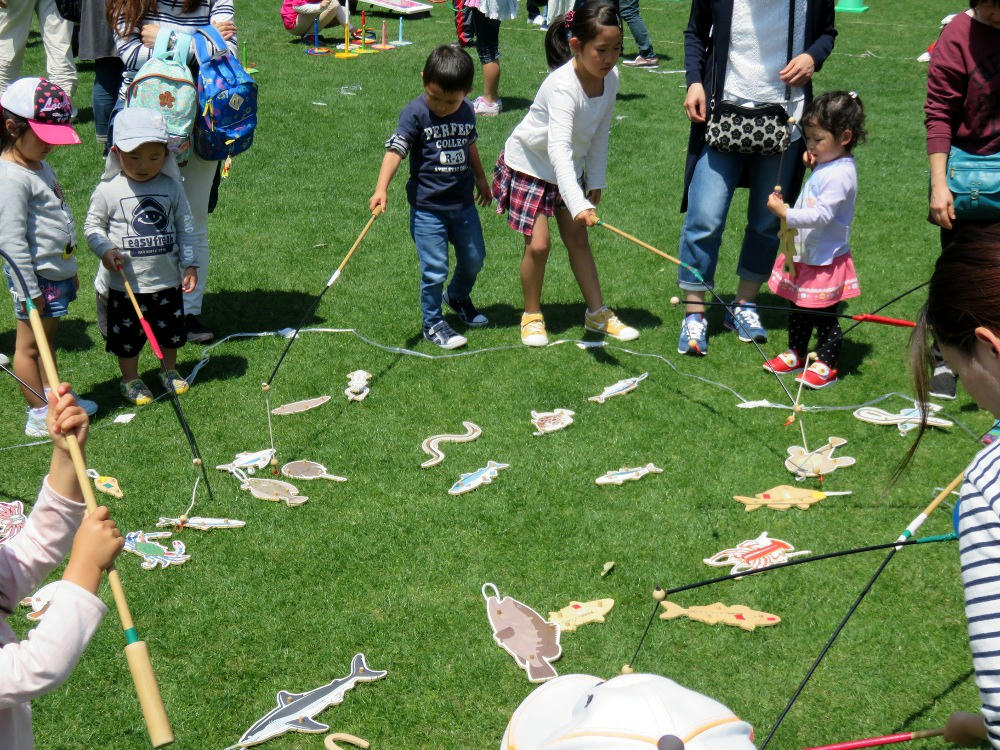 The Central Park area had a lot of children's' games, and a live stage in one corner.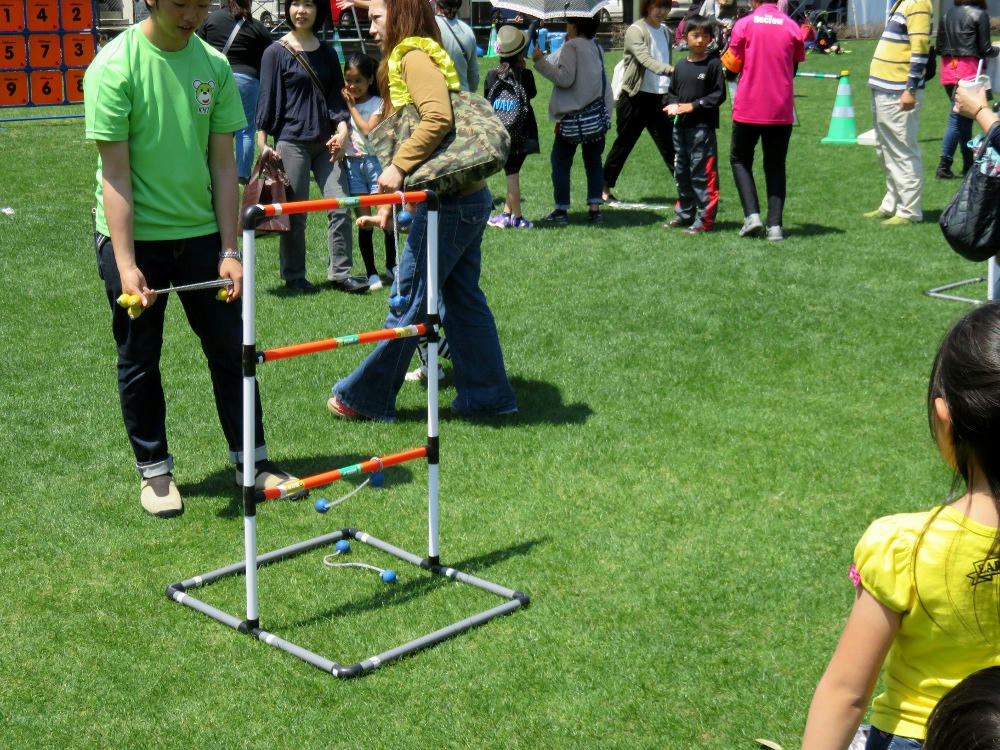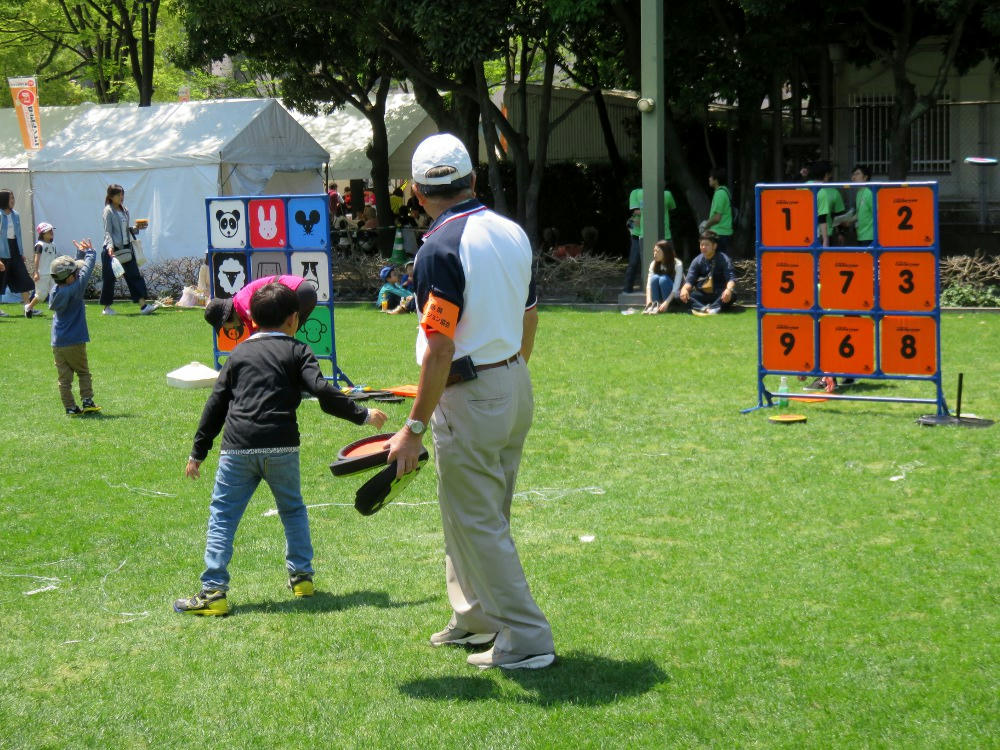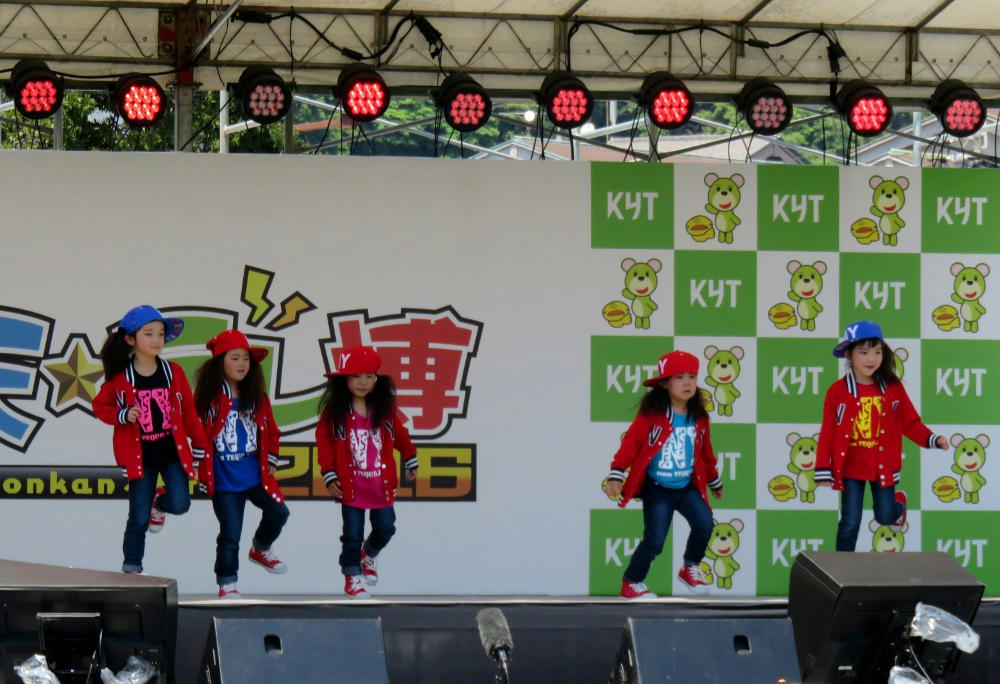 I only had a few minutes on Friday before I had to be at the school, so I couldn't stick around to catch any of the music. Then again, there wasn't much that I wanted to watch. There was a lot that was cringe-worthy, though, especially the very young students from one of the dance schools doing a hip hop routine to Nicki Minaj's
Anaconda
. It may be a good thing none of the parents understood the lyrics. This was almost as surreal as the one time I was walking by an elementary school and the teachers were playing Toni Basel's "Mickey" for the first grade class stretching exercises.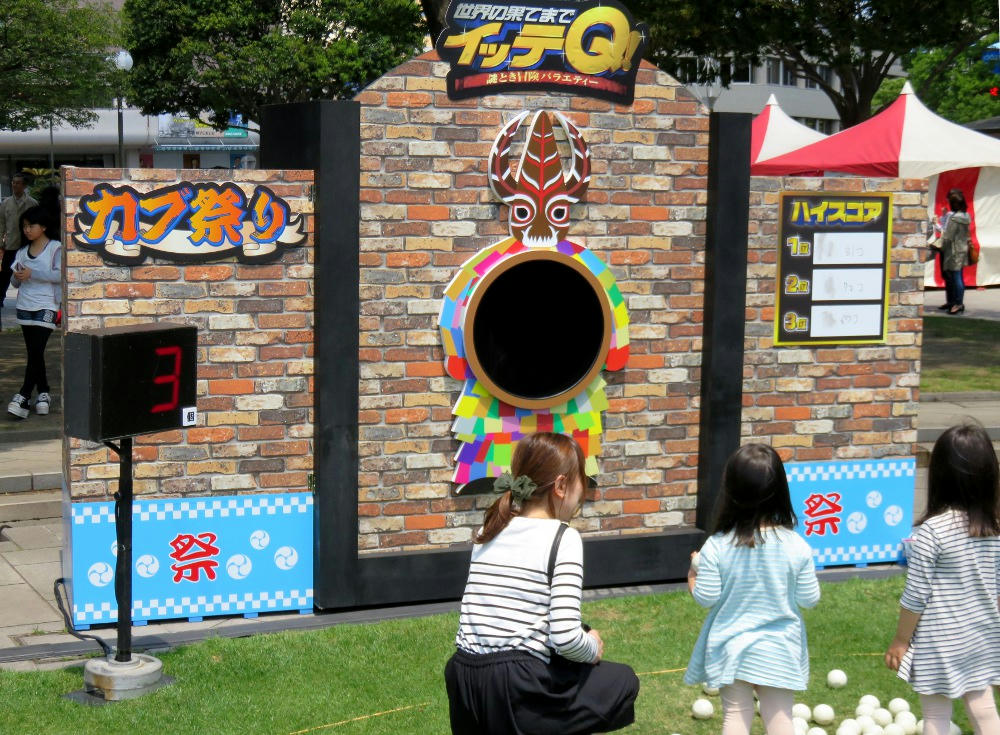 The game here is called "ET Q". Throw balls at the ET to get points.
I got out of work at 6 PM, by which time the KYT stage events were almost finished, and everything at the Lotteria site had ended at 4 PM. My main interest, though, was the Beer Fest at Amu Plaza, mentioned below. I visited that for a few minutes, bought some beer, then went home to work on the computer before going to sleep early.
KYT TV Day 2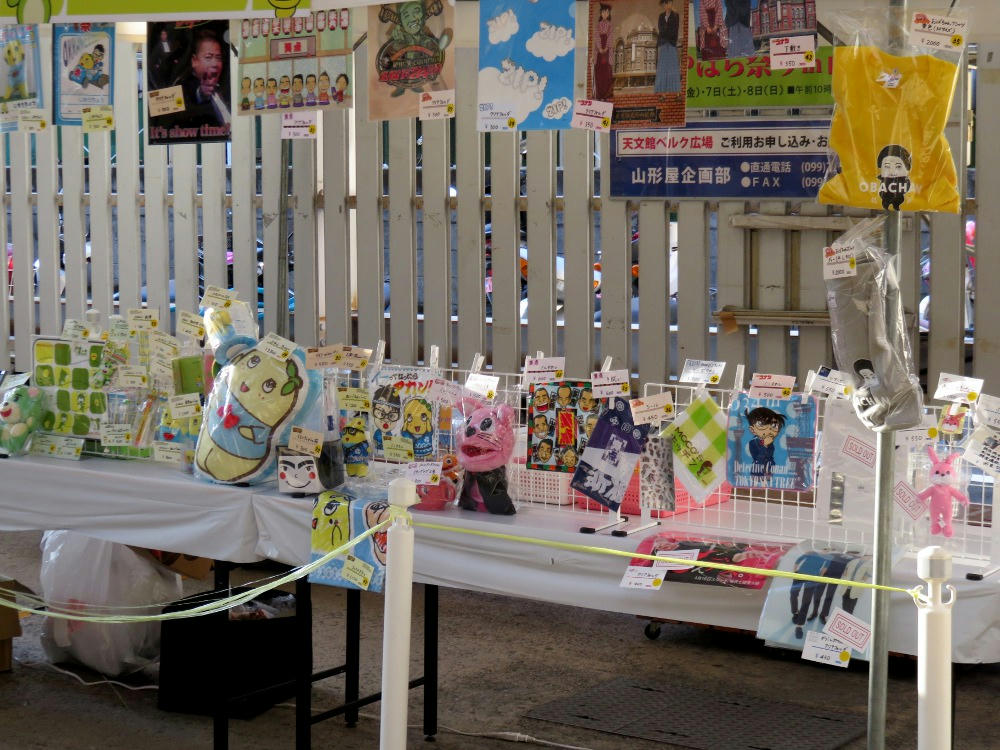 I didn't have to go to the school until 4 PM on Saturday, but I still ended up having to do work for an online company that had a deadline at midnight April 30th, so I couldn't get out of the apartment until 3 PM. There wasn't anything happening at the Central Park stage at that time, so I went over to the Lotteria site. Here, KYT was trying to sell merchandise tied to their shows, while also offering more children's activities.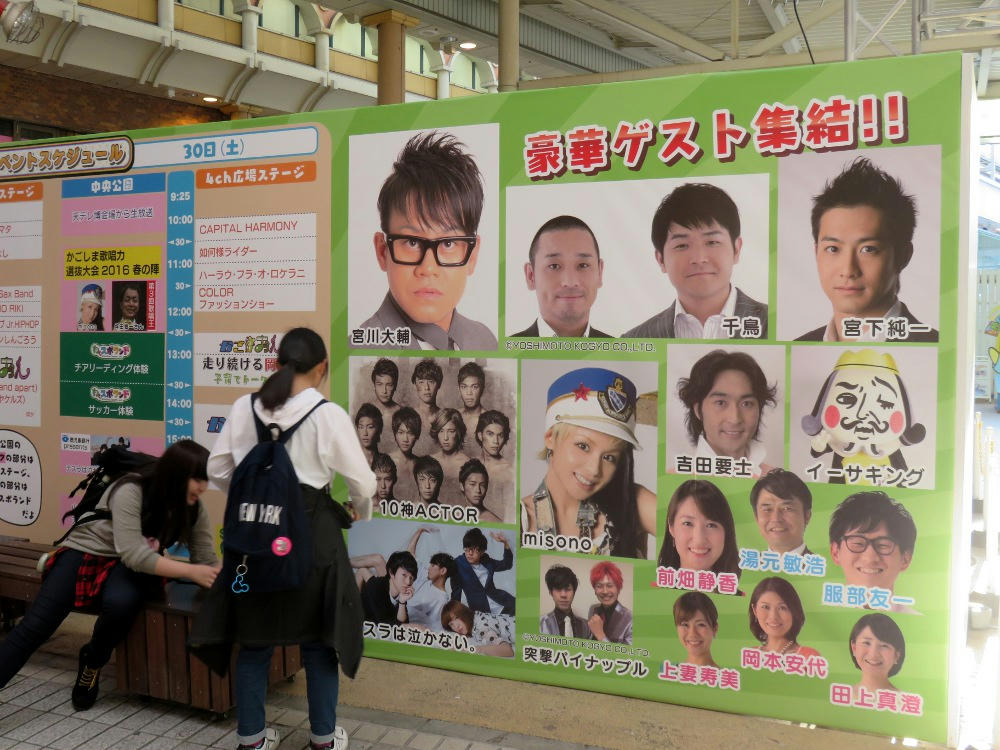 Plus promoting their actors and TV hosts.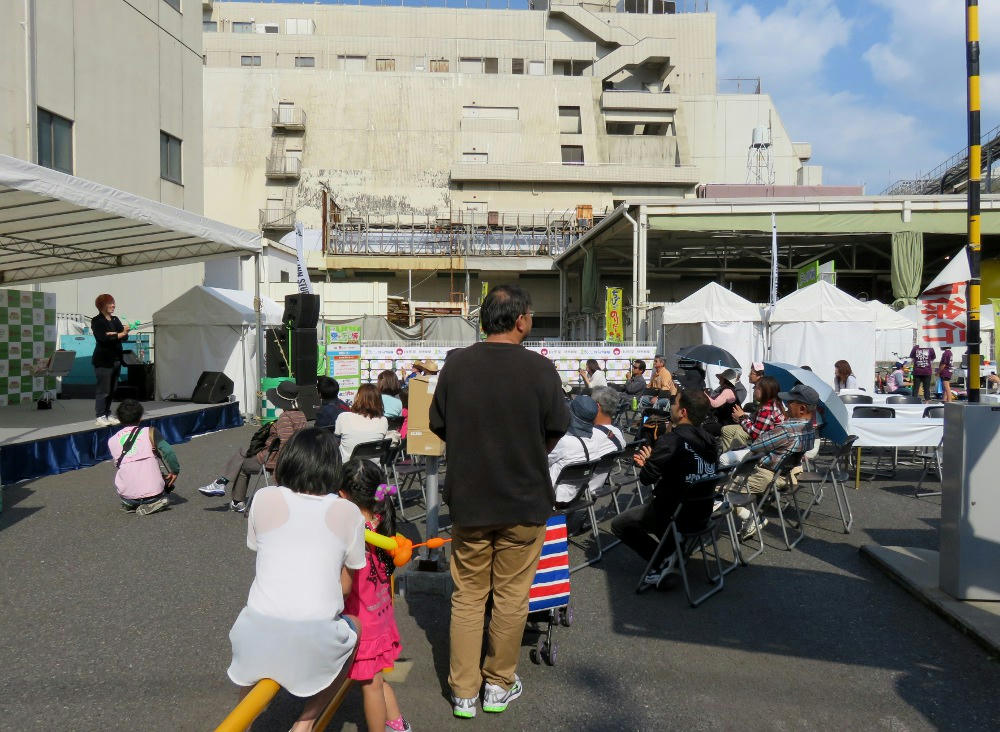 Interestingly enough, KYT used the parking lot on the other side of the event space wall as overflow for their second event stage, and sponsor booths. The only performer scheduled for the second stage that I wanted to see was
K@ito
, a juggler I'd recorded back last August. This time, though, he was just doing balloon animals, so I took a few photos and kept going to the school.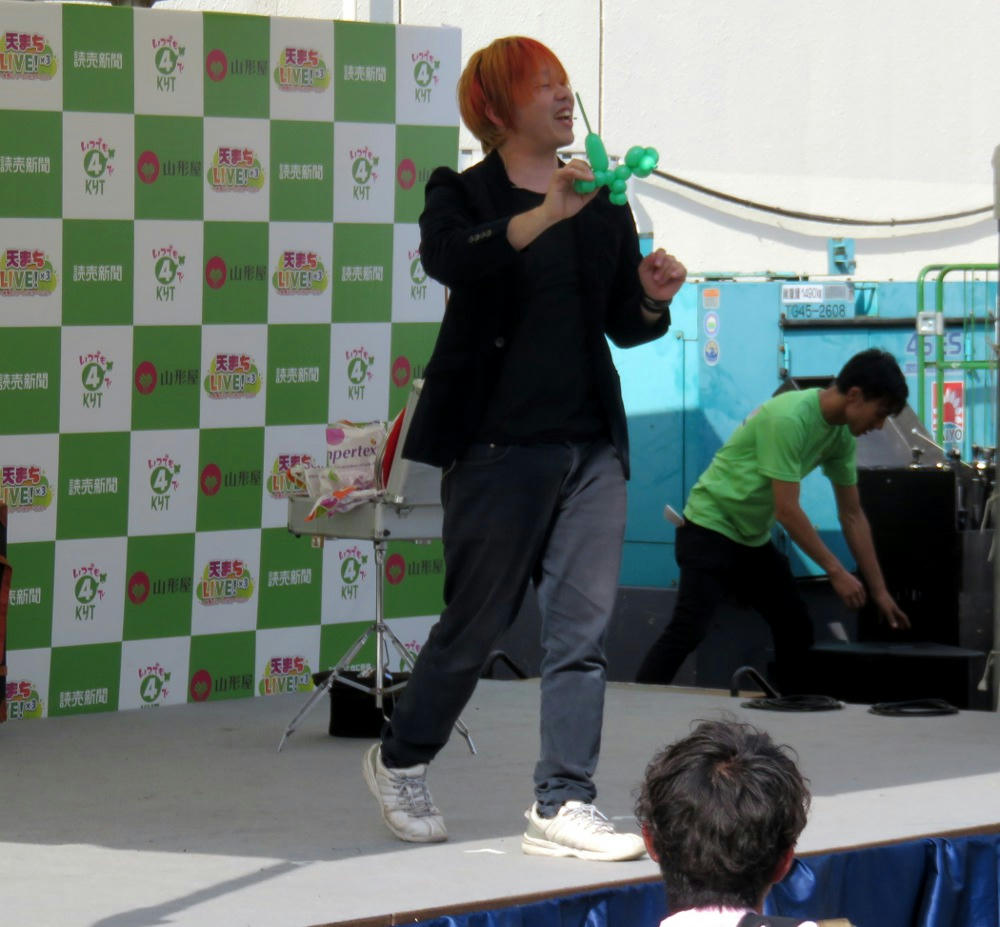 (K@ito.)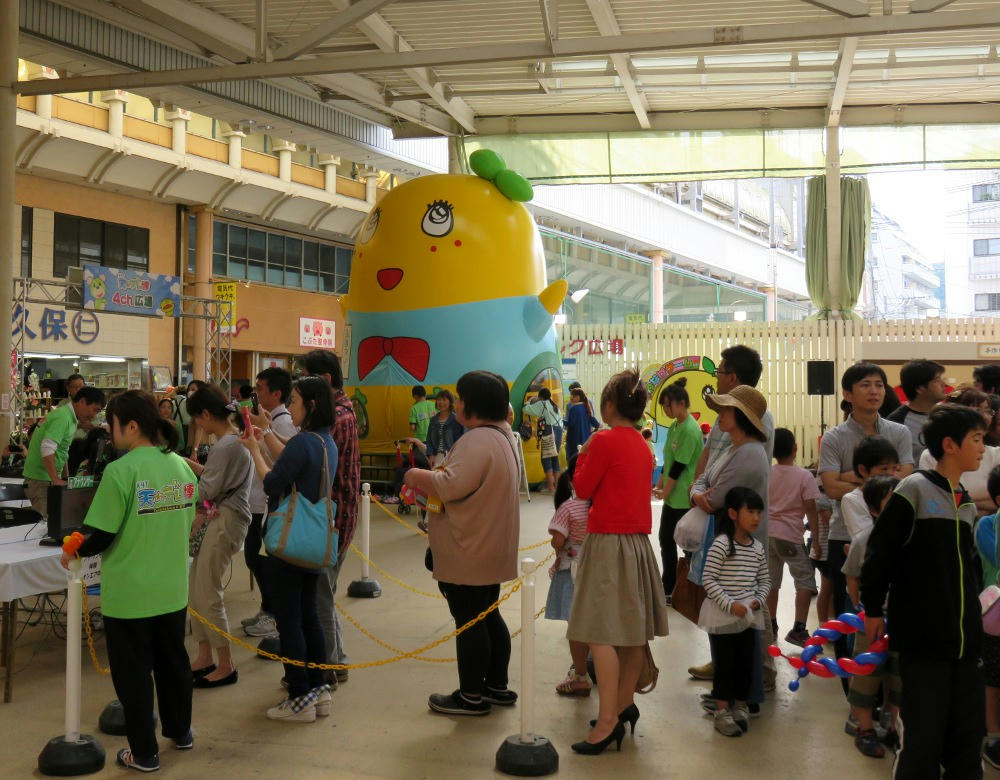 The rest of the event space had the jump room and a more games.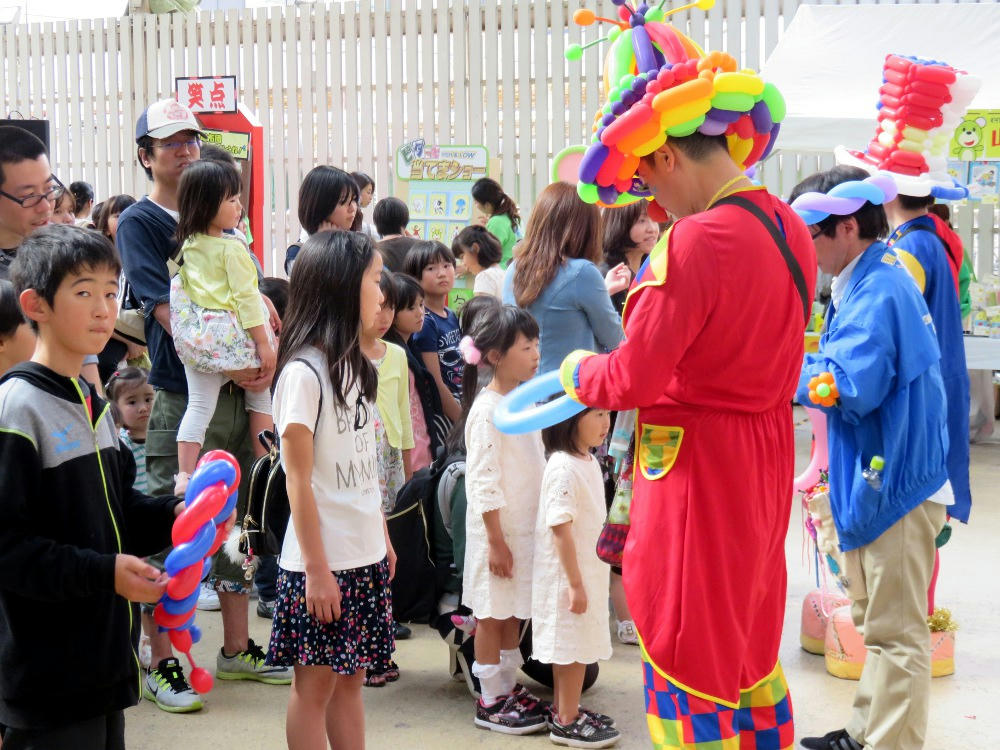 Plus other balloon animal making clowns. After I got out of the school, all the KYT activities were finished and the event wrapped up. So, that was it for KYT for Friday and Saturday. But, as I was getting ready to leave the school, the owner told me that there was some kind of meat festival at Dolphin Port for the weekend and that I should try getting down there for that. As we were talking, one of the local TV stations had a recorded segment on the Dolphin Port event on TV. I'll talk about that below.
Beer Fest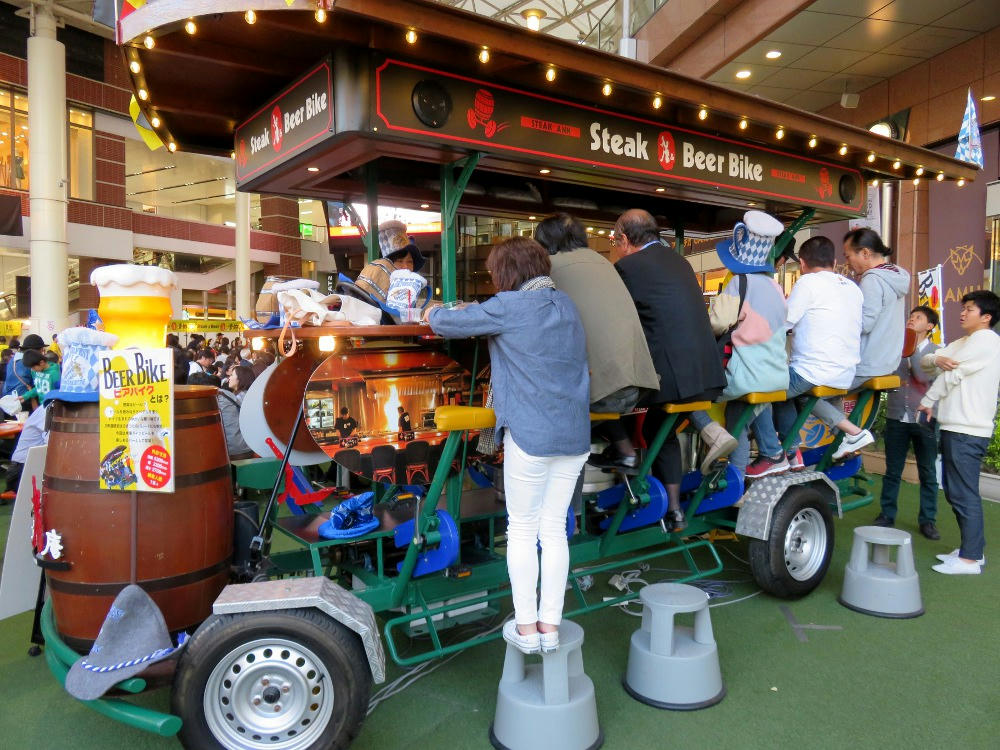 Amu Plaza had their beer fest from Friday afternoon to Sunday evening. On Friday, after finishing work, I came here to check the event schedule and to see which beers were on sale. Shiroyama Hotel makes their own beers, and they had a pale ale, a lager, a pilsner and a stout, for 500 yen ($4.50) each. I got the stout and the pale ale (the stout was watery, but the ale was good and hoppy). There was nothing on stage worth recording, so I just looked at the food booths (sausages, curry, ice cream) for a while, then went home for dinner. What annoyed me was that the event schedules only covered one day at a time and there was nothing listed on the Amu Plaza internet home page. The only way to get the schedules for Saturday and Sunday was to physically visit Amu Plaza on those days.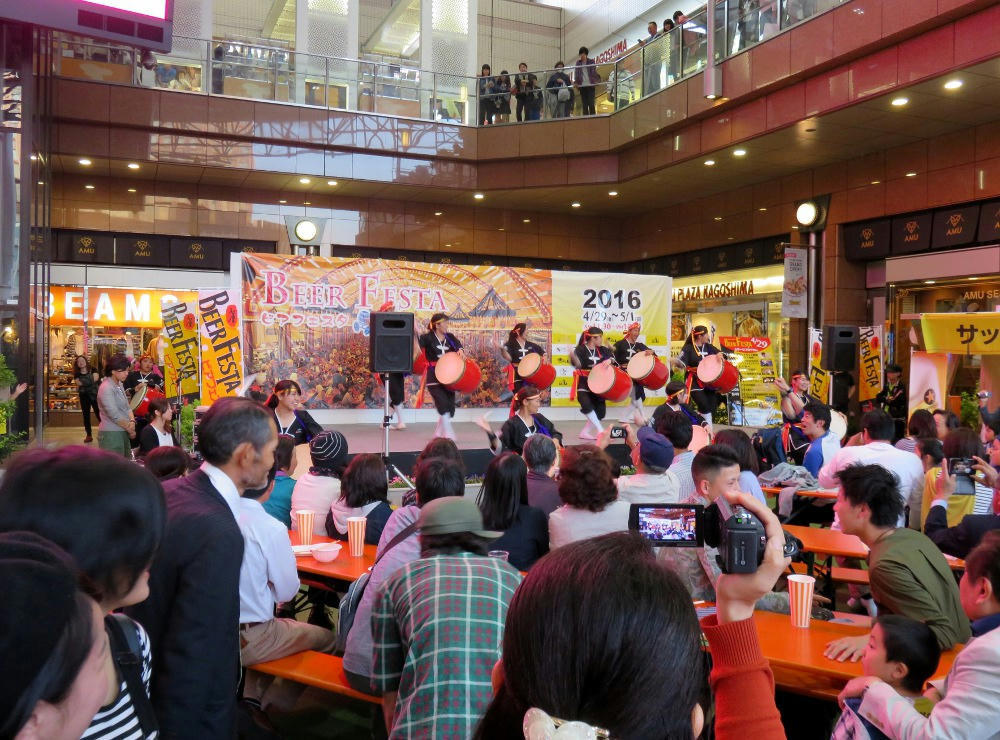 At 7 PM Friday evening, there was a taiko group performing, but the dining space was so packed that I couldn't get close to take video, even if I'd wanted to. Plus, this group wasn't that special.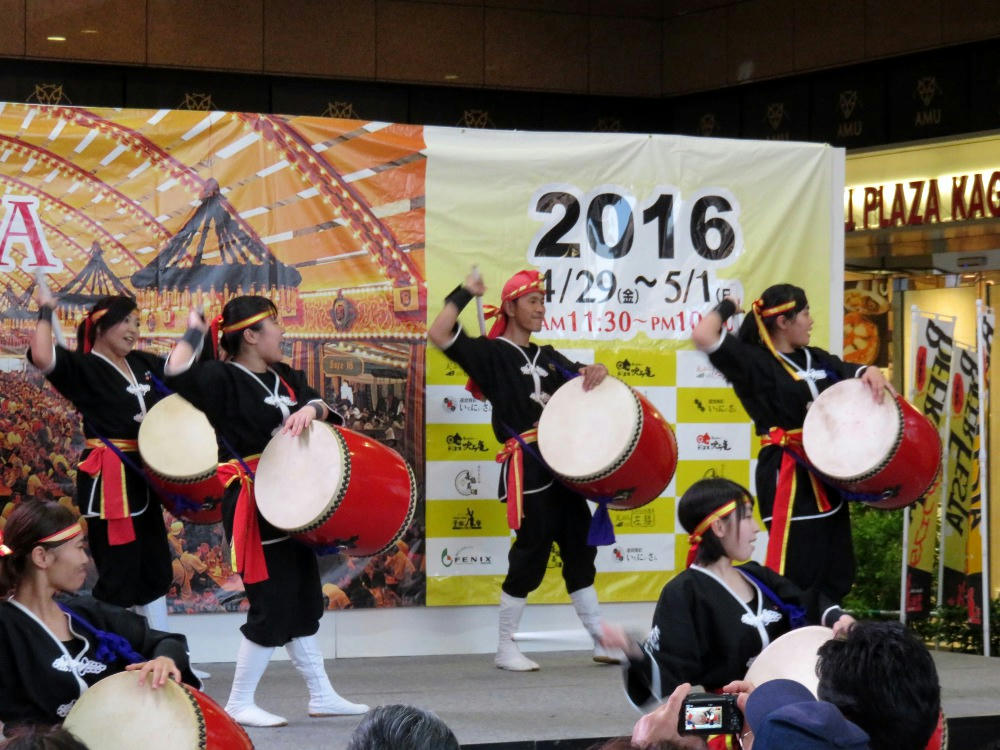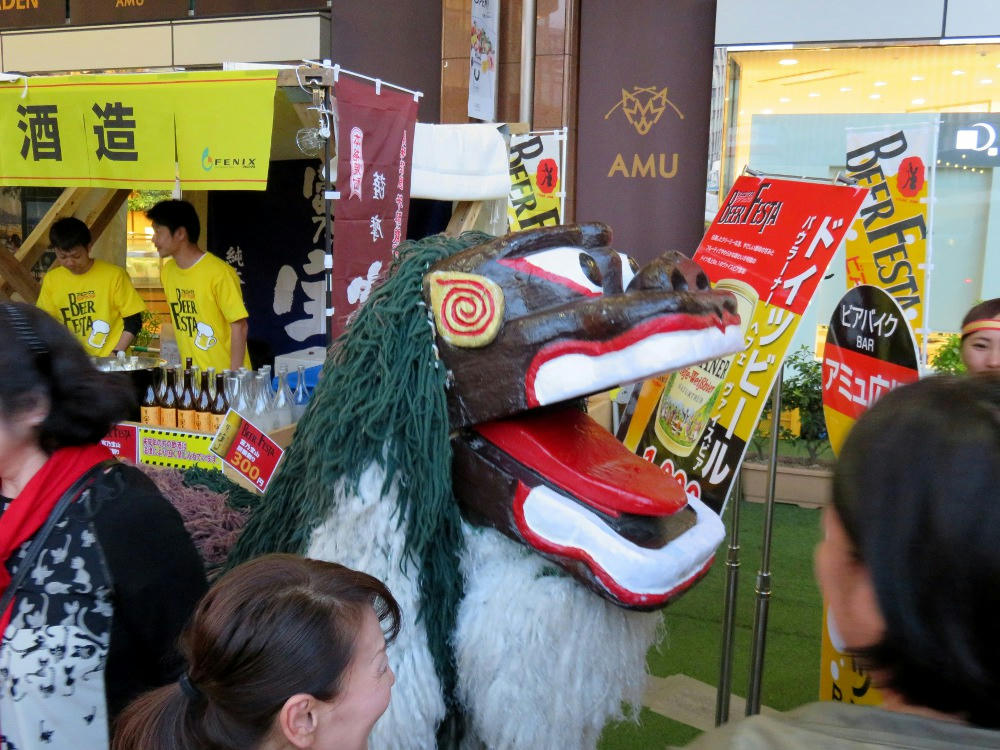 Then again, they also had the dragon wandering the aisles. There seemed to be something of a tradition for people to stick their heads in the dragon's mouth for good luck, and a lot of people were doing that.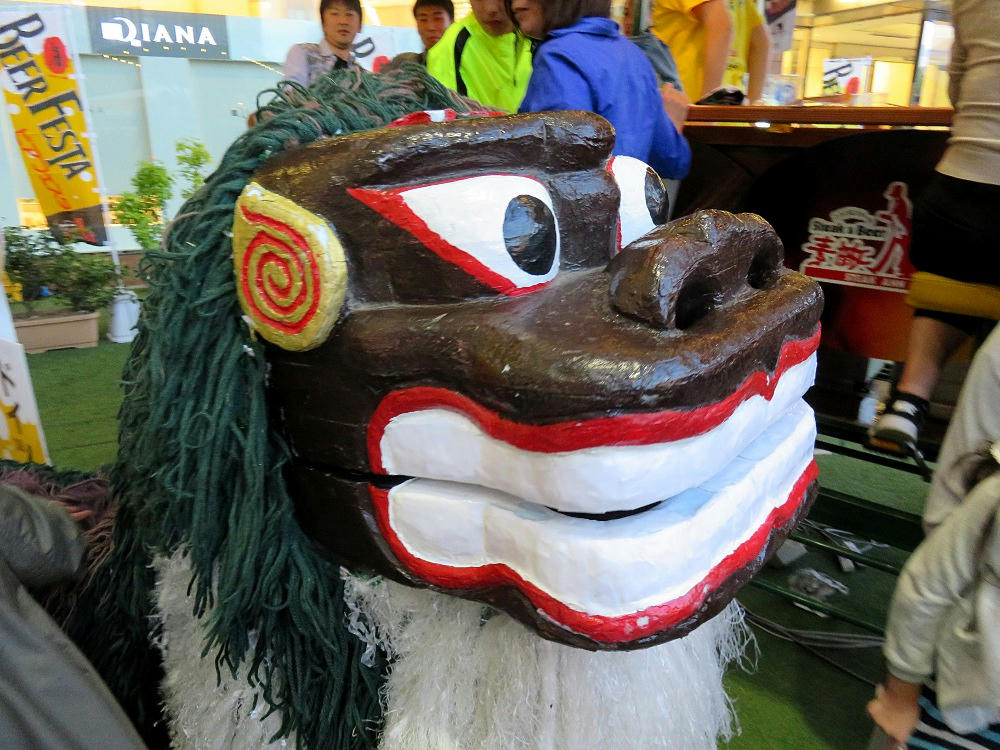 I think his name is "Puff". He's a friendly dragon.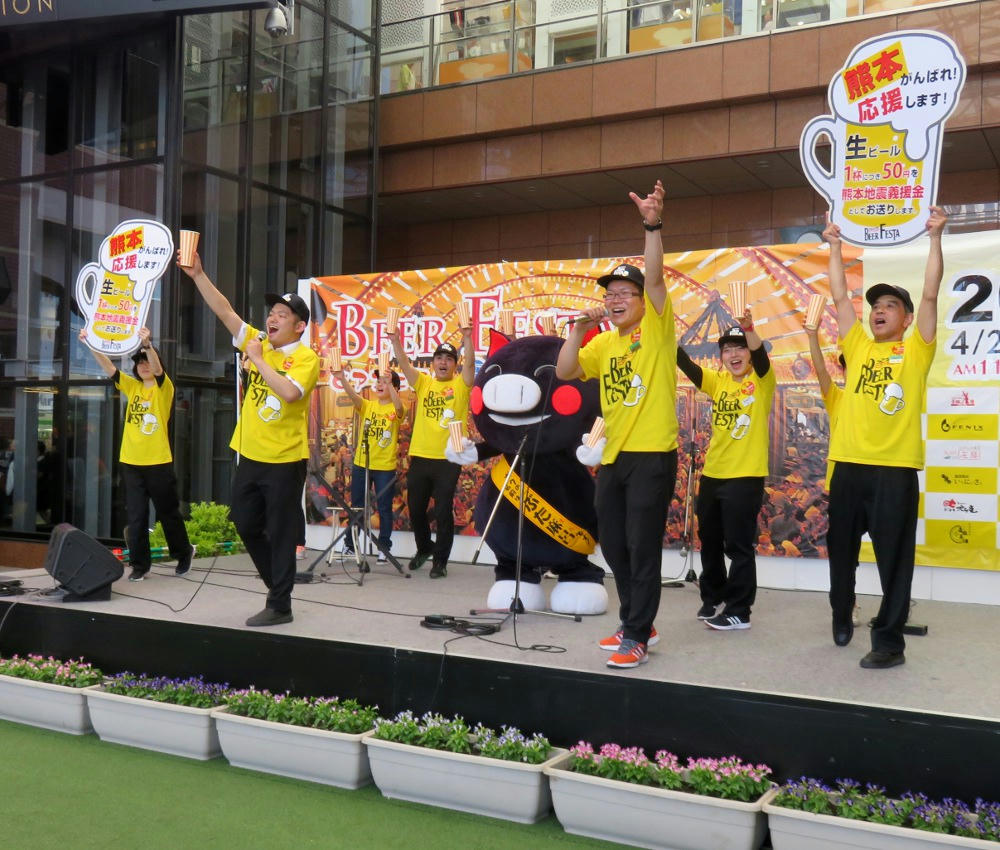 I came back to Amu Plaza on Saturday after work, and the place was absolutely packed. I'd already gotten the beers I'd wanted on Friday, and didn't want to spend a whole lot more money after that, so I just looked around a bit, went into the basement of Amu Plaza for free sample coffee at Kaldi, and returned home. Most of the stage events were things like J-pop, J-folk, taiko drums, gospel, and advertising for the local restaurants. Occasionally the event organizers would come out and lead a round of a German beer drinking song. The main purpose for this was to raise money for the earthquake victims in Kumamoto. The signs people are holding say that 50 yen from each beer sale will go to quake relief.
I did come back up again on Sunday, after the flea market (see below), and got a sausage and ham platter from one of the food booths for 1,500 yen. Lots of sausage and very filling, but a bit too greasy. I had been wanting to get the platter anyway, so I was happy about that. The rest of Sunday was spent processing video for youtube, and practicing music.
NHK Flea Market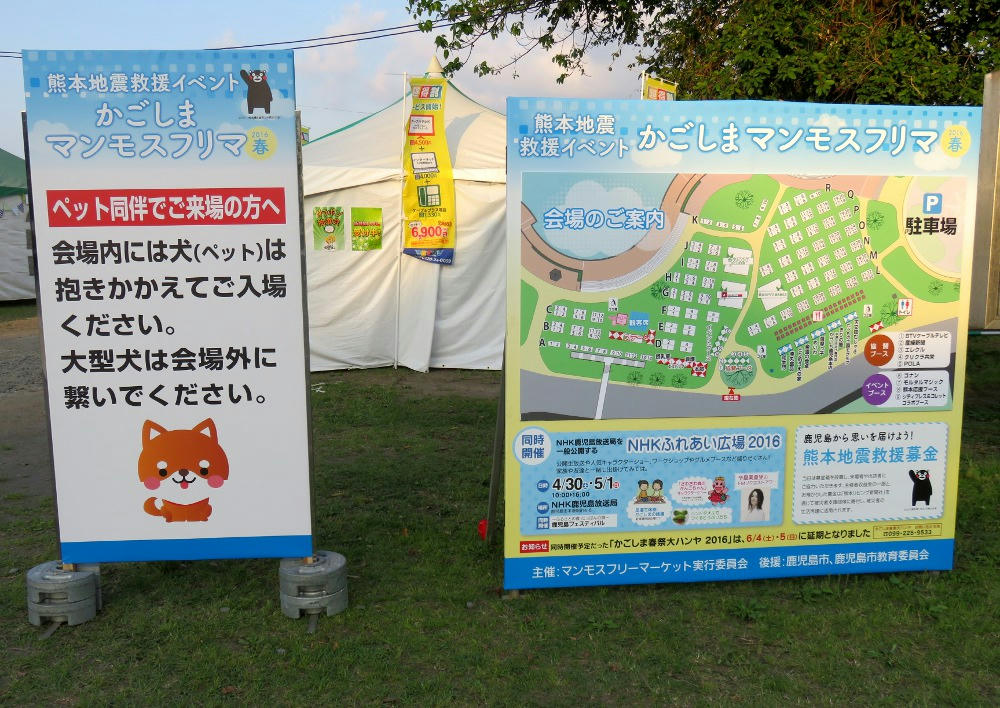 (The sign on the left advertizes the "Kagoshima manmosu furima" = Kagoshima Mammoth Flea Market.)
On Saturday, the owner of the English school said that there was some kind of meat fair going on at Dolphin Port, with restaurants competing against each other, or something. When the local reporters came on TV to cover the event, I noticed that most of it seemed to be a flea market (called a motenai fair in Japanese). Since Dolphin Port is only a few blocks from the school, I went that direction after getting done with work.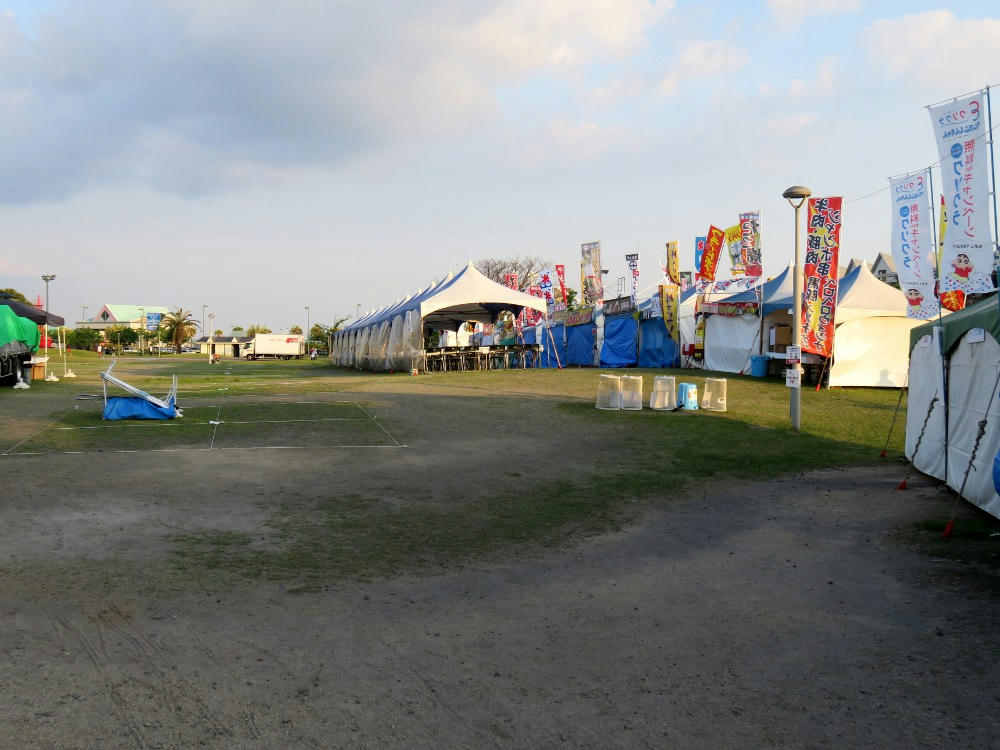 Unfortunately, on Saturday everything ended at 4 PM, and I didn't get out until 6 PM. The place looks so lonely now...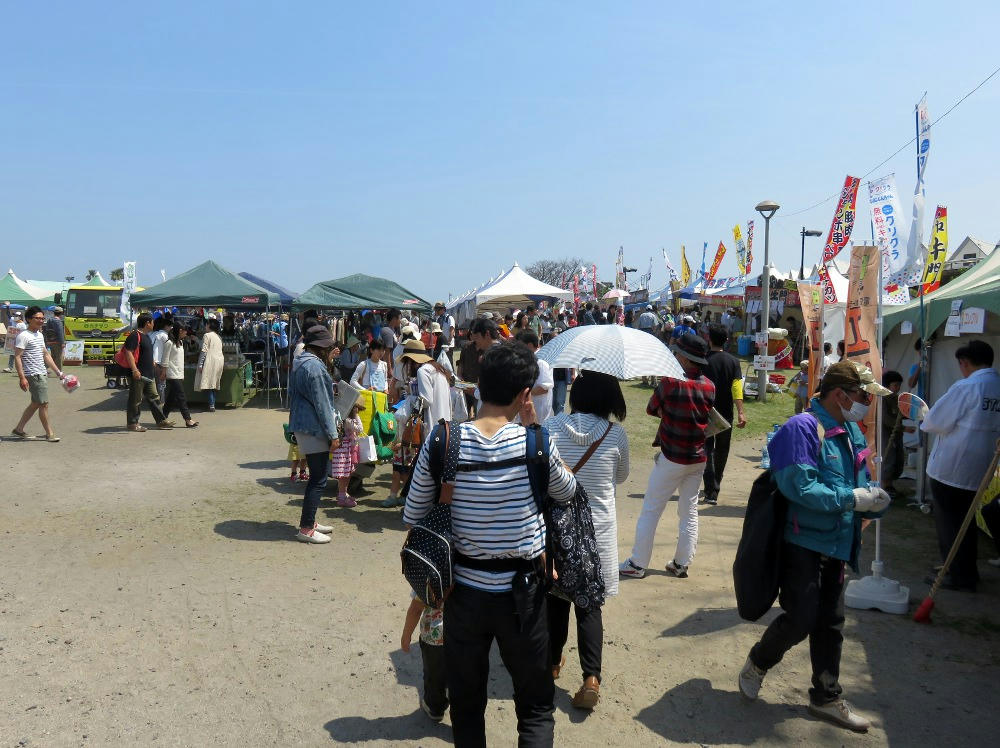 I made a point of going back to Dolphin Port on Sunday, but because of domestic requirements, I couldn't get out until 1:30 PM. I couldn't find anything related to a "meat cook-off", and mostly the booths were just people selling stuff they didn't want to keep anymore. There were a few food stalls, and car dealerships, but that was kind of limited.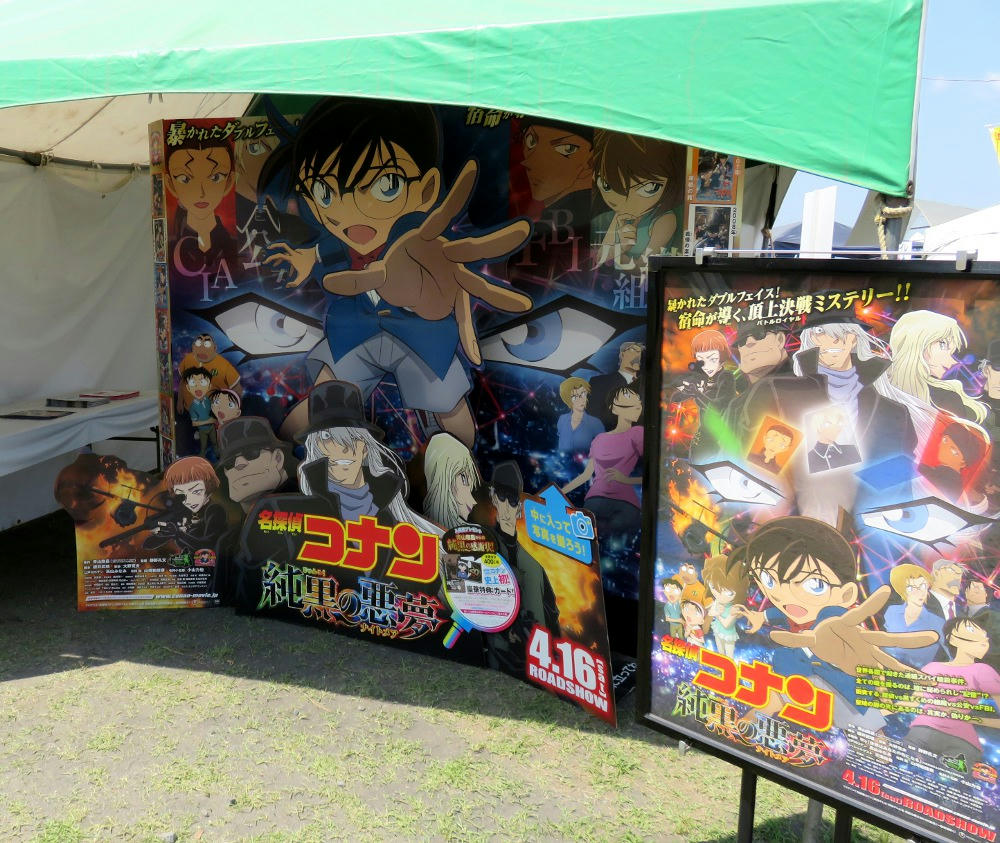 Not really sure who is advertising the latest Conan movie, but the idea is to stand in front of the display and have your picture taken.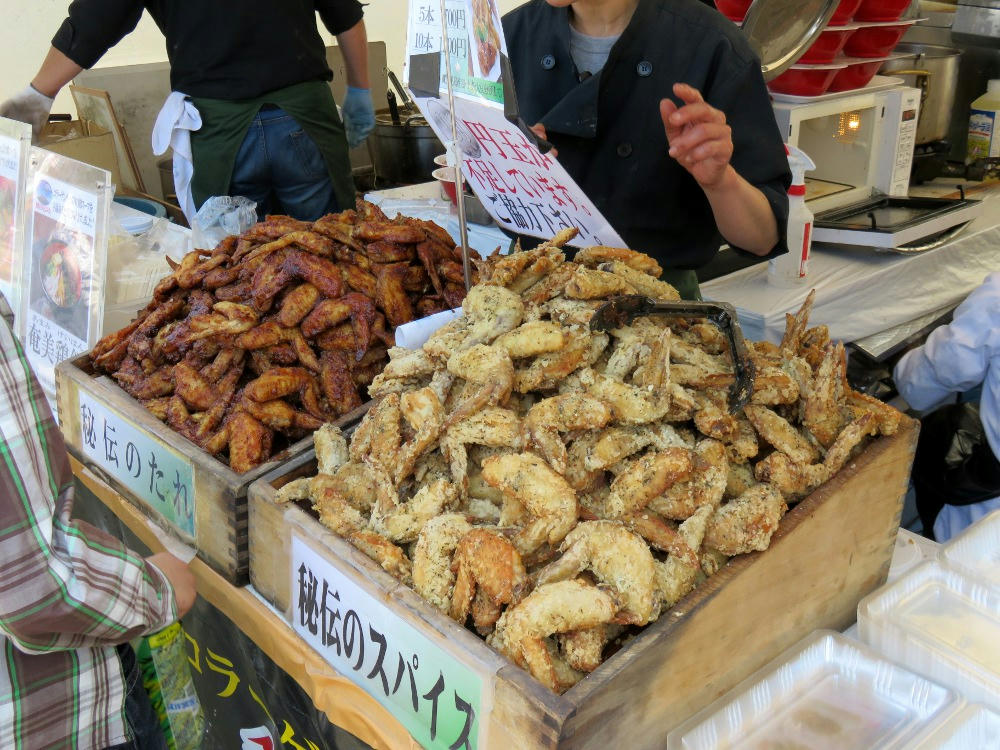 One stall just sold chicken wings.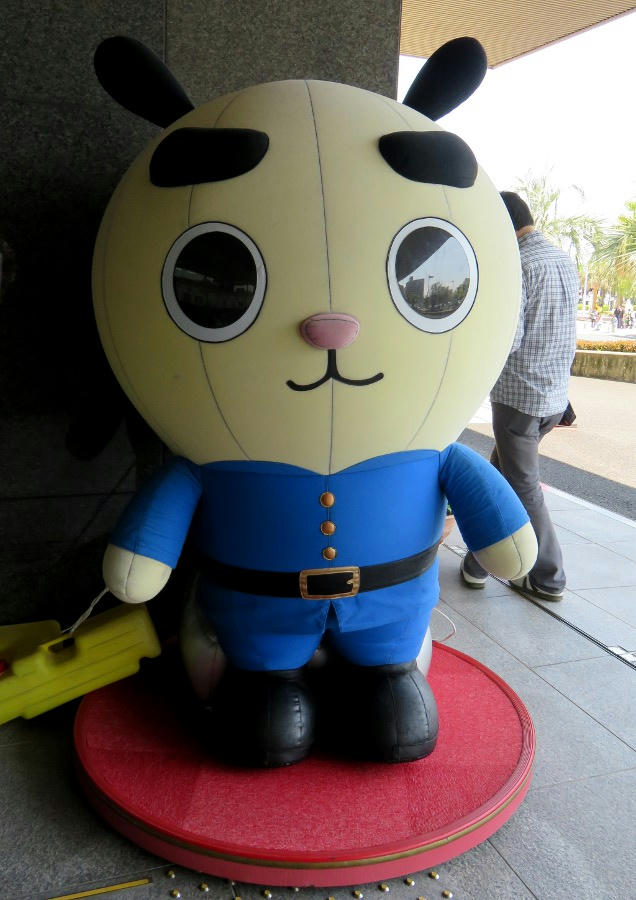 (Saigo Takamori as the NHK dog.)
The flea market was tied in with NHK TV (the Japanese version of PBS). The NHK studio is just across the street from Dolphin Port. They had an event stage, food stalls, and an open house within the studio building. Mostly, the stage events were activities for children, and advertising for the shows. (The flea market had its own event stage, but with the same stuff as the NHK main stage.)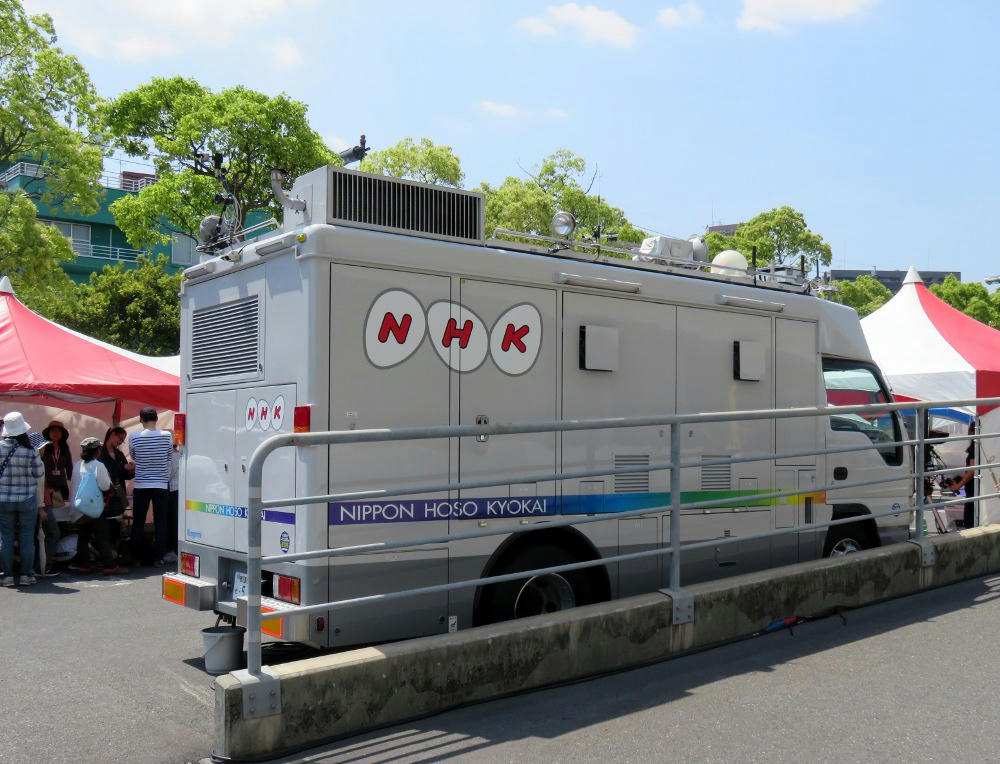 The studio offered a walk-through tour of the transmitter truck for children.)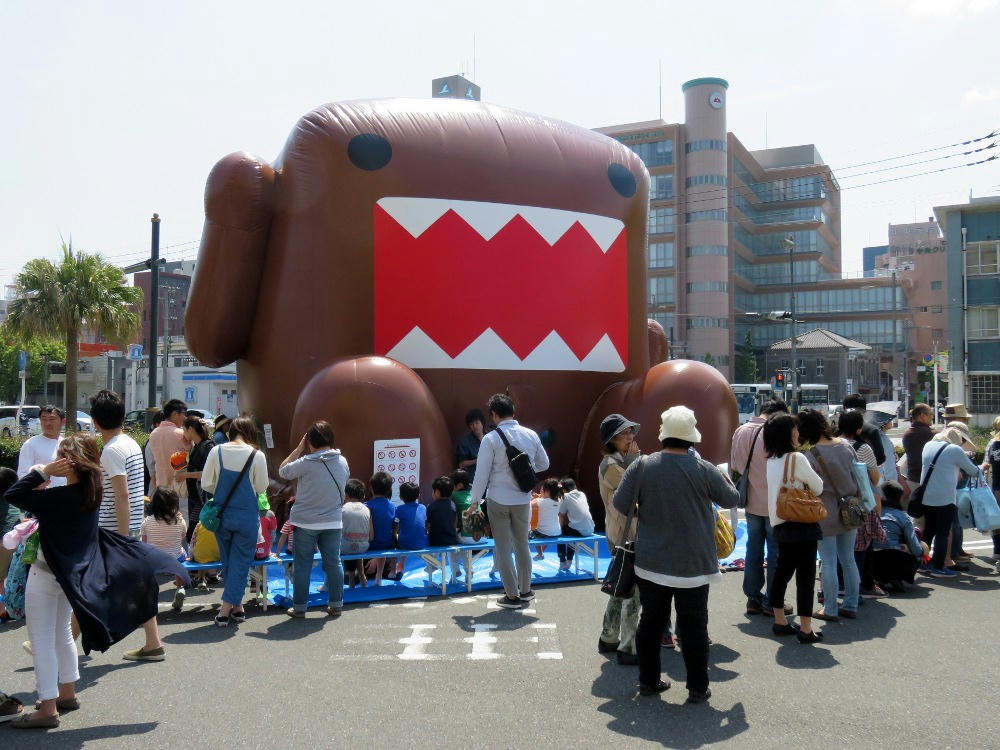 And another bounce room. I didn't see much that was of any interest, so I went up to Amu Plaza again to eat sausage at the beer fest.
Yosakoi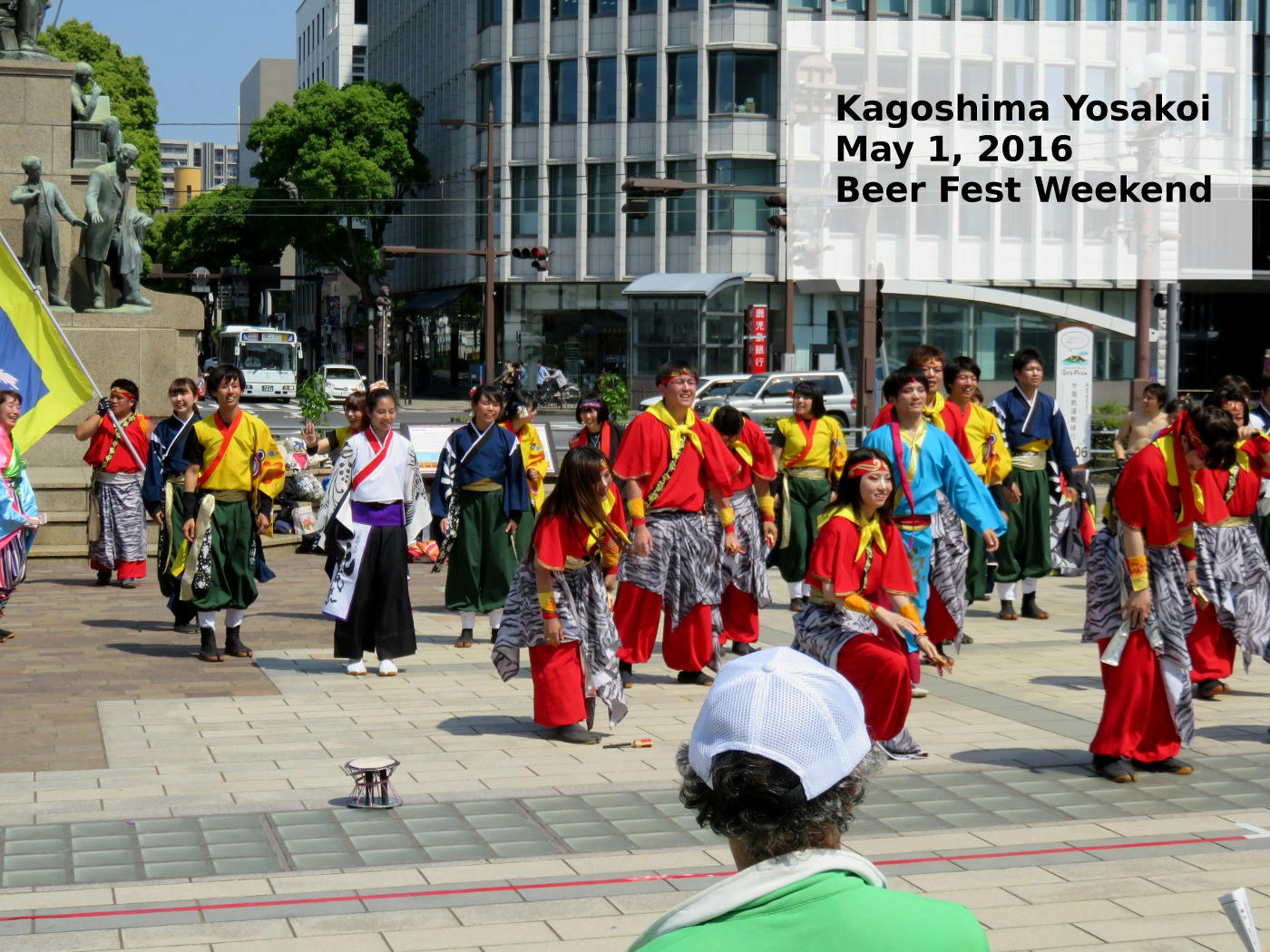 At the start of all this, I mentioned that I was afraid the Daihanya dance fest would be canceled due to rain. Turns out that it was indeed postponed, but that was because of the Kumamoto earthquake last month. A number of dance teams in the event are from the Kumamoto region, and the Kagoshima organizers decided to move the fest to the first week of June, and I didn't learn about that until someone told me on Saturday. On Sunday, after visiting the flea market at Dolphin Port, I returned to Amu Plaza in time to catch a couple of the yosakoi (cheer leading) groups performing in the arcade in front of the department store. The groups will be in Daihanya, but they wanted to practice this week as well. I recorded the below video of the Satsuma-Sendai group, then walked over to the beer fest and bought the sausage plate for 1,500 yen. I ate that as all of the dancers tried to get the audience to participate in a dance. Afterward, I returned home.
Not exactly as bad as I was expecting things to turn out, but not as good as I'd hoped, either. I am happy that I could get a little video, and now I really do want to see Daihanya in June. On the other hand, I have no idea what I'm going to do with the rest of the Golden Week holiday, which runs until the end of this Thursday...
Event sequence:
Thursday:
Walk-Inn Studio (Amu Plaza)
Friday:
KYT Fair (Central Park)
Work
Beer Fest (Amu Plaza)
Saturday:
KYT Fair (Lotteria)
Work
Flea Market (Dolphin Port)
Beer Fest (Amu Plaza)
Sunday:
Flea Market (Dolphin Port)
Yosakoi Event (Amu Plaza)
Beer Fest (Amu Plaza)
Direct youtube link