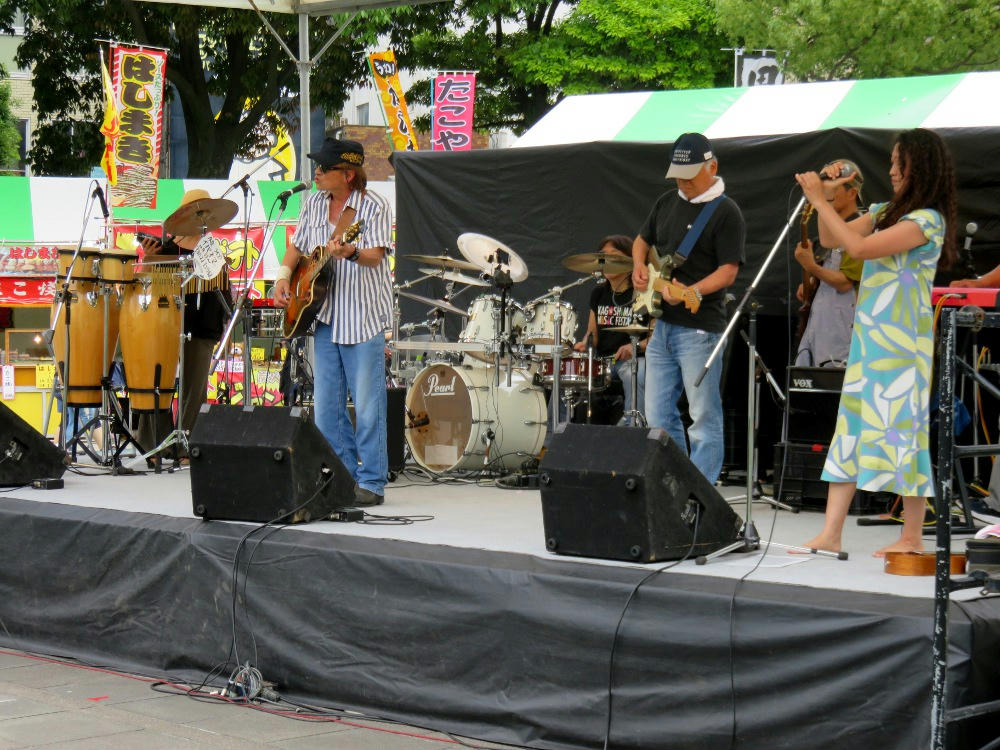 (Aloha mama Angels, doing j-folk rock.)
Sunday was better in terms of music, but more frustrating because of the weather. It was overcast all day, with occasional drizzles that kept threatening to mess up my camera lens. Not all of the bands were all that great; and many of them kept insisting on doing covers that would be flagged by youtube. As it was, I decided to sample one song from each group (excluding Toshi, because I wanted more of his music to link to on facebook) and the two gospel groups that I didn't bother with.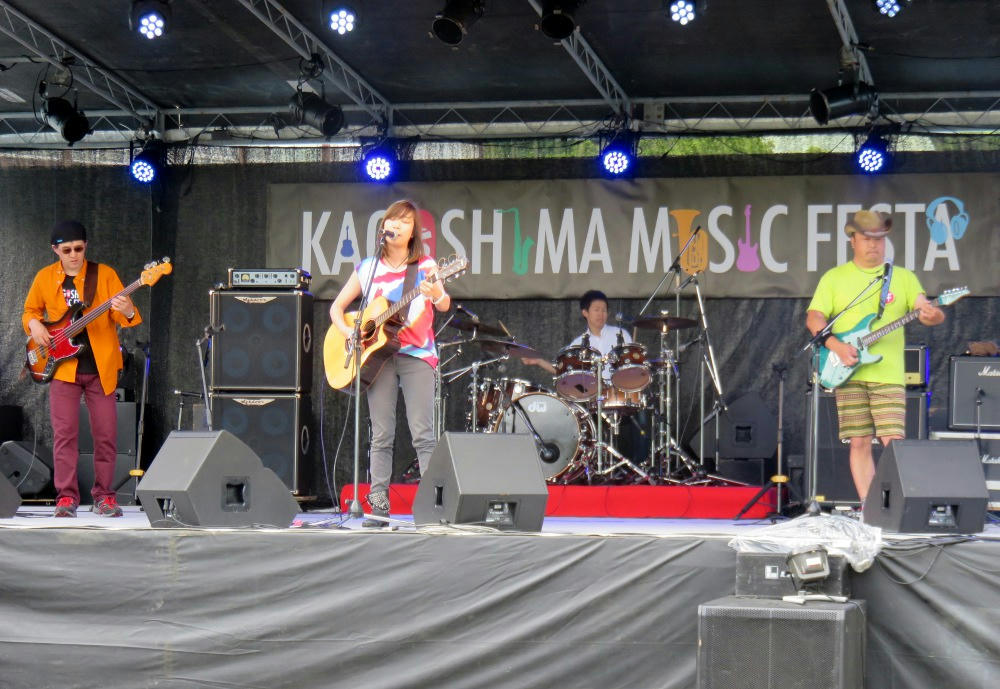 (Kafka, guitar folk rock, with original songs.)
I got a little ice cream to have something to eat before getting more shochu from the same table I'd visited Saturday. The owner was incredibly generous with the shochu, adding ice and then filling the large cup up to the top for 300 yen ($3). So, I was a bit buzzed all afternoon and into the evening. Otherwise, I avoided the food booths just because I wasn't hungry enough to spend $5-$10 for just one item. (The small ice cream cone I got was 300 yen.)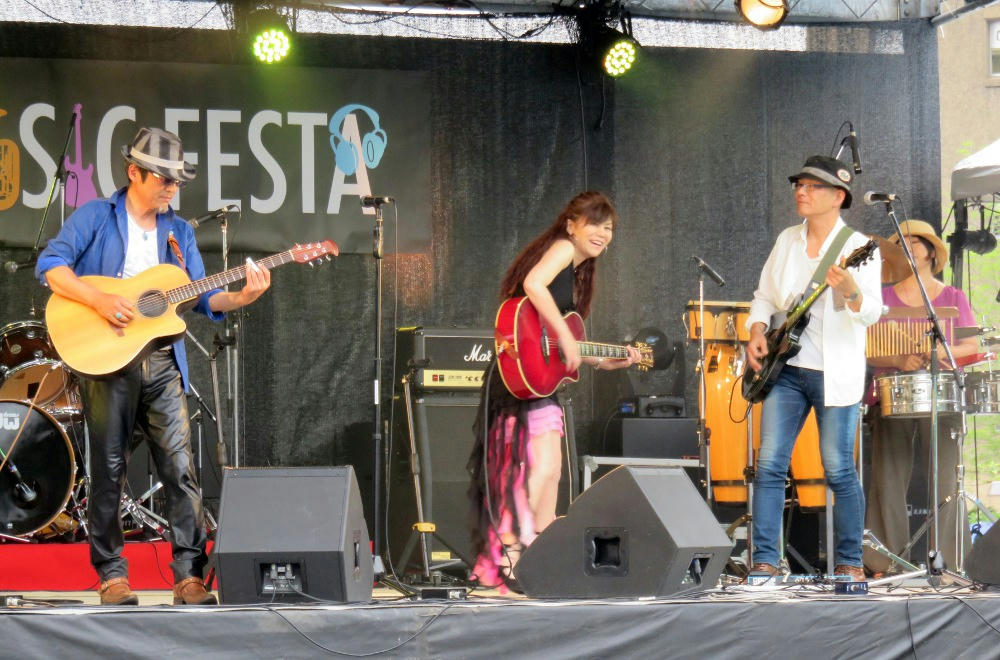 (3set, pronounced "sunset". Japanese country and western.)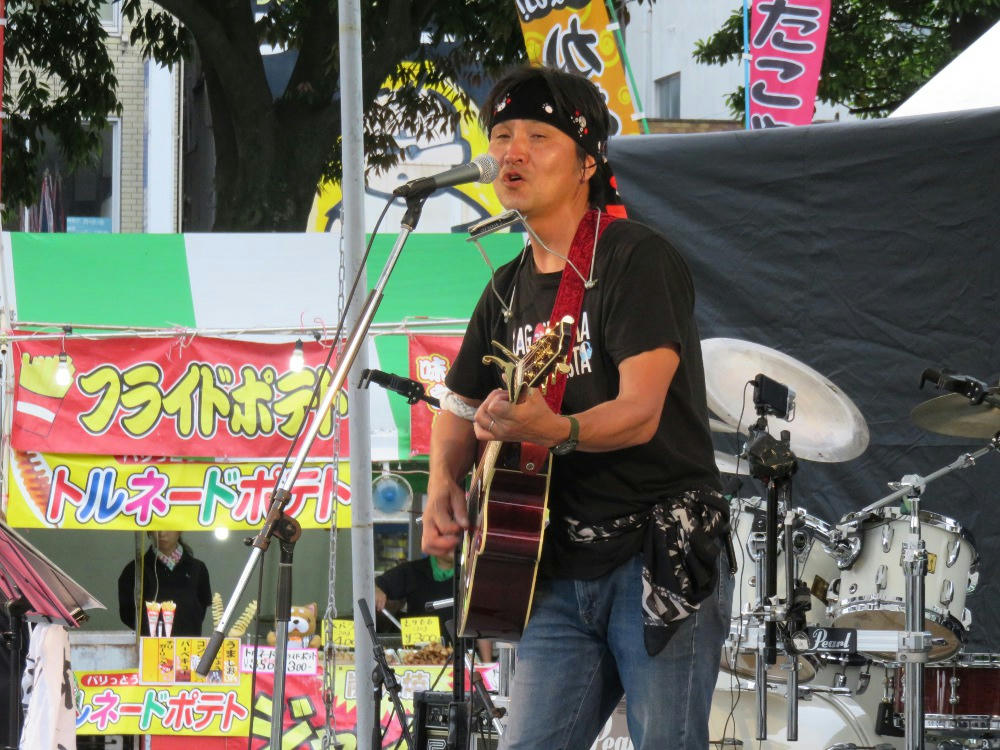 As mentioned in the post on the Saturday music, I'd met Toshi once at the Volunteer Center music event, and he was friendly then. I made it a point to record two of his songs on Sunday. He does a kind of j-folk that's pretty good.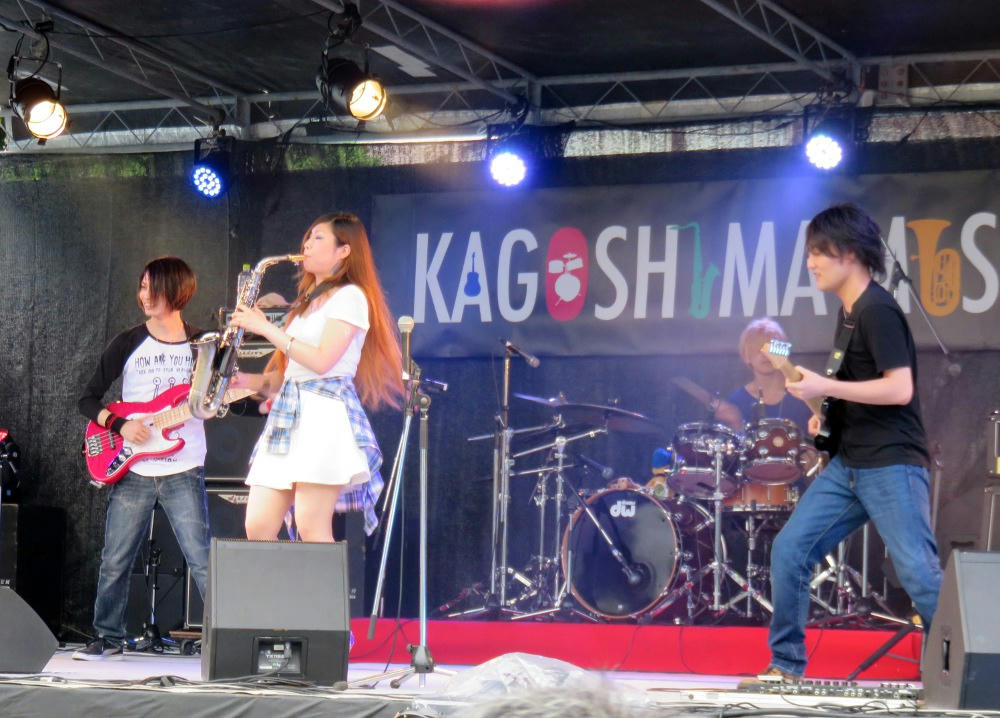 LUCA, a light sax-driven jazz group.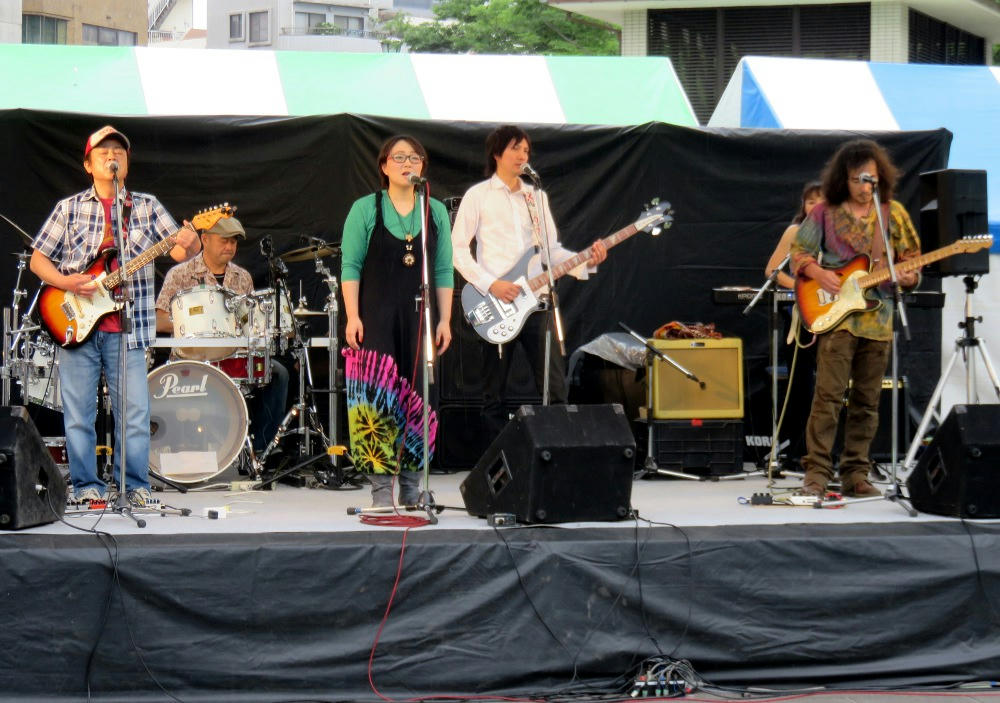 B.B.B - a blues group that does Eagles covers. Fortunately, the youtube filter doesn't recognize it as copyrighted material.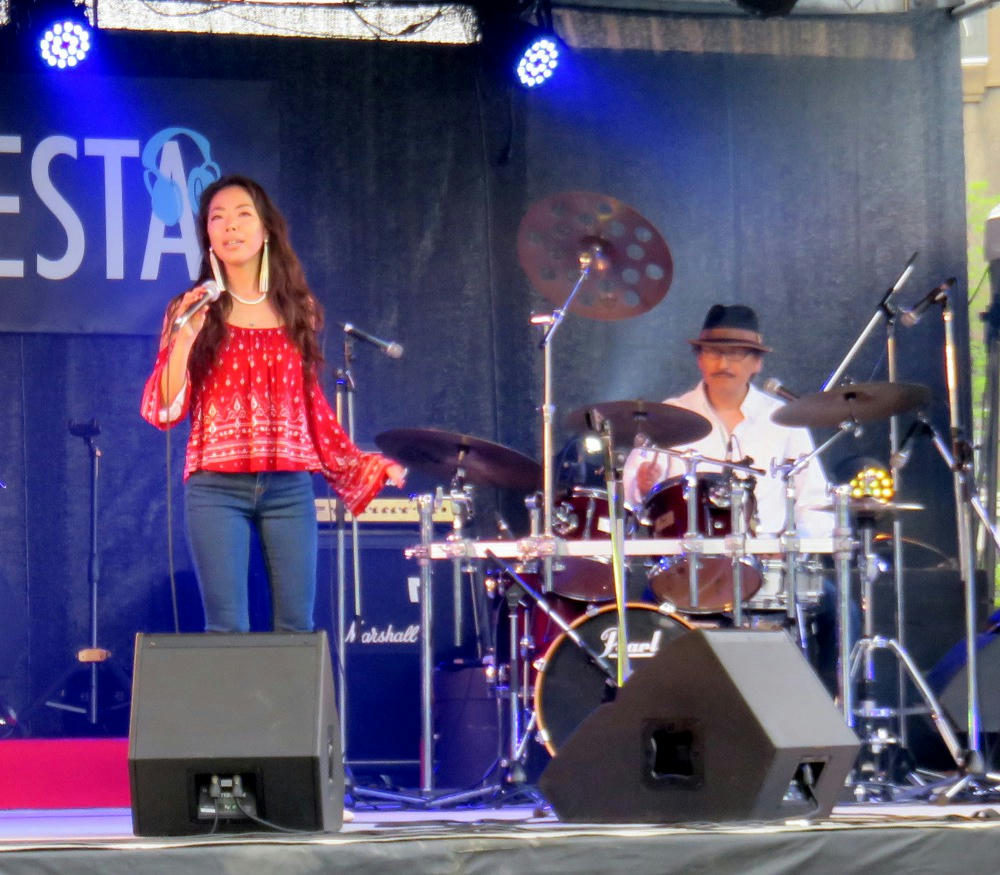 Chiyo Tia is from Hawai'i, and spoke passable Japanese. Her songs were mostly ethnic/Hawai'ian.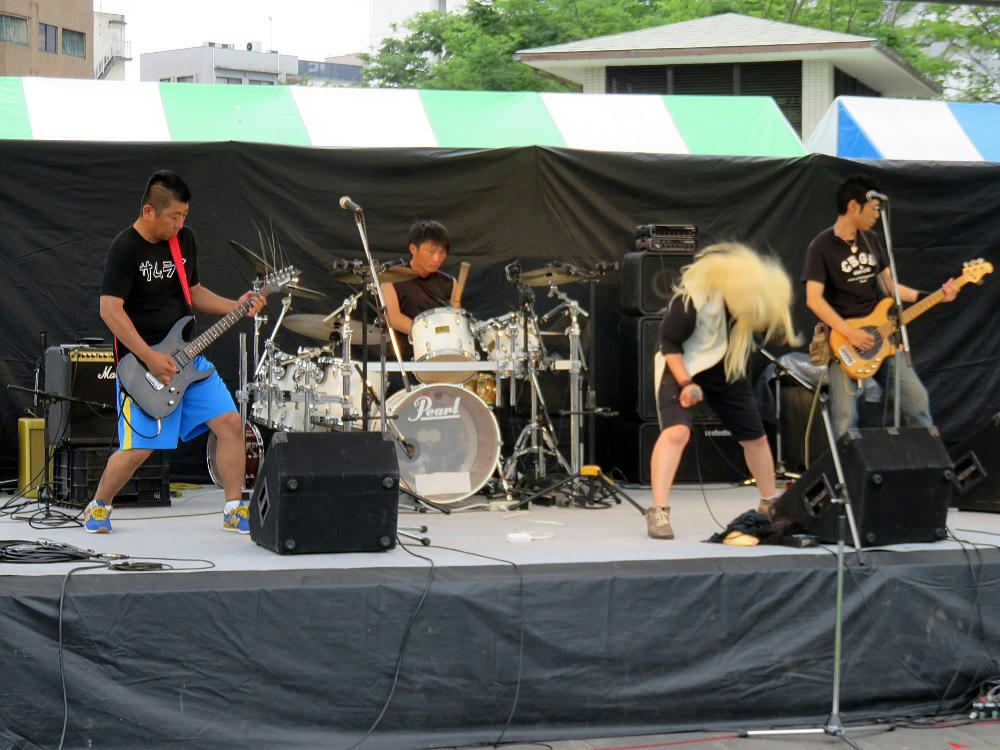 Ok, here's where things get complicated. This is South Shaker (or, maybe Shaker South). The lead singer is an older woman with the standard heavy metal make-up, and a long blond wig. The wig kept falling off, and she'd just do the head-banger thing with her normal short-cropped hair, or while wearing a bald cap. It was obvious she was doing this as a joke, but I'm not really sure it worked. Her band, though, ROCKED. Those guys were good.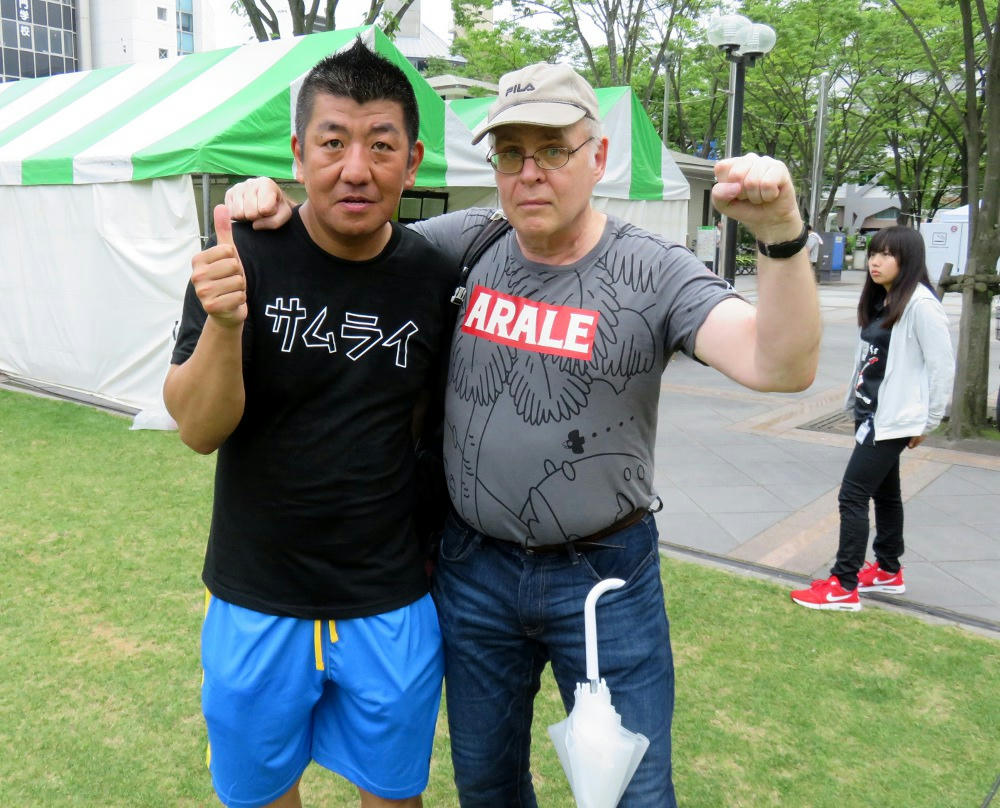 After the set, I found the guitarists hanging around at the edge of the park, and asked them for photos.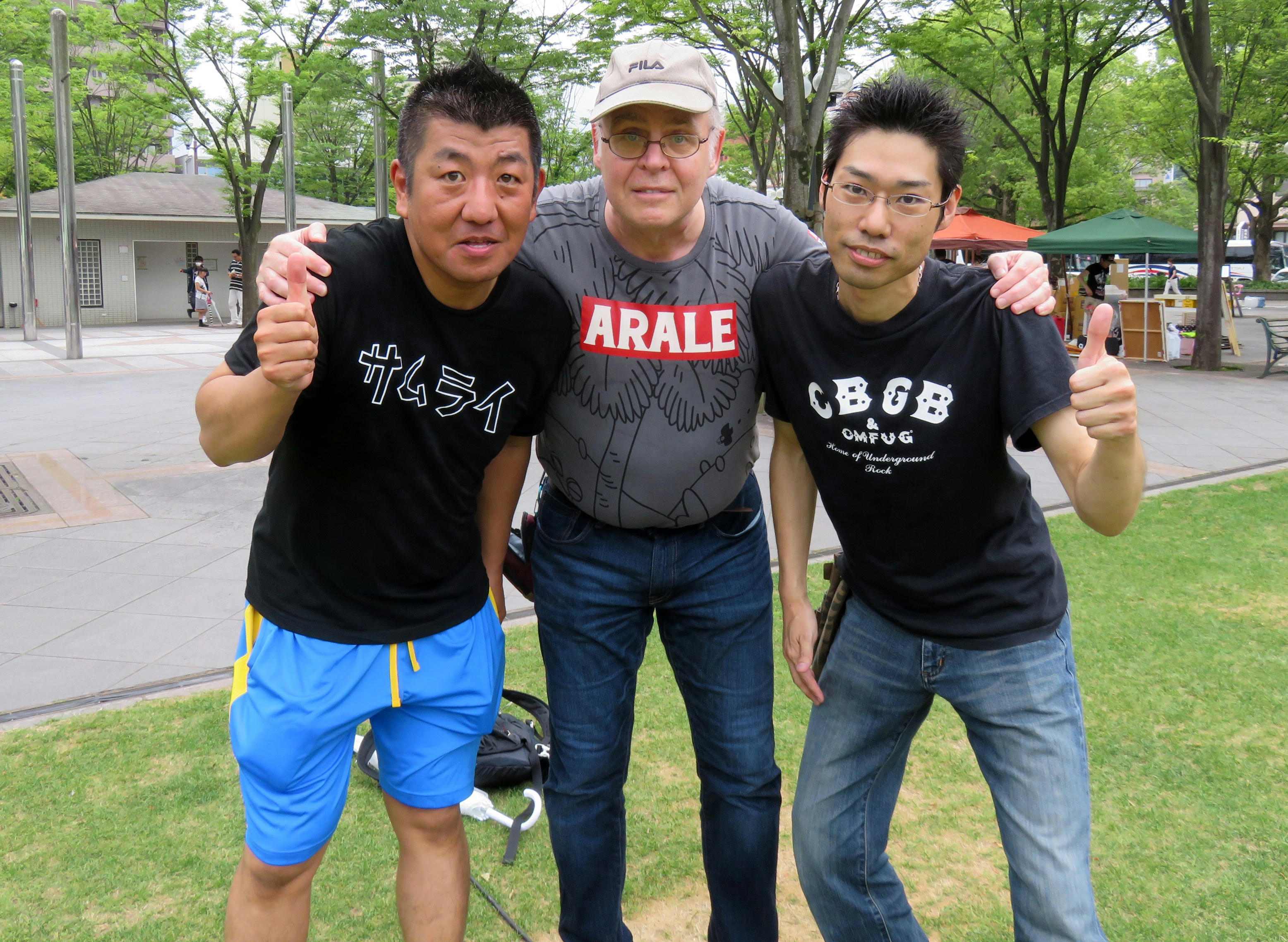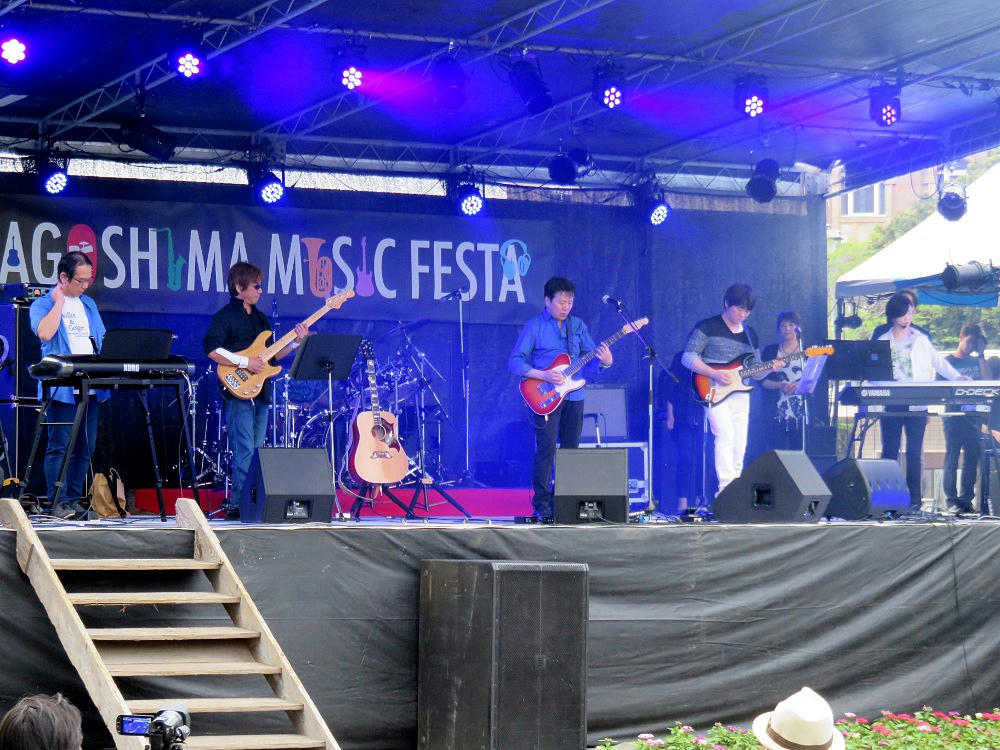 I've seen KOSHABAND before. They call themselves a
Tatsuro Yamashita
tribute band. They're good, (but, still, again, yet, yet again) it's not my kind of music. The last band up was Moses, a gospel group. At this point, the zipper on my camera bag had broken, so I left the fest before everything finished so I could get a replacement bag from Bic Camera up at the main train station a mile away. After that, I planned to watch an outdoor theater group, Dokungo, with the curtain going up at 7 PM. And then I had 15 video files to process for the blog. It was a busy weekend.
Direct youtube link - Aloha mama Angels
Direct youtube link - Kafka
Direct youtube link - 3set
Direct youtube link - Toshi
Direct youtube link - LUCA
Direct youtube link - BBB
Direct youtube link - Chiyo Tia
Direct youtube link - South Shaker
Direct youtube link - KOSHABAND