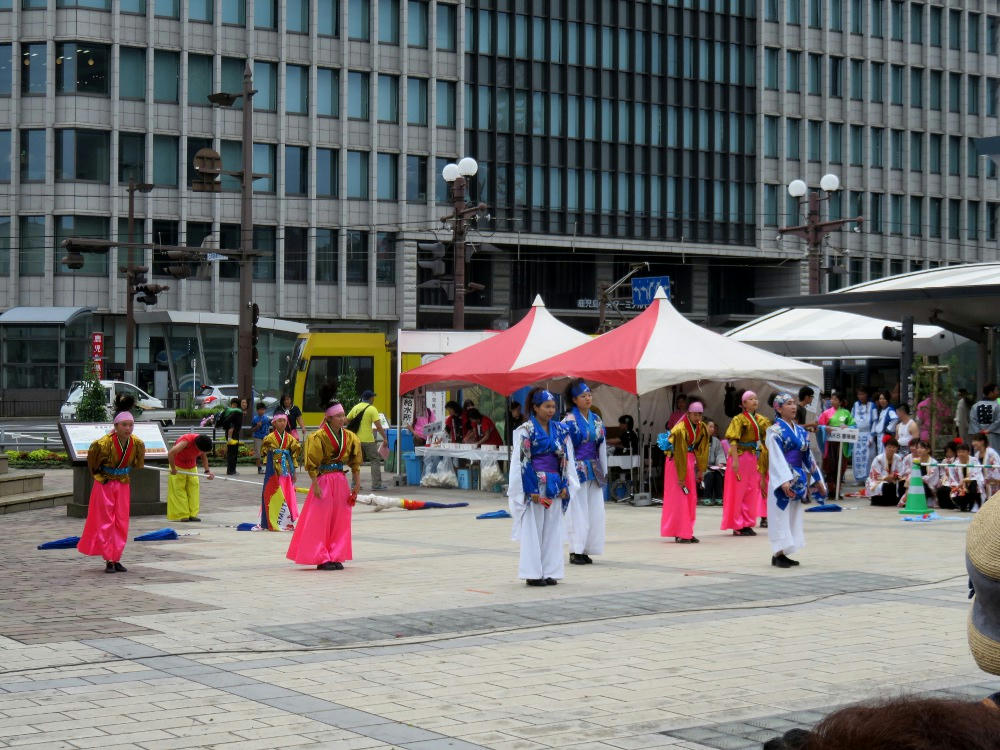 Sunday was better (much like what happened last year), and was even kind of an embarrassment of riches. I had to do some work in the morning, and got out of the apartment at 12. I immediately headed up to the train station, where the dancing at started at 9 AM and was to run until 3 PM. The weather had gotten worse, and there was on-and-off drizzle all day. Again, this affected the sizes of the crowds, and messed up my photos. But, I at least was able to get video of the yosakoi dances this time. I hung around for an hour, and when the rain got worse, I went to Tenmonkan after getting my third stamp rally stamp.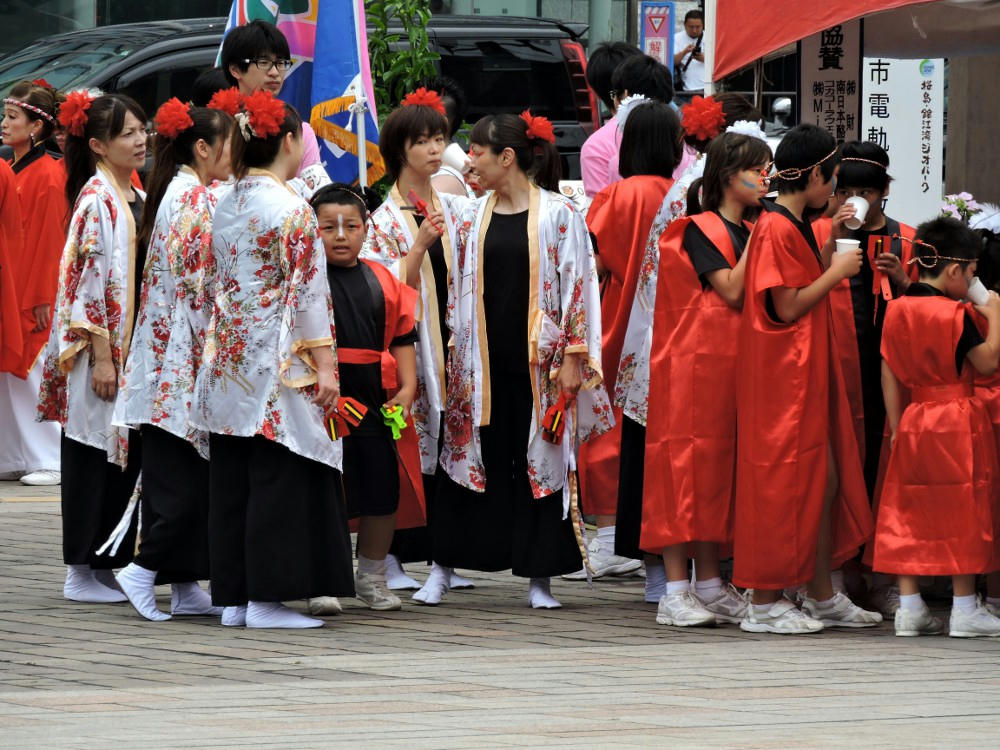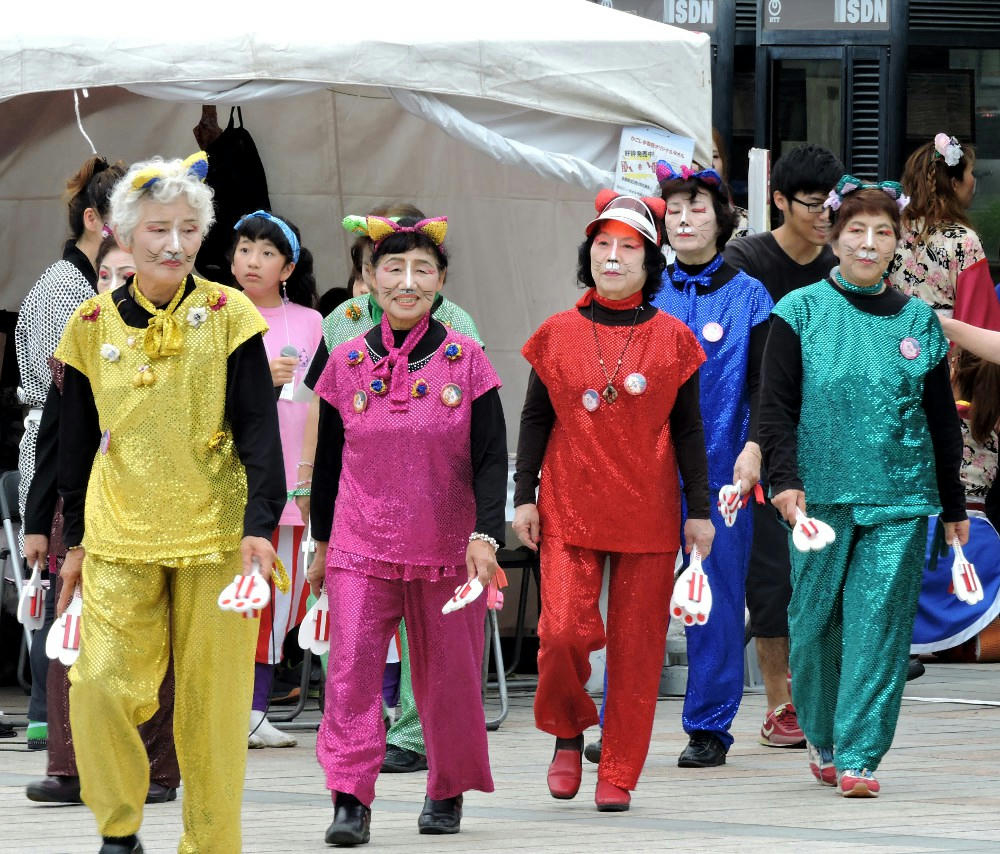 (During the introduction, one of the women here was said to be celebrating her 80th birthday today.)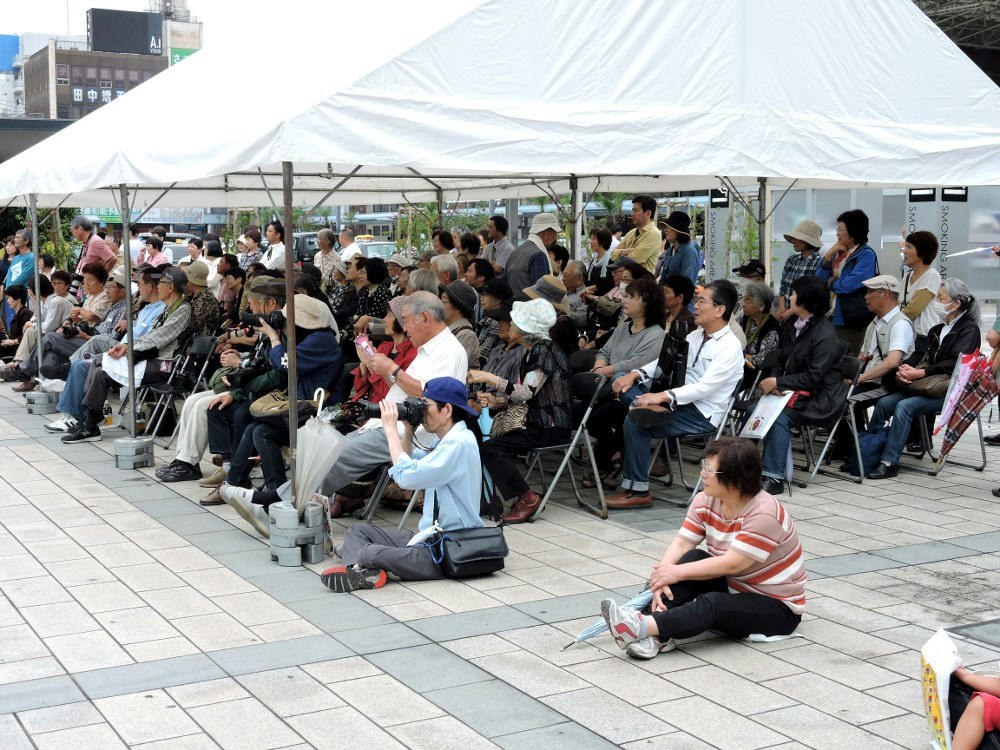 (The audience at the train station. Not bad, but not as many people than if the weather was better.)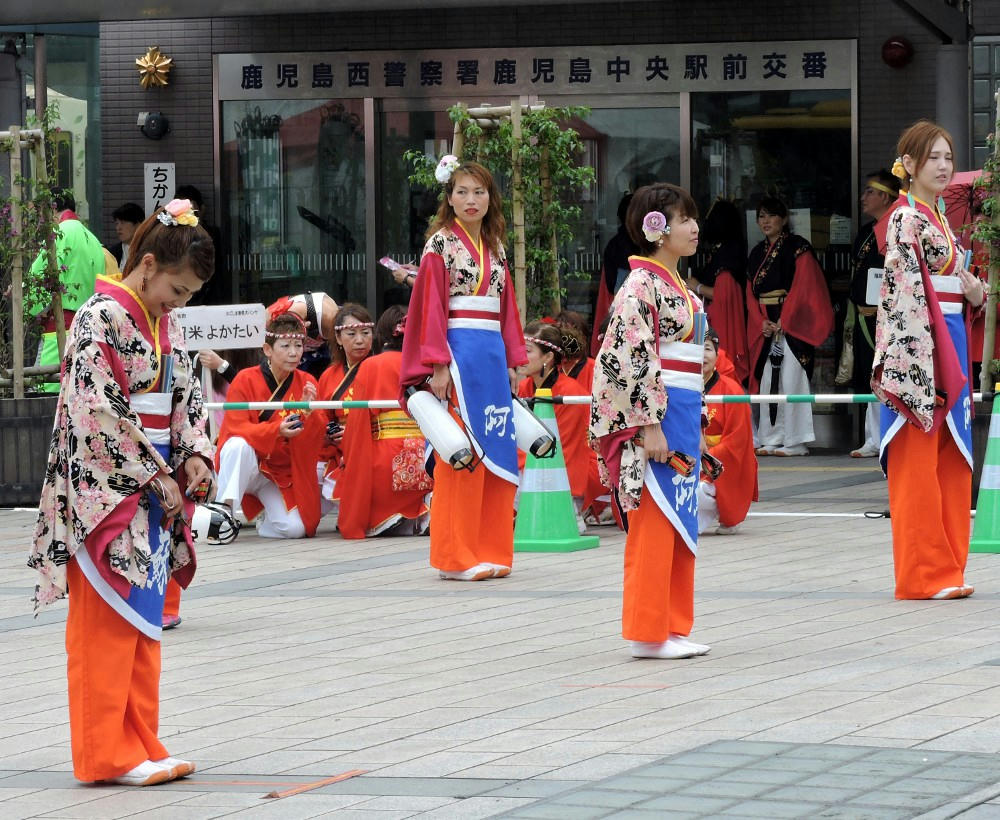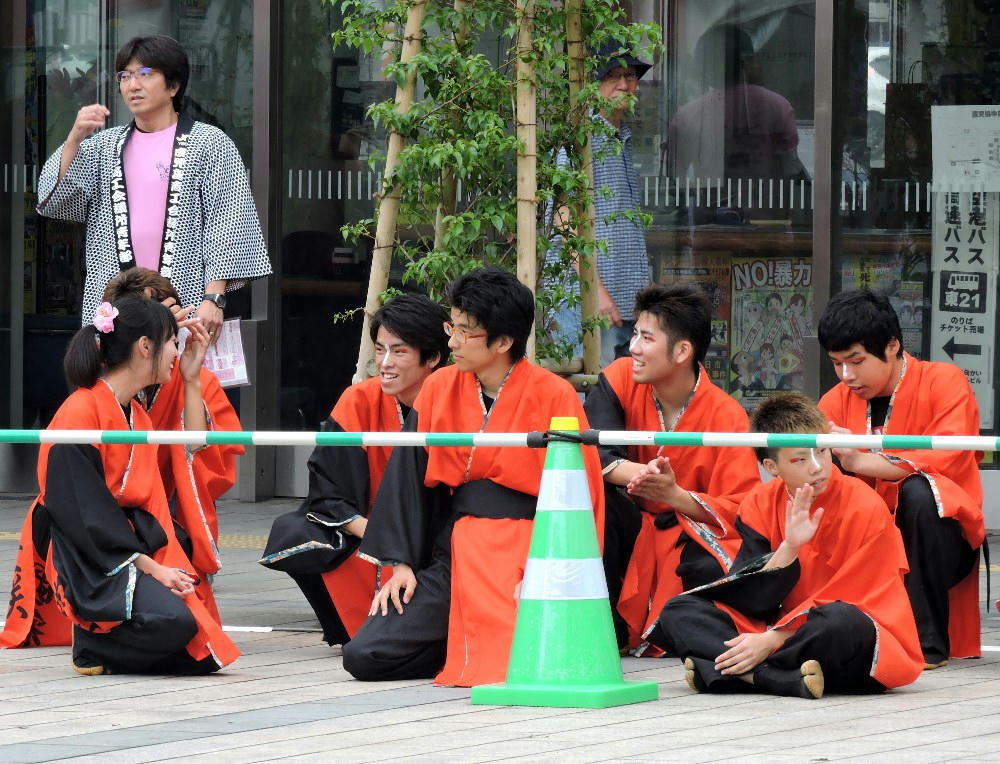 (Waiting their turn to go on stage.)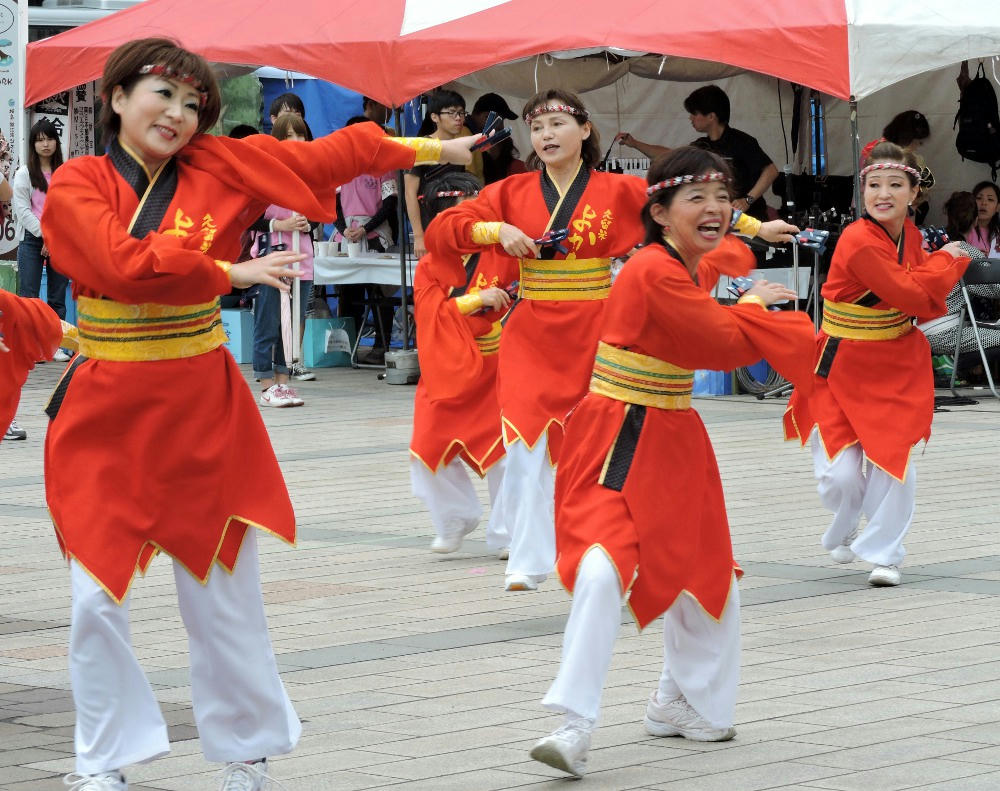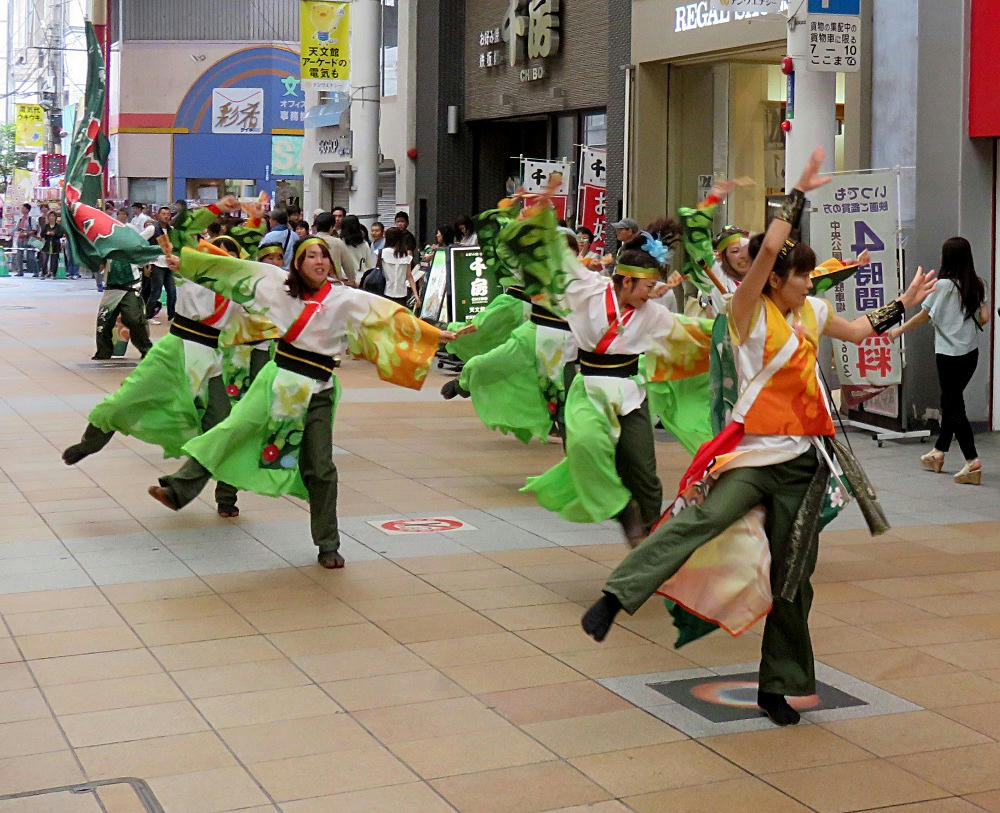 Piaru Mall had parade-style dances, with the groups following speaker trucks through the walkways. I got a flyer from the nearby table and discovered that the flyer map was different from the one on the paper fan from Saturday. I guess that the locations got changed at some point, and rather than print up all new fans, the organizers just made new flyers. Anyway, the locations for Central Park and Berg Plaza got moved to a cross-street in Piaru Mall, and a second street near Tenmonkan Park. I didn't have time to go over to Tenmonkan Park, but it didn't matter too much because Piaru, Tenmonkan Park, and the nearby street each only had the dancing from 1:30 PM to 3 PM, so it was more a matter of picking one place and just staying there for the full 90 minutes.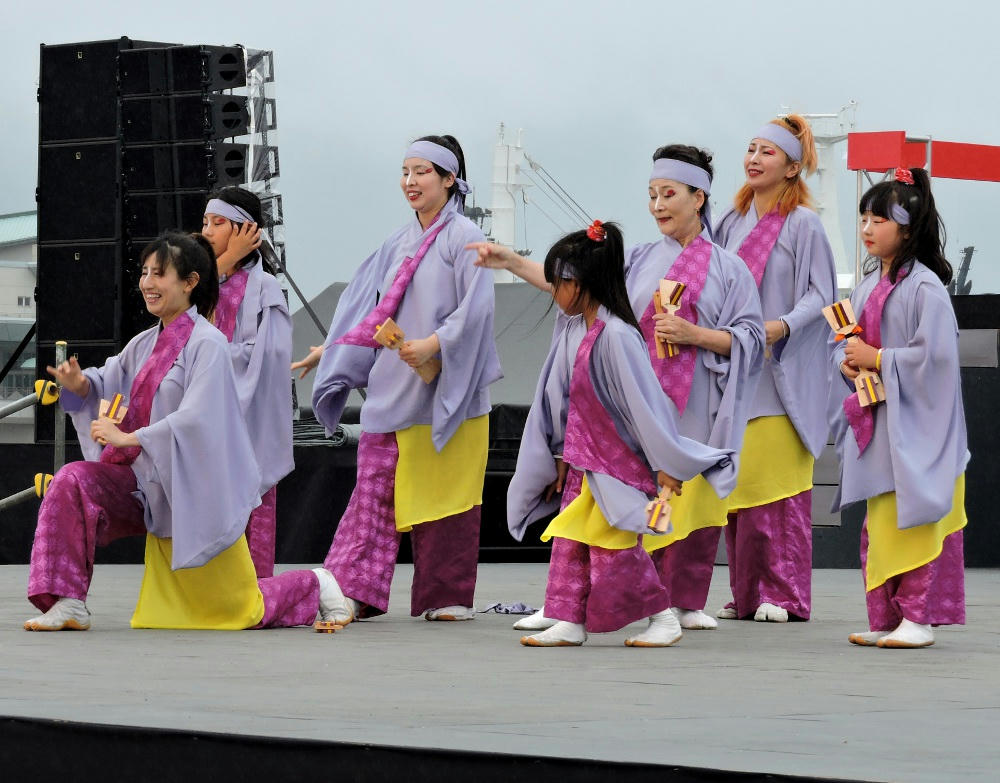 I caught a bit of the Piaru Mall dancing, then returned to Dolphin Port to get my prize for the stamp rally. This was one of those lottery wheels that has different colored balls inside. You turn the crank until one of the balls falls out. I got white, which is pretty much what I expected. The booby prize was two pieces of fruit-flavored hard candy. At least it was something I could eat. I then recorded a few more dances for the blog. By this point, the drizzle was turning into rain, and I kept struggling to prevent the camera lens from getting wet. Eventually, I had to give up. I was supposed to meet someone at 4 PM, so I went to Shiroyama again for shopping, then returned to the apartment to copy files off the camera and to start editing them. At 4, I went to the meeting place, which was a family restaurant a couple blocks away, only to find out that the guy wanted to cancel at the last second.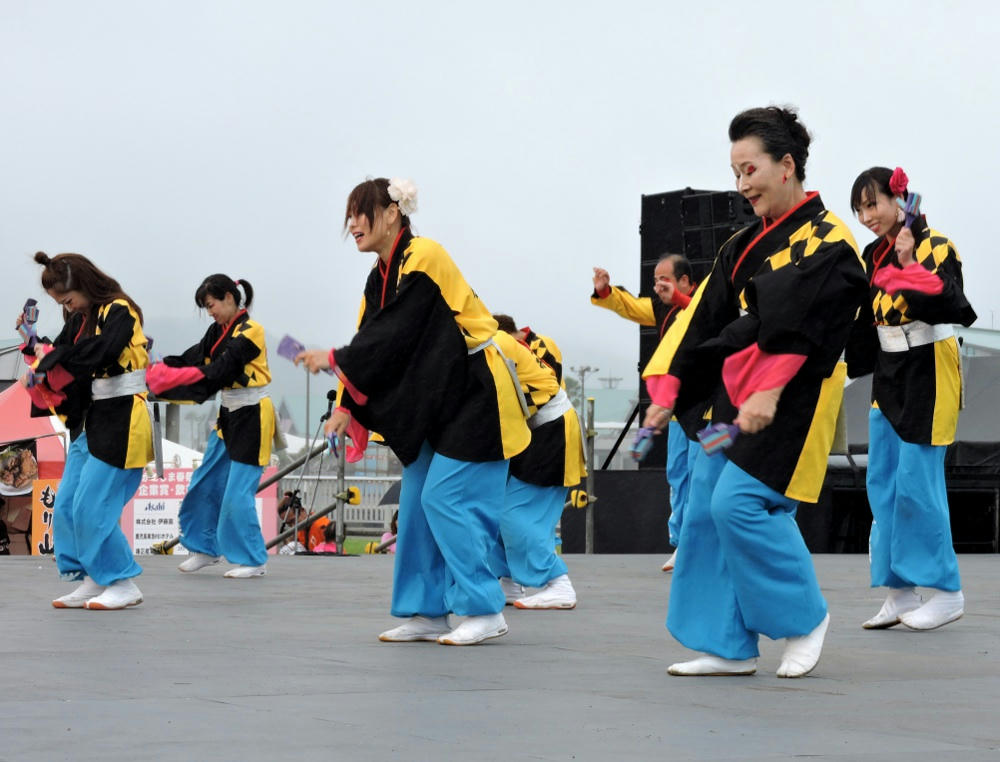 Although the dancing at Dolphin Port was supposed to continue until 7 PM, I had 6 gig worth of video (45 minutes), and both batteries were wearing down. The rain wasn't looking like it was going to let up, and I figured I'd be just as well off editing all the photos and videos for the blog and just stay home for the rest of the day, which is what I did. (I didn't finish the uploads to youtube until midnight Sunday. Because my work schedule was going to get packed again on Monday, I wanted to have this blog entry done Sunday night and have it out of the way.)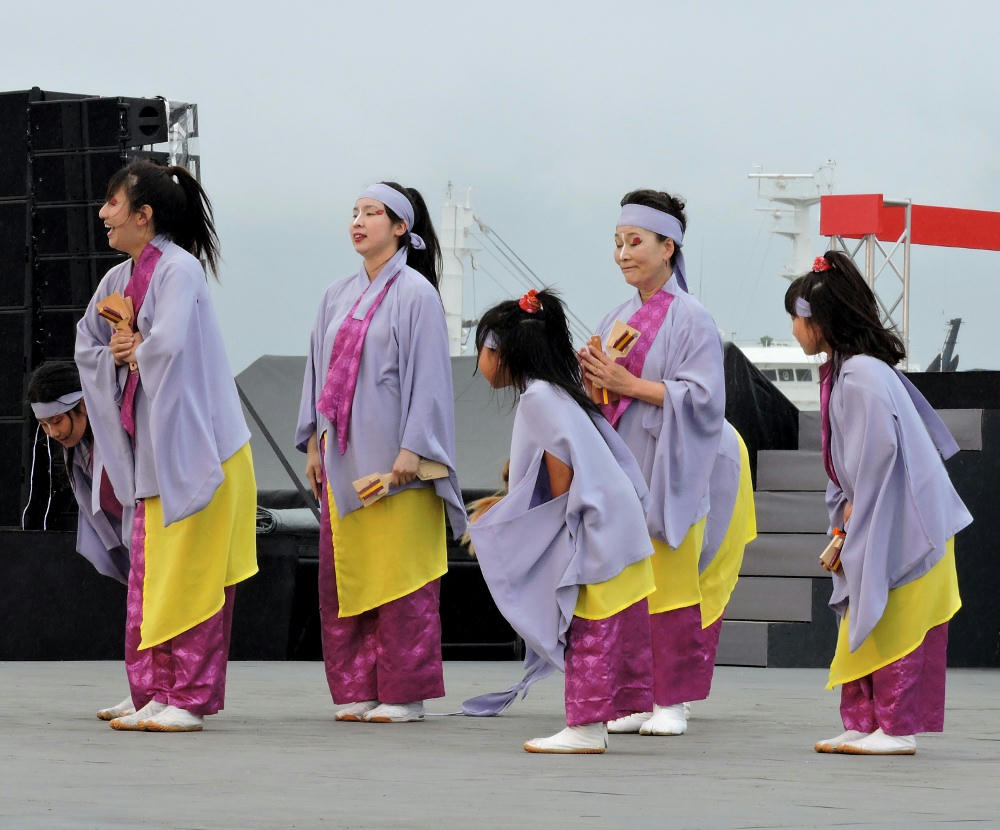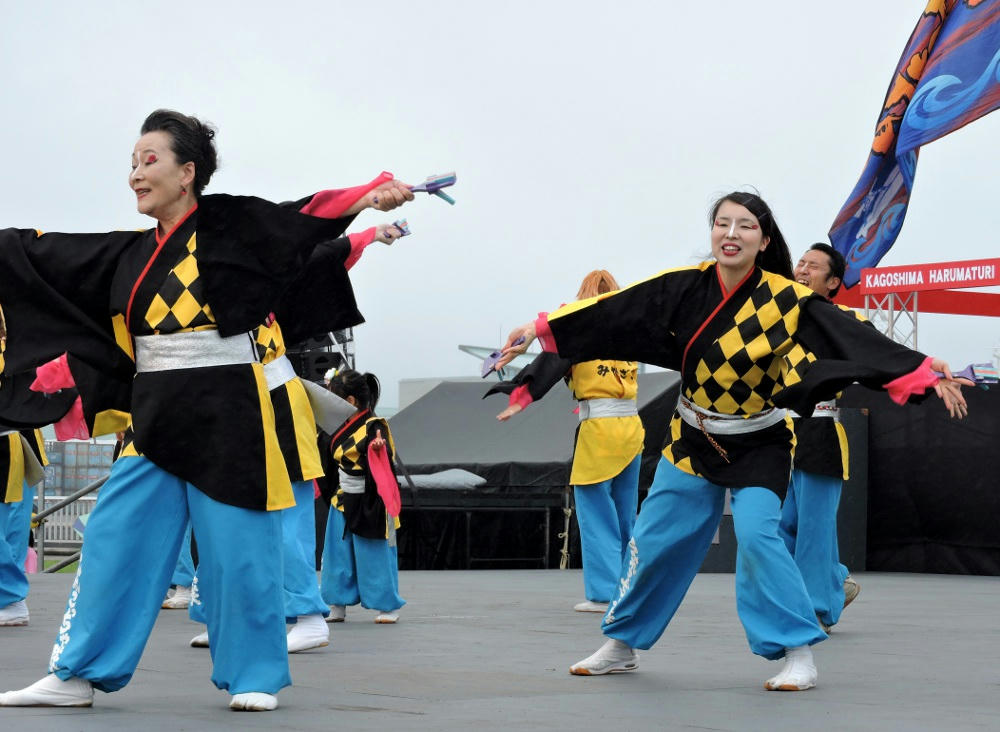 Naturally, when I took the trash out at 11 PM for pick-up the next morning, the rain had ended and the clouds were breaking up. Sigh. At least, I was able to enjoy what I did get to watch, and that was enough for me this time. Although, I do want to mention that one of the more interesting parts of a good yosakoi group is when they do costume changes throughout the dance. I didn't see that at all this time, and I'm not sure if that was just bad luck on my part, or if the groups felt it was too much work to pull off this year.
Next up, the O-Gionsa portable shrine matsuri in July. Last year was pretty disappointing, so I'm hoping there will be more participants in the parades this time, and a larger audience.
Direct youtube link for video sampler 1
Direct youtube link for video sampler 2
Direct youtube link for video sampler 3
Direct youtube link for video sampler 4