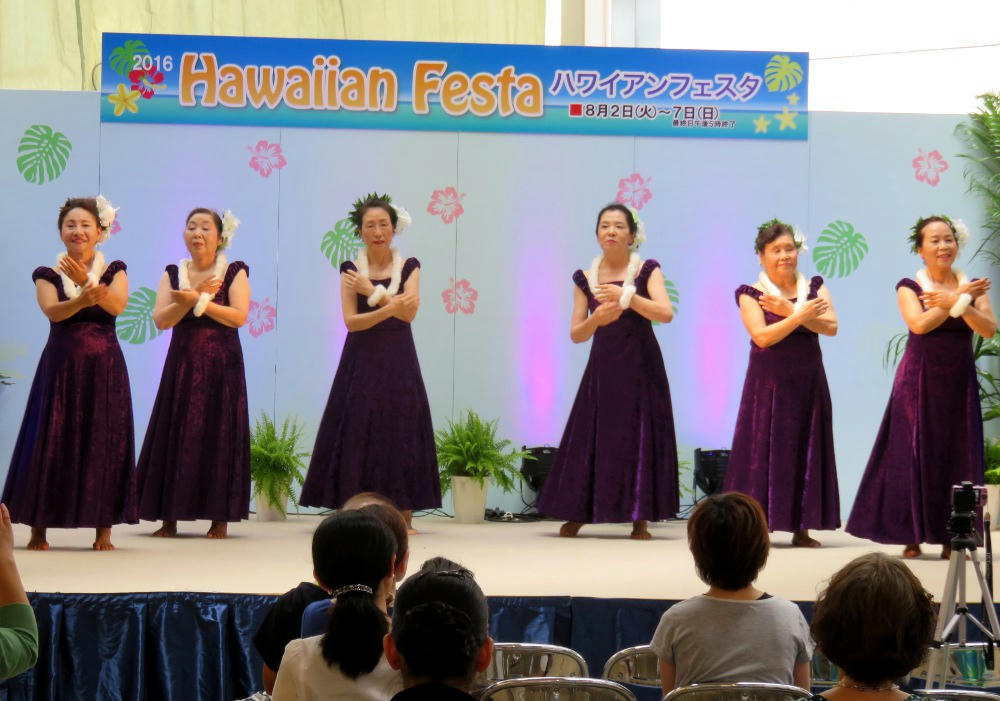 I had to work all Saturday again. But, I cut through Tenmonkan to get to the school, making a point to pass by the Hawai'ian Festa at 12:30 PM. At this point, they just had more demos from the local dance schools. Nothing much to record or take pictures of.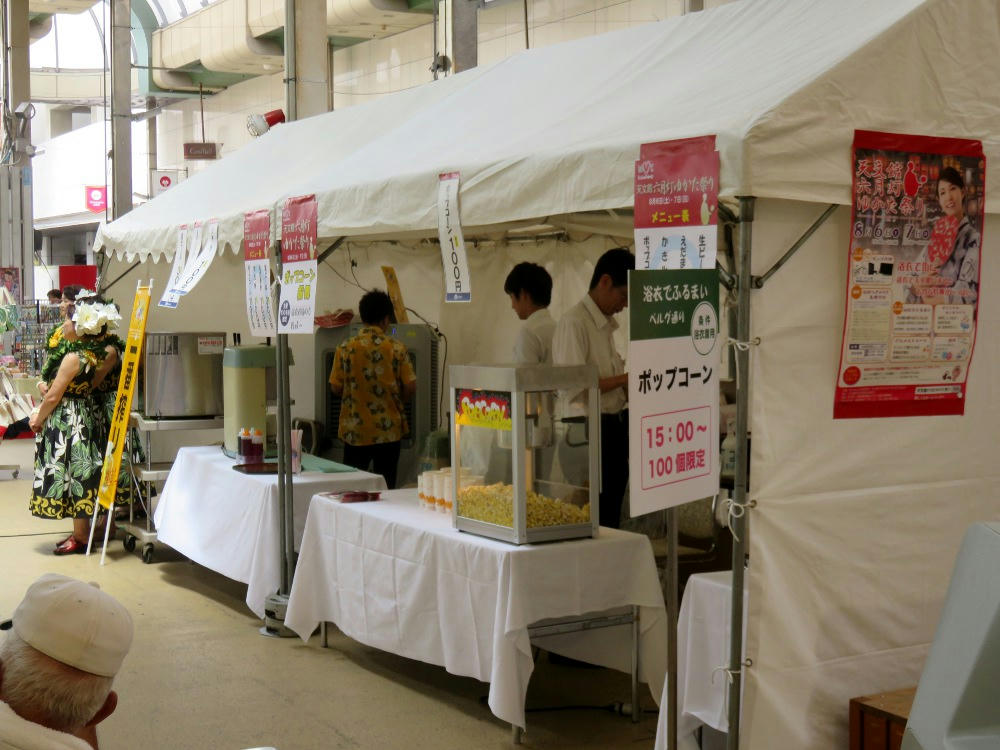 There wasn't much in the way of food booths, either. This one advertises free popcorn to the first 100 people, starting from 3 PM. (Note the poster for the Yukata Matsuri at the side of the tent.)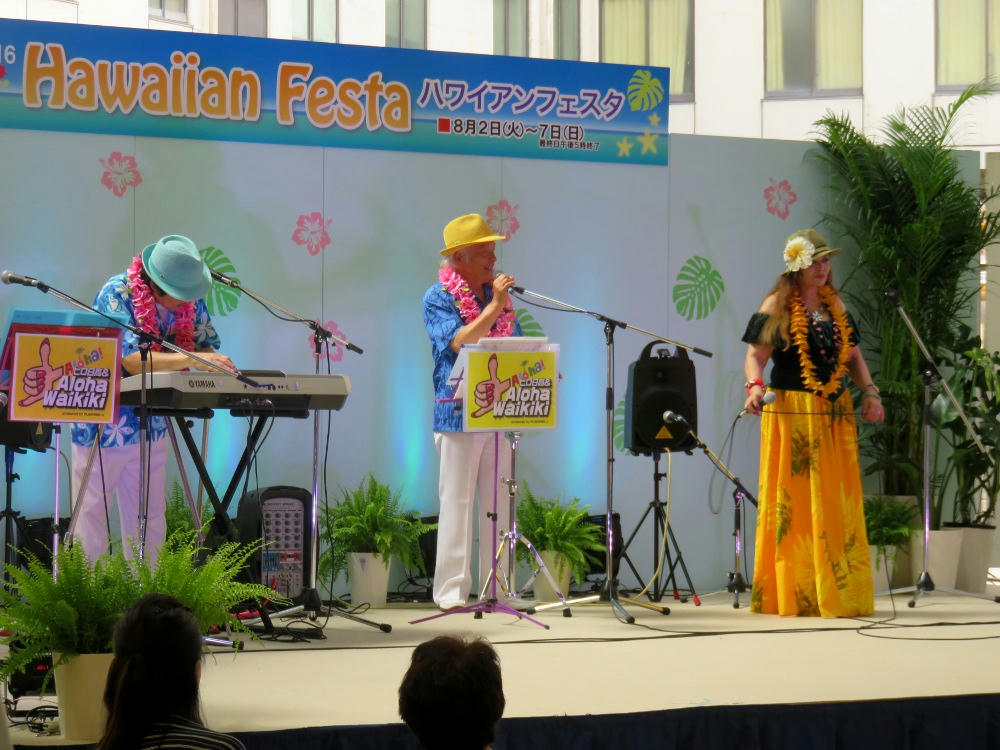 My break ran from 3 to 4 PM. That gave me time to swing by the Hawai'ian Festa on my way to the Yukata Matsuri event a little farther way in Tenmonkan. All the popcorn was already gone, but the smell was still in the air. And, there was one Hawai'ian band - Aloha Waikiki - playing slow music. They stopped playing when I got there, and the leader decided to start talking, so I left. When I returned on my way back to the school, there was another hula dance studio group dancing again.
Yukata Matsuri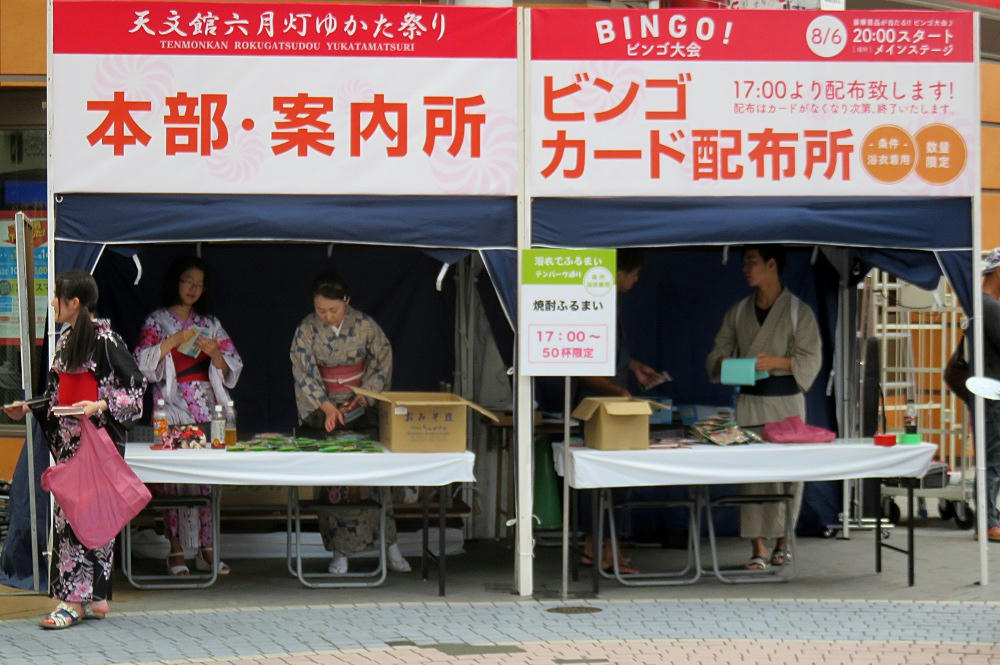 The city has been advertising the Yukata Matsuri for the last month. It ran from Aug. 6th to the 7th. The idea is for people to wear yukata (indoor evening-style kimono) while shopping. Some stores offered discounts to anyone in yukata. Here, we have the main information booth, which was handing out bingo cards and (I think) 50 shochu tasting tickets. Tables were set up for food, beer, shochu, fortune telling, and children's games.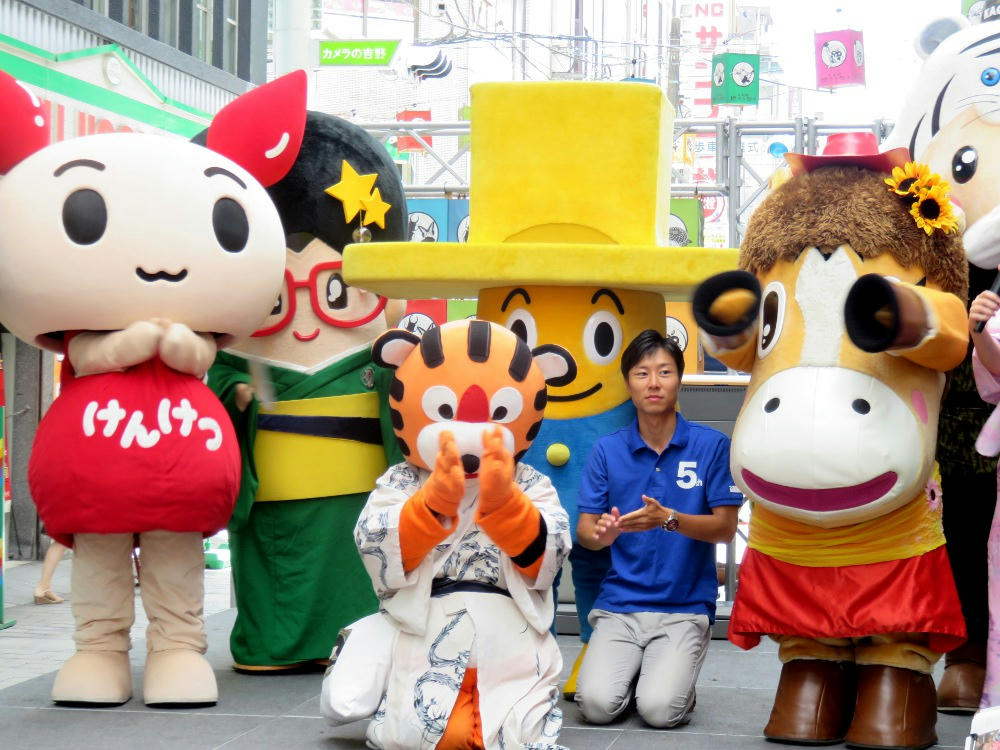 Last year, the event stage was where the information stage is this time, and this year the event stage was at the far end of the promenade. Most of the scheduled events were for foamhead mascot promotionals, with a little bit of live music thrown in.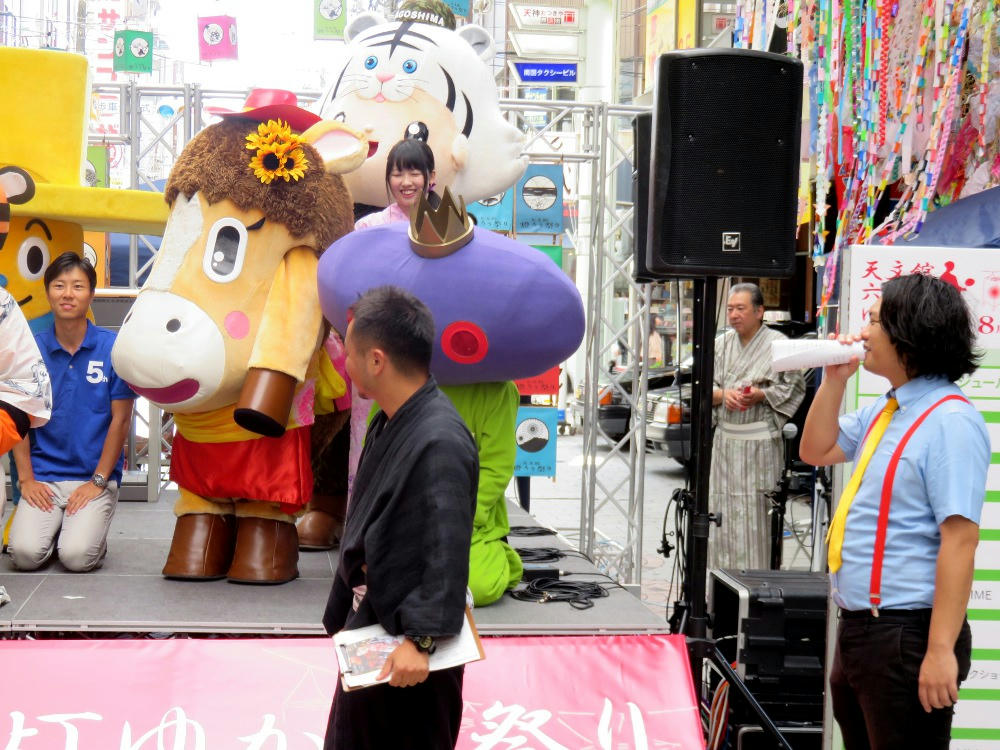 The Emcees included the comedy duo "Party" and one of the dancers from Southern Cross.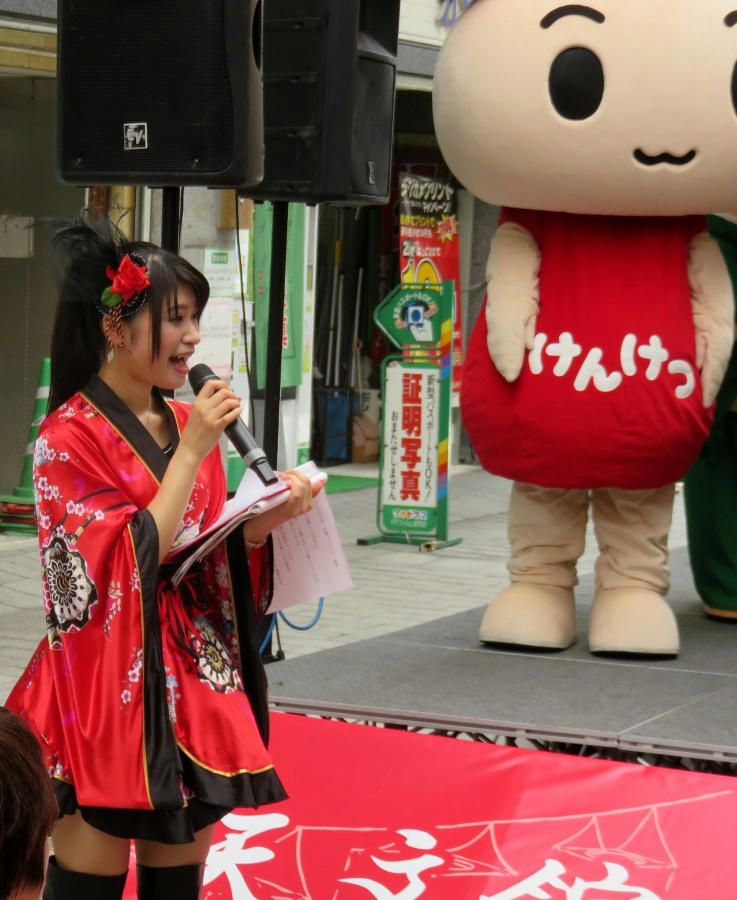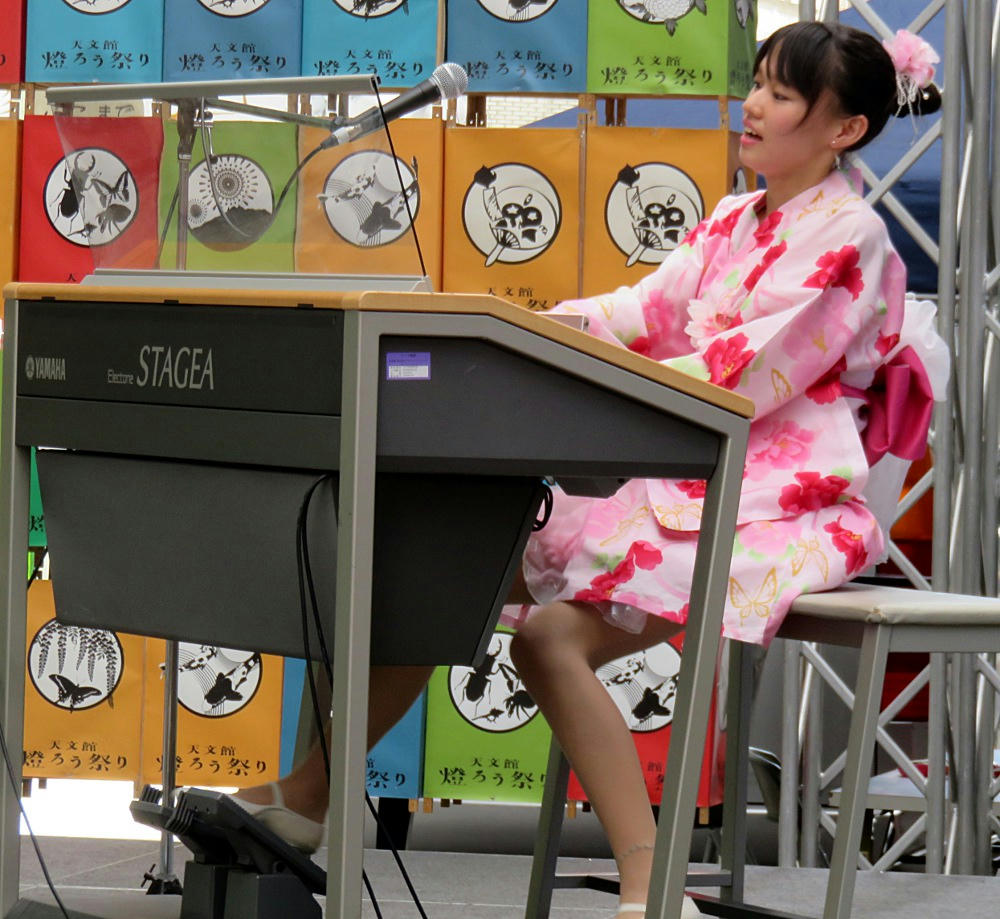 I had to run back home to get some paperwork for the school. When I returned to Tenmonkan, Yuria (the girl that demos the Yamaha synth system) was just finishing up her set. I haven't seen her playing live in months, and I really did want to watch her this time because she was doing a new set. She only played on Saturday, so I missed my chance. Sigh. What little I did hear sounded really good. She's also starting to look more grown-up now, too.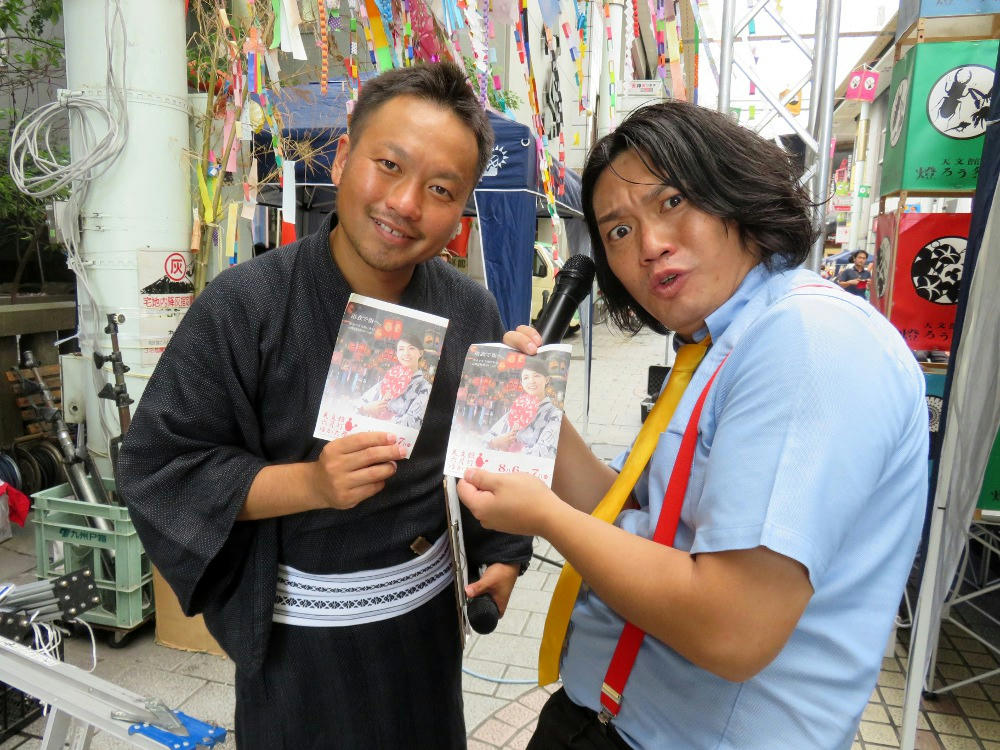 I decided to try getting photos of Party again, but I don't think they recognized me from the last 3 times we'd met. Oh well.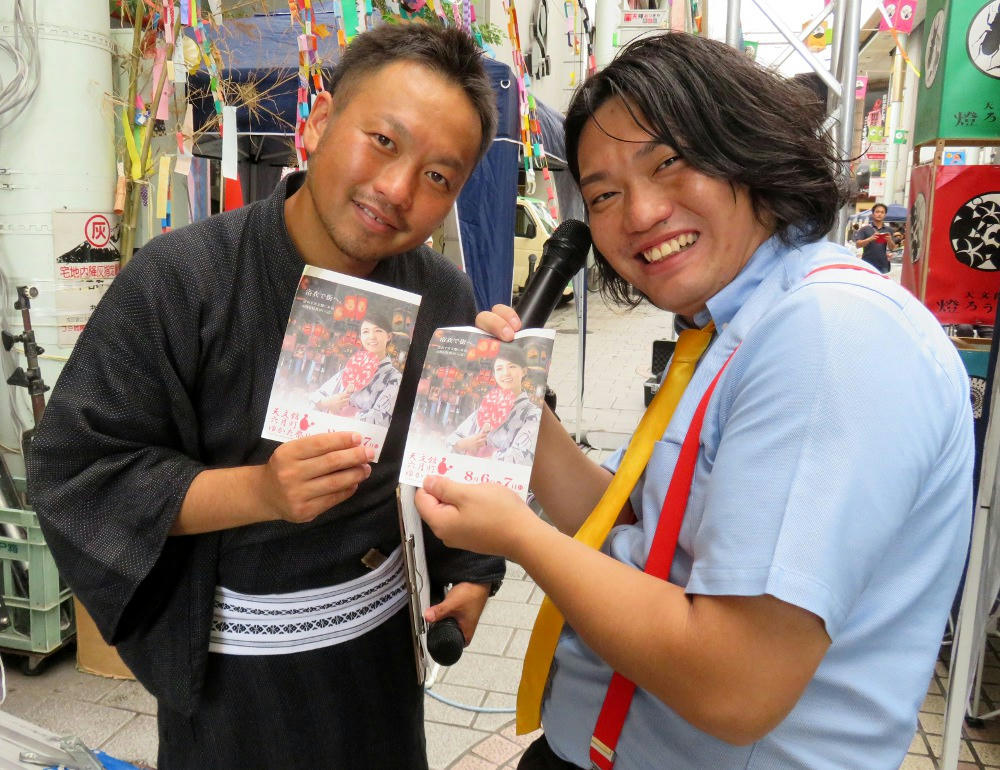 I went back to work. My last student for the night canceled because of her job, so I got out an hour earlier than I'd expected to. At that point, Party and the Southern Cross girl were running the bingo game, with TVs and PlayStation 4 machines as prizes. Quite a few numbers had been called out, and there would have been no chance for me to play by that point even if I'd been able to get a card. I went into a ramen shop for dinner (pork ramen and a large mug of beer for 1,400 yen ($14 USD)). That was good. I finished eating at 8:30 PM, and by then the bingo game was over and the crowds were thinning out.
As I write this Saturday night, I'm hoping to catch some of the stage acts on Sunday (K@ito, the juggler; a magician; and Wickey Toshi, the bar owner/musician that I gave the papercraft guitar to.)