Anna Toribuchi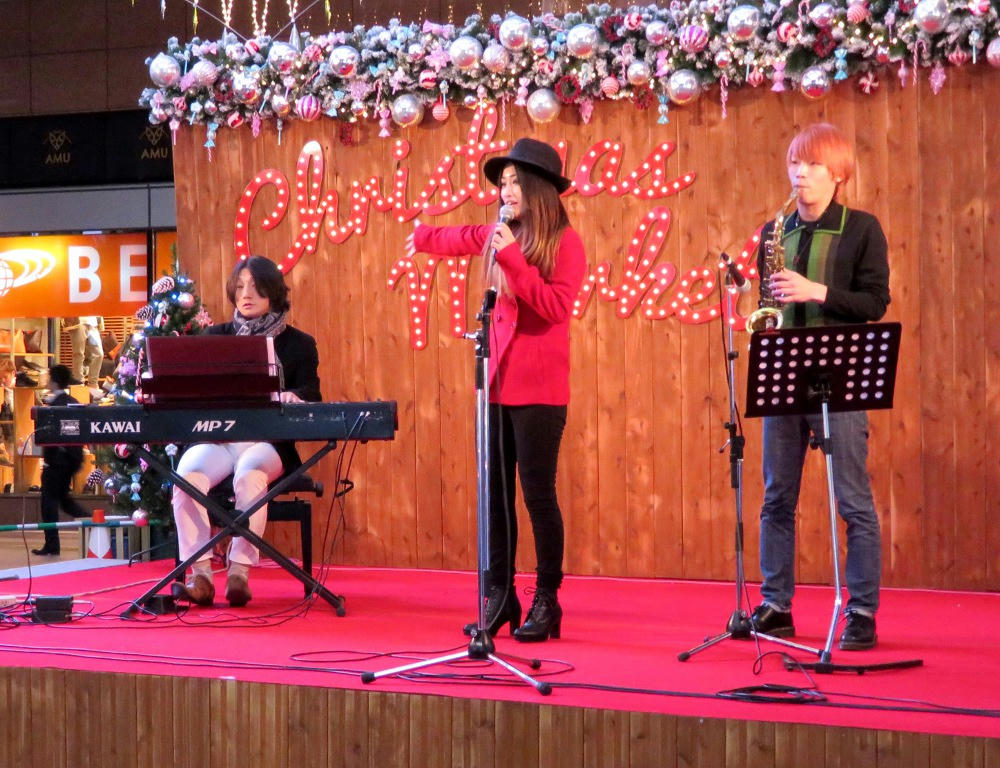 Ok, this is where things get a bit wordy. I had to work most of Friday last week, but I was able to get up to Amu Plaza at 7 PM. They had the Songbirds of Gospel jazz singer and conductor/keyboard player again, and I gave up and returned home for the night.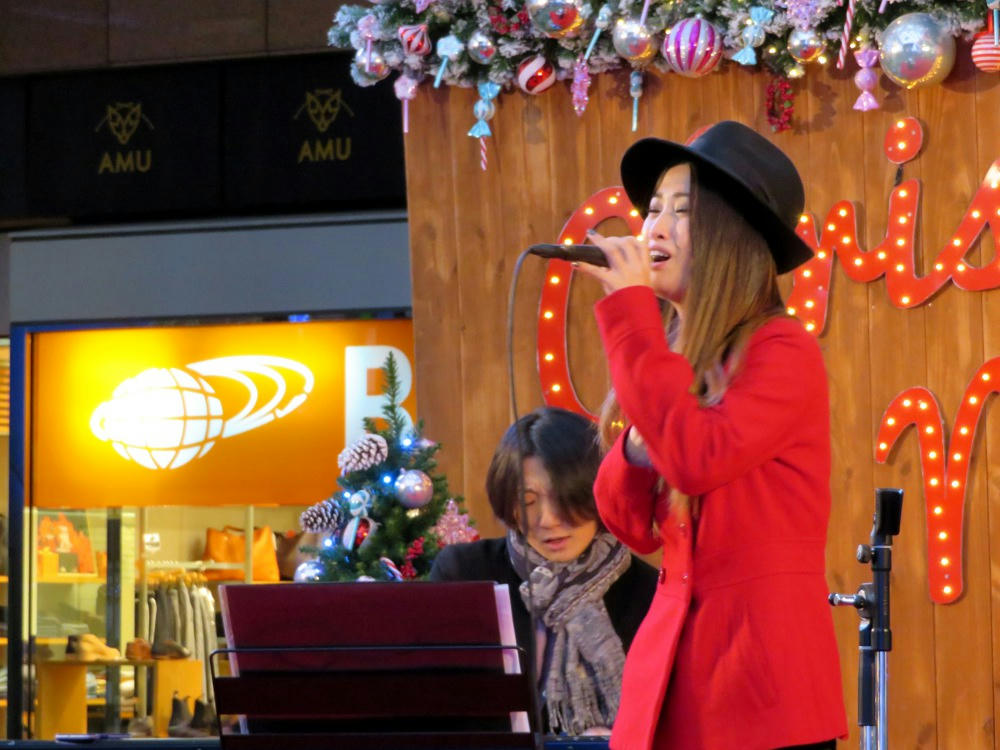 Then, I had to work all of Saturday, getting out just before 7 PM. I jumped on the street car, and rode that up to Amu Plaza, although it wasn't much faster than if I'd just walked by myself. I arrived at 7:20, and as I was getting close to the train station, I didn't hear any music, so I was thinking I'd missed the 7 PM show. When I reached the main plaza, I discovered that the stage event at that time was a wedding dress show. No loss. So, I went into the department store, got free sample coffee at Kaldi, and killed time. At just before 8 PM, I returned to the plaza, and I tried to find a schedule to see who the next act would be. I couldn't locate anything, so I went over to the entrance of the green room tent to try to look inside. That was sealed up tight, but as I was turning around, the elevator behind me opened up and Bon, lead singer of the Ska band Bon DX, stepped out, and he got really excited at seeing me.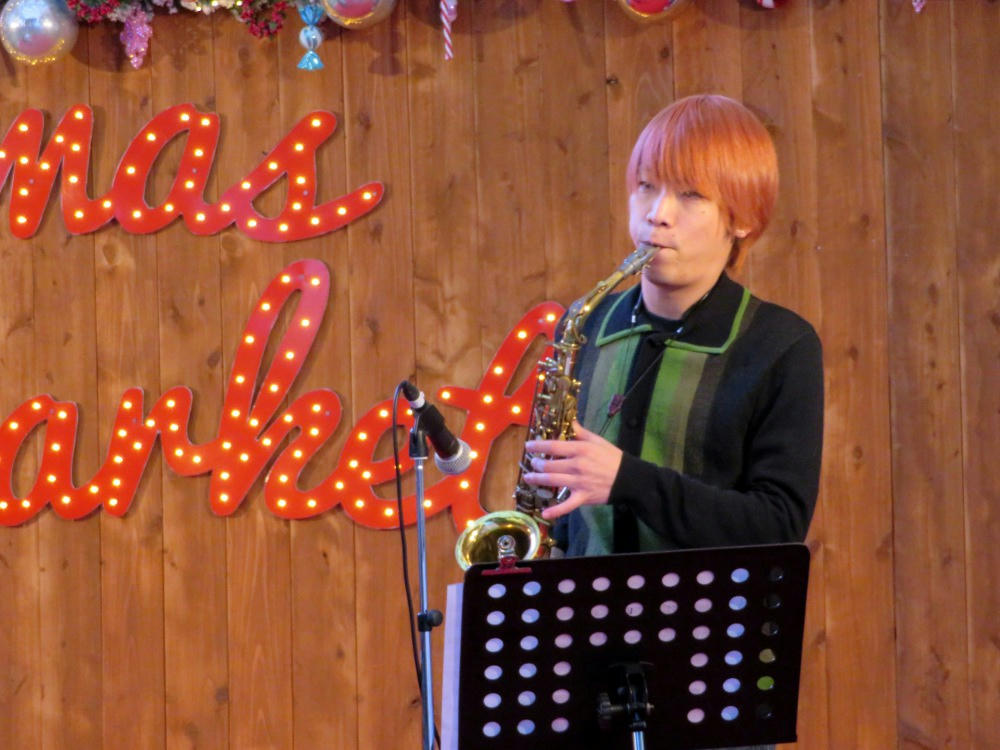 (Ren)
Turned out that his son, Ren, was going to be playing sax as backup for the singer Anna Toribuchi, and he urged me to stay and cheer for him. I stuck around for that, taking pictures during the first Christmas song (copyrighted pop cover), and recording the second one (which Anna wrote). I was in the middle of recording the third song when I got a phone call from the apartment saying that I was late for dinner and to come home NOW because the food was getting cold. Sigh.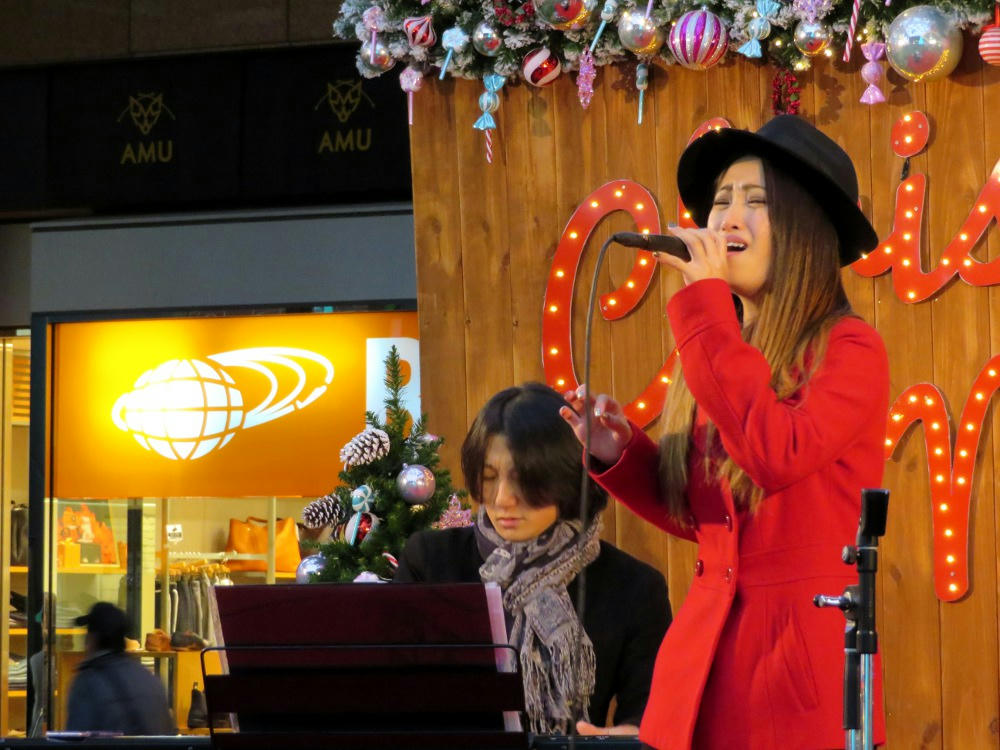 Anna was ok, but Ren did a good job. Unfortunately, the keyboardist hogged all the solo time, and Ren didn't have an opportunity to show off his chops. Hopefully, he'll get more chances in the future.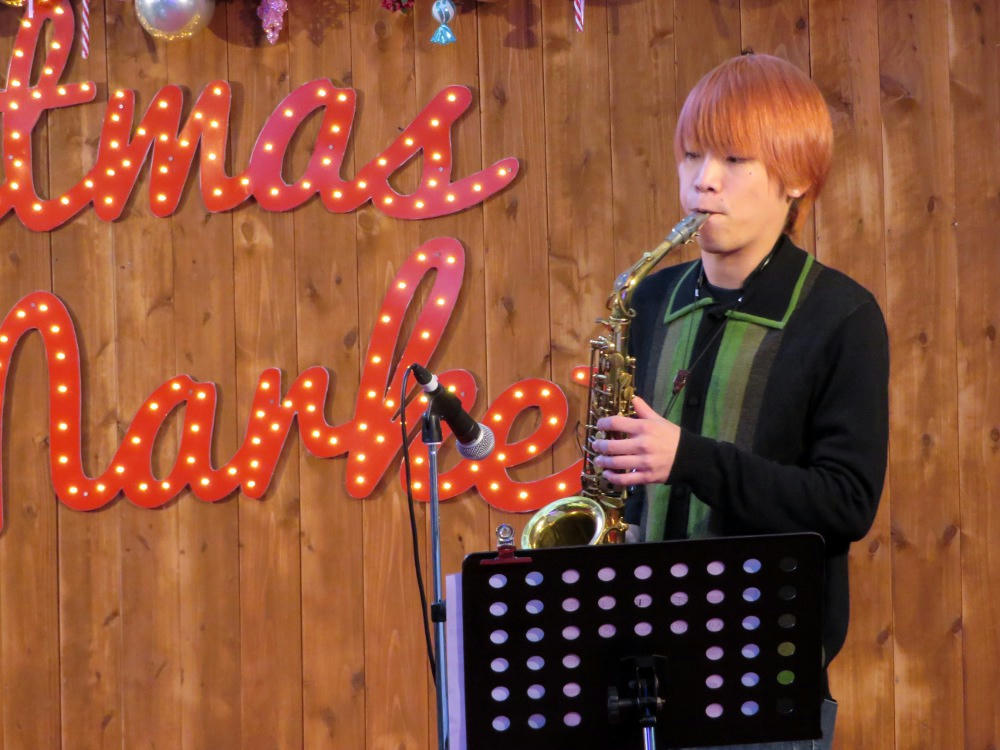 Bon DX, Dec. 11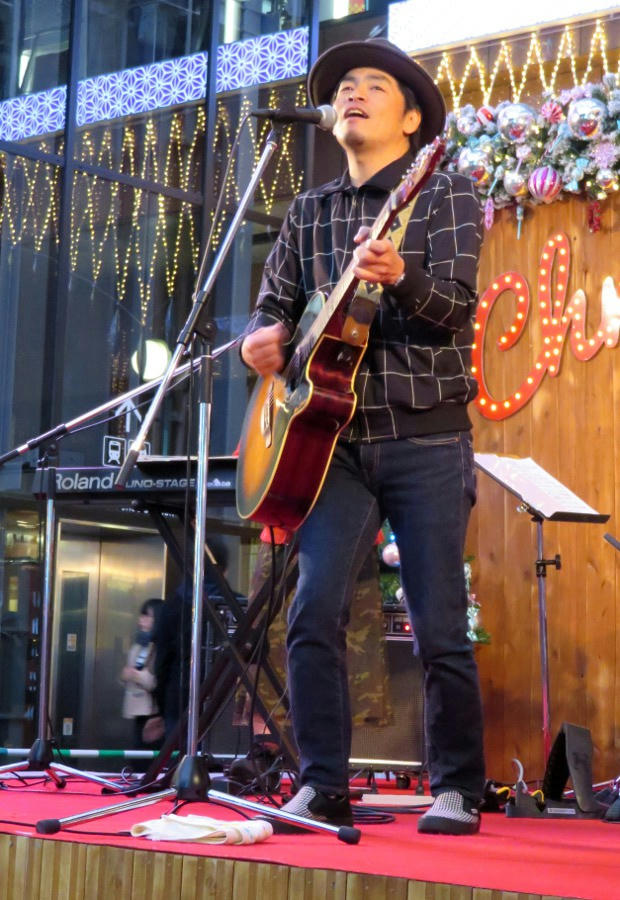 When I talked to Bon on Saturday, he mentioned that he'd be playing at the Market again on Sunday, at 6 and 7 PM. He kept asking if I'd be there, and I answered that I would, if I could. On Sunday, I went down to City Hall for the "Sunny Matsuri" there, and afterward found Wicky Toshi in Tenmonkan, playing his set. After Wicky was done, I returned home for a couple hours, then went to Amu Plaza again.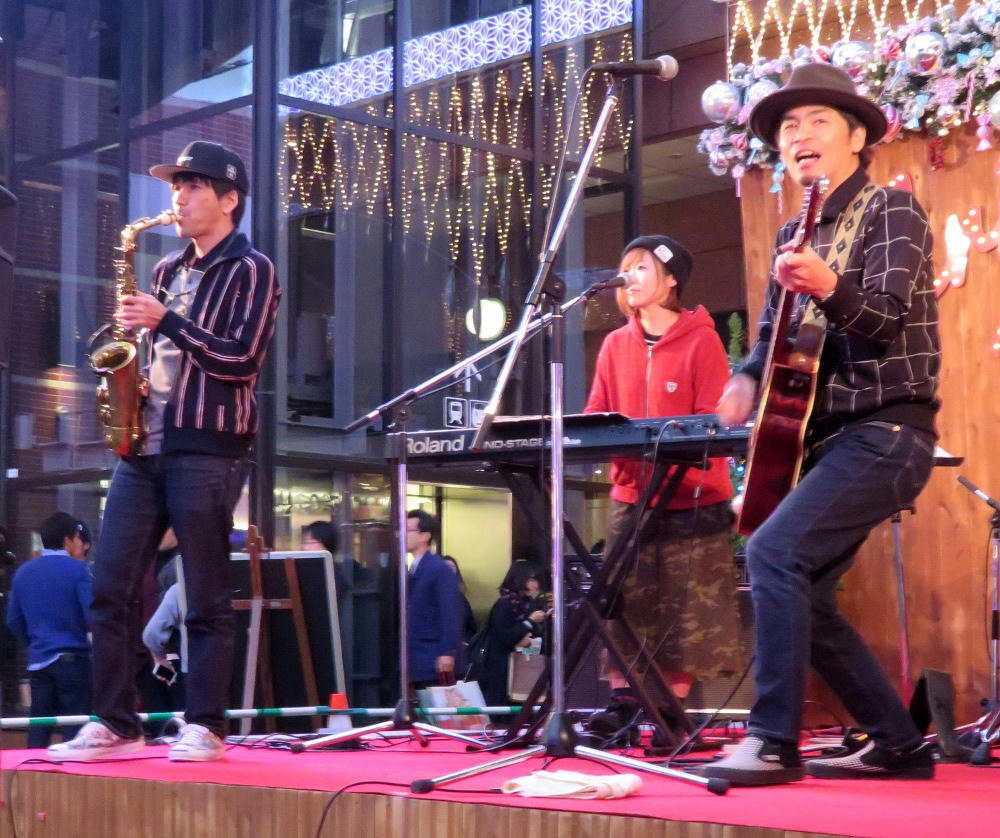 Bon essentially plays the same songs all the time, and I'd just seen the band play the week before, but I did want to try to catch the sax player when he did his opening solo of "So this is Christmas." Additionally, I'd just gotten the new pocket camera that replaced the one with the chipped lens, and I wanted to see how that would perform for recording music. So, I taped 4 songs, and took over 165 photos. The camera had trouble with people moving too fast in the low light conditions, but the video came out good, and I like the way it zooms in and out of the close-ups.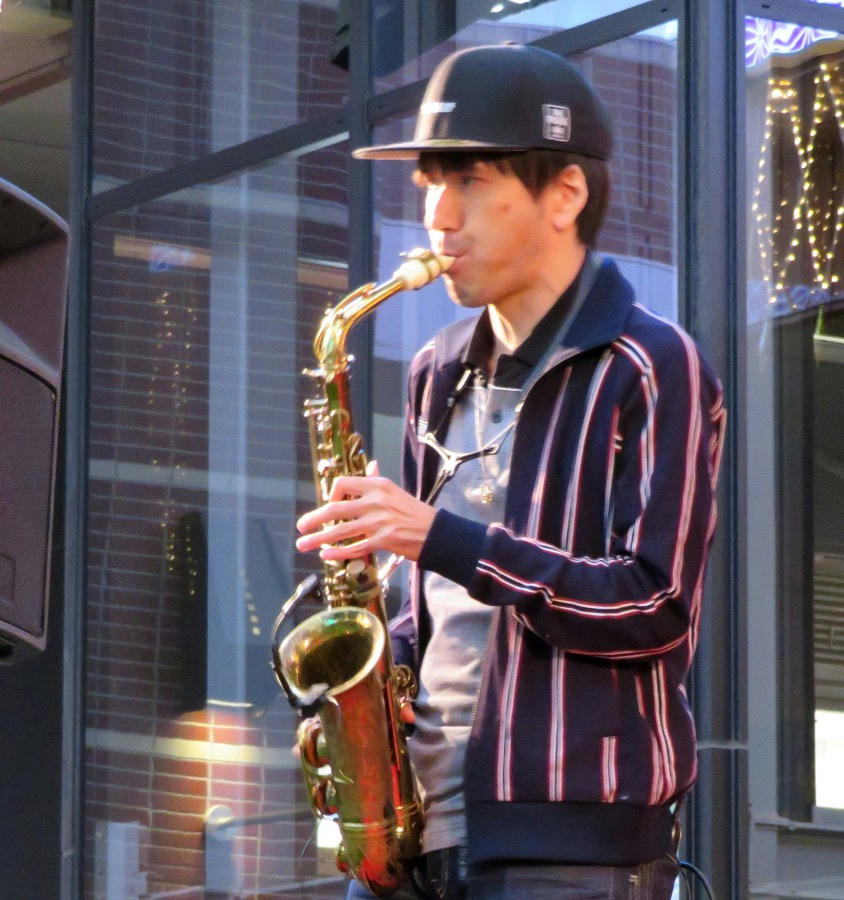 I'm realizing, though, that there's something wrong with the way Microsoft Live Movie Maker renders videos to output files. For some reason, Movie Maker is cutting the sound volume down to a fraction of what's on the original raw files. I've checked the settings I can check, and I'm not seeing what's causing the loss of sound volume. On top of that MM started crashing when I was editing the videos together, and that kept happening until I rebooted the computer. Now I'm more seriously thinking about buying a more professional 3rd-party program. I just have no idea which one to get.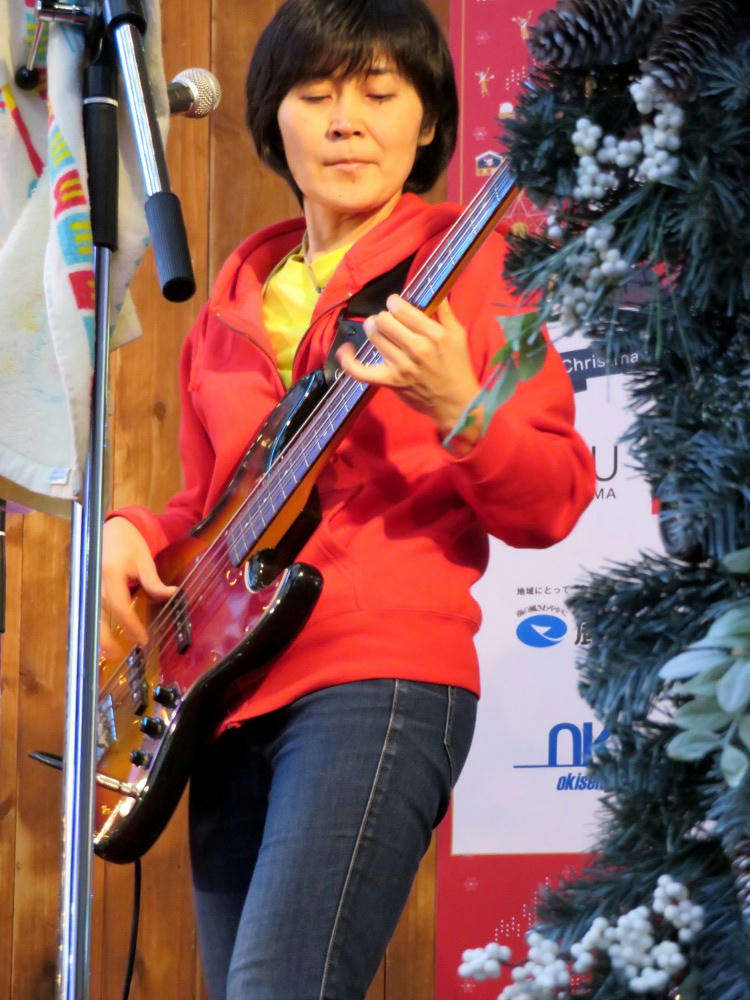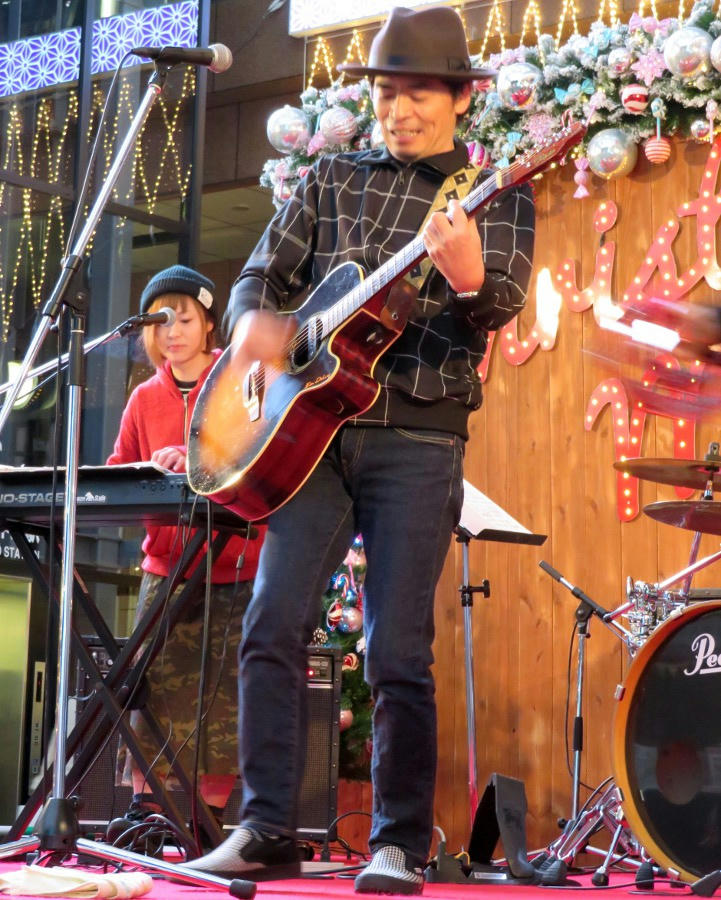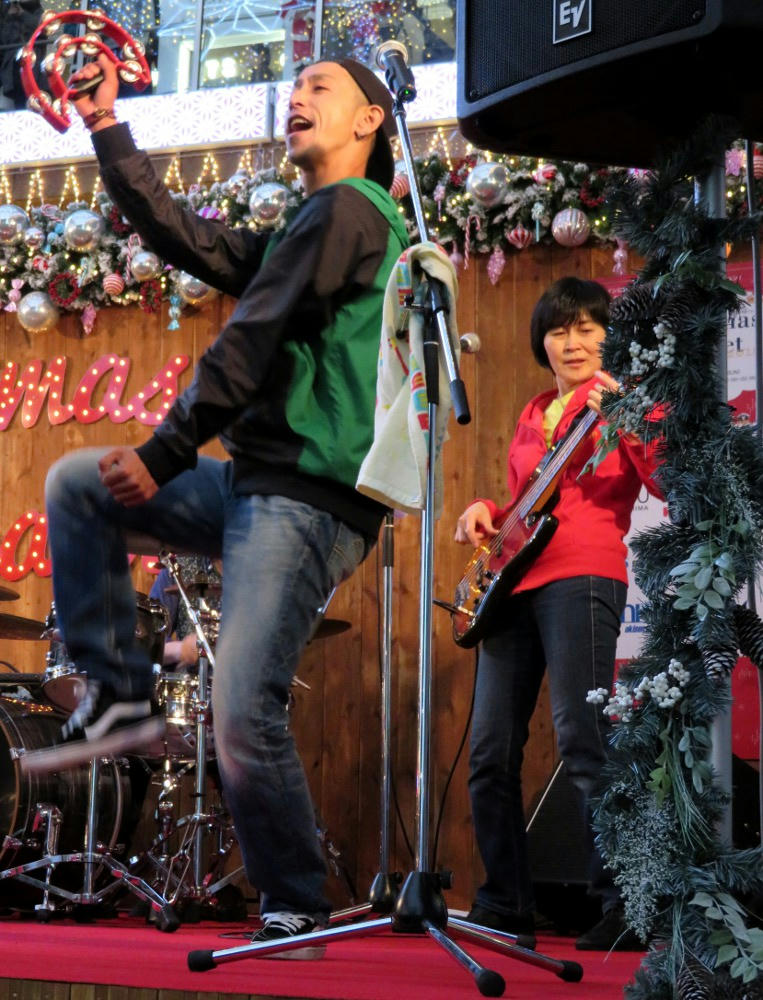 As mentioned in the write-up last week, Bon changes his line up occasionally. The sax player and drummer are part of his regular band, and I have seen the keyboardist play with him off and on. It's been a long time since I've seen the bass player, Aiko Maki. The accompanying vocalist is Chopper, I think. Bon said something about him being a reggae singer, and he's a big ham on stage.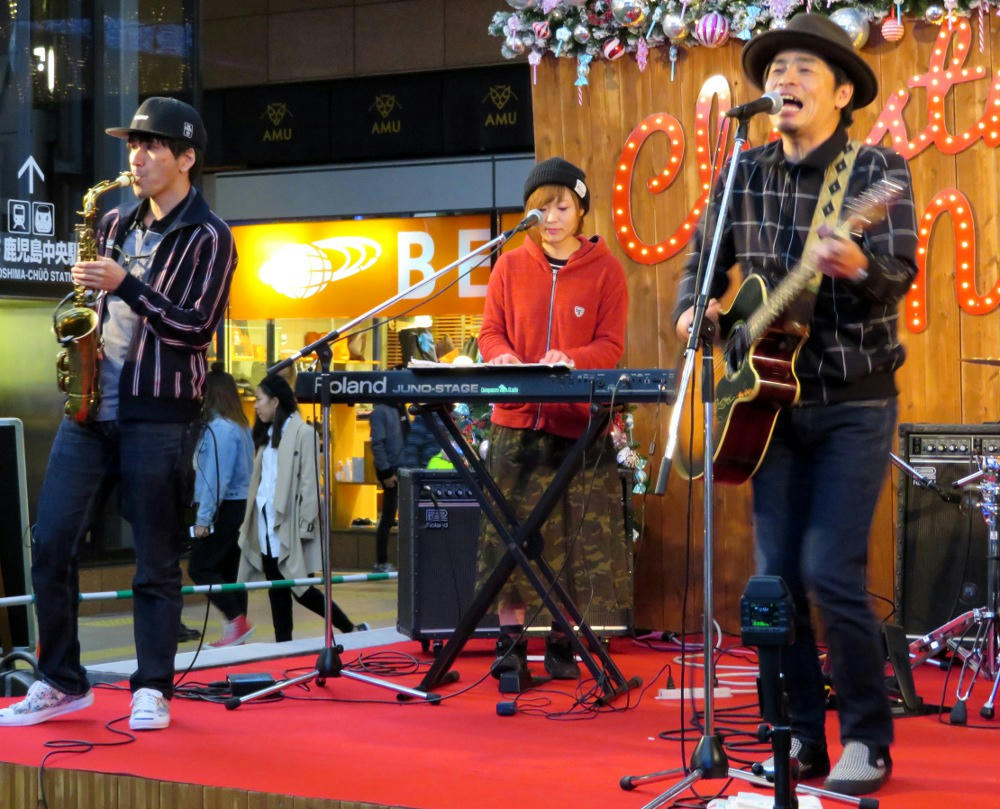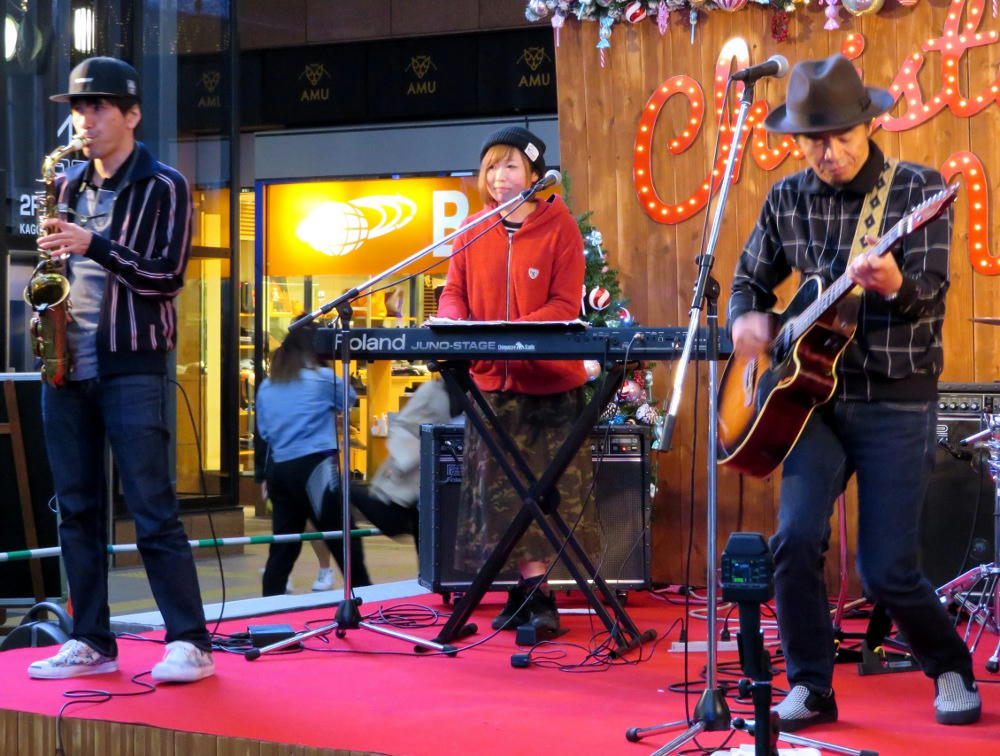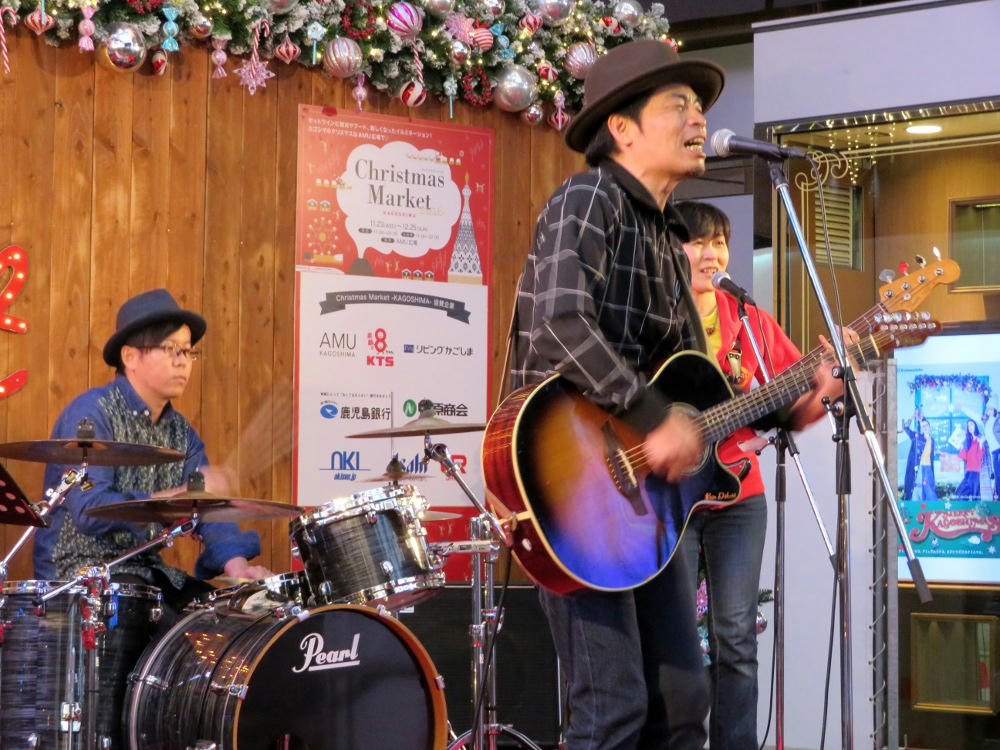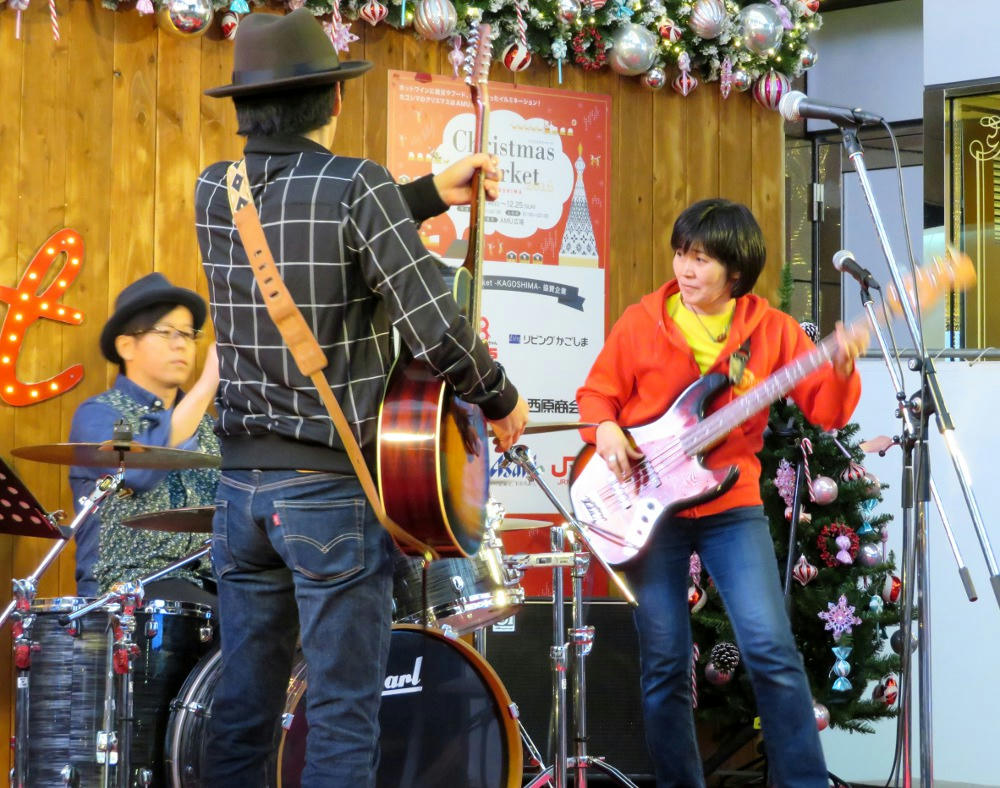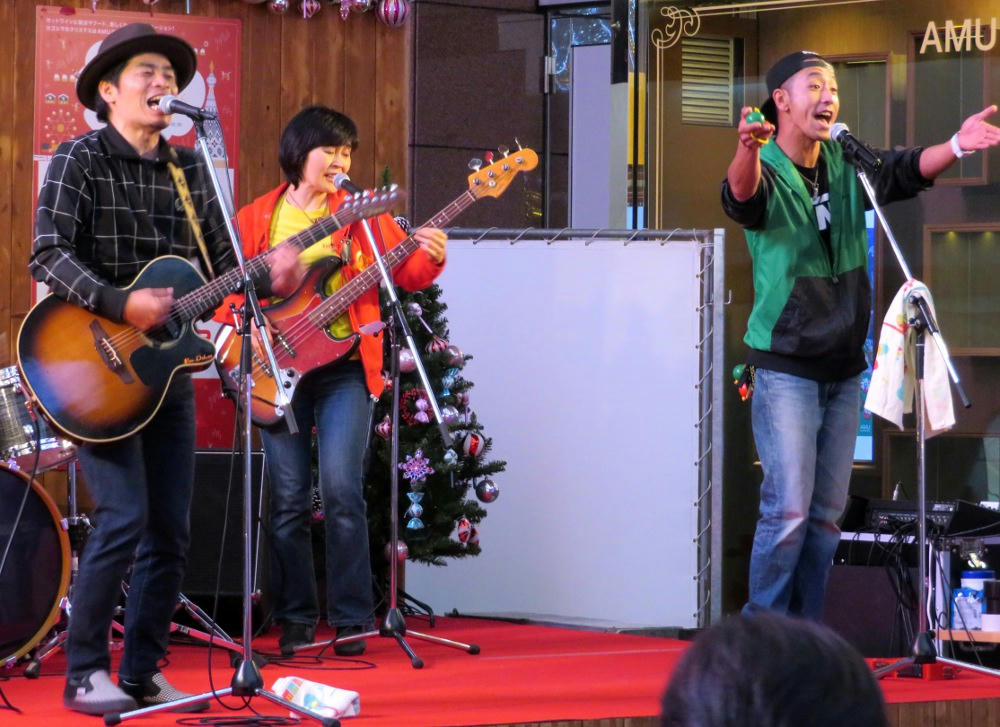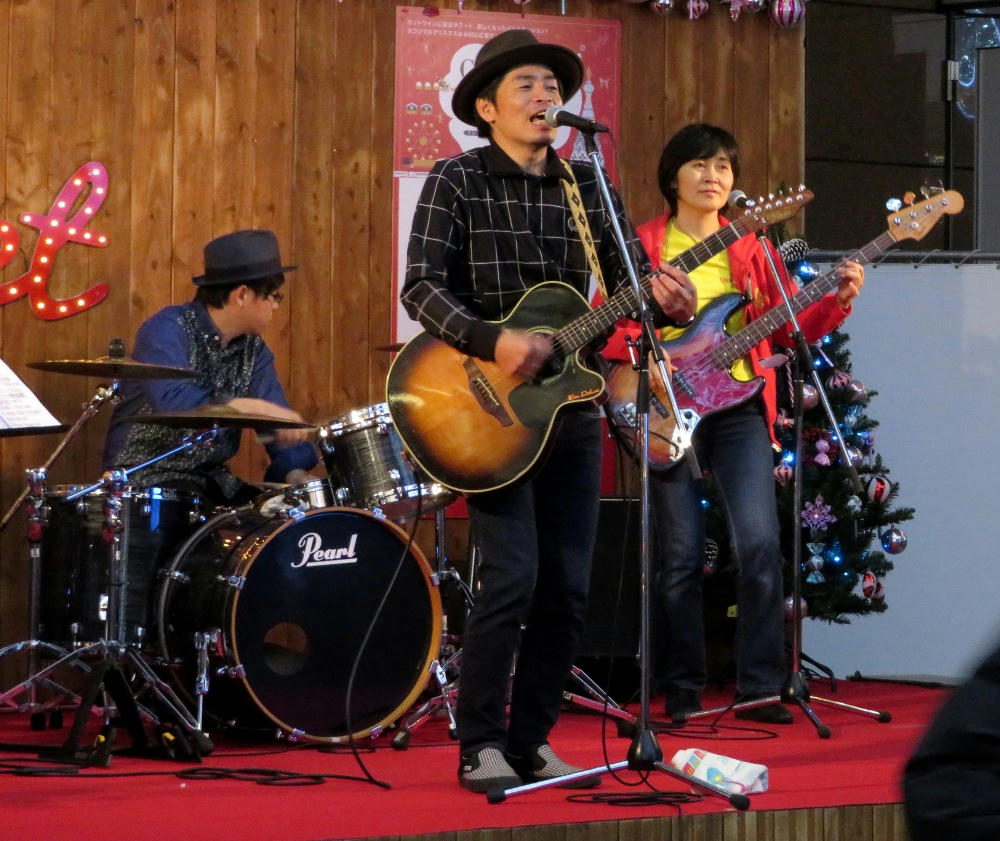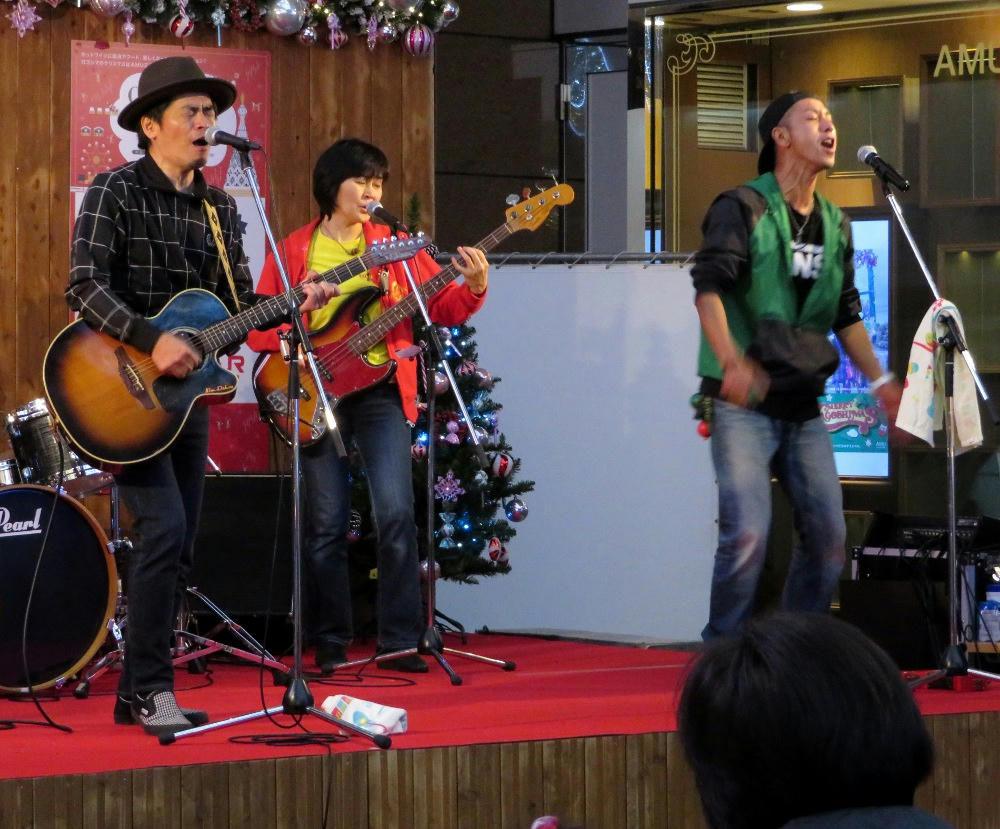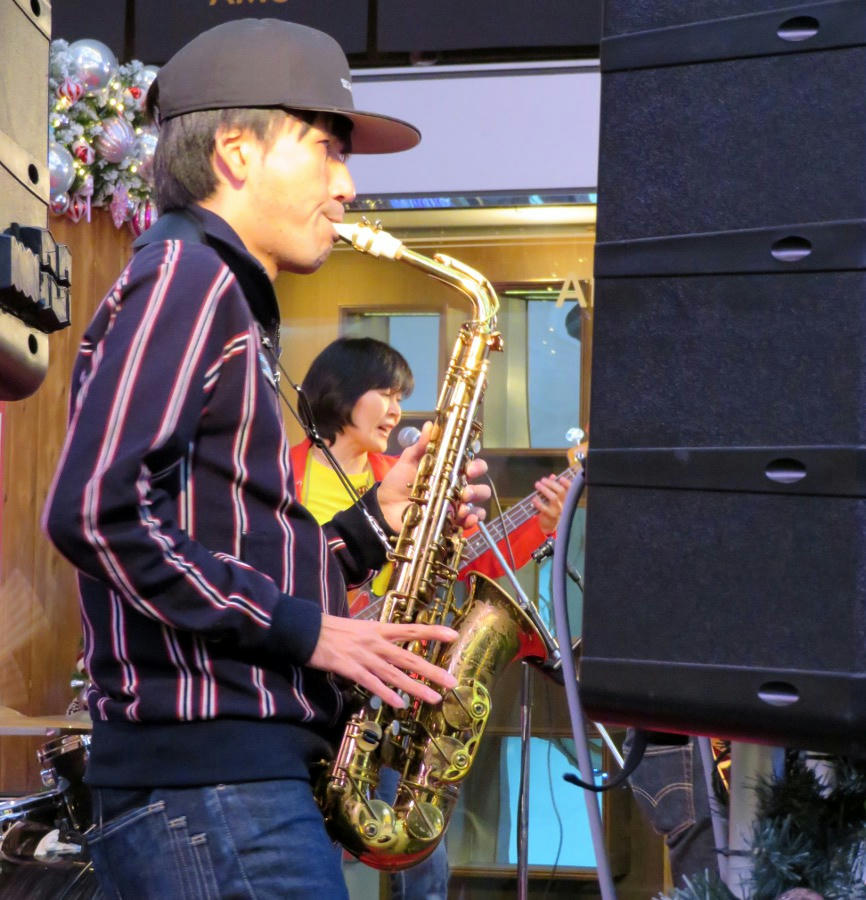 I tried getting artsy with this shot, but they kept moving around too much to really get the framing right.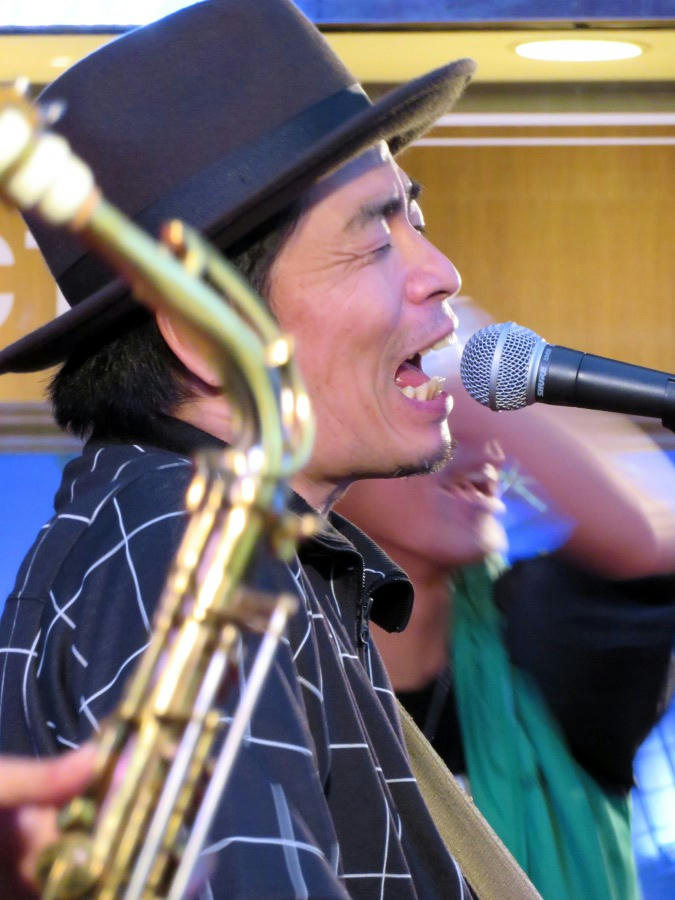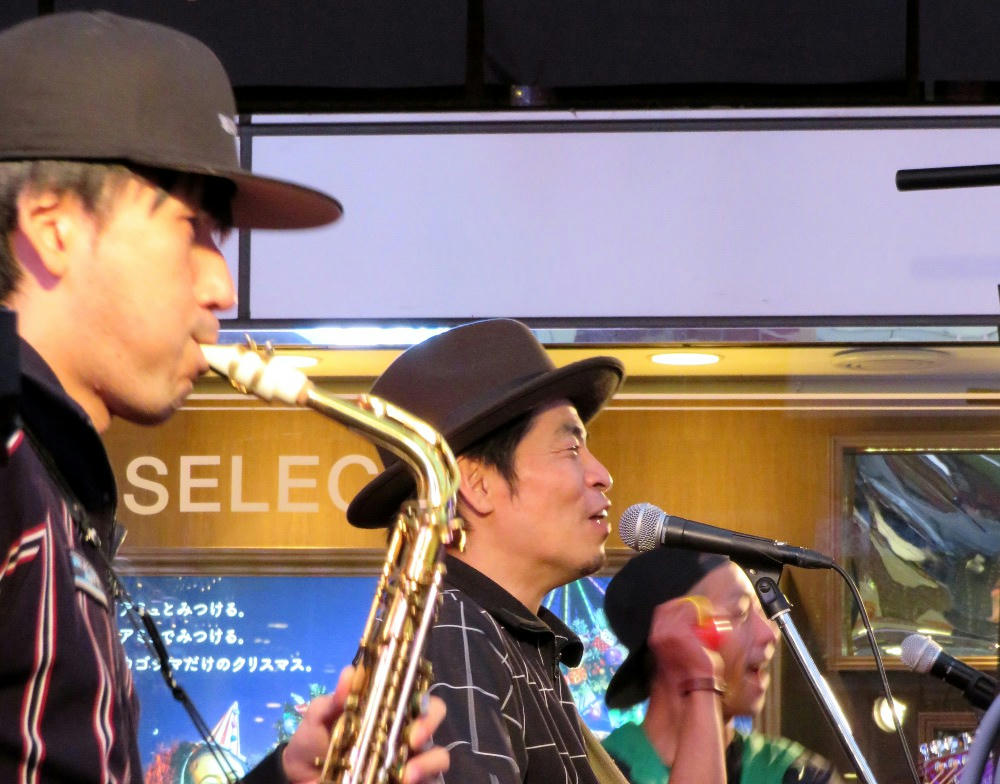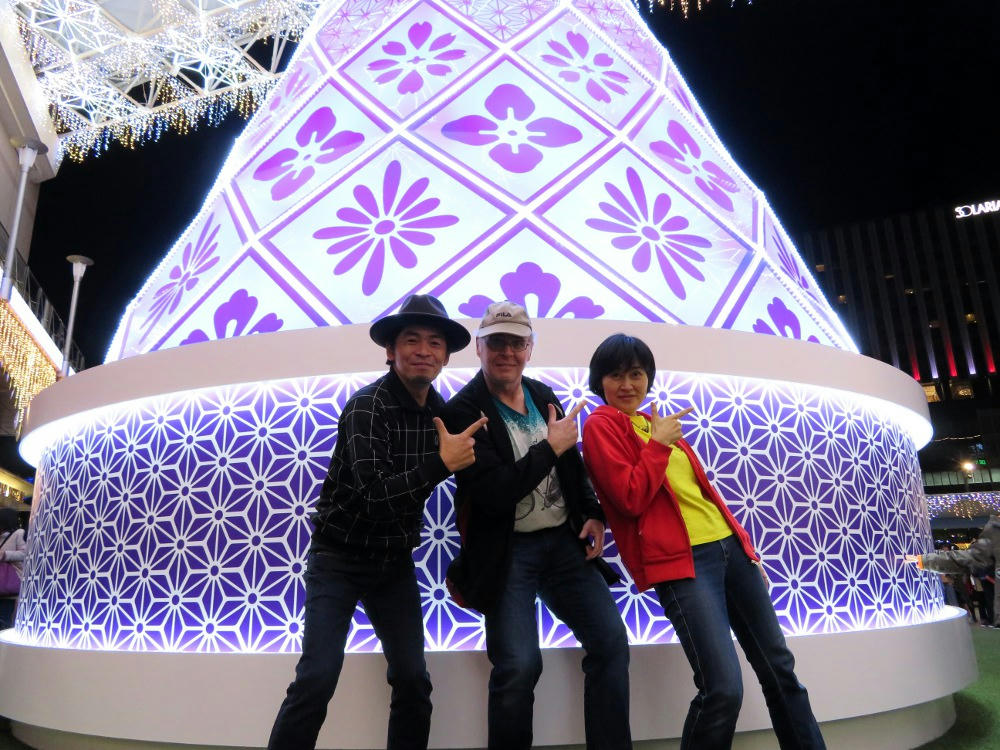 At the end of the second set, I decided to buy another of Bon's CDs, this time for his second band, ARTS. A few other people also came up to buy CDs and get them signed, so I didn't try talking to him that much. At least, though, Bon was willing to sign my CD (which I haven't been able to listen to yet) and pose for photos, along with Anna. I did get to talk to her for the first time, and she was very friendly. She plays with another 3-piece band, but I'm not sure of the name (Trios?). She said that band doesn't have any upcoming appearances scheduled, so I don't know if/when I'll get a chance to hear them. On the other hand, Bon is going to play on Christmas day, and I do want to see that.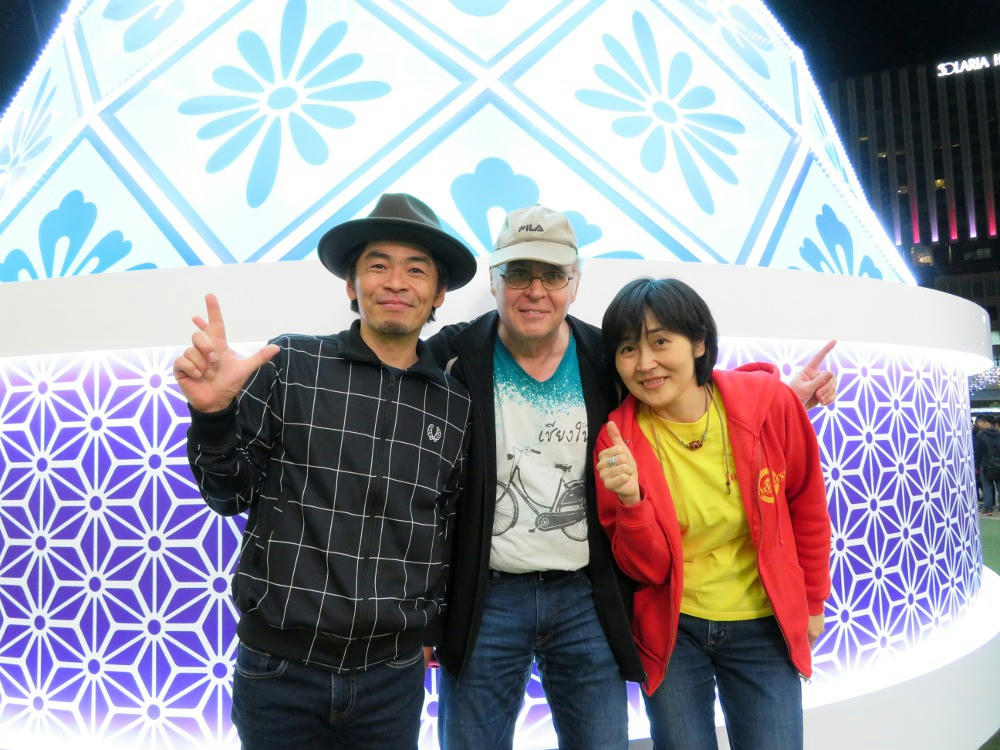 There was one more band I really wished I could see - The Pints. They're an Irish punk cover band from Ibuski, and I liked them a lot when I saw them for the first time last year. Unfortunately, only one member of the band came up to Kagoshima this week, and he ended up doing a solo acoustic show that wasn't any near as much fun as what the full band had been, Sigh.
Direct youtube link
Direct youtube link
Direct youtube link