Veggie Market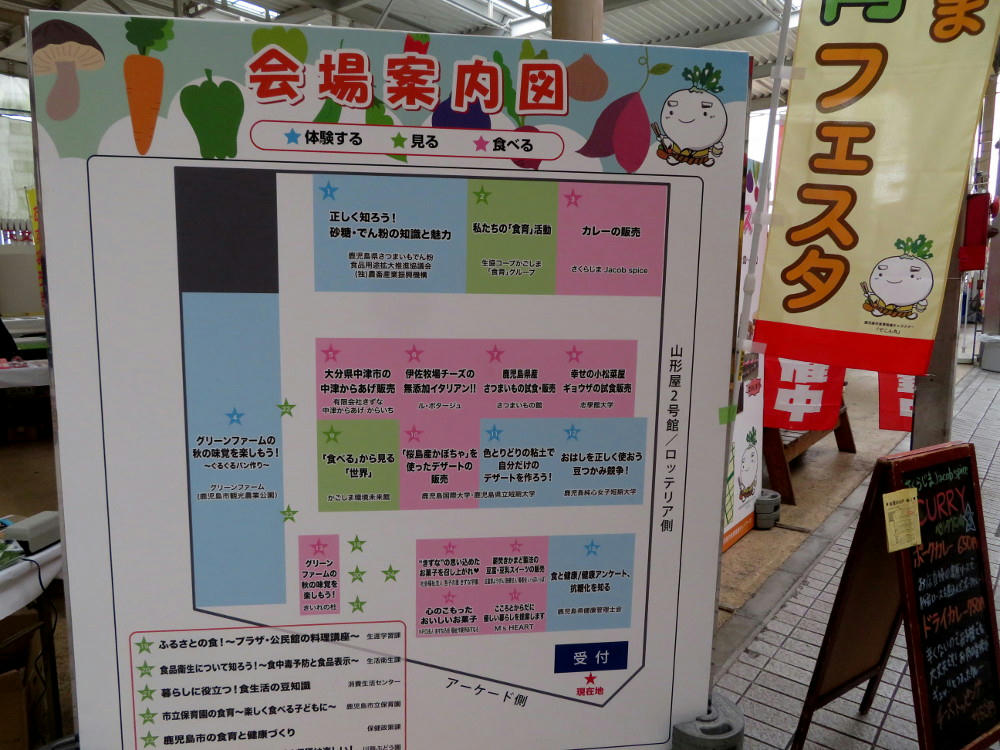 This past weekend was event filled and incredibly frustrating. I had to work weird hours on Friday, which kind of messed me up for going to Amu Plaza for the Amami Marugoto Fair that day. On Saturday, I had a lesson in the morning, then had to squeeze in my milk shopping for the week before going to the English school for lessons starting at 2 PM.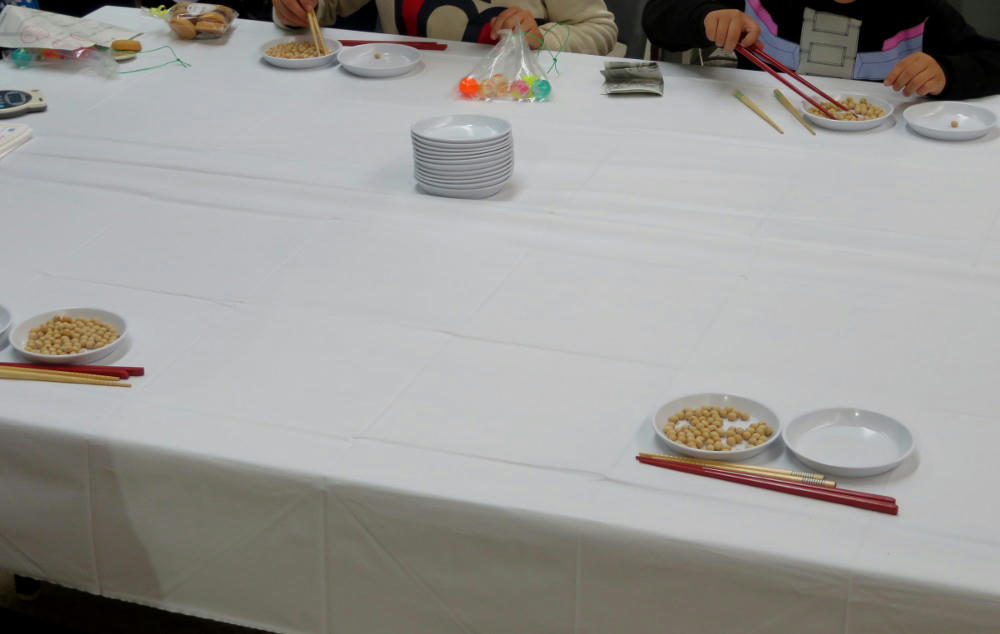 On my way to the school, I encountered the Vegetable Fair (or something like that) in the open space in front of Lotteria. This was kind of an odd combination of children's activities, educational displays for adults, food booths, and food from the Jacob's Curry mobile kitchen truck. Above, children try to move beans from one plate to another with chopsticks.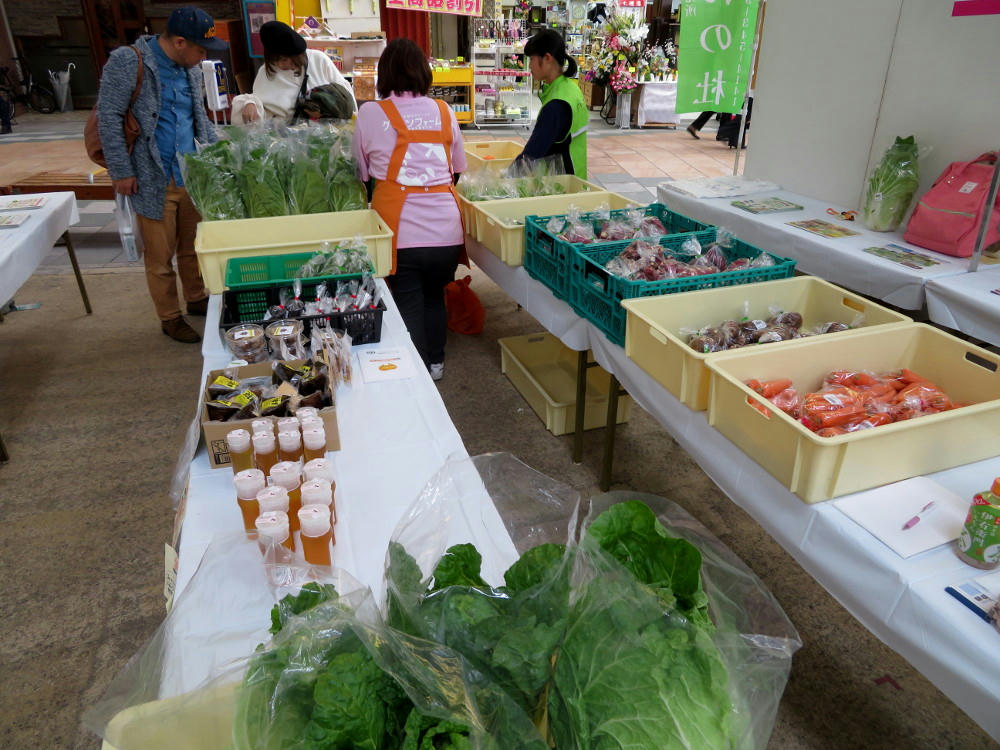 They even had fresh veggies and honey for sale. Did you know honey is a vegetable. Truth.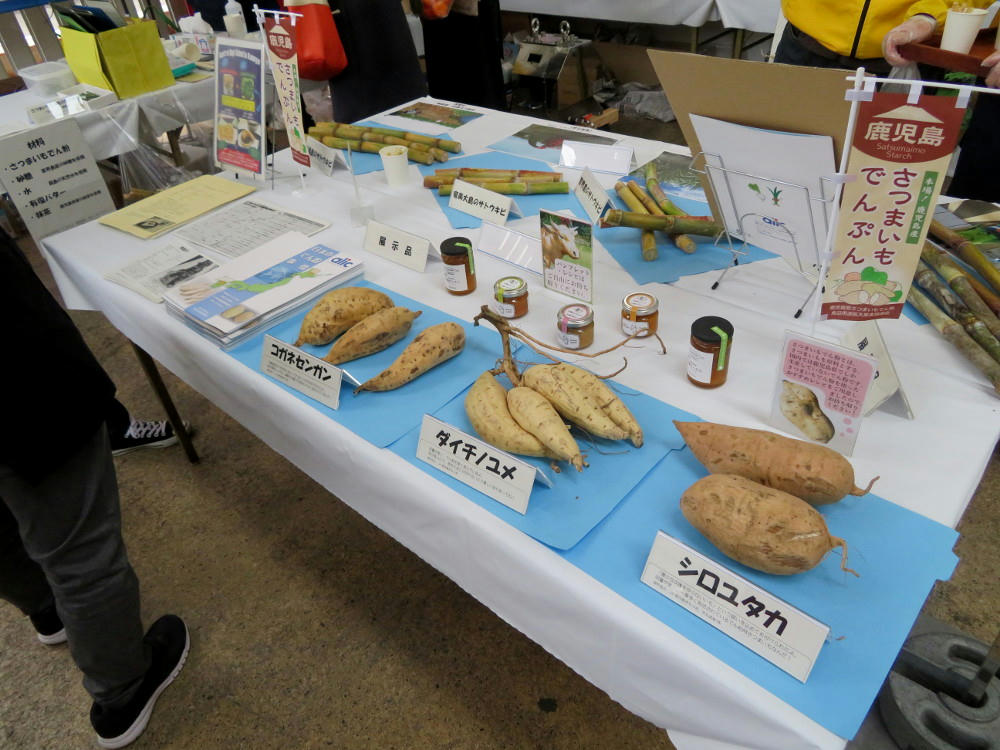 The educational part included exhibits of Satsuma imo (potatoes and sweet potatoes), and sugarcane. Sugarcane is also a vegetable. It's amazing what you can learn.
From here, I continued to the school.
Farmer's Market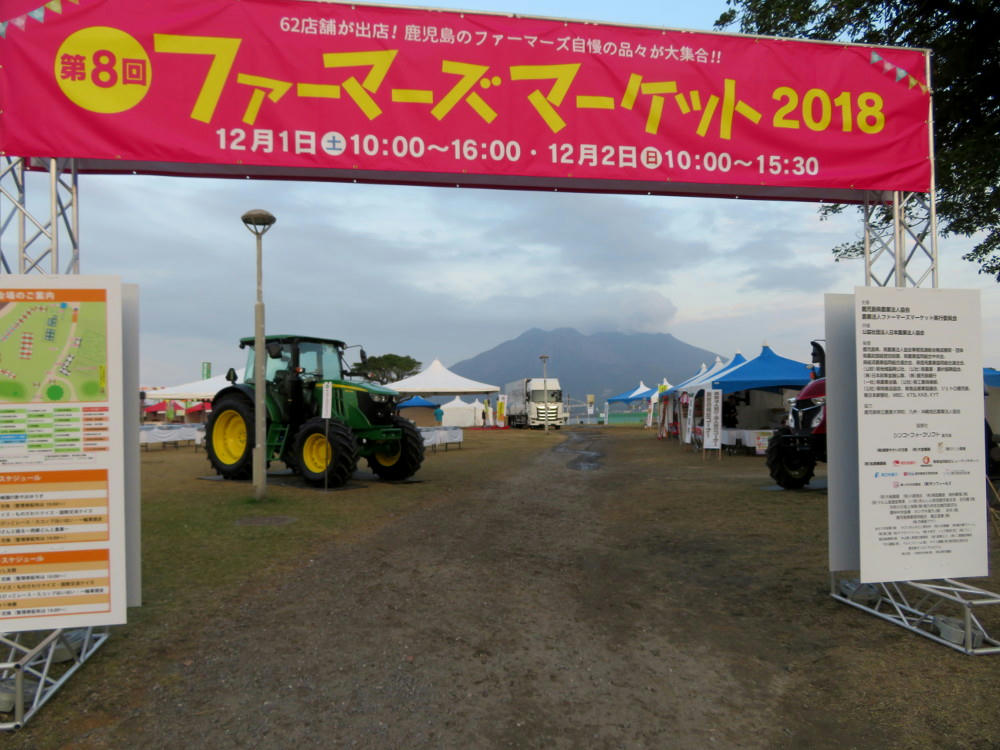 My afternoon lessons got shifted forward a few minutes per lesson as I had to start each one when the student showed up (cutting my breaks between lessons to nothing), but the upside of that was the last lesson of the group ended 10 minutes earlier than scheduled, and I got out at 4:40 PM, when it was still light out (overcast skies, though). I knew from Friday (because I'd swung by in the afternoon) that there was going to be a farmer's market Saturday and Sunday. Unfortunately, as the sign shows, the hours on Saturday were 10 AM to 4 PM. So, the place was pretty much abandoned when I got there.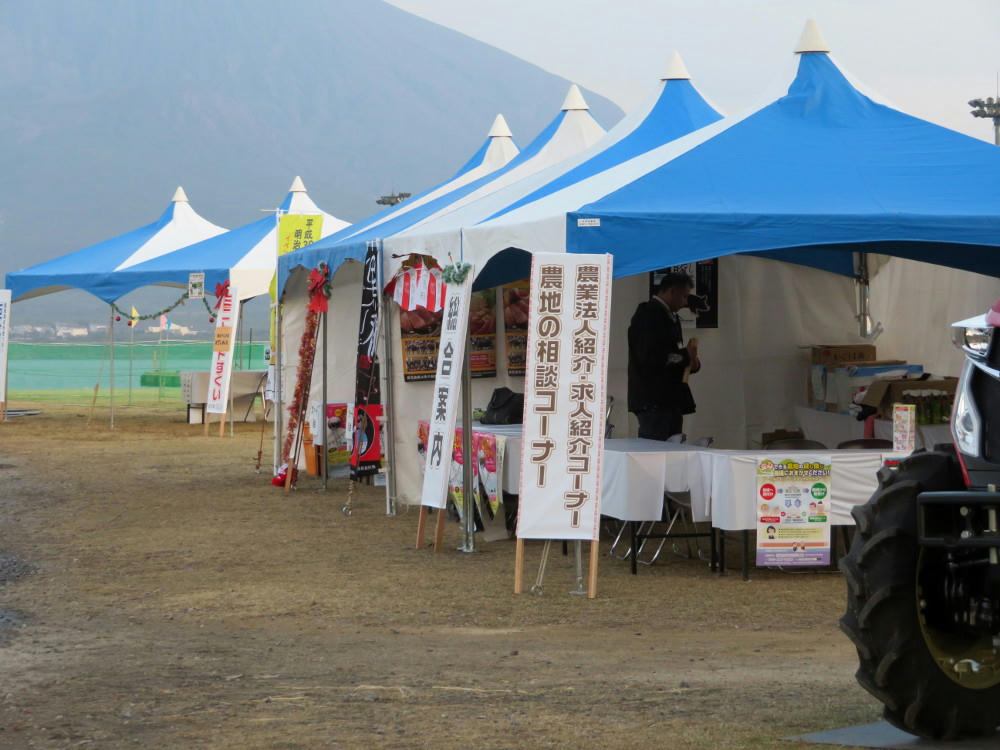 A couple people stuck around for clean-up, and making sure no one snuck into any of the tents after-hours.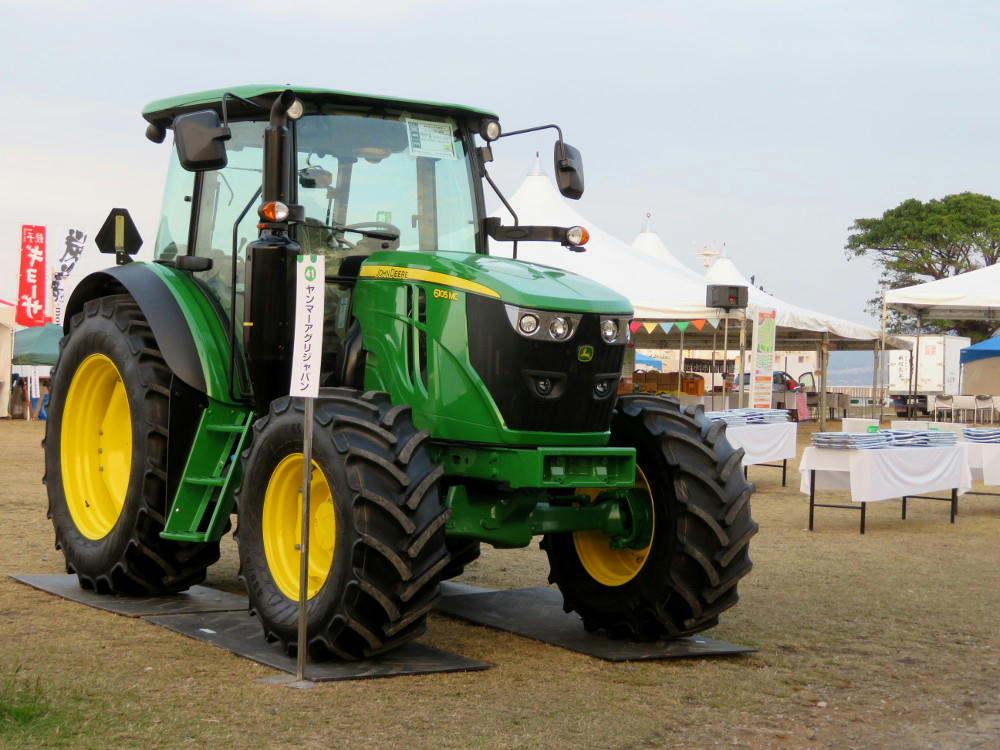 To me, a "farmer's market" is a way for farmer's to sell produce directly to consumers at prices cheaper than in the stores. But, this is looking like a market aimed at farmers.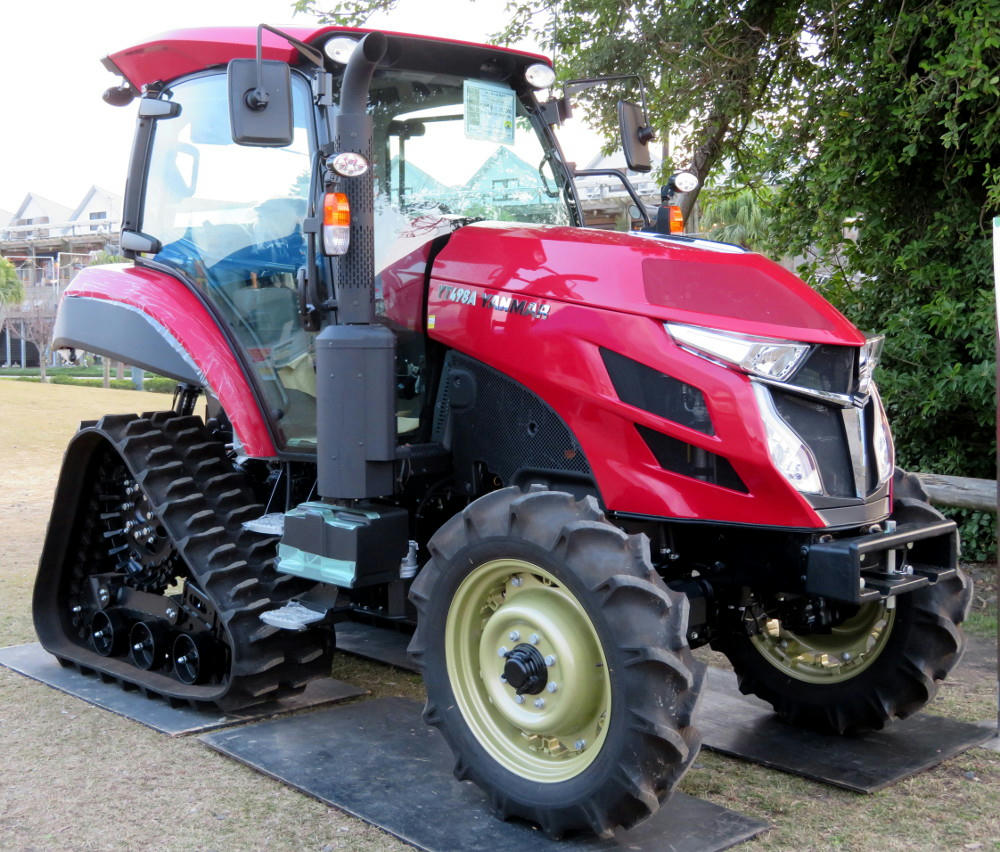 Leave it to the Japanese to make cute tractors.
As a side note, I had to do more shopping on Sunday, at the opposite end of the city, and wasn't able to return to Dolphin Port before the Market ended at 3:30 PM.
Kagoshima Marathon Concert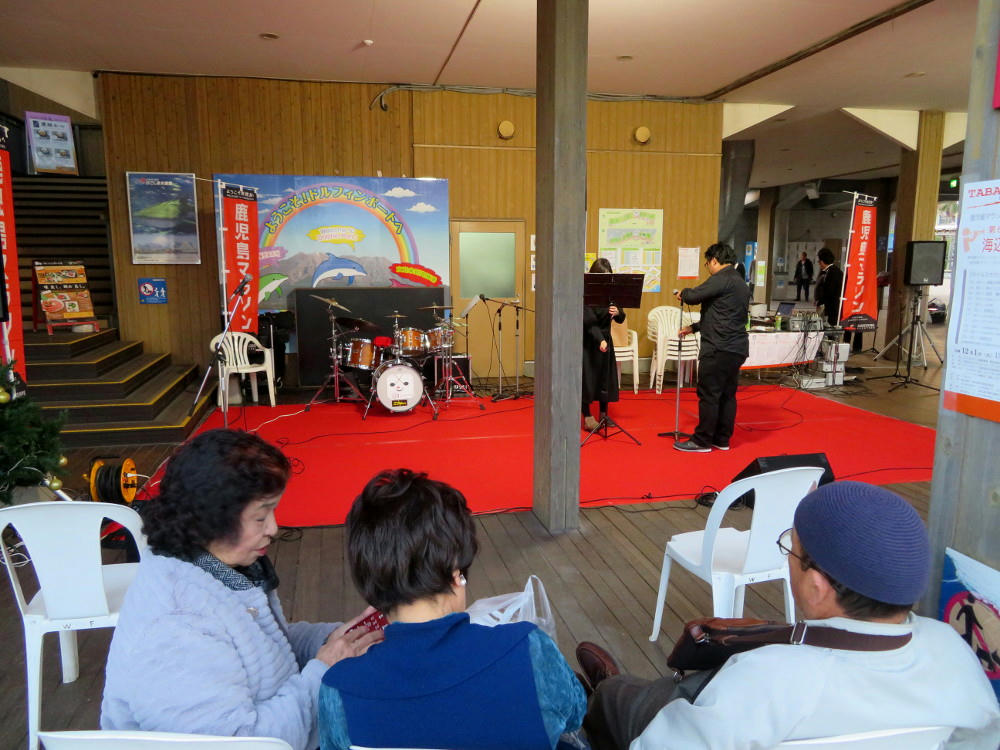 As I was preparing to leave the Farmer's Market area, I heard someone talking on a PA closer to the main shops in Dolphin Port. I headed over to where the sound was coming from and discovered that they were hosting a music concert for the day. One sign at a table to the right of the photo had what I think said "Fukuoka Marathon Concert", but the red banner at the back of the above photo reads "Kagoshima Marathon". Maybe, the concert is doing double duty. The Fukuoka race (Fukuoka is the big city at the northern end of Kyushu) was held on Dec. 2, the following day. (The Kagoshima race isn't until March of next year).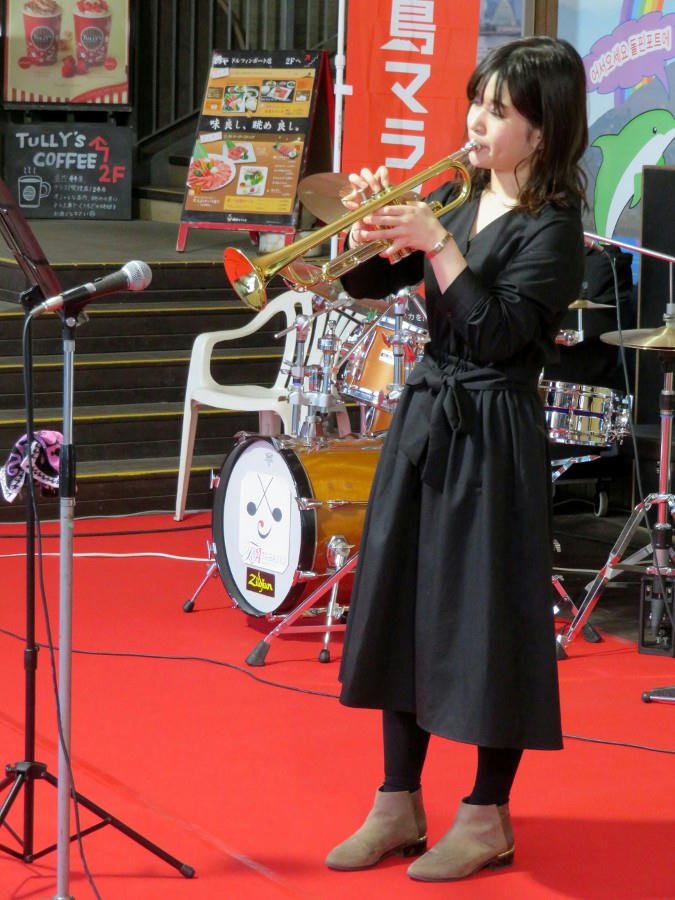 The music seemed to be largely jazz, with some brass bands. The only one I was able to catch any part of was "Ayaka and..." It started with the above trumpet player doing a karaoke solo over a song from a CD. She was ok, but she did flub a few notes, and the music was copyrighted so there was no point in recording it for youtube.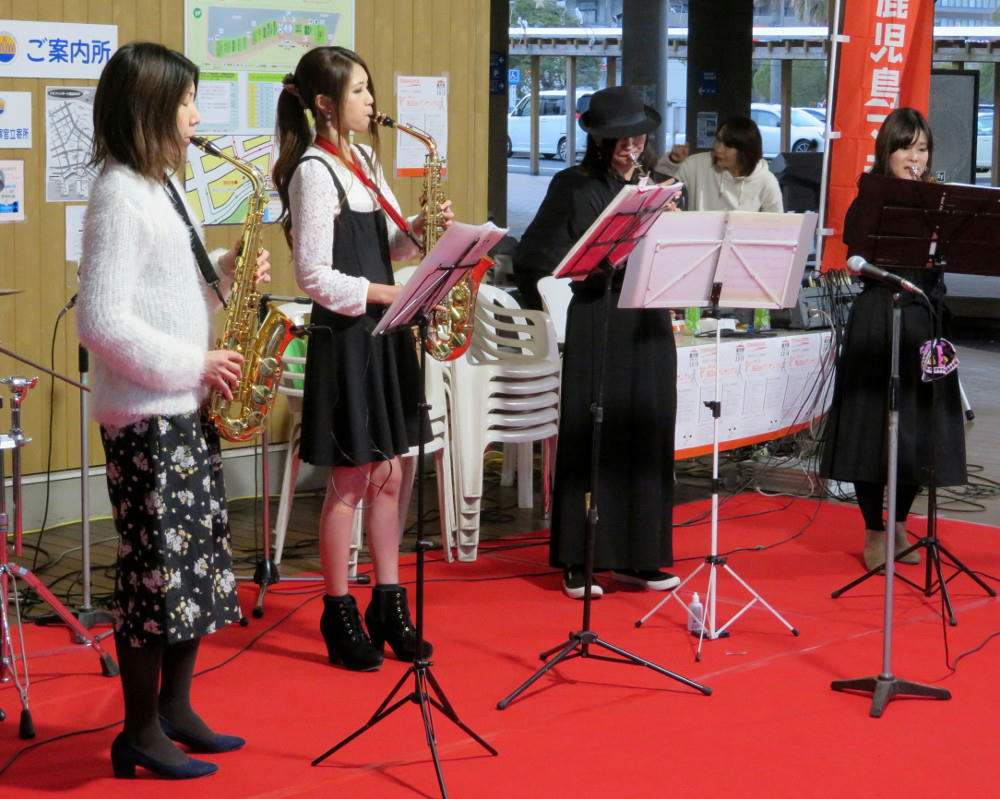 The rest of the group came up and played soft jazz.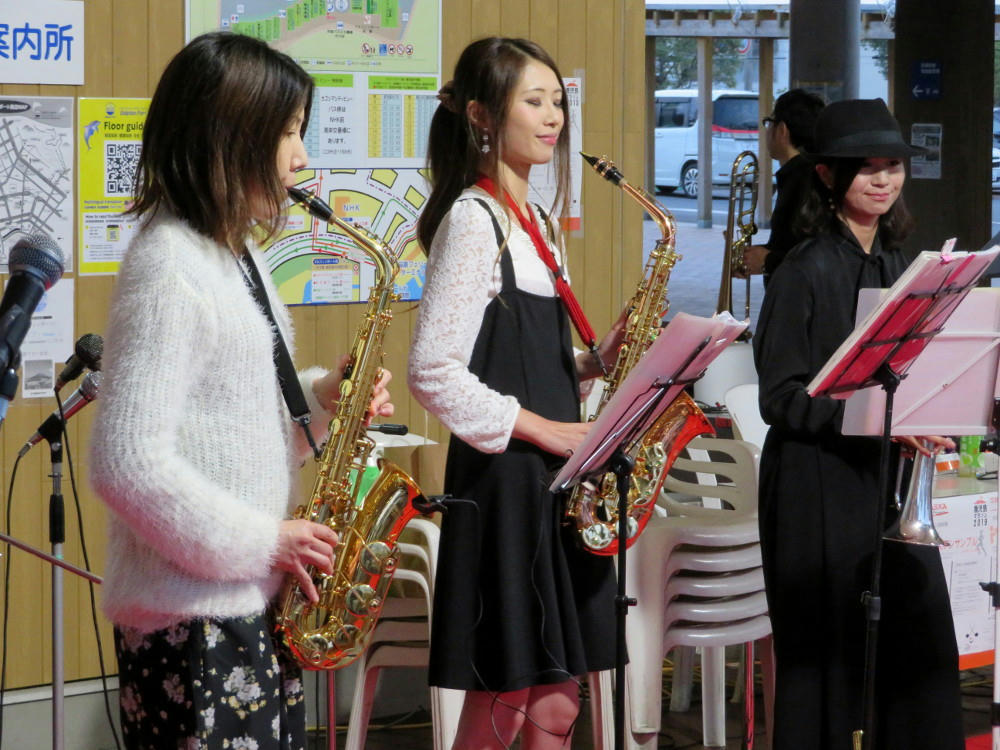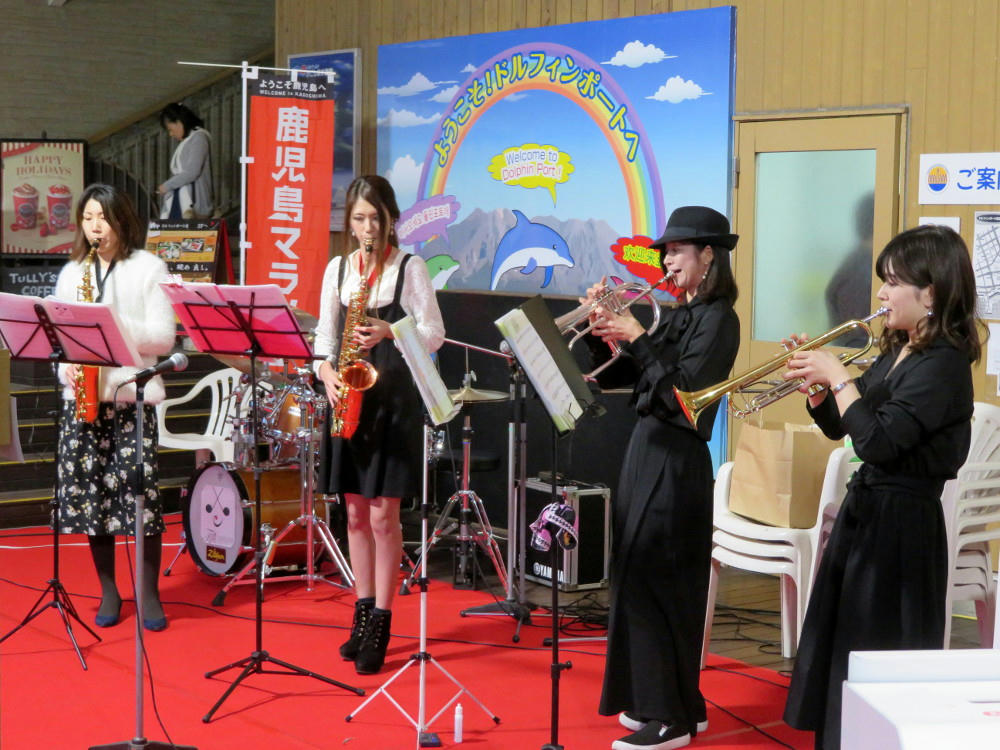 The music was ok, but nothing I really wanted to listen to. After a couple songs, I started making my way back to the school in time for my next lesson, which started at 6 PM. The concert here was to run until 9 PM (my last lesson ended at 9), and there was to be some kind of drawing at 8:30 PM. So, that's another thing I missed, otherwise I would have entered myself into the drawing just to see what the prize was.
Heron at the Aquarium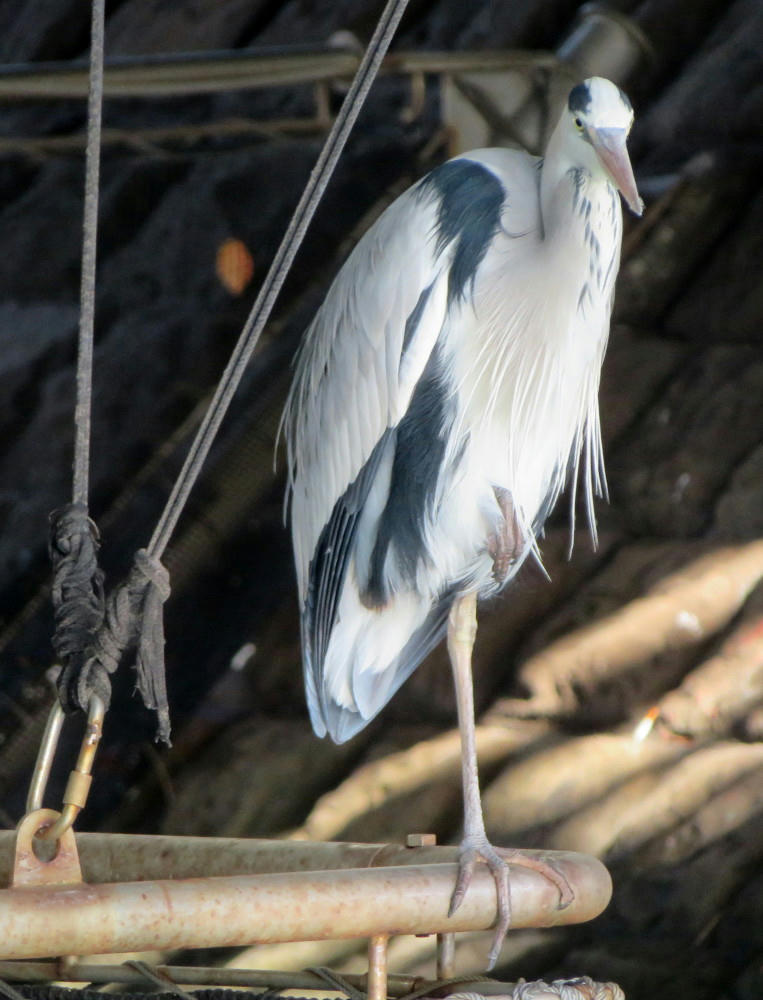 One of my former students had been cleaning out her closets 6 months ago, and unearthed an electronic film camera that she'd bought way back when, and never used. She cleaned it up, put in fresh batteries, and asked if I wanted to borrow it for a while. I said "sure," and then put it into storage myself because the weather was never good when I had free time, and I didn't have any film. Finally, a couple weeks back, the skies were perfect, so I found some ISO 100 film at the Aeon department store near the main train station, and I began taking some simple photos to test the camera. Unfortunately, because I'd gotten ISO 100, I needed to limit myself to outside shots in bright sunlight. And, the skies kept clouding over when I took the photos. Anyway, I had maybe 5 more shots on the roll, so I'd brought the film camera with me on Saturday. After the concert, I headed to the aquarium a block away to see if I could spot any sharks in the canal by the building (there weren't any), but I did encounter this heron preening itself.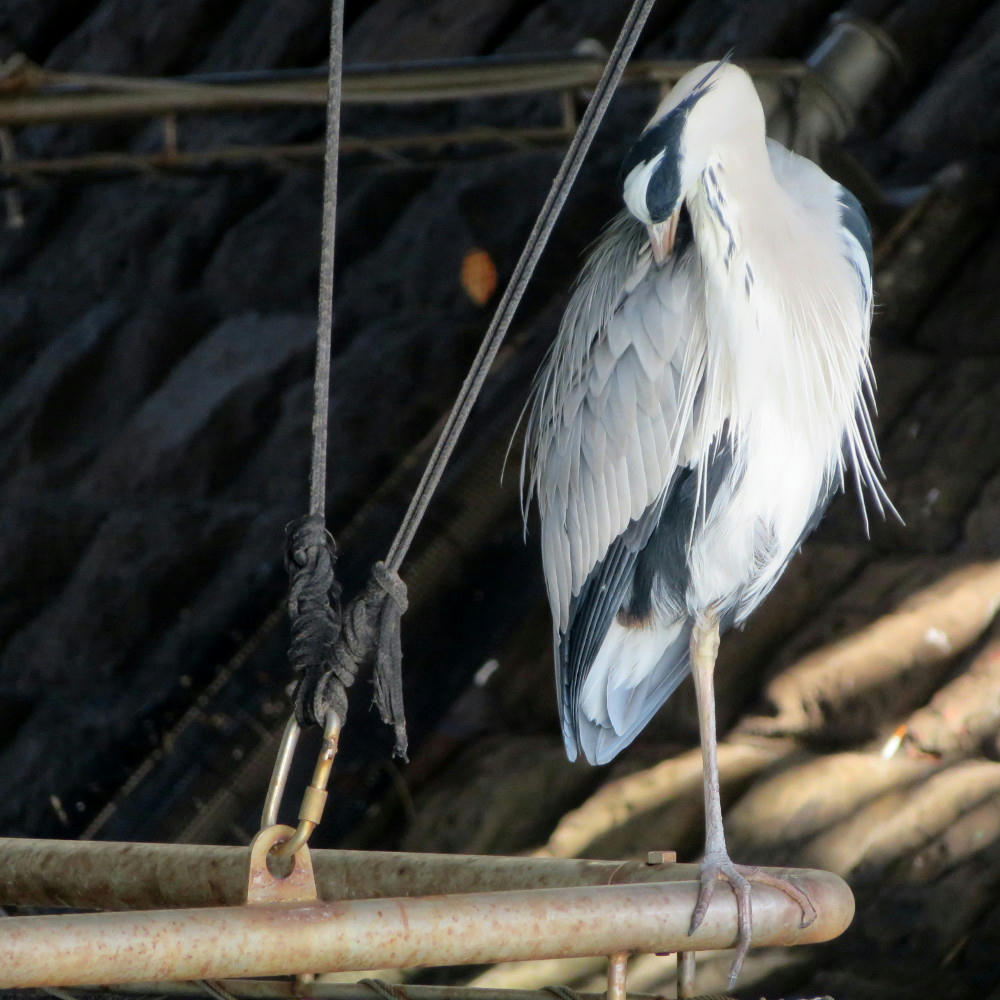 The zoom on the film camera isn't the greatest, so I switched to the little pocket camera, and got some of the best photos of a heron I've been able to take so far. I haven't found a heron this relaxed around people before, and it let me get pretty close without flying away.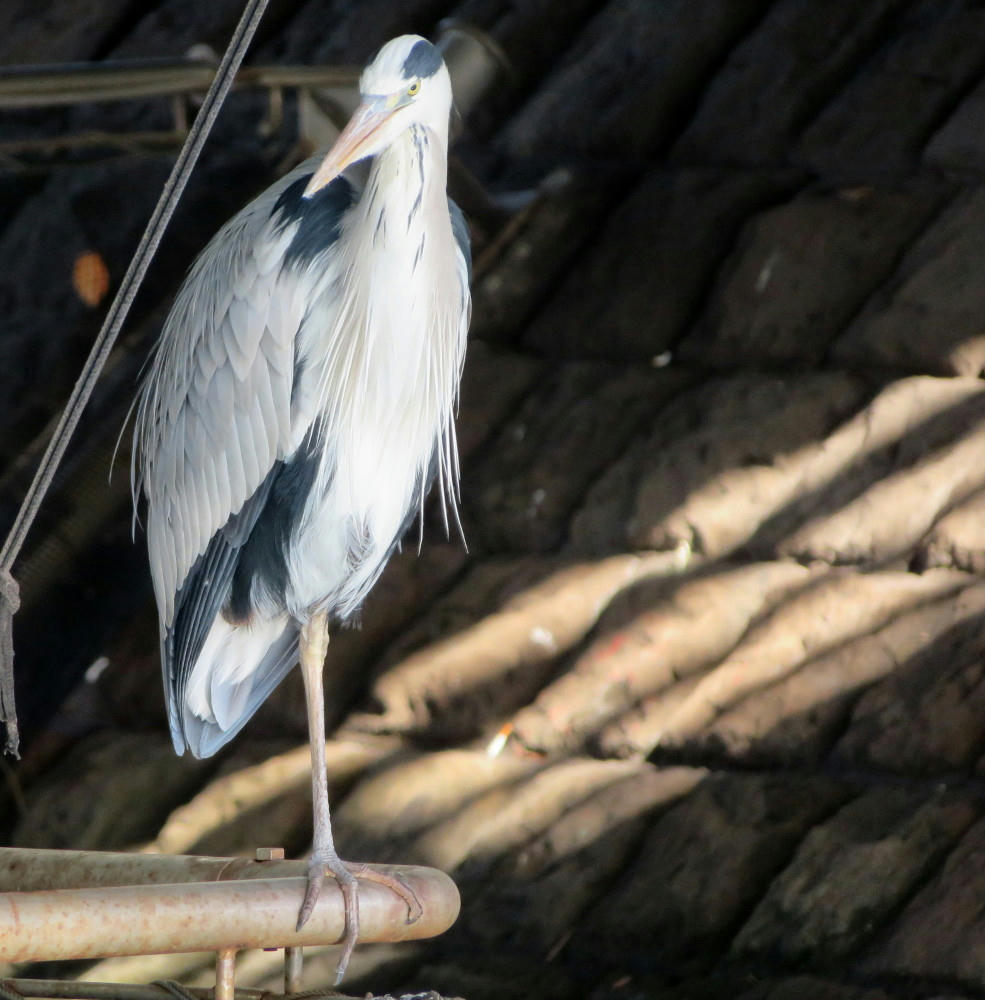 Even so, it did keep an eye on me.
Minato Light Up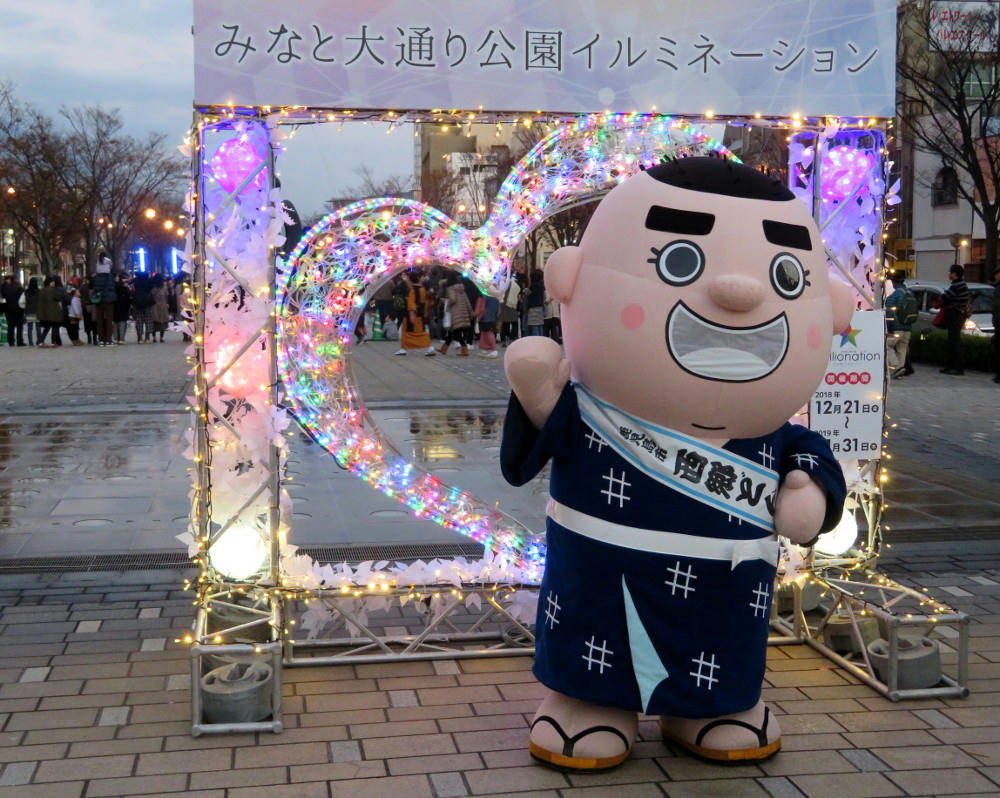 Finally, the big boulevard in front of City Hall held a "switch on" ceremony for the winter illuminations. People had the opportunity to have their photos taken with the Saigo Takamori foamhead mascot, and there were two bands that played music (a school band, and some adult marching band).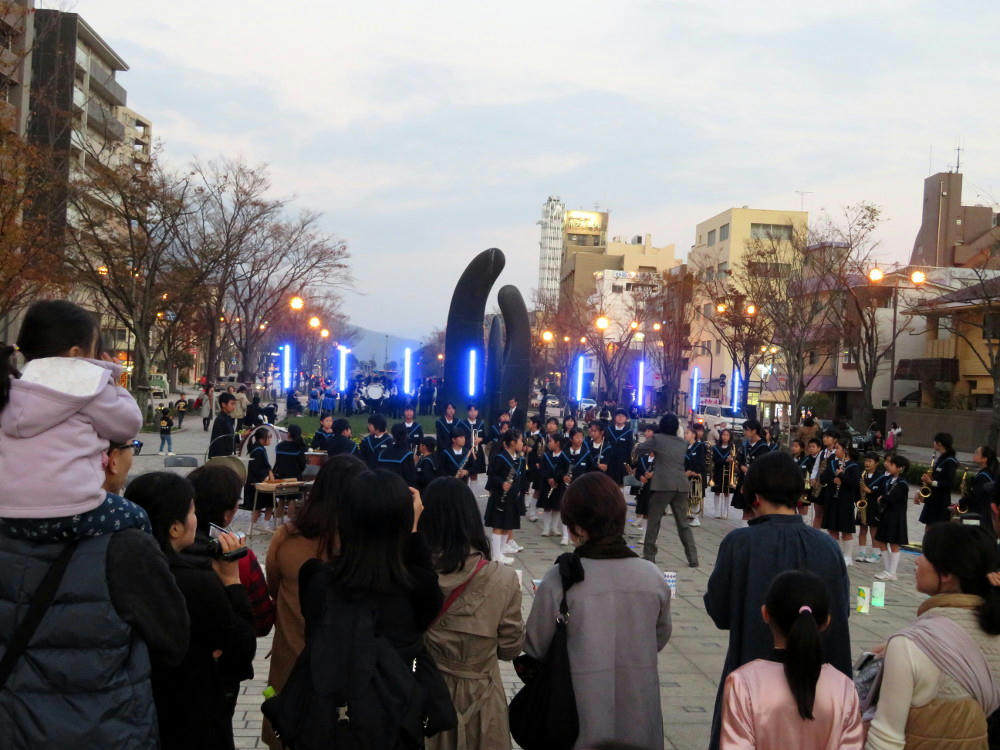 The announcer wouldn't stop talking to let the kids play, so I decided to walk the few blocks north to the streetcar last stop, just to get a little more exercise, and to see if there was something else to take pictures of. After getting to that stop, I turned right and walked half a block to the exercise park nearby. And sure enough, the park was being used to host another Marugoto Fair (all-products from a specific region) for the weekend. Naturally, they had an event stage, but everything was shut down for the night. And, as mentioned above for the Farmer's Market, I wasn't able to return to this part of the city on Sunday. Sigh.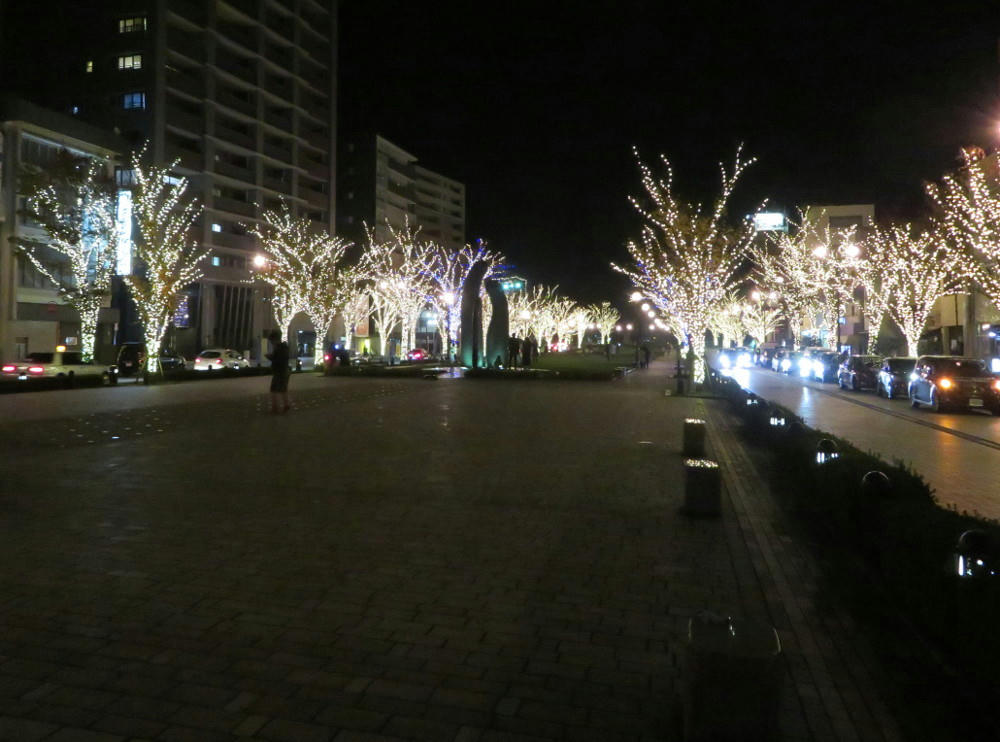 I strolled around for a bit, then headed for the school (I got there at 5:50 PM, in time to prepare for my next lesson) and passed by the City Hall park again. At this point, the bands are gone (that was fast) and the lights were turned on.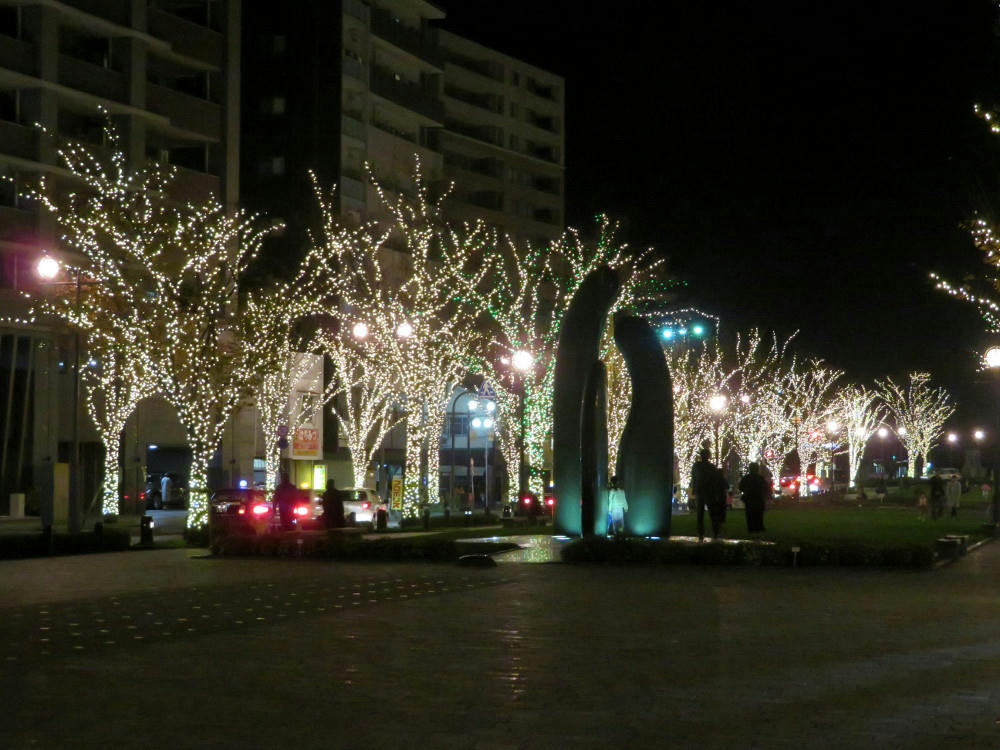 They're always the same lights every year, so there's nothing particularly special about them. They just make this part of the city a little less dark in the evening during the winter.