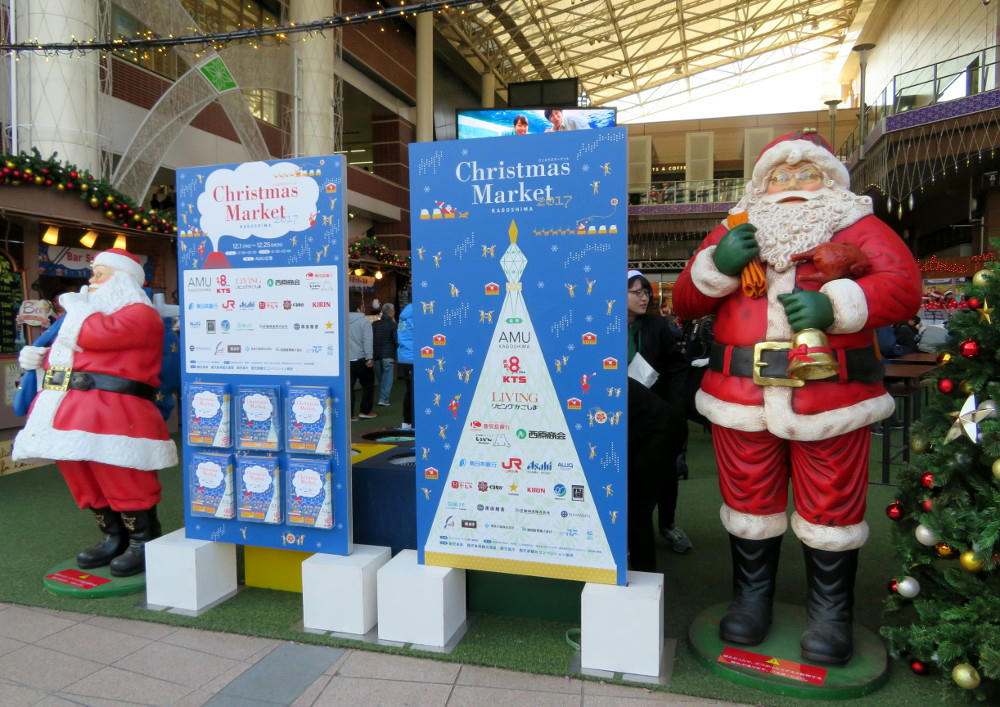 It's that time of year again, when Amu Plaza has their seasonal booths out in the open area in front of the main train station, from the 1st to the 24th. I had to work Friday and Saturday, but I managed to swing by for a few minutes Sunday afternoon to check out the schedule.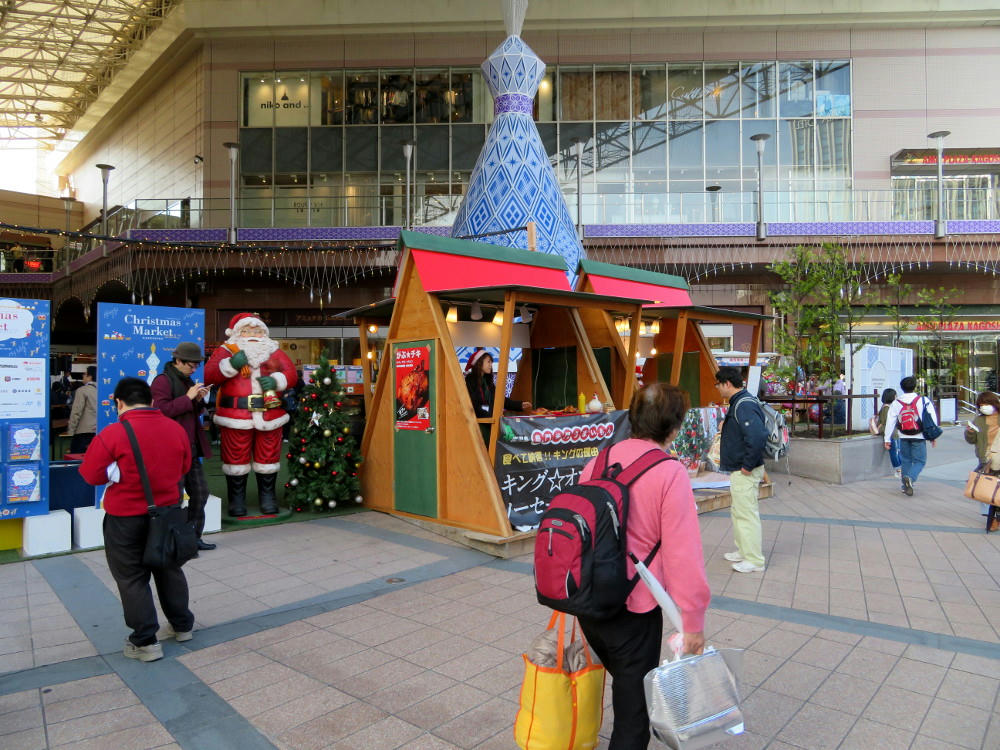 Nothing says "Christmas in Japan" like roast chicken. Reserve yours for $25 now and beat the rush.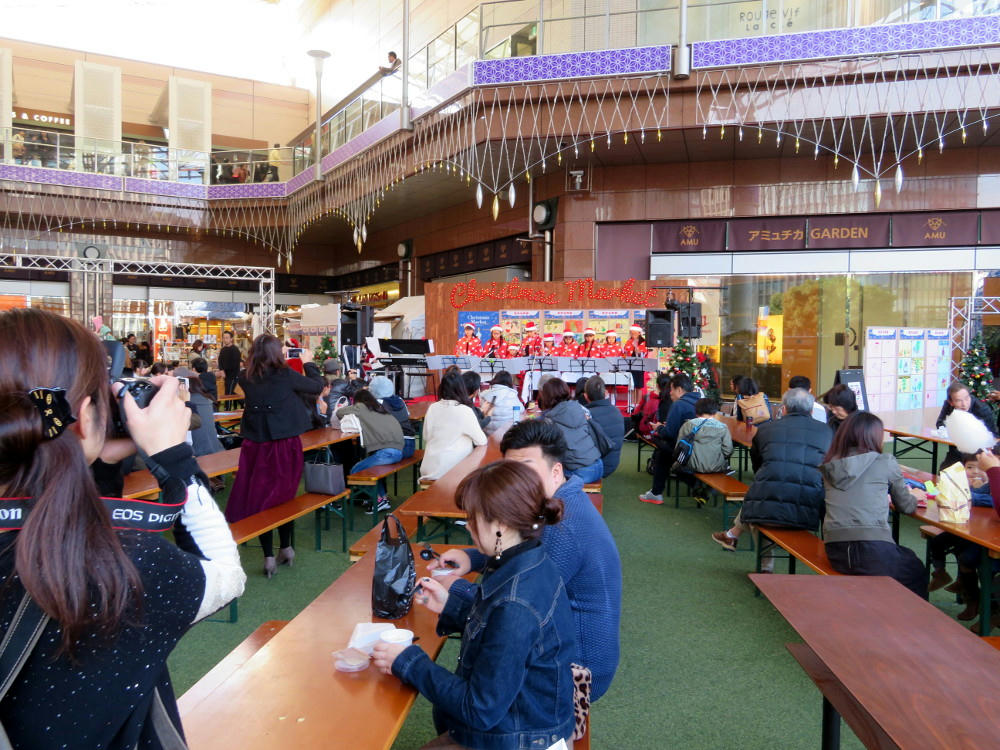 Quite a few people out for the food and beer. A few of the booths sell jewelry and crafts, while the others have mulled wine, cocktails, beer, cotton candy, and heavier foods like fried potatoes and meat platters. I got a moderately-sized plate of spare ribs for 600 yen ($5.40 USD), which weren't too bad for the price.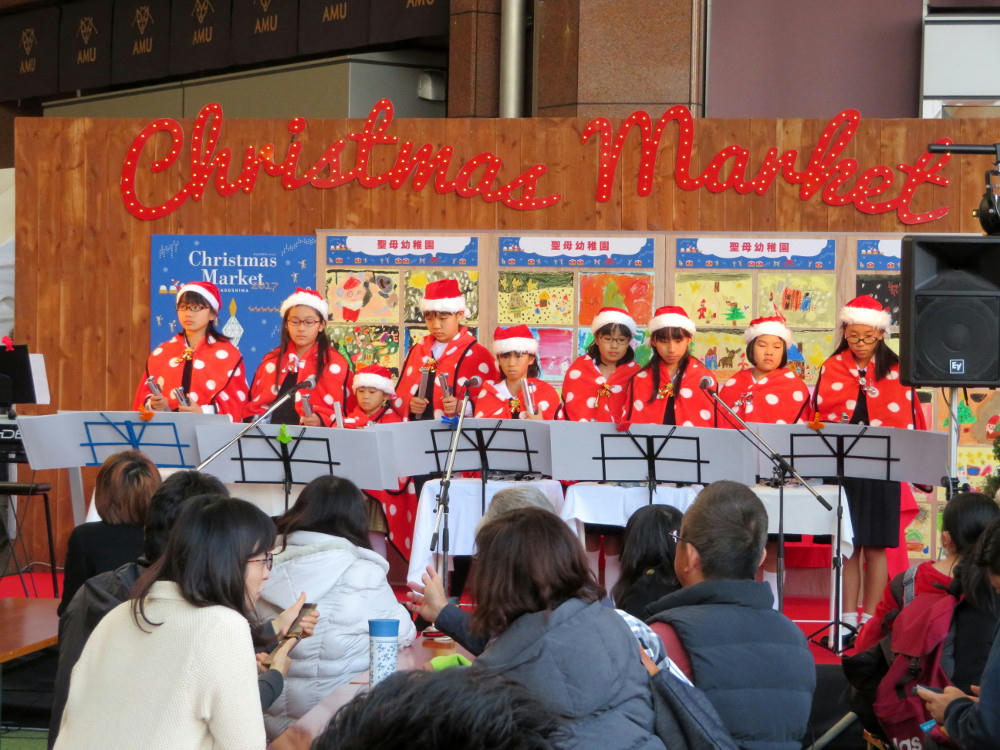 Last year, the Market had live music every day all the way up to Christmas. During the week, the performances were between 5:30 PM and 8 PM, or so. However, the only schedule showed the main headliner acts, and if you wanted to know who the lesser artists were during the day, you had to go up to Amu Plaza and wait until the MC announced them. This time, things appear to be really scaled back. The school kids here played Christmas medleys and AKB 48 tunes on tubular bells, for something like an hour. I couldn't find out who else was to be playing later in the afternoon, and I did have a lot of work waiting for me in the apartment. According to the schedule for this year, the main artists are the same jazz, light folk/pop and gospel singers they had last year, but there are only two or three listed performers on Saturdays and Sundays this time, and nothing during the week. I got to Amu Plaza at about 2 PM on Sunday, and didn't bother waiting until 7 PM to get photos of whoever the singer was then. I did come back up on Monday at 7:30 PM after I finished teaching a class near City Hall, but there was no music then at all. Just the MC interviewing the operators of the food stalls in an attempt to get people to spend more money. I'm hoping that things will get better as we get closer to Christmas, but I'm not holding my breath. My guess is that Amu Plaza is scrimping pennies as the economy continues to nosedive, and there's not going to be anything I want to listen to.