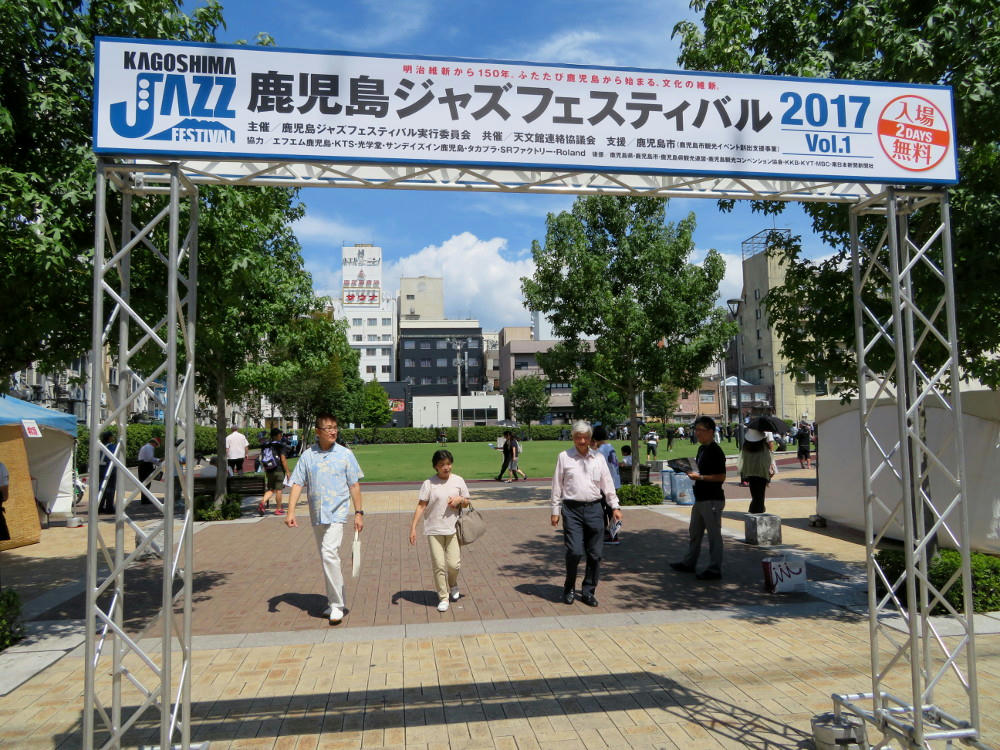 I'd seen signs for the jazz fest for a couple months, but I figured it was going to be over on Sakurajima island, and it would cost money, so I didn't have any intentions in attending it. But, one of my English students mentioned that it was going to be in Tenmonkan, putting it on my way to the school, and that it was going to the weekend of the 9th and 10th, when I didn't have quite so many lessons on Saturday, so I figured I could at least swing by the park and try photographing the schedule. However, there was nothing going on at Central Park, so I jumped on the net and found the main homepage, which put the fest in Tenmonkan Park, the other side of Streetcar Street. They had a list of performers, but no time schedule. Just looking at the photos, I had a slight interest in Jazz drummer
Gene Jackson
and Filipino singer/bar owner Lilith.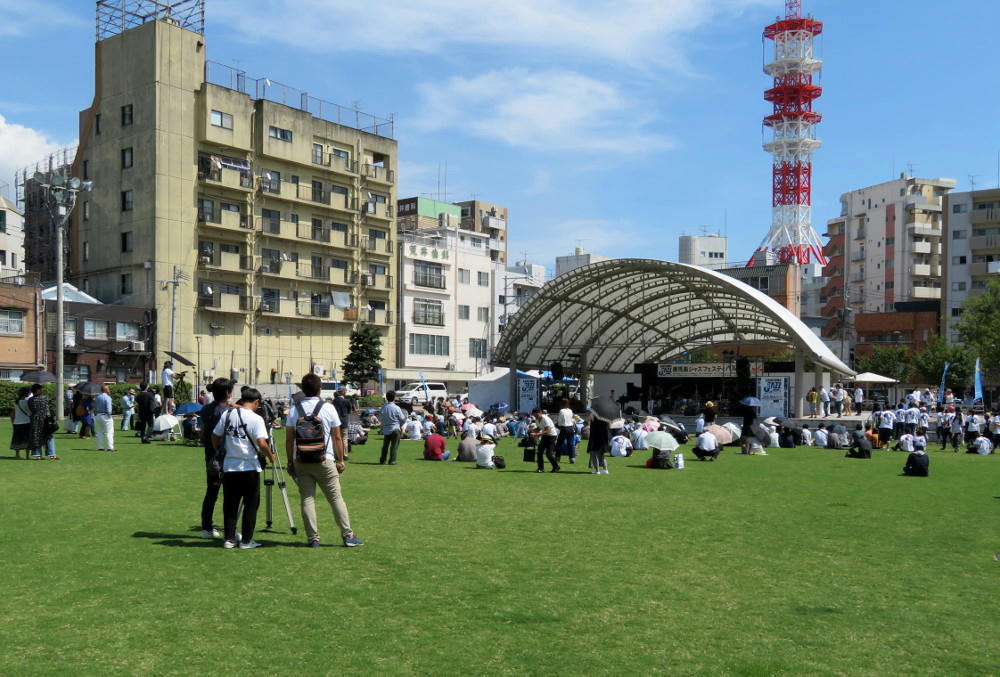 The fest started at 1 PM on Saturday, and I only had time to catch a few minutes of Don De Don (below) before my first lesson at 2 PM. I had a break at 4 PM, but I had to visit someone to drop off my Korg synth for him to use, then we walked over to the park together, arriving at 5 PM, when the Little Cherries elementary school jazz band was setting up. I've seen them before, and the music, while played very well, always consists of the same copyrighted songs. I went back to the school and finished my lessons for the night. Overall, I'd say there were at least 200 people on the first day, that I saw.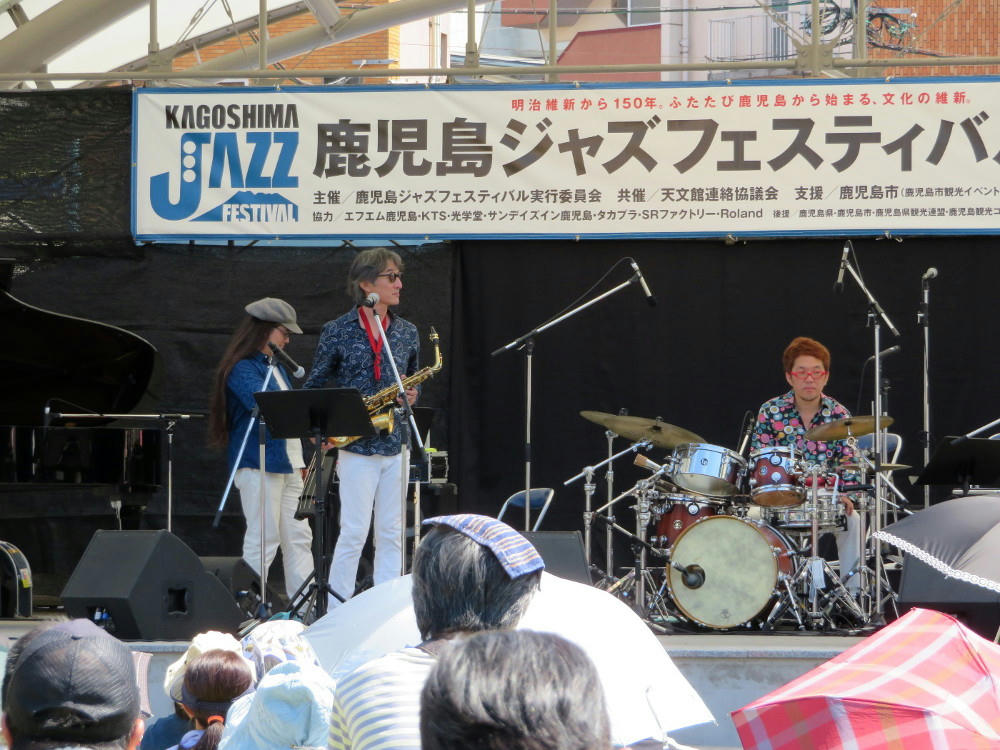 (Don de Don)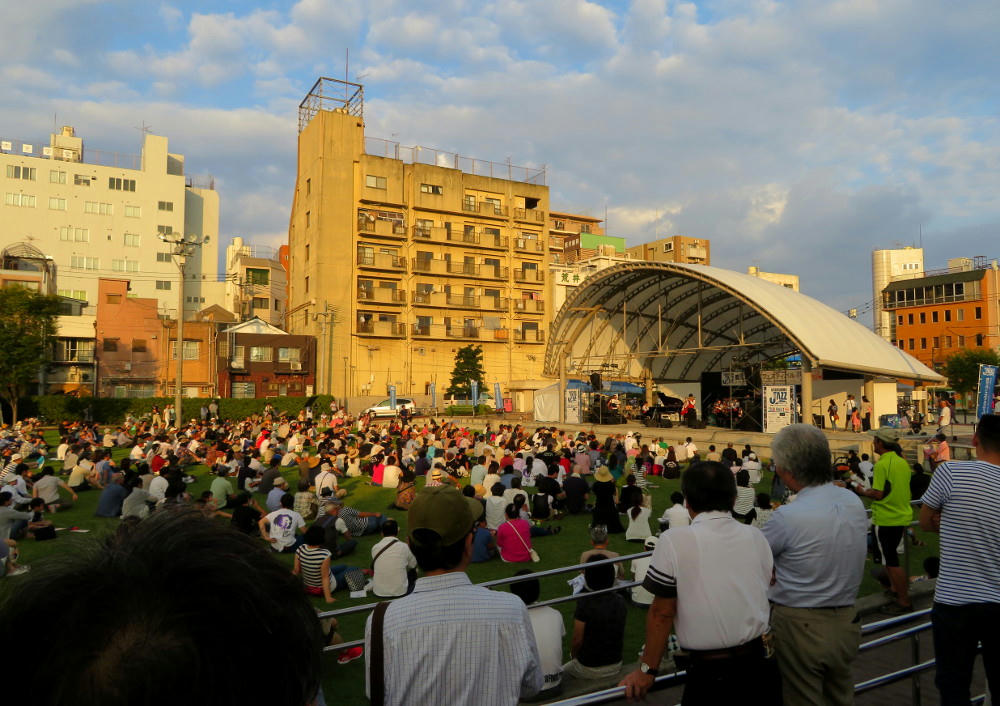 (A few more people later in the afternoon. Maybe 300?)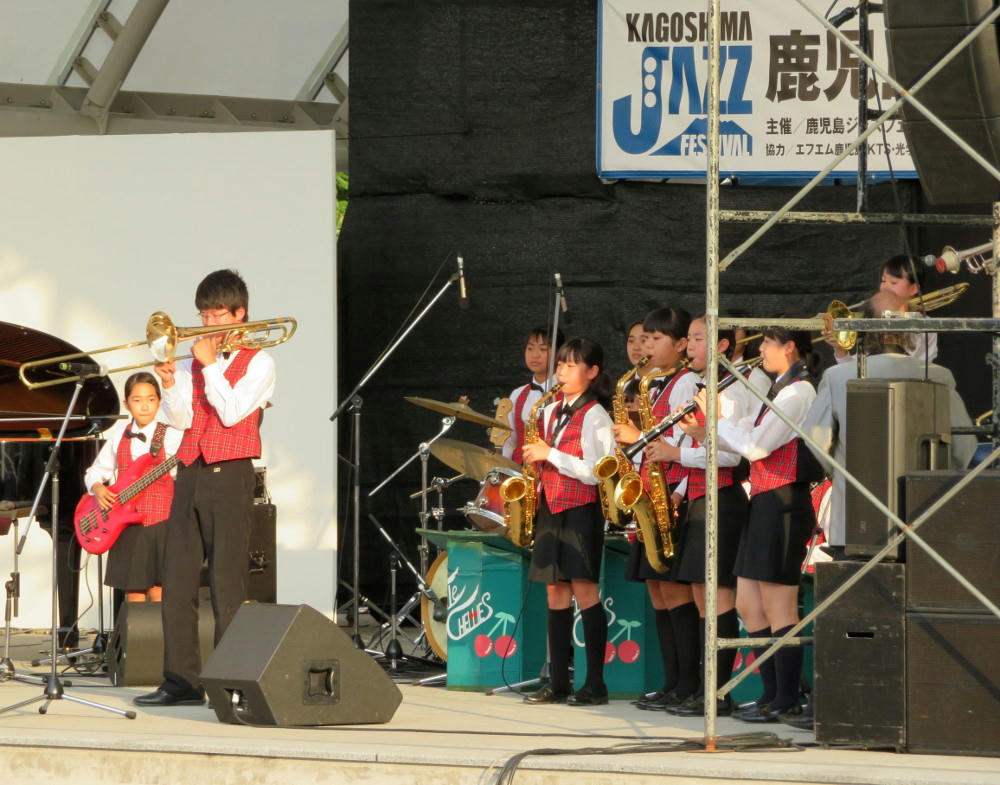 (The Little Cherries.)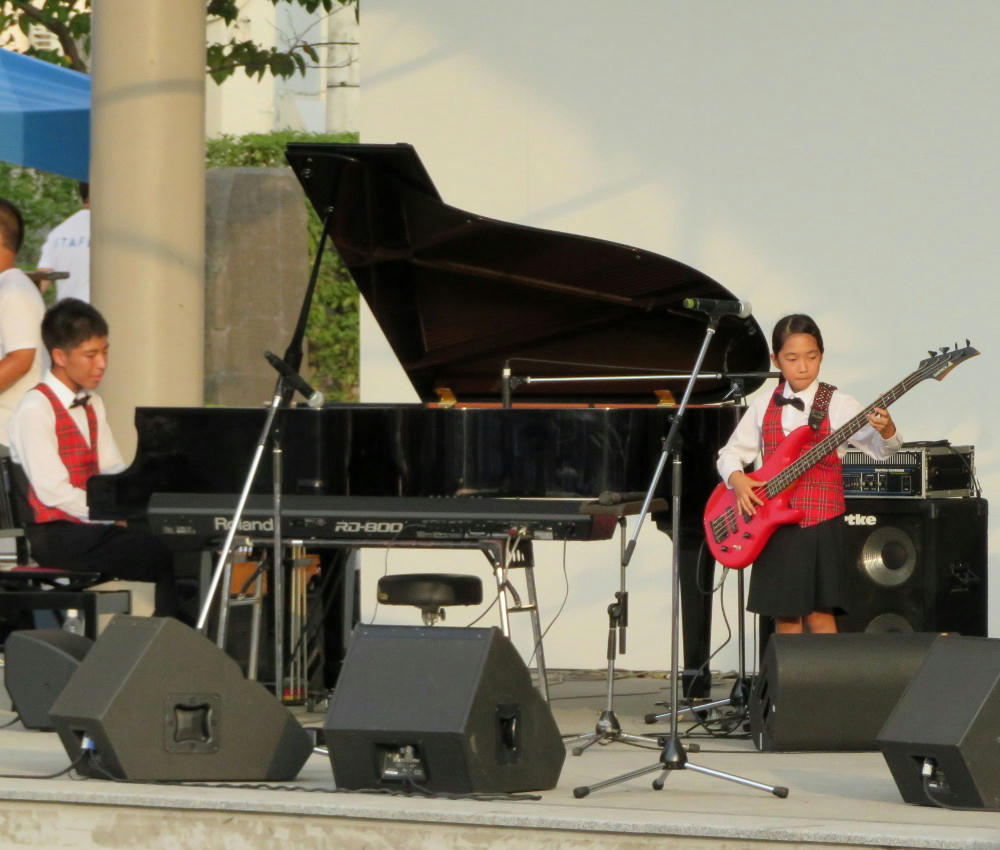 Sunday, I wanted to do the write-up for
Ajin
, vol. 12, so I didn't get out of the apartment until 2:30. I didn't have any interest in the groups playing from 1 to 3 PM, and wasn't in much of a hurry up to that point. When I got to the park, there were already at least 300 people sitting in front of the band shell, or lounging around the rest of the grounds. Sax player Yousuke Konuma and his quartet were playing a mix of soft and hot jazz, which was ok. The audience loved him (and every other performer that day). I didn't realize it at the time, but Gene Jackson had been on drums for this set.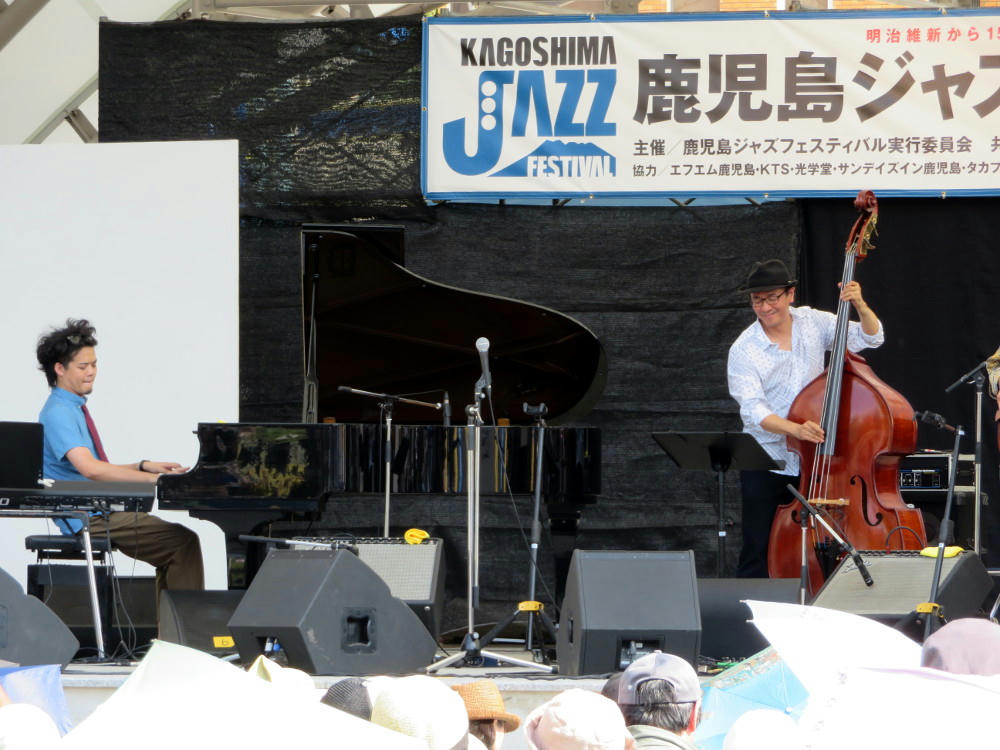 (Yousuke Konuma Quartet)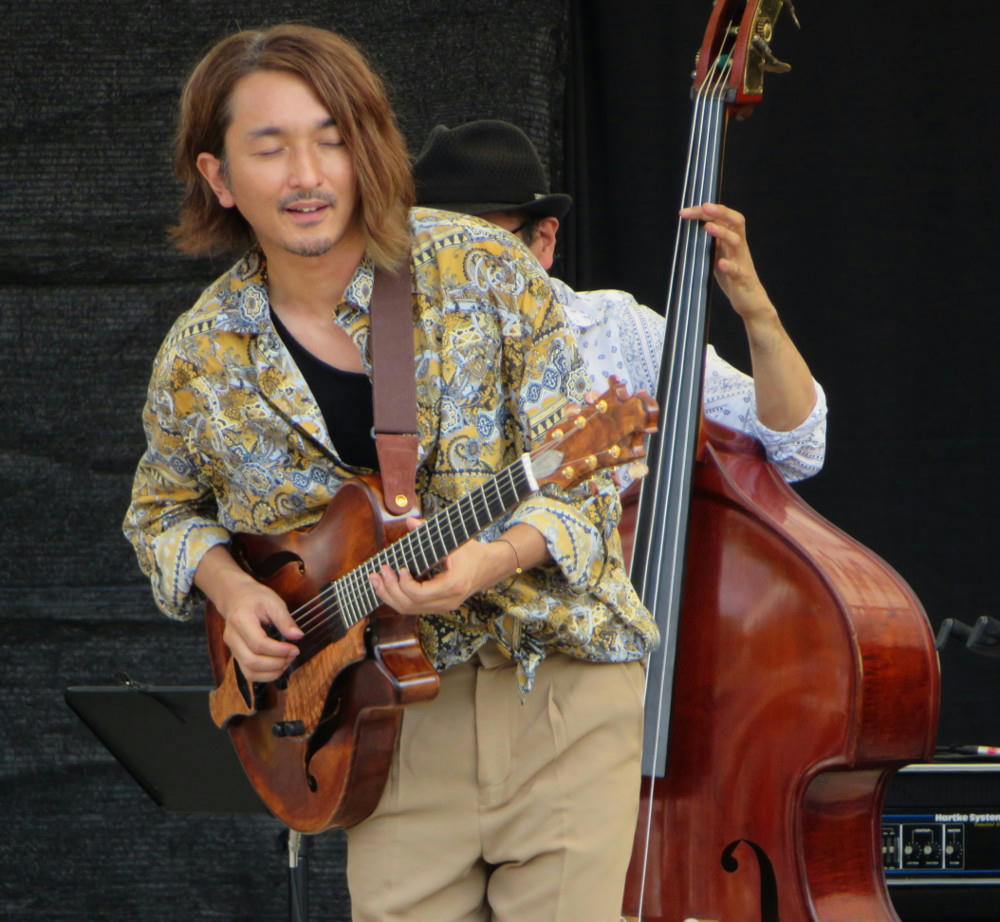 (Yousuke)
Next up was the Gene Jackson-Yasushi Fukumori drum battle.
Yasushi
is from Kagoshima, and I've been told by one of my students that he's one of the best jazz drummers in Japan, although I can't find much on him on the net. The drum-off was basically a jam session where the two drummers played off each other (see below). It was fun to watch, and I really wanted to get a photo with Gene for the blog afterward, but I didn't get the chance. As a comment, Yasushi also backed a few other bands during the day.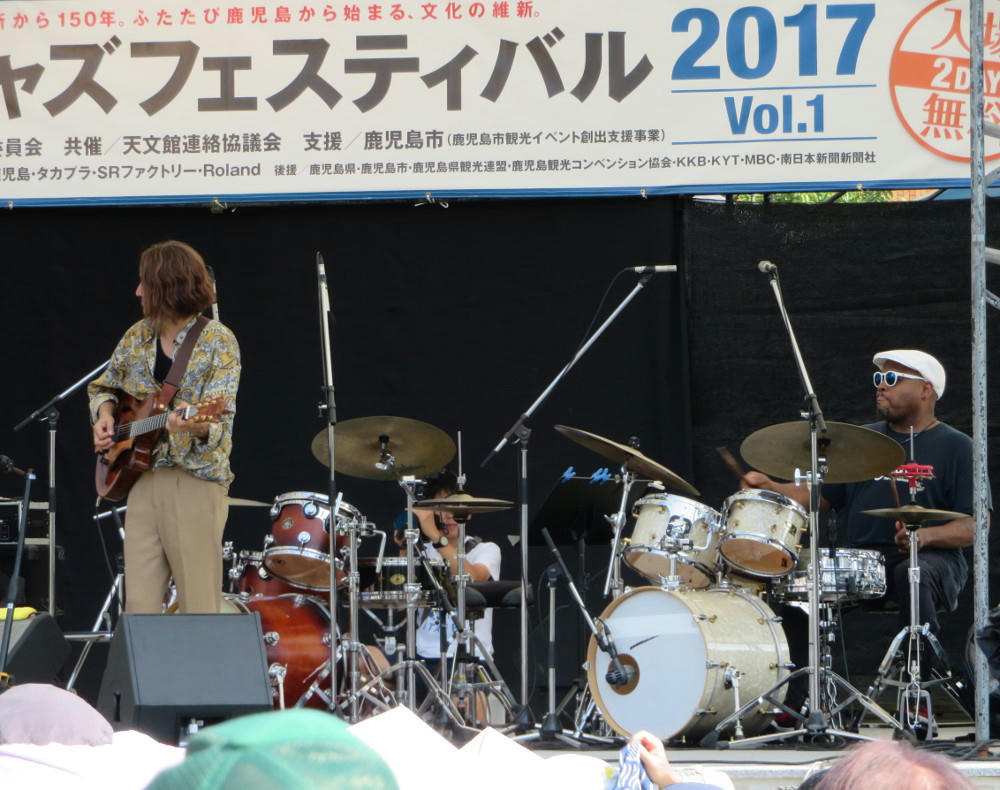 (Yousuke and Gene Jackson)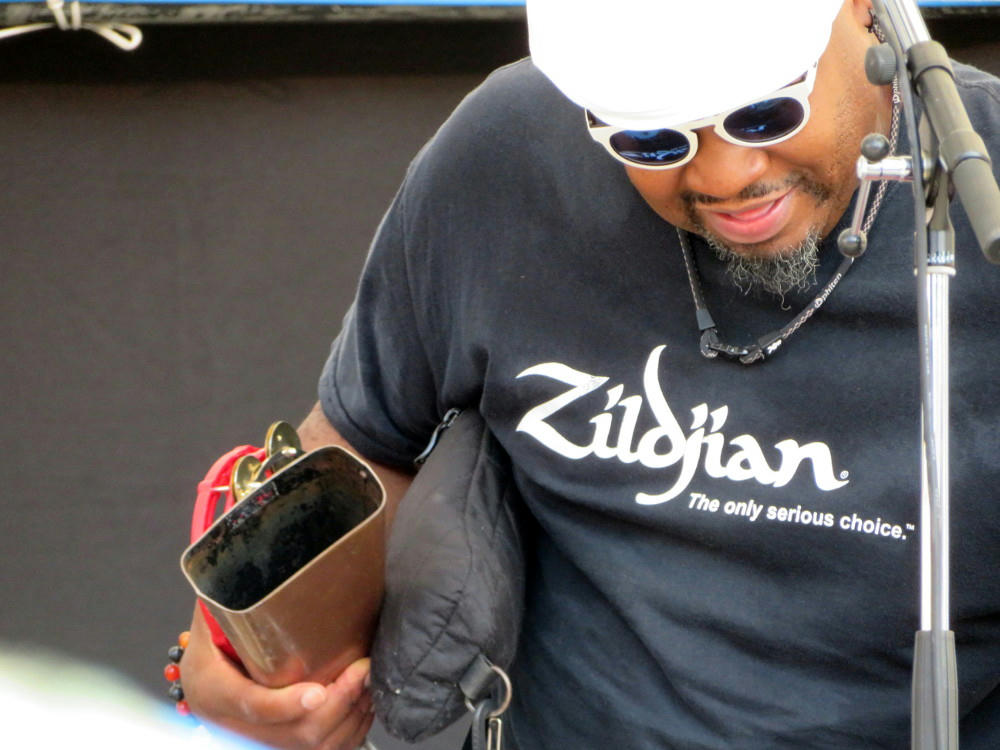 (Gene Jackson)
The drum battle was followed by alto sax player
Erena Terakubo
and her quartet (Jackson on drums again). She's good, but lacks stage presence. She struck me as being uncomfortable in front of the crowd. Still, it was good music, and she's got enough music credits to justify a wiki page.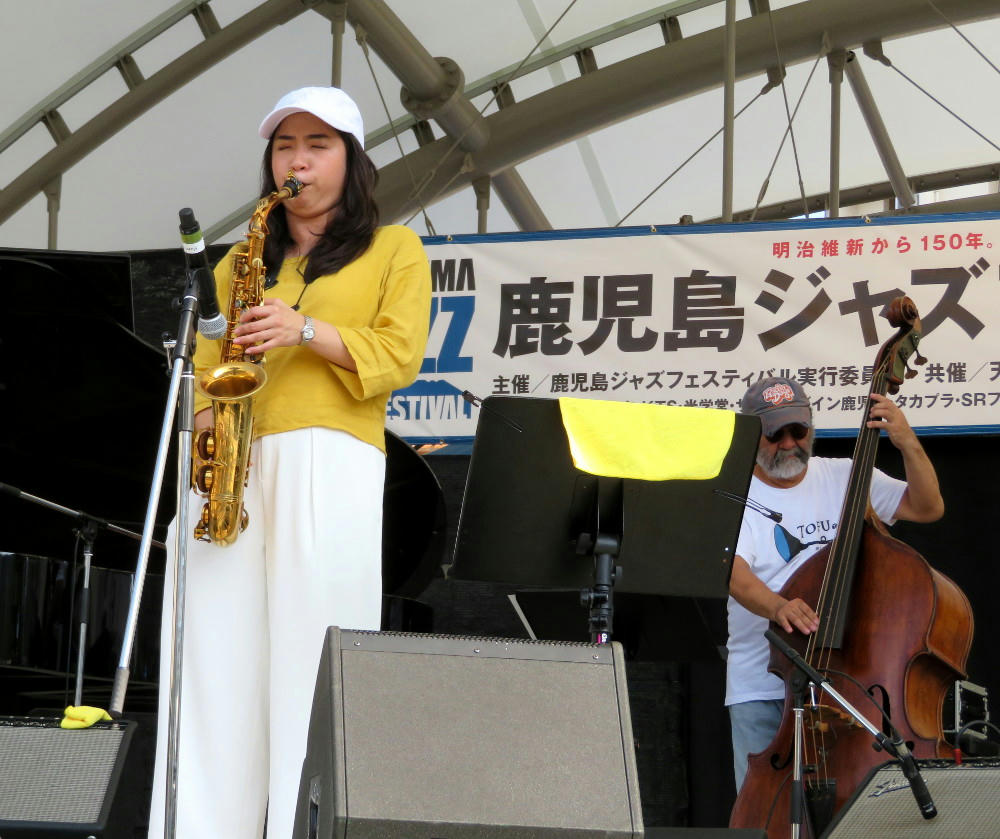 (Erena)
The
Yosuke Inoue
trio started up the fourth set, with Yosuke on bass, and
Keishi Matsumoto
on piano. Yosuke has been around for years and is well established, while Keishi is considered one of the most promising jazz pianists right now. Keishi was also the Jazz Fest chief organizer, and the main performer for the weekend. He also played for a couple different groups. With the second song, Lilith came out on stage. She's Filipino, but has lived in Kagoshima for years, and has her own bar just around the corner from the park, also named "Lilith." She sang traditional western jazz songs, and it was clear from her pronunciation that she sings English about as well as any Japanese performer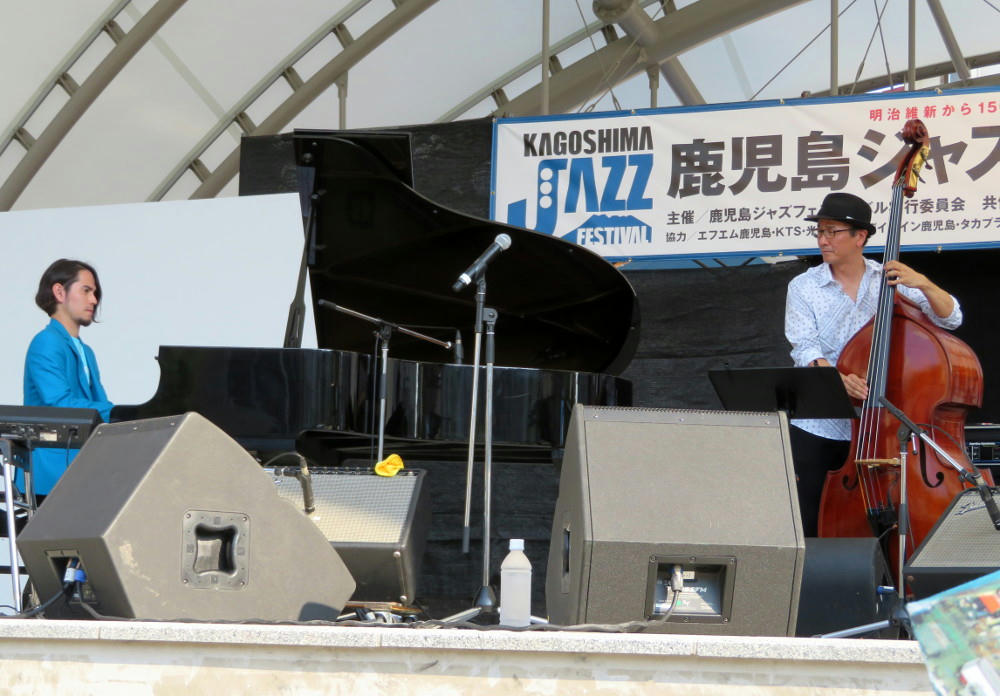 (Yosuke Inoue Trio, with Keishi Matsumoto on piano.)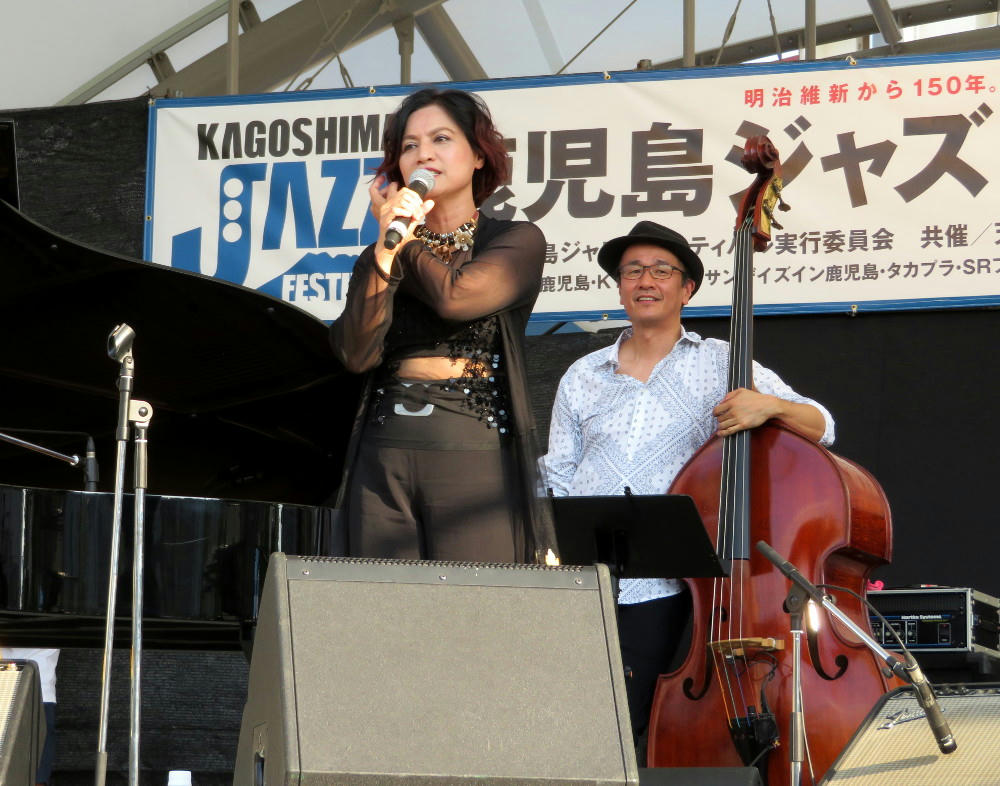 (Lilith)
Seiichi Nakamura
, tenor sax, and his quartet were the last group on stage. Seiichi made a point of saying that they'd never played together before and had only rehearsed together a little bit a day earlier. Even so, they played really tight together. But, my camera battery was running low, so I got up to stretch and get a beer sampler from the Shiroyama Hotel brewery table. Shiroyama is the big hill behind the apartment, and the hotel at the top of the hill has its own brewery, which is good but pricey. The sampler included a Belgian White, an herb beer, an IPA and a stout, for 1,000 yen ($9.50 USD). Again, pricey, but I'd been in the sun for 3 hours, and I figured that it would help round out the fest experience. I drank the beer and listened to the rest of Seiichi's set.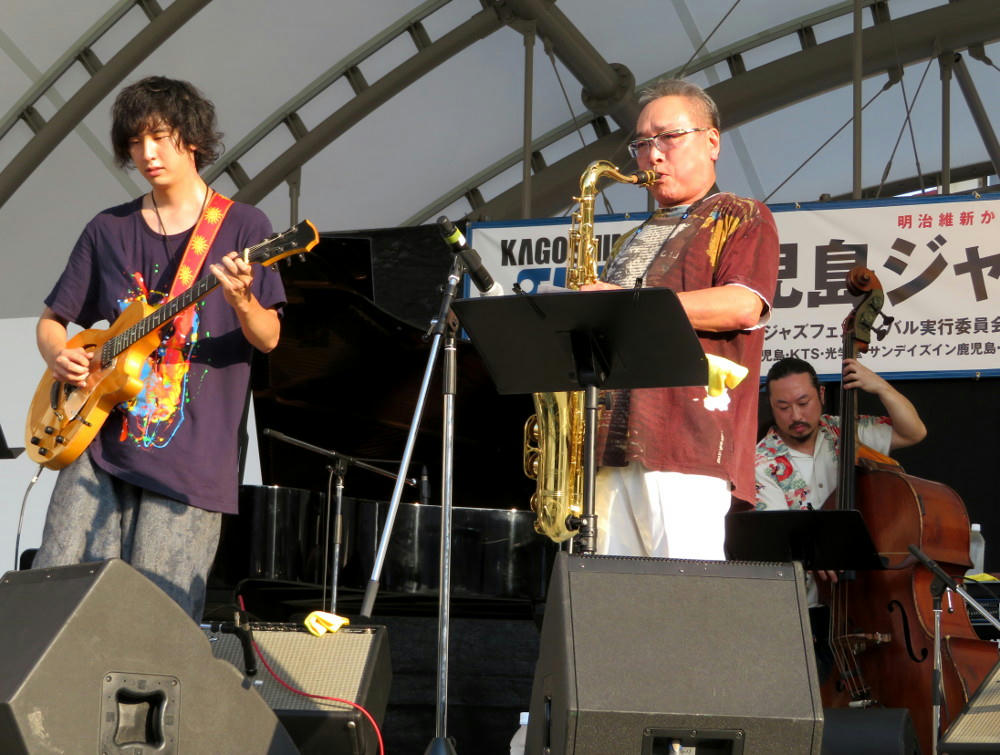 (Seiichi Nakamura Quartet)
The fest ended with a kind of all-in finale, with the performers still hanging around joining each other on stage for one last song. Most of the other performers had already left, either for their hotels, or to the satellite stages in three different bars, where the music would continue until 9 PM. One of the bars was Lilith. I would have considered checking that out, but the satellite stages required tickets, which were pricier than what I wanted to pay. Even so, I ran up to the wings of the stage and recorded the finale song from there, giving me a great view of everyone's backs. And then the fest was over. I returned home at about 6 PM and spent the evening processing video and photos. It was a good weekend, and I enjoyed the music more than I'd thought I would.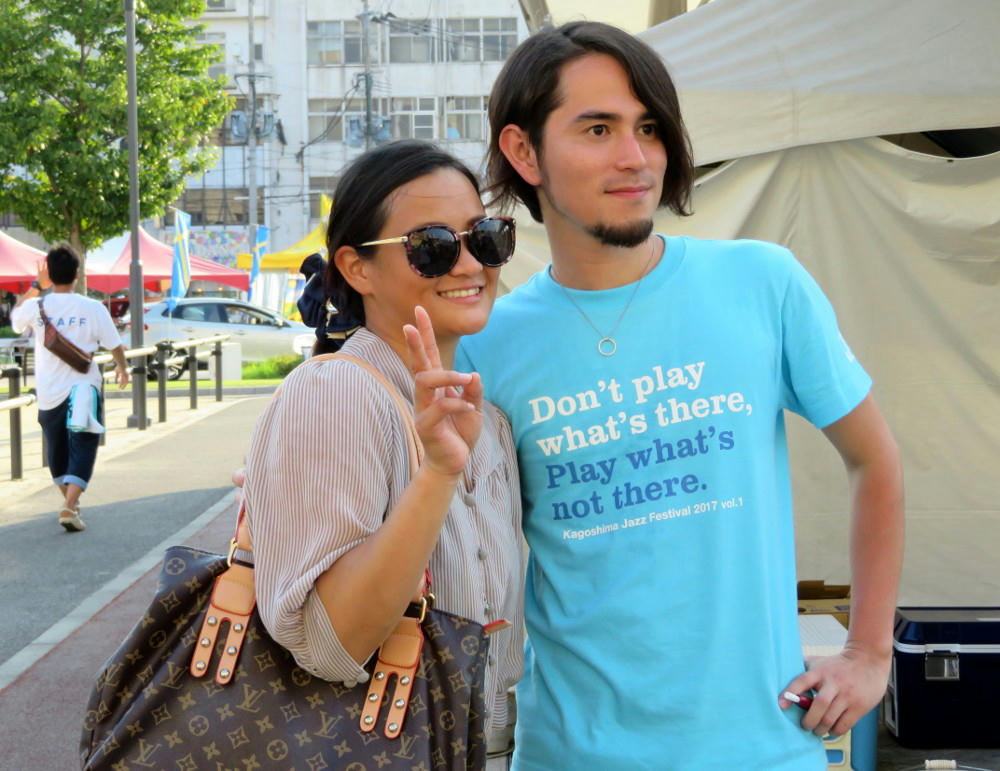 (Organizer Keishi Matsumoto posing with a fan.)
Direct youtube link - Don De Don
Direct youtube link - Yousuke Konuma Quartet
Direct youtube link - Gene Jackson - Yasushi Fukumori drum battle, plus Erena Terakubo quartet
Direct youtube link - Lilith
Direct youtube link - Seiichi Nakamura Quartet
Direct youtube link - Finale