Feb. 10 Weekend
Quantum of the Seas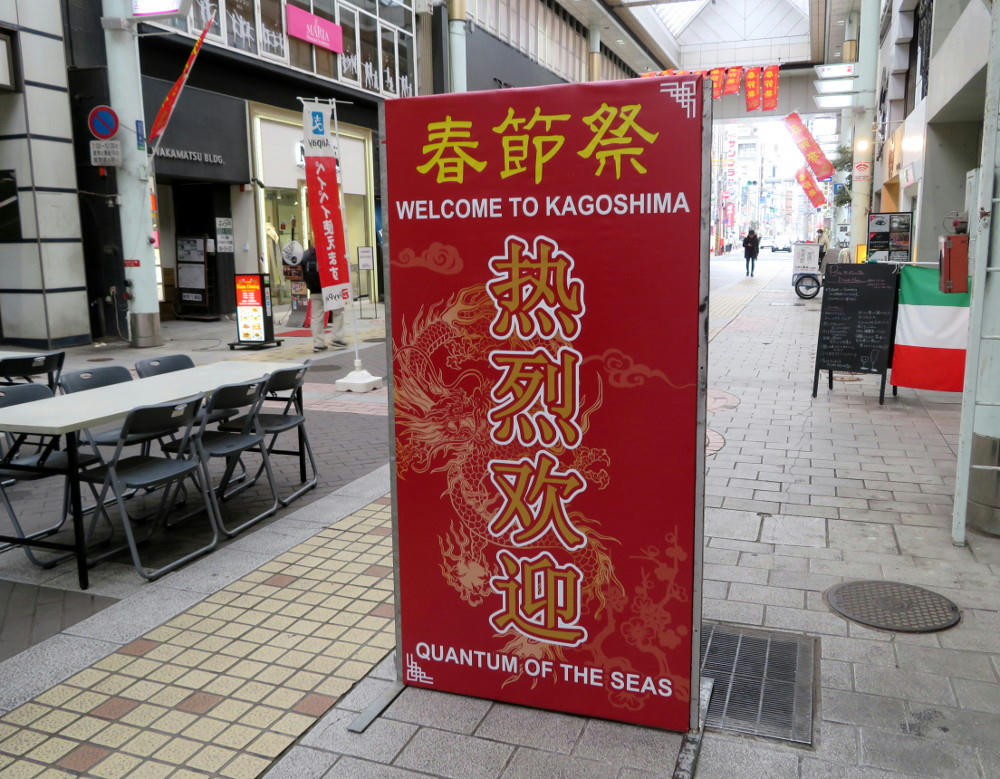 China is currently celebrating their lunar new year, the year of the Boar. Culturally, Japan shares some of the same roots, and while the country does observe the western calendar new year, a lot of Japanese also like participating in the Chinese new year celebrations, too. So, Tenmonkan had a lot of banners set up over the past week for the year of the Boar, and there were fliers announcing an event on the 9th and 10th. However, I was walking through Tenmonkan after my lesson on Friday, and I discovered that something was going on connected to "The Quantum of the Seas."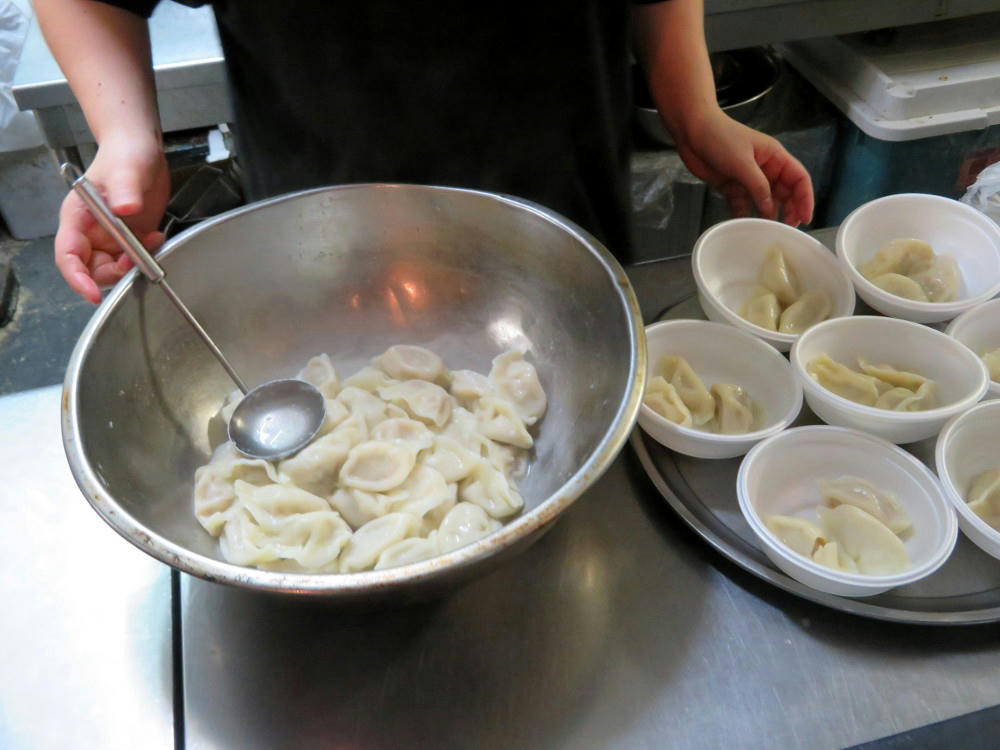 I found a separate flier for this, with a really small, almost unreadable map. There was an arrow for "welcome point" nearby, so I walked around a couple blocks of the Tenmonkan area trying to find this welcome point, until I ended up back where I started in front of the China One restaurant. There were a few tables set up nearby, selling shochu and yakitori (grilled chicken) and I was wondering if the "welcome point" was at one of those, when a woman came up to me and asked if I was one of the cruise passengers. Turns out that Quantum of the Seas is a cruise ship that was docked in Dolphin Port, and Tenmonkan was celebrating the Lunar New Year thing a day early to get the cruise passengers involved. I said I wasn't, but the woman, a member of the Kagoshima tourism agency, told me that they needed more bodies at the event, and she then dragged me to China One, where they were preparing to hand out bowls of free boiled gyoza and something called "knife-cut noodles." I had the free food (it was good, and I've eaten there before), and spent 20 minutes talking to the tourism woman, her photographer (who was covering the event) and one of the restaurant staff. (No, they didn't take my photo for the advertising materials, that I know of.)
Lunar New Year, Day 1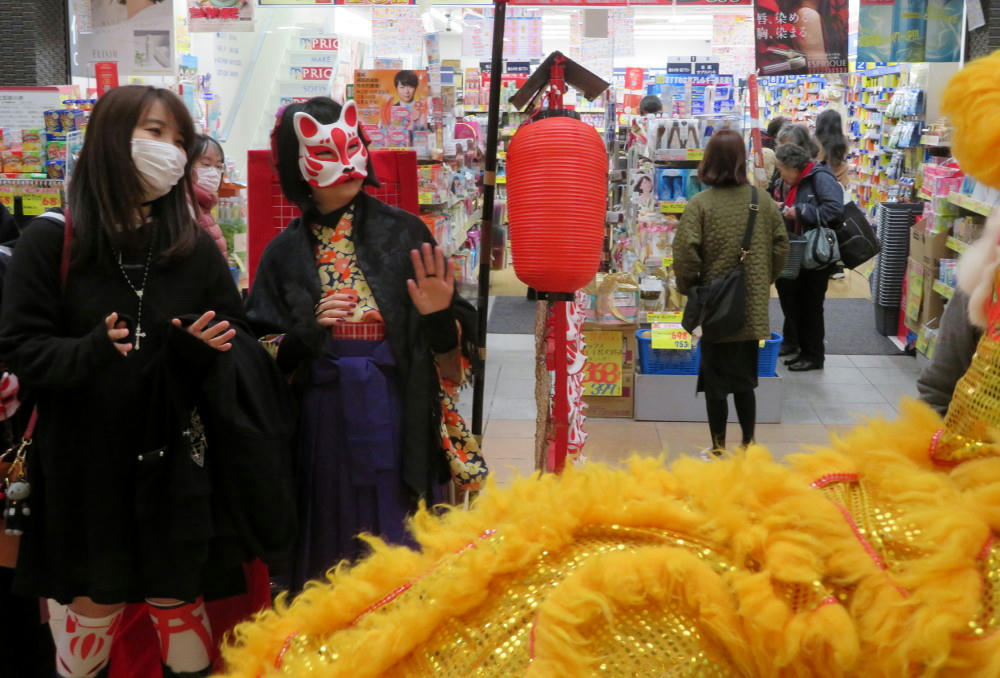 On Saturday, I was back in Tenmonkan on my way to my first class for the afternoon. Most of the stage activities were scheduled for when I was in class, but the dancing lion was out prancing around the arcade, where the fox mask woman was selling her masks.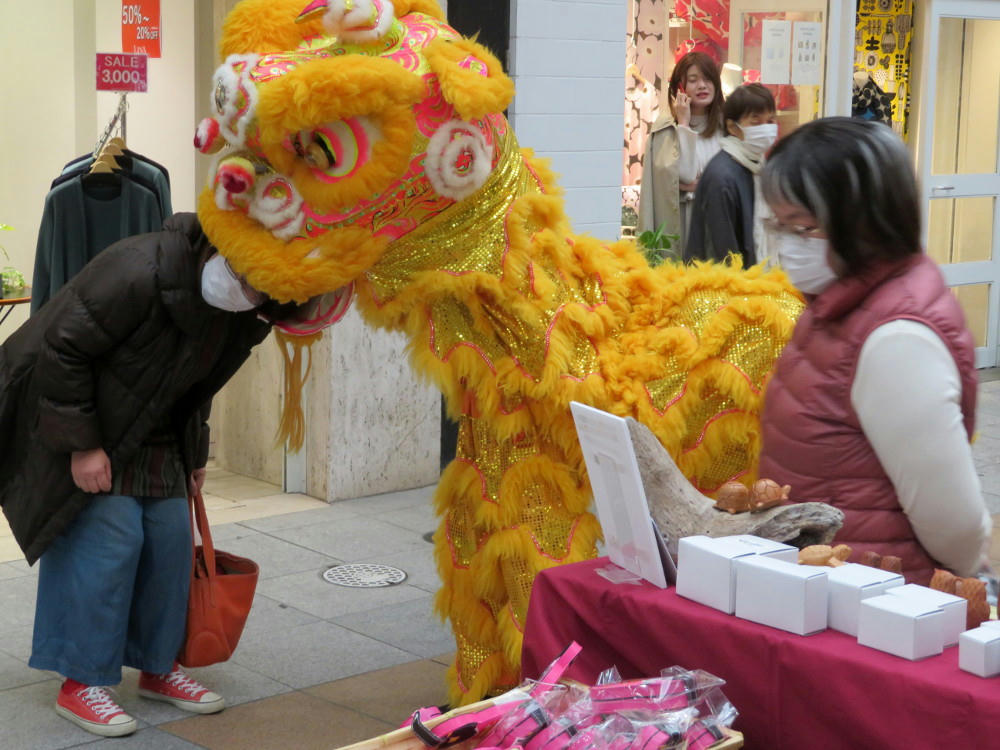 This was the same lion team that performed at the New Year's event in Maruya Gardens in January. It's lucky to have them bite off your head.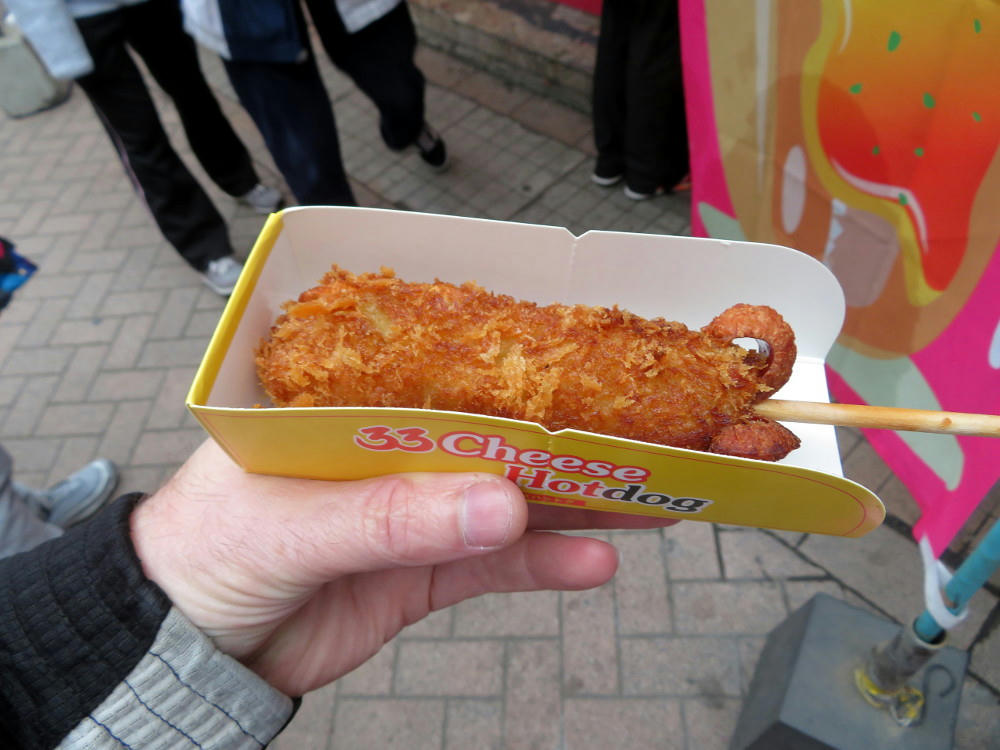 I had a short break between 4 and 5 PM, so I returned to Tenmonkan, but there was nothing on stage then. I missed one guy doing anisongs (covers of TV anime theme songs) at 3 PM, and the taiko drum troupe at 5 PM (I've seen the taiko troupe before at Ohara and Ogionsa festivals, and they are good). There's a new fast food stall that opened up nearby a week or two ago that advertises "Korean-style cheese dogs." The place is really popular with school girls and Chinese tourists, so I decided to get a "sausage cheese dog" for 575 yen ($5.50 USD) to see what the fuss is. Essentially, this is a stick of mozzarella cheese with a small pork sausage inside, batter-dipped and deep fried. You can add powdered cheese, catsup and mustard to taste. Not bad, and filling, but on the pricey side for what it is.
I went back to the school for one more lesson, and when I got out for the day at 6 PM, all the stalls and tables were being torn down for the night.
Lunar New Year, Day 2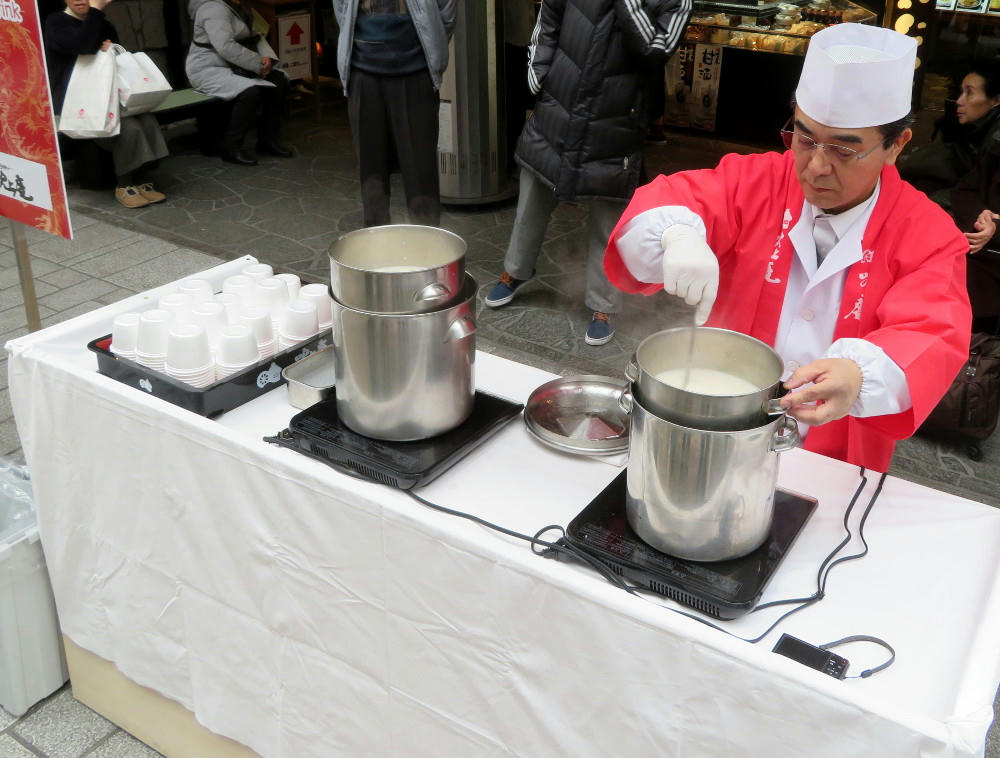 I went back on Sunday, and they were handing out more free food again. Along with the gyouza and knife-cut noodles later in the afternoon, were was amazake (sweet rice wine) at 1:30 PM. I really wasn't planning on getting the amazake, because I've had it before, and supplies were supposed to be limited. The table was in front of 1-2-3 Soba, a noodle restaurant across the arcade from China One. But, nothing was happening on stage at 1 PM, and I was getting tired of just standing around until the next event. I hung around the restaurant, and when they finally started letting people line up, there weren't that many others nearby. I got in line, and was number four from the front. A few minutes later, I got my bowl of amazake, and when I looked behind me, there were maybe another 40 people in line, waiting.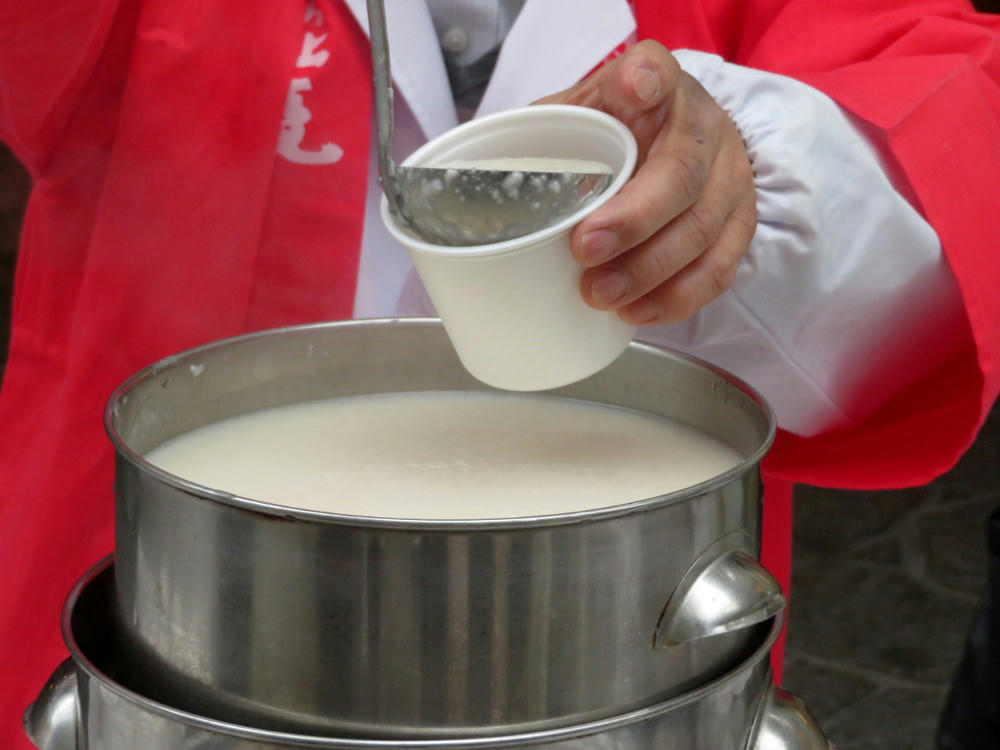 It's almost porridge-like, and is served hot. You can kind of think of amazake as being like soupy hot oatmeal, but slightly alcoholic. In essence, it's an early stage of unfiltered rice sake, and is often served during celebrations for the new year.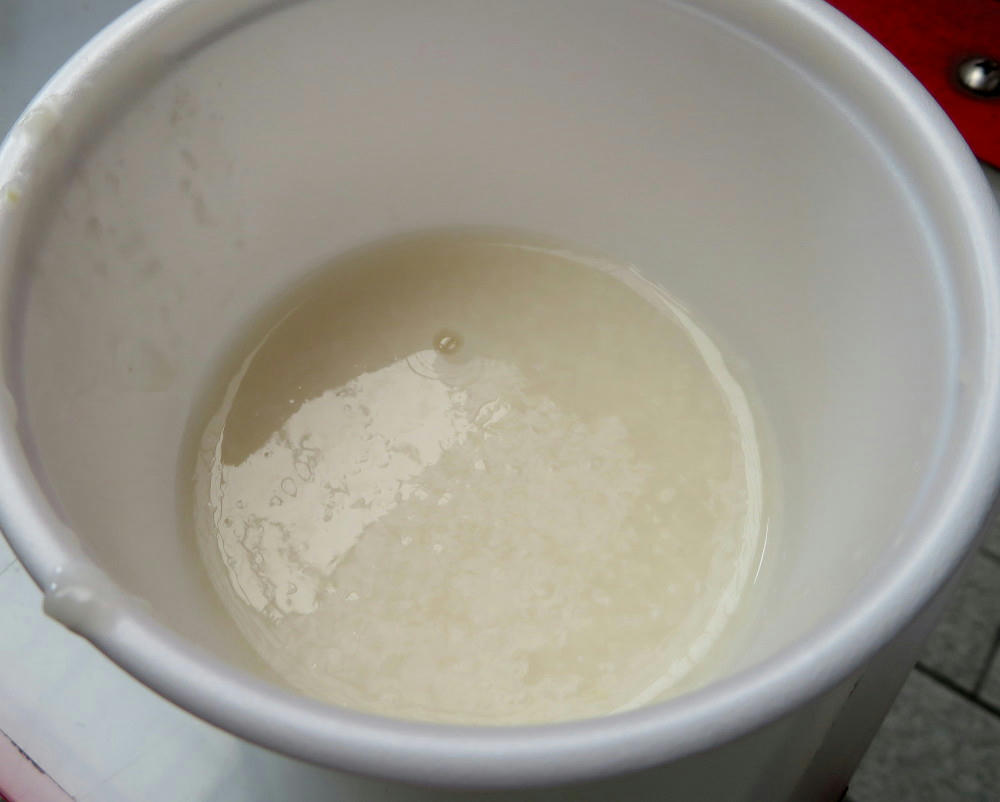 There's not a lot in the cup, but it does taste good, and it was free. I'm not complaining.
Fashion Show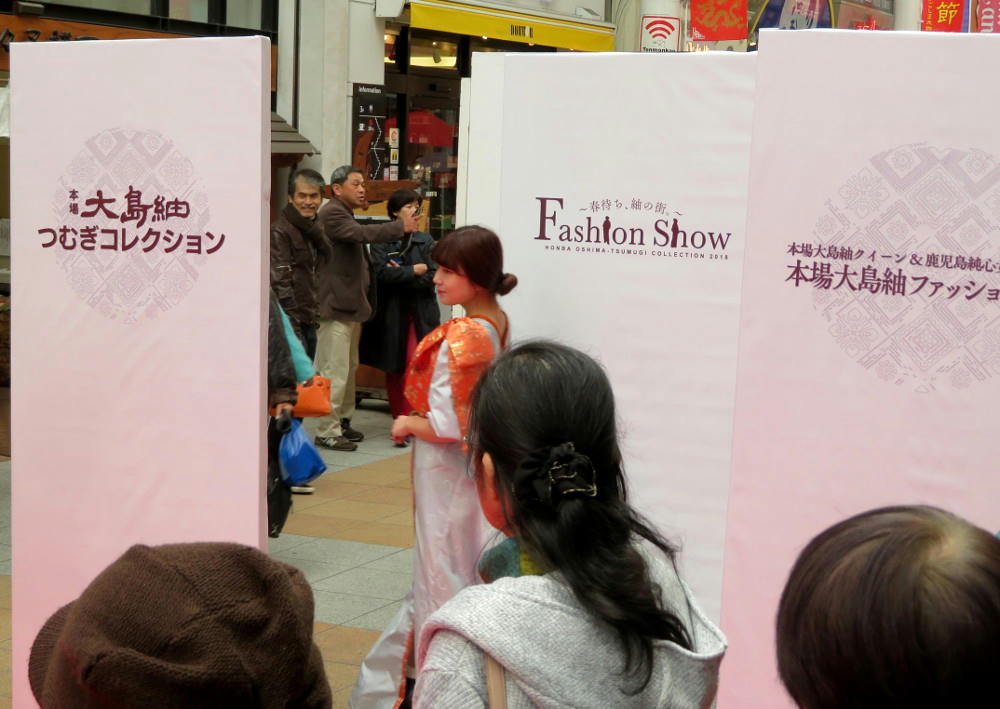 Down at the other end of the arcade, Ohshima had a fashion show.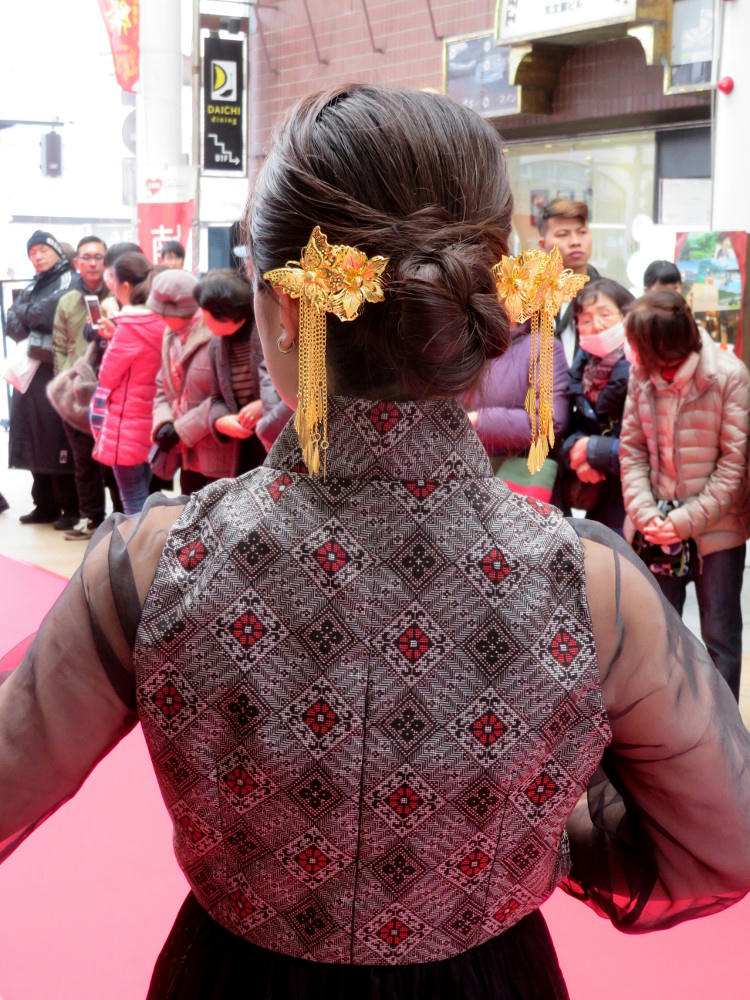 The clothes looked high-end, and everyone was well-dressed and well-groomed, but the models really looked uncomfortable and/or stiff in front of the cameras.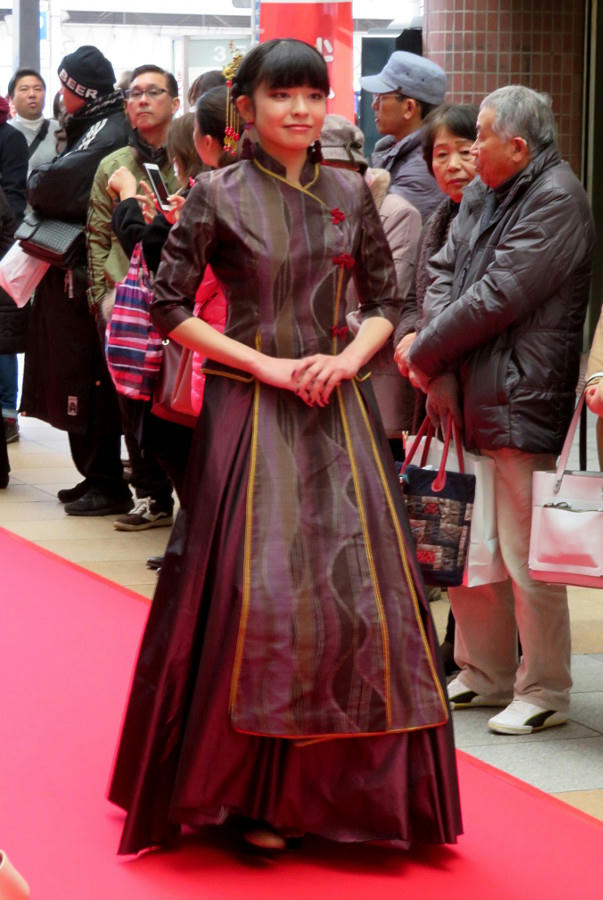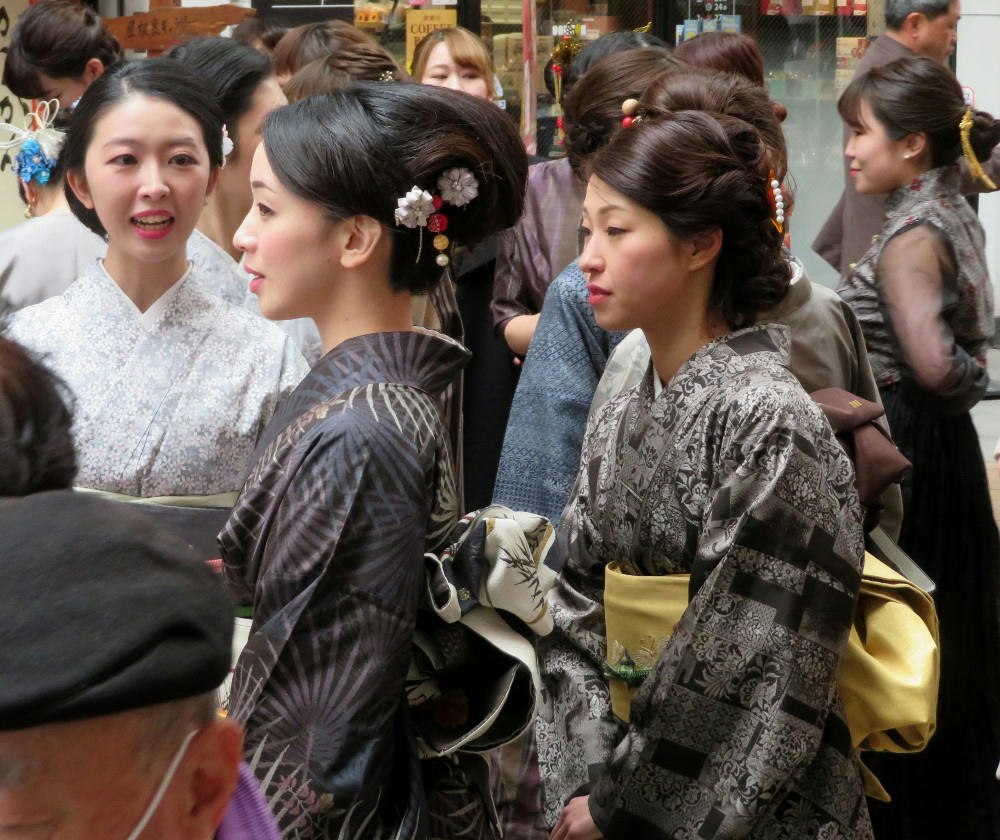 Not a lot of reason to hang around and fight the crowds for a clear view of the models.
Terukuni Parking Lot Market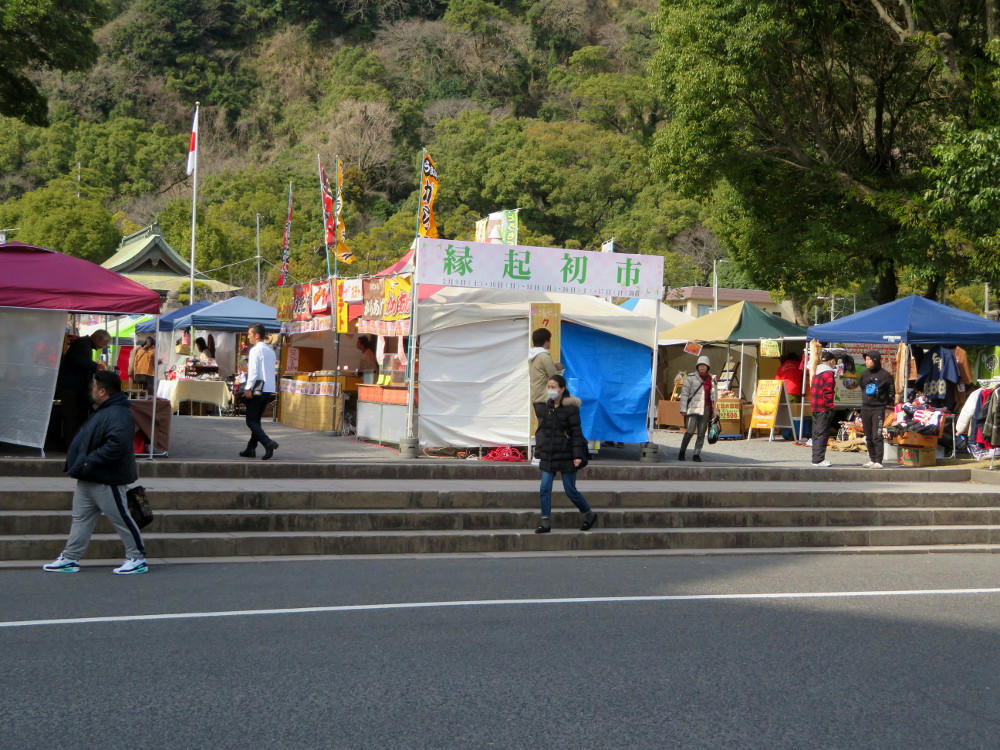 Terukuni Shrine, a few blocks away, was also starting up its "Parking Lot Marche," which is basically a small weekend market running this week and next week.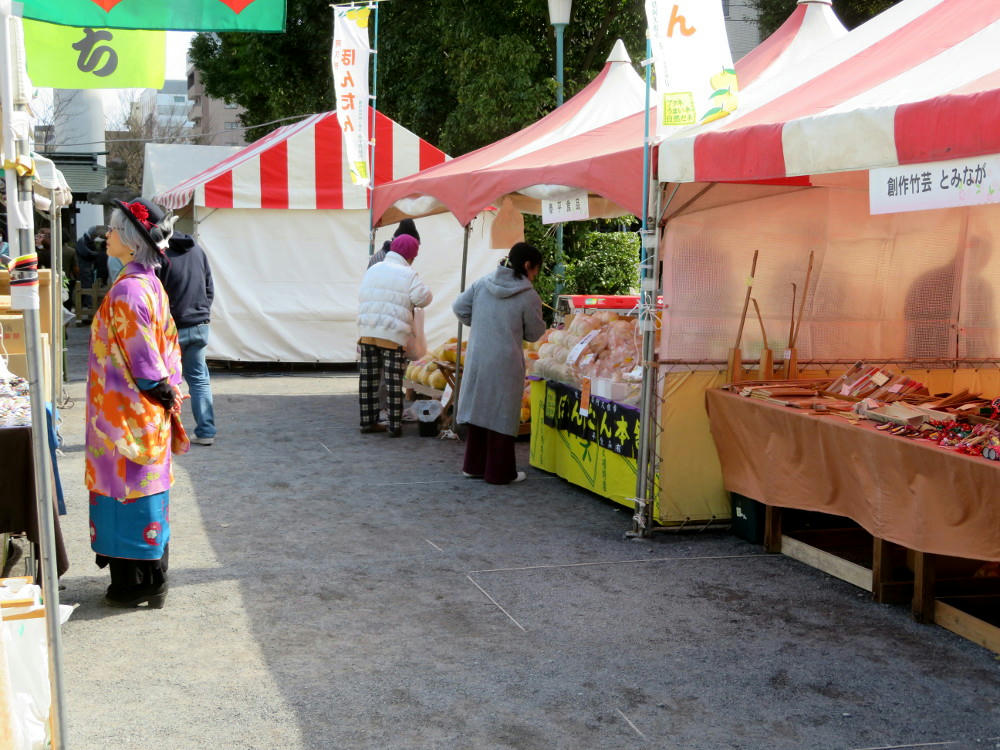 I've taken photos of past markets, so there wasn't much need to document everything this time.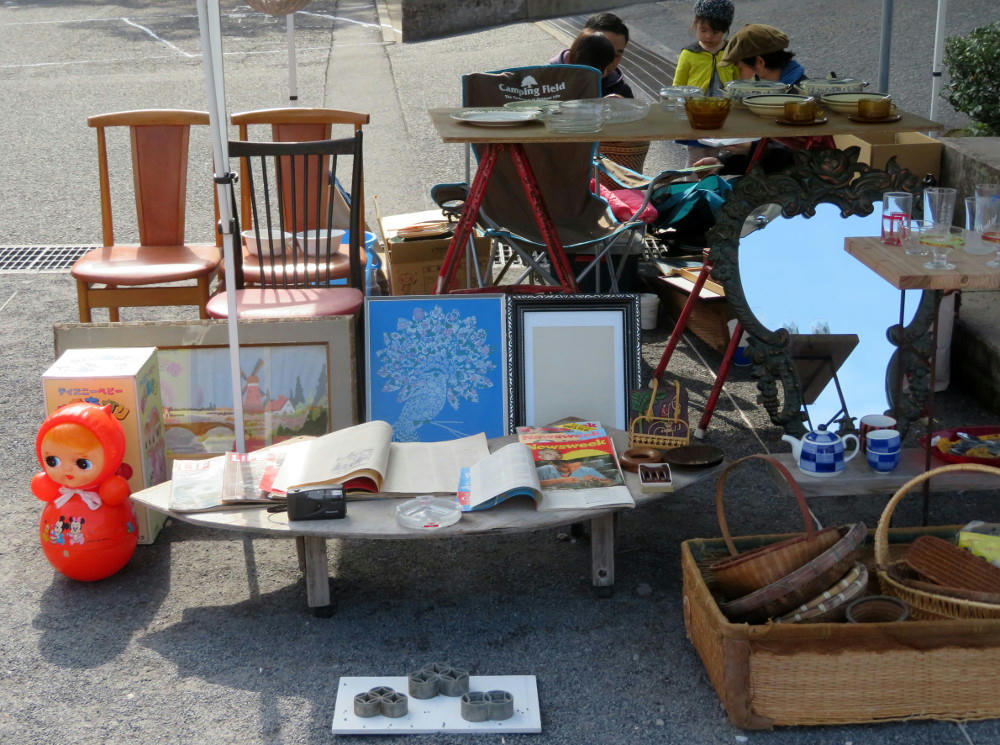 Some arts and crafts stuff, some food tables, and some flea market booths.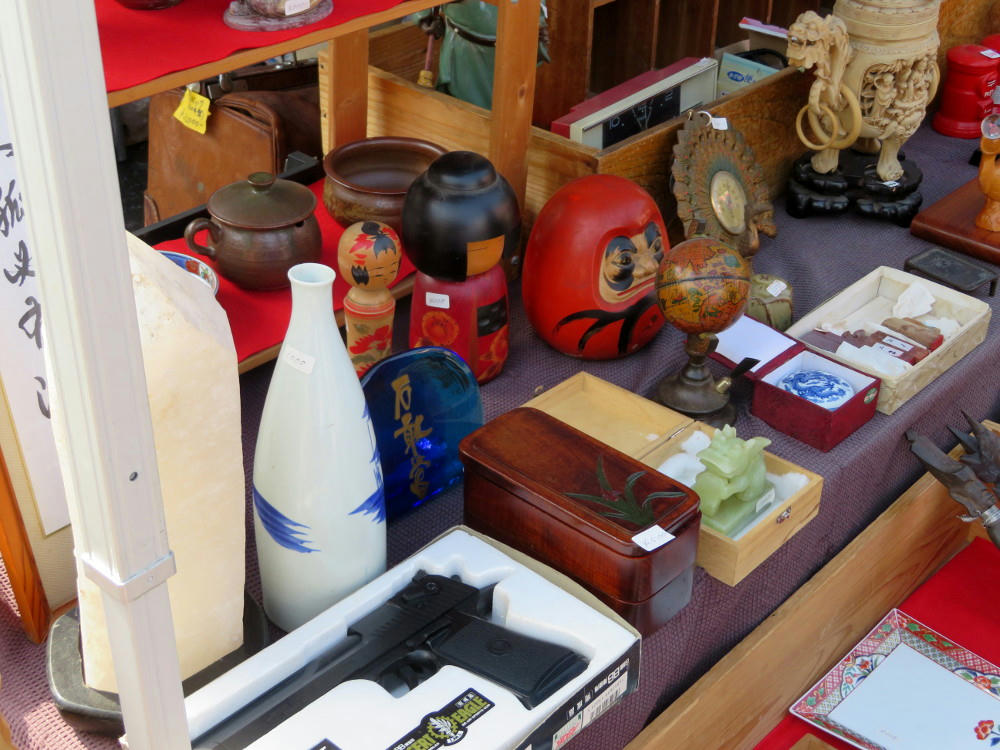 Even the old stuff looked old.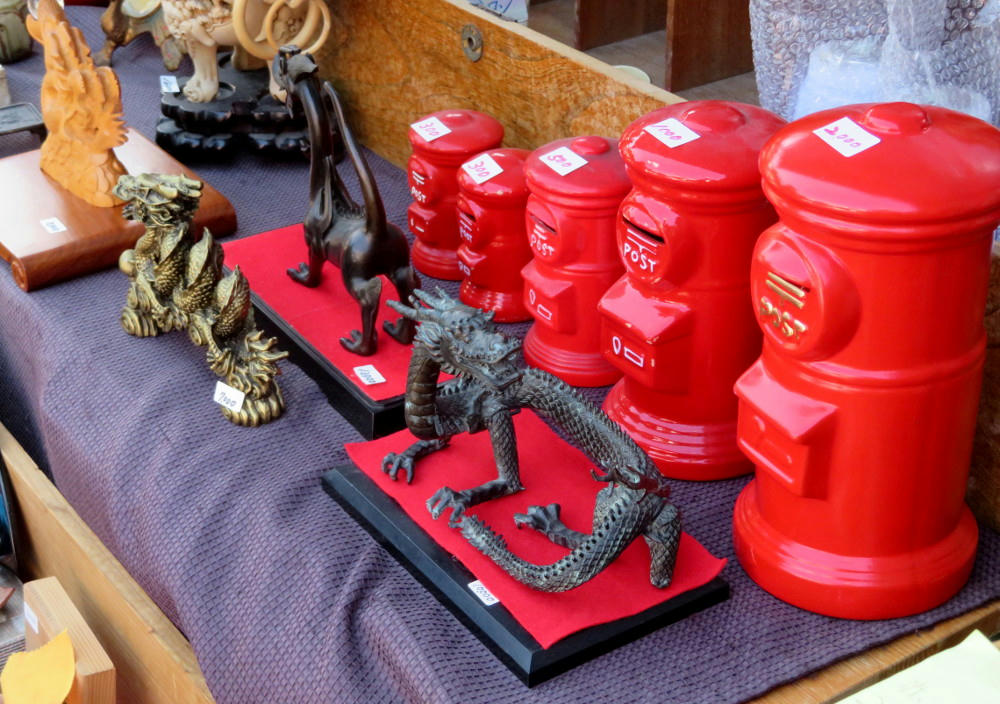 Post boxes and dragons.
Anisong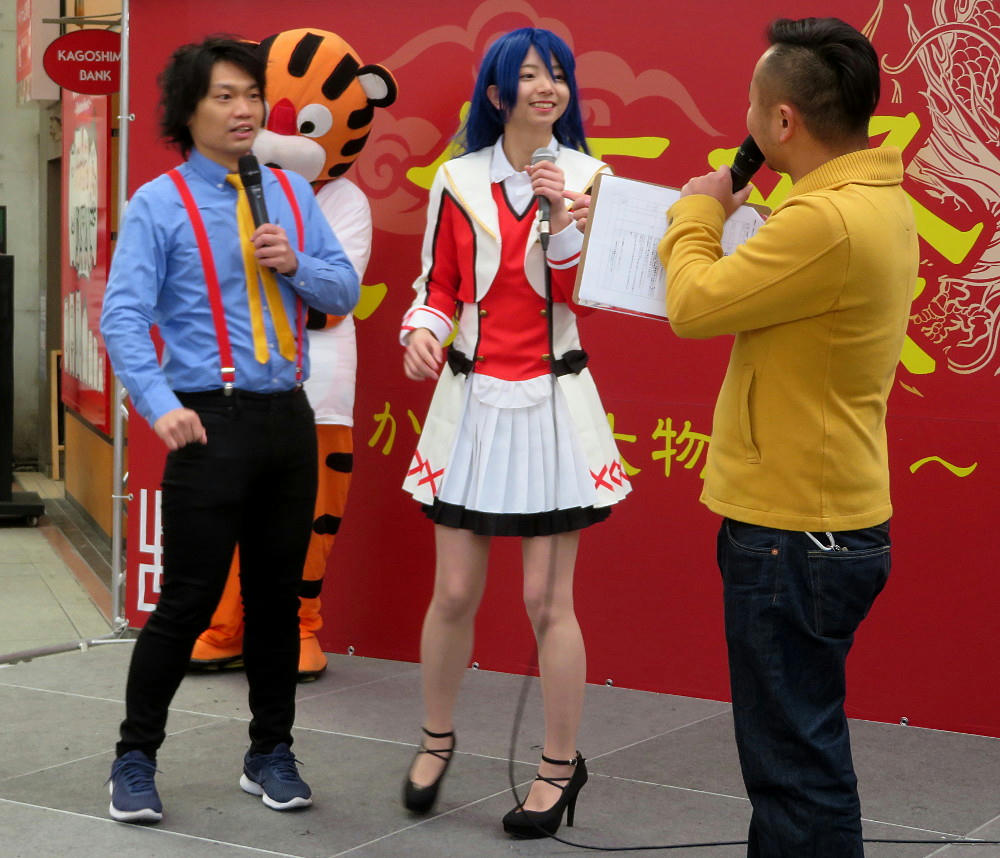 I got back to Tenmonkan a bit before 2 PM, when Rie-chan got on stage for her anisong performance. She announced herself as a youtube cosplay idol, then gave a set where she did karaoke over TV anime theme songs. She danced really well, given the heels she wore for the costume, but she did have trouble following the music in a few places. I think the main problem was simple stage fright. The audience sat near the stage, but there were maybe only 20-25 people watching, and they wouldn't clap along to the music. I recorded a few of the songs, but it was all copyrighted music and would be blocked if I uploaded it to youtube or facebook. The MCs for the show were the manzai duo Party.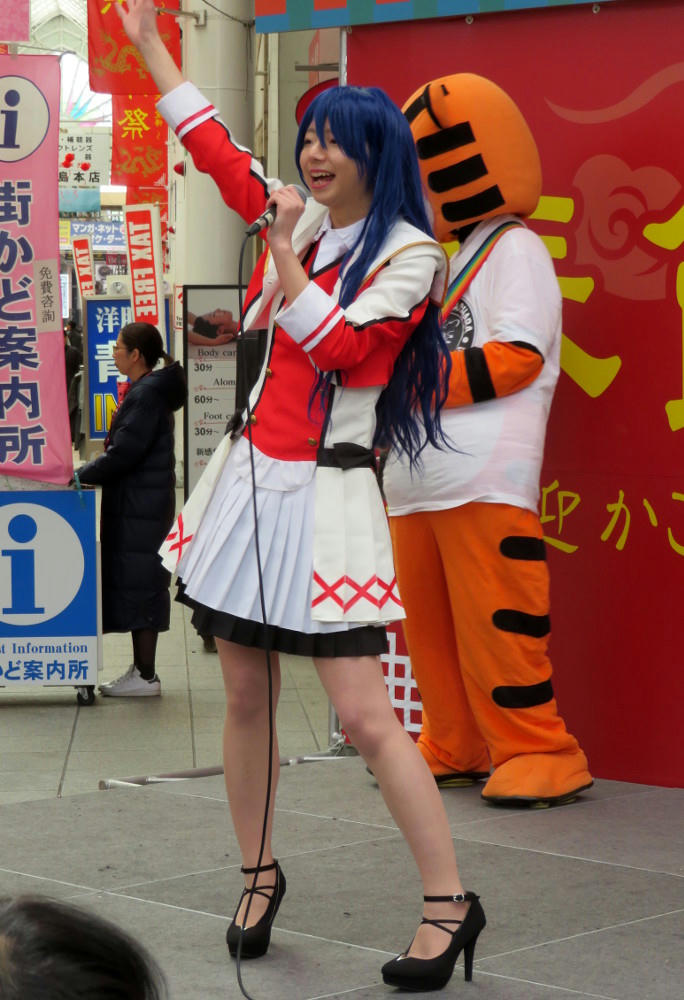 The tiger in the background was just one of the local foamhead mascots filling up the stage. He did a really poor job of pretending to do air guitar with an actual guitar.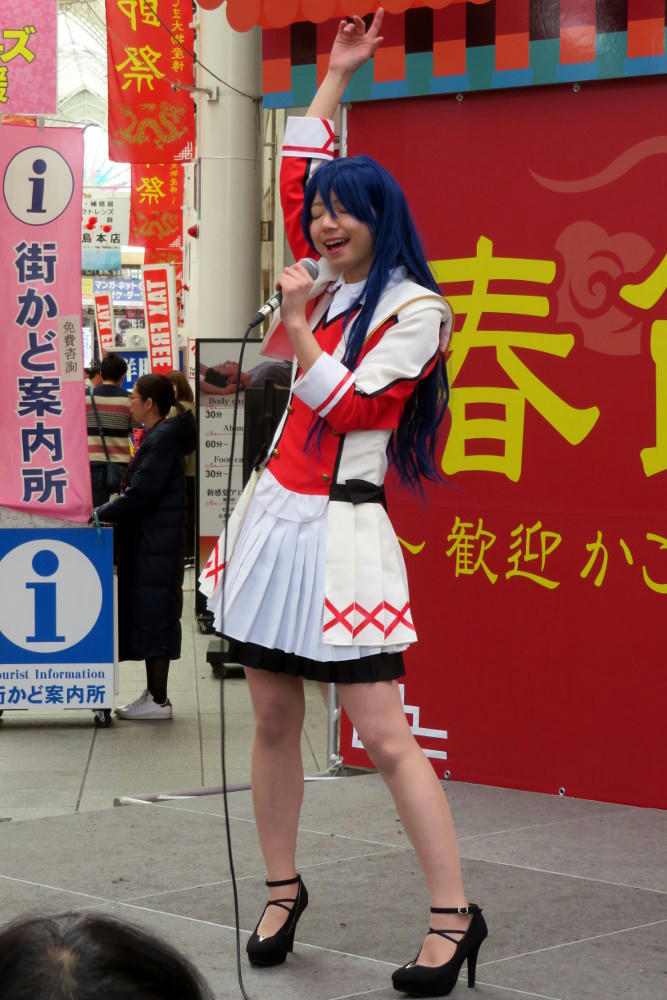 Everyone had fun, though, and that's what mattered.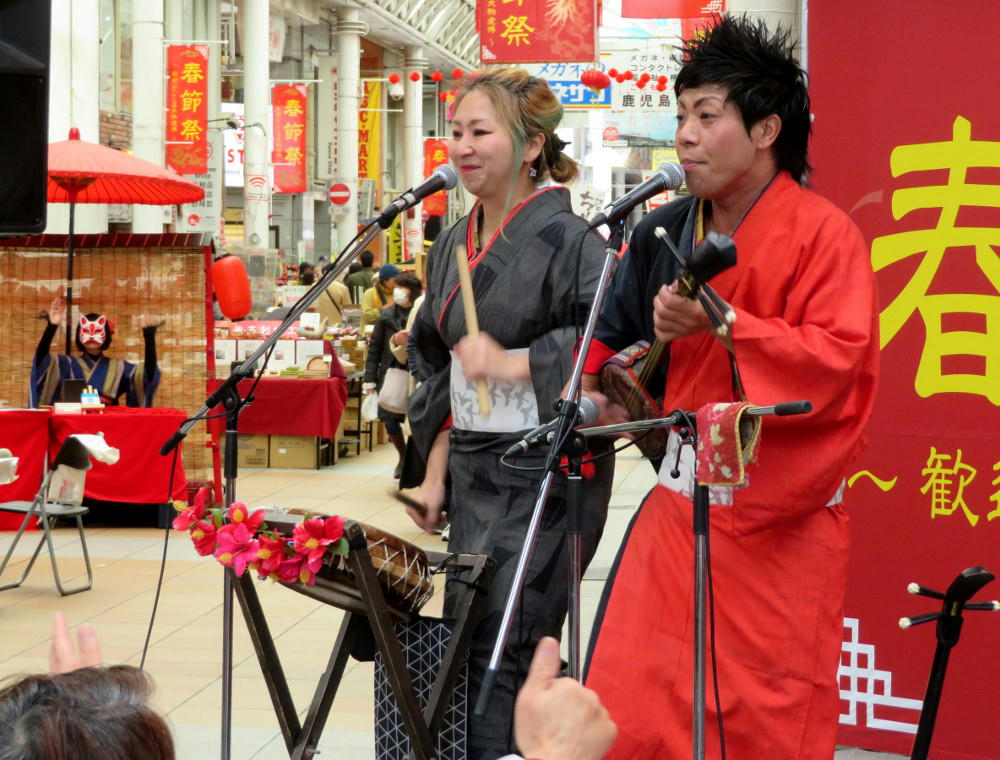 The 3 PM act was this Okinawan folk duo. I forget the guy's name, but I don't really like him. He plays and sings well, but is otherwise really obnoxious. I've seen him at other events and have uploaded video of him to youtube in the past. This time, I just took a few photos, then went to Amu Plaza for some shopping for supplies for the week. I had to go to dinner at 5 PM, so I missed the Sunday taiko performance, too. Sigh. (Amu Plaza just had some vendors out front selling Valentine's chocolate. Nothing worth taking pictures of.)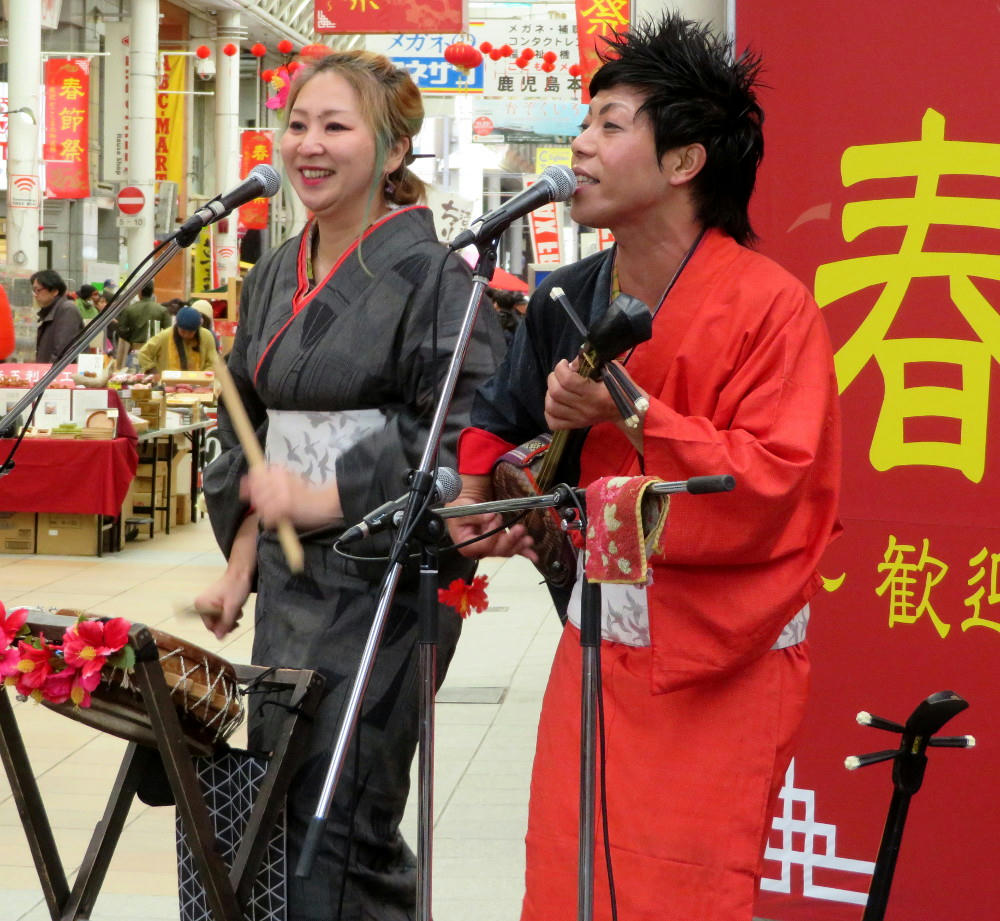 Still, I got some free food out of all this, and the weekend was more interesting than it's been here since the beginning of January. I just wish it would snow.