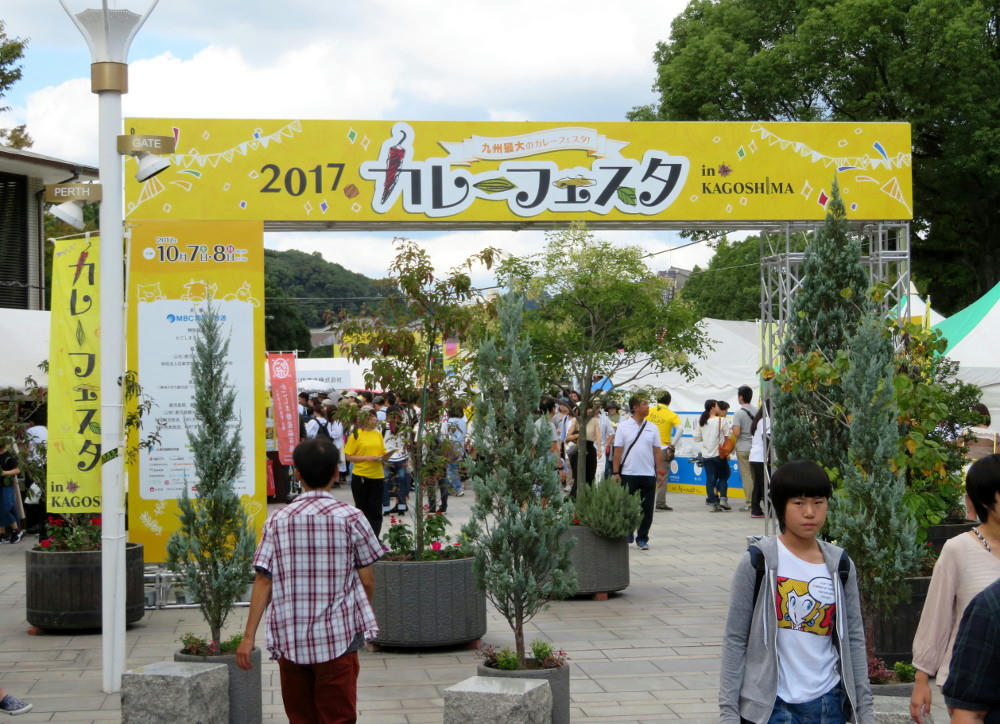 This last weekend was fairly busy, compared to the last month. In Tenmokan we had the curry festa, Amu Plaza was hosting a local Fall products fair, and on Sunday there was Soba Day in the open space in front of Lotteria.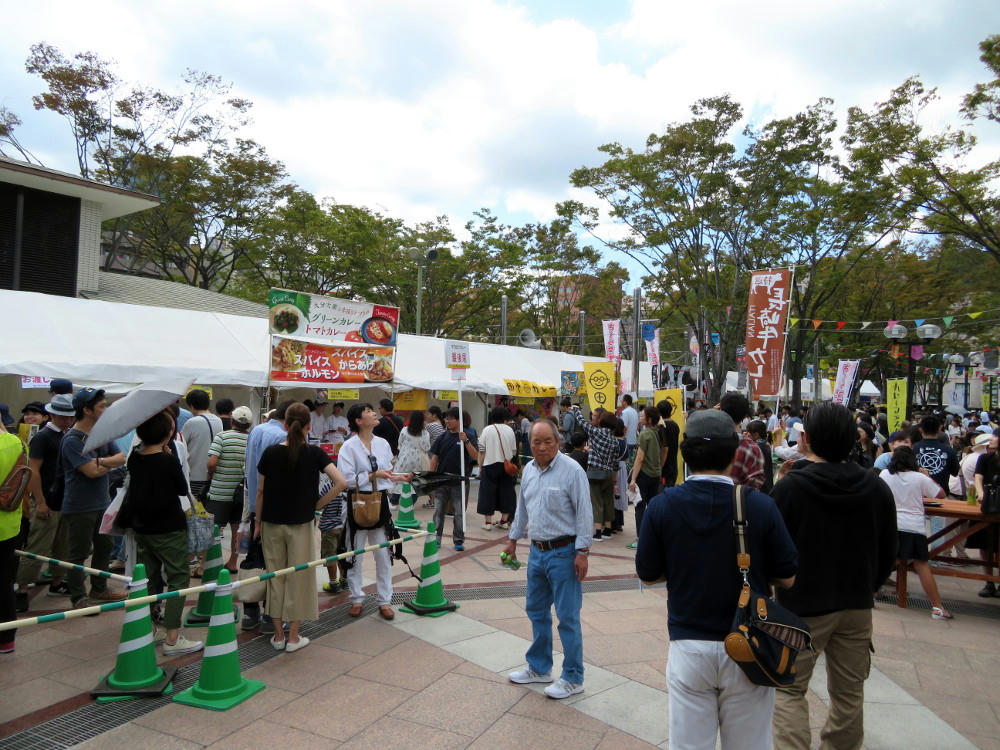 There were well over 20 restaurants and groups selling various kinds of curries and curry-related foods (curry buns, curry bread, curry omelets), plus advertisements for cars, TV stations and convenience stores. Some of the booths were very popular, with lines 1 hour long, while the others had no customers at all.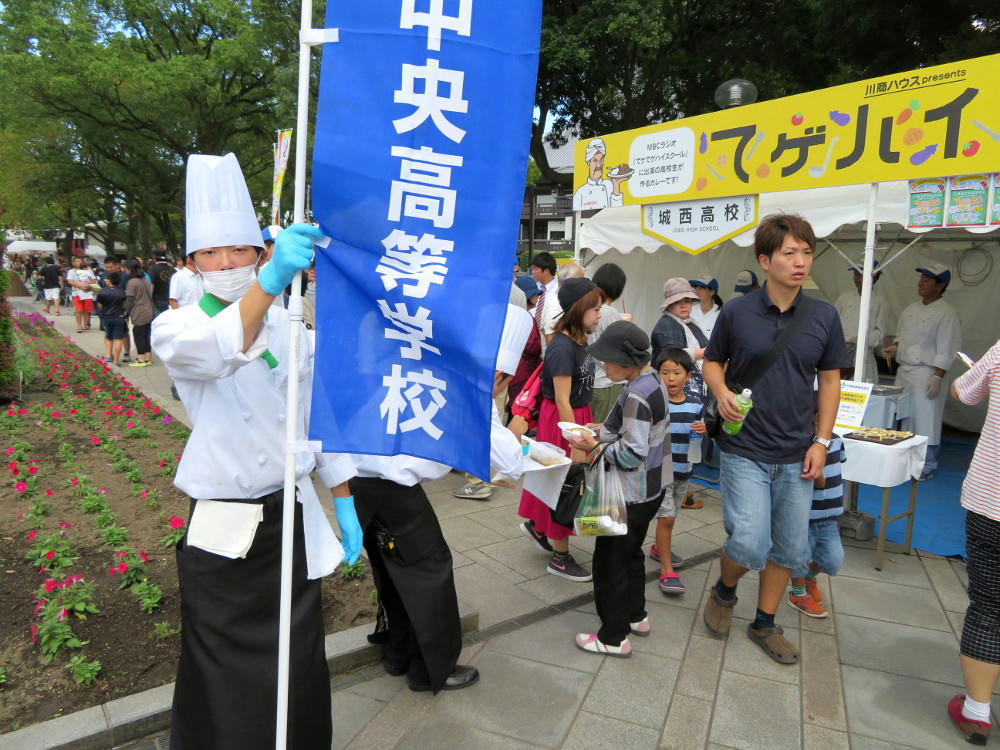 One of the tables was run by a junior high school group, and I guess they did sell out by the end of the day.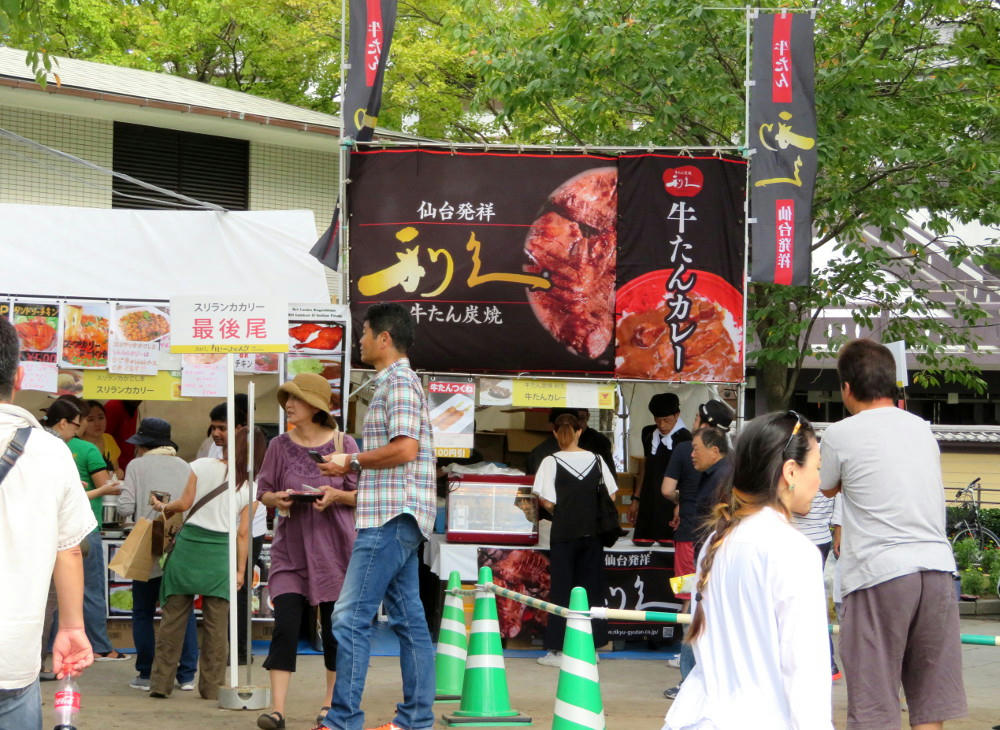 The big sign advertises beef curry.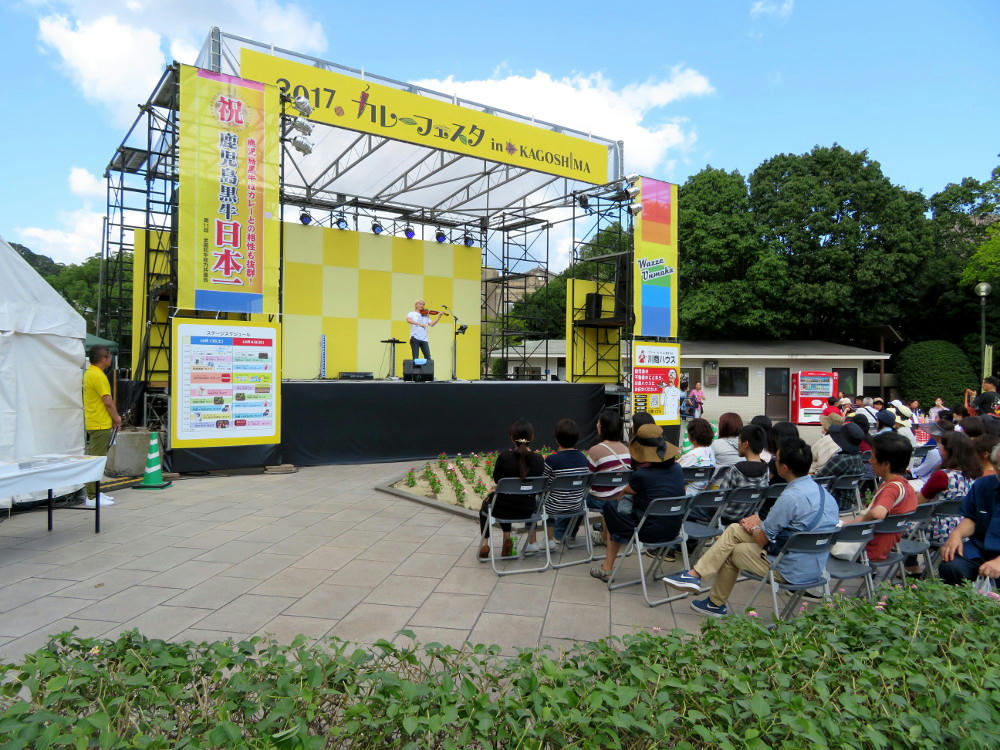 The live stage was sponsored by one of the TV stations, I think MBC. One of the local personalities would introduce each of the acts, and generally relate them to curry ("this next performer likes curry, so let's all give him a hand"). I haven't seen any of the acts listed before, but I did recognize the name of a balloon twisting clown (Pipi) from schedules for other past events. The MC announced the violinist, Naoto, as have appeared on their TV program a few times before.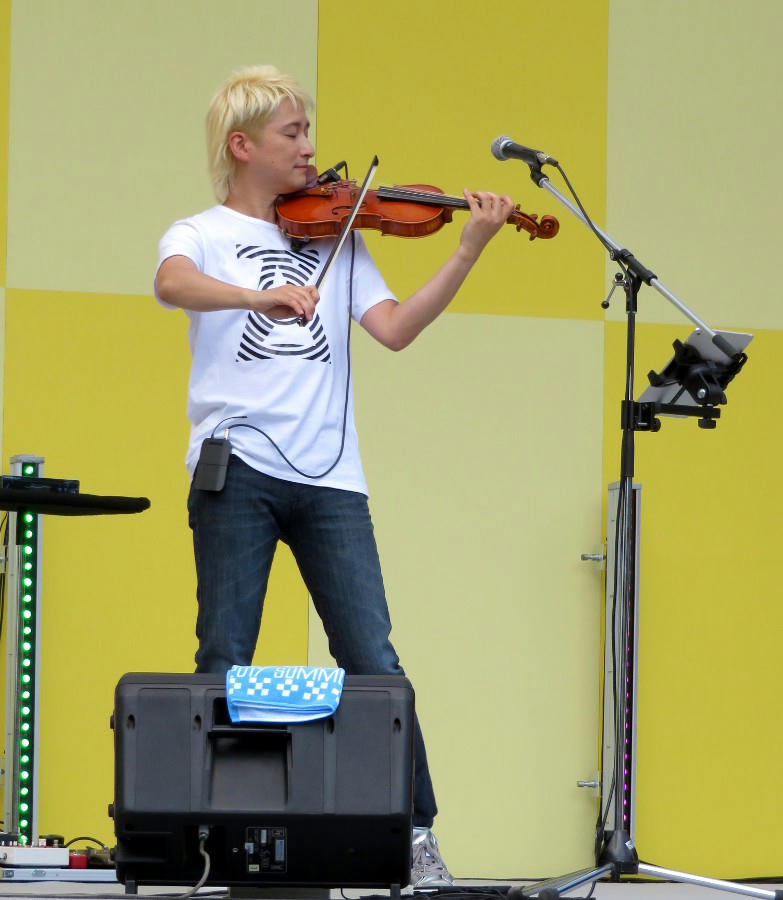 Naoto did a kind of "violin karaoke", playing on top of a CD of pre-recorded music. The first song was from the Macross anime. He sounded ok, but the sound tech added so much reverb that the music sounded too artificial. It's also protected copyrighted music, so I didn't bother recording it.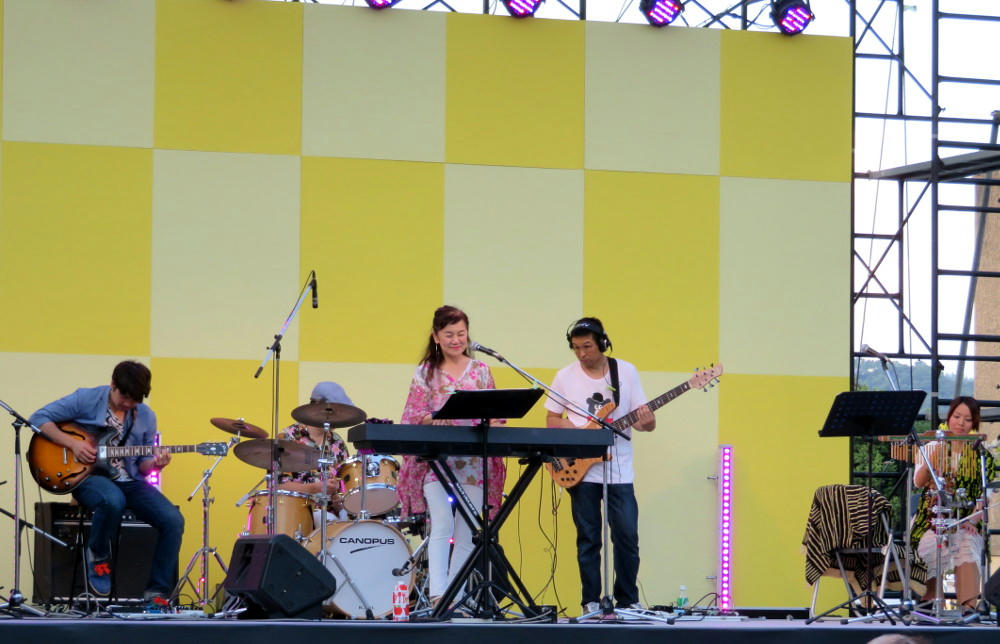 The next group was Breath. They did kind of a slow jazz that was ok, but again, it was copyrighted covers (youtube would flag and block them), so I didn't record it. I didn't stick around for any of the other music during the rest of the day, which was basically just Saori Yoshimura, a female singer, and then a foamhead mascot show. Everything ended at 5 PM, which I considered too early.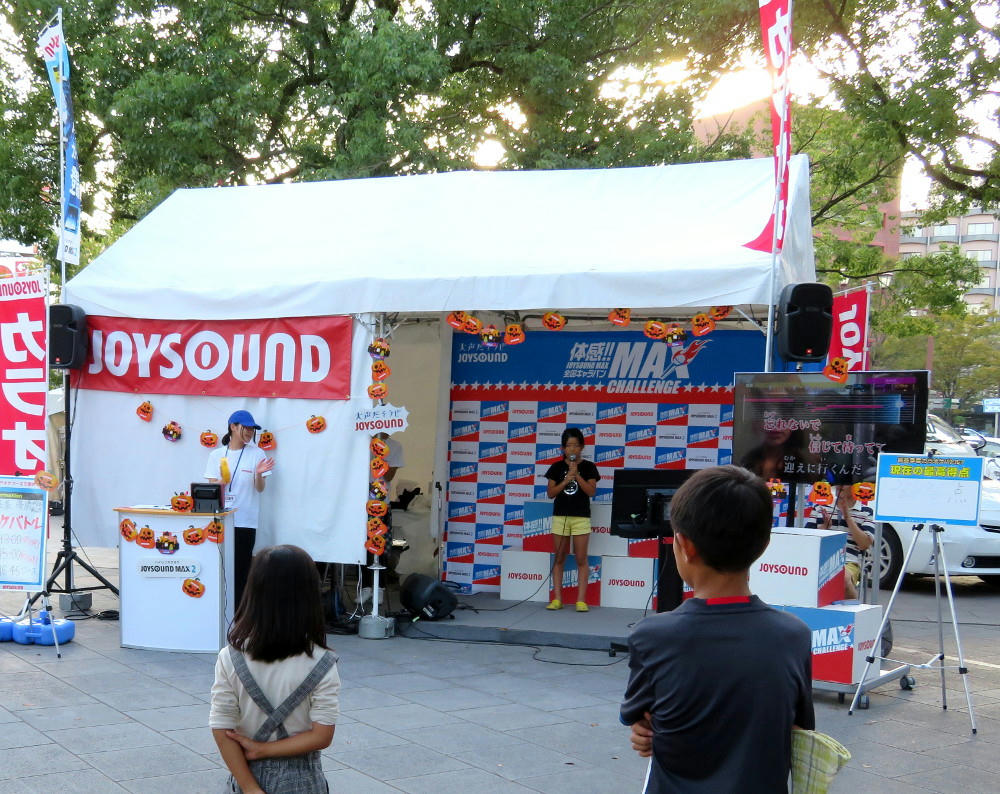 JoySound, a karaoke box, had their portable karaoke studio set up as well. Nothing says "curry" like self-conscious people singing off-key.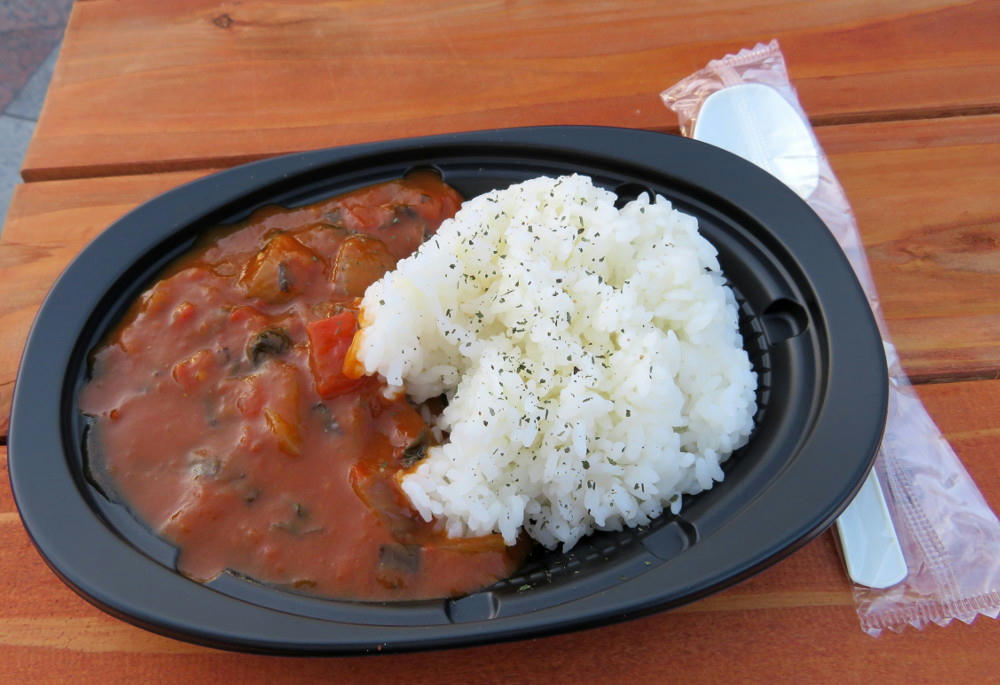 I did eventually get 2 plates of curry in lieu of having dinner Saturday evening. The first was a black ink beef curry. I had that last year, and it was just ok. The one pictured here was supposed to be a chicken curry, but turned out to just be veggies in a tomato base. Not bad, but not really curry. Both plates were about the same size, 500 yen apiece. I consider the portions to be a bit too small for the price ($4.75 - $7 USD), and otherwise wouldn't have gotten anything except that there was nothing available for dinner at the apartment that evening.
Sunday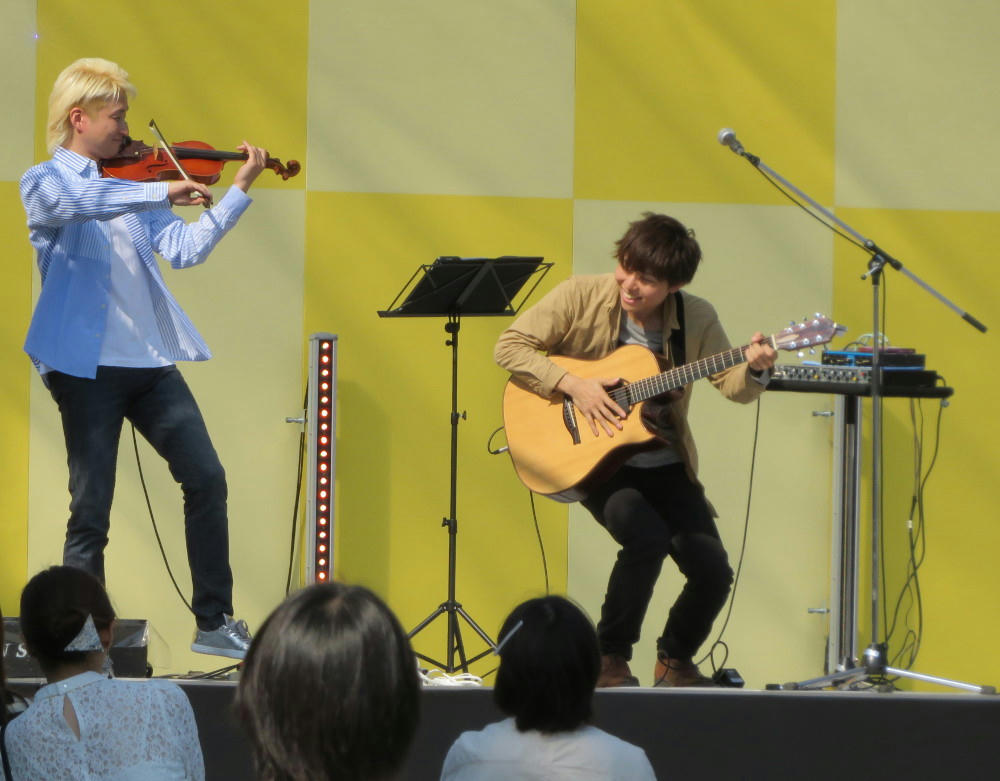 Having looked at the Sunday schedules for both the curry festa and the Amu Plaza events, there really wasn't anything on the live stages I had any interest in, and I knew that the rest of the events themselves (eating curry, or buying cheap jewelry) wasn't going to be any different for day two. So, I spent the early part of Sunday at home processing the photos I'd taken. I got out of the apartment at 2 PM, just in time to catch the last few seconds of Naoto playing back-up for Tsuyoshi Sakasegawa (it's had to tell if this is right because he has kanji in his name that's not very common and the pronunciation isn't clear just by looking at it). It was an acoustic set, but I didn't hear enough to be able to tell if I liked it or not.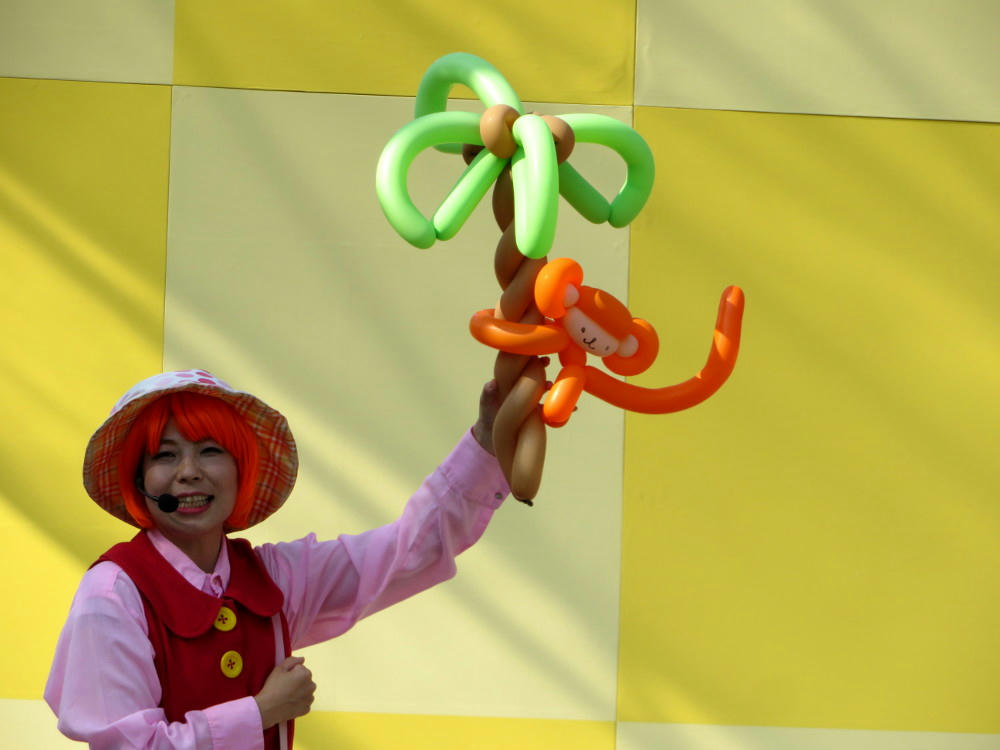 Last up was the Pipi Balloon show. Turns out that "Pipi" has also done a little voice-over work, and had sung the jingle for MBC corp. TV ad (MBC owns one of the local radio stations, but is mainly a housing construction company). Pipi started out by promoting her work on the jingle, then led the children in a song-and-dance number about monkeys as she made the above balloon monkey. The rest of her show consisted of playing children's music off of a CD and making the matching balloon animal (half the balloon structures were pre-twisted before the show started). Nothing worth recording, but fun if you're a 4-year. After a few minutes, I left for Amu Plaza to catch their 4 PM show (with a stop along the way at a bookstore to check for new manga releases).