Day 1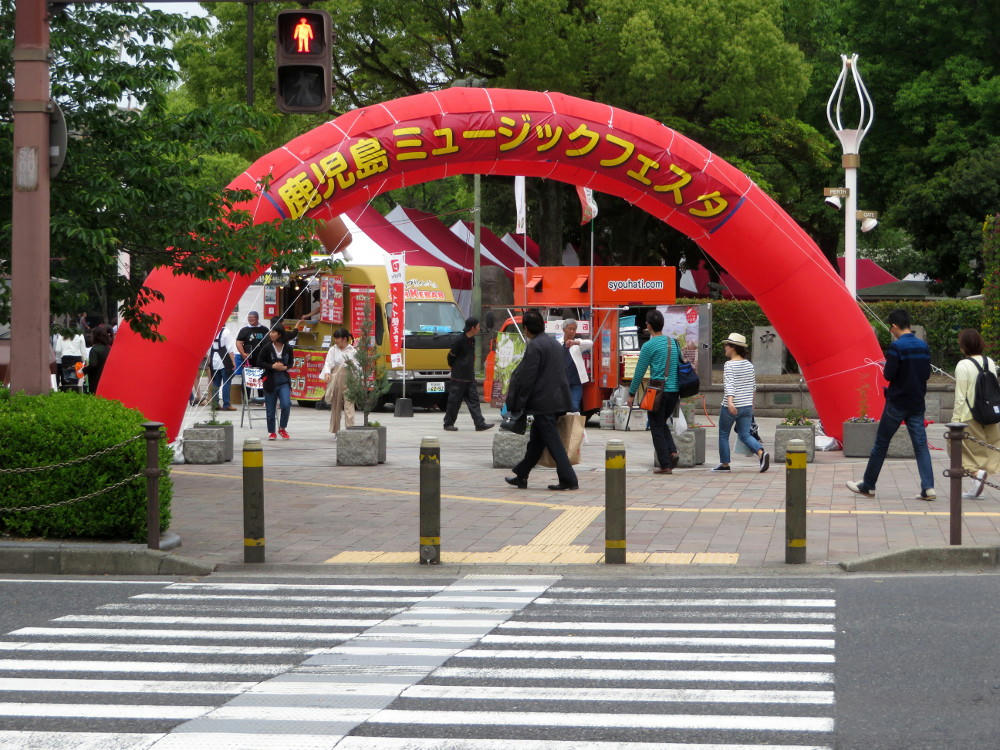 I had real mixed emotions leading into this year's KMF. On the one hand, I like some of the music they have every year (the line-ups change each time, which apparently is based on auditions or some kind of a lottery). So, it could be a good time. And, it is one of the biggest free music events in Kagoshima. On the other hand, I only really like three bands for the music - Bon DX (Ska), The Pints (Irish punk) and South Shaker (80's heavy metal long-hair covers), and only South Shaker was on the line-up. Worse, they were scheduled to play from 5:45 PM to 6 PM on Saturday, when I had classes. Initially, I had a break between 4:30 to 6 PM, but the 6 PM class got cancelled. That made me happy. Then, the owner of the school asked me if it was ok to move my 7 PM class forward to 6 (so that he could go home early). I requested a 6:15 start, and he agreed to that. So, I'm now really looking forward to Saturday evening, since I have enough time to run from Central Park to the school (5 minutes away). Except that the band up before South Shaker ran past their required stop time...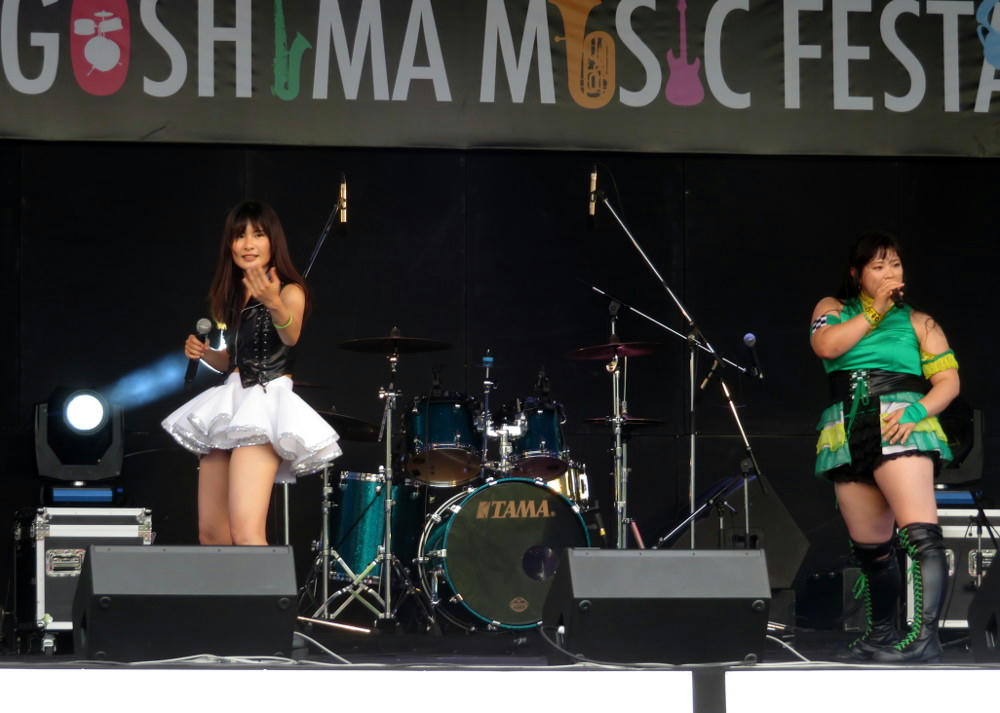 (Suimori and Tsurupi Karin)
I had wanted to get out of the apartment early on Saturday to catch some of the bands in the morning, since the KMF started at 10 AM. But, one of my other students wanted a 10:30 AM class. Along with all my milk shopping for the week and stuff, I didn't actually get out of the apartment until 1 PM, and I had a 1:30 PM start at the school. That just gave me a couple of minutes to swing by the park and take a few photos. The women above (Suimori and Tsurupi) did a campy idol bit, while Tsurupi (right) seemed to be pro wrestling with one of the fans at the front of the stage when I arrived.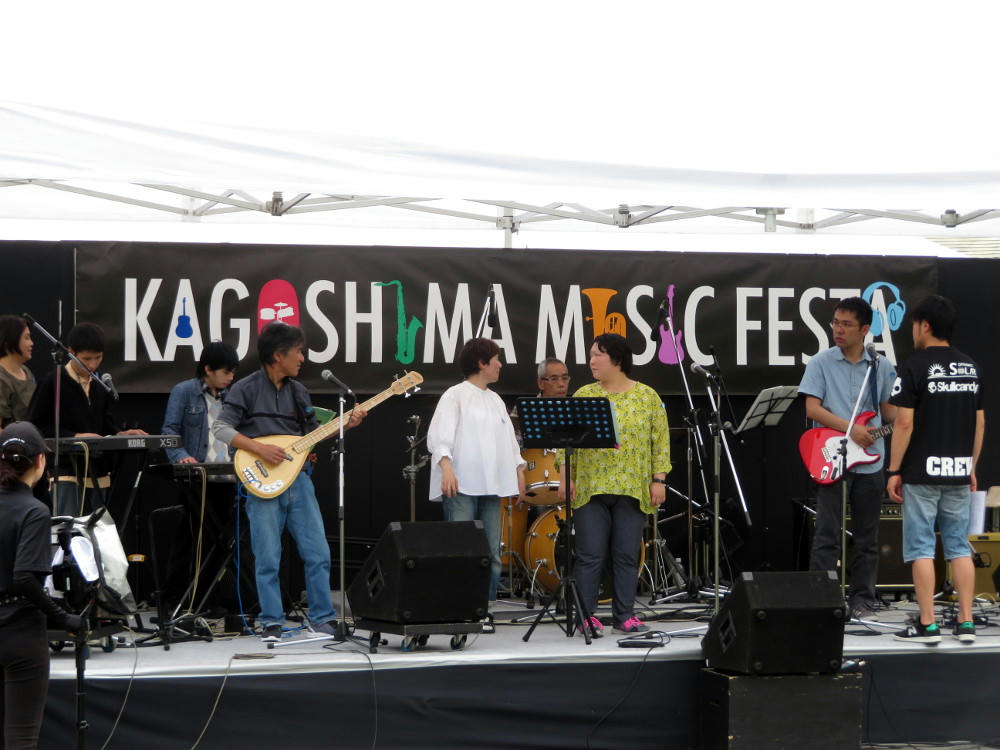 (The Band)
The Band was setting up on Stage 2, and I missed them actually playing. My 1:30 PM student told me she had to park in the lot underneath the park, and there was some kind of loud music playing at that time, which was probably these guys.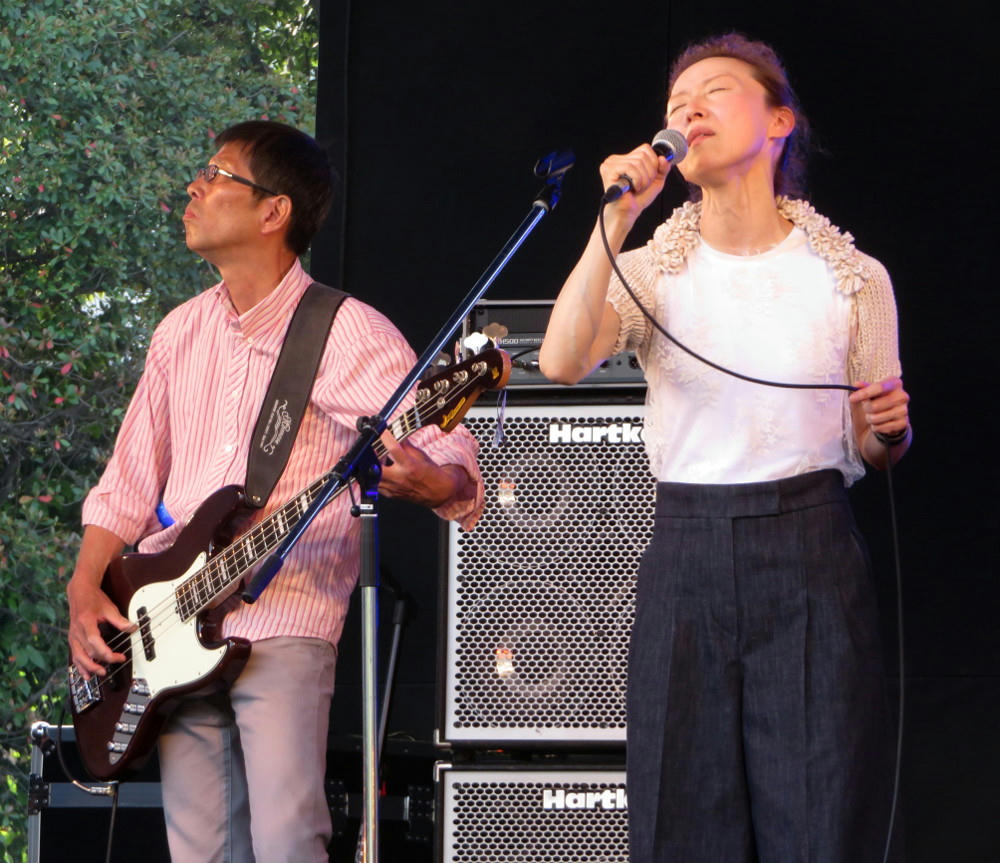 I got back to the park at about 4:30 as Blue Edge was just wrapping up. Not really sure what kind of music they were doing, since I didn't take notes. I think it was jazz covers.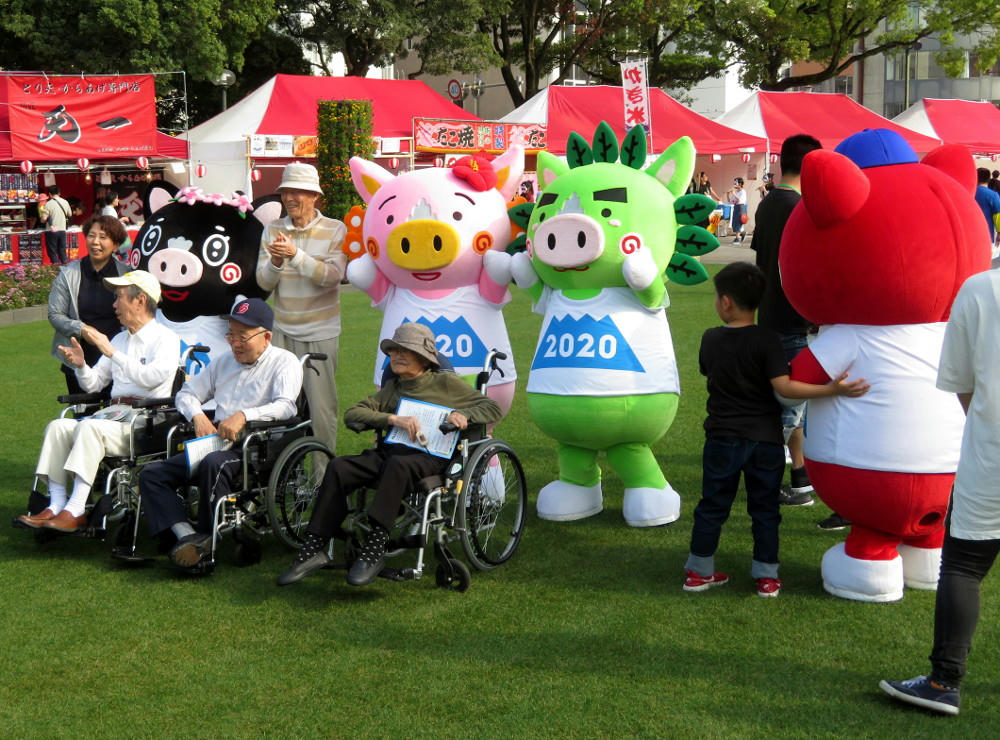 The Kagoshima foamhead mascots were out in force to promote the Tokyo 2020 Olympics and Paralympics.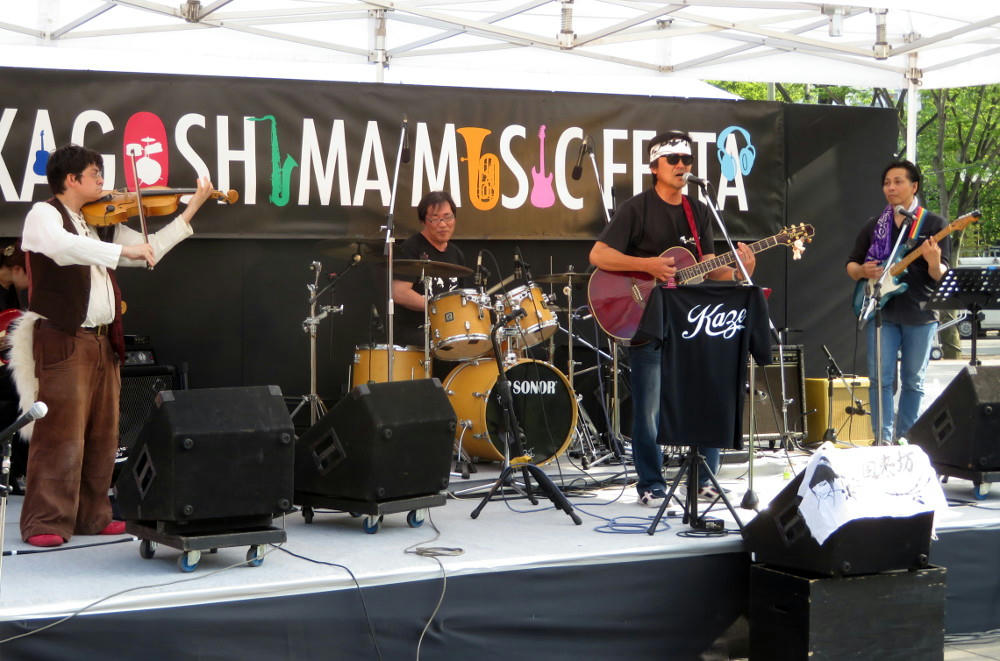 (Toshi the Wanderer)
When I got to stage 2, Toshi recognized me from last year, and introduced me to the violin player, a Canadian named Gaze Santos, playing with him just for the fest. Gaze and I talked a bit, but Toshi had to start playing right away. We ended up running into each other again later, and talked about music, anime and manga. I recorded one song from the set, and Gaze played very well on it. It was a good set.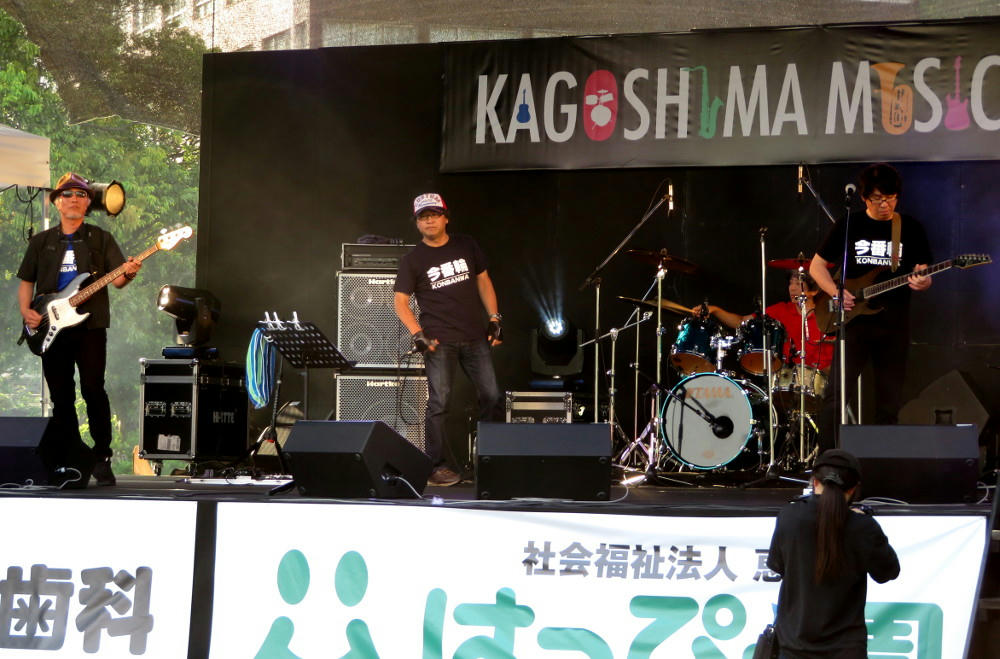 Konbanwa did some harder rock songs, which were pretty good. But, I wanted to get something to eat, so I stopped at the food booth run by Wicky Toshi (Wicky's House), and got their ome-rice with cheese, and ate that while the next guy played. The ome-rice was good enough that I didn't bother taking pictures of the next act.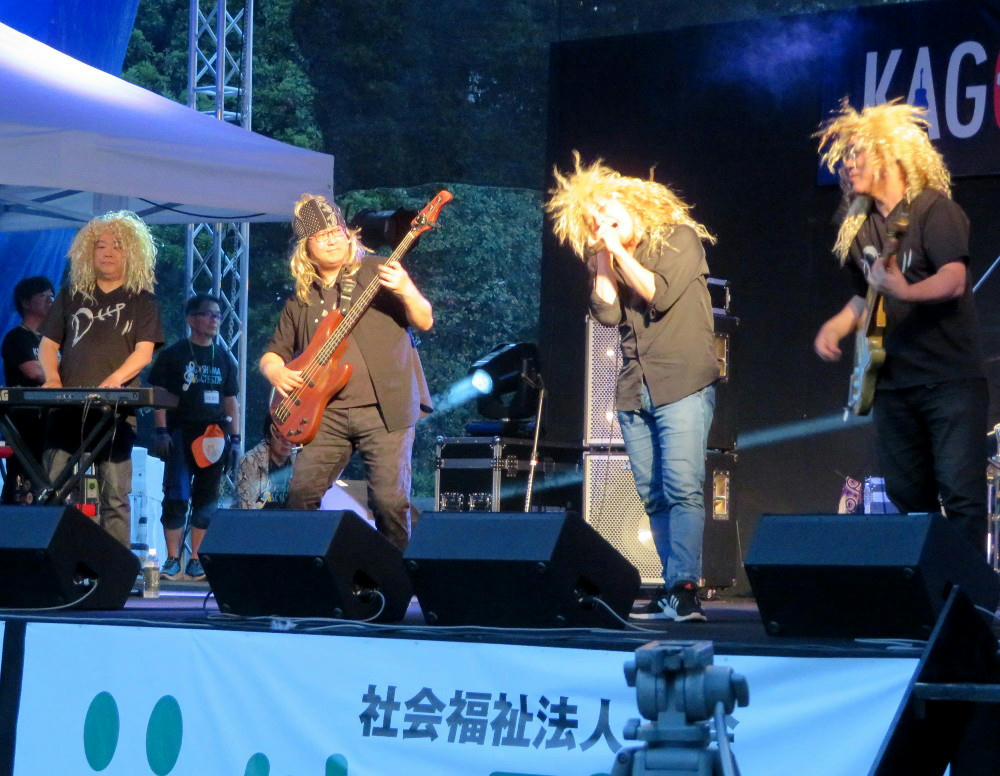 Dep is a Deep Purple/Led Zeppelin cover band, although they did start out covering Queen's "We Are the Champions". The rest of the band was ok, but the lead singer mangled the lyrics. It didn't help that they wouldn't stop when told their time was up. I kept looking at my watch, as it got closer to 6 PM. Finally, Dep finished, and South Shaker got up and immediately jumped into their set - three 80's long hair songs I didn't recognize. I spent the entire time recording them (below), then ran back to the school. Fortunately, the owner decided to give me 5 minutes to stop sweating (the weather was perfect, but getting hot) before starting the lesson.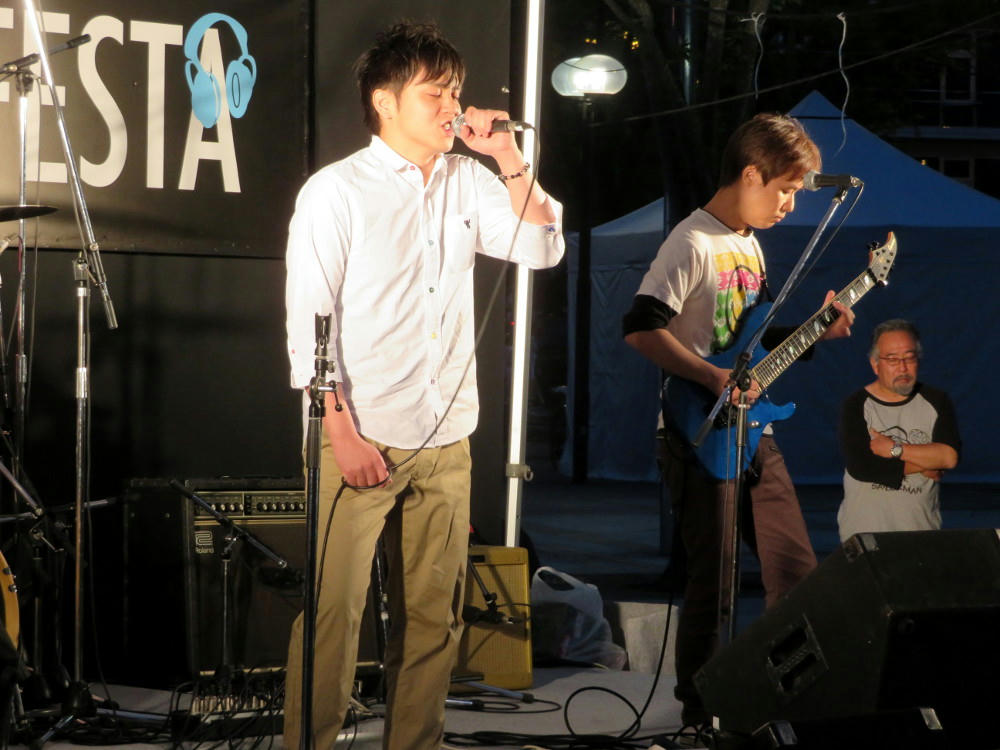 Since the last lesson did begin at 6:15, I was able to get out for the night at a little after 7 PM. That allowed me enough time to see Zon Jovi - a Bon Joni cover band. They did ok, but weren't anywhere near as good as the Bon Jovi cover band that played last year. The lead singer was too stiff and lacked stage presence.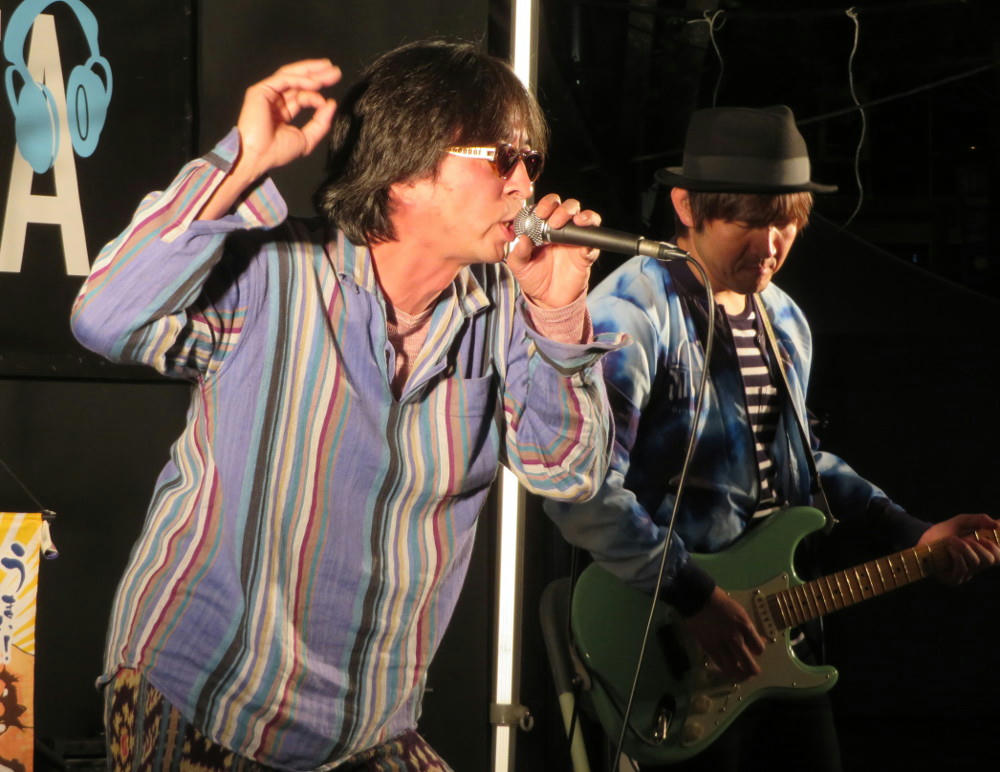 (Horafuki)
The gospel group Mozes sang next, but I don't like gospel. They were followed by Horafuki, who did a kind of hard-edged jazz with Ramones overtones. They were good.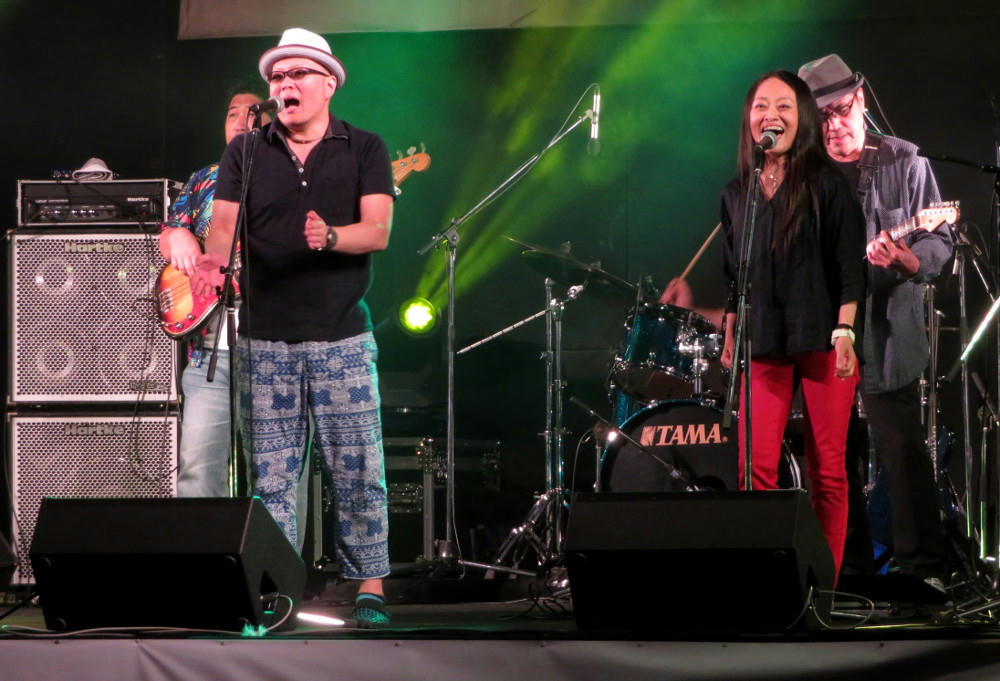 The night ended with 1010, who did decent Toto covers. I found myself, in my business clothes, and with my backpack over my shoulder, dancing along the side of the stage with two of the MCs. That was fun. Then I went home and had dinner, and spent the rest of the evening on the computer.
Day 2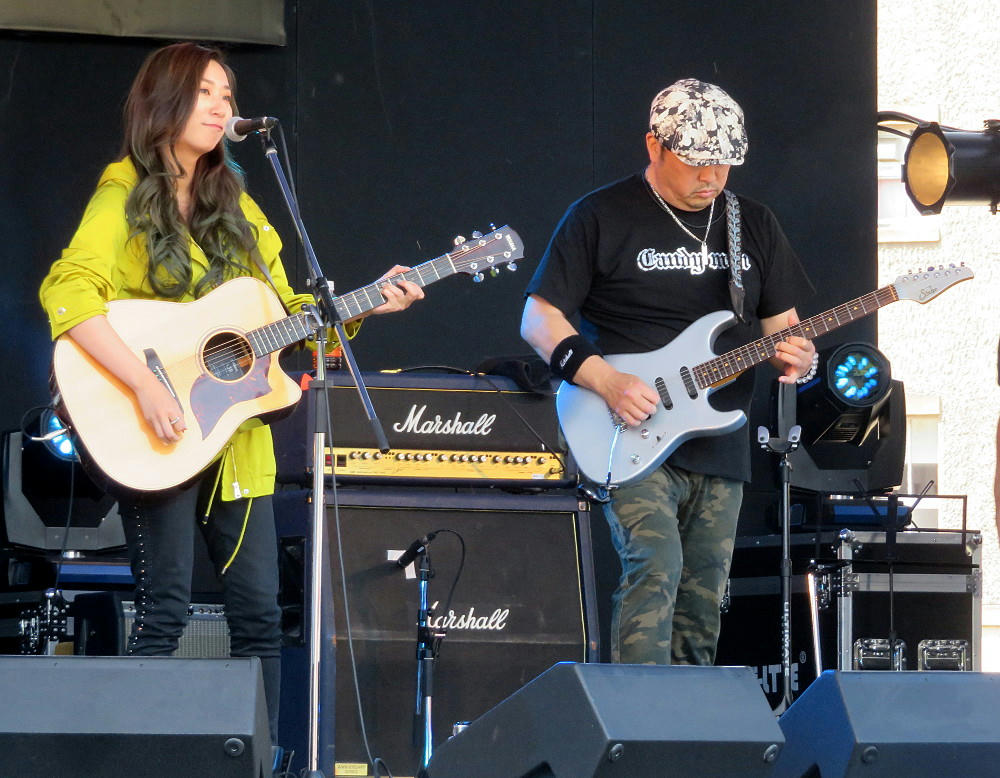 (Kafka)
I had wanted to get back to the park as early as I could to try to catch the 50's rockers The Bogies, but things came up and I couldn't get out the door until right around 2 PM. I got in just as Kafka was in the middle of her set. She's got a kind of Joan Baez vibe, on moderately hard jazz songs.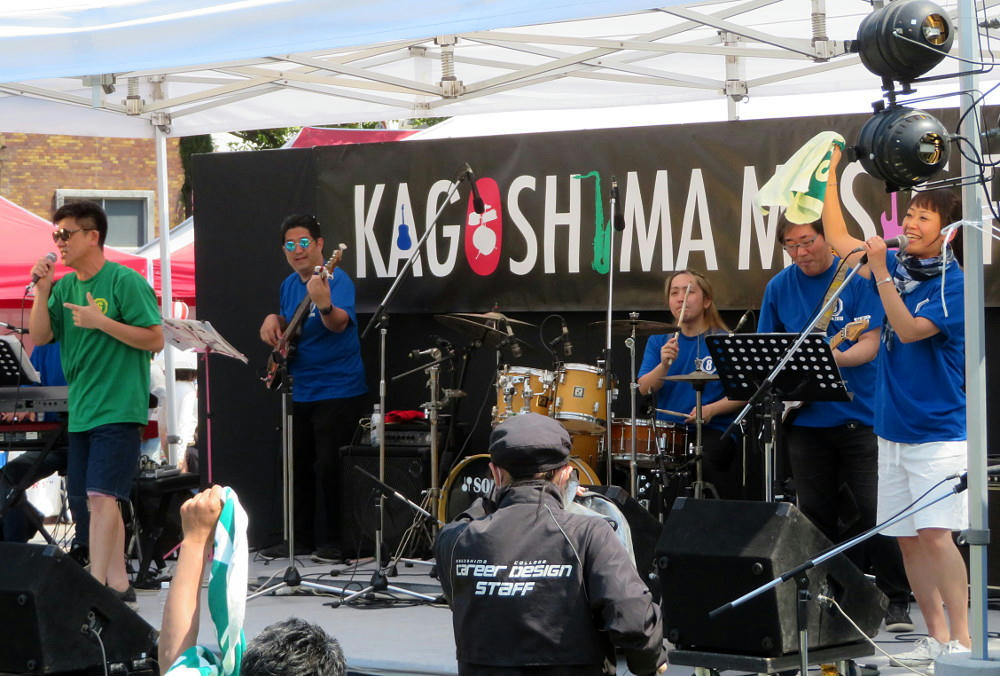 Suizin also did jazz rock.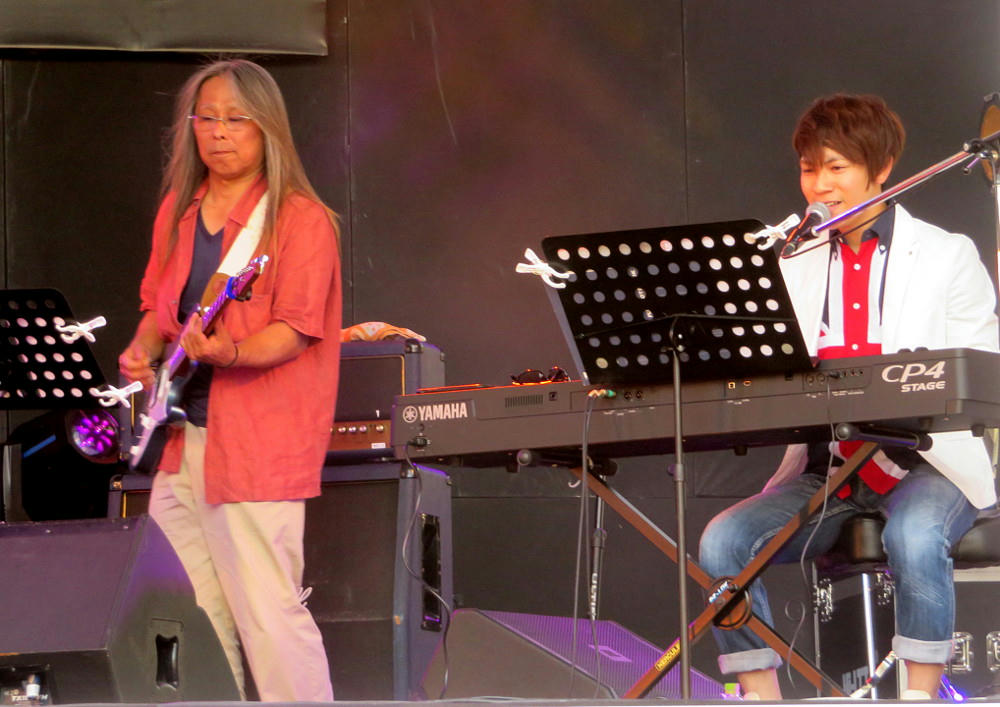 Candyman did the Tennessee Waltz, and several Billy Joel ballad covers, but the singer also mangled all the English lyrics.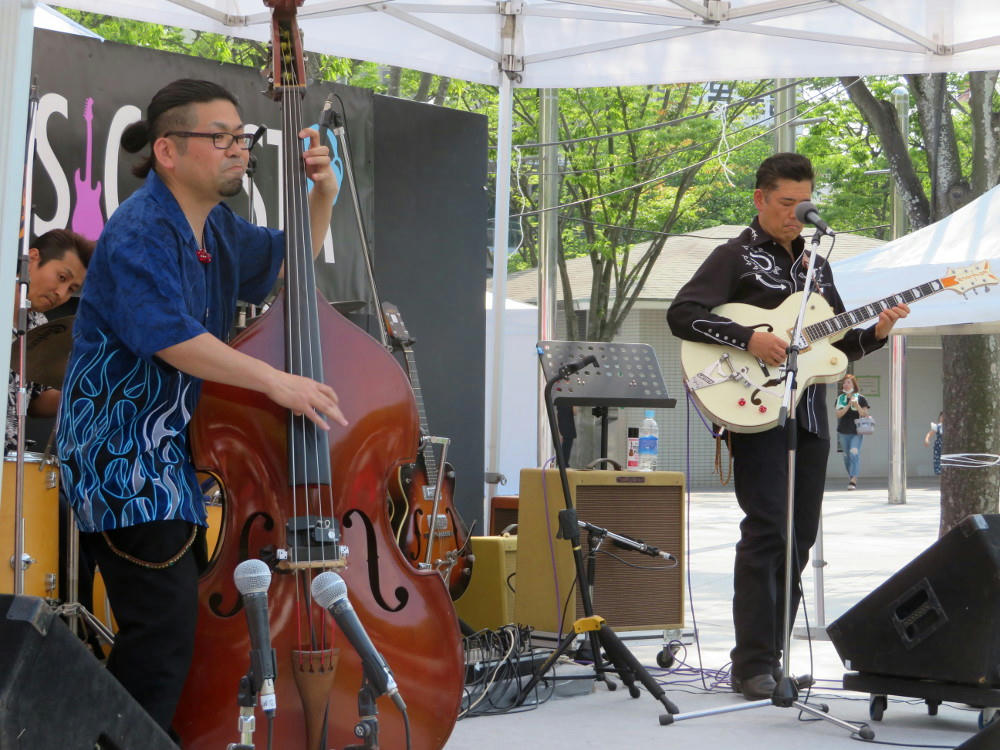 Now, Shears was
good
, doing American rockabilly. They were fun.
I skipped Yasashii Mirai (A Gentle Future), and DJ Pocky's band to go get some coffee from MOS Burger, and a box of lemon Oreos from a drug store selling them for 100 yen (90 cents USD). When I got back to the park, I played 3DS video games as I waited for the next band to go on stage to take photos of them. I did want to see the winery ducks, but family stuff happened again, and I missed them.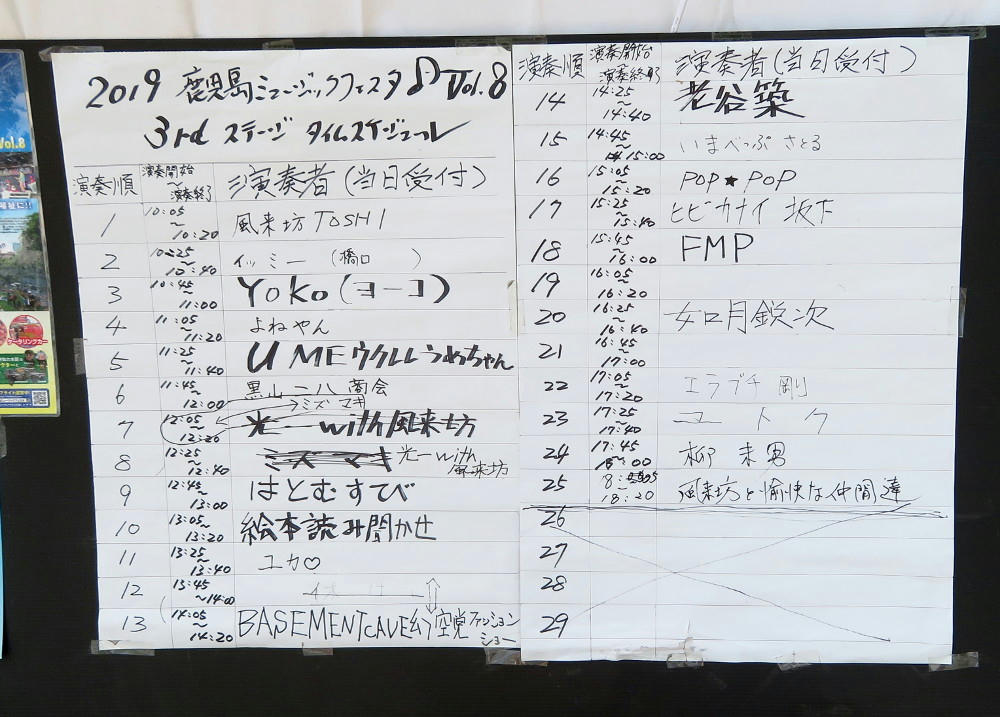 Turned out, though, that there was an unofficial "third stage" run by Toshi the Wanderer, with a write-in line-up.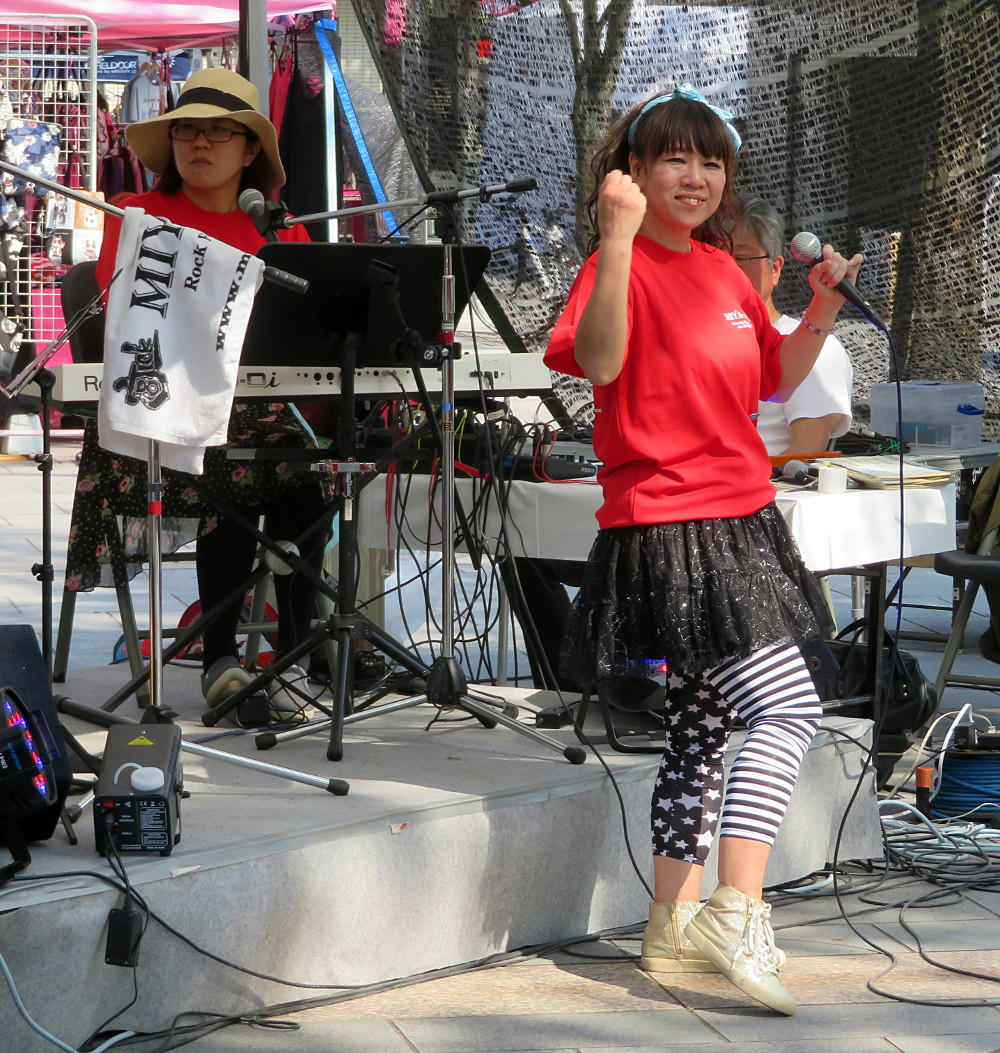 Strictly amateur hour, but everyone was having a good time.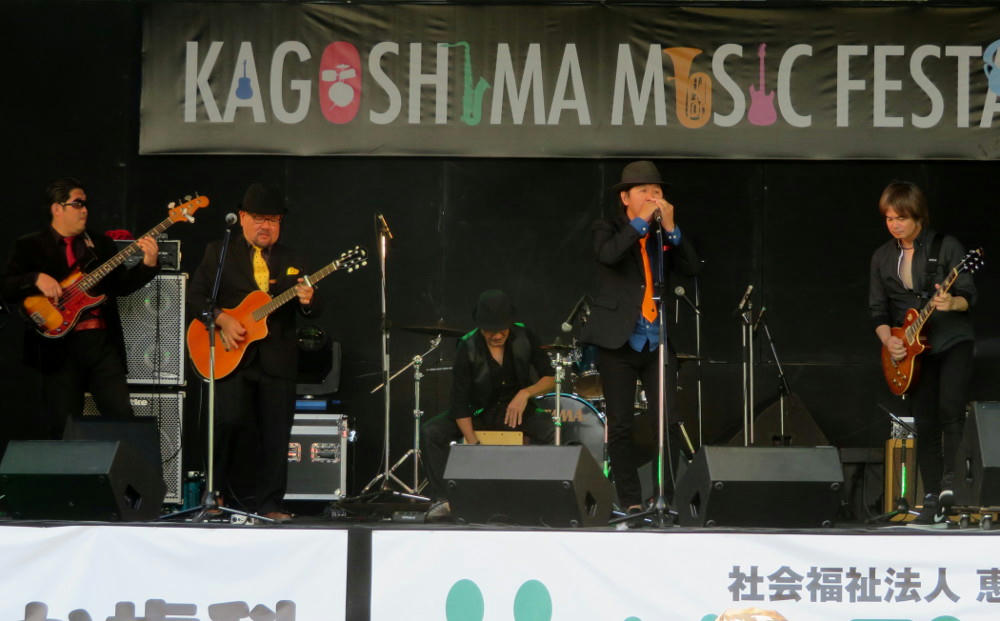 Maburai did a kind of protest folk rock. They were introduced as the Grand Prix winners in the "old men category" of a nation-wide TV talent contest. They were ok.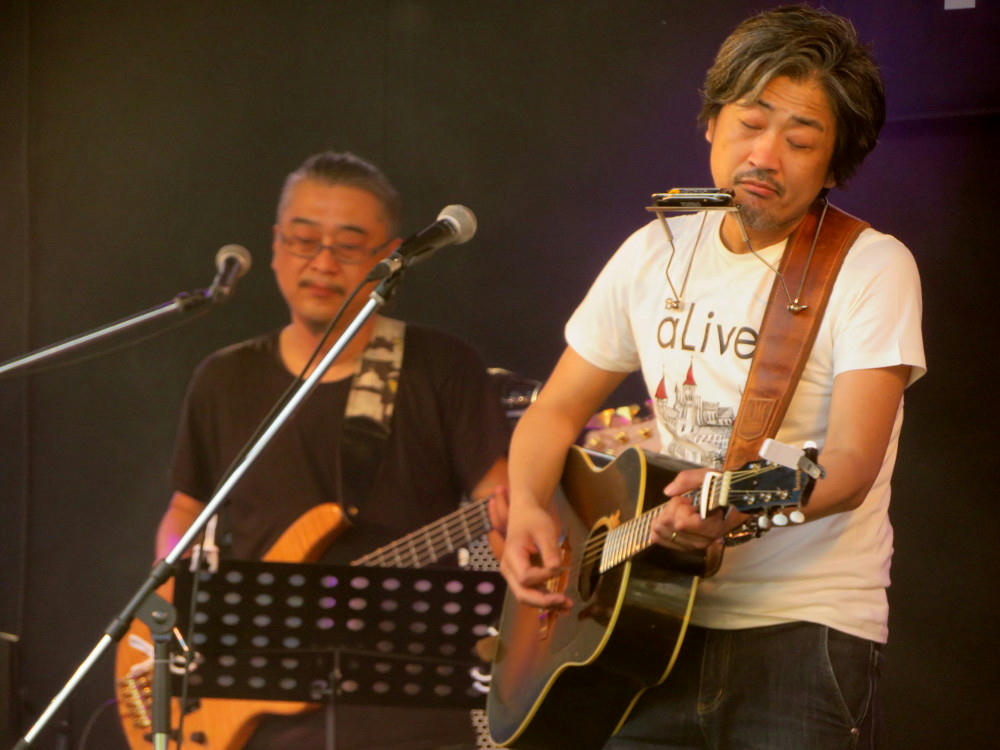 Kouichi also did a kind of protest folk rock. (Sometimes, it's difficult to find the right descriptions for Japanese musicians.) He was pretty good. On a side note, I uploaded all of the good photos I kept (I shot a little under 400 pictures over the two days, and about 70 were worth keeping) to Facebook, and Kouichi and his guitarist both requested tagging themselves on two of the photos.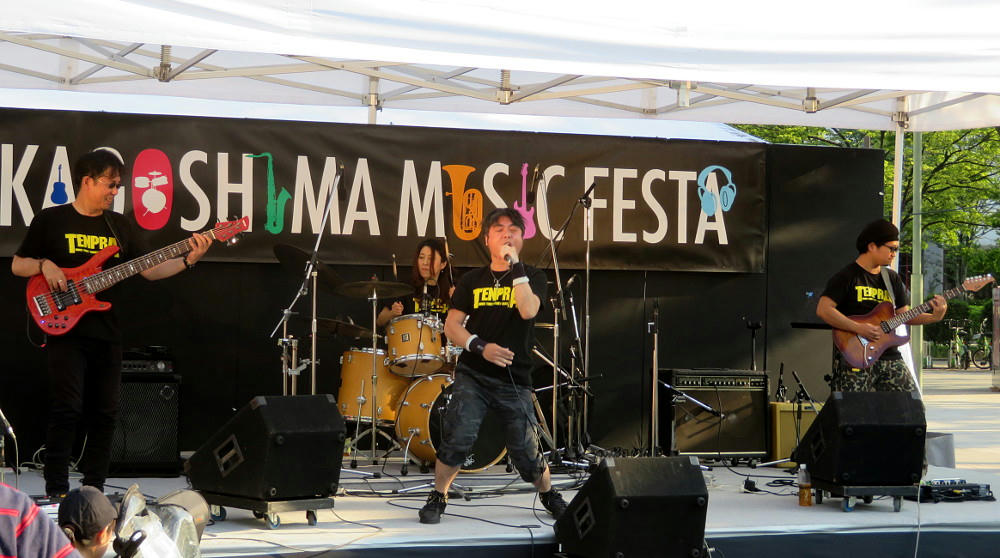 Tempura is a cover band for the American group Pantera. They rocked. The members of South Shaker (two of whom are from Kanoya, on the other side of the Kyushu peninsula from Kagoshima), stuck around for the second day, and both of them banged their heads to Tempura.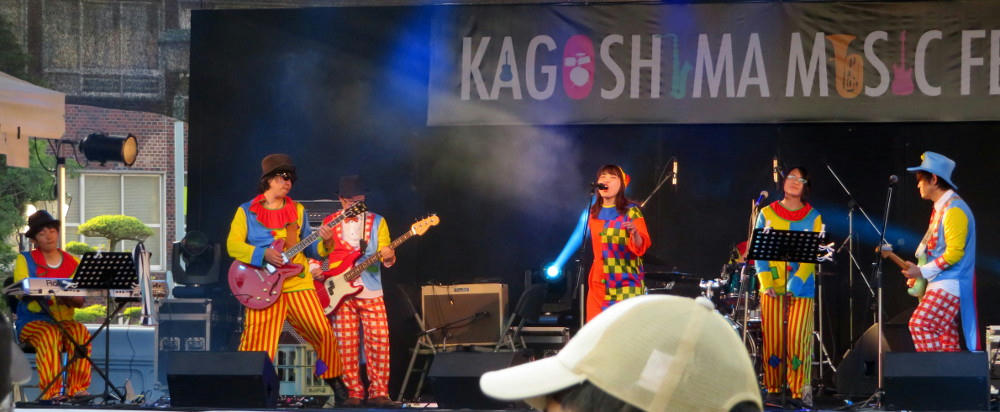 One of the difficulties in documenting big music fests like this is that certain people like to walk into the middle of the crowd and just stop without looking around to see if they're blocking anyone taking photos or making recordings behind them. With the number of people in the park, it was nearly impossible to get closer to the stage without my messing up someone else's shots. Sigh. Anyway, this was Apple Jam. The clown outfits are part of their gimmick, but they actually played decent Japanese rock. The lead guitarist showed up, sans outfit but with the face glitter, to play on a couple other bands, including Wicky's All Stars.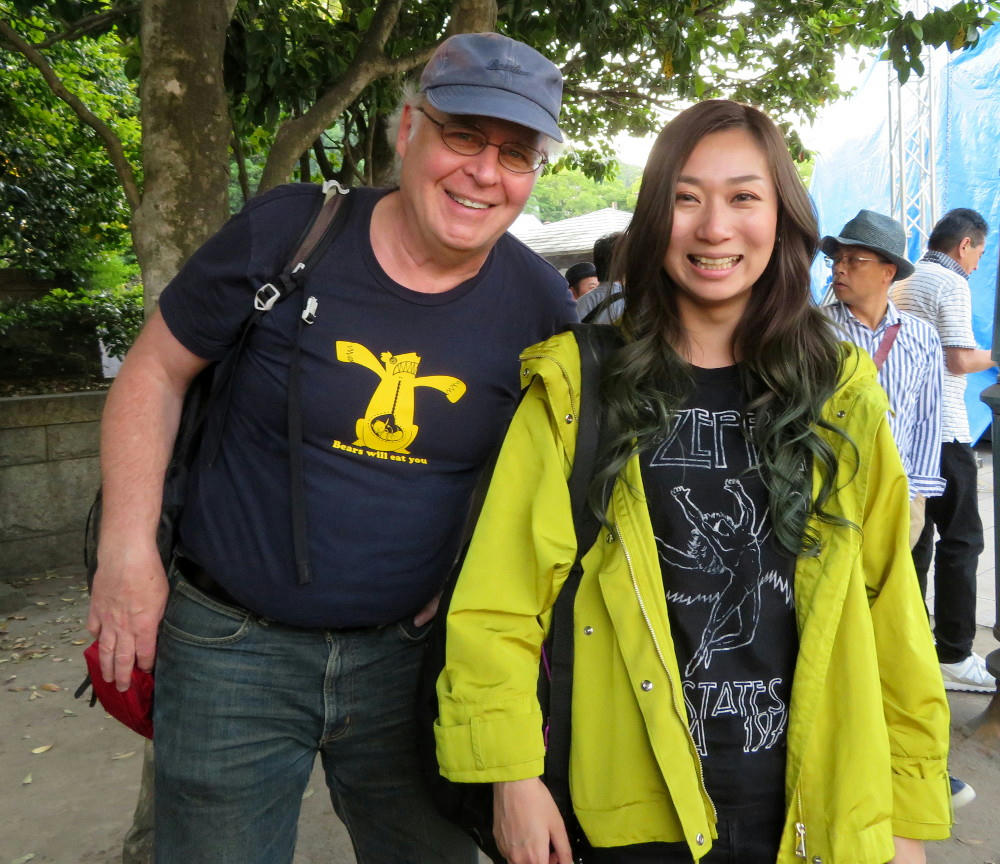 The lead singer of Kafka remembered me from last year, and agreed to pose with me for another shot this year. I'm wearing my Scary-Go-Round "Bears will eat you" shirt.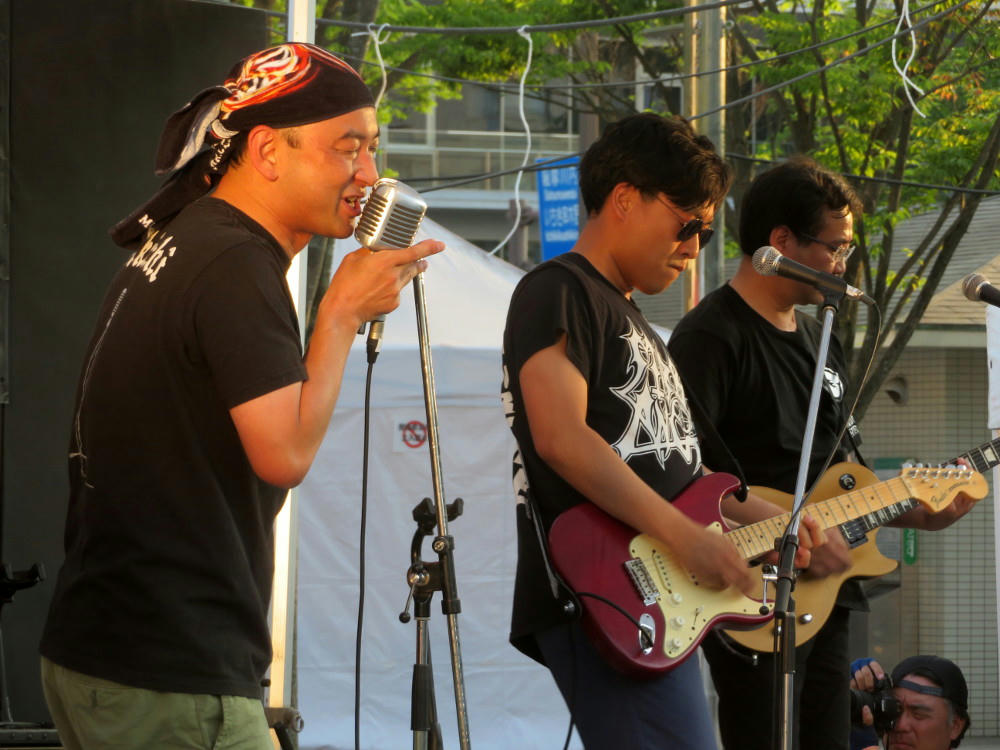 Go! Go! 0185 did campy 80's rock. Silly, but upbeat.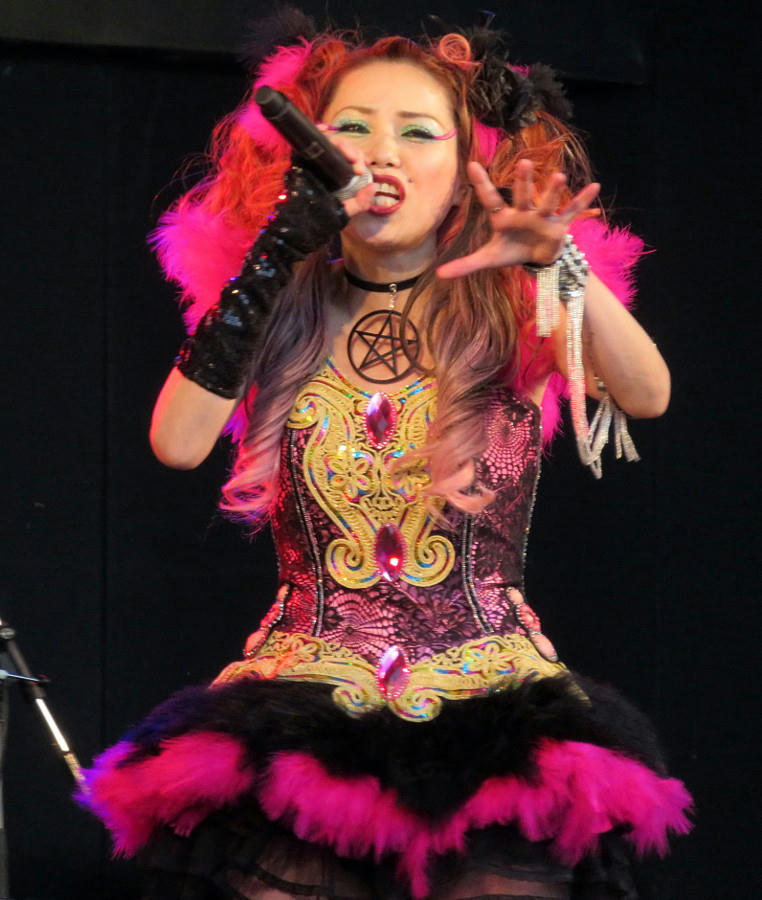 For absolutely over the top glam rock, nothing beat Trinity (I recorded one song, below). I never quite figured out if the lead singer was female, or a drag queen. The crowd loved her.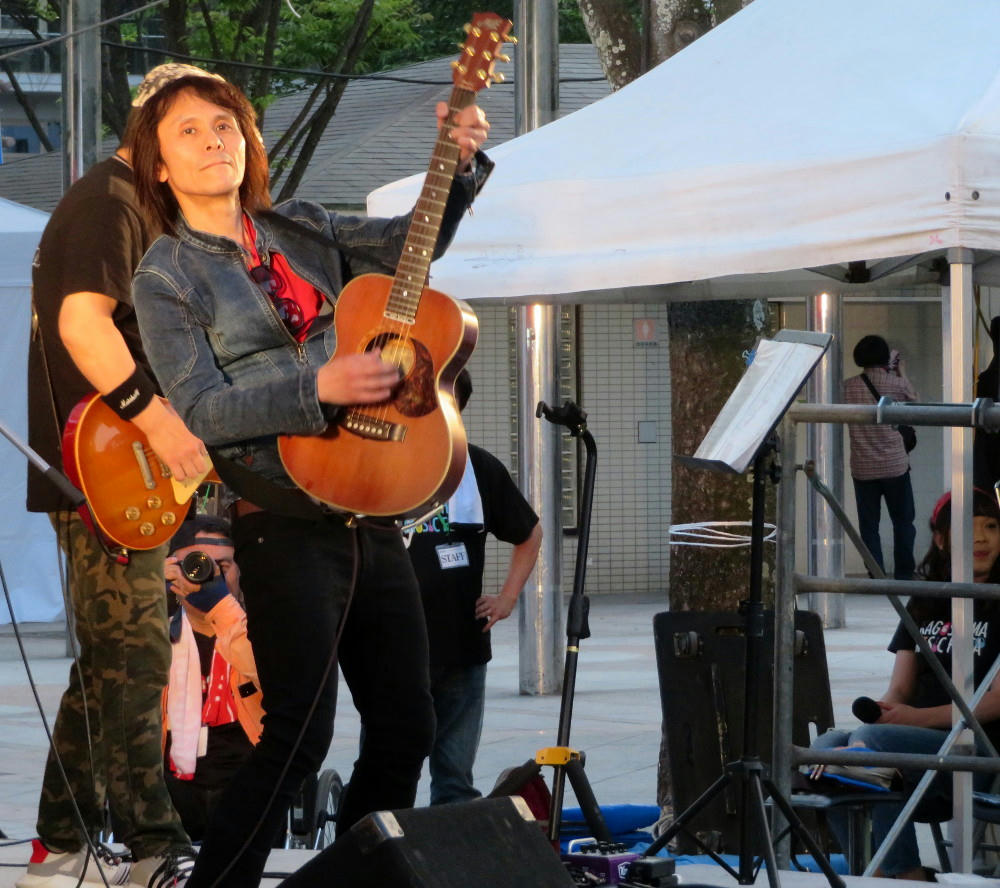 Toshikazu Maruno toured the U.S. 2016, and has 3 CDs out. Born in Kagoshima. He did a good straightforward set.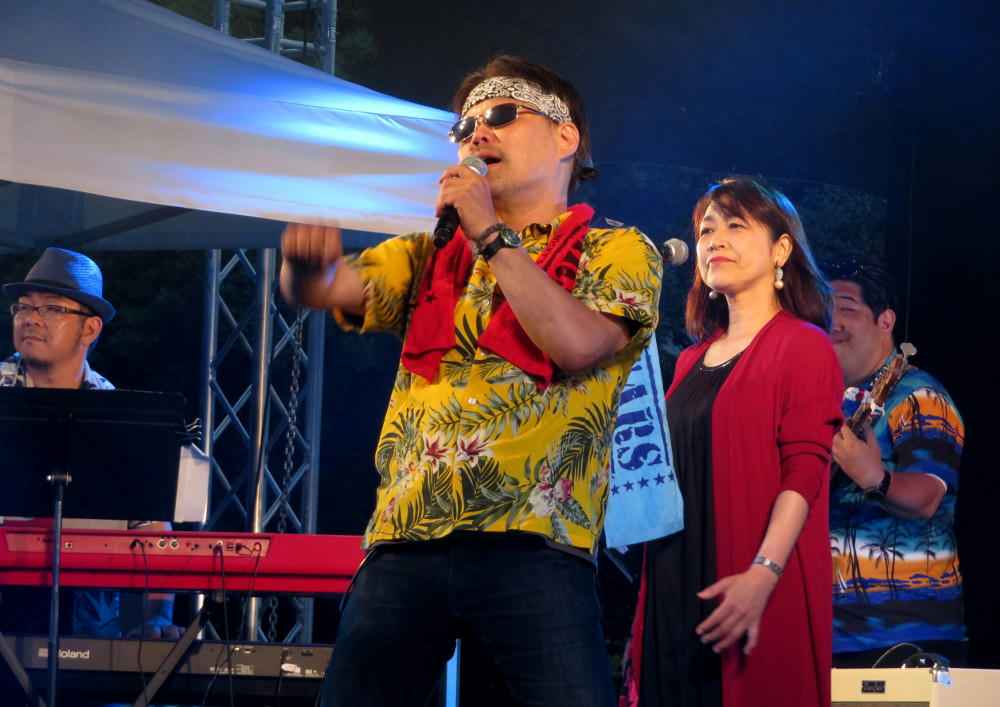 Wicky Toshi finished off the line-up with his Wicky's All Stars, which normally does Southern All Stars covers. But, this time he had an extended band, including surf guitarist and guitar instructor Nonki, and all the songs were much harder rock pieces. Great set. Unfortunately, it's still copyrighted music and wouldn't have gotten past the youtube filters. And, the evening sky, harsh lighting, and misters kept interfering with the camera's light monitoring, so most of the shots didn't turn out.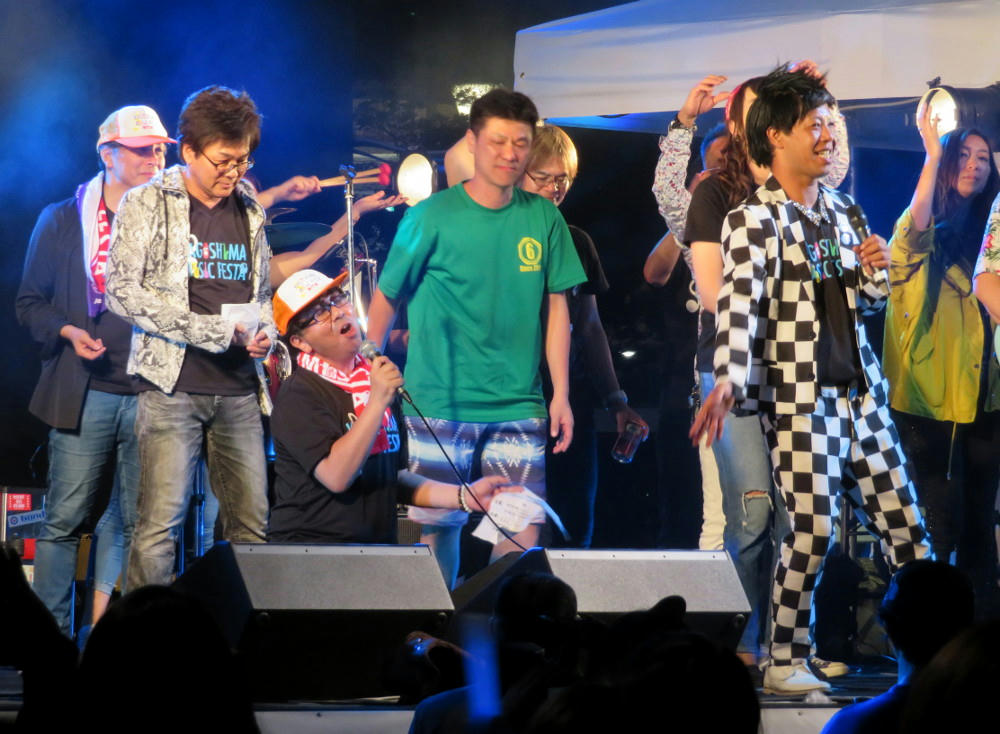 The MCs closed out the night by having a bunch of the performers get on stage for a final couple songs, plus photo ops. That also rocked. The stage shut down somewhere around 7:30 PM, and I was still pumped by the time I got home. I spent the evening with dinner, and editing photos and video for uploading to Facebook. Because Facebook doesn't really allow embedding video links in blog software, I spent part of Monday writing up this blog entry and posting the below videos to youtube. Probably the best KMF I've been to yet.
I mentioned in the entry on Dai Hanya that when I make the videos smaller (640x480) for uploading to youtube, I was getting a lot of pixelation, and I wasn't really sure why. I'm using a Japanese product, called Movie Studio, and all the menu items are in Japanese. I think, at some point recently, the manufacturer made an update that changed the screen resolution to something unusable. Scouring through the movie settings, I found one that seems to translate to "quality" (preview, low, normal, high). It defaults to "normal," so I tried changing it to "high," and the results were greatly improved. Really, I'd say that "normal" is "low" and "high" is what "normal" should be. Anyway, the only views for any of these videos on youtube are me writing up the descriptions and copying the embed links for the blog entries, so I guess image quality isn't that much of a factor.
Direct youtube link 1 (Toshi the Wanderer, South Shaker part 1)
Direct youtube link 2 (South Shaker part 2, Trinity)