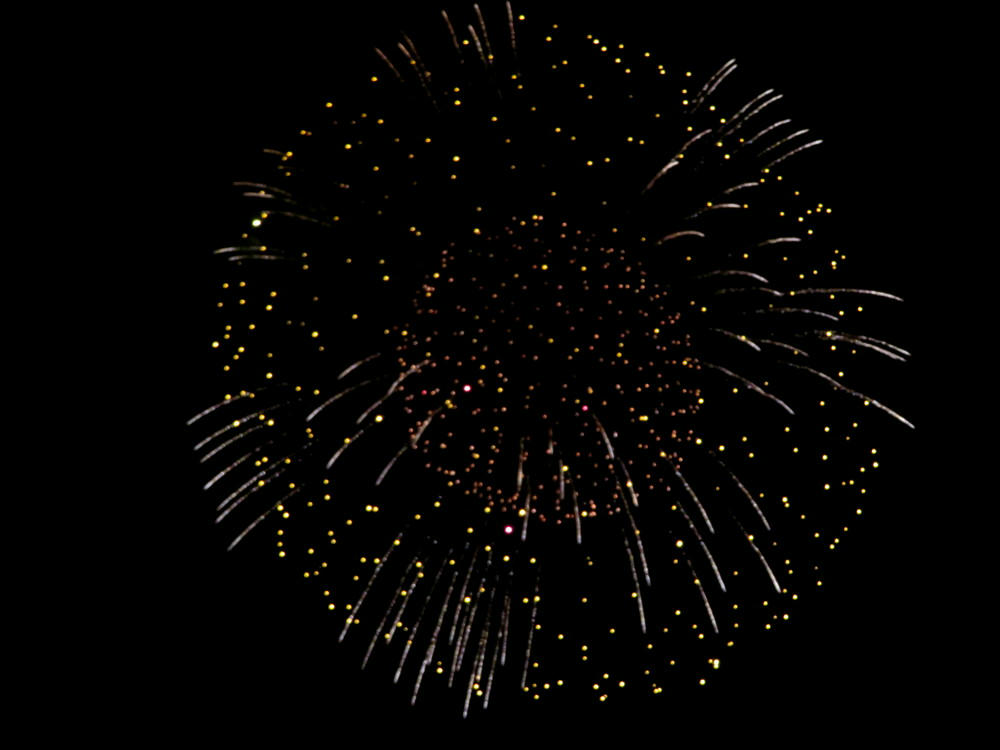 The weekend was kind of hit-or-miss this time. I got some translation cleanup work on Friday, so between that and my regular English teaching classes I was stuck indoors all day. The weather was poor, with predictions of a typhoon coming in, so I was wondering if the annual fireworks display at Dolphin Port would be canceled Saturday. Last year, I had to work until 8 PM, and I got out of the school in time to run down to Dolphin Port and catch the last half hour of the display. This year, I was expecting to work all evening again, but when I got my schedule I discovered that the regular evening classes had been canceled. So, I was pretty happy when I left the apartment at 12:45 PM Saturday afternoon to go to the school, but I quickly realized that I'd forgotten my pocket camera. I didn't have time to go back and get it, and I just kept walking to Junkudo to get the week's newspaper for the school, and then swung by Lotteria to check out the open space there. They had a "Furusato" (local hometown) event going on Friday through Sunday, with farmers selling local produce, a couple food trucks offering pizza and hamburgers, and a small stage with occasional live entertainment. The Southern Cross idol dancers had been featured on Friday, but they weren't doing anything when I'd gone into the school that day. I didn't have my camera now, but all they had on stage was some 4-person group I didn't know doing bad karaoke. After my classes on Saturday, I did my milk buying for the week and returned home for a couple hours, to check email and eat an early dinner (and grab my camera for later).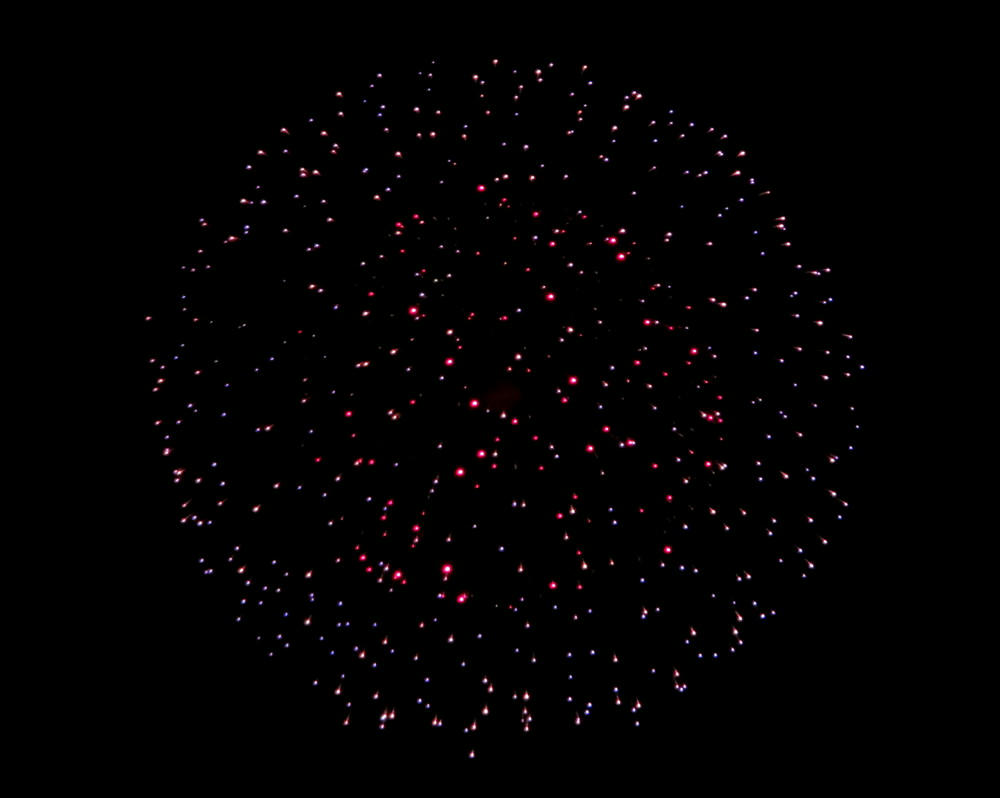 The fireworks were scheduled to start at 7:30 PM, and the skies had gone from cloudy to mostly clear back to heavily overcast again. However, the ad on the radio indicated that the event hadn't been canceled, and I got back out of the apartment at 6:50 PM. In the last five years, I've had problems finding a good place to watch the fireworks. Initially, I'd gone down to Dolphin Port, but the crowds were horrendous, and I had to stand back by the parking lot, with the tree branches in the area blocking the view. The next year I went up Shiroyama hill and watched from the parking lot, but I was so far away (2-3 miles) that the biggest fireworks were only 2-3 inches across at that distance. The third year was canceled because of a potential typhoon. The fourth year, someone I knew spotted me on my way through Tenmonkan and insisted on taking me to their favorite viewing area, which turned out to be in a narrow corridor of apartment and office buildings in front of City Hall, where 60% of the display was blocked off. And of course, last year I missed most of the fireworks because I had to work late. This year, I absolutely wanted to try an idea I had.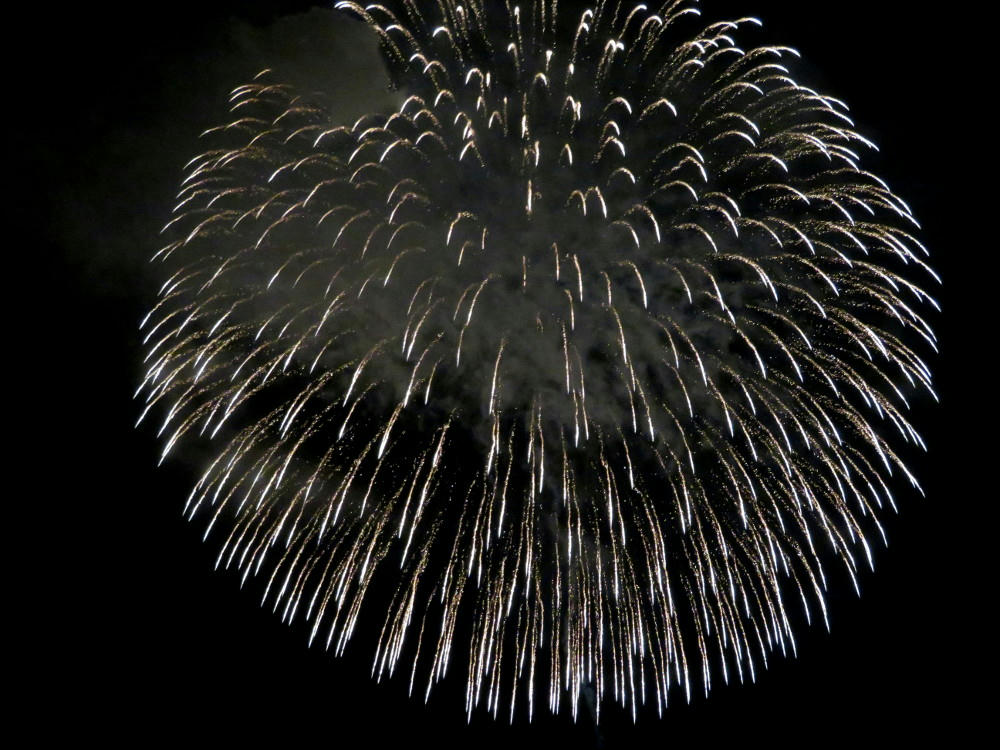 Some time ago, I'd shot a time-lapse video of the Sakurajima volcano, and I'd discovered the location where Saint Xavier had landed in Kagoshima during his journey to convert the Japanese to Christianity several hundred years ago. The memorial for the landing spot is half a mile north of the aquarium and ferry buildings, next to a senior care center. The land behind the center holds a soccer field and baseball diamond, and is right next to the mouth of the Inari river (which had been the heart of the original Kagoshima port town, and is now part of Ishibashi (stone bridge) park). My plan was to go to the baseball field and see how crowded that was. I expected that it would be mostly deserted, and I'd have a clear view of Sakurajima from there. Otherwise, the barrier wall behind the senior care center fronts a walkway skirting Kinko Bay, and I could lean against that and watch from the edge of the Bay. As mentioned above, I got out of the apartment at 6:50, and I started walking toward City Hall. Along the way were couples in yukata (evening kimono) and families heading in towards Dolphin Port. In fact, when I got out of the school down by City Hall at 4:30 PM, lots of people were already walking towards the Bay to pick out their places for the evening. By 7:30 PM, I'd gotten to the Bay, near the aquarium, but I still had a long way to go to get to the landing spot. The fireworks started, and I could pick them out between the trees lining the areas occupied by fishing companies, construction companies and the bus parking sites. Mostly, I just heard the explosions and popping. I stopped at a 7-11 to get a bottle of Coke and a fifth of cheap whisky to have something to drink that night. 10 minutes later, at 7:40 PM, I arrived at Stone Bridge Park, and took a staircase down the hill to get to the edge of the Inari river mouth. I followed the barrier wall, where a number of families had set up picnic tables and folding chairs to watch the festivities. As I made my way along the barrier wall walkway, I realized that the baseball field was surrounded by trees, and there was no view of the volcano. Instead, I found an unoccupied point along the walkway and made my camp there. I had a beautiful, unbroken view of the fireworks, and I wasn't so far away that they looked like a postage stamp. I took a few photos, some video, and enjoyed my whiskey and Coke.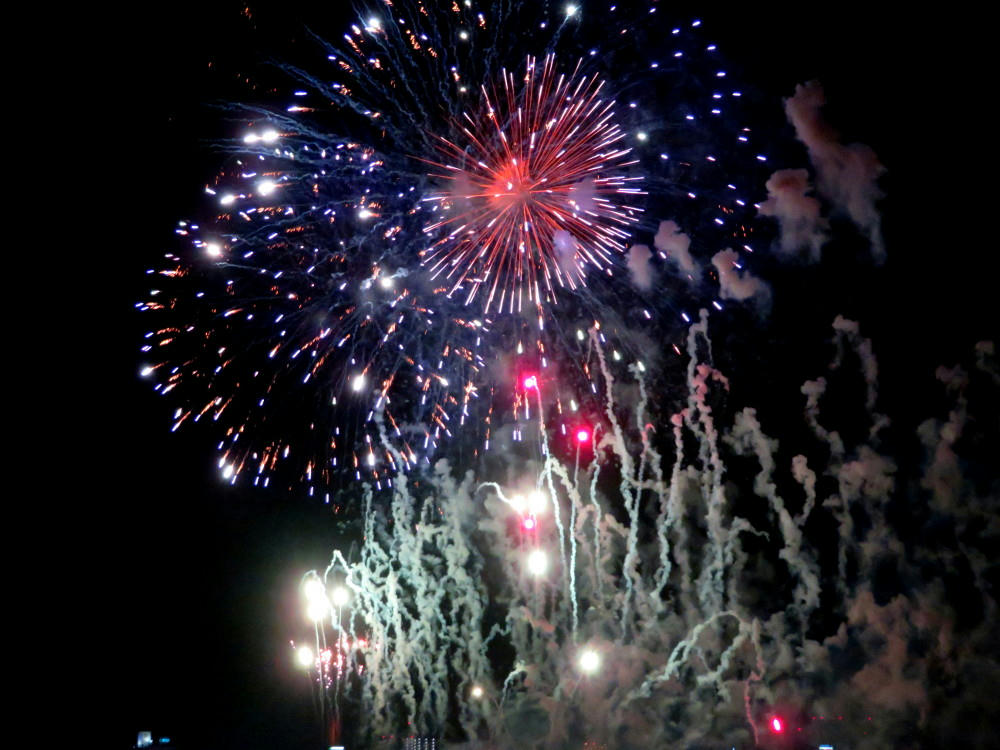 Japanese fireworks are paid for by companies and department stores. One way to tell how the economy is doing is by estimating how much fireworks any particular sponsor bought. You can tell when the crew is switching sponsors because there's a long lull between bursts. During one lull, a Japanese guy, looking to be a factory worker, turned to me and asked in broken English if things were over yet. I replied back that the schedule said that it should end at 8:40, and there were still 15 minutes left. I then asked if he were drunk, and he answered with "No money." He thought about this for a second, and joked that "no money" sounded like "nomu nai" (can't drink). "No money nomu nai". I thought that was pretty funny. The fireworks started up again, then went into the big finale, and ended right before 8:40. (The total display was just marginal, indicating a weak economy this year.) The Japanese guy went his way, and I followed the crowd out through Stone Bridge Park, along a path different from the way I'd arrived. I got to a new stretch of street, a few blocks north of the old Kagoshima train station, and reached a point where a couple in front of me was blocking the way as they slowly strolled forward. It was starting to rain, and they had their umbrellas out. I looked at the street - there was a wide shoulder along the sidewalk, and no cars coming up behind us. Up to this stage, I'd often gone into the street to walk around people going slower than me, and I was going to do this again now. I stick my right leg out and get ready to step down on the black tarmac, when I suddenly discover that the sidewalk is raised 8-10 inches above the street and there's nothing under my foot now that my entire weight is coming down on it. I fall face first into the street, and my instincts kick in, so I catch myself on my left hand, right shoulder and right knee. I go down cursing, and get back up right away. The couple I'd tried to pass ask if I'm ok, and I just say I'm fine. At the time, it felt like I'd scraped up my left palm and wrist, and my right knee, but later they just turn out a bit sore, and I didn't tear up the knee of my jeans as I'd feared I'd had. The greatest damage was to my pride, and I'd given up on that one ages ago.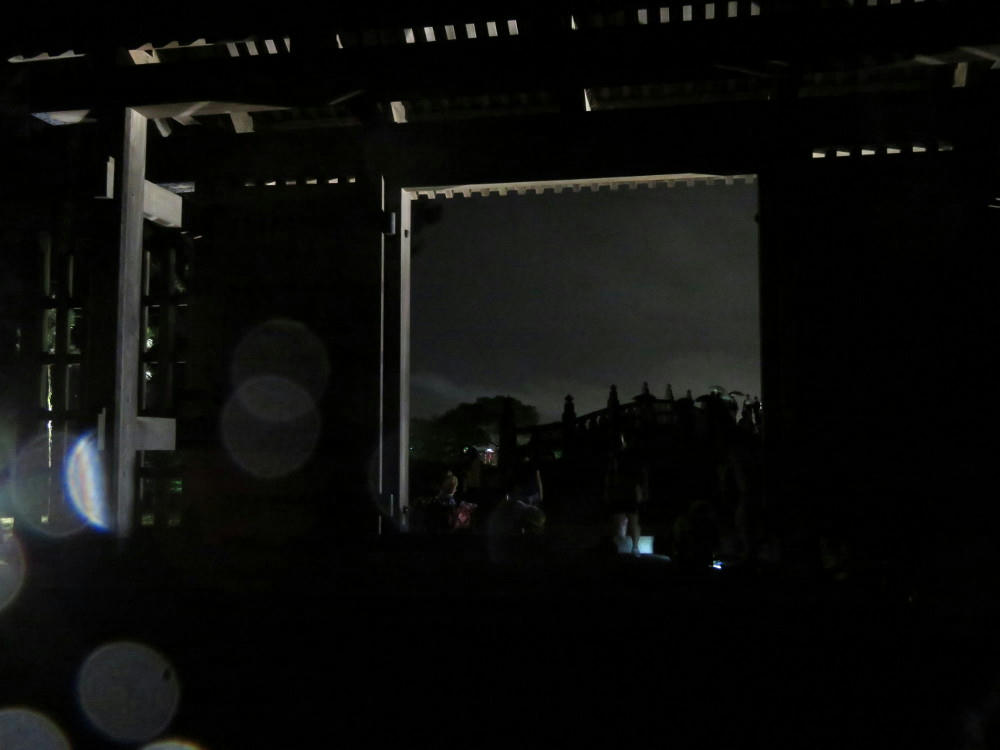 (Looking through the old main gate at Stone Bridge Park.)
After reaching the old train station, the streams of people leaving their viewing spots went from the tens, to the hundreds. Getting closer to City Hall, we had to stop at the street lights so the traffic cops could direct everyone back and forth. From the aquarium to Tenmonkan, when the lights changed to east-west, the crowds of people crossing the street in front of me were nearly uncountable. This is also when the rain started coming down harder and I had to decide if I was going to pop into a konbini to buy a cheap plastic umbrella. My hope was to make it all the way to Tenmonkan, where the walkways are covered, and then stop at the police box there, where they had cheap, tiny umbrellas out for emergencies like this. I'm starting to get soaked, and I want to avoid the bulk of the people, but I stay on the main sidewalk and hug the buildings to avoid getting too wet. Finally, I get to Tenmonkan, and try ducking into part of the less trafficked walkways to get away from everyone else. I'm not the only one to think of this, so I still have to fight my way past the more casual strollers. When I eventually get to the police box, all the emergency umbrellas are gone. I walk through the arcades and get to the south end of Tenmonkan, only to find that the rain is just pounding down now. A good 50 people are loitering around, trying to decide what to do, and another 20 are queued up in front of the taxi stand, waiting for taxis to arrive so they can ride back home. I work my way back a block to 7-11 to buy a cheap plastic umbrella for 500 yen ($5 USD), and they have nothing left. Instead, they have a line 10 people long just waiting to use the store's toilets.
I go back to the south end of the arcade, and throw myself out into the rain. 2 blocks farther down, I get to a Family Mart. They've sold out of all the umbrellas in the main store display, and a clerk is carrying an armful more out from the back room. There's about 20 people in the store buying umbrellas, more snacks for the night, and lots more beer. I get my umbrella, then check to see if I'd broken anything when I fell. I had my backpack with me, and the pocket camera in a belt pouch at my right hip. Fortunately, the pack didn't have anything valuable, and I hadn't landed directly on the camera. I get to the street, and the rain is coming down even heavier. I get more soaked now than when I didn't have the umbrella. I don't get home until 10 PM. I took 50 minutes to walk to my fireworks viewing spot, and over an hour and ten minutes to get back.
It's now Sunday noon, my time. The Ventures are playing their 60th anniversary concert at a music hall in Tenmonkan in 2 hours. I have family things I'd already committed to before learning about the concert so I'm going to have to miss it again this year, too (this is the third time I've missed them in 4-5 years).
Just another day in paradise.