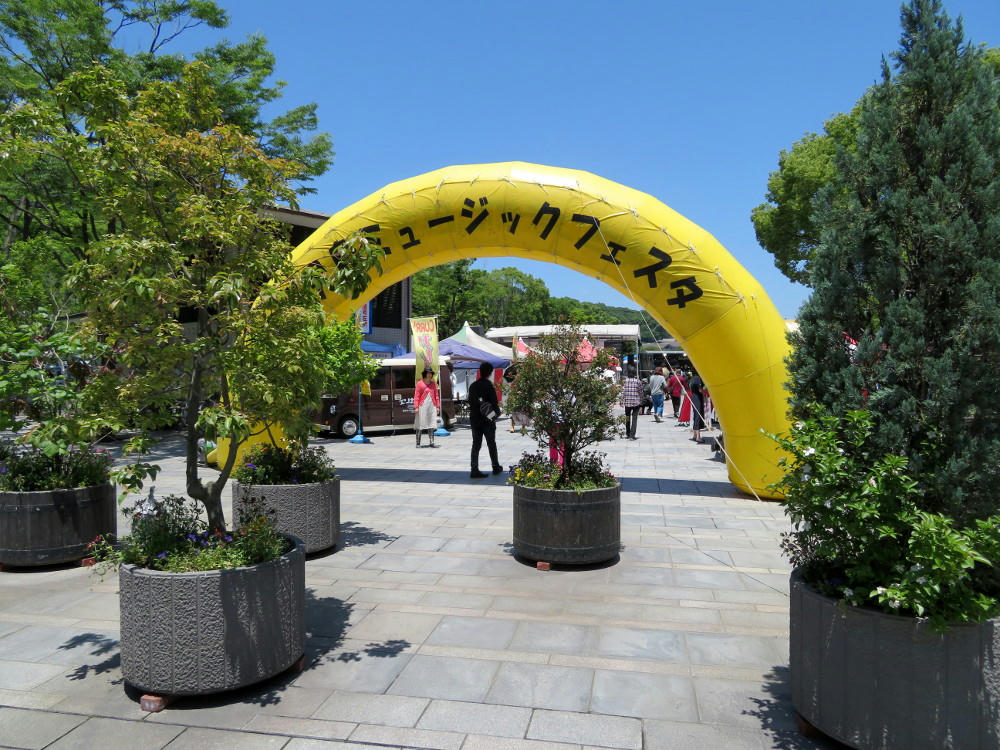 I'd kind of been anticipating the KMF this year with mixed emotions. Yes, I was excited about it, and I did want to listen to the bands, but having seen the schedule in advance, there was almost no one I had any interest in. My two favorite KMF bands have been
Bon DX
and
South Shaker
, but neither of them played this year. I do like
Wanderer Toshi
, and
Wicky Toshi
, but Bon and South Shaker are at the top of the list. Having said that, I did enjoy the first day, Saturday, May 12.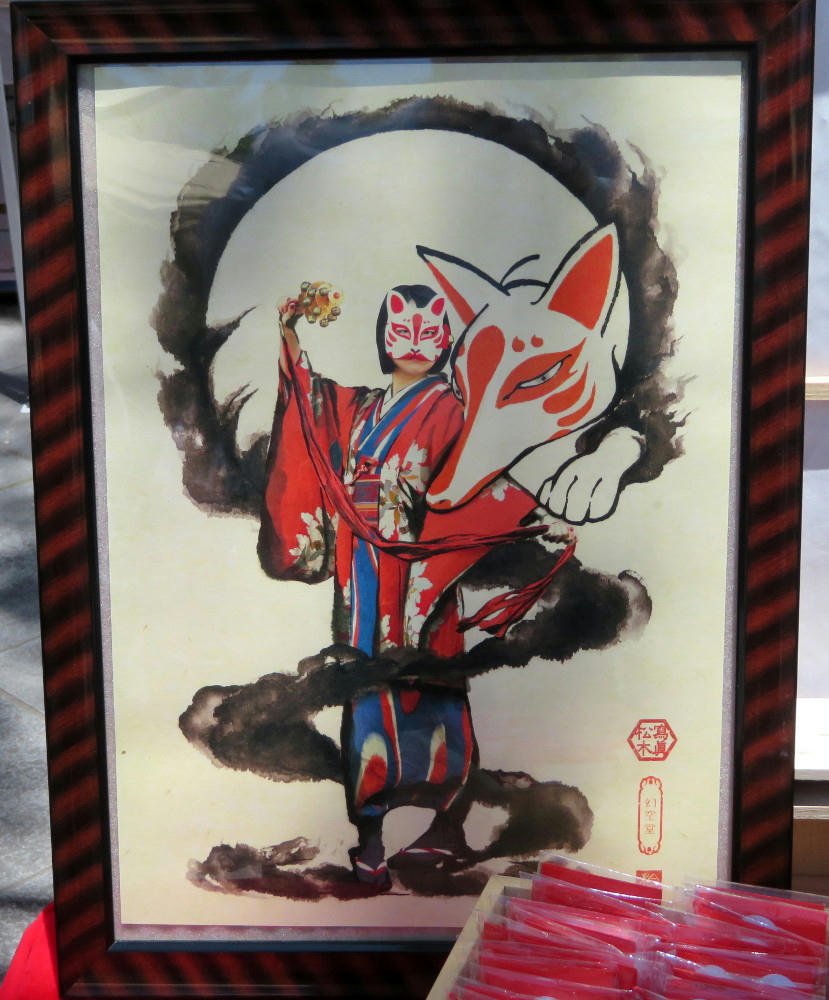 The woman that paints kitsune masks was present, and she's gaining lots of followers. Above is a calligraphy piece that shows her in costume as a kitsune. When the crafts tables started closing at 5 PM, she and her husband led a troupe of masked children and adults through the park.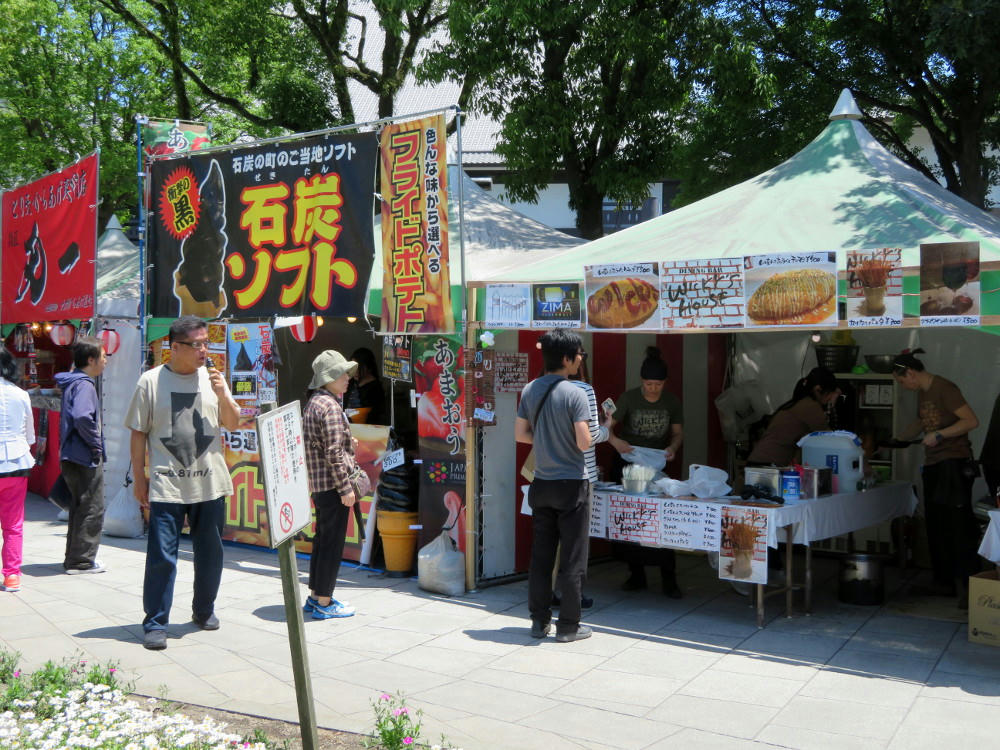 As always, there was a lot of festival food, but this time they also combined the arts and crafts tables that are usually set up nearby on Saturdays in the Tenmonkan arcade. The food prices were mostly reasonable, I think, but beer was $5 a cup. Shochu was a bit better, between $2 and $3 a cup, depending on the brand.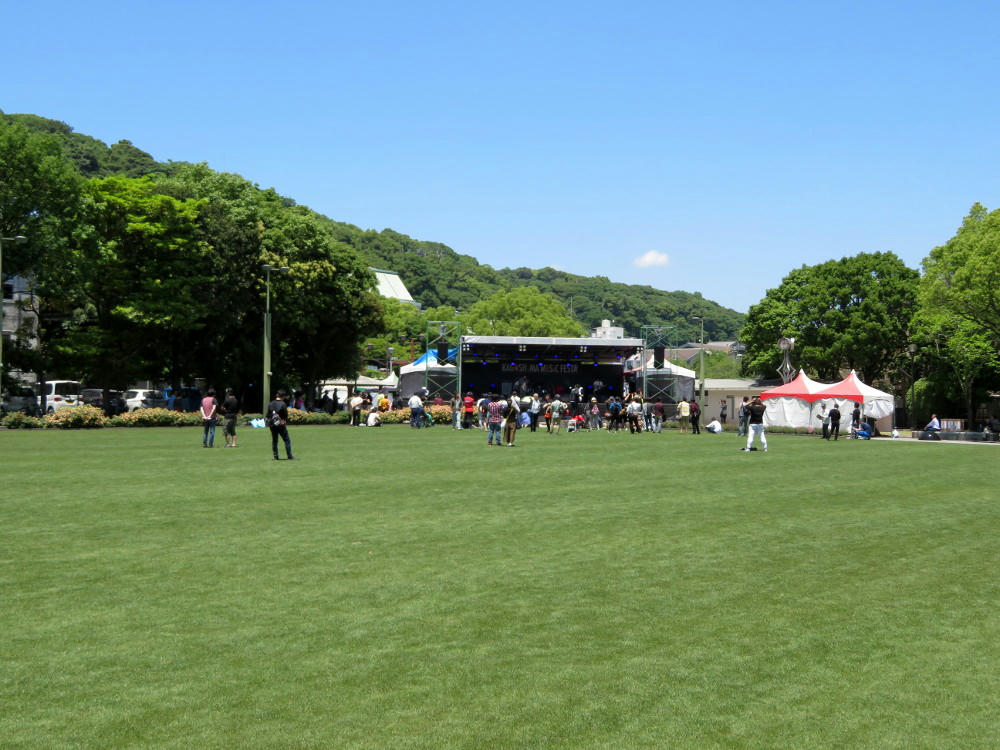 I had classes from 1 to 4 PM on Saturday, but my 7 PM class had gotten cancelled the day before. The weather started out perfect, but the sky clouded up in the afternoon, and at about midnight we started getting rain. The rain got heavy somewhere around 6 AM Sunday, but had mostly blown off by Sunday noon. I got something of an early start going into the school at 12:15 PM Saturday, so I passed through Central Park to get a schedule. At this point, the crowds were very light. I ended up running into the sax player for Bon DX, and he was very friendly (he'd brought his daughter out to watch the Southern Cross dancers). We talked for a bit, and he actually ran off to get me a copy of the schedule, which was nice, then I took a few photos for the blog, and continued to the school.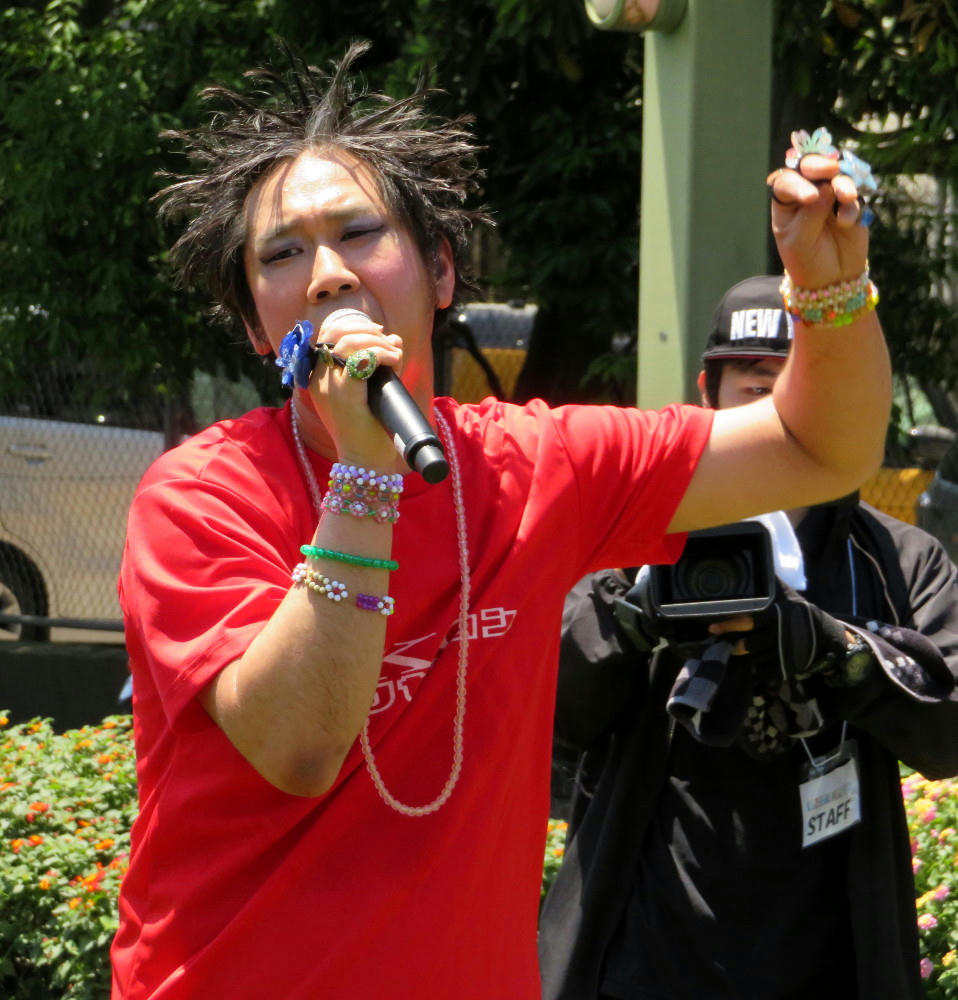 KC Succession
was playing. They're a "tribute band" (meaning they play covers of a specific band while trying to copy the original as closely as possible) for the 80's punk protest group RC Succession. The singer ran out into the middle of the crowd and followed people around as he sang. The audience ate it up.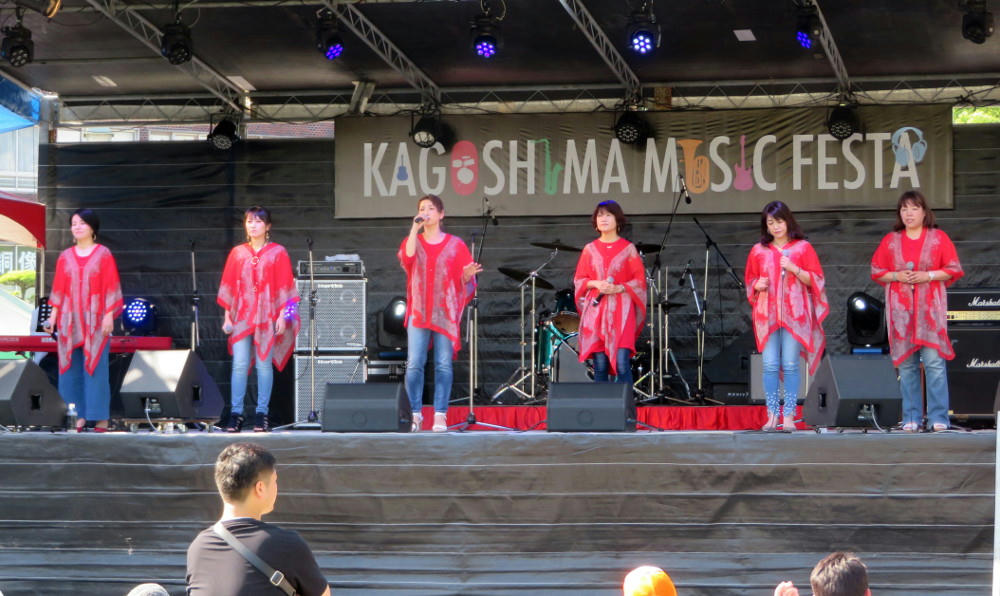 I returned immediately after my last lesson for the day ended at 4 PM. The gospel group
Moses
was singing then. I didn't care for the religion-centric lyrics of the first two songs, but the final one, which was more straight simple music, was performed really well.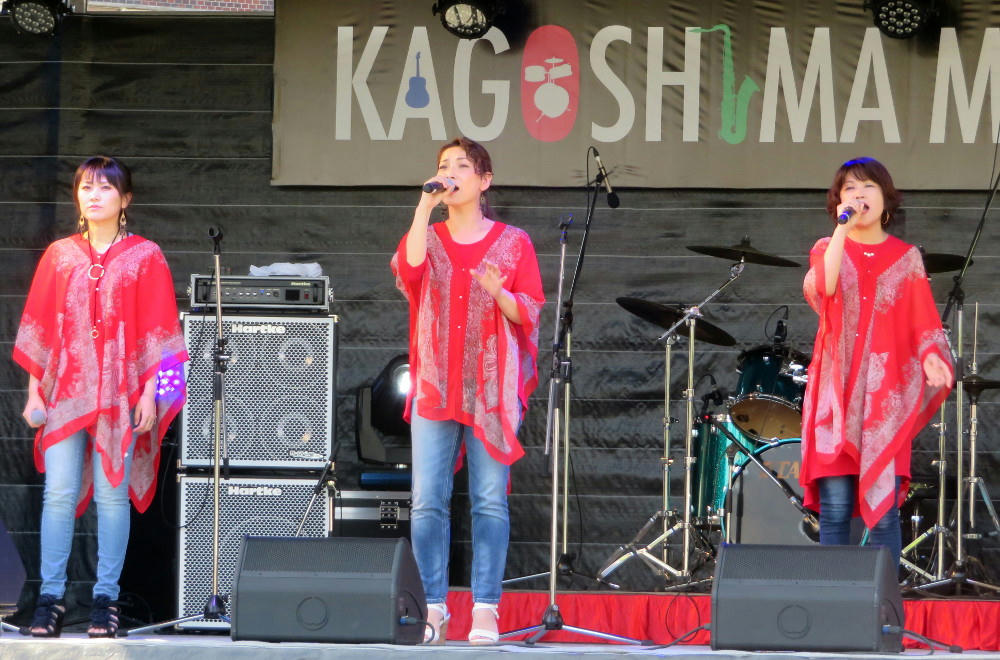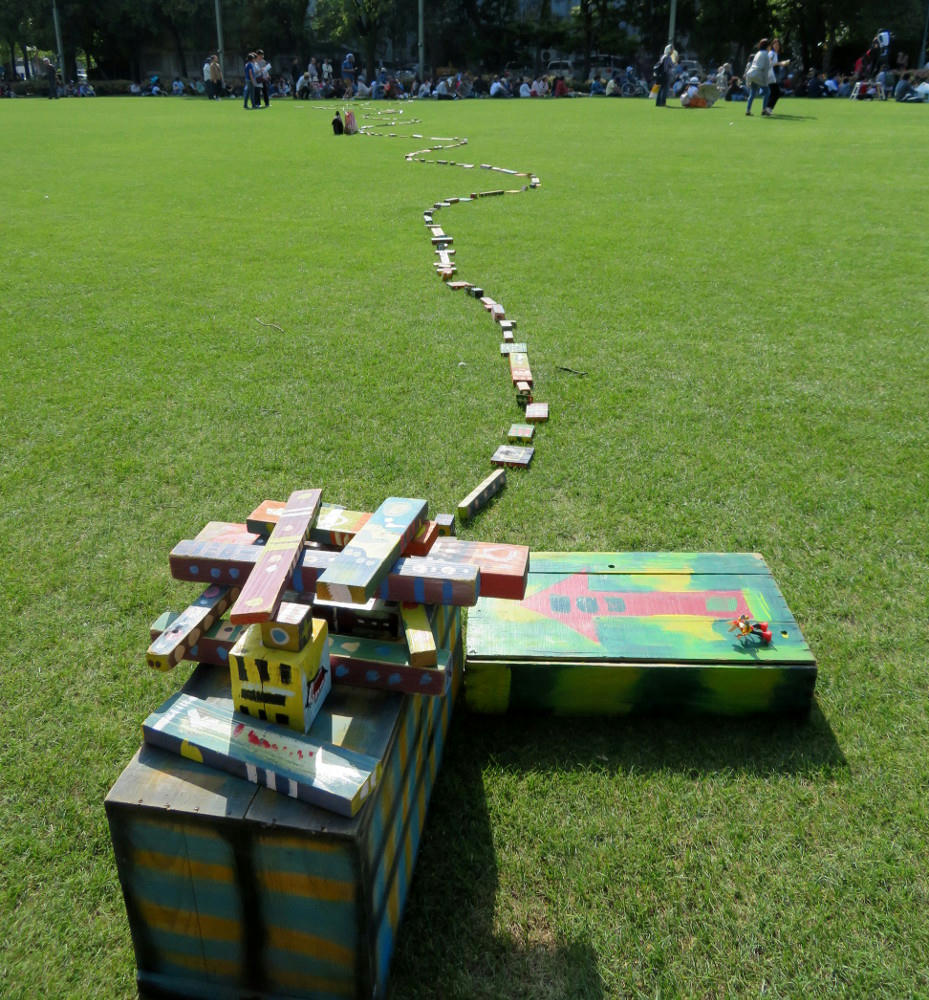 There was a bit of a more playful element to the festa this time, too. Someone had brought a mountain of small painted pieces of wood, and people were encouraged to rearrange them into mazes or walls as they liked.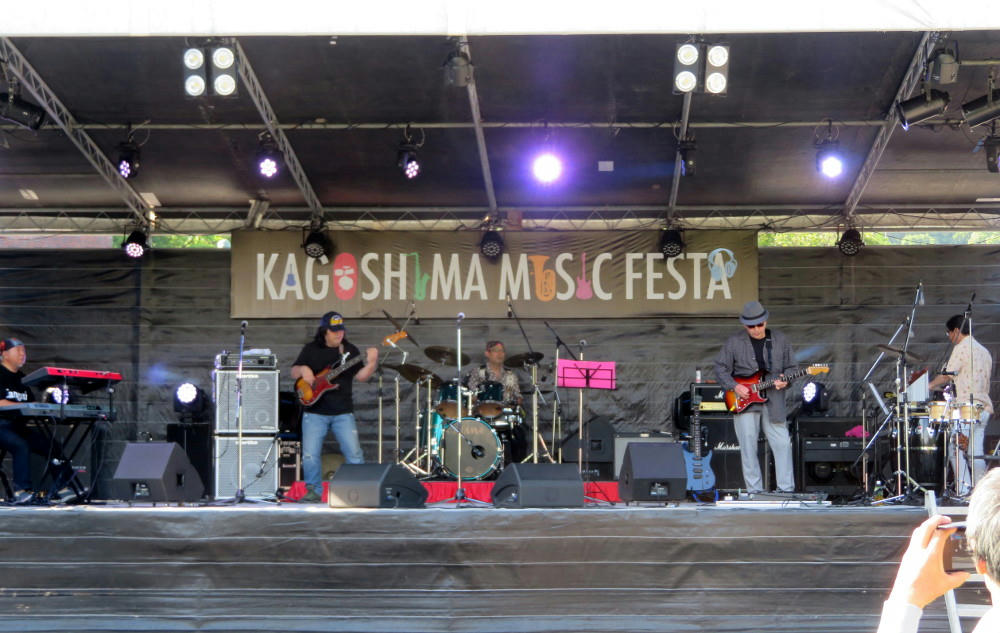 Moses was followed by
1010
, a TOTO cover band (I think the name 1010 was supposed to be a play on TOTO, but the announcer read it as ichi-zero-ichi-zero). They played well, but their singer was off enough that apparently youtube isn't flagging them for copyright violations, yet. (They're in sampler 3 below, if you want to check them out.)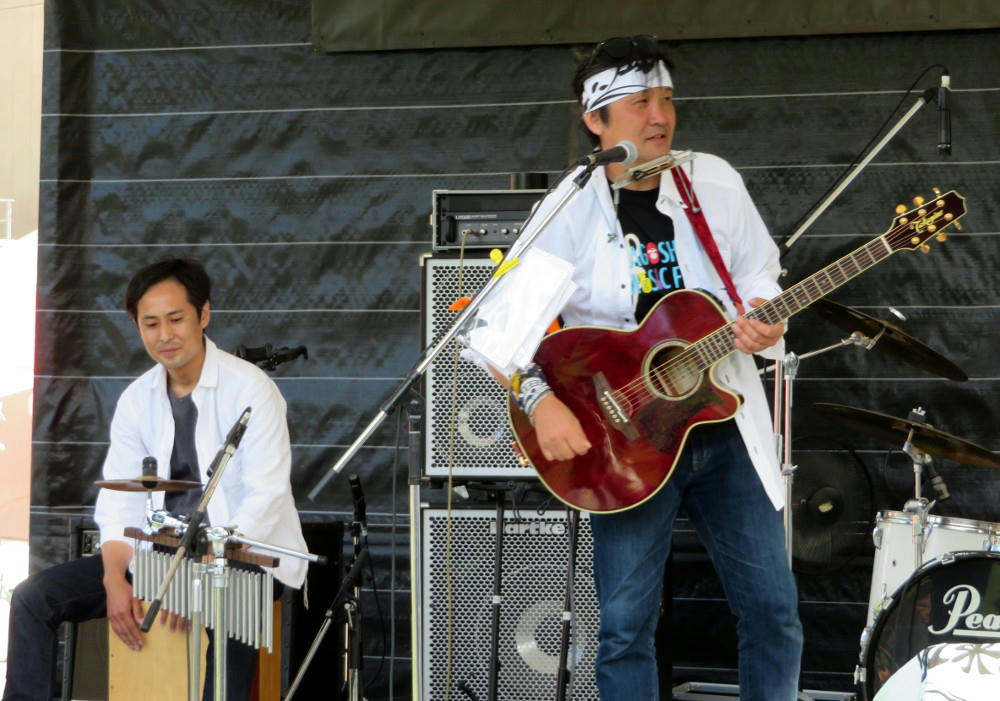 Fuuraibo Toshi
(Toshi the Wanderer) was backed up by a percussionist this time (not sure why so many Japanese percussionists seem to like this chair-style drum box...) Toshi did his regular folk-protest songs.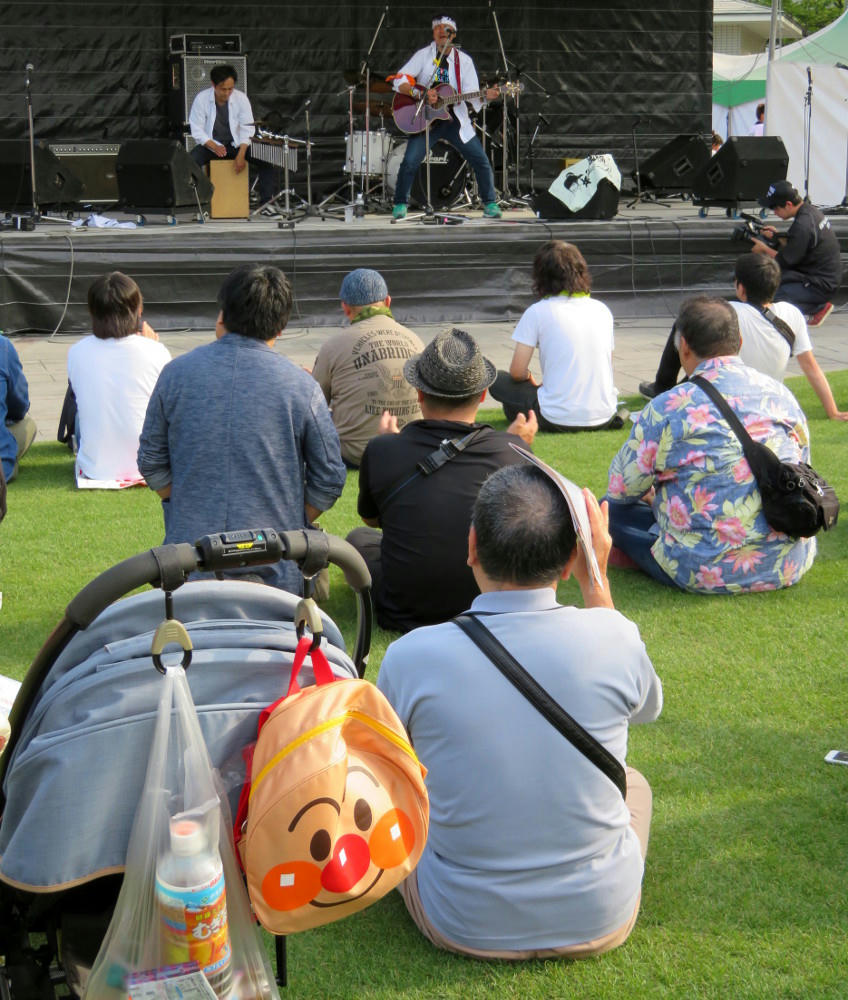 I was amused by this Anpan-man bag.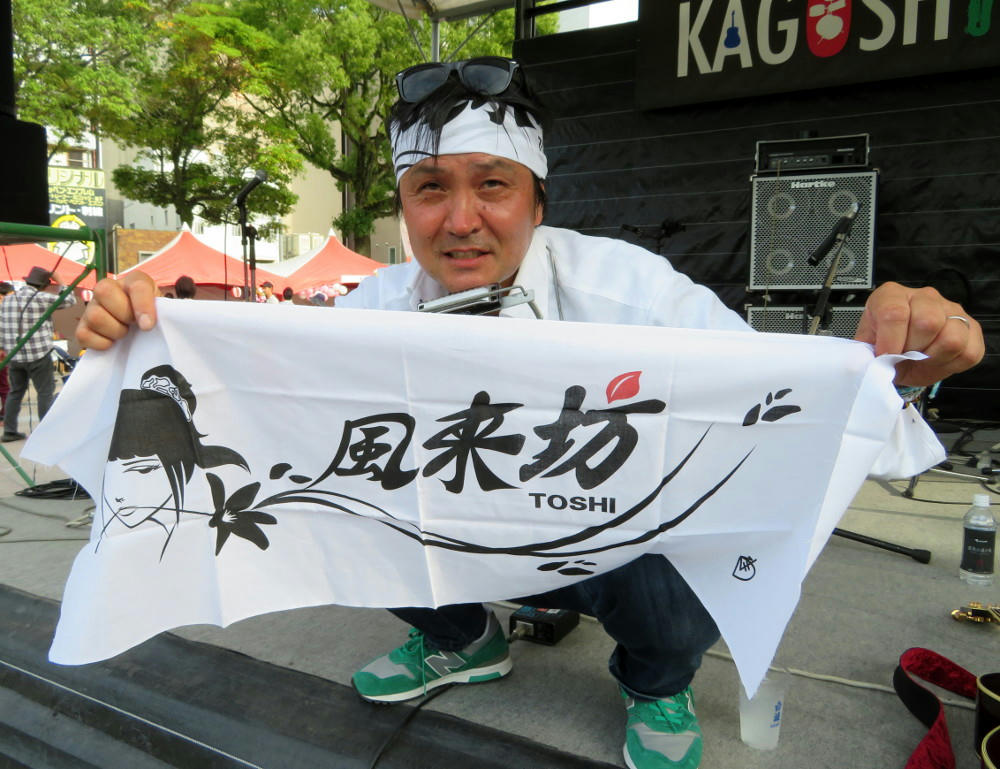 Toshi threw out 3 of these banners, plastic wrapped, and one landed a few feet in front of me. No one else went for it right away, so I grabbed it. At the end of the set, I had him pose with it, then I gave it away to two of his female fans.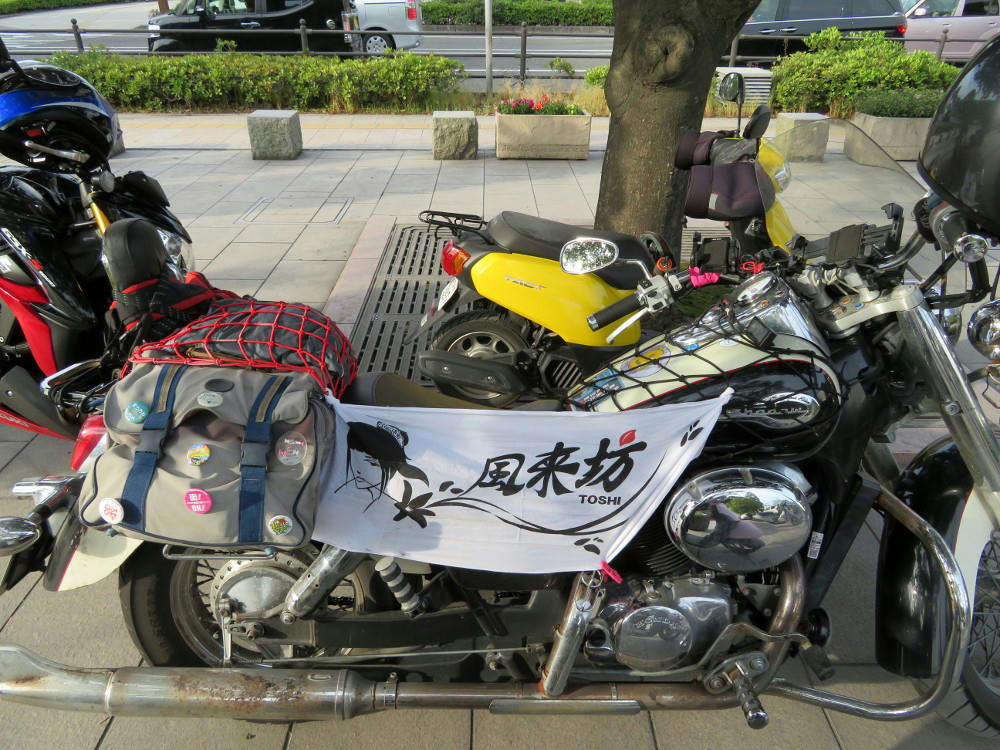 Toshi has been posting photos on his facebook account of his bike. Apparently, he's been bumming around the countryside, stopping at restaurants, and playing at small bars. I was trying to ask him how much he's ridden it in the past week, and he just kept on telling me to go look at it in the park area. I posted this photo on facebook, and he replied back, thanking me for taking the picture of "Fuumin." He's pretty proud of his bike.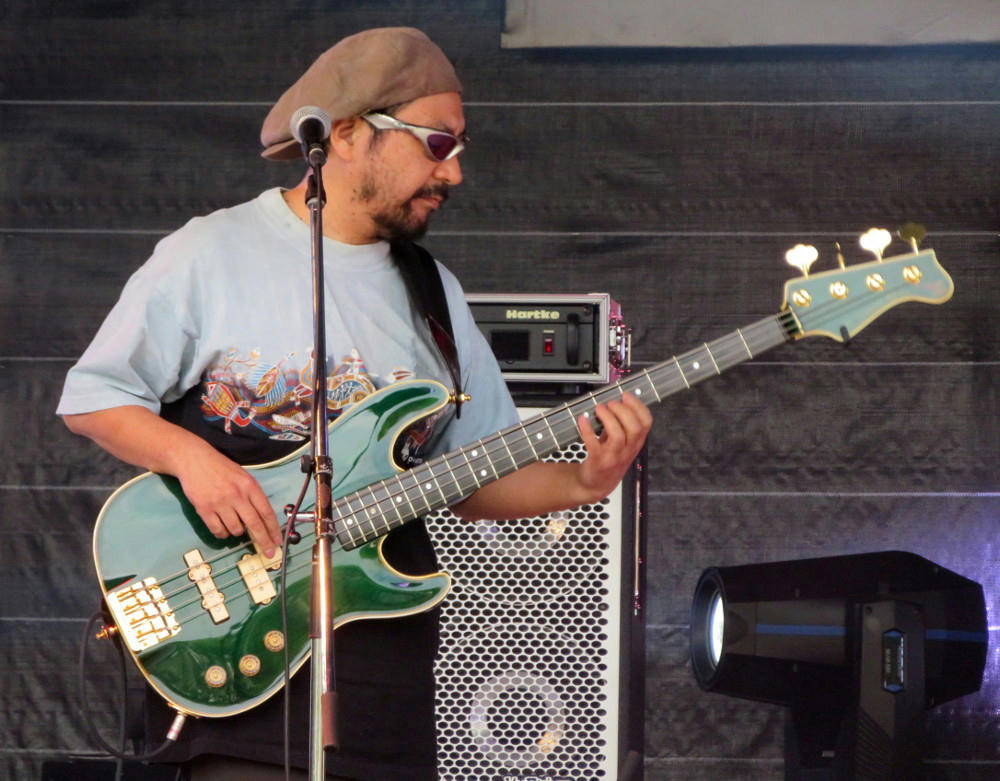 Next up was
Soul Snyper System
. They did a pretty decent set that sounded Motown funk. I expect most of the songs were copyrighted by someone else, but I didn't recognize any of them. It was good.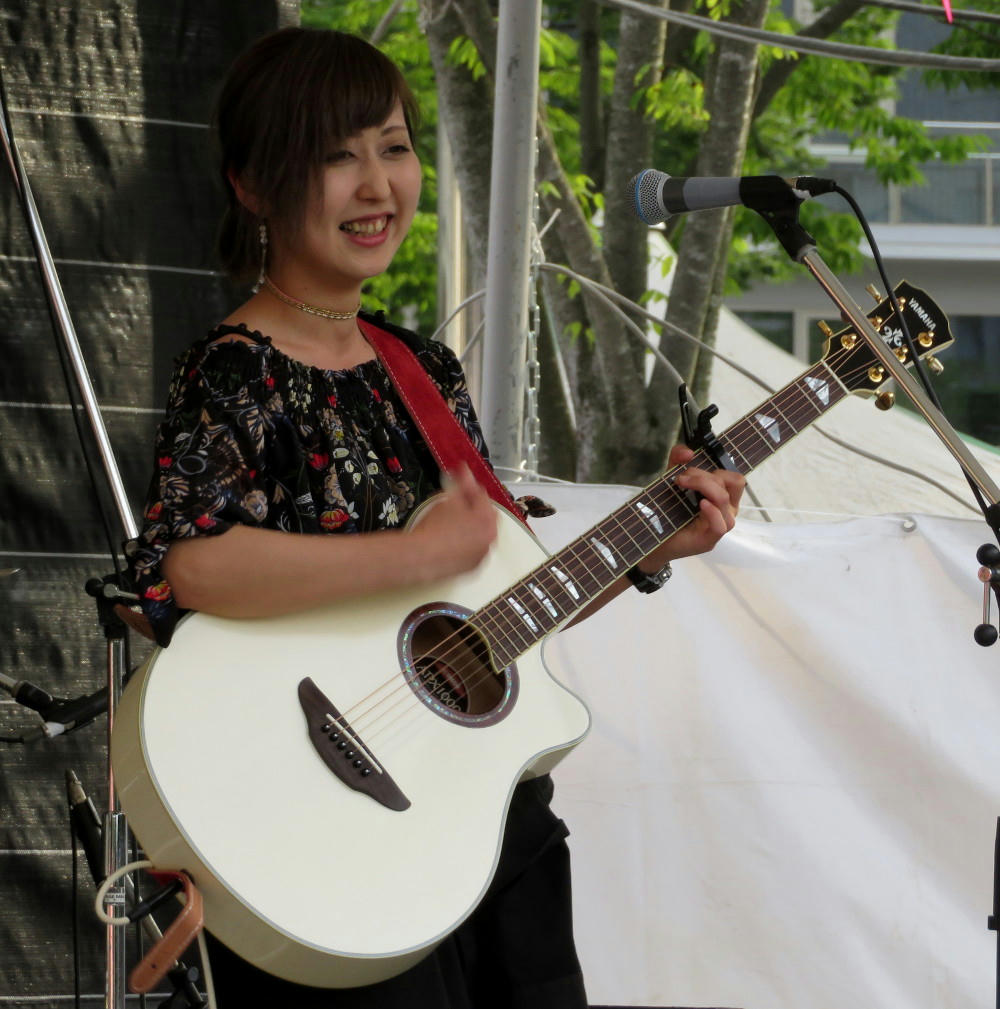 Soul Snyper was followed by
Nano
. She did modern copyrighted pop covers, so I didn't try recording them. But, her voice was very close to the original sounds.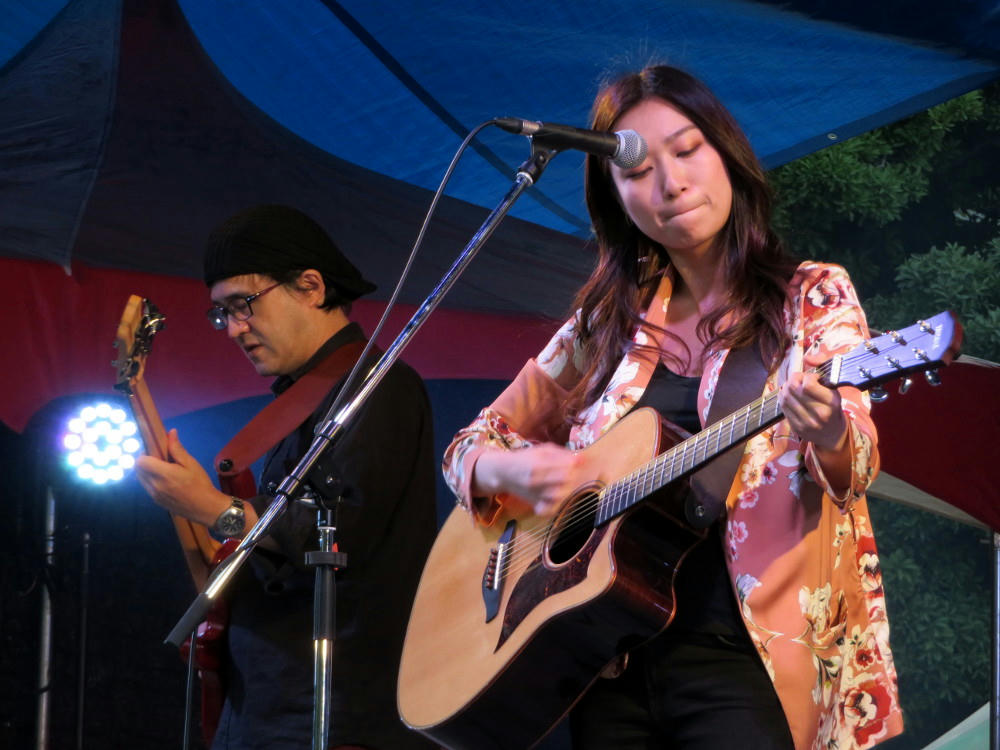 In the English school, I was trying to get my students to go listen to the festa, but they all claimed to have other plans. I told them about
Kafka
(above), but I mis-remembered them as a sax jazz band. Actually, I have heard them before at previous KMFs. The lead singer writes her own songs, and she has a kind of Japanese Janis Joplin vibe going on, but the music has a slightly harder edge. I met her in the park later, and she's a really nice person.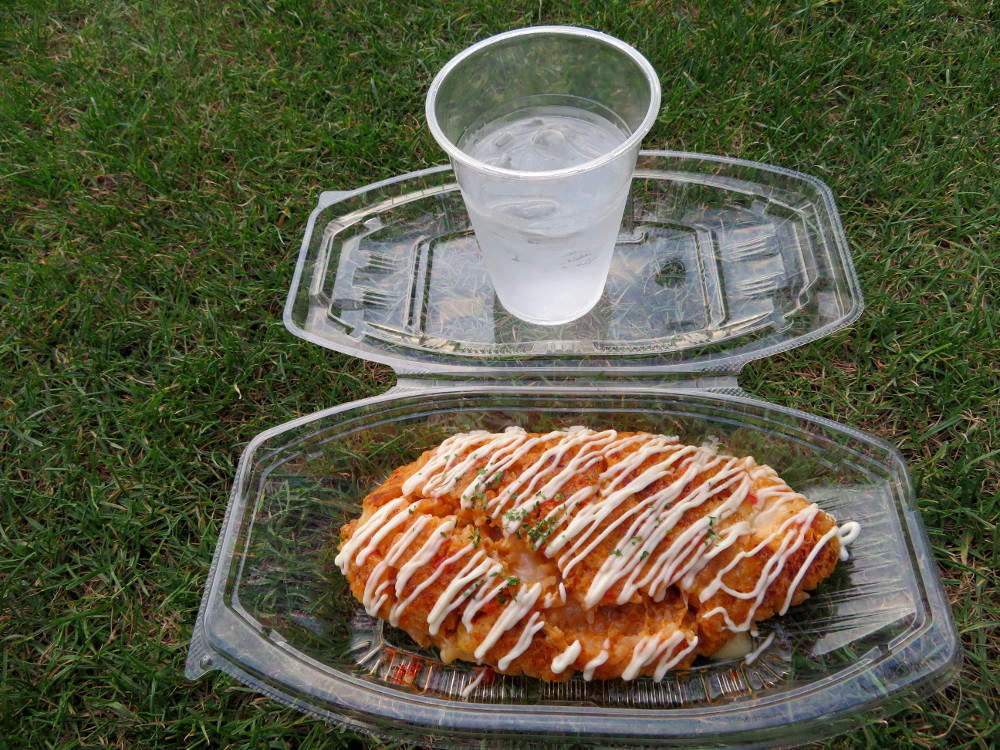 Wicky Toshi owns the bar Wicky's House in Tenmonkan. He's a musician as well, and he really likes the Japanese rock group Southern All-Stars. He's picked some of his friends, including surf guitarist Nonki, to back him on Wicky's All-Stars. They're pretty faithful to the original material. He also does his own music under the name Wicky Toshi, but he'll also front other bands if asked (which happened on day 2). But, the bar had a food table at the festa, and they sold omu rice (Japanese-style rice omelets). During the break, I got hungry, so I bought a cheese, catsup and mayonnaise omu rice for 500 yen, which Wicky made. It was good. I accompanied it by a 300 yen shochu on the rocks. Also good.
The next performer was a one-man band named
Jiizu
(it sounds like "cheese"). He's a novelty act, where he pre-recorded the lead and bass guitar tracks, then sang and played drums as a kind of karaoke. Maybe the closest analogy is Tom Waits meets Keith Moon. I couldn't tell if he was bad, or ahead of his time. The crowd liked him (video below).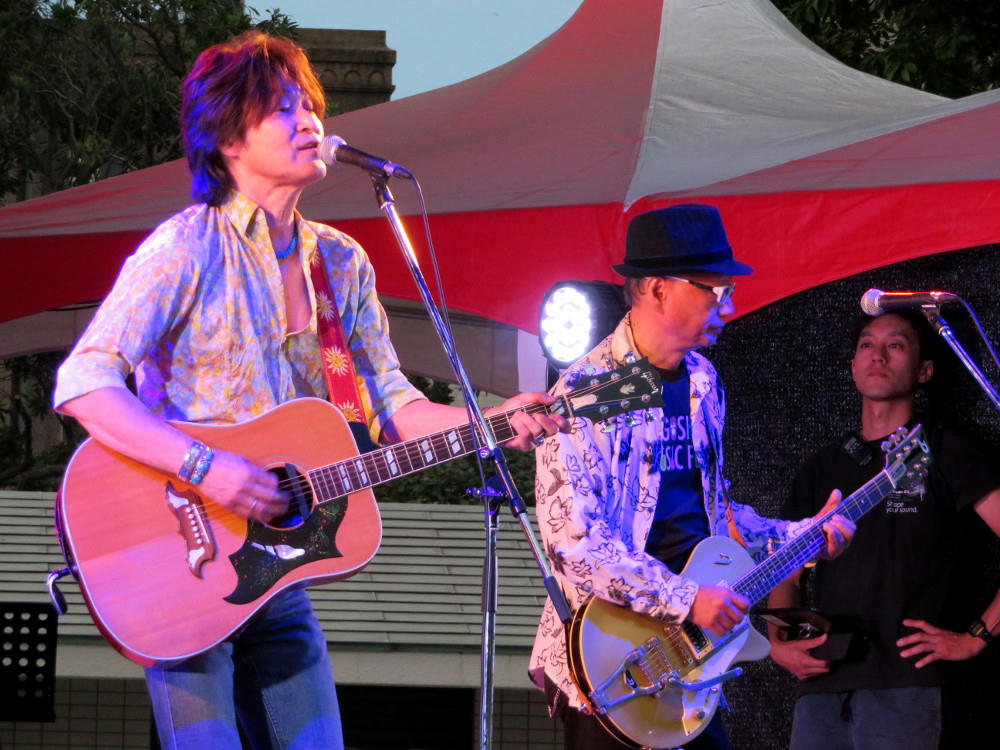 Cactus
played at Wicky's House the night before. I hadn't caught them then, but I at least saw the advertising poster outside the bar as I was walking home. They're an Eagles cover band, and their centerpiece song is Hotel California (of course). The lead singer did pretty well with the English lyrics, as far as that goes. It's copyrighted music, so I didn't bother recording it.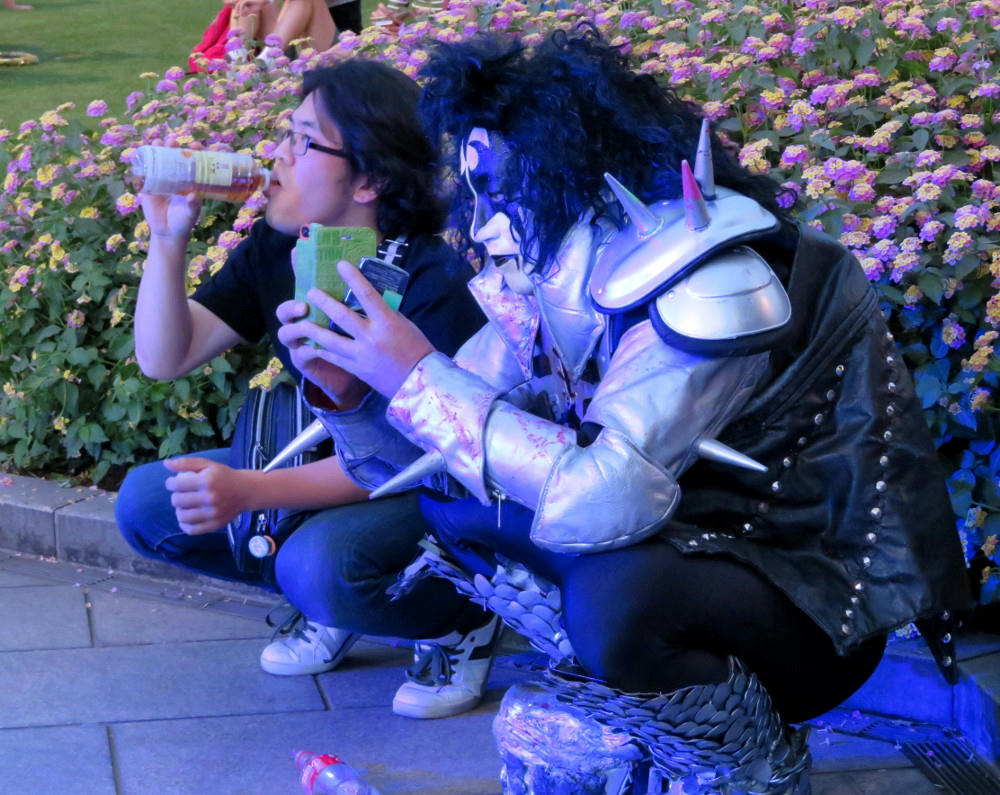 As Cactus was playing, I spotted Demon, from Tissue (a Kiss tribute band), nearby recording the set. That was worth taking a photo of.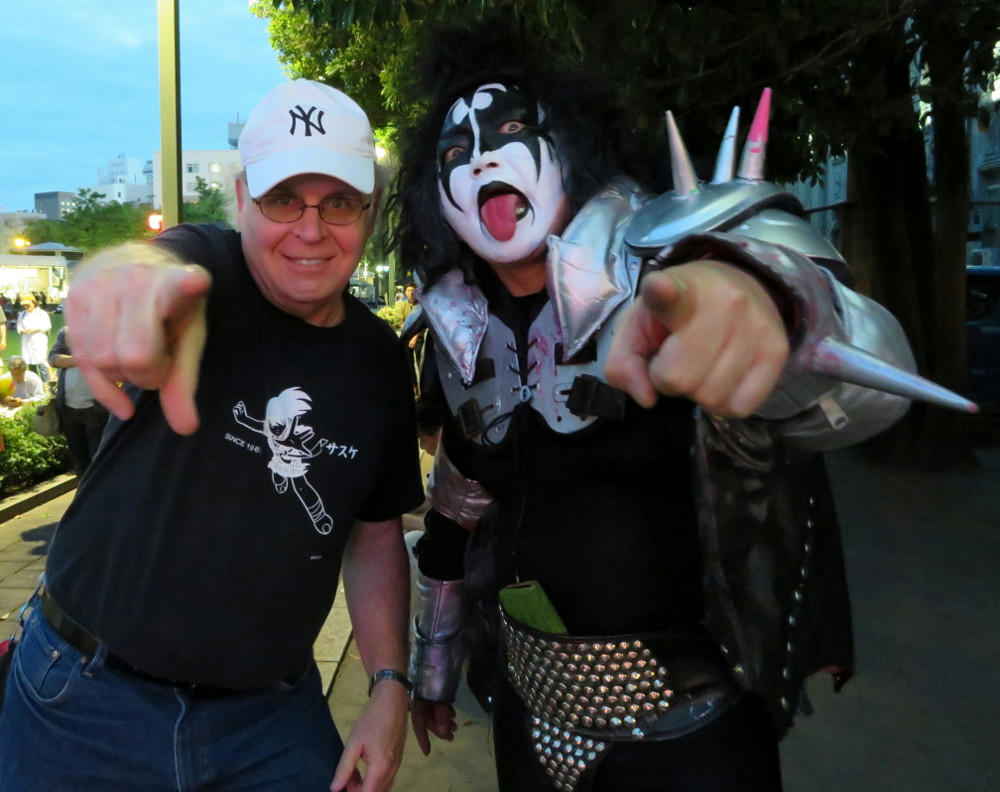 Later, I asked for his photo, and he turned it into a two-shot.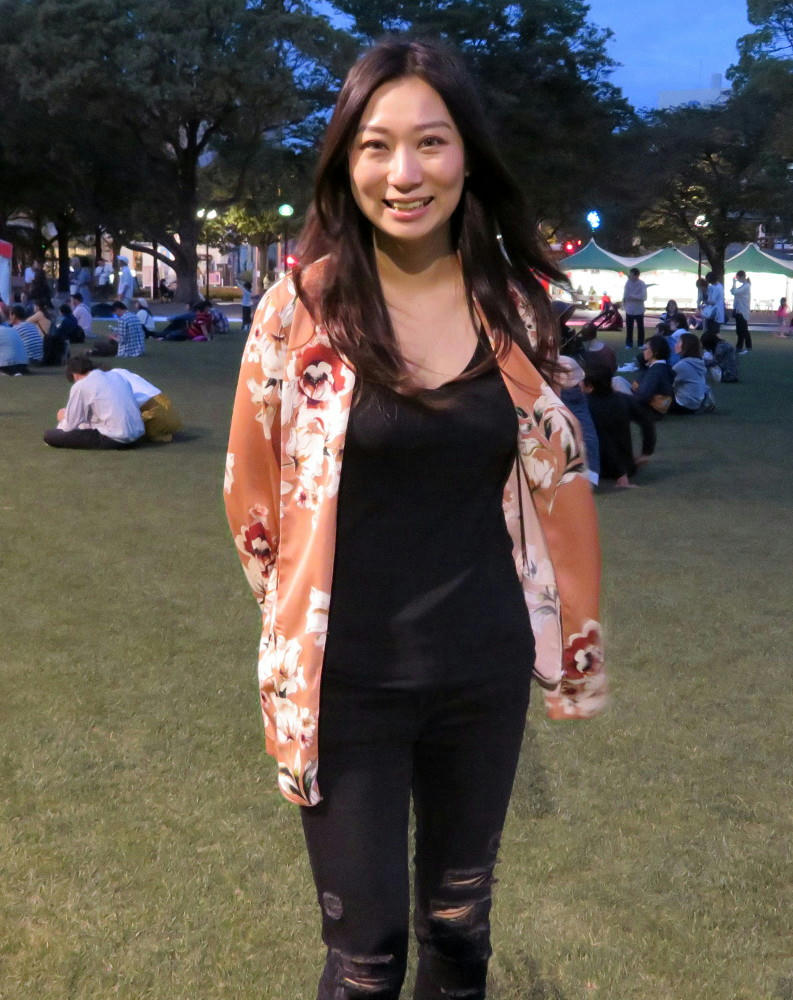 As mentioned above, I spotted Kafka's lead singer, Kazuka Kamada, walking between stages, and she let me take her photo. She's very nice.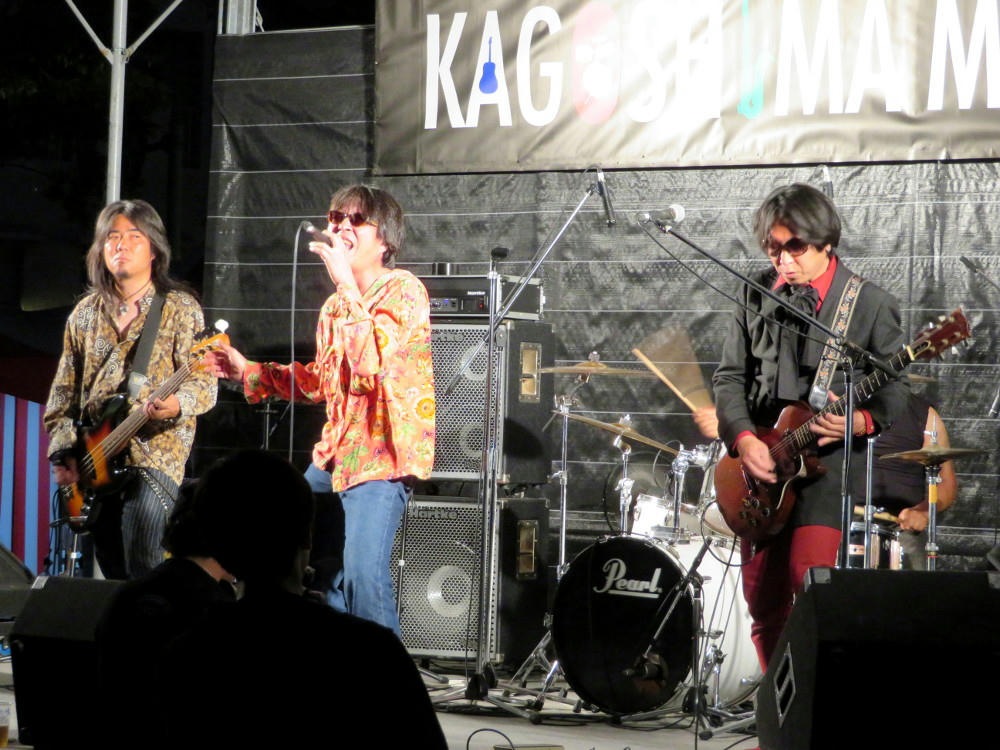 Fuhatsudan
(Bad Manners Group?) played decent rock with a punk vibe. I liked them.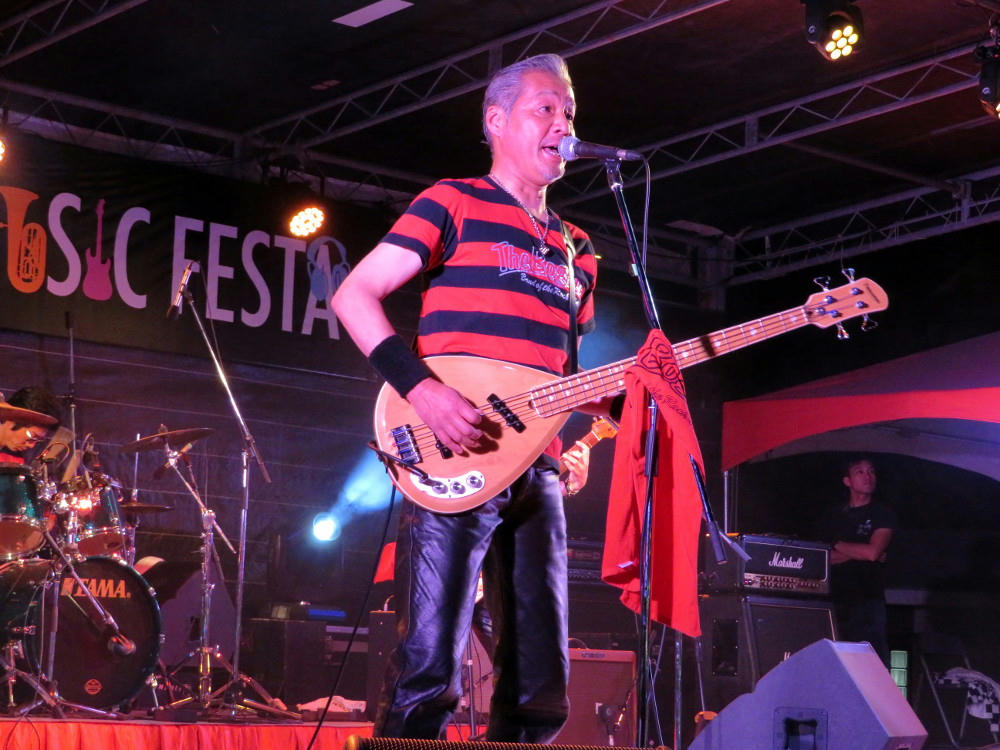 The Bogies
did pure 50's rock and roll. Lots of fun.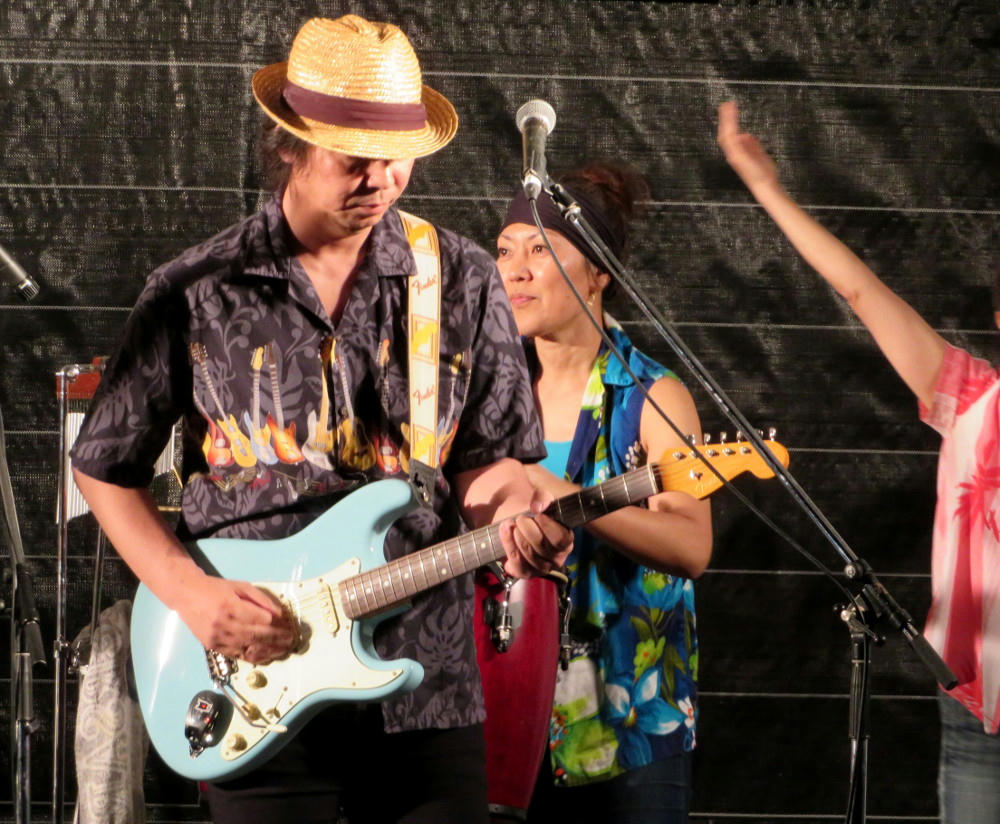 At 8 PM,
Wicky's All Stars
took stage 2 to do their Southern All-Stars covers. The second song was Nonki's "Surf Monkey" (a Ventures-inspired surf music piece). Again, lots of fun. Also in the audience watching was Aiko, one of Bon DX's bass players, and a friend of Wicky and Nonki. She recognized me and we talked for a bit. She's in a couple other bands, and at some point I want to see them (she didn't play this weekend).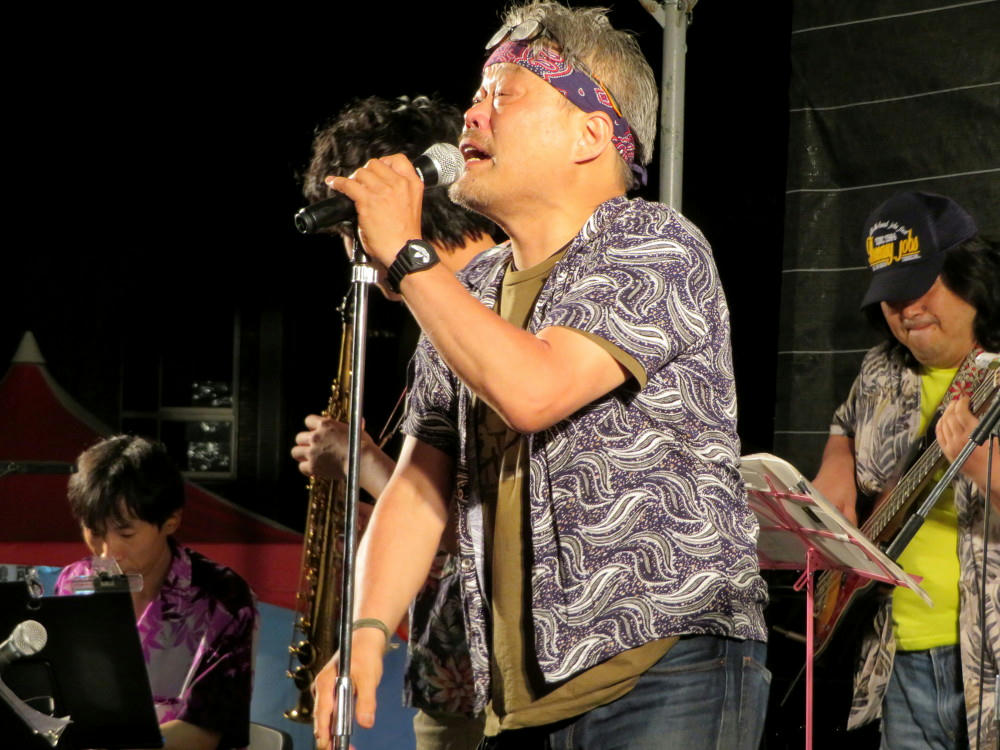 Wicky.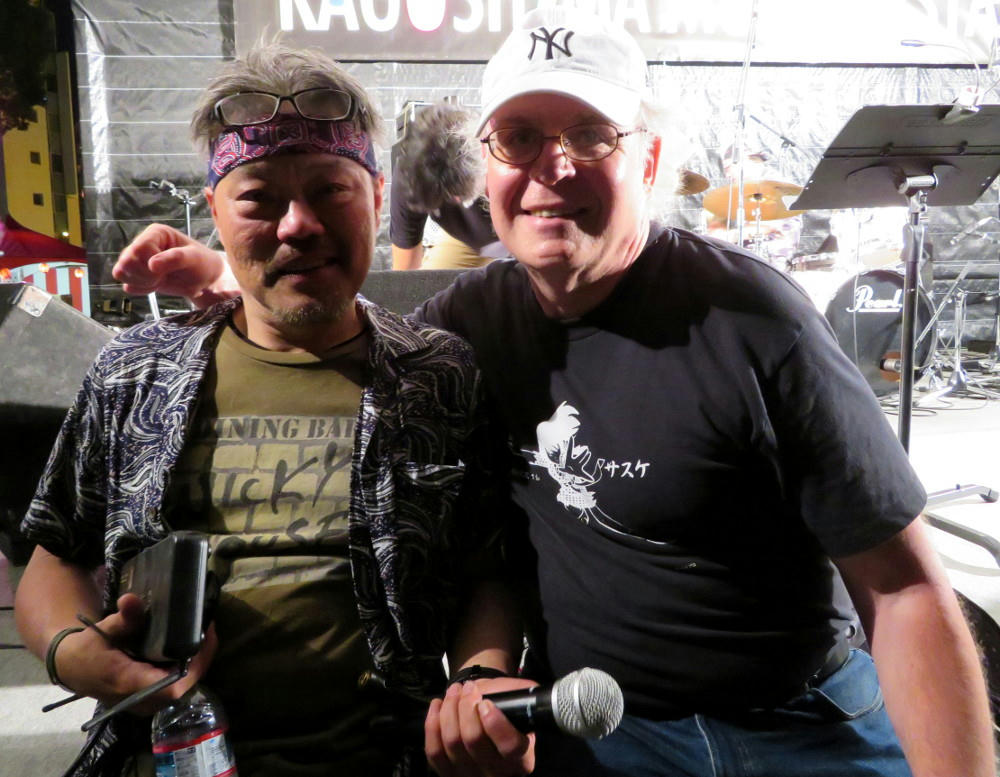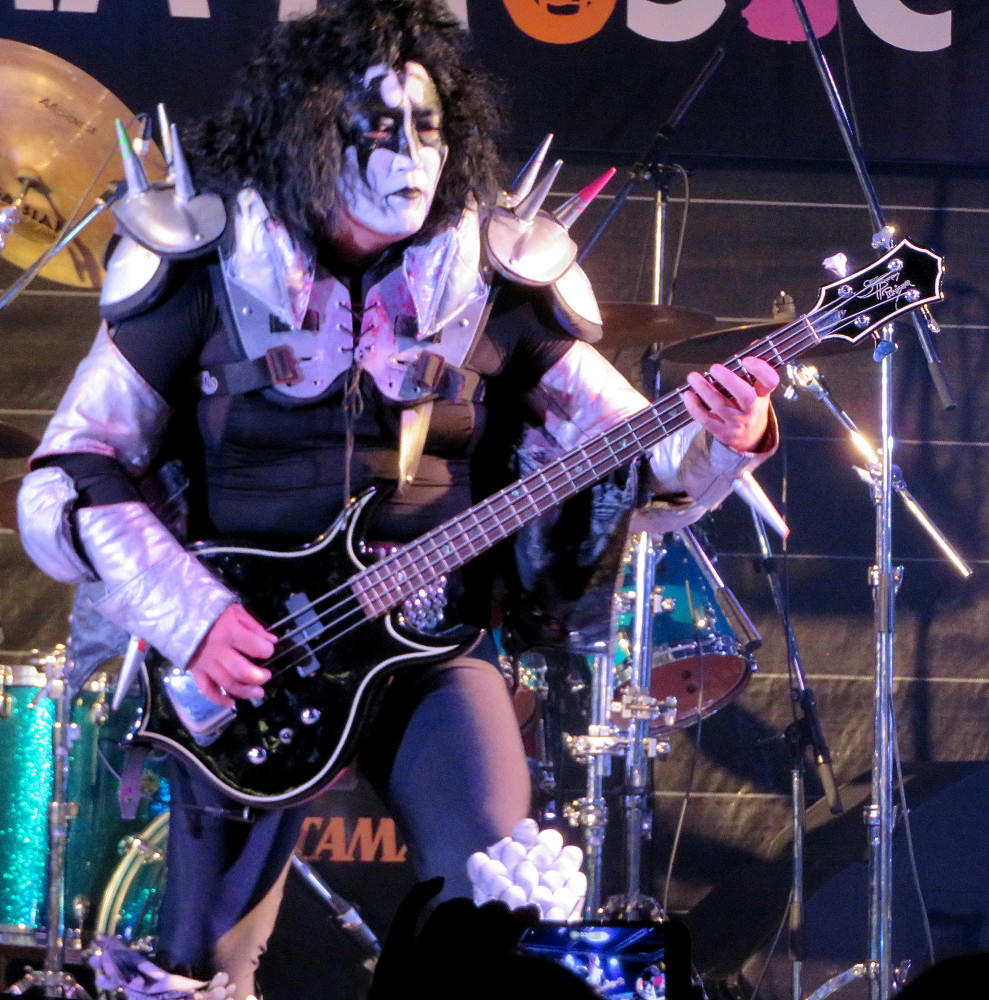 The evening closed out with
Tissue
. Great, great set. I recorded them last year, and they sounded so authentic that youtube flagged them. So, this time I just recorded them for myself. As I walked home afterward, at 9 PM, I was repeating "I wanna rock and roll all night, and party every day" and I really meant it.
After dinner, I discovered I'd taken 360 photos, and about an hour of video. So I caught up on email and online work before spending the last of the night weeding out the shots I didn't want to keep, and editing the photos to upload to Facebook. I got to bed at 2:30 AM.
Direct youtube link for sampler 1
Direct youtube link for sampler 2
Direct youtube link for sampler 3