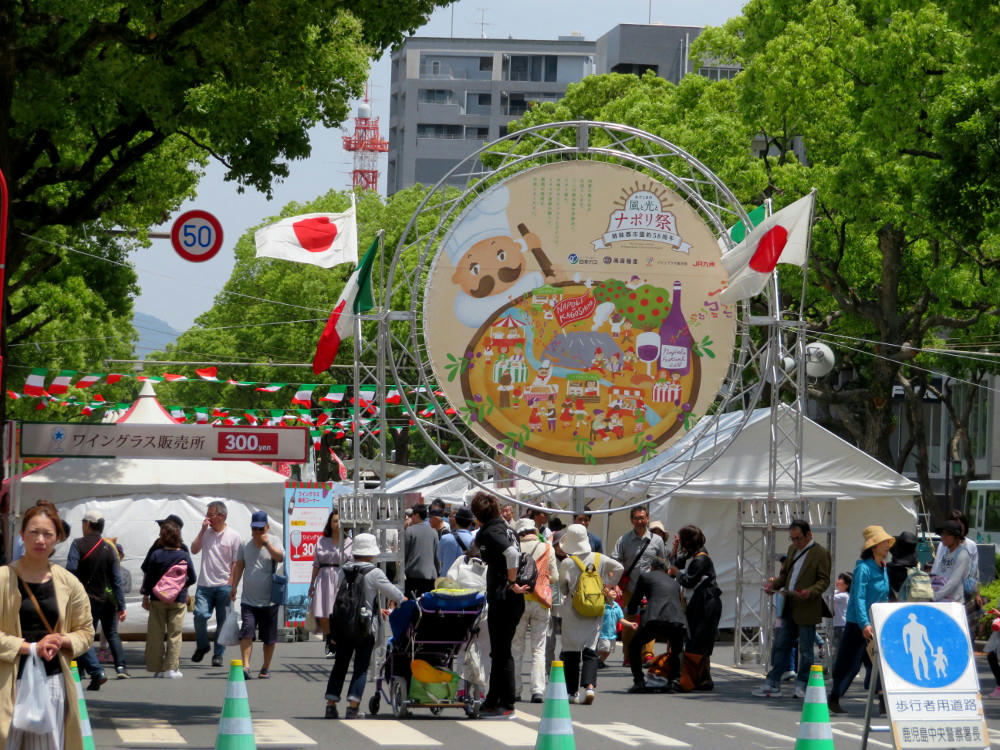 This was the last of the big scheduled events for Golden Week, and I'd really been looking forward it. To start with, Kagoshima is sister cities with Naples, Italy, Perth, Australia, and Miami, Florida (it's also a partner city with some place in China, but I don't know how that's working out right now). One of the streets running from the main train station to Kinko Bay is named Perth Douri (douri = street) for about half the distance, and Napoli Douri for the other half. A few years ago, Kagoshima decided to host what they call "Napoli Matsuri" (matsuri = festival), a two-day celebration of Italian wine, food, music and cars, and closed off the street for those two days. I liked the wine and music last year, but I held off on the food because of the prices. This year, I wanted to sample some of the food because a couple of the Italian restaurants I really like had food booths there.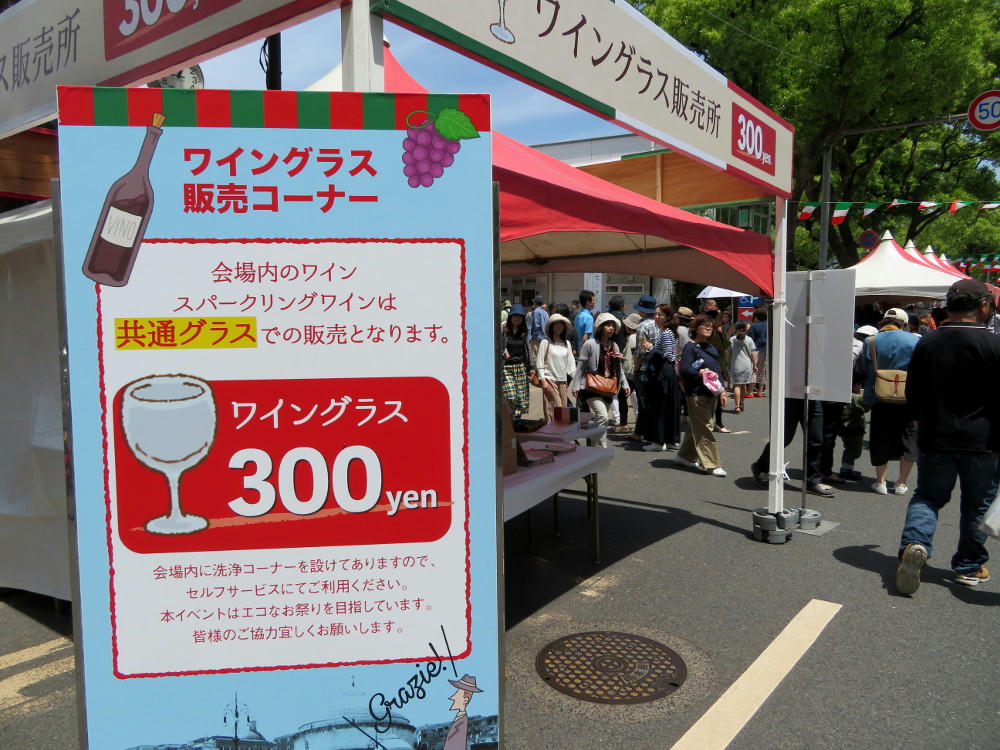 The matsuri was Thursday and Friday. The weather was weird again - threatening rain before Dai Hanya a week ago Friday, turning perfect for the Dai Hanya weekend, then raining hard Monday night to Wednesday night. Thursday morning, the rain had ended but the winds were really strong, and finally we got great weather again on the Friday of Napoli Matsuri. But, the winds on Thursday did mess up my recording of the music on the main live stage.
Past years, the wines offered were between 300 and 500 yen ($3-$5) a glass, and they were using cheap, throwaway glasses. This year, it was like the matsuri planners had tacked on a 300 yen cover charge, in that it was 300 yen to buy the glass (a cheap plastic fluted thing that holds maybe 4 ounces). That was the first really disappointing part, even if you got to keep the glass, because the wine wasn't that good, and you didn't get much for the money. Some of the tables were charging up to 1,000 yen a glass, and the lines for those tables were surprisingly long. No accounting for taste.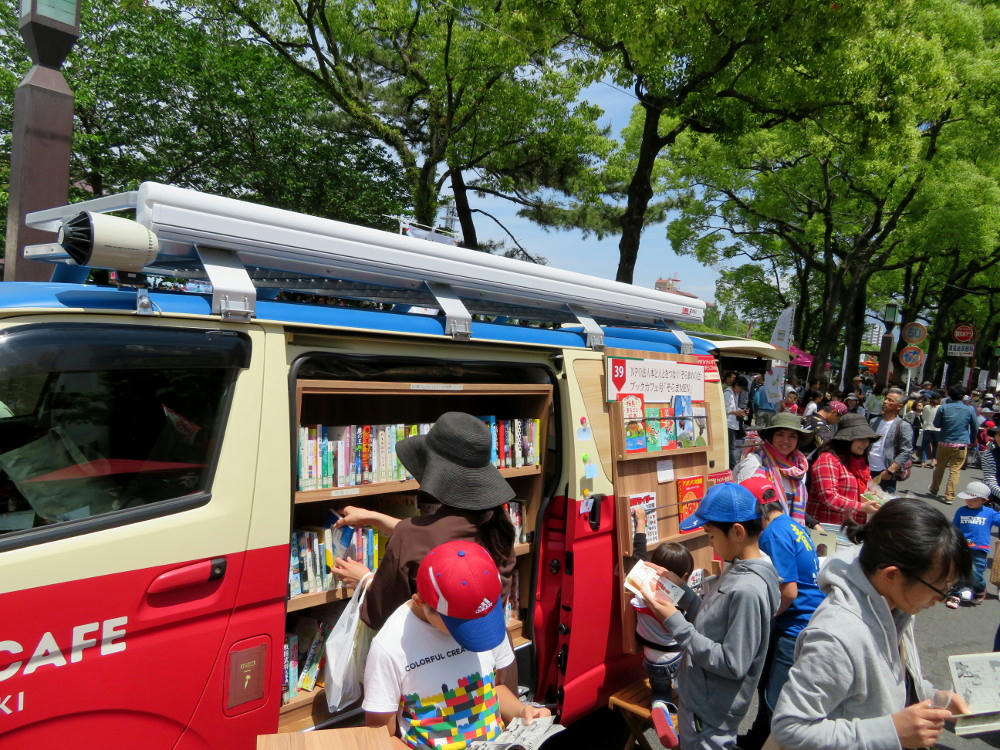 I did like the fact that they had a bookmobile there, and kids could read while their parents got drunk.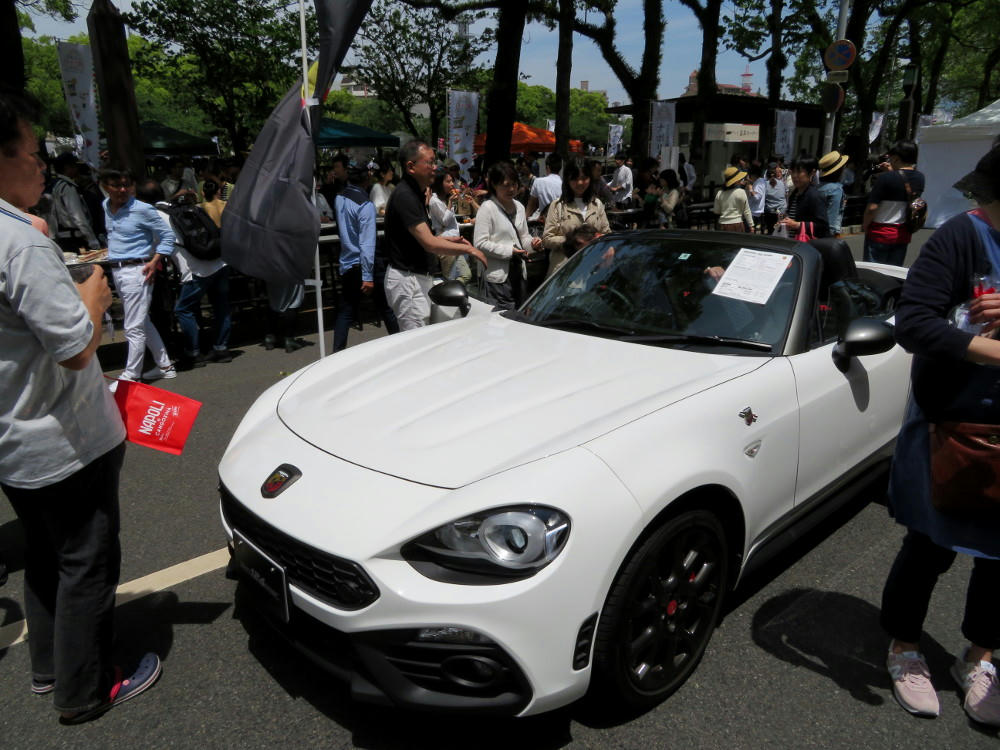 There was a small display of top-end Italian sports cars, including the Abarth here, and a sales table if you decided to buy one during the matsuri. As could be expected, they didn't offer test drives.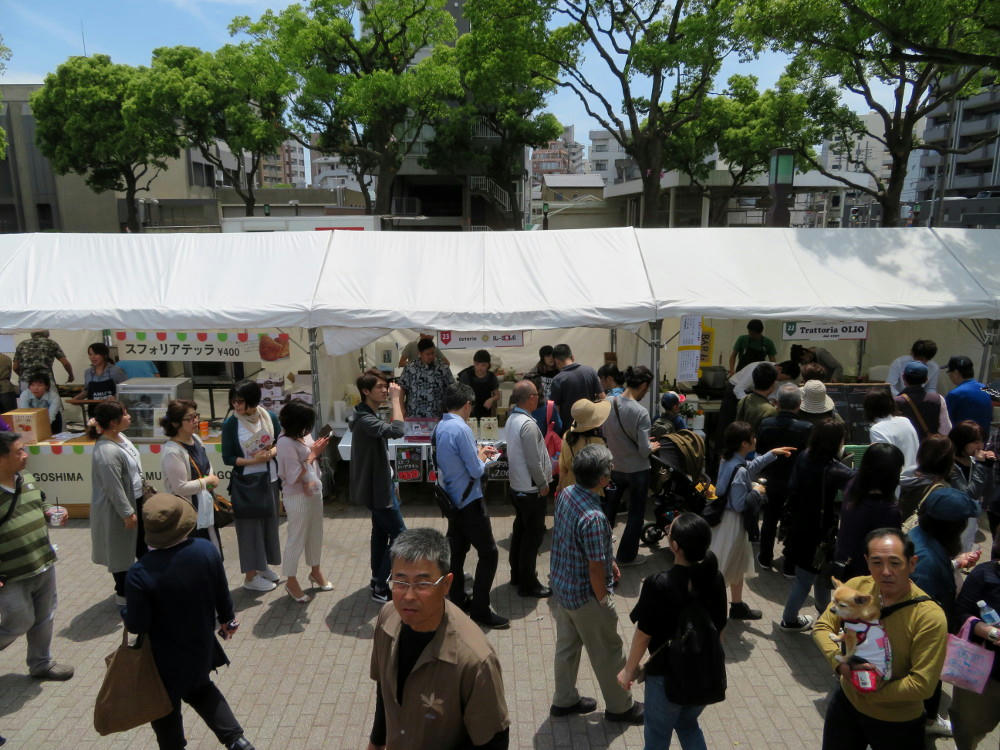 I'd estimate over 50 tables, split almost evenly between food, wine, and arts and crafts. The really popular food tables sold pizza and Japanese curry rice, and most of the food tables had waiting lines 20-40 people long. I considered getting something on Thursday, but I didn't want to stand in line for an hour for it.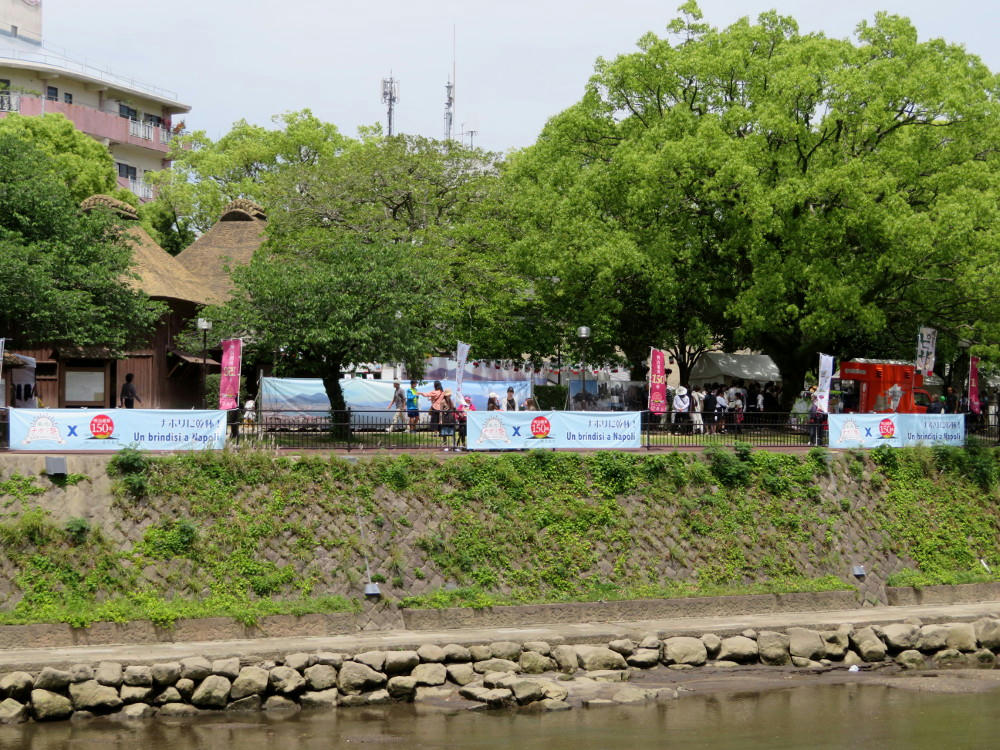 In past years, the masturi was all just on Napoli street. This time, though, there was an extra section on the other side of the river next to the Meiji restoration museum, and another live stage and set of booths in the plaza in front of the main train station. The stuff across the river was limited to a pizza truck, a wine booth, some craft tables, and a bunch of chairs and tables for sitting down and eating. I think a few people took the hint, buying their food at the main tables on Napoli street and then carrying it across the bridge to find a place to sit and eat.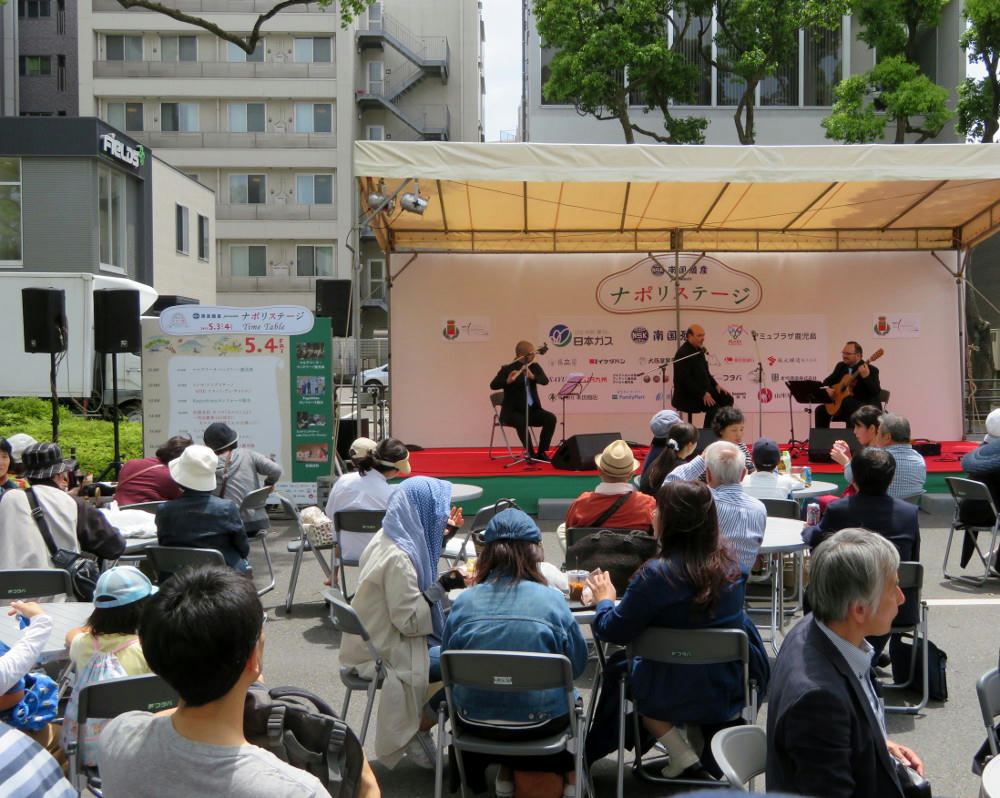 I remember a lot more music last year. This time, there were only 5-6 groups playing the two stages both days, once an hour (the fest ran from 11 AM - 7 PM Thursday, 11-5 Friday, but they didn't have music all the time during that). This trio was billed as Minmo Agrisano in katakana, with flute, guitar and vocals. The singer had that Italian opera vibe going on. They were good, but it's not my kind of music, and the wind made it impossible to record anything for later uploading to youtube.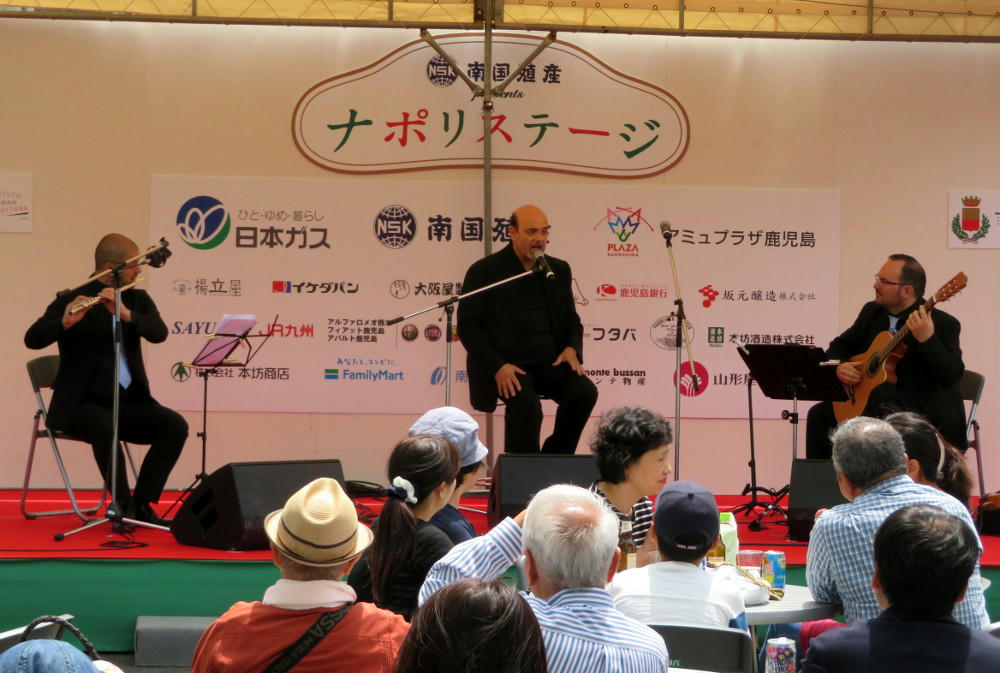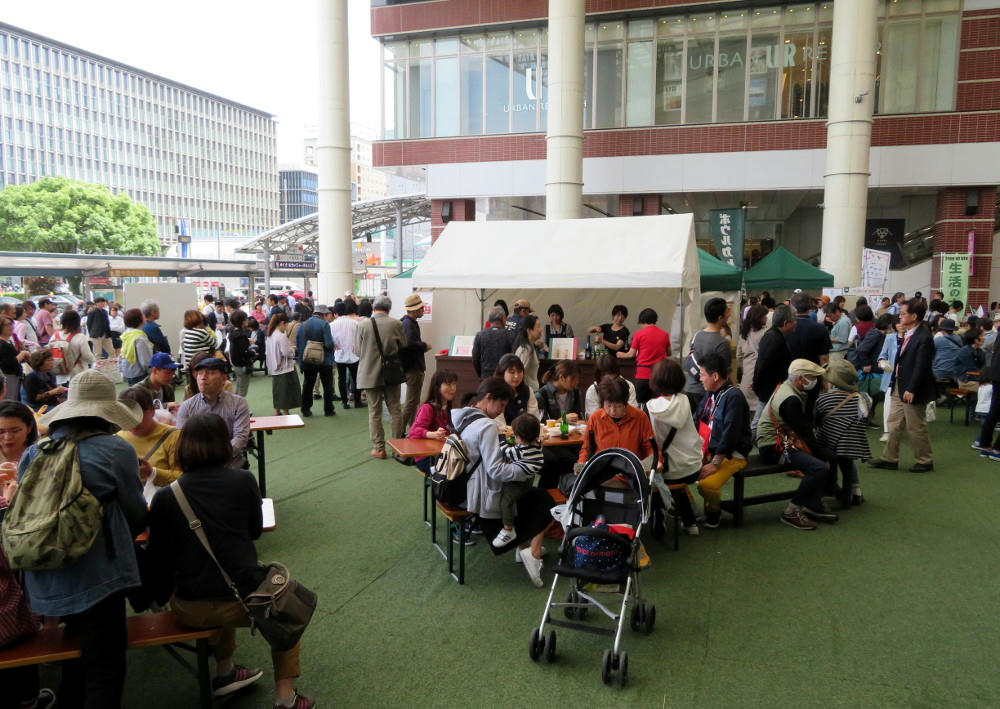 Meanwhile, up at the train station, there was another wine table, but all the food was either fried chicken, hamburgers or fried potatoes. There were only 2 live sets on Thursday - a Japanese violinist, and LUCE, a Japanese female quartet. Both sets finished before I could get there. None of the food matched the wine, and I really didn't like having to pay $3 just to get the glass, so I limited myself to just trying the peach wine (it was ok) and the white (nothing special). Then I went home and had a bento box for dinner.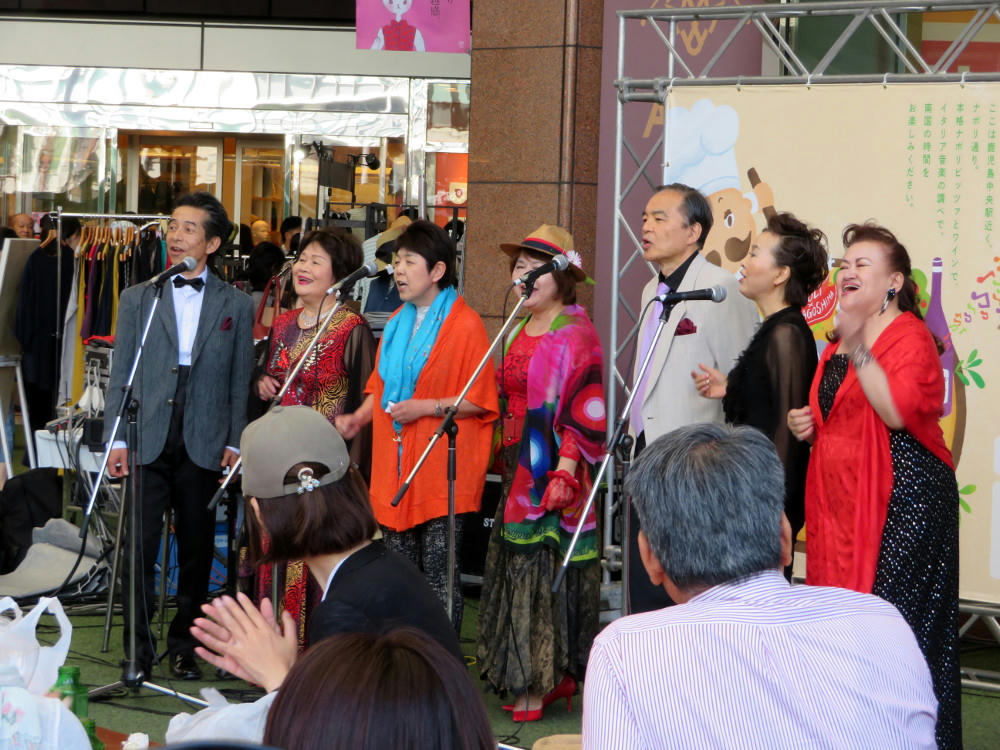 I did want to get out of the apartment early on Friday and look around more, but for various reasons beyond my control (including having to wait until 3 PM for package deliveries to be made to the apartment), I wasn't able to get to Amu Plaza until just before 3:30, when the Kagoshima Canzoni Group started singing. I've seen them before, and I've talked to their leader (the woman below) a few times at past events. The music was good, but not worth recording.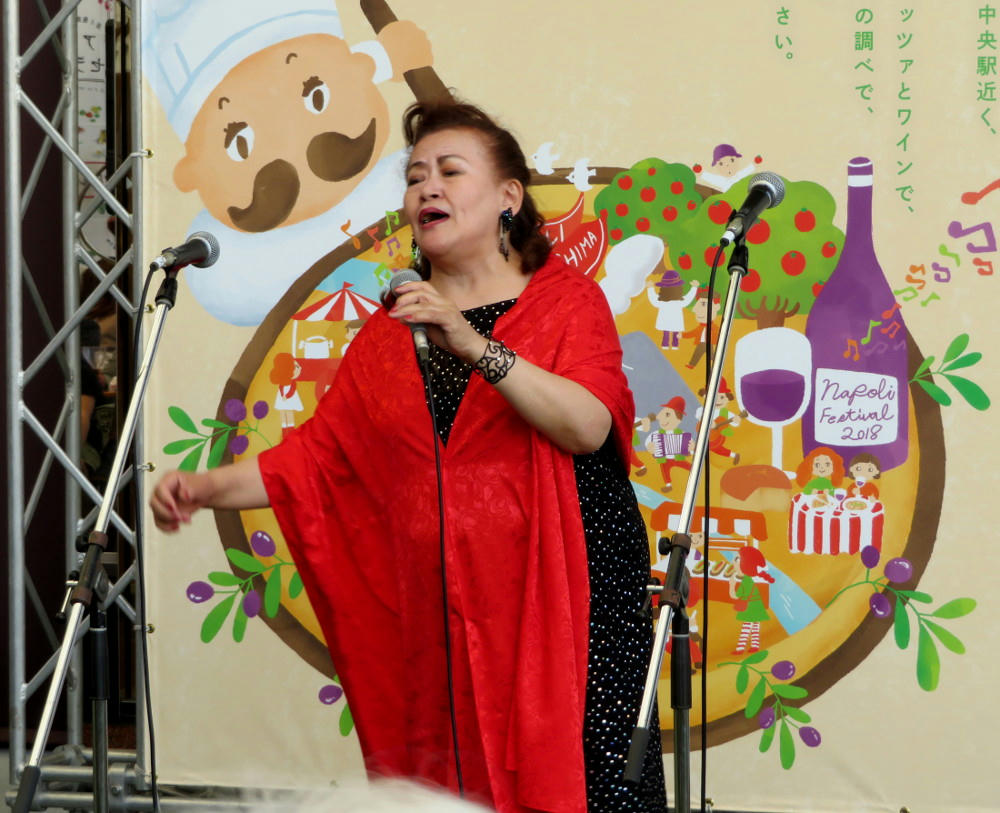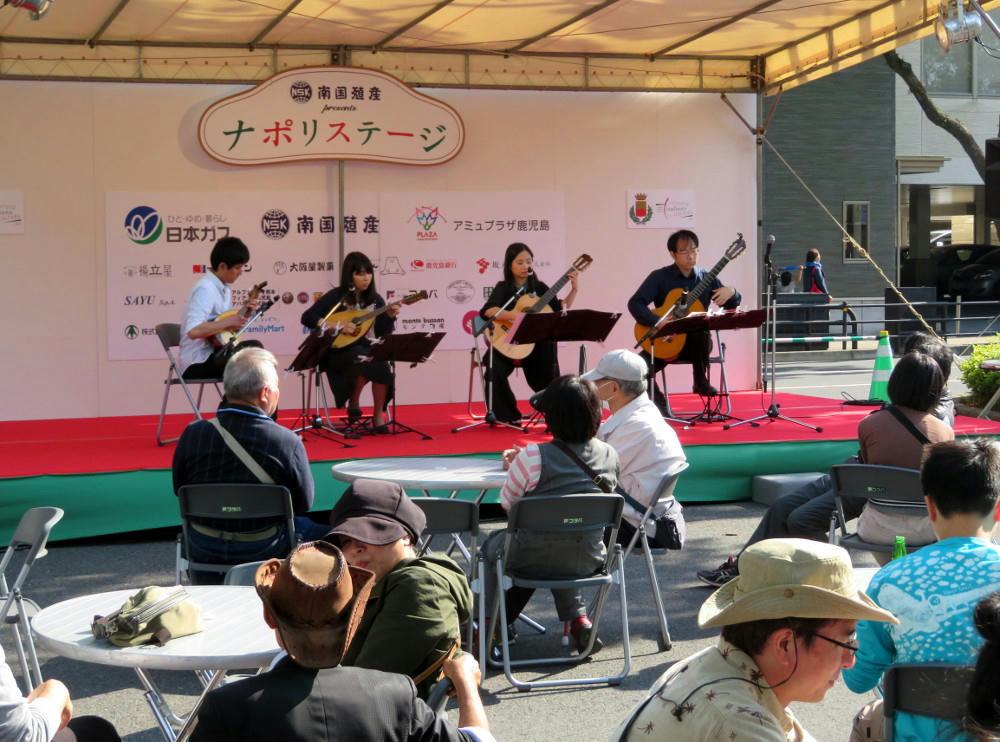 Then I went back to Napoli street, to catch the last performance of the event. This was the mandolin and guitar group, Margarita Mandalino Kagoshima. Again, pretty music.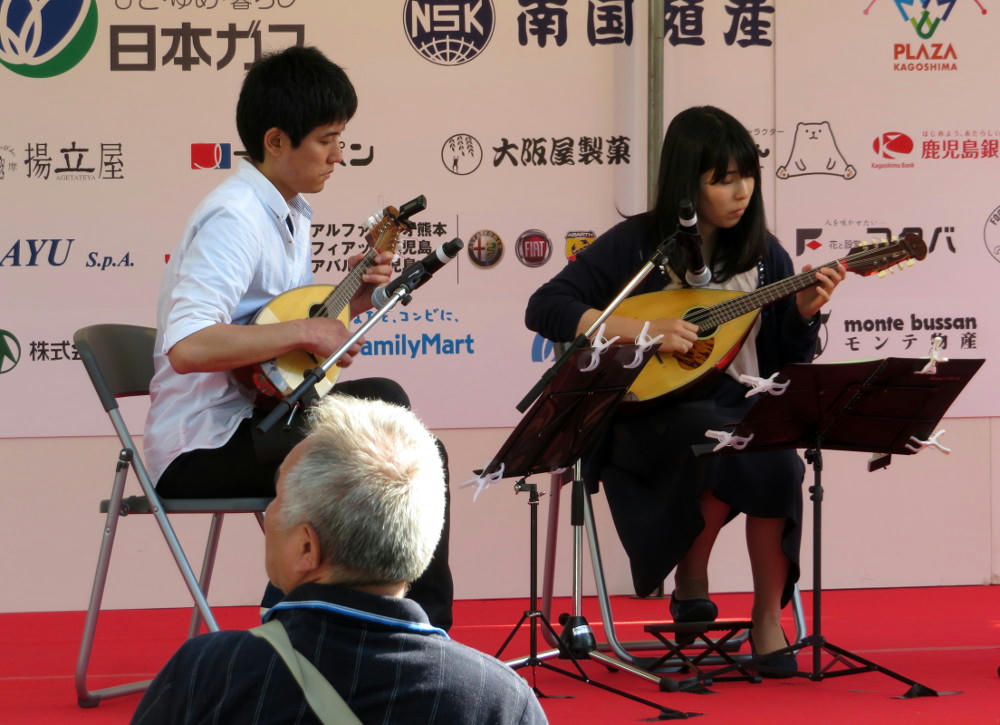 So, the main idea was to get a pizza or something. I wandered around all the food tables that weren't completely sold-out yet, but most of them had either finger foods, or curry rice. The few booths that did have pizza were selling little one-person pizzas between $10 and $15 apiece, and the lines were still one hour long. Yeah, that struck me as insane, so I gave up.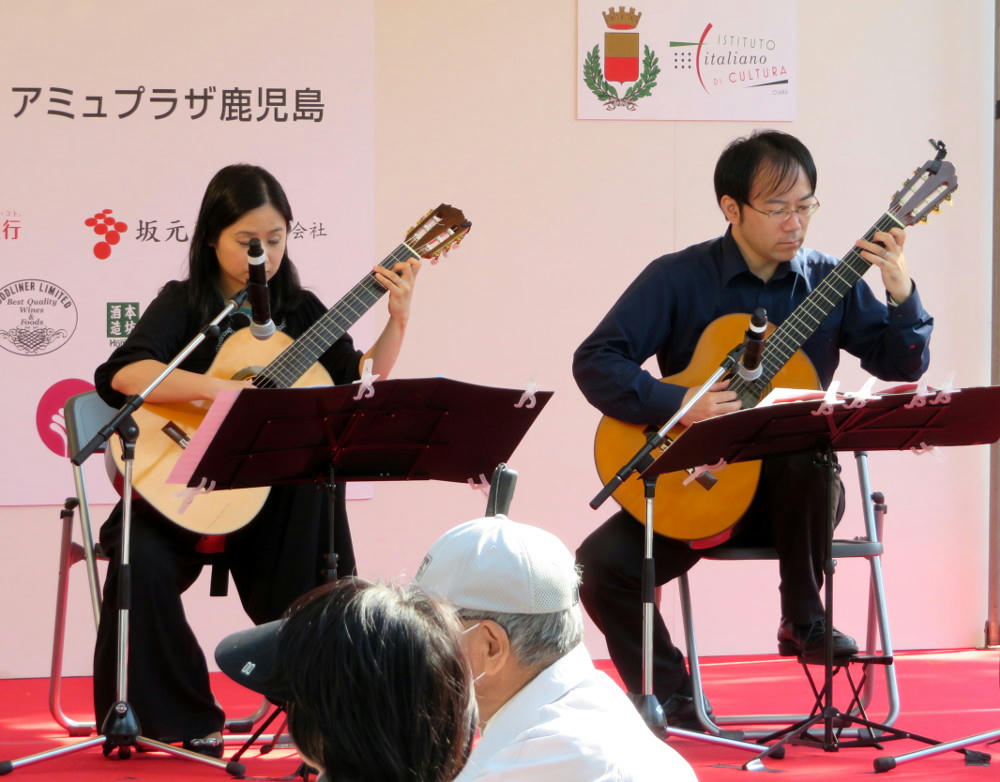 Eventually, I gave up and went into Amu Plaza to get coffee at Seattle's Best. Even then, things were a bit off. I was going to buy a ham and cheese croissant sandwich for 420 yen, plus a medium coffee for 370 yen. But, as I was waiting, the cashier got the order wrong. She tried to give me an egg muffin, and I told her that's not what I wanted. I went to point at the glass case, and the croissant sandwich was already gone. There'd only been one left in the case, and someone else had gotten it while I was trying to place my order. Sigh. So I gave up and changed my order to a chocolate muffin, which was just marginal. I read a book for a little bit, and ate my food. When I'd finished my coffee, the Napoli matsuri had ended and the customers were being pushed out for all for the tents to be dismantled, and car traffic to resume on Napoli street.
In with all of this, I've had to work from home, so I wasn't able to travel at all during the holiday. I've had better weeks, although I really did enjoy myself a lot during Dai Hanya. That part was good.