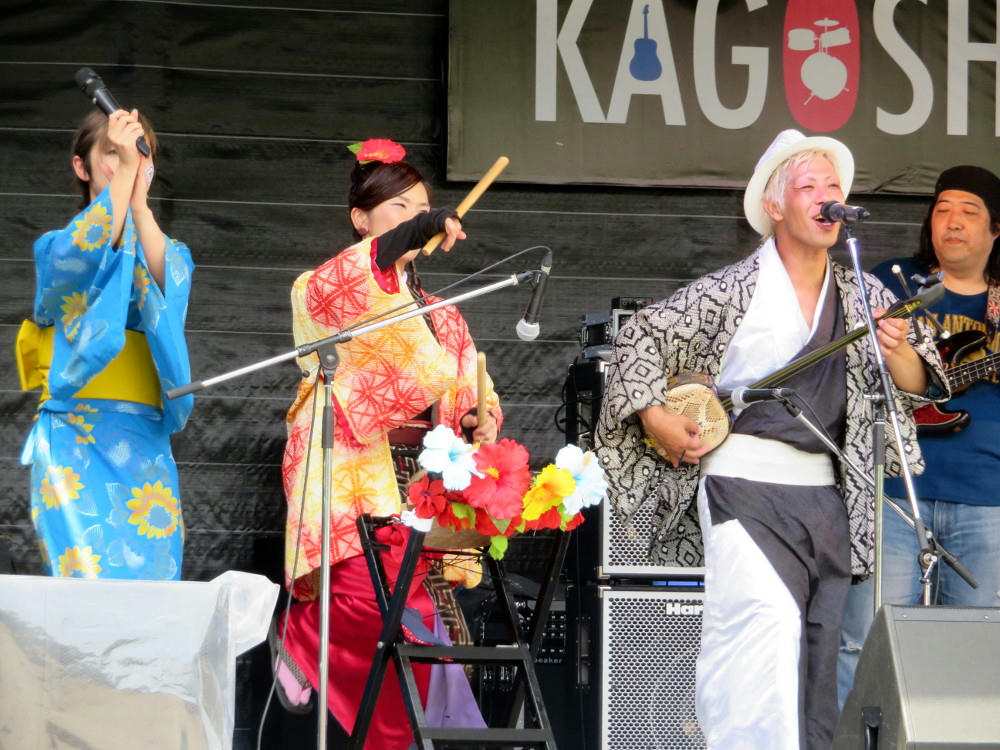 Saturday started out with perfect weather - clear skies and cool temps, and ended being heavily overcast. At one point during the evening, I'd thought I'd seen lightning in the sky, but I couldn't be sure it wasn't the result of the light show on the main KMF stage. After going to bed, I woke up a couple times during the night, and I could hear rain. There really wasn't anything I wanted to see from the Sunday schedule, so I was content to sleep late. But I finally got out of bed at 11 AM. Which was good because a couple minutes later, the doorbell rang - it was the delivery guy with a package I had to sign for. Sigh. Anyway, I got up, checked email, and prepped the videos from Saturday for uploading to youtube. I didn't get any warnings from youtube about copyrighted content, so that's good, but I expect that I'll get at least one warning for the Toto covers at some point. When I finished all that, I checked the program schedule again, and I had a mild interest in the 1 PM set. At that point, the rain had stopped, and I decided that I had nothing to lose. I'd swing by Central Park, then go up to Amu Plaza to do a bit of shopping and see if they had anything going on (I never did get to Amu Plaza). The clouds were clearing up, and I didn't think there'd be any reason to take the umbrella with me.
The 1 PM set was the "
Meiji Restoration 150h Anniversary Stage Band 3153
". That consisted of a combined Okinawa-style shamisen duo, and a regular folk band teaming up. They did kind of a rock version of a popular folk song, which was pretty good. The blond guy at the right of the above photo was also one of the MCs for the festa, and I dislike him because he's noisy and overly self-absorbed (that is he insists on taking attention away from the performers).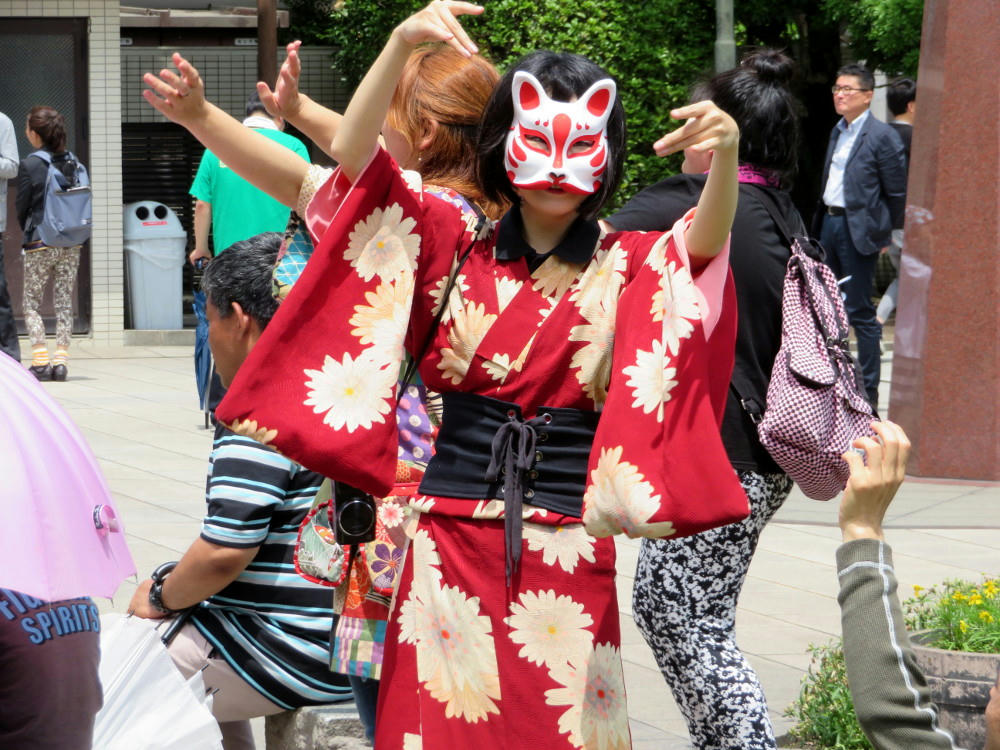 Again, the arts and crafts stalls were set up off to the side of the grounds, and the woman making the kitsune masks had a strong fan presence. She came out to dance to the folk music, and I took the opportunity to get a photo of her.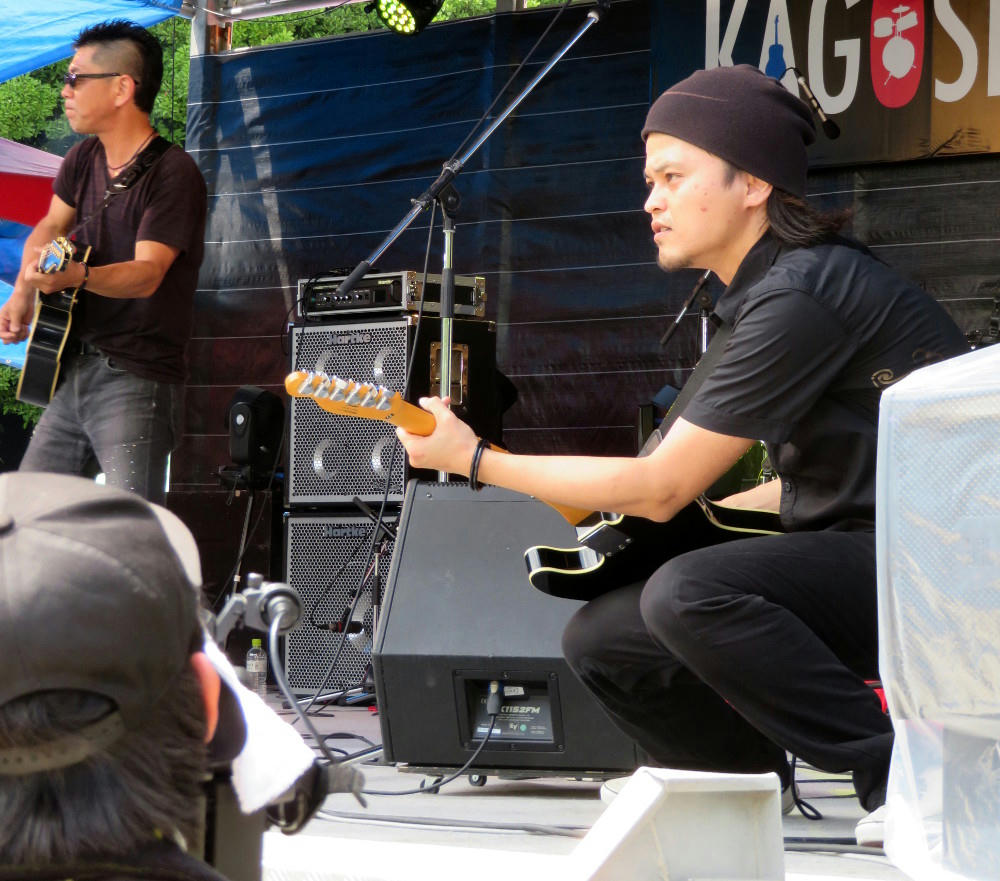 Tokunoshima Fireballs
did a kind of punk-folk set that was great. The lead guitarist was good, but a little too prone to getting into classic rock god poses at times. Regardless, I now have a new favorite Japanese band.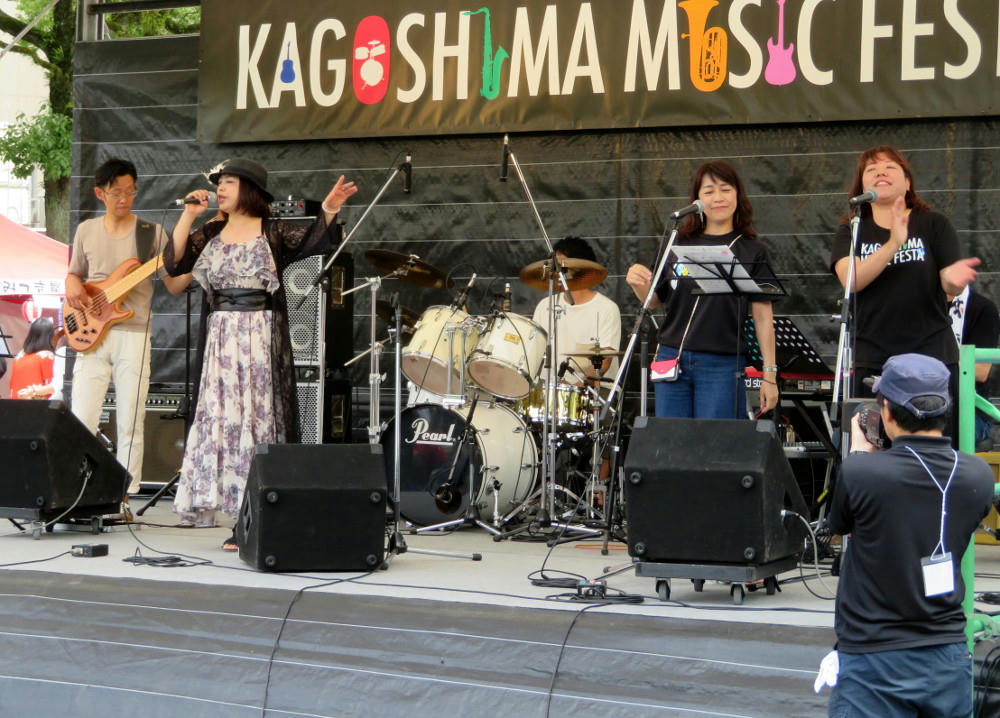 Takako
was billed as an oldies jazz band. They started with "It Don't Mean a Thing if It Ain't Got That Swing," and the lyrics got kind of mangled up. They then did two original pieces penned by the lead singer, Takako, that were very slow love songs. Not my kind of music.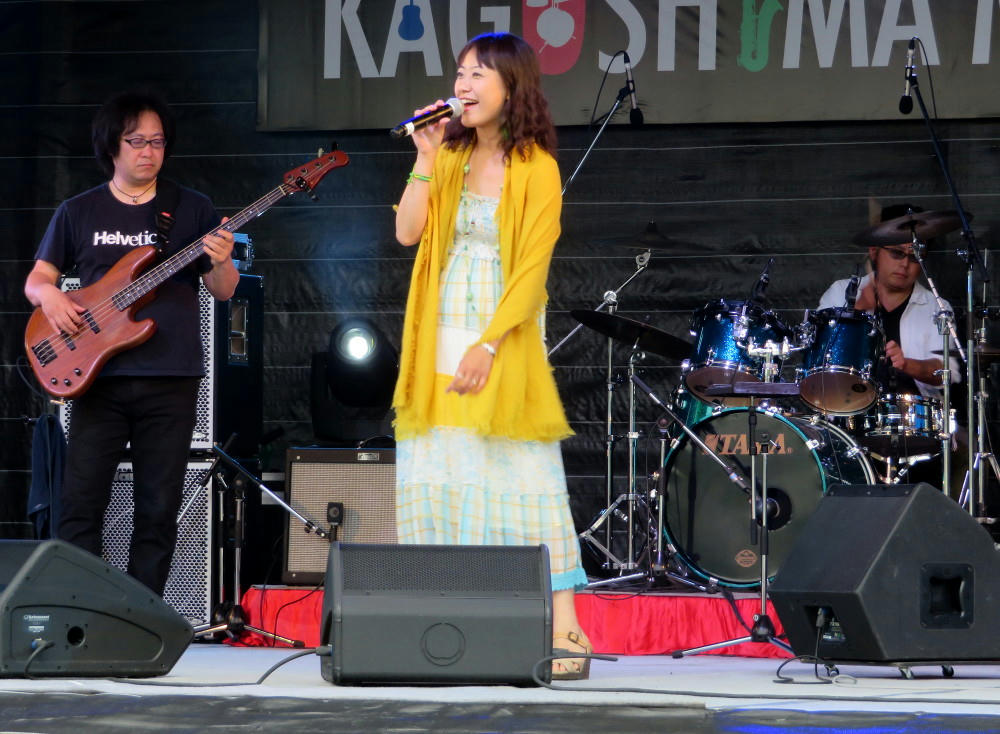 At this point, the line-up got kind of confused.
Miwa-Man S.B.
had been slated to play at 1:15, but the MCs spent the slot interviewing the owners of the food tables. Instead, they played at 2:15, when some other group was supposed to be up. I guess the second group cancelled at the last minute. Regardless,
Miwa-Man
did a kind of Latin set that reminded me a little of Santana, mixed in with soft pop. Good background music.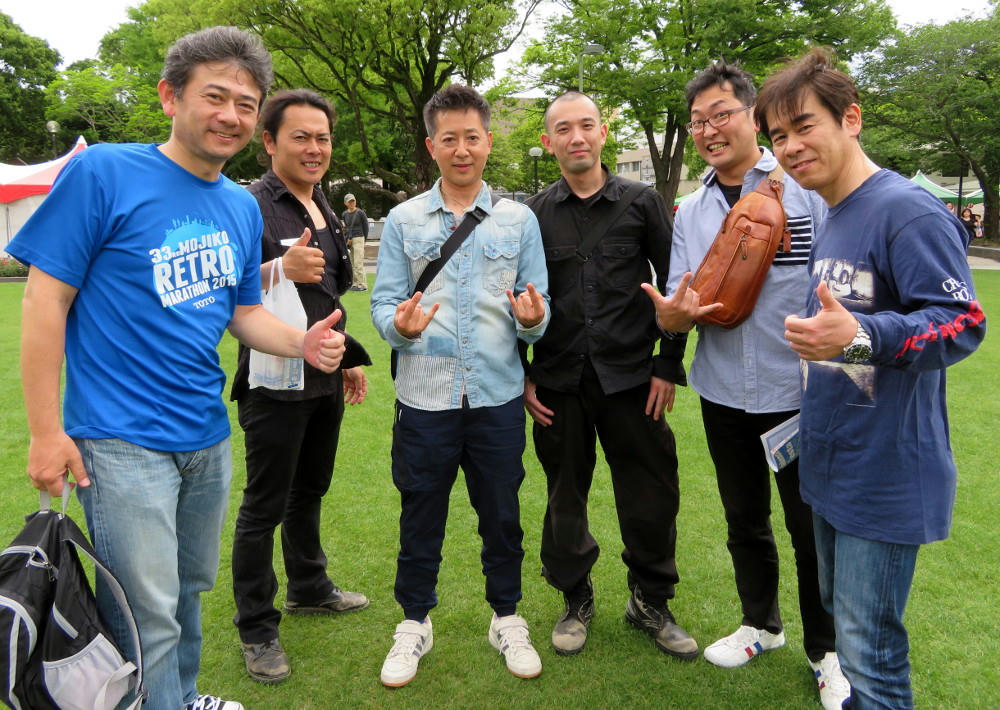 As I was walking toward stage 2 to get ready to record the next group, the guy at the extreme right of the above photo came up to me and asked if I had a copy of the schedule. I said that I did (actually, I had two copies, one from Saturday and a second one from Sunday), and he then asked if I like Bon Jovi. I knew that
Bon Vori
is a Bon Jovi cover band, and that they'd be playing at 3:30. Also, because they cover copyrighted music, I was planning to skip them. Instead, though, I replied that I knew he was talking about Bon Vori. He brightened up and told me that he's the guitarist for the band and he was really hoping I'd be in the audience to listen (I guess he was afraid that no one wanted to listen to them, and I assume I wasn't the only one he'd asked). I said I would, then I asked him why he likes Bon Jovi so much. He said that he really admires Richie Sambora as a guitarist. We talked a bit more, and then I asked if I could take his photo. He brought me over to where the rest of the band was standing around, and they posed for me.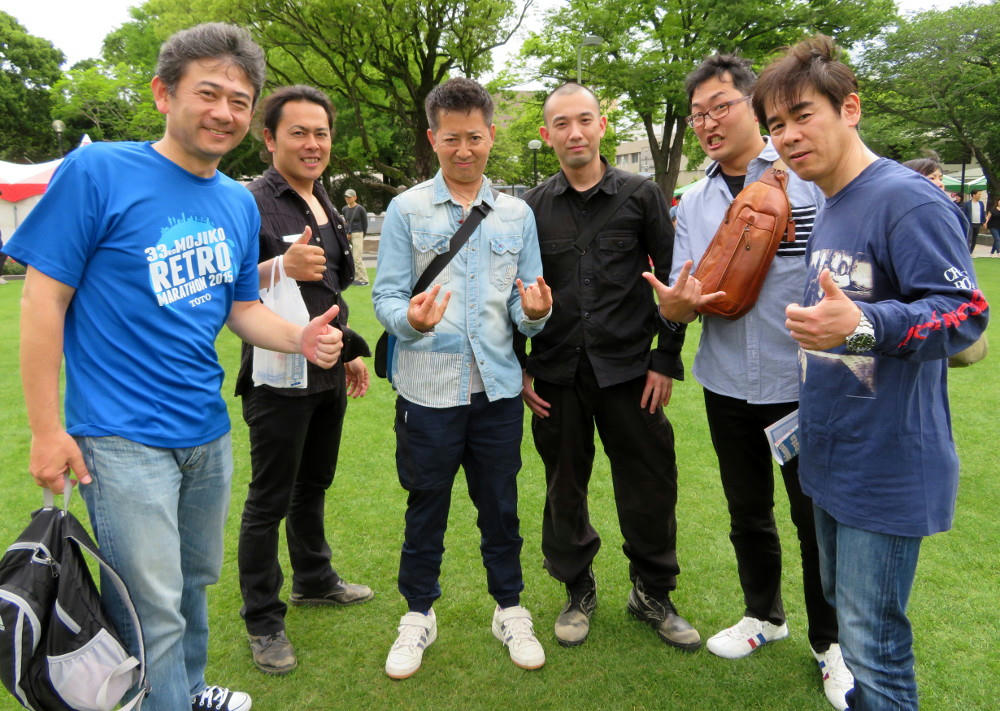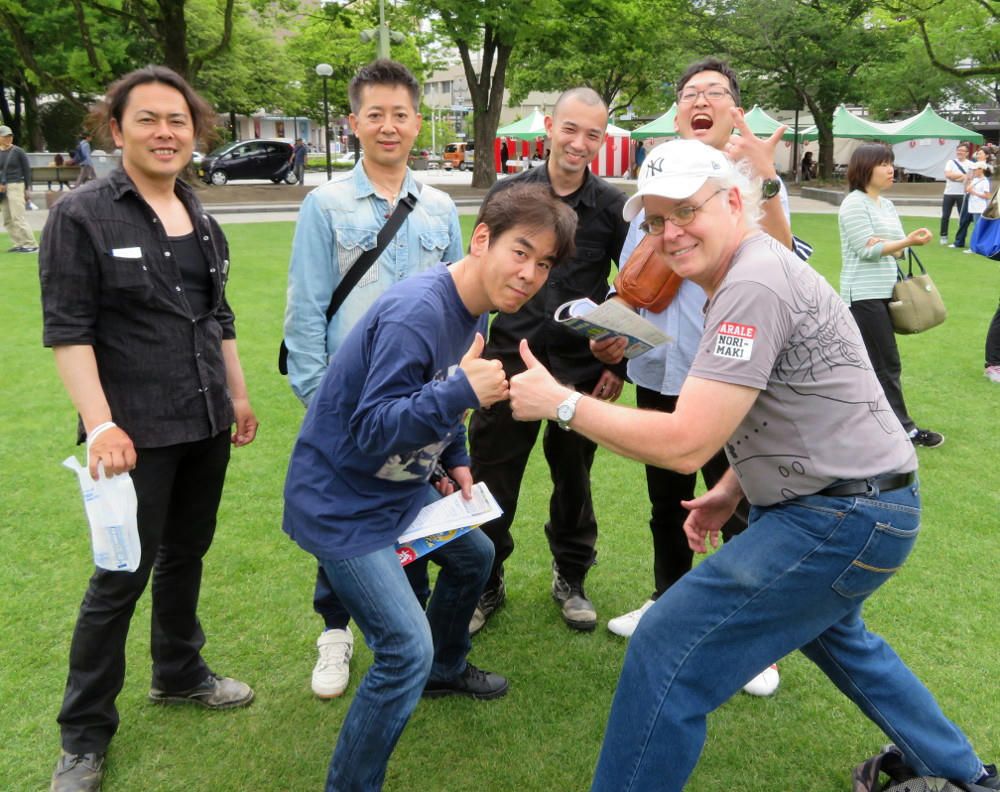 They didn't respond to me later when they got on stage, and I didn't have the opportunity after their set to tell them that they did a great job. Oh well (the band's from Fukuoka, at the north end of Kyushu). Maybe they'll be back down here some time.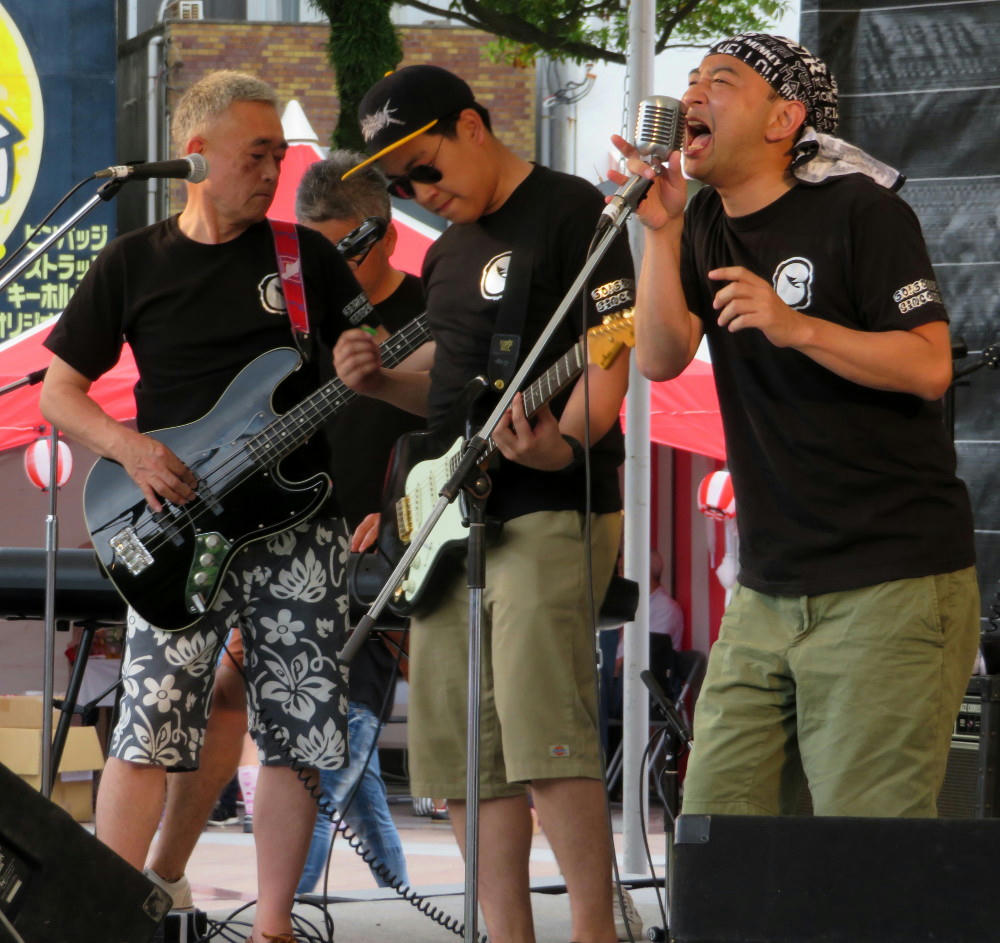 At this point, the sky had gotten darker and we started getting drizzle. There wasn't anything I cared about on the schedule, so I walked back home to get my umbrella. That took me about 10 minutes, and when I reached the apartment, the drizzle had stopped. I grabbed my umbrella anyway and went back to the park. Just as I reached the street light in front of the park, the drizzle came back. I was starting to wonder if the rain was only over the park... Then,
Go! Go! 0185
got on stage 2 and rocked out with 80's pop covers. A little campy, but very popular with the crowd.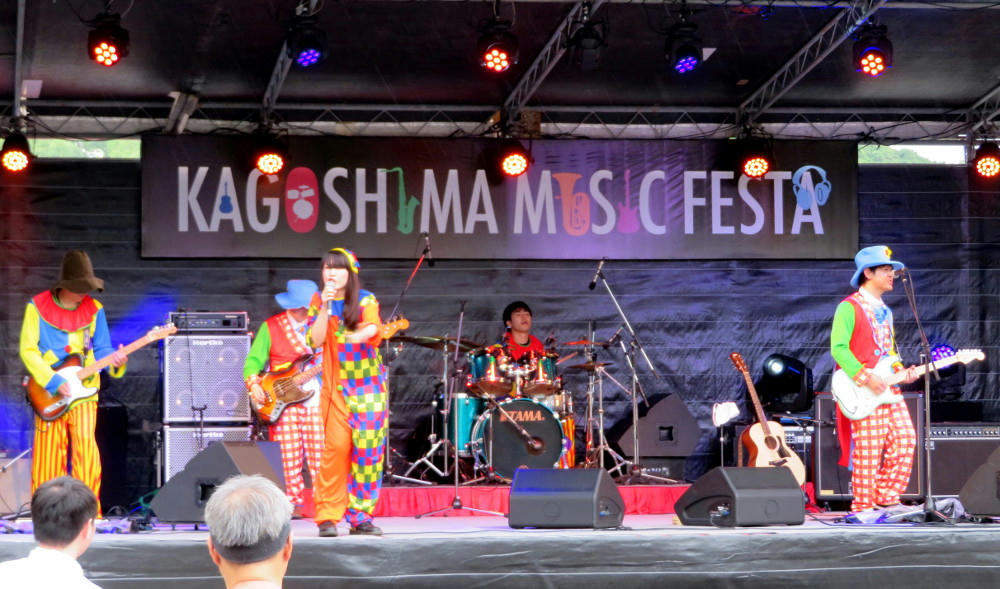 I think this is
Apple Jam
. The clown outfits mark them as a gimmick act, but they played pretty decent rock.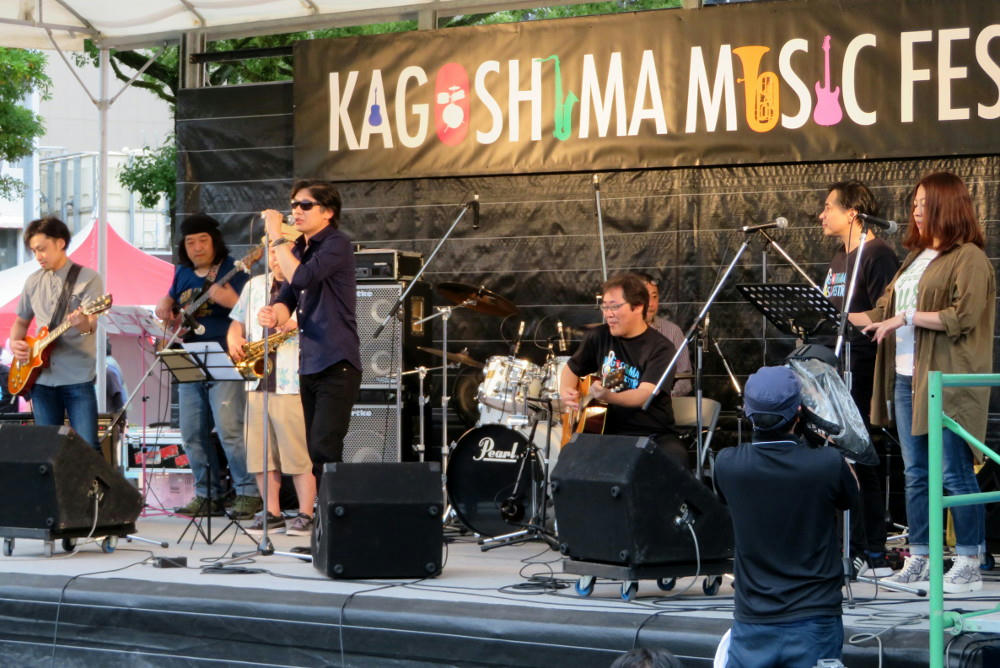 This is
Back Street Club Band
, a Hamada Shougo tribute band. The music was good, but I didn't recognize any of it. I don't know if youtube is going to flag it.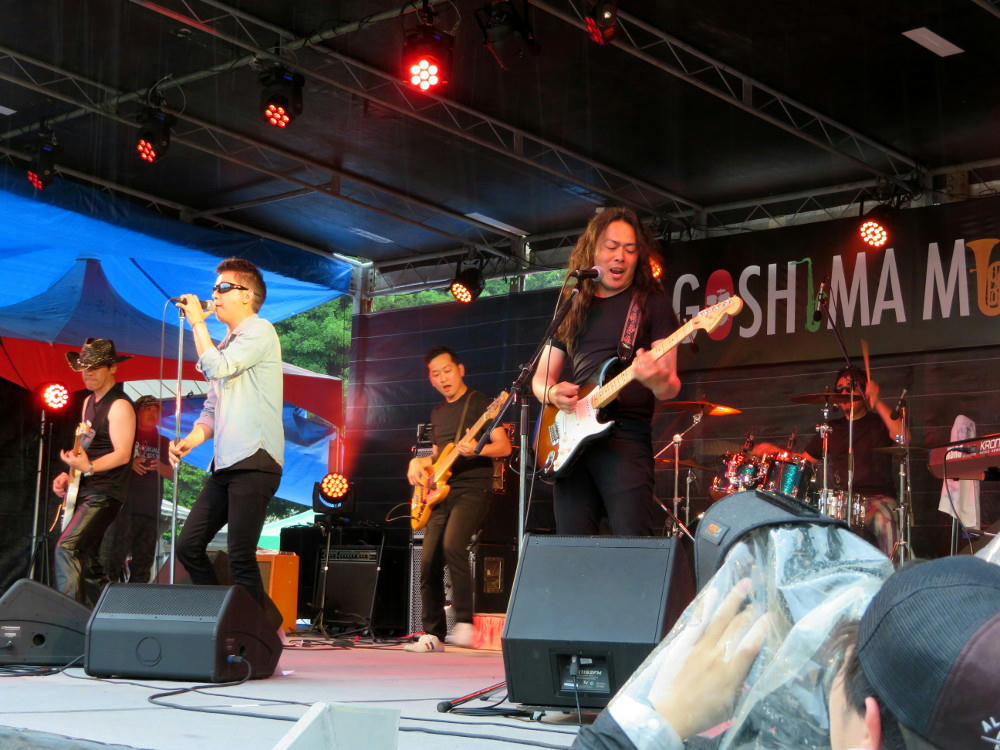 Finally,
Bon Vori
. The lead guitarist, at the far left, is completely unrecognizable now. Fun, fun set. Unfortunately, this was when the rain started getting more serious, and it became a lot harder to take video with the camera in one hand and the umbrella in the other.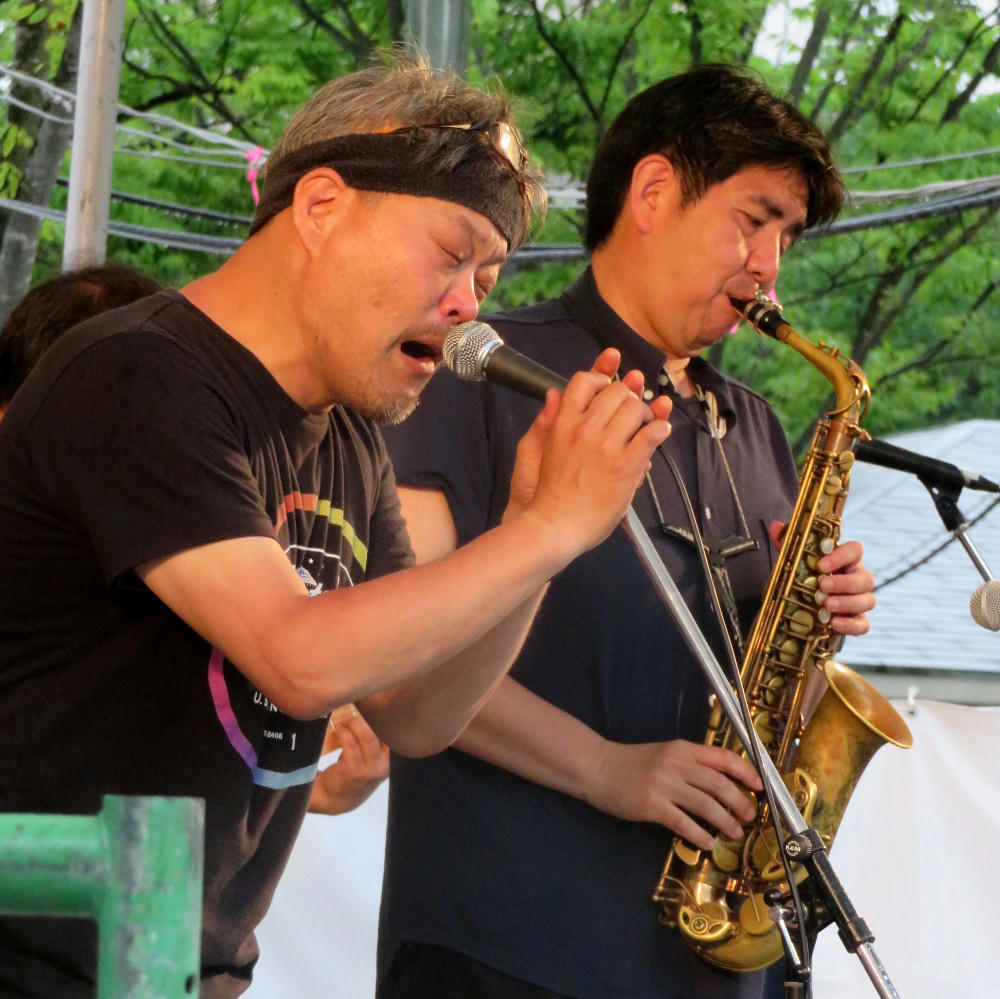 Kojou
is apparently the band fronted by Makoto Kojou. But, he was a no-show on Sunday, and Wicky Toshi filled in for him on vocals. The program says that they do Showa-era ((1926-1989) music, but it sounded a lot like what Wicky normally plays.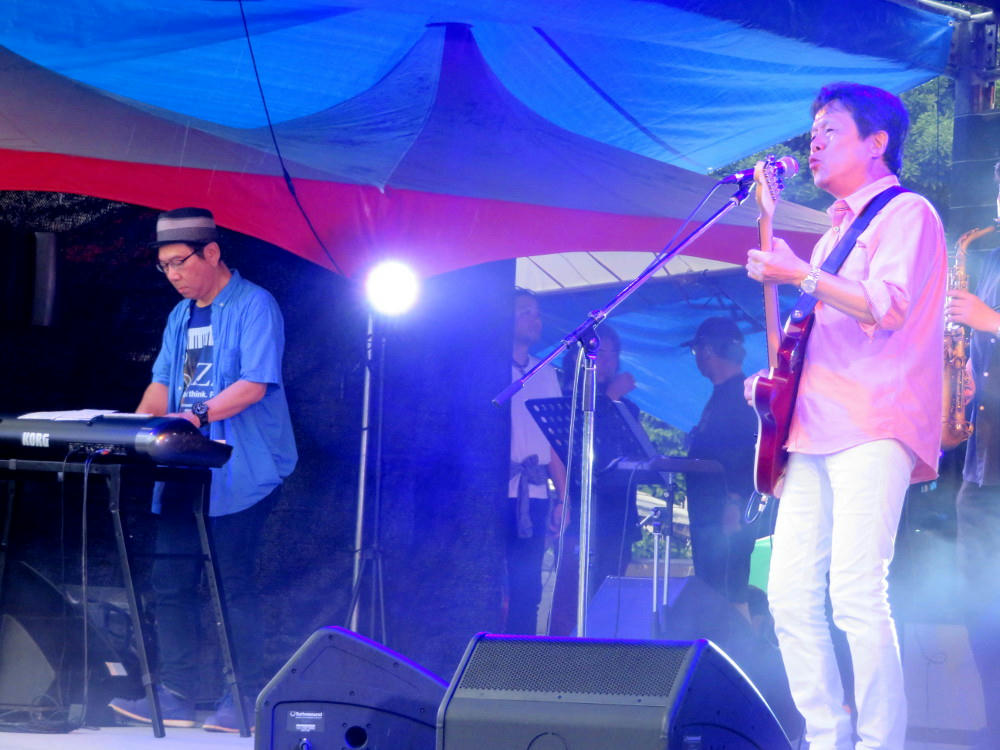 I've seen the
Kosha Band
a few times before. They do Tatsurou Yamashita covers, which is soft pop rock. I figured this would be a good time to try a nearby restaurant in Tenmonkan. They have a hamburger stack that I was curious about, but when I got there, one of the staff said they wouldn't be open for service until 6 PM. That's when the next band I cared about would be playing, so I went to Mister Donut to get 2 chocolate donuts and a coffee, and read
Ajin
vol. 12 to kill time.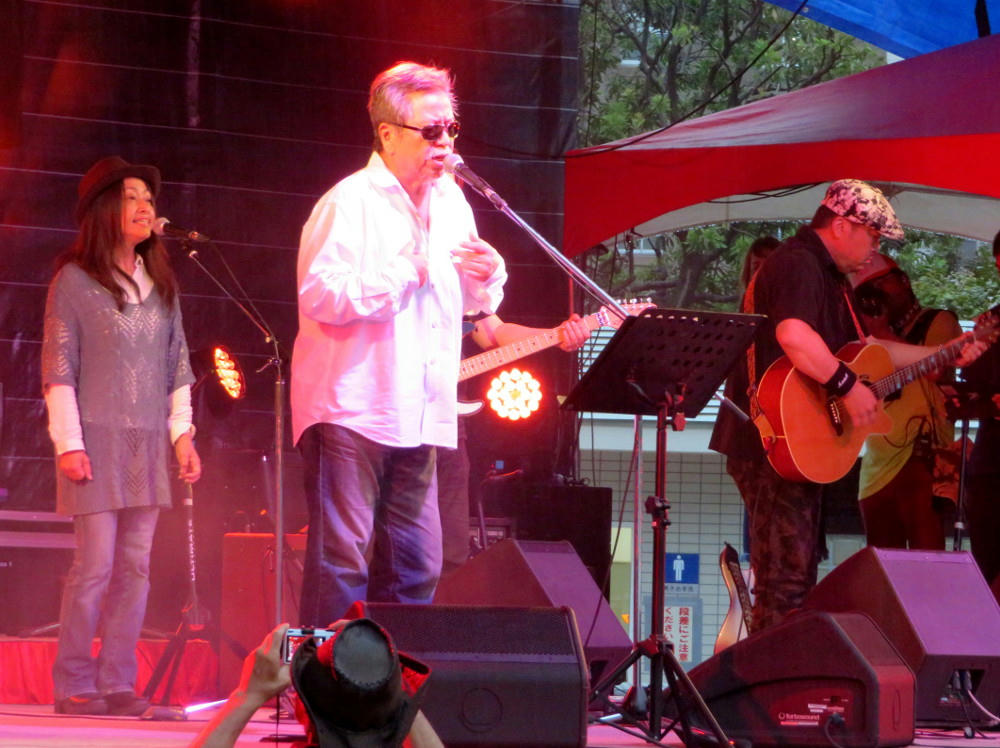 When I got back,
Mercy Band
was just finishing up. It was actually a bit embarrassing, in that when I ran into Toshi the Wanderer, and he introduced me to the lead singer of
3set
, one of the bands that had played while I was eating donuts. I had to apologize for missing him play, but I had seen them at the KMF last year, which did smooth things over now. Before the guy ran off, Toshi took a selfie with us and posted it on Facebook.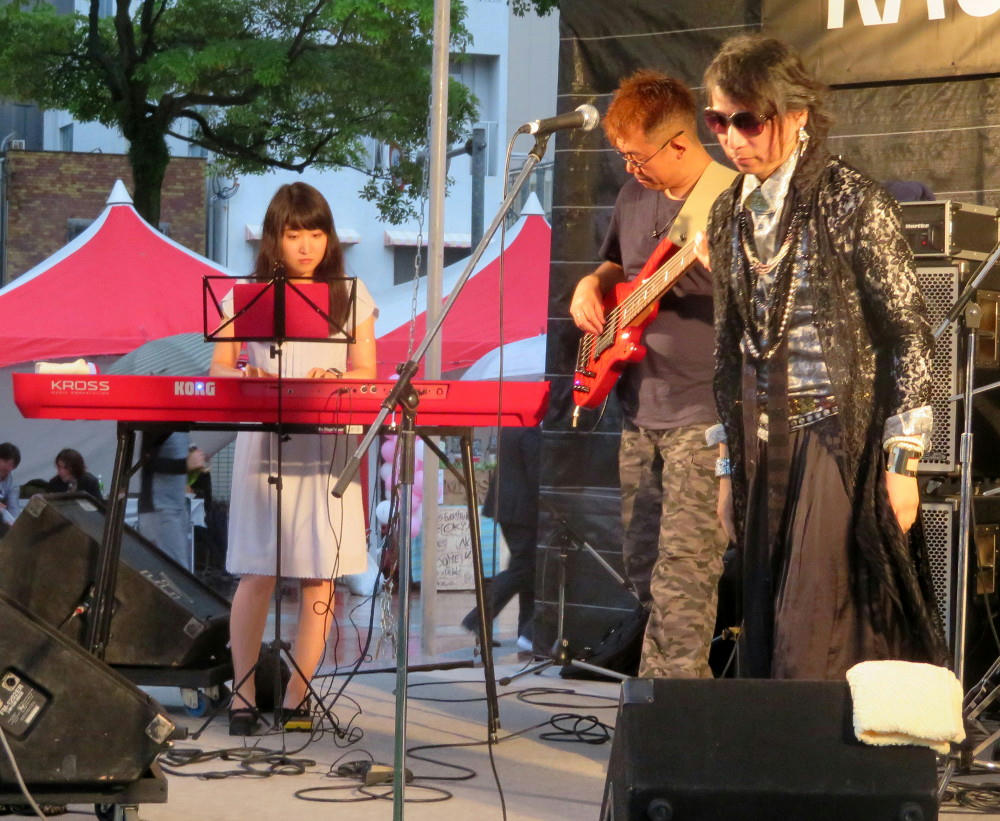 Horizonal Grays
is a Dream Theater cover band. I really like Dream Theater after Jordan Rudress joined up on keyboards, so I was wondering how the petite woman doing keyboards would fare. Then it turned out the band was doing some of DT's earlier stuff. A little disappointing, but they still did a good job.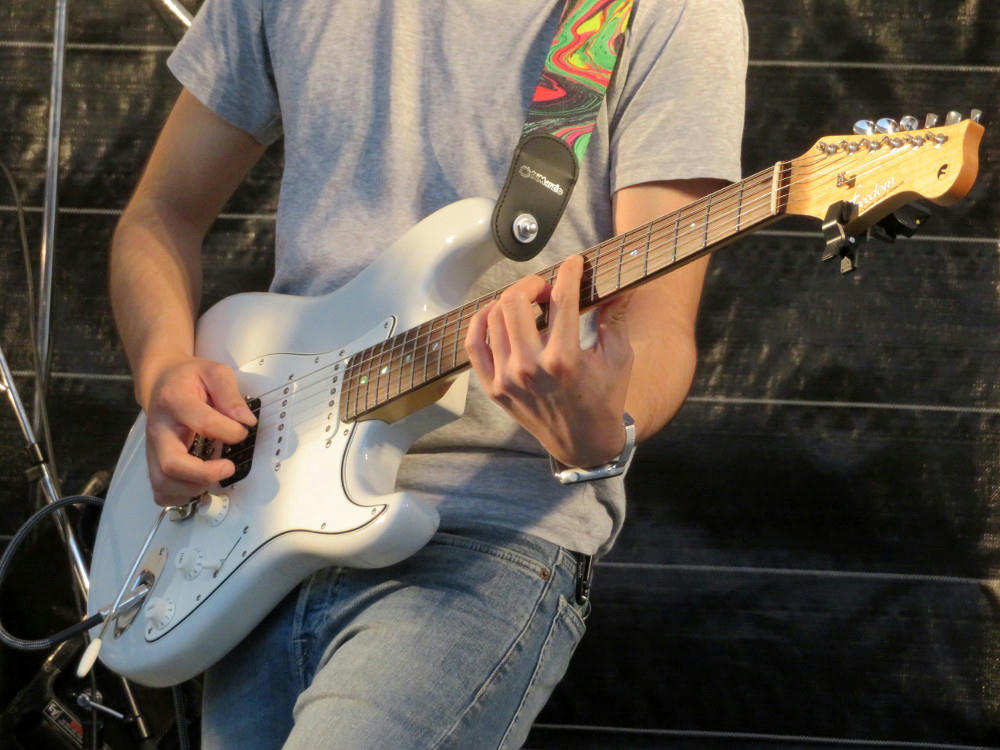 Sunday was Mother's Day, and I had to go back to the apartment for a Mother's Day sushi dinner. Which was ok, because I've already seen the remaining bands -
DEP II
,
Trinity
and
JJ Soul Band
. Overall I had a LOT more fun than I'd expected to. I ran into Aiko, and Kafka's Kazuka Kamada again, and generally enjoyed myself a lot. After dinner, I focused on processing photos (another 260 shots) and videos (2 hours this time, but most of it copyrighted and therefore I can't share it on youtube). It's a shame that the rain ruined things. By the time I left, there were maybe only 40-50 people still hanging around the park. The bands did put on a brave face in covering their disappointment at the lack of a crowd, and they still rocked out away. Good on them.
I don't know of any other events coming up in the next month, so I guess I'll have to settle back into a work routine now. Oh well.
Direct youtube link to sampler 1
Direct youtube link to sampler 2
Direct youtube link to sampler 3