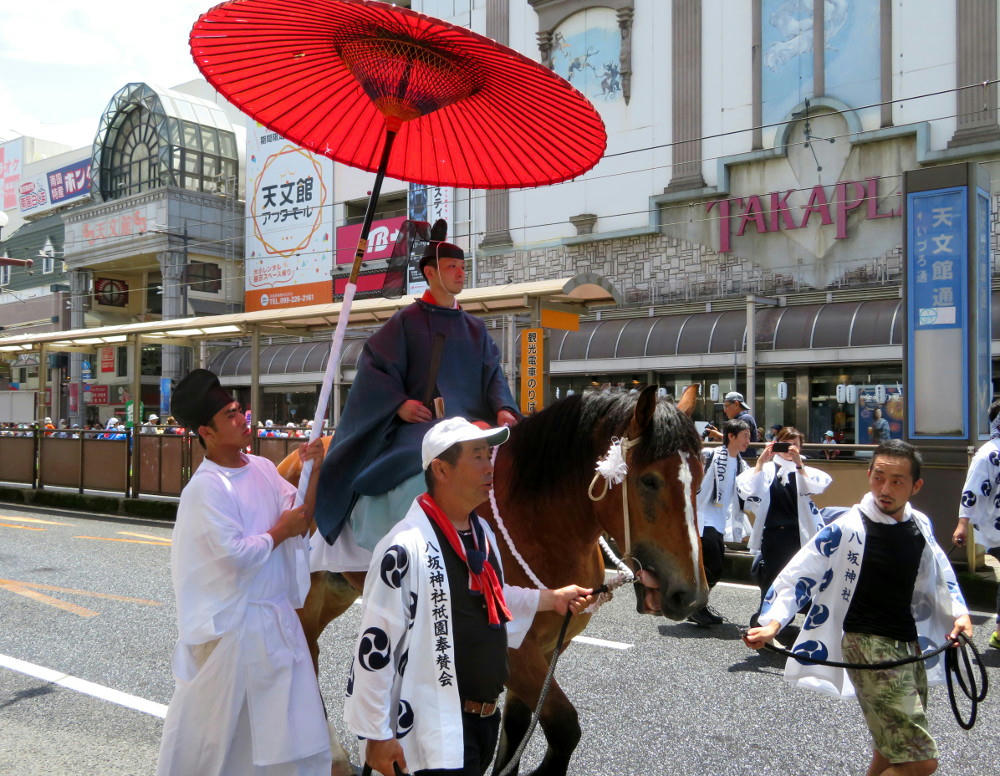 "If you don't like the weather, just wait a few hours." Sunday morning, we had heavy dark clouds to the north, and blue skies to the south, and absolutely no rain. Day two of Ogionsa started with the staging at Central Park at 11 AM. Various groups then headed from the park, through Tenmonkan, to Street Car Street 6 blocks to the east. The parade itself started on Streetcar Street at around 11:30, first with the taiko marching group and children's mikoshi, then the women's mikoshi groups. Finally, the larger women's shrines, and men's big shrines joined in. At this point, it was very sunny and HOT outside.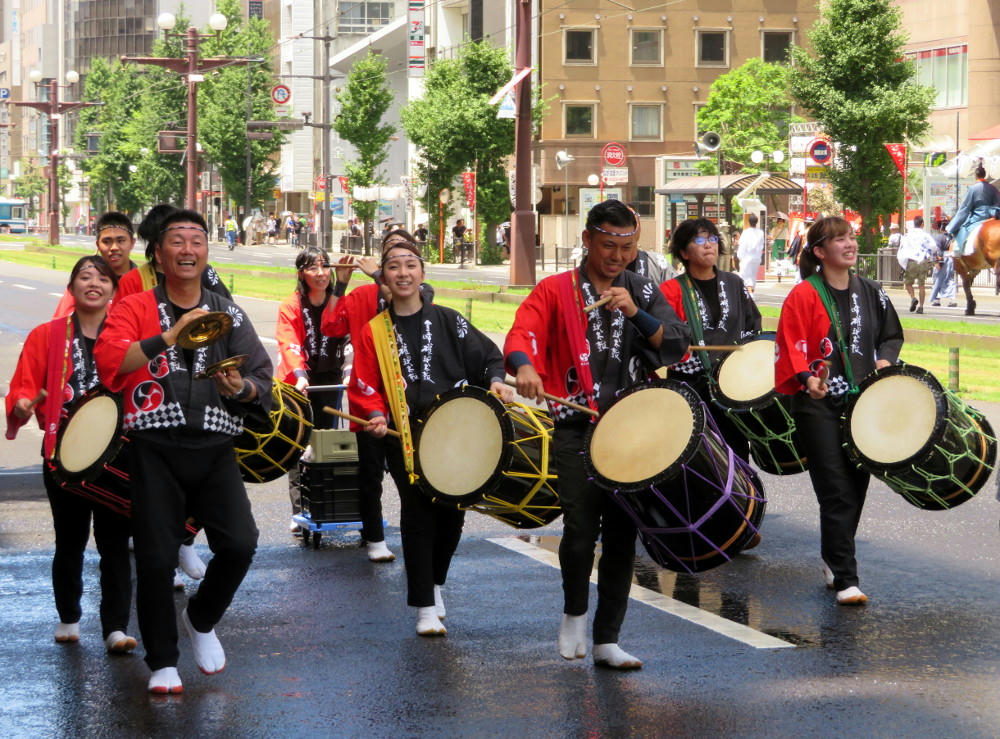 Various people along the way sprayed the street (and paraders) with water to try to keep everyone cool. There weren't as many mikoshi as last year, and that was down from the year before, too. One thing that I noticed immediately was the complete lack of booths selling festival foods or drinks. At a minimum, I was expecting some of the restaurants or konbini on the route to have coolers of iced beer and soda for sale. But, no, nothing this time.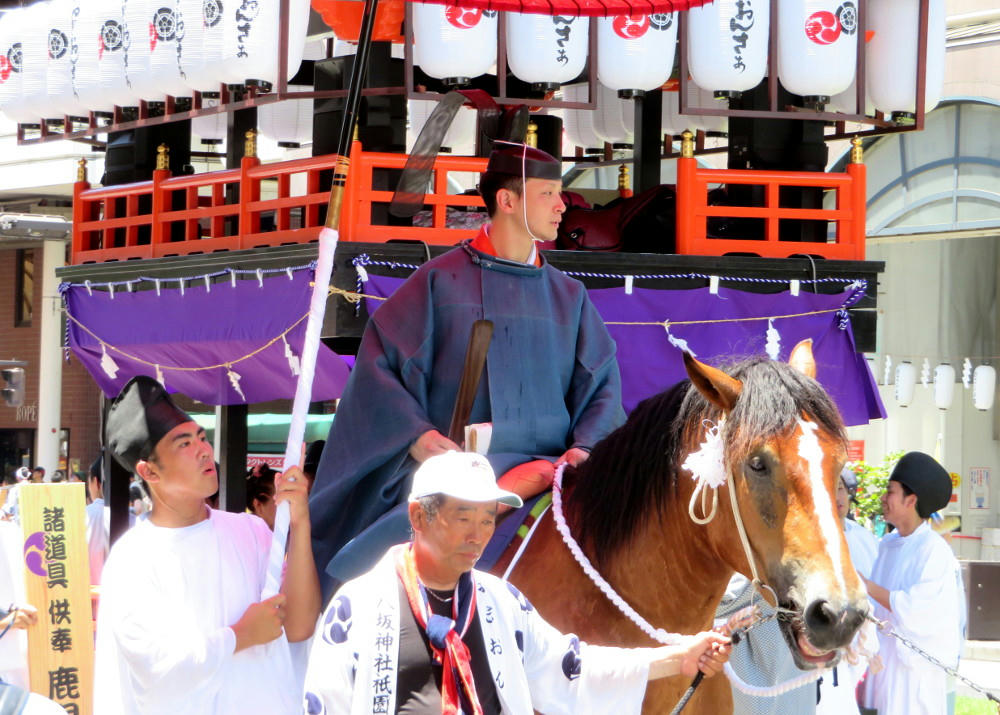 I wasn't planning to shoot any video at all, because the parade is always the same from year to year, and instead I'd get more photos. However, because there were fewer mikoshi, and more taiko performances, I shot about an hour of video (which is significant since Ogionsa only ran about 2.5 hours).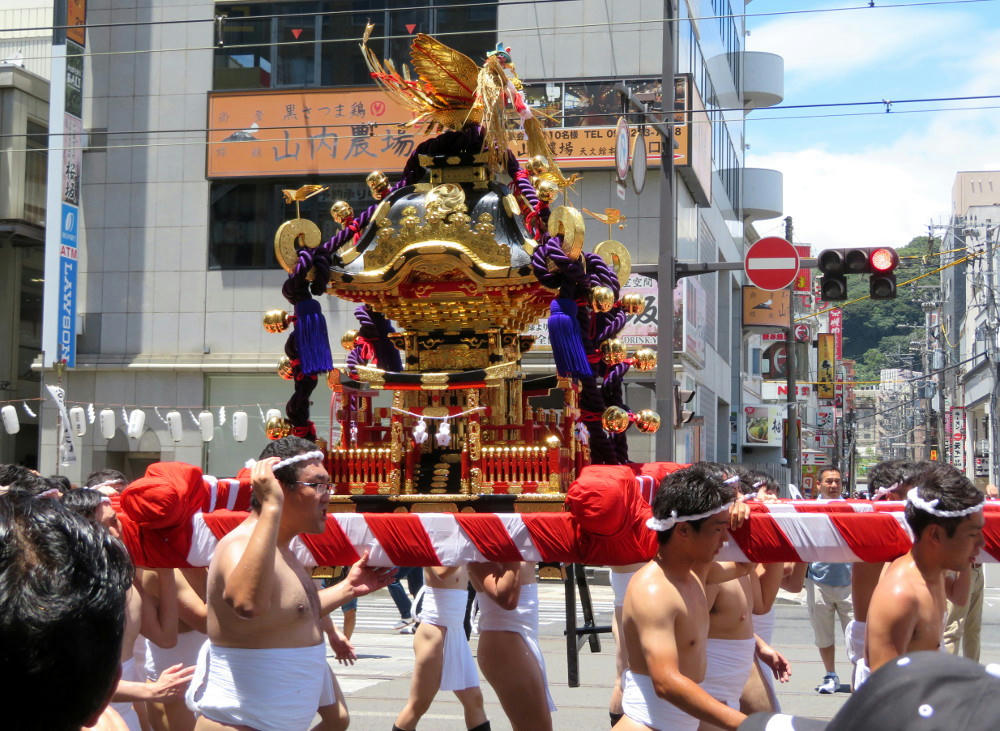 At 12:30 PM, I felt things were slowing down enough that I'd be able to walk the half-mile up to Amu Plaza to see what was going on there at the live stage for Age-paku (the fried foods fair I wrote about last week). 1 Believe FNC went on stage at 1 PM, and when I had enough of a feel for what they do (basically, they seem to be a dance troupe that performs to recorded music on CD), I returned to Tenmonkan.
One thing about the shrines - they seem to come from everywhere. All major shopping centers seem to have one in storage somewhere, as do the schools. I'm not sure how many of these shrines actually come from the main Shinto shrine themselves. In either case, the people carrying the shrines could be employees at the shopping centers or from hospitals, or are students from some of the nearby schools.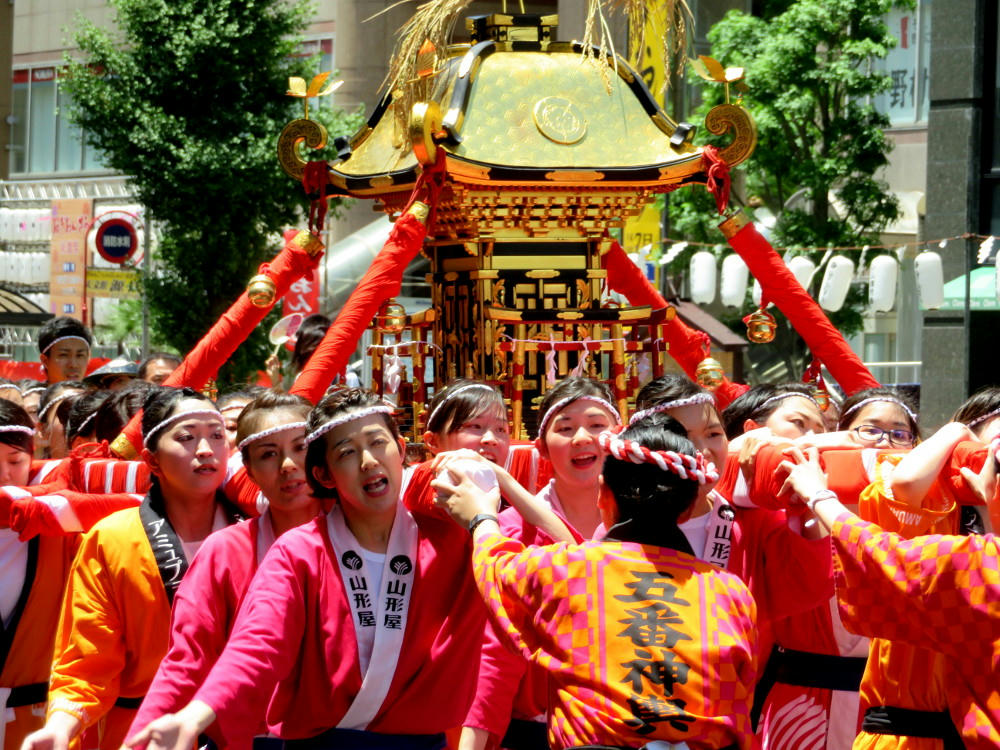 Whenever an event like this, which has some kind of religious element to it, begins or ends, there's a "boom-boom-boom" that goes off from somewhere. It could either be a small cannon, or big fireworks. I've never figured out where it comes from, but when I'm in Tenmonkan, it sounds close, and could be from Terukuni shrine (the place that held Rokugatsu-tou last week). This time, I wanted to go down to Terukuni to find out, since the parade was supposed to end at 2:30 PM, and I expected the booms at that point. So, when the parade looked to be winding down, I walked along Terukuni street from Streetcar Street.
Half a block down, I got to the Cross music shop. They sell CDs and instruments, and offer music lessons. Occasionally, they host live performances on the sidewalk in front of the shop (probably to advertise their lessons). This time, they had two women playing classical music on flutes.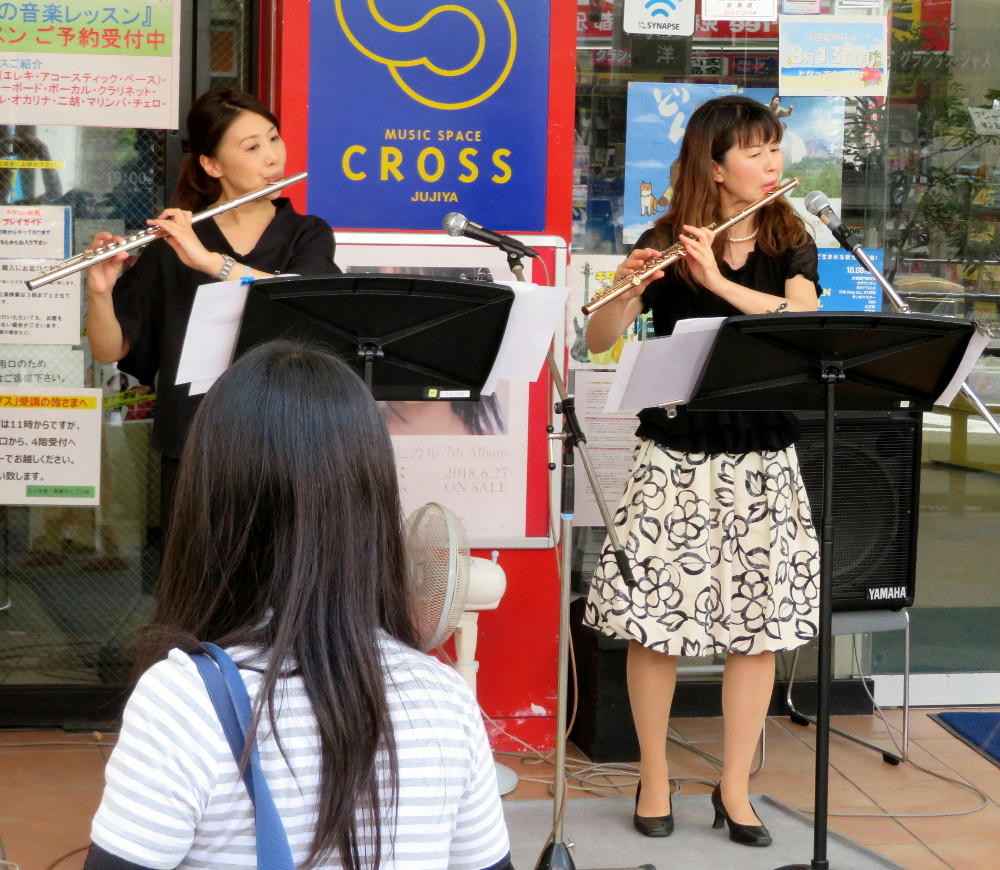 After listening to them for a bit, I decided instead to hang out at Mos Burger nearby, in case the matsuri ended with more taiko. It did, so I recorded that, too (below). At the end, my arms and the back of my neck were burning, and I knew I'd be in for a world of hurt Monday, so I returned home when the work crews began tearing down the booths and sitting areas to allow traffic back on the streets, some time between 2:30 and 3 PM. After I got to the apartment, I heard the boom-boom-boom showing that Ogionsa was over. I still don't know where that's coming from.
As I type this entry up, my arms, chest (where it was exposed by my t-shirt) and face are beet red. Because of all the walking I do outside, I'd thought I'd already developed a pretty healthy tan. Apparently not, because you can't see it under the sunburn. Sigh. The back of my neck is going to be the worst tomorrow...
Direct youtube link, part 1
Direct youtube link, part 2
Direct youtube link, part 3