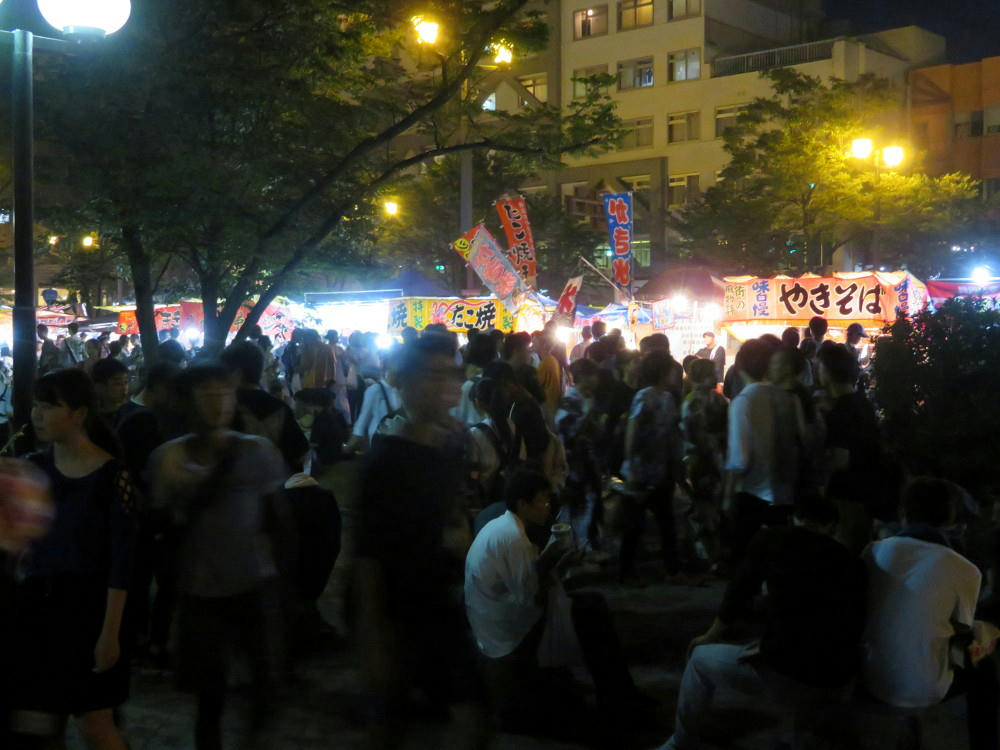 Well, I had no idea that Rokugatsutou, the big summer evening festival that celebrates the life of one of Kagoshima's most important leaders, Nariakira Shimadzu, was this weekend. Actually, it started Sunday night and continued to Monday (Umi no Hi = Sea Day). There were hints, particularly all the women wearing yukata and kimono, but part of that could be explained by the fact that it's summer, and they'd had the Age-paku event at Amu Plaza from Friday. However, Sunday night I had to go out to the Shiroyama supermarket at 10:30 PM, and two women, one wearing yukata, were walking past the apartment from the direction of Terukuni shrine and Central Park, which is where Rokugatsutou is held. but I hadn't seen any of the food stalls going up on Saturday, and I was still thinking that maybe the matsuri wouldn't be for another week or two.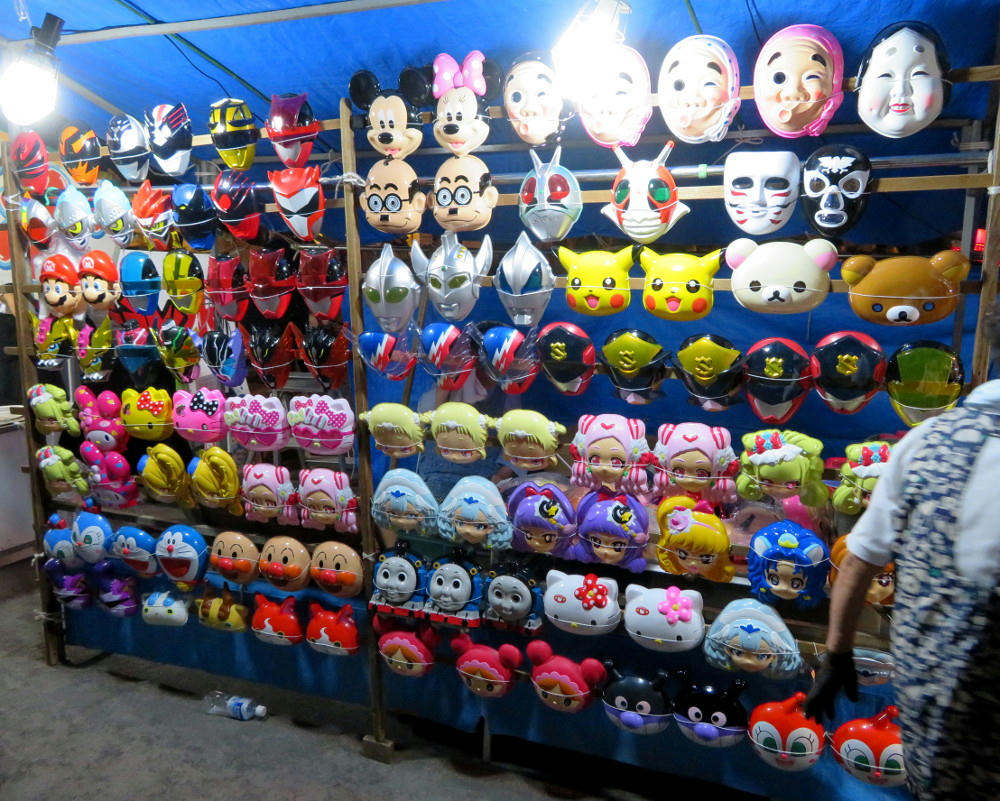 But, I had to work at the school Monday night, and as I was walking by the park at 6 PM, I saw the crowds swarming through the food stalls. When I got to the school, the owner told me that, yeah, Rokugatsutou had started Sunday night. Oh well.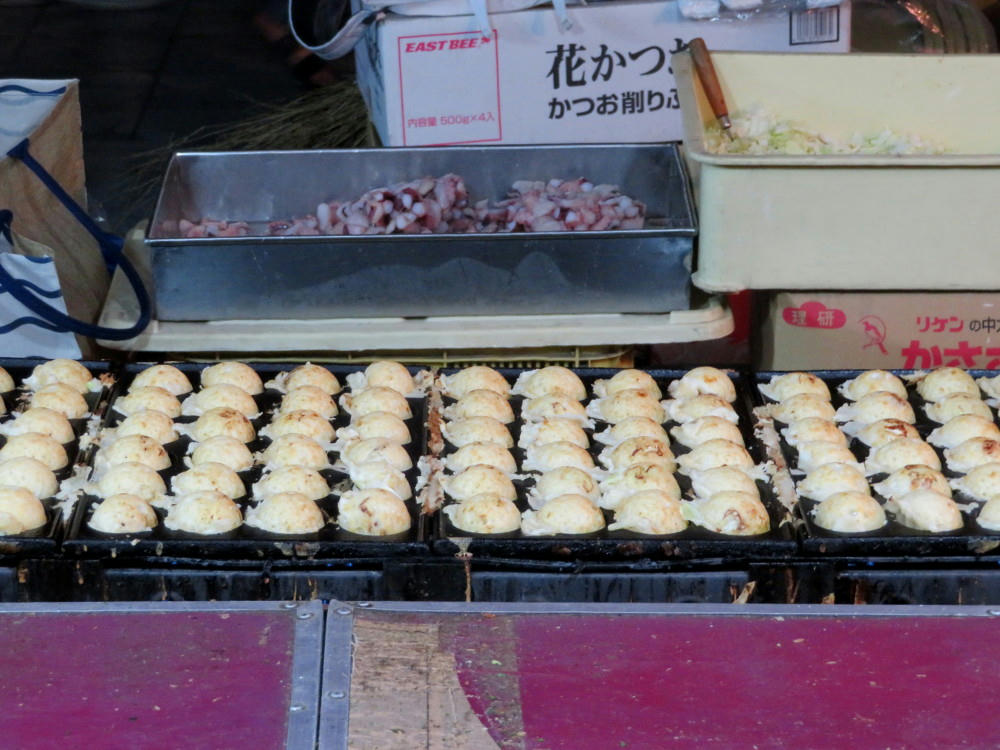 (Takoyaki - fried balls of batter with pieces of octopus inside.)
I didn't really miss that much Sunday, though. As I wrote for the Age-paku event, I still wasn't feeling all that great, and I was happier staying indoors during the evening, watching youtube videos and working on the blog entries. I had wanted to go up to Amu Plaza on Monday afternoon to catch some of the music at 1 or 2 PM, but I ended up sleeping late, not getting up until noon, and then having to go out for food shopping in the opposite direction at 1 PM. So, I missed the music at Age-paku Monday.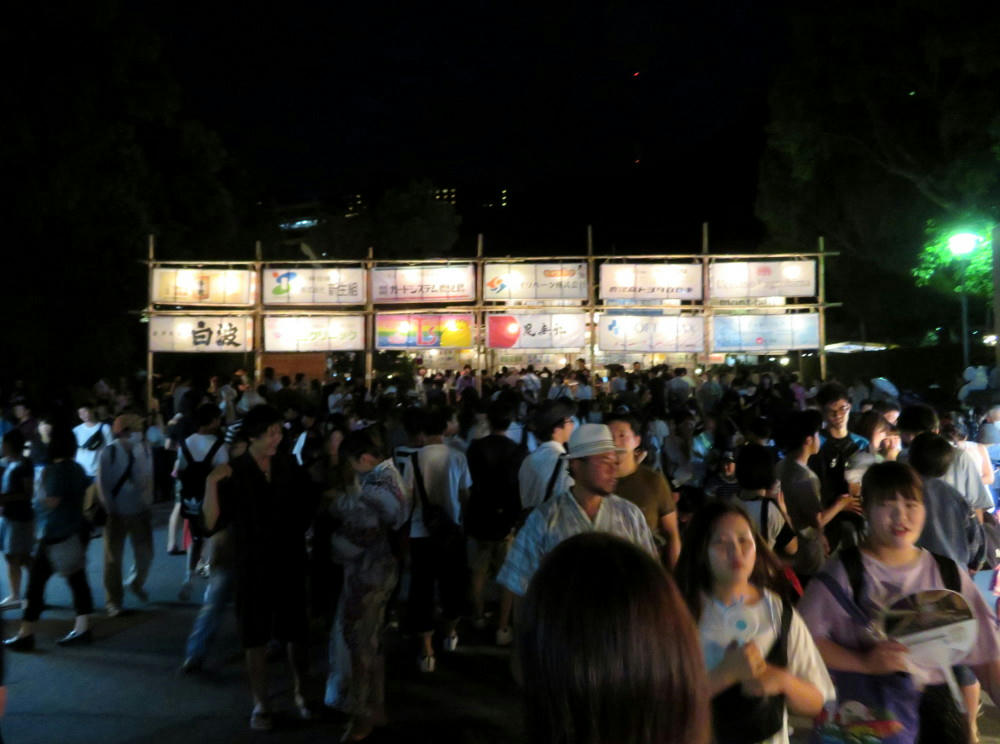 As for Rokugatsutou, it's an evening matsuri and things don't get started until the sun goes down after 6 PM. My first class started at 6:20 PM, and I couldn't get out of the school until 8 PM. By that point, I'd missed half of the performances on the live stage. So, all I really wanted to do was get some photos of the lanterns for the blog, and see if I could get a stage schedule to determine if there was much of a reason for sticking around until 9:30 PM when everything would end, or not.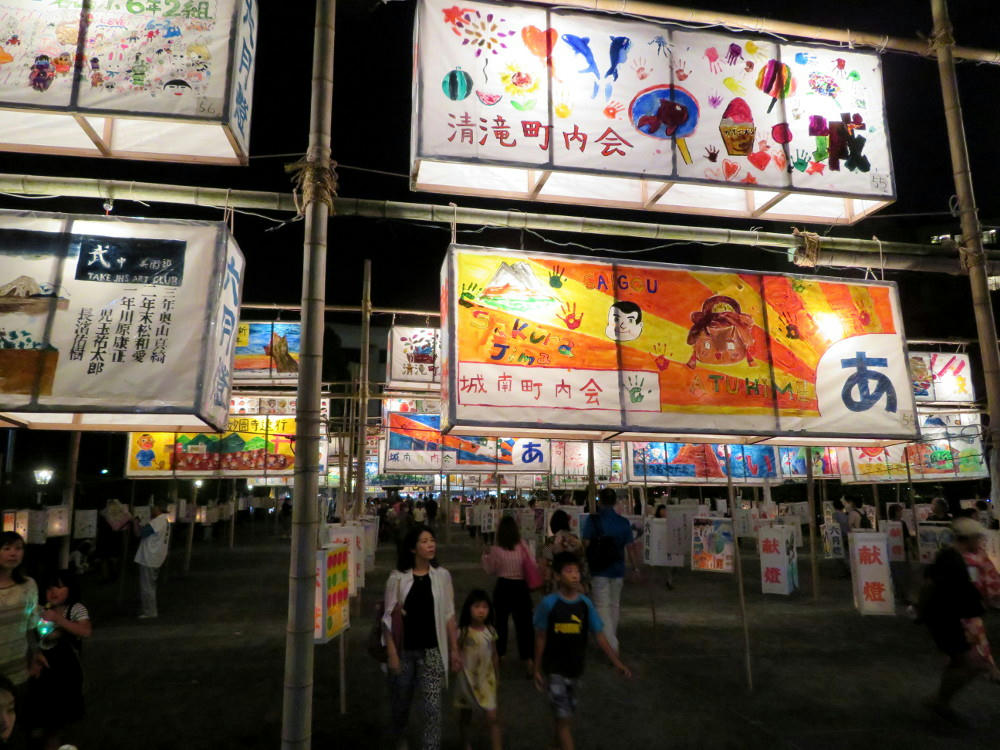 The event can be broken up into the food and drink stalls in the street between Tenmonkan and the main shrine entrance, the lanterns, people watching, praying at the shrine, flower arrangement displays, and the live stage. I did get one cup of beer for 400 yen ($3.80 USD), and a starchy thing on a stick (kind of like okonomiyaki) that was supposed to have shrimp in it but didn't for 300 yen. Otherwise, I walked around a lot while waiting for the stage performers to change.
The lanterns have ads for shops, bars and banks on one side, and art by school kids on the other. Most of the kids art is pretty rudimentary, but there were a few pieces that were ok.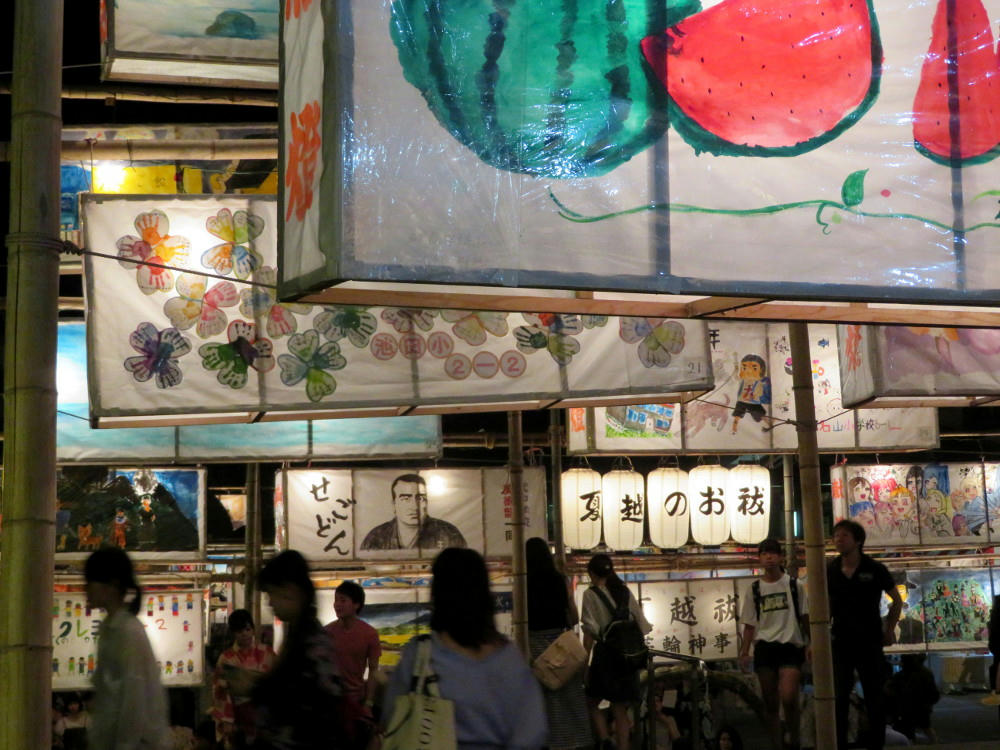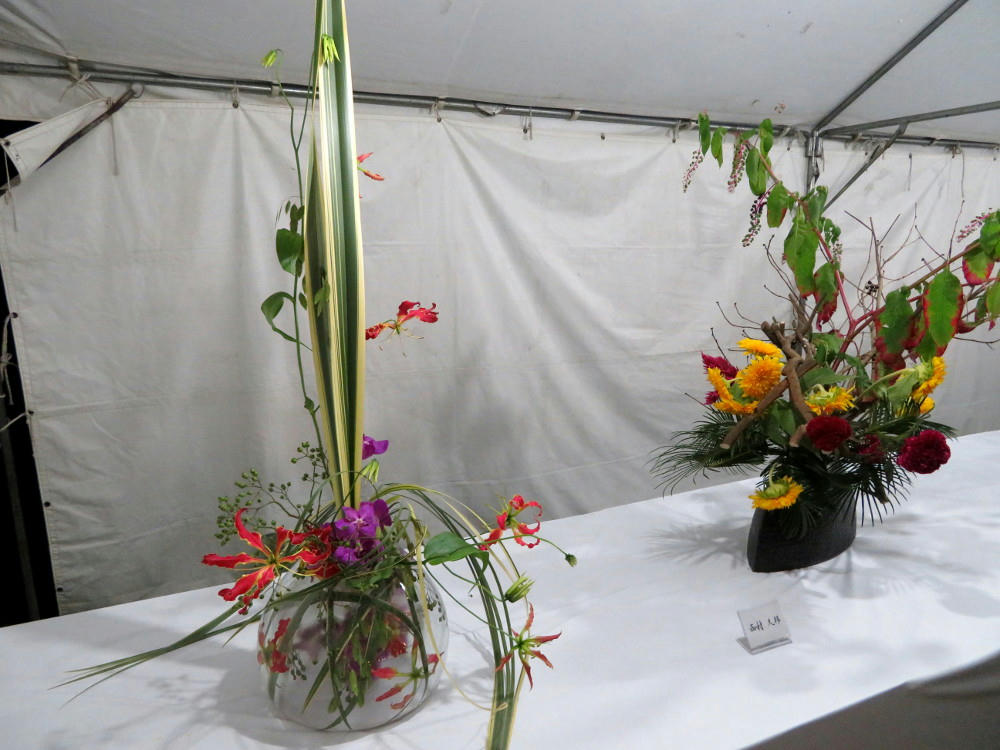 The ikebana always seems kind of slapdash to me, but this time a couple of the arrangements were a little more colorful.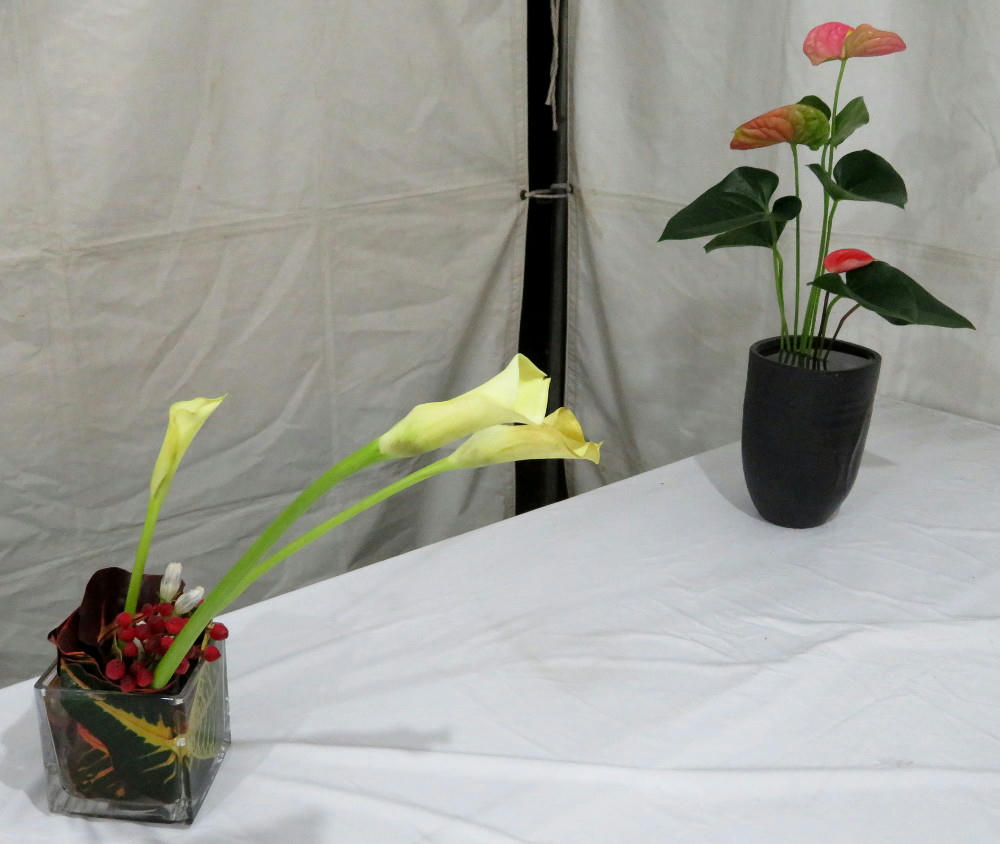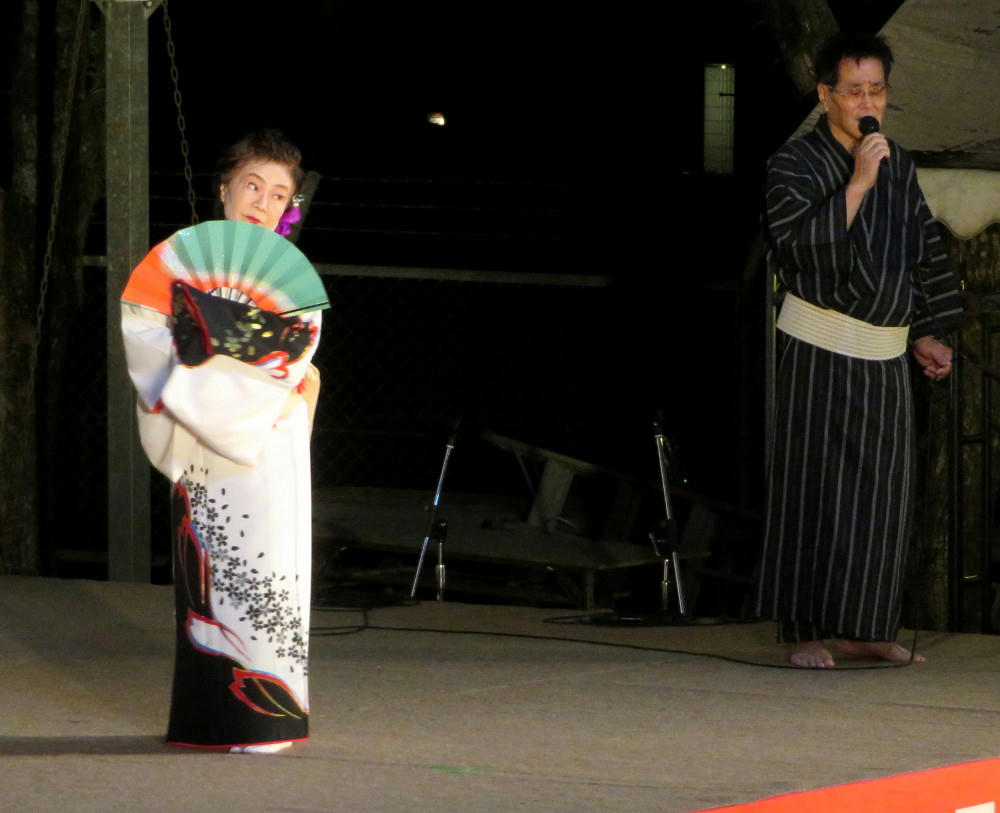 The stage performances followed the same pattern as in previous years. There are 5-10 performing groups between Sunday and Monday, and each one has 3 "slots" to fill with whatever it is the members do. In some cases it's enka (Japanese folksinging) and an accompanying dance. In other cases it's kind of a kabuki act, hula dancing, or pop idol dancing.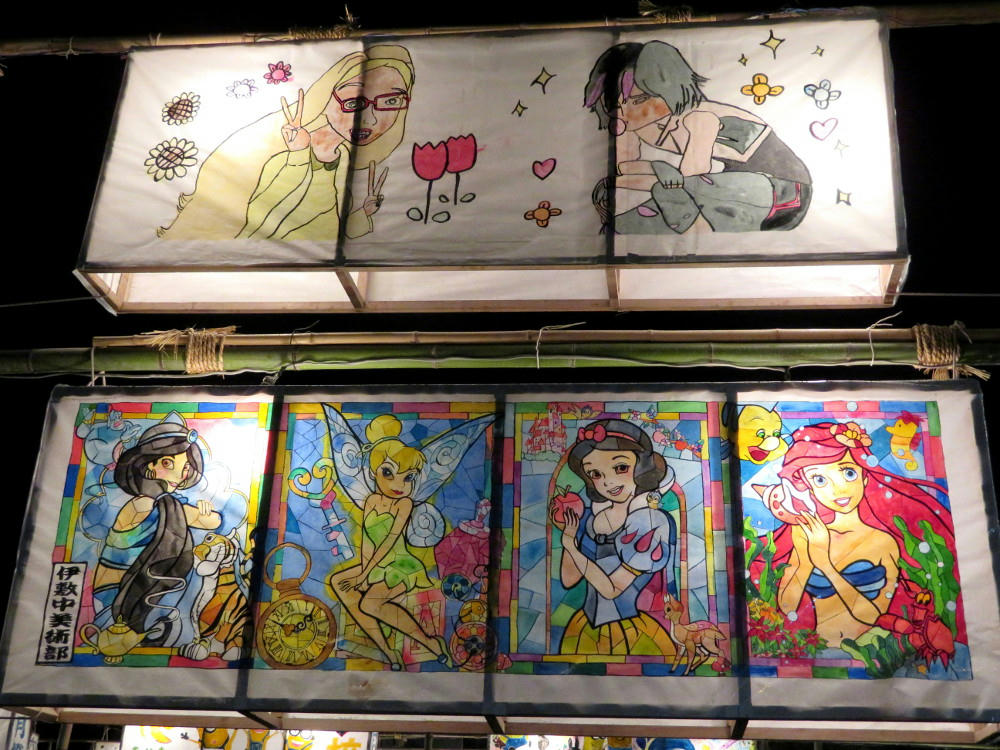 During the enka and slow dancing, I'd wander around more to look at lanterns, or decide to get beer.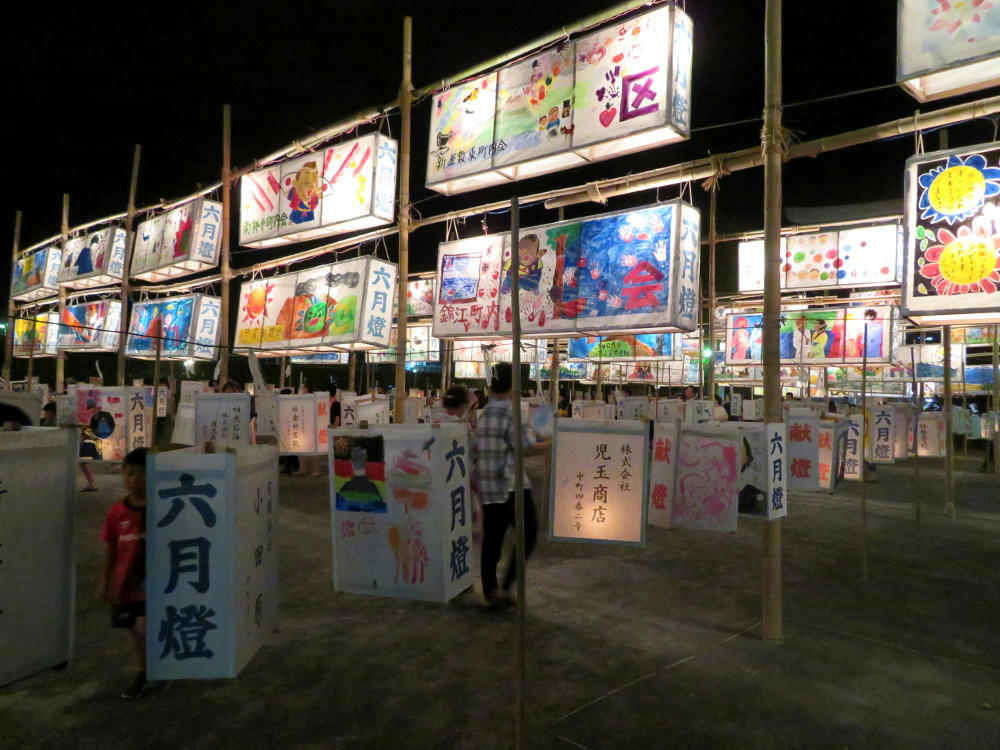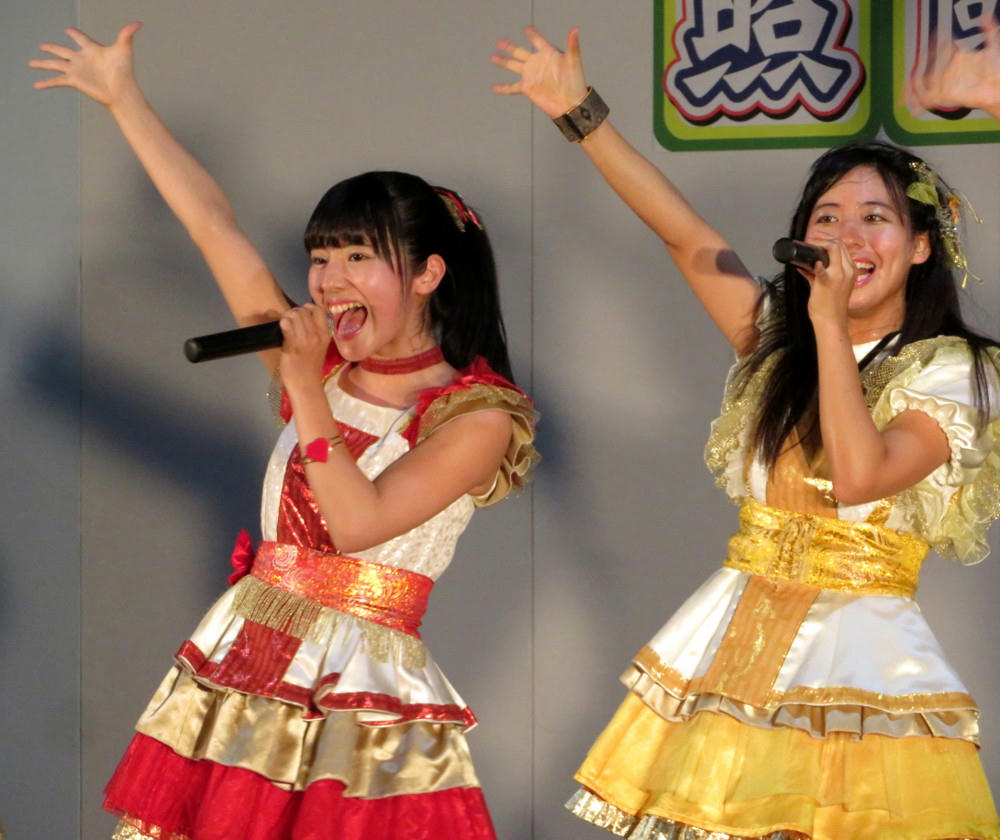 Southern Cross, one of Kagoshima's local idol dance groups, sang and pranced for 15 minutes. They usually do copyrighted covers, and their fans shout and make fools of themselves to the point where any video I take is not worth uploading to youtube. This time, I did record one song for the blog, and I'm hoping youtube won't block it.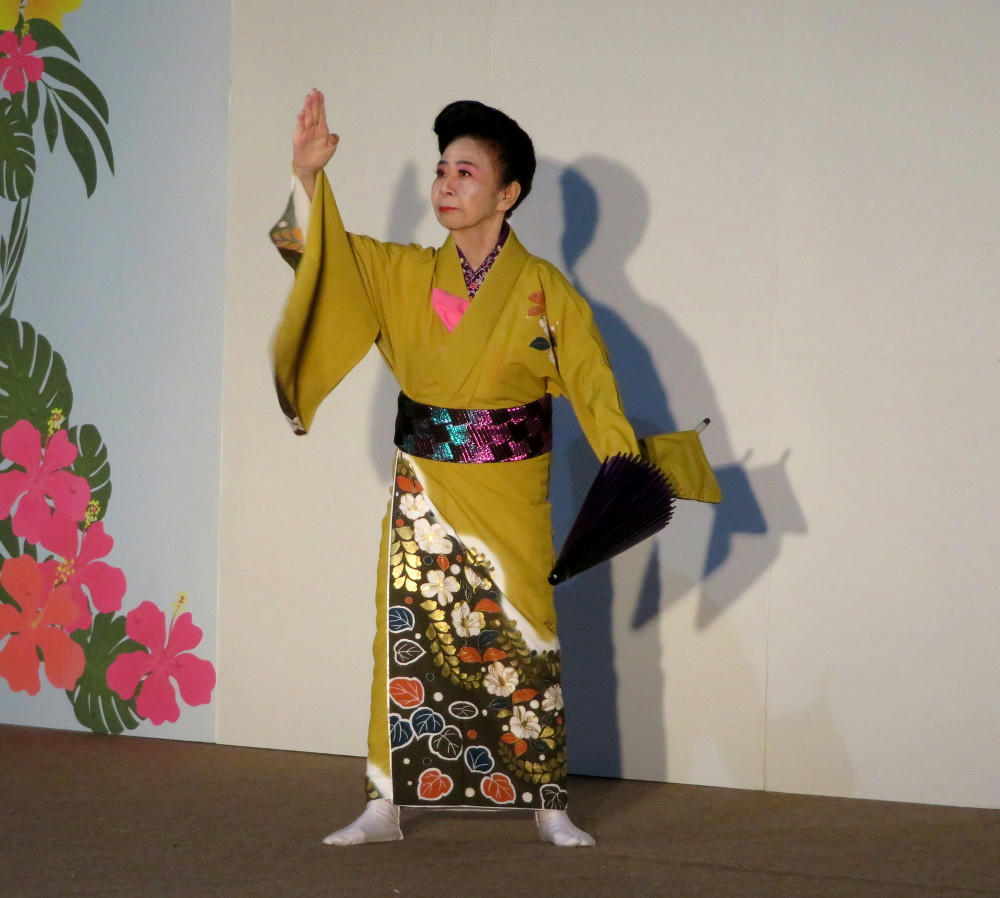 More kabuki-like dance acting.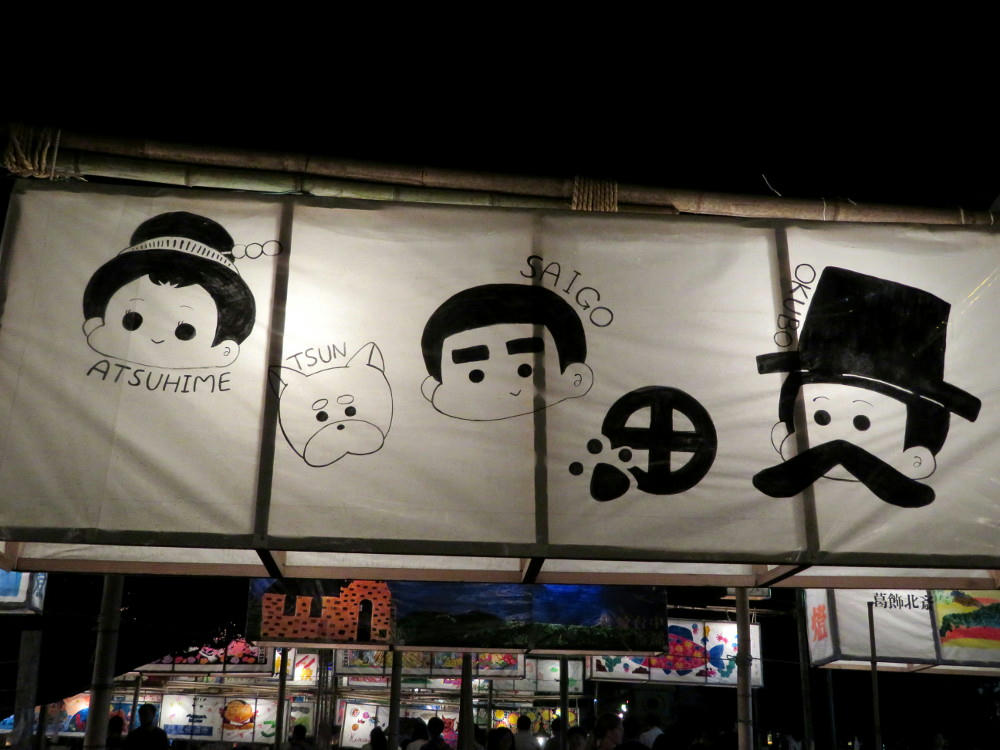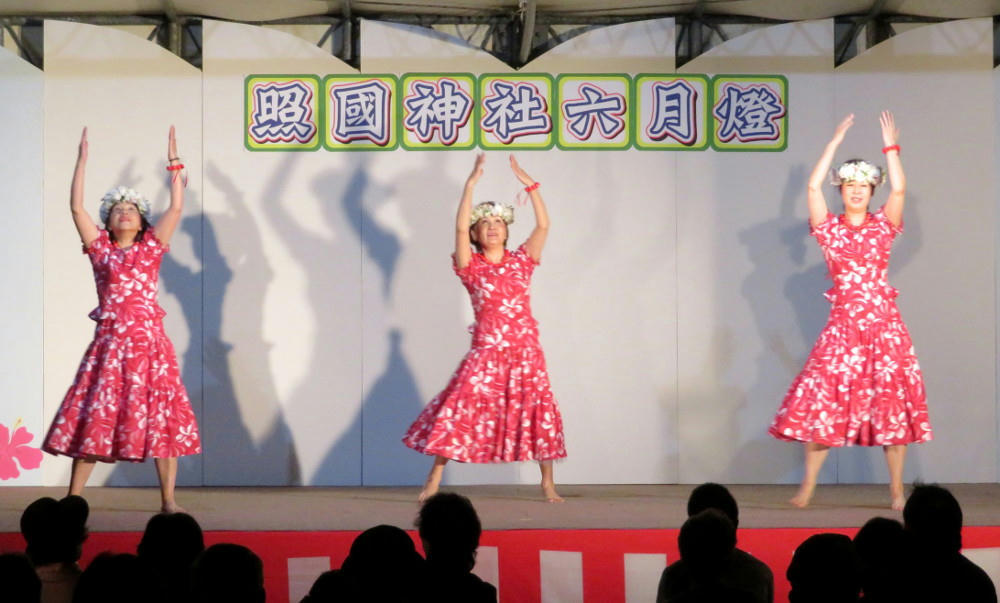 Hula dancing. After this, the stage lights were dimmed so the audience could watch the fireworks set off behind the stage. Nothing all that great, but it was fun to finally see some flashing lights and popping noises after so long.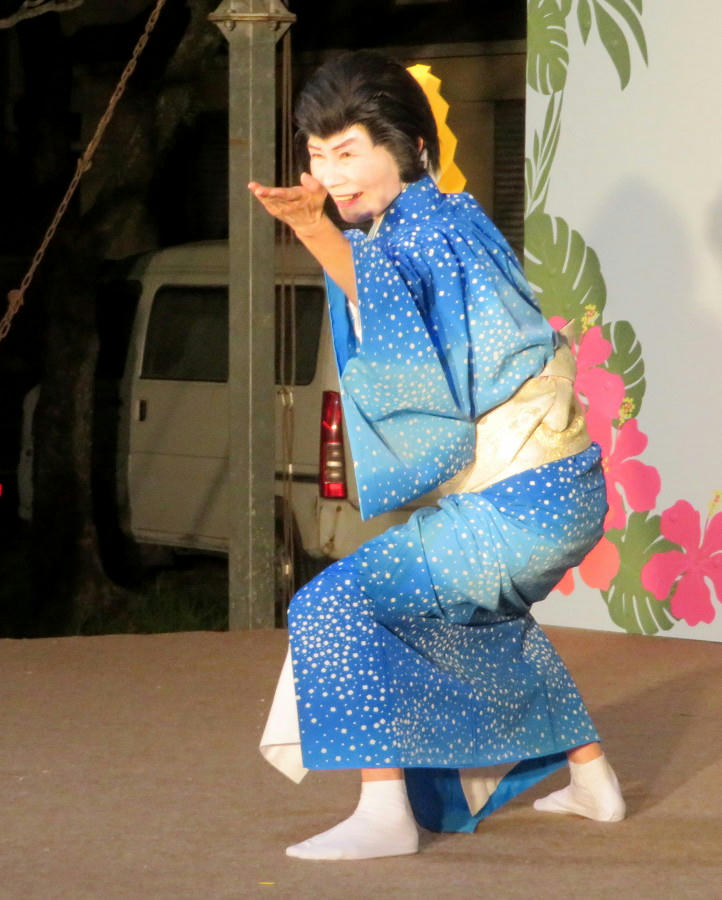 Dance acting.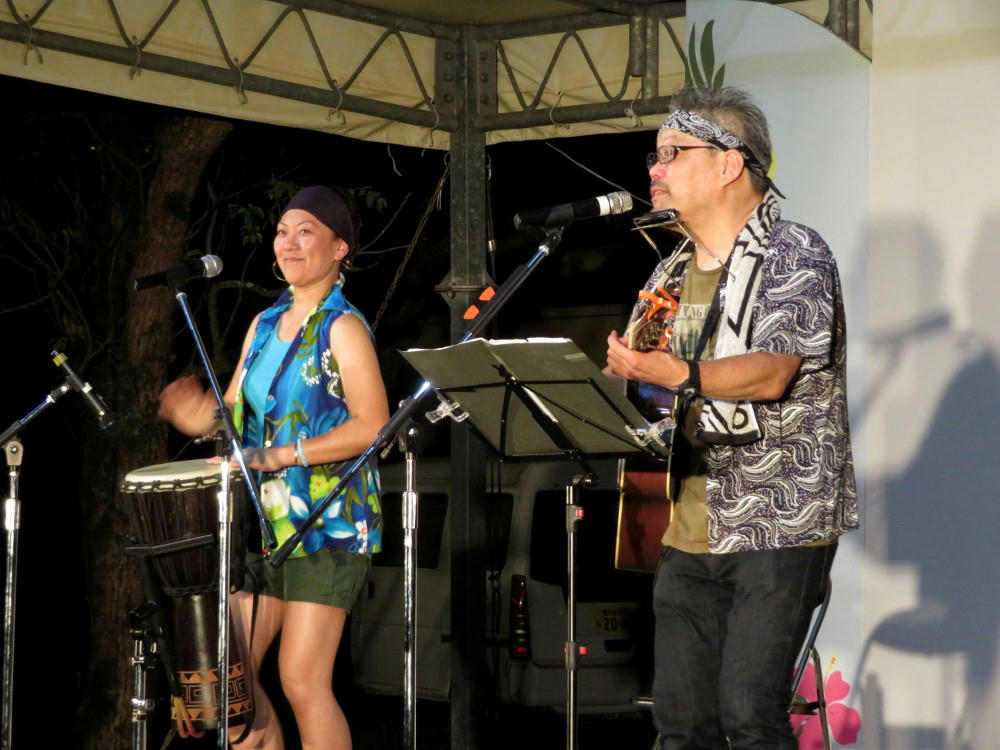 The evening ended with Wicky House bar owner, Wicky and his wife Kana performing 3 songs. One was a Southern All-Stars cover, the other was a really slow piece that I think Wicky wrote, and the last was the theme song he wrote for the Kagoshima United soccer team (which is played at the games held in Kagoshima). I recorded that last one, below. Again, Wicky may have copyrighted it, but I'm hoping it won't get blocked.
Everything then ended at 9:30 PM, and people started tearing down the food stalls. I went home, had dinner, and processed the files for this blog entry. Not a bad night, actually.
Direct youtube link